33+ Wall Tile Ideas for Bathroom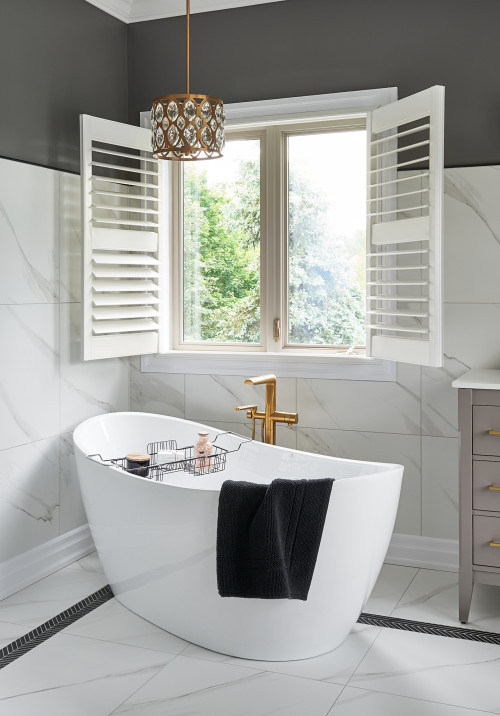 ID# 166902 | Houzz.com – Credit | © Rüme Design
---
Transitional Black and White Bathroom Design with Brass Accents
Featuring clean lines and a black-and-white color scheme, this transitional bathroom radiates a clean and chic appearance! White porcelain tile, used for the walls and floors, provides a clean look and a feeling of luxury because of its marble texture. The black chevron tiles catch the eyes and create contrast with the white tiles on the floor. The zigzag pattern of these chevron tiles is highlighted by the white grout which improves visual appeal. Brass accents add another color to the bathroom and complement the design perfectly.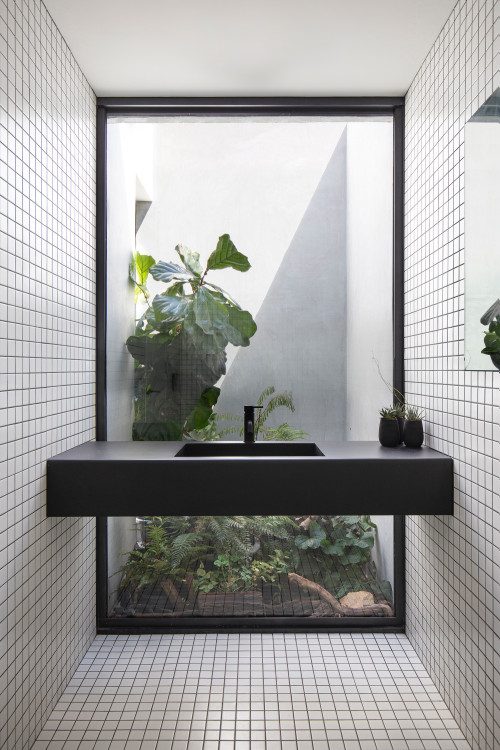 ID# 166924 | Houzz.com – Credit | © Brickworks Building Products
---
Modern Industrial Bathroom with Black Countertops and Window Backsplash
With its eye-catching and dramatic window backsplash, this industrial bathroom design is breathtaking!! A contemporary appearance is created by the white tiles with black grout on the walls and floors while the creative black countertop and integrated sink combine and offer a minimalist and harmonious look. And the window backsplash, of course, unifies the room together while adding natural light and flora.
Wall Tile Ideas for Bathroom
Choosing wall tile ideas for bathroom is a fun and fascinating element of any bathroom renovation. Wall tiles are a functional surface option for bathrooms, en-suites, shower rooms, and wet rooms, as well as a wonderful way to add individuality to a space. They are hardwearing, water-resistant, and simple to clean. Wall tiles come in an endless variety of materials, colors, and forms, allowing you to create a variety of styles. When set in imaginative combinations, even plain white tile may be utilized to produce a variety of aesthetic designs.
Wall tiles are a terrific bathroom concept for zoning separate regions in addition to being ornamental, and bathroom tiles can be ingenious devices for creating a sense of space in small bathrooms when scale and form are considered. We've compiled a list of bathroom tile ideas, as well as professional advice, to help you get started.
Creating the Dream Design with Wall Tile Ideas For Bathrooms
While inspirational, picking wall tile ideas for bathrooms can also be intimidating because there are so many different styles to choose from, and once placed, they are difficult to modify, making them a huge choice. Tile is maybe the one thing that can completely change your bathroom. There's a look for everyone, whether you choose traditional subway tile, or marble tile for a noble aesthetic, or be creative by combining two distinct bathroom tile design types side by side.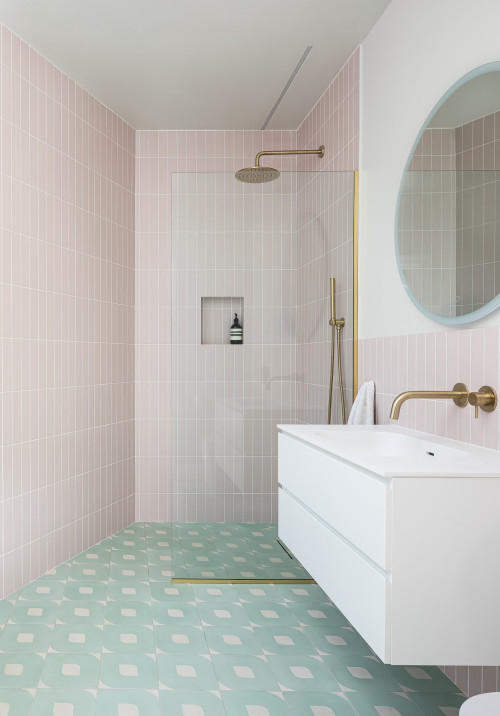 ID# 166901 | Houzz.com – Credit | © Patrick + Rosie
---
Pink Stacked Wall Tile Ideas for Bathroom with Modern Design
This lovely pastel color scheme delivers an elegant and relaxing ambiance! These rectangle tiles are placed vertically which provides a modern vibe and gives the room an illusion of height. The pink rectangle tiles offer an organized and sleek backdrop. The white grout highlights the grid pattern of the pink wall tiles, giving visual appeal. The green and white patterned floor tile in this bathroom is another noticeable element. They extend through the shower floor and create another delicate layer of texture. With its simplistic form, the white floating vanity allows the tiles to stand out. Finally, brass fixtures add an ideal last touch to the vintage feel that the pastel color schemes have already produced.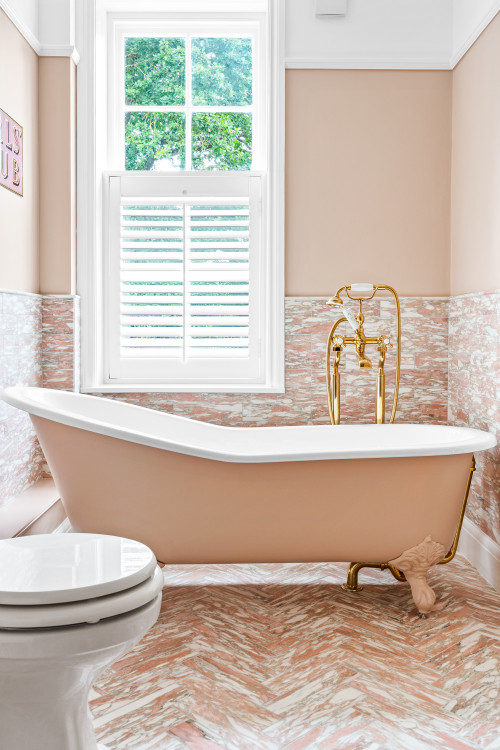 ID# 166903 | Houzz.com – Credit | © Bournes Projects LTD
---
Pink Bathroom Design with Patterned Tiles
The outstanding piece in this elegant bathroom is the lovely pink clawfoot tub without a doubt, giving a vintage vibe and sense of luxury. The bold tile pattern with fascinating combinations of white and pink hues covers the walls and floors. The design also has a texture and dynamic feeling thanks to the delicate exhaustive patterns of the tiles! Lastly, the upper part of the walls is an easygoing pastel pink color which creates a slight contrast and enhances the bathroom's warmth.
Which tiles are best for bathroom wall?
The finest bathroom tile is one that complements your style, budget, and lifestyle. For example, if you're remodeling or refinishing a bathroom in a family home, porcelain or ceramic tiles may be the ideal choice owing to their longevity and ability to resist heavy foot activity. These tiles also do not require sealing, making them extremely practical and simple to install. If you're looking for something more beautiful, a mosaic tile is a definite way to instill a sense of luxury in your bathroom, the delicate tilings eliciting an almost holographic aspect.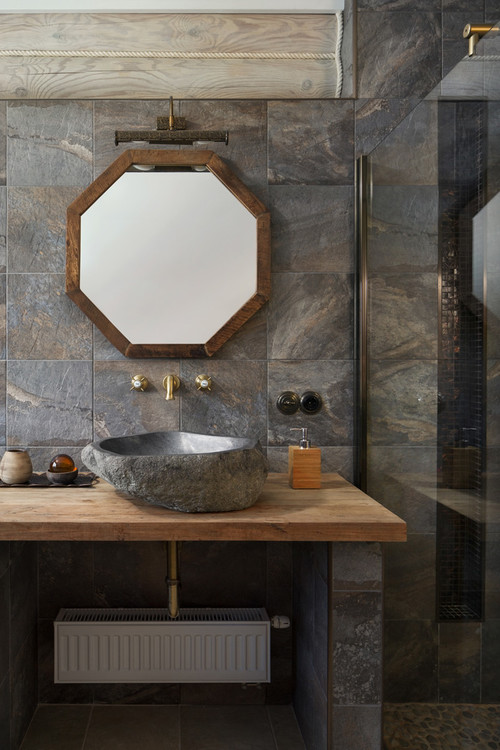 ID# 166904 | Houzz.com – Credit | © ART-LABS Interiors
---
Rustic Slate Wall Tile Ideas for Bathroom with Earhy Color Scheme
Earthy color schemes and natural textured wood can be great choices for authentic bathroom decor. This bathroom design has a rustic yet opulent ambiance thanks to stone-like textures with gold and wood accents. The rustic slate tiles add a sense of luxury to the wood countertop design with the vessel sink that has a stone-like look. The wood vanity and rustic slate tile backsplash go together beautifully. If you want to make a difference in your bathroom you can also play with the mirrors, as in this design.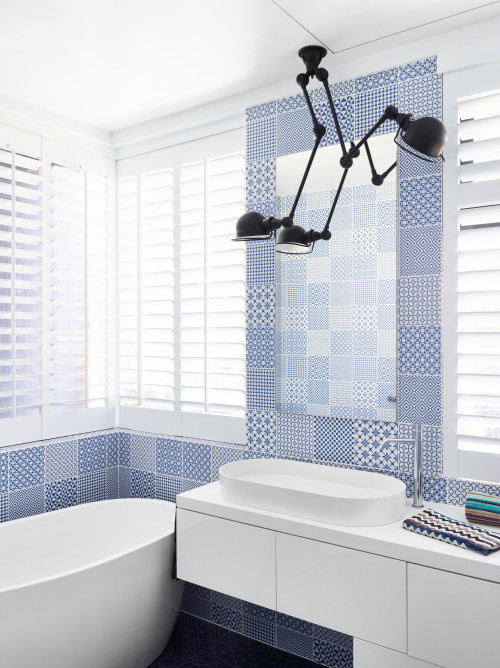 ID# 166905 | Houzz.com – Credit | © Langlois Design
---
Contemporary Bathroom with Blue Ceramic Tiles and White Floating Vanity
It is possible to capture a unique look on your bathroom walls with mosaics. The blue ceramic bathroom backsplash tiles create movement and a fresh atmosphere. The flat-panel cabinetry of the white floating vanity provides a contemporary appeal. The harmony of blue mosaic and white color offers a bright environment. The white solid countertop design with a white vessel sink perfectly complements the overall design.
Modern Wall Tile Ideas for Bathroom
When it comes to modern wall tile ideas for bathrooms, the choices are unlimited. Tiles are available in any form, pattern, and color imaginable. There are also current tile materials and on-trend laying designs to consider. While monochromatic designs are usually stylish, modern wall tile ideas for bathrooms don't have to be confined to a limited color pallet. The catwalk inspires some of the finest ideas. Pastel colors, bright geometrics, and rich floral themes are all in fashion right now and can make your bathroom pop.
A homogeneous color palette, clean lines, simplicity, natural materials, and natural light are all hallmarks of modern design. It refers to a historical aesthetic trend that occurred during the early and mid-twentieth centuries. This means that you have limitless combination options for modern wall tile ideas for bathrooms. There are many ways to incorporate modern style into your bathroom design, whether you're renovating an existing suite or beginning fresh. If you think tiling a bathroom is just another time-consuming remodeling endeavor, you're wrong. Using tried and tested methods and the appropriate materials, creating an amazing bathroom wall tile design is pretty simple. Let's see some of the examples of modern wall tile ideas for bathrooms to inspire you!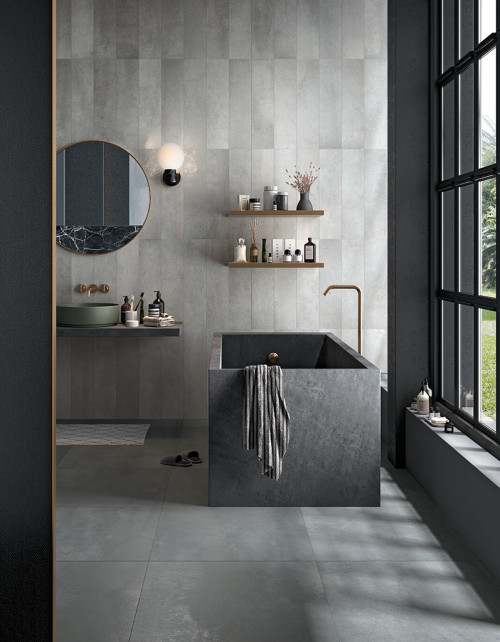 ID# 166906 | Houzz.com – Credit | © Ceramo Tiles
---
Gray Shaded Wall Tile Ideas for Bathroom with Concrete Tub
As in this bathroom, metallic tiles can give any space a modern and stylish look without effort. The reflecting exterior of metallic tiles offers any space a shining and elegant appearance. Because of their highly reflective surface, these tiles make the spaces look larger. Plus, these tiles are very durable. In this modern bathroom, the concrete bathtub also draws attention. Concrete can be crafted into stunning bathtubs to give your bathroom personality. Finally, the floating shelves complete the design while enhancing the contemporary style.
Is it a good idea to tile the bathroom walls?
Bathroom wall tiles are an obvious choice for wall decor. Bathroom wall tile ideas abound and they provide endless creative possibilities as well as being useful and simple to maintain. Installing new wall tiles is one of the most effective ways to remodel a bathroom!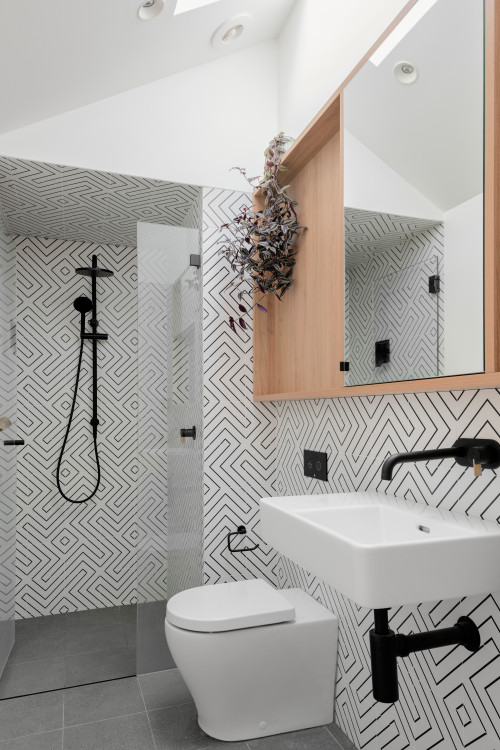 ID# 166907 | Houzz.com – Credit | © Benedict Design
---
Modern Bathroom Design with Black and White Patterned Tiles
In this contemporary bathroom design, the walls are covered with black and white patterned tiles which catch the eye. These wall tiles provide a dynamic backdrop to the simple black, white and timber pallet! The wooden vanity is contrasted by the tiles as well. While the black and white accents' minimalism creates elegance, the wooden vanity offers a warm touch. Last but not least, grey floor tiles balance out the pattern tiles' busy appearance while still adding to the overall aesthetic.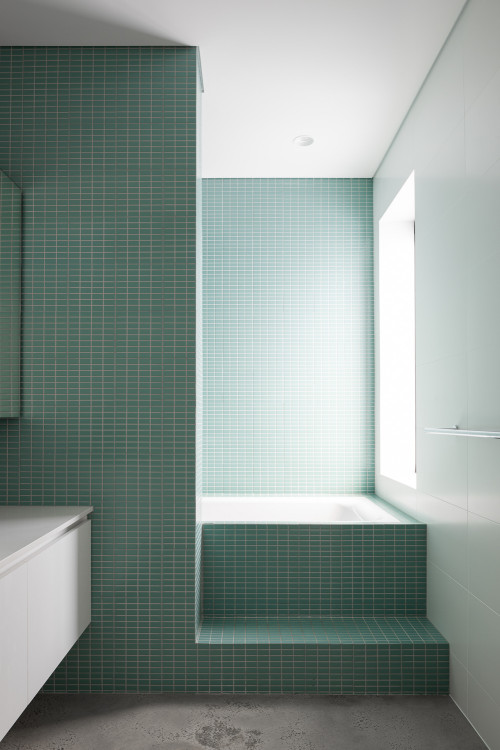 ID# 166908 | Houzz.com – Credit | © Robeson Architects
---
Contemporary Bathroom Design with Pale Green Glazed Porcelain Mosaic
Only one material, one color, and one pattern.. Each part of this bathroom is covered in a pale green mosaic, offering a continuous atmosphere. These mosaic tiles offer simplicity with a modern look in this bathroom design! The use of the same pastel green mosaics in all areas shows the adaptability of the material. These mosaic tiles cover all surfaces but the overall appearance is not overwhelming thanks to their delicate simplicity.
What is the best color of tiles in the bathroom?
Color can influence how a room feels, its ambiance and how well it will age!! Designers frequently choose lighter color palettes in bathrooms because they may make a space appear and feel larger than it is. While white is typically used in ensuites to provide the illusion of greater space, brighter tones are also a popular choice for bigger bathrooms because of their timeless and adaptable nature. Choosing a white or light color palette in the bathroom also gives a blank canvas for incorporating dramatic tones through lush plants and patterned towels. Dark, patterned, or colored tiles for the bathroom, on the other hand, are a terrific way to add drama and create that genuine wow factor in your house for those who want to make a statement.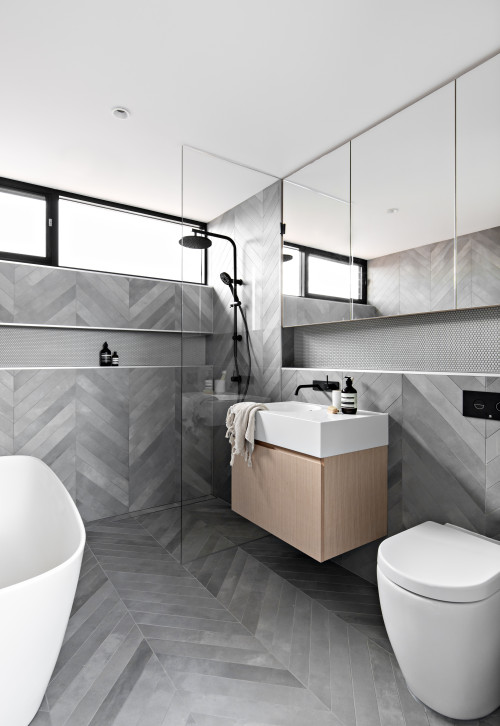 ID# 166909 | Houzz.com – Credit | © Renotech Building Pty Ltd
---
Gray Chevron Wall Tile Ideas for Bathroom with Wood Vanity
Using a sleek gray and white color scheme that provides a sense of simplicity, this amazing contemporary bathroom design is a perfect example of modern elegance! Thanks to the large gray chevron tiles the design enhances the visual power and luxurious look in the bathroom. Recessed niches with penny tiles also draw attention and provide efficient storage. And let's not forget about the floating wood vanity with a thick countertop. It adds a warm feeling to the gray dominated design and improves the visual appeal. The mirrored cabinets above the floating wood vanity, on the other hand, serve both purposes by offering more storage while giving an illusion of more space!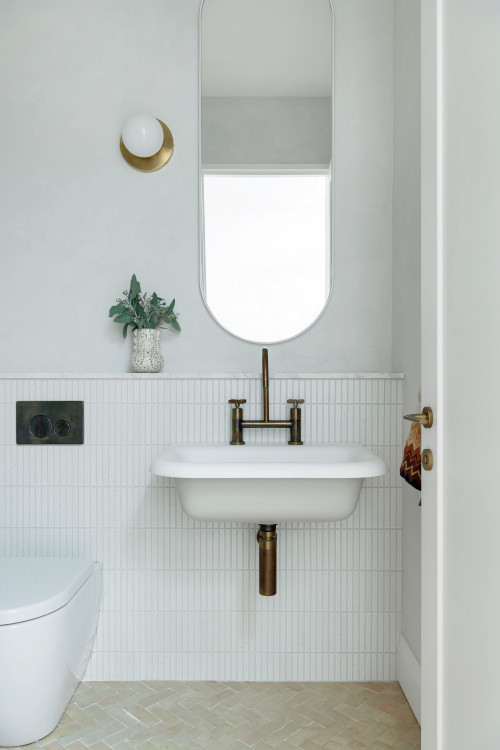 ID# 166910 | Houzz.com – Credit | © Arcologic Design
---
Bathroom Design with White Kit Kat Tiles
The color decisions you made have a big impact on the character and ambiance of your bathroom design. Nothing makes a bathroom look cleaner and brighter than white tiles! This farmhouse bathroom welcomes you with a calm vibe. The stacked layout of the white wall tiles offers a timeless and minimalistic look. Kepping the upper parts as a white walls provide a subtle contrast in the texture! The brass details create a subtle contrast. Herringbone tiles on the floor add another layer of texture while the mirror offers depth.
Glass Wall Tile Ideas for Bathroom
Renovating a bathroom is both thrilling and popular. Updating your bathroom may boost the value of your house while also improving your everyday happiness with it. Because old bathrooms are prone to water damage and poor construction, a more modern design can help them greatly such as glass wall tile ideas for bathrooms. Glass provides a useful and stunning appearance that gives you clean lines, the illusion of greater space, and a simple surface to clean and disinfect, making it the greatest method to introduce updated, modern design into your bathrooms. You don't have to completely redo your bathroom or convert your tubs and showers to incorporate additional glass–try glass tiles instead!
Undeniable Charm of the Glass Tiles
Individually burned pieces of glass with a translucent glaze finish are known as glass tiles. Glass tiles come in a variety of colors, textures, and finishes to give every bathroom a completely distinctive design. Individual glass tiles, as well as sheets and mosaics, can be purchased and installed. You can use the endless options of glass wall tile ideas for bathrooms thanks to their many alternatives. Glass tile may have caught your eye in a showroom or a supply display. It captures your attention, but how might you put it to use in your own home? We have some suggestions!
Shower walls are an excellent spot to display glass tiles. You may use these tiles to bring color, texture, and modern design to your shower wall, whether you use them entirely or just a line of glass tiles as an accent surrounded by ceramic tile. Or, you can create a focal point by using a glass tile backsplash and make a statement. Scroll down to see some of the stylish ways of glass wall tile ideas for bathrooms!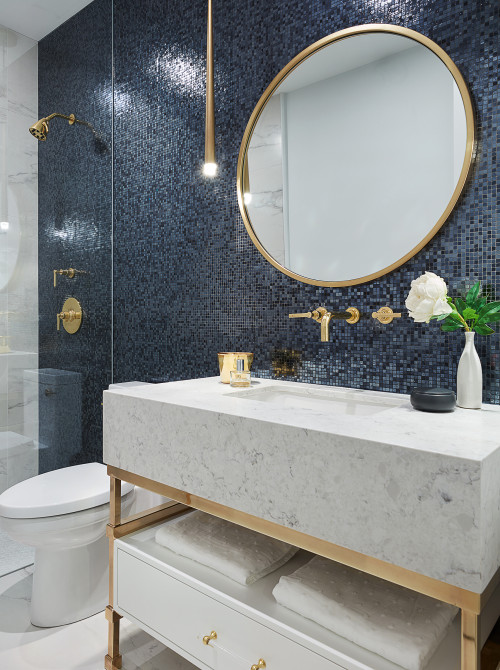 ID# 166911 | Houzz.com – Credit | © Chervin Kitchen & Bath Inc.
---
Blue Mosaic Wall Tile Ideas for Bathroom with Marble Vanity
The deep blue glass and stone square mosaic backsplash extending into the shower is a beautiful choice to bring personality to the space. These mosaic tiles embrace various blue hues beautifully. The dramatic white marble vanity adds a luxurious and sophisticated touch to the bathroom! This furniture-style vanity's base includes a white drawer, which offers essential enclosed storage space. There is also plenty of space above the drawer for towels. The brass accents tastefully complement the overall design.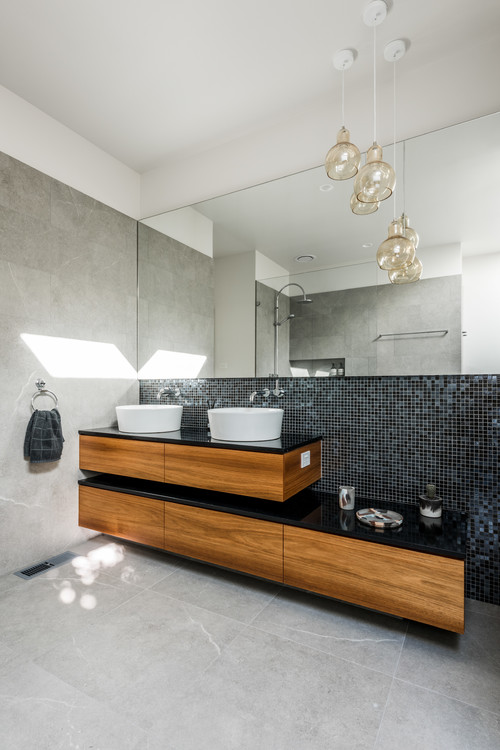 ID# 166912 | Houzz.com – Credit | © mayphotography.com.au
---
Modern Bathroom with Black Mosaic Tiles and Wood Vanity
This modern design draws attention to the bathroom, with black details standing out directly. A sleek and contemporary atmosphere is perfectly created in the bathroom thanks to the trendy pieces. The bathroom has noble and characteristic features of the black color. A double sink and handless wood vanity enhance the modern look. Black countertops are added with contrast harmony. Bathroom floors are covered with gray tile which brightens the design. Finally, a wide and spacious view is provided by a wide mirror.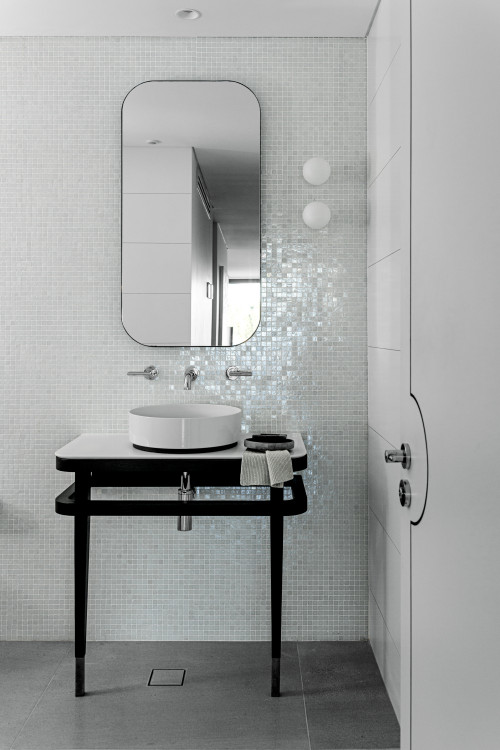 ID# 166913 | Houzz.com – Credit | © Hollier Studio
---
White Glass Mosaic Wall Tiles Ideas for Bathroom with Black Accents
If you want a safe design choice, mosaic tiles can be the perfect material with their timeless beauty. And the white color scheme of course! White mosaic tiles are the perfect fit for a clean and sleek ambiance as it is in this contemporary bathroom design. The simple black vanity with the white vessel sink enhances the modernity and creates a contrast with the white glossy tiles while the mirror beautifully complements the design.
What kind of tile looks good in a small bathroom?
The way tiles are put may have a big impact on the bathroom's overall atmosphere. Different patterns can alter the appearance of a tile and allow it to be used as a traditional or decorative choice. Subway tiles are a terrific way to add a sophisticated design to your bathroom. Whether set vertically or horizontally, this is one pattern that will never go out of style. Hexagon tile designs, on the other hand, are a geometric and contemporary method to improve the look of your bathroom. Whatever route you select, think about how the tiles will blend in with other design components in your home to create a seamless look!
On the other hand, you must consider the color while asking what kind of tile looks good in a small bathroom. Because the bulk of your sanitary equipment will undoubtedly be white, the best tile color for tiny bathrooms would be off-white, light grey, or creamy ivory, depending on your personal preferences and the overall effect you want to create. This will assist to separate the fixtures from the walls.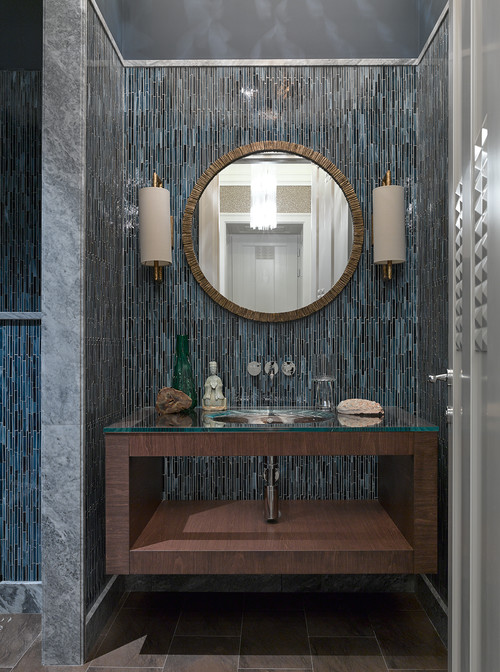 ID# 166914 | Houzz.com – Credit | © Надя и Гиви Ананьевы
---
Contemporary Bathroom Design with Mosaic Tiles and Wood Vanity
You don't always have to choose light colors for your bathroom design!! You can also create stunning bathrooms that provide a contemporary ambiance and elegance with darker color schemes like it is in this contemporary bathroom design. The glazed porcelain mosaic backsplash draws attention immediately, offering a stylish look. The glass countertop the other hand, has a smooth transition between the shiny tiles and the floating wood vanity. Last but not least, the wall lights beside the round mirror add a luxurious sense while complementing the whole design.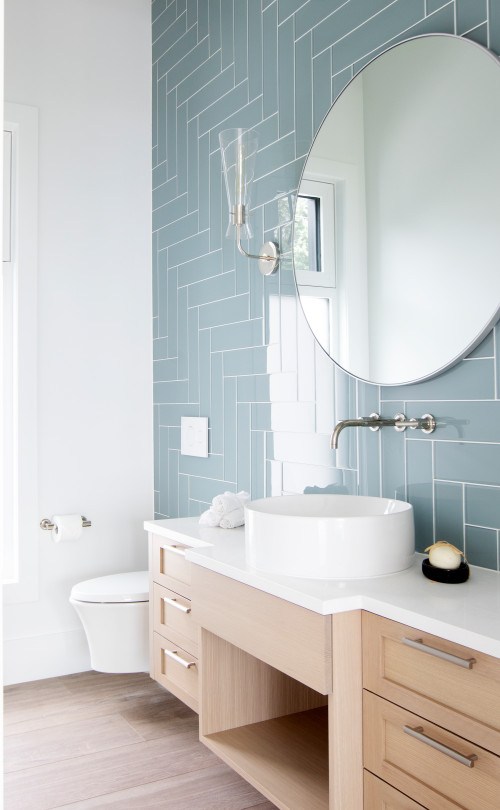 ID# 166915 | Houzz.com – Credit | © Hasler Homes Ltd
---
Beach Style Bathroom with Blue Herringbone Backsplash and Wood Vanity
The color scheme of beach-style bathroom designs usually has soft and soothing shades inspired by the ocean, sand and sky. For example, there are beautiful 90-degree light blue herringbone tiles that create a serene and breezy feeling in this bathroom!! The light wood vanity also enhances the beachy vibe while the white countertop complements the design to provide a continuous look with the white vessel sink.
Marble Wall Tile Ideas for Bathroom
What's not to enjoy about marble wall tile ideas for bathrooms? Fresh bright tones, a natural style, and a look that exudes luxury. Marble is usually a fantastic choice for bathroom décor since it is both classic and beautiful. It's classic, adds value to your home, and it's stunning. Any interior designer will tell you that marble is the hottest stone kind right now. The beautiful and contrasting veining gives any wall area personality. Natural marble has the disadvantage of being pricey and requiring sealing and upkeep.
The main difference between marble wall tile ideas for bathrooms and bathroom marble flooring tiles is their slipperiness and hardness ratings, so before you buy and have them installed in your bathroom, read up on the specifications mentioned with your selected marble tiles. Marble's adaptability allows it to work with a wide range of bathroom designs, from monochrome to minimalism, decorative to modern. It exudes elegance and richness, giving any bathroom an expensive impression. Marble wall tile ideas for bathrooms, like marble countertops in kitchens, come in a broad range of colors and vein patterns, making them a flexible alternative for your bathroom design. It's simple to contrast with vibrant colors, or it may be utilized to bring a minimalist bathroom design with simple white furniture together.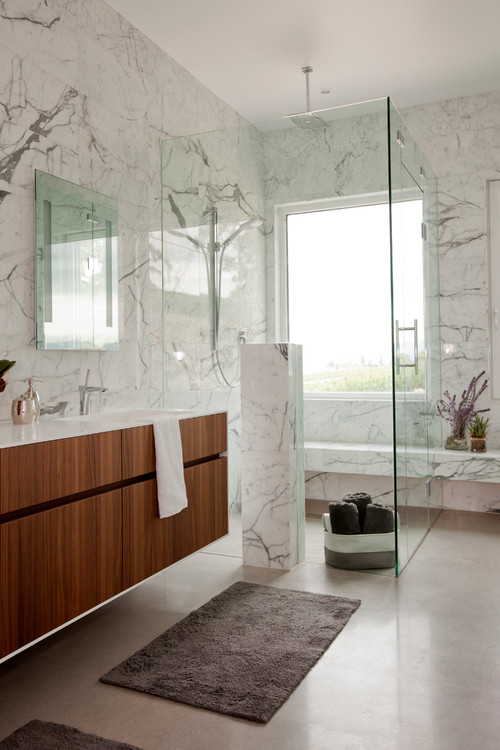 ID# 166916 | Houzz.com – Credit | © Ritchie Construction Ltd.
---
Contemporary Bathroom Design with White Marble and Wood Vanity
The floating wood vanity and a white marble backsplash that extends to the shower area in this modern bathroom is well-appointed. Marble walls give a room a powerful and lavish design appearance!! The marble's noticeable gray veins radiate elegance and sophistication, while the wood vanity breaks up the marble tiles' overall consistent and monochromatic appearance by adding a burst of natural color and a feeling of warmth.
Ceramic Wall Tile Ideas for Bathroom
Do you want to establish a peaceful haven in your home? A place to unwind and relax? If you answered yes, remodeling your bathroom or designing a new one might be the ideal approach to creating your hideaway with ceramic wall tile ideas for bathrooms.
Are you a style-conscious and budget-conscious homeowner seeking cost-effective bathroom design ideas? If so, you'll like the bathrooms featured in this post! Ceramic tile is a cost-effective and long-lasting material that will give character to any powder room or full bath. Furthermore, today's low-cost tile options imitate a variety of high-end surfaces, including real stone travertine, wood grain, and even European mosaics.
Should I tile behind my toilet?
A tiled bathroom enhances the appearance of your home. Furthermore, cleaning is far easier. You do not have to tile behind your toilet. Tiles are mostly for wet areas, to protect your walls from splashes. However, if you have a design that does not need any tiling behind the toilet, you can go with that design. On the other hand, it will still be in your best interest to tile the behind your toilet to protect your walls from future water leaks and to take extra precautions. Tiling might be more difficult depending on whether you use a wall-hung toilet or one that sits on the floor. With a traditional toilet, you must select whether to tile around the toilet or beneath it. You must account for the extra height between the toilet flange and your floor if you place tile beneath it.
White Wall Tile Ideas for Bathroom
White wall tile ideas for bathrooms may be utilized to create a crisp, clean, and timeless room concept, or as a neutral backdrop for brightly colored or patterned decorations. They go with almost everything, making a space feel lighter and brighter, and last longer than a lavishly ornamented design. White wall tile ideas for bathrooms are available in a variety of materials, including porcelain, ceramic, natural stone, cement and glass mosaic, as well as a variety of hues ranging from warm to cold. This means that white is not only white, you have plenty of options with white wall tile ideas for bathrooms.
White wall tile ideas for bathrooms are clean, modern, and completely fashionable. You can play with the white wall tiles, such as, to create a truly unique design, combine traditional subway tiles in a creative pattern like herringbone or alternate them with extra hues like gray or sage.
How far up should you tile a bathroom wall?
Bathroom tiles should be 6 to 7 feet tall, 36 to 54 inches wide, and as high as your bathroom wall, all the way to the ceiling, half the wall, or high enough against moisture, depending on where your bathroom vanities, mirror, and other electrical switches and outlets are located. On a bathroom wall, the typical tile height is 36 inches.
Subway Wall Tile Ideas for Bathroom
Subway wall tile ideas for bathrooms are as popular as ever in design options, even though the fact that they were created in 1904 for New York City's notoriously nasty public transportation system. And there's a reason they're so popular in the design world: they're long-lasting, timeless, infinitely adaptable and quite affordable—especially when compared to other bathroom surfaces! A subway tile is a rectangular, brick-like, polished ceramic tile that looks like subway tiles.
The sky is the limit, whether you want to go for a bright color, contrast with grout, play with pattern, or keep it basic. As a result, we're highlighting some of the trendy subway wall tile ideas for bathrooms, ranging from modern to traditional forms. Continue reading to decide which subway wall tile ideas for bathrooms concept you want to duplicate.
How much does it cost to tile a bathroom wall?
Tiling a shower or bathroom walls costs $7 to $25 per square foot. However, this can be changed according to the material that you choose for tiling.
Should I tile floor or wall first?
While either one can be tiled first, most people feel that if you're tiling both in the same room, it's easier to tile the walls first and then the floor. Because you won't be working near the floor tiles as much after they're in place, this keeps them cleaner.
Wall Tile Ideas for Small Bathroom
Even the smallest bathrooms can have a lot of charm! Create the appearance of more space in your small bathroom with wall tile ideas for small bathrooms that add color and pattern for a bright and airy remodel. Use tile patterns in a range of colors, sizes, forms, and finishes to deceive the eye and unlock the inner-spa potential of your little bathroom. There are a plethora of ways to improve tiny bathrooms with tiles, from creating an ombre effect with delightfully dark tiles on the floor, fading to lighter colors on the walls for a heightening effect, to going big on glossy finishes that will add texture and tactile appeal.