41+ Bathroom Vanity Lighting Fixtures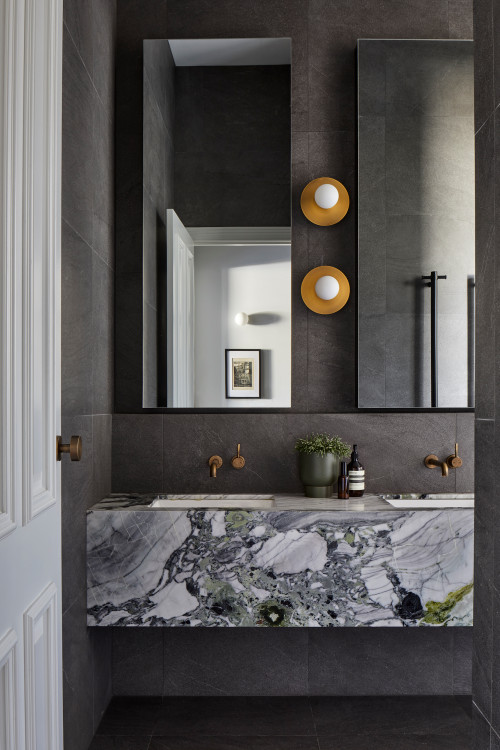 ID# 150403 | Houzz.com – Credit | © DOOD Studio
---
Marble Countertop with Under-mount Sinks and Gray Backsplash
In this contemporary bathroom, gray large-format square tiles sheathe the entire room. They set a sophisticated, versatile, and moody atmosphere. By contrast, the multi-colored marble-carved benchtop becomes the showstopper effortlessly. It adds an upscale edge, while its dramatic veining introduces undulating forms and splashes of color. The brushed gold tapware coordinates with a duo of white glass globular shades placed on gold plates. Mounted between the frameless mirrors, they contribute to the high-end design aesthetic of the room.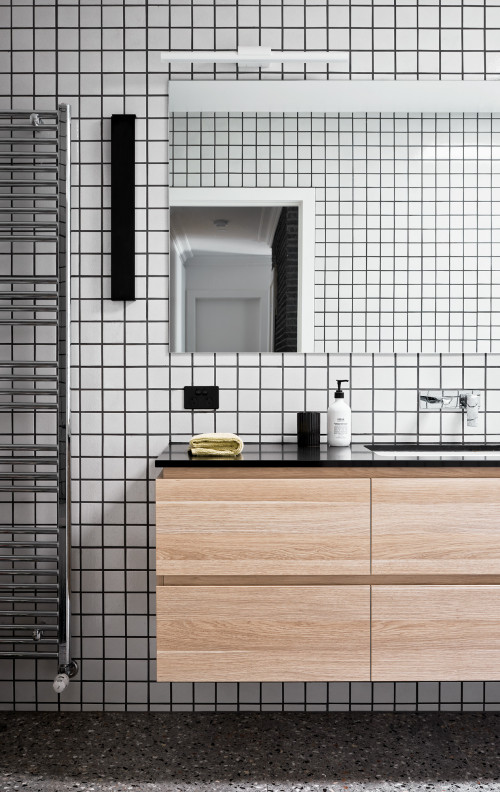 ID# 150423 | Houzz.com – Credit | © Jasmine McClelland Design
---
Industrial Bathroom with Square Tile Backsplash and Bar Bathroom Vanity Lighting Fixtures
Grout color between the backsplash tiles can create a drastic difference- as showcased by this industrial-contemporary bathroom. Here, the white ceramic square tile backsplash brings contrast with black grout that further accentuates the patterns. The black countertop, black bar wall sconce, and speckled-finish concrete floor continue to bring an industrial edge. The wood floating vanity, by contrast, registers warmth to downplay the white-and-black color scheme.
Bathroom Vanity Lighting Fixtures
A good lighting system is a must in bathrooms for self-grooming, make-up applications, shaving, hair styling, and bathing. Whether you go with wall sconces, chandeliers, pendants, or mirror backlighting, you need to illuminate the vanity area and provide it with task lighting. In other words, bathroom vanity lighting fixtures are key to providing you with a safe and efficient grooming space.
And choosing a bathroom vanity lighting fixture can be tricky. From light color and temperatures to style, functionality, size, and number, there are many factors to consider when choosing bathroom vanity lighting fixtures. In this round-out, we walk you through a wide range of bathroom vanity lighting designs available in different shapes and finishes. Take a closer look at them to get a better idea and inspiration for your next bathroom renovation project.
Materials and Finish Options for Bathroom Vanity Lighting Fixtures
Chrome, nickel, stainless steel, bronze, copper, and brass are some of the most popular material options for bathroom vanity lighting fixtures. You can create any look with them whether you want something shiny, antique, warm, or modern. With a wide range of finish options (polished, antique, brushed, etc.), you can, again, navigate how they look. For example, antique brass finish options, unlike polished ones, bring in an aged feel. For super modern looks, polishes chrome provides a great option. In the country looks, copper and bronze can replace steel and chrome.
Chrome Bathroom Vanity Lighting Fixtures
Chrome lighting fixtures are one of the most popular vanity lighting fixture materials. Especially their polished versions are great at giving the bathroom an instant modern update. You can pair them with dark wood and black vanities to add a touch of glam and contribute to the luxury feel of the design.
Nickel Bathroom Vanity Lighting Fixtures
If you are looking for something that is not as sleek as chrome, you can consider nickel. It has a way to fit in the country, industrial, beach -style, and transitional bathrooms. You can pair nickel fixtures with black, blue, and dark vanities.
Brass Bathroom Vanity Lighting Fixtures
Do you want to fuse your bathroom design with warmth? The brass lighting fixtures are the route to go. For a cohesive look, you can also use brass for cabinet hardware and tapware. This way, you form a dialogue between the different fixtures of the design. And the warmth channeled by them creates an intimate ambiance, which you can support with warm white lighting.
What type of lighting is best for bathroom vanity?
Choose a lighting fixture that diffuses cool lighting for the vanity, which is better for task lighting. And bulbs can be within the range of 2700 and 3000 K. However, if your bathroom has a skylight or windows that provide enough natural light, make the vanity placement accordingly. Natural light is the best light to apply make-up or for self-grooming in general terms. And lastly, if you don't want fixtures, LED- mirrors could be a great substitute for vanity lights.
How big should a light fixture be over a bathroom vanity?
The best way to determine the size of a light fixture is to measure your vanity and choose a fixture around three -quarters of it. Or you can use your mirror size as a cue and get a vanity light that is a third of the mirror width.
Bronze Bathroom Vanity Lighting Fixtures
Bronze is another lighting fixture material to add a sense of warmth while still feeling chic. Since bronze fixtures are also considered neutral, they can suit any color and design scheme. And if you prefer an aged look for a country bathroom, oil rubbed bronze vanity light feels warm and inviting.
Should bathroom vanity lights face up or down?
It could be both ways. But it mainly depends on for what purpose you aim to use the vanity lights. For example, if you want to provide task lighting, make them face down. And for ambient lighting, it is better to keep bathroom vanity lights facing up.
Black Bathroom Vanity Lighting Fixtures
To make a statement, black bathroom vanity lights are one of the best. Even if the bathroom has a neutral and white-dominant design, you can make it pop with black vanity lights. This approach is especially favored by contemporary and modern bathrooms. They get black pendants in geometric forms to create an intriguing design. Likewise, in transitional bathroom designs, black fixtures are used to modernize the space.
Bathroom Vanity Lighting Fixture Shapes
From bar to cage, globe, shaded, and tube, bathroom vanity lighting fixtures are available in various shapes. As such, they allow you to establish a wide range of looks and add character to your vanity. Now let's take a closer look at them.
Bar Bathroom Vanity Lighting Fixtures
Bar vanity lights are comprised of a long and linear shade. It is both classic and modern and adjustable to many different bathroom looks. If you wish you can install them horizontally above the mirror. Or you can mount a duo of them vertically to flank the mirror.
Cage Bathroom Vanity Lighting Fixtures
Looking for an industrial, beach-style, or farmhouse feel? Then cage vanity lights provide an excellent vibe for your bathroom. By combining them with wood vanities and reclaimed accessories, you can even go for a rustic design. Also, with some modern touches, you can combine them with old and new, creating a transitional bathroom.
Globe Bathroom Vanity Lighting Fixtures
Globe vanity lights are particularly perfect for modern and contemporary bathrooms. They enclose the lamp beautifully. While some are made of clear and translucent glass, some are frosted or white glass. In other words, they feature a wide range of looks. You can also play with the material of its hardware. Especially the ones with brass hardware bring in warmth and coziness.
Should bathrooms have warm or cool lighting?
Warm cool lighting is recommended by experts. The cool lights range from 3100 K to 4500 K. But why not have both? You can layer your bathroom with warm and cool lighting. This way, you build depth and dimension within the bathroom and use different temperatures of lighting for different purposes. Yet it is important to make sure that they complete each other without causing eyesores.
Shaded Bathroom Vanity Lighting Fixtures
Shaded bathroom fixtures have a homey vibe and a classical feel. You can combine them with bespoke and antique  wood vanities and some vintage elements. The shaded  fixtures are availlable in metal,  glass, and fabric materials. Though the fabric ones are not very suitable for wet areas  like bathrooms, you can still find the ones that are suitable  for damp areas. 
Should the vanity light be centered over the sink?
The human eye seeks symmetry and balance. That's why it would be better to keep the lighting fixture centered over the sink. This way, the light is also shared equally by the two edges of the vanity.
Should all bathroom light fixtures match?
To achieve a cohesive and visually consistent scheme, it would be better for bathroom light fixtures to match. Especially if you are going to use a duo of wall sconces to flank the mirror, matching light fixtures make the space look stylish. But to support the sconces, you can use spotlights, LED strip lighting, and ceiling lamps. Chandeliers are also popular, overhanging the freestanding bathtub. In other words, you can benefit from light fixtures to create diversity and cohesiveness. All that you need to pay attention to is to achieve a sense of balance.
Tube Bathroom Vanity Lighting Fixtures
Sleek and clean, tube vanity lights look like futuristic versions of bar lighting fixtures. You can easily make a visual statement with them without making it feel over the top. Clustered matte extruded tubes of LEDs could also make an interesting addition to your bathroom fixture repertoire. You don't need to mount them on the wall all the time. You can mount them on the ceiling and let them drop down by the sink to offer task lighting.
What is the most popular color for bathroom fixtures?
Shiny chrome is the most popular color for bathroom fixtures. It suits transitional, traditional, and contemporary bathroom designs, which makes them versatile. But they are considered best in modern designs to give the bathroom a quick modern update. Yet the disadvantage of polished chrome fixtures is that they are prone to staining easily. If it is something you want to avoid, brushed finish fixtures are the route to go. They conceal fingerprints and watermarks. In addition to them, black, gold, bronze, and copper are also preferred for their aesthetic values. Especially antique brass finishes can compete with shiny chrome. They are warm, looking aged, and exposing their users to nostalgia.