29+ Black Bathroom Backsplash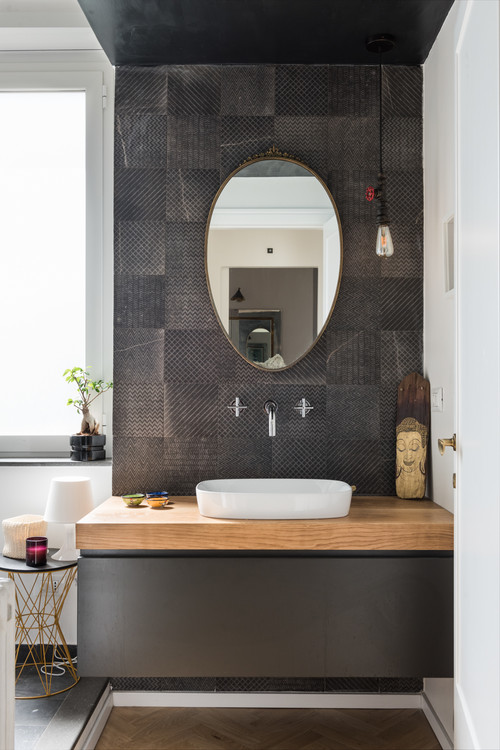 ID# 142313 | Houzz.com – Credit | © Paolo Fusco Photo
---
Wood Countertops and a Black Flat-Panel Floating Vanity Design
The chain pattern of the black porcelain tile backsplash and the black floating vanity design complement each other adding a contemporary look to the bathroom. The wood countertop design and the white vessel sink soften the sharp and masculine look of the backsplash and vanity. The ellipse shape of the mirror creates a contrast to the sharp geometry of the bathroom design components.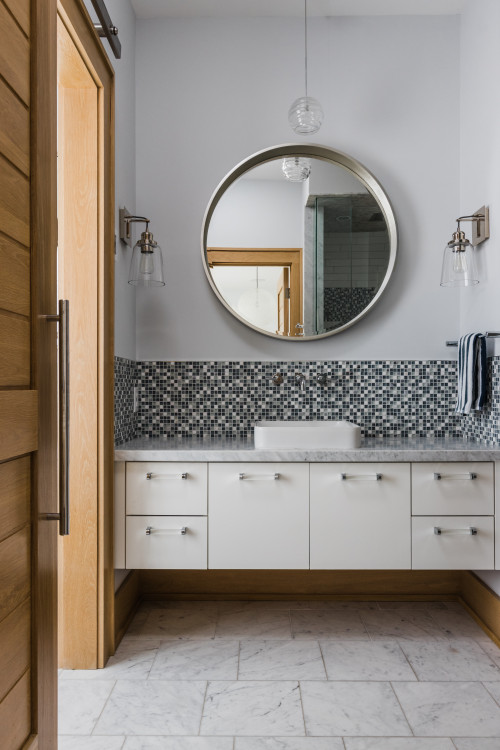 ID# 142337 | Houzz.com – Credit | © Sider Bros. Builders Ltd
---
Beach Style with White Cabinets and Marble Countertops
The white flat-panel cabinets and chrome hardware of the floating vanity design provide a cohesive appeal with the gray marble countertops. The black and white mosaic tile backsplash harmonizes with the gray countertops creating a stylish appeal. The backsplash tiles also bring movement to the bathroom's environment
Black Bathroom Backsplash
Black is a classic and timeless hue that is always in trend with backsplashes. It also gives the room a more upscale look and helps to create contrast or a serious atmosphere. A great alternative for a black bathroom backsplash can complete a dark area or add a gorgeous accent to a room that is neutral or pastel in color.
When choosing a bathroom backsplash, black bathroom backsplashes are the most popular since they are simple to maintain and provide texture to the area. Black tiles and slabs come in a wide range of styles. They might be contemporary hexagon tiles in various sizes, edgy black subway tiles, matte honeycomb tiles, glazed square tiles, lengthy, thin tiles with a herringbone pattern, and more. You may either opt to match the style by utilizing complementing grout or choose to emphasize your backsplash with contrast grout, such as white or gray.
Are backsplashes in bathroom outdated?
Although it is occasionally feasible to go without a backsplash, it is nevertheless advised in bathrooms. If your sink counter does not directly face the wall (like a pedestal sink), a backsplash is solely necessary for cosmetic reasons. A backsplash is effectively your final line of protection in either a kitchen or bathroom application before water, oil, food, or other potentially harmful substances reach your wall. It's a good idea to have a backsplash in place even if you have no interest in creating an intricate, striking backsplash.
Material Options for Black Bathroom Backsplash
The layout of the black backsplash in your bathroom has been chosen, but what about the available backsplash materials? To protect our walls from moisture or water splashes and to improve the aesthetics of our bathrooms as a design feature, material options for black bathroom backsplash designs may be something you want to learn more about.
Black bathroom backsplash alternatives come in a variety of materials with varying maintenance needs, toughness, water resistance, and heat resistance. Ceramic material is the most popular material, but you may also use marble, black glass tile, or both. Let's take a look at some material options for black bathroom backsplash designs for inspiration.
Ceramic Black Bathroom Backsplash
If selecting a material for the backsplash in a black bathroom is something you don't want to stress yourself too much about, you may use ceramic materials without much trouble. The most frequent type of backsplash material is ceramic tile. They are inexpensive, have a vast selection of colors and designs, and are easy to install. While protecting your walls from ugly and even damaging water splashes, a ceramic black bathroom backsplash may enhance and beautify your bathroom.
Even the hue black has several color and shape options in the ceramic backsplash market. Herringbones, hexagons, or picket tiles may provide movement to a ceramic black bathroom backsplash design. The fact that a ceramic black bathroom backsplash is affordable and has a variety of design options is its most important quality.
Does black look good in a bathroom?
If you're designing a bathroom, black is a great option. The dark color has a sophisticated and traditional sense that may go well with a wide range of interior design styles. It also seems sleek and elegant.
Black Marble Bathroom Backsplash
Worktops, backsplashes, flooring, cladding, and even furniture accents are just a few uses for black marble. Of course, black marble isn't the only type of marble used for this, but it's obvious that it adds a sense of exclusivity and elegance to any situation. Think about a black marble bathroom backsplash. The concept for a black marble bathroom backsplash might provide exquisite designs that are gorgeous.
The fact that this stone originated on continental platforms that absorbed a substantial volume of sediments with significant organic compounds and carbonate under anoxic circumstances explains much of its dark hue. This kind of deposit was discovered all over the world at a variety of geological phases during the Mesozoic and Paleozoic epochs. Just like other marble colors, black marble bathroom backsplash designs can vary based on the different types of black marble. We've given you some options for your black marble bathroom backsplashes down below!
What colour goes with black bathroom backsplash in a bathroom?
In a bathroom, black is usually a very dangerous color to pair with other hues. There are, however, several really intriguing choices. Three great color combinations for black are white, beige, and white marble. Black bathroom backsplashes mix well with white, grey, brown, and even blue decor. Additionally, it's crucial to embellish your room with things like plants, eye-catching lighting, and other furniture and fixtures such as brass or gold.
Black Glass Tile Bathroom Backsplash
Tiny glass pieces with a transparent covering on one side are used to create glass tiles. They are available in a wide range of colors, patterns, and designs and may be easily incorporated into a variety of locations, including bathroom walls and backsplashes. Numerous alternatives depend on your particular design concept. They may be created with a broader range of surface types than ceramic or porcelain, which contributes to their appeal. Additionally, they have the propensity to reflect light, making a black glass tile bathroom backsplash more practical! This will enable you to make your very own black glass tile bathroom backsplash.
Whether it is a glass mosaic tile or not, a black glass tile bathroom backsplash may convey the sleek, unadorned look of modern design while also providing movement. You might need some assistance with the design of your black glass tile bathroom backsplash because there are so many different pattern options such as herringbones, chevrons, or basketweave tiles. Everyone has "that design" for their bathrooms, whether or not they get help.
How can I brighten up my black bathroom?
If you want to add a little brightness to your bathroom, you can use neutral or light colors. Using a light wood vanity design with white countertops can be an option for you.
It is always a good combination to have a black-and-white contrast in the bathrooms. Use light colors more dominantly to emphasize the sophistication of the black color.
If it is possible, have more daylight, or use led lights. Sconces are good, too.
Brass or gold accents can bring a luxurious touch to your bathrooms with more light.
Using reflective surfaces is a good idea.
Have greenery to feel the freshness in your bathrooms.
Have frameless large mirrors to enhance the depth and airy interior.

Tile Styles for Black Bathroom Backsplash
Once you've decided to utilize black bathroom backsplash tiles, you'll discover that there are several tile styles for black bathroom backsplash designs available. You'll begin to think about the tone, character, and/or style you want to evoke in your restrooms. For example, a black subway tile backsplash may heighten the classic appearance. The current design style may be maintained with a black hexagon tile backsplash with flexible mobility. For a bold statement with a textural touch, herringbone and chevron tiles are popular.
You may create a bold statement in your bathrooms by selecting one of the many tile styles for black bathroom backsplashes available. The several forms of black tile backsplash designs will allow you to obtain your ideal bathroom design, regardless of the design style you will have, such as modern or traditional.
Black Subway Tile Bathroom Backsplash
One of the newest trends is the color black, which is preferred by the vast majority of people worldwide. The bathroom is one of the rooms that need the most thought when selecting a décor theme and ideas while planning to restore or create a home. Black subway tile bathroom backsplash designs have grown significantly in popularity and status as a symbol of affluence in recent years. Subway tile, with its cool and freestyle, may help you create a modern and attractive ambiance in your bathroom décor.
On the market, there are many stunning black tile designs to choose from. The best tile selection might significantly alter how the bathroom looks. So, if you're thinking of redesigning your house and are looking for some bathroom remodeling ideas that are genuinely excellent, you've come to the right place. For a classic look in your bathroom, check out these great black subway tile bathroom backsplash ideas.
Black Hexagon Tile Bathroom Backsplash
One of the most popular options available to homeowners and interior designers nowadays is hexagonal tiles. Hexagon tiles may be used for a range of projects, including backsplashes, shower floors, and fireplace surrounds. Hexagonal tiles are most frequently used for backsplashes. However, today we are looking for ideas for black hexagon tile bathroom backsplashes to get inspired by their stunning designs.
Hexagonal tiles are used in the majority of modern and minimalist designs. They could also be seen in other types of design. Black, a timeless color, is a daring choice for bathroom decor. The good news is that using black hexagonal tiles in your bathrooms won't cause you any trouble. Black tiles are becoming more and more common in bathrooms, particularly for the backsplash. The geometry of the tiles is highlighted by the black hexagon tile bathroom backsplash and the white grout, which also adds texture to the space. Larger black hexagon tiles on the walls with white grout provide a beautiful and stunning design statement. The black hexagon tile bathroom backsplash looks stylish in both glossy and matte finishes.
Black Herringbone Tile Bathroom Backsplash
Herringbone, or fishbone-inspired, the pattern is used to arrange rectangular subway tiles made of ceramic, glass, porcelain, metal, and natural stones. A small change to the conventional rectangular tiles might have a significant effect and provide a distinctive focal point for bathrooms. Depending on the material, herringbone goes well with both traditional and contemporary design aesthetics. You may make a bold statement in your bathroom with a refined appeal by using a black herringbone tile bathroom backsplash.
White and marble herringbone backsplash tiles are classic options for bathrooms. Yes, they are attractive and timeless, but if you're looking for something different, check out these lovely designs for black herringbone tile bathroom backsplash. Consider the possibilities of black if your cabinets are all the same color or if you want to add some drama or texture to your bathrooms.
Black Chevron Tile Bathroom Backsplash
There are almost as many alternatives for black bathroom backsplash patterns as there are for backsplash tiles. Fortunately, the pattern should be simpler to follow once you've decided on your tile or tiles. The chevron layout tile backsplash design is one of the backsplash pattern options. The chevron pattern produces a symmetrical zigzag pattern. Similar to the herringbone, it is composed of two similar rectangular tile blocks that come together at each point. However, a diagonal cut at the edge of each rectangle allows for the creation of a continuous zigzag pattern as opposed to a staggered one. You can use a black chevron tile bathroom backsplash from all the alternatives to bring a sophisticated appeal.
The chevron pattern is a vivid, current, and eye-catching pattern that was made famous by fashion houses like Missoni in the 1950s and 1960s. These days, it gives interior spaces a modern, dynamic look and is commonly used with vivid colors, such as black, to produce eye-catching designs. Since it is a little trickier to install, the black chevron tile bathroom backsplash design is often offered as an integrated pattern. Although it is doable to install, expert accuracy is necessary when shaping and positioning the tile to ensure the design is symmetrical and properly placed.
What color vanity goes with a black bathroom backsplash?
When you have a black backsplash in your bathroom, a white vanity is the first design option that comes to mind. The classic black-and-white contrast fills the bathroom with a modern appeal. However, wood texture is one of the perfect alternatives you can use for a vanity with a black backsplash in your bathroom design. Then comes, beige, dark blue, or gray vanity designs. A black vanity design with a black backsplash is the last choice you can use, do not afraid, the room will have a contemporary and mysterious serenity.
Black Penny Tile Bathroom Backsplash
In search of an eye-catching design for your bathroom backsplash ideas? A black penny tile bathroom backsplash design can be your finest choice. These little tiles offer the rooms a lovely texture and raise their aesthetic value. Unlike white subway tiles, a black penny tile bathroom backsplash may not be the most popular option for bathroom backsplashes, but that is precisely why it is an intriguing idea to stand out in the current tile market. Because of their delicate texture, you may use these tiles to create a timeless and fashionable bathroom.
Stylish, audacious, and lovely! Without a doubt, black has a unique aspect that may drastically change the atmosphere of a place. Adding white grout to your black penny tile bathroom backsplash will help to further this stunning appeal. This sharp contrast will give your backsplash a distinctive and fascinating appearance. Let's look at some chic and lovely backsplash options for a bathroom with black penny tiles!
Black Mosaic Tile Bathroom Backsplash
Mosaic tile is one of the most popular options for creating a gorgeous, contemporary bathroom backsplash. There are many stunning tile selections that are sure to wow whether you're building a new backsplash or remodeling an old one. Black is one of the prominent colors for the bathroom backsplash made of mosaic tiles. The black mosaic tile bathroom backsplash is beautiful and inspiring. These tiles stand out in any bathroom because of their ability to create depth and movement wherever they are used. If you want to add some drama with a stark contrast to your white cabinets, a black mosaic tile bathroom backsplash would be a terrific accent.
A chic and contemporary option is lovely black mosaic tiles. The right bathroom cabinets and black mosaic tile bathroom backsplash designs are far from being dark and dreary, and they offer a great background for bathroom interior design that makes the color pop.