37+ White Bathroom Floor Tiles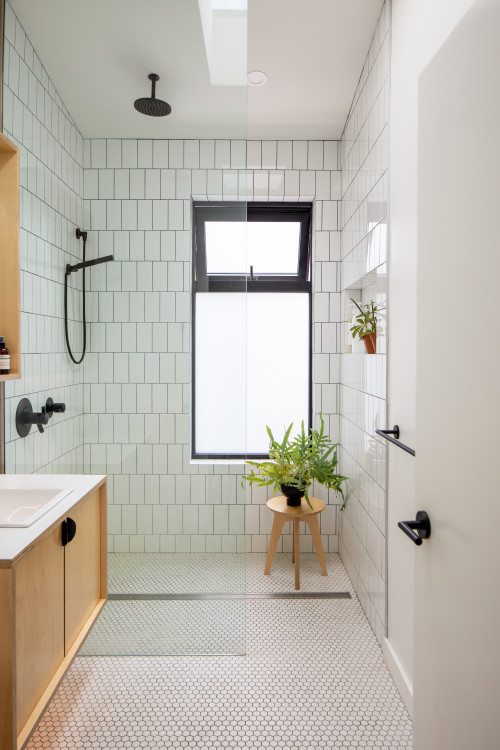 ID# 158605 | Houzz.com – Credit | © Strong Built
---
Contemporary Touch with a Light Wood Floating Vanity
This contemporary bathroom features a stylish and modern design with a light wood flat-panel floating vanity and white countertops that contrast beautifully with the white penny-tile bathroom floors and white wall tiles with black grout. The black tapware and hardware add a striking touch of elegance and sophistication to the space, while the black frame window serves as a focal point and allows natural light to flood into the bathroom.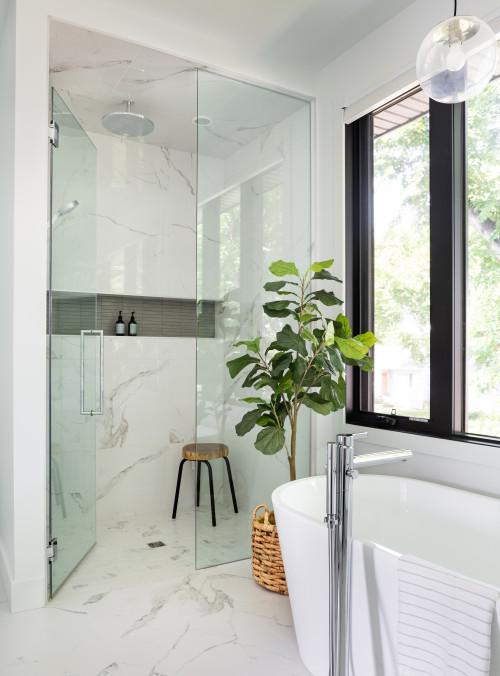 ID# 158623 | Houzz.com – Credit | © Alykhan Velji Design
---
Fresh and Bright Atmosphere with a Hint of Greenery
Adding a plant to your bathroom is a wonderful way to bring nature inside, especially if you are lucky enough to have natural sunlight! In this modern bathroom, the white marble walls and floors create a sleek and clean look that exudes luxury. The marble also adds a touch of grandeur to the surroundings. What makes this bathroom even more inviting are the warm wood accents and greenery that make it feel cozy and inviting. Finally the gray tile shower niche adds a contemporary touch while also freeing up valuable space. Altogether, this bathroom is a delightful oasis of calm and tranquility.
White Bathroom Floor Tiles
White bathroom floor tiles may be used as a neutral background for brightly colored or patterned items or to produce a crisp, clean, and timeless room layout. They complement practically everything, make a room appear lighter and brighter, and endure longer than a design with elaborate ornamentation. White bathroom floor tiles are tidy, contemporary, and totally fashionable. The perfect canvas for any pattern, color, or texture you want is white bathroom floor tiles. Layer a vibrant Persian rug over tiny hexagonal tiles for a bohemian look, or keep it straightforward with matte black lights and basic furnishing. To create a really one-of-a-kind design, classic subway tiles can be set in a unique pattern, such as herringbone, or alternated with other colors, such as gray or sage.
There are many different types of white bathroom floor tiles available, including porcelain, ceramic, glass mosaic, natural stone, cement, and many other colors ranging from warm to cold. There are many bathroom remodeling ideas available since they come in a range of textures, from polished and semi-finished to creatively textured to matt and velvety smooth.
Are white bathroom floor tiles a good idea?
If you're into a clean and bright bathroom, then white bathroom floor tiles is definitely worth checking out. It creates an airy atmosphere that could make your bathroom appear more spacious than it actually is. Depending on your personal style, white tiles could be a good idea to match your bathroom's design – whether you prefer modern and minimalist, or classic and traditional. Your bathroom could potentially be a relaxing and refreshing space that you'll enjoy spending time in!
Types of White Bathroom Floor Tiles
The good news is that there are many different kinds and types of white bathroom floor tile alternatives to pick from when it comes to white bathroom floor tile ideas. Those with limited funds can still find many lovely tiles. The most efficient bathrooms utilize the many options that are now accessible. There is a bathroom tile design for everyone, regardless of style, because white bathroom tiles are available in an almost infinite variety of materials, finishes, and price points. The form possibilities for bathroom floor tiles become available once you've made decisions on other items, including the bathroom's design or color scheme. Again, there are an infinite number of types of white bathroom floor tiles. You may add a contemporary touch to a room with hexagon floor tiles or a minimalist feel with penny floor tiles. Let's check!
White Penny Tile Bathroom Floor
Designing your bathroom can be an exciting endeavor, but choosing the perfect flooring is crucial to creating a functional, stylish, and comfortable space. Luckily, white penny tile bathroom floors are a popular and versatile option that are sure to please. These tiles have a timeless vintage charm that can add character to your bathroom design. You can opt for black or dark grout for a striking contrast, and complete the look with period-appropriate fixtures and accessories like a clawfoot tub or antique mirror.If sleek and modern is more your style, white penny tiles can still be the perfect choice.
Large tiles can create an understated and minimalist design, while mixing and matching different sizes can add a unique pattern to your space. By pairing the tiles with white grout and minimalist fixtures, your bathroom will look fresh and clean. Without a doubt, white penny tiles are a fantastic option to make your bathroom both functional and visually stunning.
What are the best tiles for the bathroom floor?
Choosing the right tiles for a bathroom floor can be a daunting task. A lot of things need to be considered to make the right choice. One crucial factor is choosing tiles that are water and slip-resistant to prevent accidents and water damage. Ceramic and porcelain tiles are popular choices because they are durable, easy to clean, and come in various styles and colors. Natural stone tiles like marble, granite, or travertine can also look great, but they require more maintenance than other options and can be more slippery when wet. Ultimately, the ideal type of tile for your bathroom floor will depend on your personal style, budget, and most importantly, your practical needs. So take your time, do your research and choose wisely!
White Hexagon Bathroom Floor
White hexagon bathroom floor tiles are a timeless and sophisticated choice, perfect for creating a stunning bathroom space. The clean lines and geometric design of these tiles add interest to any room, elevating its overall aesthetic. There are countless ways to incorporate these tiles into your bathroom design. Whether you prefer a traditional or modern style, white hexagon tiles can seamlessly blend in. By pairing the tiles with walls and cabinets that are white or light in color, your bathroom will radiate with a sense of cohesion and cleanliness.
For a daring twist, opt for black grout, which will make the hexagon shapes stand out boldly. To add a touch of supreme elegance, consider incorporating metallic accents such as brass or silver. This will give your bathroom a lavish and glamorous feel. With white hexagon bathroom floor tiles, you can create the bathroom of your dreams; one that exudes style and sophistication while also being functional and practical.
Are white bathroom floor tiles hard to keep clean?
White bathroom floor tiles can be more challenging to keep clean than darker tiles, as they tend to show dirt and stains more easily. However with proper cleaning and maintenance, it is possible to keep white bathroom floor tiles looking their best. Regular sweeping and mopping with a gentle cleaner can help prevent dirt and grime buildup and using a sealant on the tiles can also make them easier to clean. It's also important to wipe up spills and splatters as soon as possible to prevent stains from setting in.
White Mosaic Tile Bathroom Floor
Designing a bathroom can be a daunting task, but choosing the perfect flooring can make all the difference. White mosaic tiles are a classic and timeless choice for bathroom floors, creating a cohesive and functional space. Whether you prefer a traditional or modern look, white mosaic tiles can bring a bright and welcoming atmosphere into your bathroom. They provide a fresh and clean feeling, making the space feel much larger and open due to their white color reflecting the light.Not only are white mosaic tiles visually appealing, but they are also practical for bathroom floors.
They are durable and easy to clean, making them ideal for high-traffic areas that are susceptible to moisture and spills. With proper installation and maintenance, your white mosaic tile bathroom floor can last for years to come. Furthermore, there are numerous shapes and styles to choose from, offering design options such as hexagons, penny round, and square tiles, as well as intricate designs with various patterns and textures.
White Marble Bathroom Floor Tiles
Introducing the epitome of luxury for your bathroom – the white marble floor tiles. Marvel at the stunning beauty and durability of natural stone, just like architects and designers have been doing for centuries. You'll instantly feel the elegance and sophistication of marble flooring. With its versatility, these white marble tiles complement any bathroom design, be it traditional or contemporary. They blend effortlessly with an array of color palettes and materials. What's more, white marble flooring creates a bright and airy ambiance, perfect for smaller bathrooms. Treat yourself to a luxurious and spacious sensation with white marble bathroom floor tiles today.
What are the cons of white tiles?
Although white tiles have always been a top pick for homeowners, it's essential to weigh out the negatives. Don't get us wrong, white tiles can provide a timeless and versatile design, but they do come with their own set of drawbacks. One major disadvantage of using white tiles is their tendency to show dirt, grime, and stains more easily than darker-colored tiles. Therefore, it's necessary to clean and maintain them frequently to keep them looking impeccable.Furthermore, white tiles reflect less light than other colors, making a small space look even more cramped, which can affect the overall appearance of a room. Lastly, if not sealed correctly, white tiles may discolor over time due to sunlight and other environmental factors, making them appear dull and uninviting.
Black and White Bathroom Floor Tiles
When it comes to creating a bathroom design that is both functional and visually appealing, finding the perfect balance is key. And one design element that can truly make a statement is black and white floor tiles. This timeless color combination radiates a sense of elegance that can elevate any bathroom style, whether you prefer a traditional or contemporary look. Let's delve into the benefits of incorporating black and white bathroom floor tiles into your design.First and foremost, the versatility of black and white tiles is unmatched.
These two tones can be effortlessly incorporated into any design style, from modern to vintage, and create a multitude of vibes ranging from soothing and serene to bold and vibrant. Additionally, black and white tiles have the unique ability to make a bathroom feel more spacious, giving the illusion of more room and adding brightness to even the smallest areas. Trust us, these floor tiles are a simple and effective way to achieve the bathroom of your dreams.
Do white tiles turn yellow?
White tiles can turn yellow over time due to a variety of factors, including exposure to sunlight, moisture, and certain cleaning products. Sunlight can cause some white tiles to yellow over time, especially if they are installed in areas that receive direct sunlight. Moisture can also contribute to yellowing, as it can cause the growth of mildew or mold on the tile surface. Certain cleaning products can also cause yellowing, especially if they contain harsh chemicals that can damage the tile's surface.
To prevent yellowing, it's important to choose high-quality white tiles and install them correctly using the appropriate materials and techniques. Regular cleaning and maintenance can also help prevent yellowing, such as wiping up spills and stains immediately, using mild cleaning products specifically designed for tiles, and avoiding the use of abrasive tools or cleaners. If you notice your white tiles starting to yellow, you may be able to remove the discoloration using a tile and grout cleaner or a natural cleaning solution like vinegar and baking soda. However, severe yellowing may require professional cleaning or even replacement of the affected tiles.
Gray and White Bathroom Floor Tiles
Gray and white bathroom floor tiles are the perfect choice if you're after a timeless and classic vibe for your bathroom. The mix of these two neutral colors creates a calming sense of freshness while also adding a touch of character and depth to your space. With a range of patterns and designs available, from simple and understated to bold and striking, gray and white tiles suit both modern and traditional bathroom styles. Adding pops of color, contrasting textures or other neutral hues can take this look to the next level and give it a sophisticated edge that never goes out of style. Trust us, you'll never tire of this elegant and versatile tile choice.
What are the advantages of white floor tiles?
White floor tiles have several advantages, including brightness and lightness that can make a room appear more spacious and inviting, versatility to pair with different decor styles, timelessness that ensures a classic and fashionable look for years to come, easy maintenance, and the ability to reflect personal style by allowing other design elements to stand out. The bright, clean, and reflective qualities of white tiles create a welcoming and appealing atmosphere while also providing practical benefits for easy upkeep and personalization.
Blue and White Bathroom Floor Tiles
When it comes to designing your bathroom, don't overlook the importance of the flooring. It's the foundation for the entire look and feel of the space. For a timeless and cohesive design, consider incorporating blue and white bathroom tiles into your flooring. There's a reason this classic combination has stood the test of time – it's fresh and inviting, with a versatility that works in any bathroom style. The blue and white color palette creates a striking contrast that can add a touch of sophistication to any size of bathroom. Small spaces feel more open and larger ones are elevated to a new level of elegance. Don't miss out on this winning design choice for your bathroom flooring.
What color grout is best for white floor tiles?
The best color grout for white floor tiles depends on personal preference and the desired look. A contrasting color, such as black or dark gray, can create a striking effect, while matching colors provide a cohesive finish. Neutral colors like beige or light gray can complement white tiles while adding depth and texture. It's important to consider the style and mood of the room, as well as practicality, when choosing a grout color for white floor tiles.