20+ Gray and White Kitchen Cabinets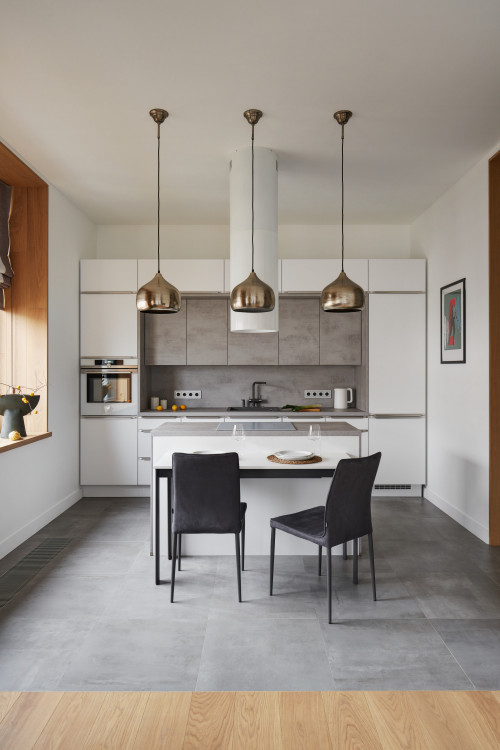 ID# 161203 | Houzz.com – Credit | © Artzona
---
Contemporary Eat-in Kitchen with Concrete-Look Floor Tiles
Welcome to a kitchen that exudes contemporary elegance with its sleek white flat panel cabinets, accented by gray cabinets in the middle for a touch of visual interest. The light gray countertops and backsplash add a sense of sophistication and complement the clean lines of the cabinets. A white island serves as a focal point, offering both functionality and style. Metallic pendant lights add a modern touch, casting a warm glow over the space. The concrete-look floor tiles provide a trendy and industrial vibe, adding texture and depth to the overall design.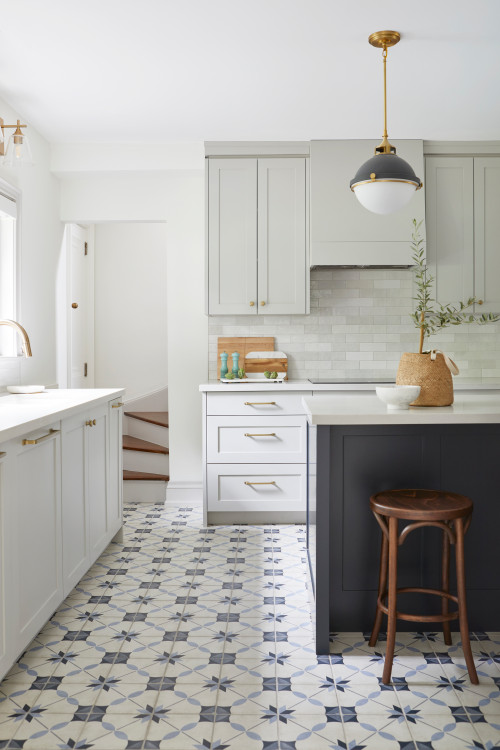 ID# 161211 | Houzz.com – Credit | © Charlie Coull Design
---
Transitional Kitchen with Patterned Floor Tiles
The light gray and white shaker cabinets offer a perfect balance between traditional and contemporary styles and provide ample storage and a clean sophisticated aesthetic. The white countertops provide a sleek and durable surface for meal prep, while the light gray subway tile backsplash adds a touch of texture and visual interest. The black kitchen island serves as a bold focal point, featuring wood stools that add warmth and contrast to the space. The patterned floor tiles with blue shades create a striking visual impact, adding a touch of personality and charm to the design.
Gray and White Kitchen Cabinets
Remodeling or designing kitchen cabinets is one of the challenges when it comes to kitchen design. The cabinets are one of the main design elements that will show your personality and design taste when you first enter the kitchen and feel the atmosphere while having time there. While the white kitchen cabinet designs dominate the kitchen design, you may not like to go with stark all-white and want to soften things with a little warm touch. The gray and white kitchen cabinets come to life at this stage. They can offer a warm farmhouse, a modern or contemporary kitchen interior, or a luxe kitchen atmosphere with elegance.
Gray works much better with natural wood than black and white does, and the white will act as more of a compliment to the gray than the black, which is a strong contrast. This is one advantage of a gray kitchen cabinet design over a black and white kitchen. Even though an all-white kitchen is ageless, mixing white and gray will give any room a sophisticated and beautiful appearance. Let's scroll down and see many design options for gray and white kitchen cabinet design ideas.
ID# 161201 | Houzz.com – Credit | © Ирина Чернейкина
---
Gray and White Kitchen Cabinets with Red Accents
The elegantly understated kitchen features sleek gray and white cabinets with flat panel doors, making for an uncluttered and sophisticated feel. The dark gray countertops lend depth and richness to the design while contrasting strikingly. Adding a dash of personality is the unique patterned backsplash that captures attention and makes a statement. For a pop of vitality, eye-catching red accents such as cookware and utensils, draw the eye and add an element of excitement. The pièce de résistance is the striking red lighting fixture, which infuses the space with artistic appeal and a touch of intrigue that also will leave anyone in awe.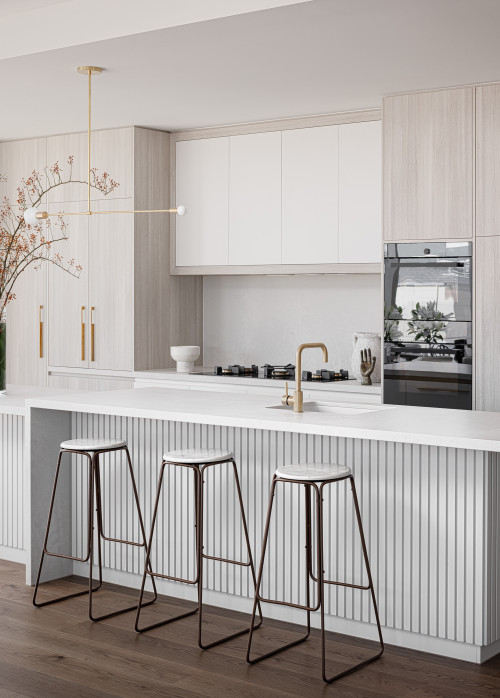 ID# 161202 | Houzz.com – Credit
---
Modern Kitchen Design with Quartz Backsplash and Countertops
Wow, this kitchen exudes pure elegance with its stunning light gray wood cabinets paired perfectly with sleek white upper ones! The light gray island with its beautifully paneled design adds a touch of sophistication and depth to the room, making it even more special. The white quartz backsplash and countertops offer a refreshing and crisp look, creating a seamless and cohesive design that just feels right. With stainless steel appliances to complete the modern aesthetic this space is nothing short of polished and refined. The smart and clean lines of the cabinets and overall design bring a contemporary sophistication that is truly inviting and harmonious.
What color goes with white and gray kitchen?
The Gray and white kitchen combination is one of the most versatile combinations that you can find for your kitchens. White is the most suitable color with gray and white kitchens, however, to spruce up some vibes, brass or gold details are a thing that you can increase the luxurious appeal in your kitchens. Black, on the other hand, is another color that easily goes with white and gray kitchens. Wooden details and design elements can bring some Scandinavian design touches or elevate the cozy and warm vibes of your gray and white kitchen design.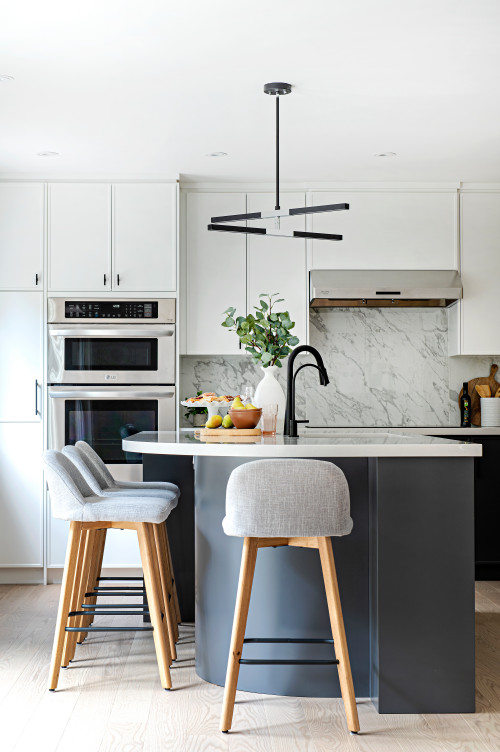 ID# 161204 | Houzz.com – Credit | © Bobeche Interiors
---
Gray and White Kitchen Cabinets with Marble Look Backsplash
This beautiful modern family kitchen exudes a cozy Scandinavian feel with a hint of mid-century modern charm! The bright white upper cabinets impart a fresh and crisp aura, while the lower gray cabinets and peninsula introduce a warm and inviting touch to the area. The cabinet doors' slim shaker profile enhances the design with its minimalist appeal, creating a sleek and modern ambiance. The kitchen's exquisite finishes, such as the luxurious quartz countertop and spacious marble-like porcelain backsplash, lend an aura of sophistication and grandeur. The high-quality materials harmonize perfectly, resulting in a timeless and functional space that is true eye candy. This kitchen also boasts ample counter space and storage options that make it ideal for family gatherings and memorable culinary escapades.
Are white and gray kitchens out of style?
The two versatile and timeless colors, the white and gray kitchens can not be out of style! Kitchen styles come and go, however, new twists can be created with timeless colors, too. For this reason, white and gray kitchens can be the one for your dreamy kitchen design, especially if you do not like the all-white stark kitchen designs.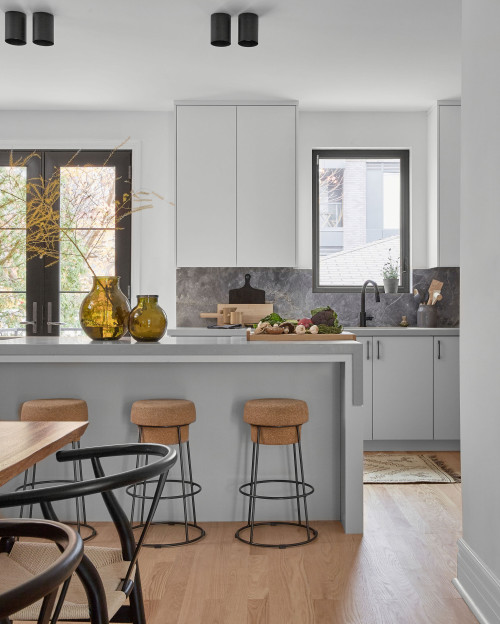 ID# 161205 | Houzz.com – Credit
---
Modern Scandinavian Kitchen with Gray Granite Slab Backsplash
Come take a peek at this stunning kitchen that seamlessly blends charming Scandinavian-inspired elements with contemporary design! The soft tones of white and gray cabinets work together to create an inviting and open atmosphere while the bold dark gray backsplash adds a striking pop of contrast. The light gray countertops continue the sleek and stylish look, infusing a cozy yet refined feel into the space. Throughout the design, modern black accents add the perfect touch of sophistication for all your culinary and entertaining needs!
Gray Shades and Hues
Gray shades and hues are a popular choice among many interior designers and homeowners because it is timeless and adaptable. This preferred neutral hue is used frequently for kitchen cabinets in addition to appearing on furniture and other furnishings. It is simple to match gray kitchen cabinets with a number of backsplash designs, countertop materials, and appliance finishes because of the color's range of tones, which may lean either warm or chilly. Gray complements almost all kitchen designs and cabinet types, whether your cooking space is more modern or has a farmhouse aesthetic.
Whether your style is contemporary or farmhouse, industrial or rustic, there is a perfect gray shade and hue for you to create your dreamy kitchen design. If you want to add a warm atmosphere you will see darker grays with plants, this combination is also popular in contemporary design styles, too. You can have a bright and clean kitchen design with lighter and softer gray shades and hues with an elegant touch. Scroll down to get inspired by the gray shades and hues of the kitchen cabinets to have a beautiful kitchen design look!
Dark Gray and White Kitchen Cabinets
Dark gray has long been a preferred color for kitchen cabinets because it complements raised panels, flat panels, and particularly shaker-style doors. In order to achieve that goal, choosing a darker shade of gray will result in a kitchen design that will last for a very long time. Dark gray and white kitchen cabinets may also be versatile and look particularly good when combined with different patterns and hues. Dark gray and white kitchen cabinets in the kitchen provide a smart contrast that enhances the room's sleek and sophisticated appearance.
When you do not want any strong and bold contrast dark gray and white kitchen cabinets are a perfect fit for this role. Most of the time they are accentuated with brass or chrome hardware according to the design look that a homeowner wants. A white backsplash and white countertops can help you to have a brighter and airy appeal while emphasizing the gray kitchen cabinets. Scroll down and see some of the stylish examples of the dark gray and white kitchen cabinets which we gathered for you.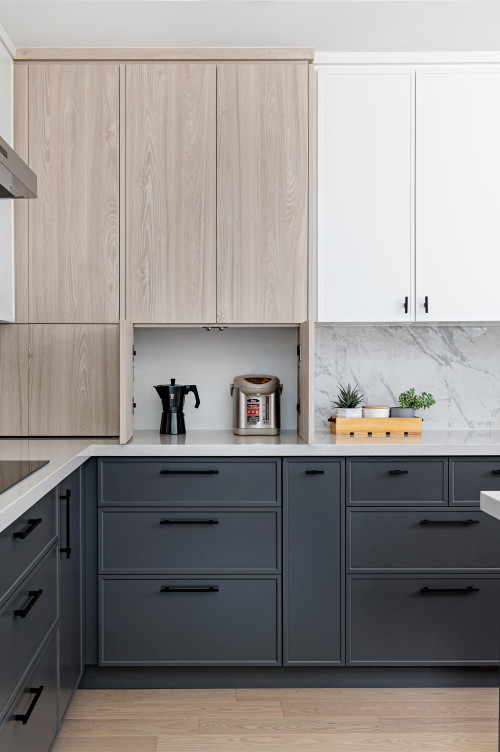 ID# 161206 | Houzz.com – Credit | © Bobeche Interiors
---
Wood, White and Gray Kitchen Cabinets with Black Hardware
As you step into this picturesque Scandinavian kitchen, your eyes are immediately drawn to the stunning interplay between modern design and classic elements! The sleek white cabinets embody a sense of immaculate simplicity. The warm and textured wood cabinets offer a comforting contrast, exuding a naturally inviting vibe. The dark gray cabinets inject a touch of finesse and depth, lending a touch of sophistication to the overall ambiance. The contemporary black hardware serves as an eye-catching accent. And, as you admire the marble backsplash and countertop, you can feel a sense of luxury and refinement permeating the atmosphere, elevating the kitchen to new heights of elegance!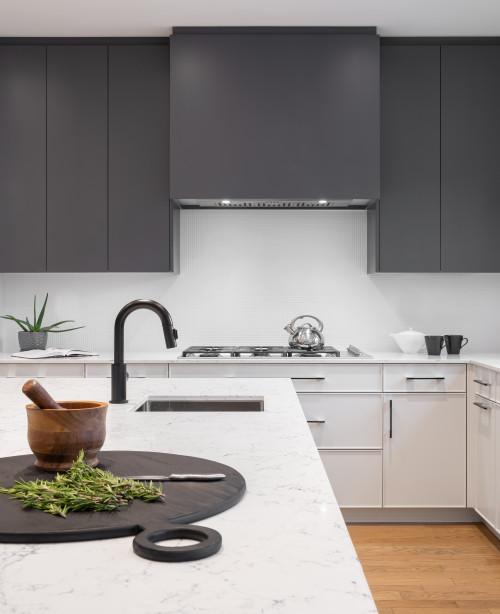 ID# 161207 | Houzz.com – Credit | © Shannon Soro Interior Design
---
Modern Monochrome Kitchen Design with Wood Floor
This kitchen design speaks loud and clear with its daring dark gray upper cabinets creating an atmosphere of intrigue and thrill! The striking visual impact is brought to life by the clean and refreshing contrast of the white base cabinets. The smooth and durable white quartz countertops and backsplash lend a modern touch adding a feeling of sophistication and reliability. The shining chrome hardware adds a subtle yet vital sparkle to the whole setup. To blend the perfect line between modernity and natural beauty, the warm and natural texture of the wood flooring ties everything together with a cozy ambiance, filling the space with a sense of homeliness and comfort.
What color flooring goes with gray and white cabinets?
Dark or medium-tone wood floors, definitely, go well with gray and white cabinets. If you like contemporary dark and serene looks you can use black tile floors or dark gray floors to emphasize the gray and white kitchen cabinets. Whatever the design style is, dark or medium-tone wood floors are perfect with gray and white cabinets.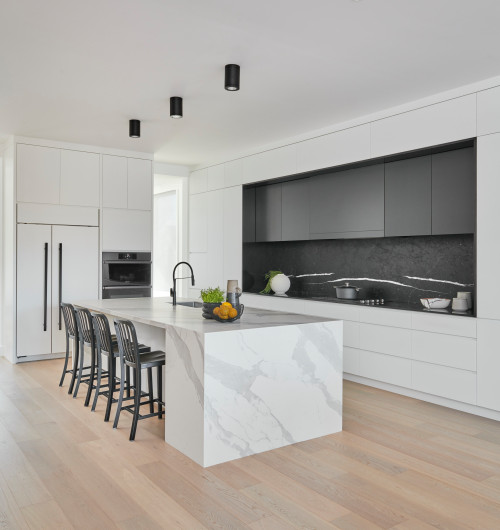 ID# 161208 | Houzz.com – Credit | © Tailor Build
---
Marble Waterfall Kitchen Island with Black Chairs
The white flat-panel cabinets greet you with a refreshing sense of simplicity, while the gray upper cabinets add a touch of class with their subtle contrast. The gray granite backsplash and countertops elevate the modern appeal with their shiny and long-lasting finish. But what will truly catch your attention is the magnificent marble waterfall kitchen island, adorned with stunning veining and a gorgeous waterfall edge design – a truly lavish addition. Sit down on the black chairs with their sleek and contemporary silhouette, and let the warmth of the wooden floor balance out the cool tones of the cabinets and countertops. Additionally, this kitchen invites you to immerse yourself in its stylish and comfortable atmosphere.
Light Gray and White Kitchen Cabinets
Choosing a color shade depends on the space, also. For instance, if you have a small kitchen area it is quite understandable to have a light color palette while large kitchens can have a dark color palette mostly. Of course, this is not a strict rule! You can have a crisp and clean bright kitchen with light colors, too, such as light gray and white kitchen cabinets. This combination is always helpful when you do not like the stark white kitchen look.
You can combine light gray and white kitchen cabinets with brass and glass accents. Marble countertops and backsplash designs will be the ultimate design element with them to increase your home's value. If you like to bring more warmth to your light gray and white kitchen cabinets you can use wood countertops or backsplash designs with wood floors. This will elevate the warm and natural appeal of your kitchen's overall look. Let's scroll down and see the stunning views of the light gray and white kitchen cabinets!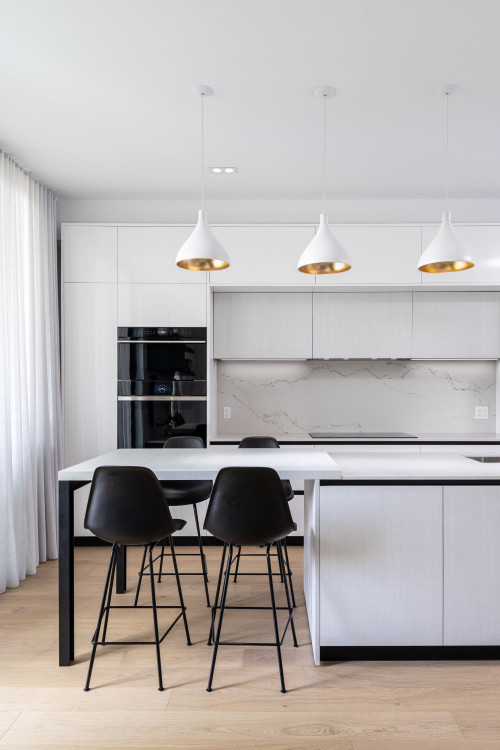 ID# 161209 | Houzz.com – Credit | © Muti Kitchen & Bath
---
Bright and Spacious Kitchen Design with Dark Gray Accents
This kitchen is an excellent choice for those who crave a contemporary style with a dash of refinement! Its bright and sleek design feels clean and open, lending a sophisticated and upscale air. The light gray and white kitchen cabinets complement each other to create a modern and chic atmosphere. The quartz backsplash sporting a marble-like pattern brings a touch of class and sophistication, with its stunning veins and polished surface. The white kitchen island is the heart of the room, boasting an extension that can be used as a comfortable dining table for intimate meals or larger gatherings. The black chairs provide a touch of elegance and modernity, offering a sharp contrast against the white island. The white pendant lights with gold accents add a dose of glamour and luxury, bringing the overall aesthetic of the kitchen to new heights.
What colors compliment gray cabinets?
Gray cabinets are complimented stylishly by the white color, mostly. However, white hues such as off-whites, or light beige and gray hues are perfect, too. If you want to emphasize the gray cabinets with a strong statement you can use darker colors, or you can have light colors to have a contrast and to enlighten the gray cabinetry design.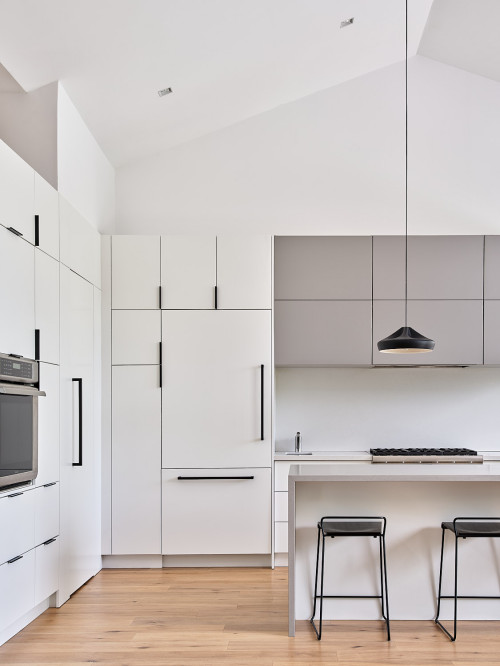 ID# 161210 | Houzz.com – Credit | © Six Four Five A
---
High Ceiling White Kitchen Design with Black Details
This stunning Scandinavian kitchen feels an immediate sense of calm wash over you! The clean and crisp lines create an effortlessly elegant aesthetic that's perfect for those who appreciate minimalist design. The high ceiling with its soaring height, lends an airy and open feel to the space, making it an inviting spot to cook and entertain. The flat-panel cabinets in a flawless white hue offer a touch of luxury while maintaining a simple and uncluttered vibe throughout the room. Meanwhile, the grey handless cabinets in the center of the kitchen provide a subtle yet striking contrast, keeping the space from becoming too austere!
Gray and White Kitchen Cabinet Styles
If you decided on the gray and white colors for the kitchen cabinets, the variety of gray and white kitchen cabinet styles that are available might first appear intimidating, whether you're installing brand-new kitchen cabinets or wanting to renovate existing ones. You may select the design that's best for your home by investigating the most popular alternatives and keeping a few useful tips in mind.
When choosing gray and white kitchen cabinet styles, you must first decide if you want your cabinets to blend in with the rest of your home's decor, deviate somewhat from it, or take a sharp turn to the right. Although a kitchen is a separate room with its very own functions, most kitchens do include elements of the home's general design. The sole guideline for interior design is to "make sure it feels right for you." A modernist masterpiece kitchen could be a bit of a shock to walk into from an art and crafts-style living room, but that is the only rule to follow. Choosing to coordinate styles from room to room is ultimately up to you. Let's check some of the gorgeous designs of the gray and white kitchen cabinet styles.
Gray and White Shaker Cabinets
A religious movement that started in the 1770s during the American colonial era gave rise to the Shaker cabinet design. In favor of a straightforward and practical look, the design tends to shy away from any stylistic embellishments. Despite their classical origins, Shaker cabinets are well suited for use in modern or contemporary kitchen designs because of their straightforward and sleek lines. For this reason, you can find perfect modern farmhouse design style kitchen examples with gray and white shaker cabinets.
Shaker kitchen cabinets are known for their flat paneled doors with rail frames, solid construction from high-quality wood, and practical designs. Shaker-style cabinets often make use of premium Native American timbers that are typically found in the northeastern United States. Durable woods like cherry, maple, hickory, and quartersawn oak are some examples. Thanks to today's technology, now we can have them in many different color combinations and schemes. For instance, to have a modern approach you can use gray and white shaker cabinets.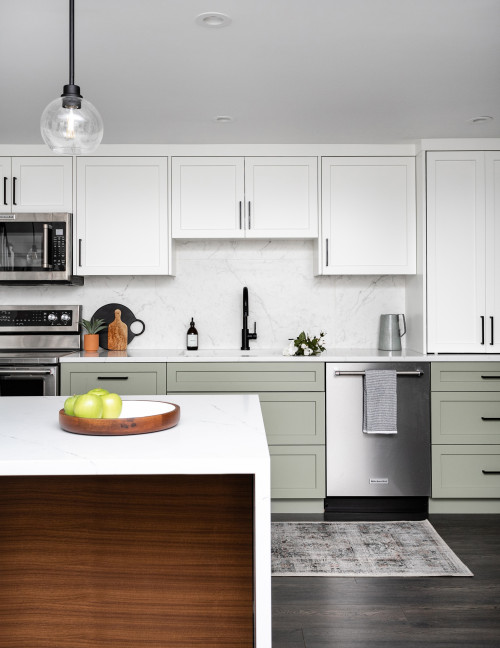 ID# 161212 | Houzz.com – Credit | © ALTER Design Studio
---
Gray and White Shaker Cabinets with Wood Island
The gray and white shaker cabinets create a timeless and versatile backdrop, offering ample storage and a clean, refined look. The white quartz backsplash, countertops and farmhouse sink provide a sleek and durable surface that complements the cabinets while also adding a touch of brightness to the space. The wood kitchen island with a waterfall countertop serves as a stunning focal point, adding a touch of natural warmth and elegance. Additionally, the dark wood floor grounds the design with its rich and luxurious appeal, creating a perfect contrast against the lighter cabinets and countertops.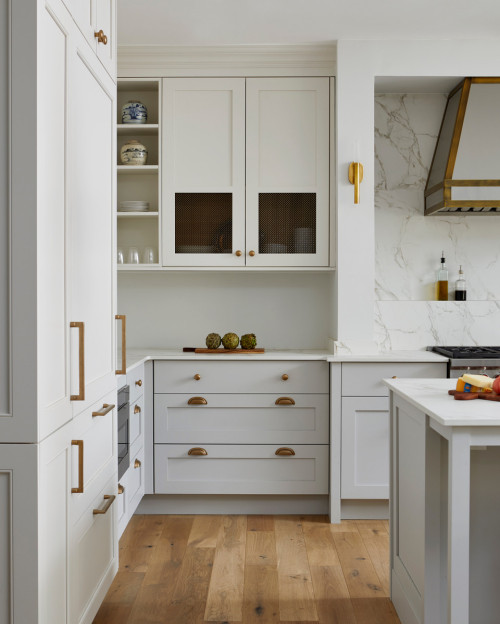 ID# 161213 | Houzz.com – Credit | © Square Footage Inc.
---
French Country Kitchen with Brass Accents
This kitchen design feels the timeless allure of the French Country style! The blend of classic and rustic elements is perfect for those who appreciate the warmth and charm of this aesthetic. The upper cabinets in white and glass create a sense of openness and airiness. You'll love the chance to showcase your most treasured dishware and accessories. On the other hand, the light grey kitchen cabinets provide a touch of sophisticated contrast to the white uppers. The brass hardware adds vintage flair that feels like it's always been there. Look to the quartz slab backsplash behind the stove to serve as a beautiful focal point that adds a luxurious touch to your cooking area. And that quartz countertop? It's not just beautiful, it's also durable and easy to maintain – perfect for even the busiest kitchens. Additionally, the wood flooring adds warmth and natural beauty to the space.
Gray and White Flat-Panel Cabinets
When it comes to kitchen design, flat-panel cabinets are often thought of as epitomizing contemporary or modern style. Their sleek and versatile appearance, available in a wide range of colors and materials, makes them a popular choice for homeowners. White and gray flat-panel cabinets in particular are especially popular due to their balanced and adaptable qualities. In today's market, flat-panel cabinets are the most functional option for your kitchen. They're easy to clean, visually unobtrusive, and often made of MDF with melamine, laminate, or Thermofoil finishes. Surprisingly though, these same modern cabinets can also be incorporated into a solid-wood kitchen with mid-century or even antique design elements. For those looking to stay within a budget, prefab flat-panel cabinets can easily be upgraded with custom additions.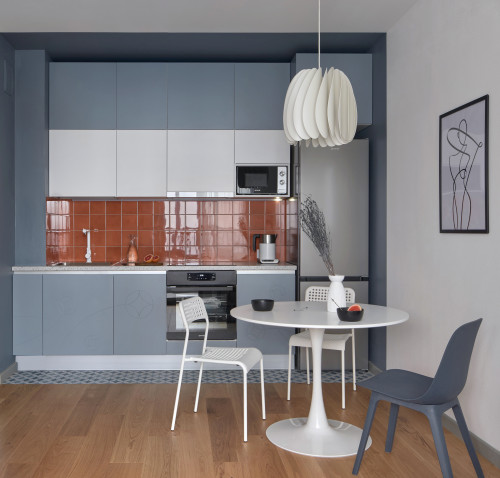 ID# 161214 | Houzz.com – Credit | © Екатерина Ткаченко
---
Eat-in Kitchen Design with Orange Backsplash
This contemporary eat-in kitchen design is perfect for those who appreciate modern aesthetics and functionality in their home! The grey cabinets provide a clean and minimalist look while the white upper cabinets add a touch of brightness and contrast. The vibrant orange glass tile backsplash adds a pop of color and visual interest, creating a focal point in the kitchen. The white countertop provides a crisp and clean surface for food preparation and entertaining. Stainless steel appliances add a touch of modernity and functionality to the space. The white dining table serves as a stylish centerpiece, complemented by a pendant light above it that also provides ample lighting for mealtime gatherings!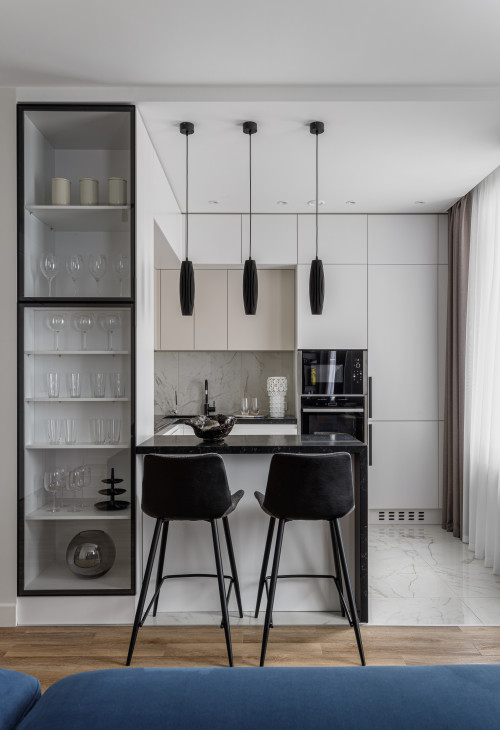 ID# 161215 | Houzz.com – Credit | © Рожкова Полина
---
Open Concept Design with Gray and White Kitchen Cabinets
As you walk into the kitchen, you can't help but feel the harmonious balance created by the combination of grey and white cabinets! The light grey cabinets add depth and sophistication to the space while the white ones bring in a bright and airy feel. The black granite countertop is not only elegant but also durable, perfect for meal preparation and hosting guests. You can't help but feel a sense of sophistication and style as you sit on the black chairs at the peninsula. The stainless steel appliances add a sleek and modern touch. Looking to the left, you'll notice a storage cabinet with glass doors showcasing your beautiful kitchenware!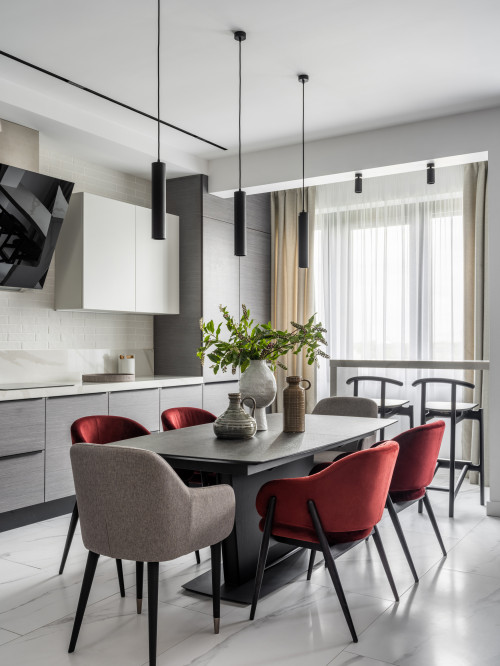 ID# 161216 | Houzz.com – Credit | © Zebrano by Sinteza
---
Gray and White Flat-Panel Kitchen Cabinets with Red Chairs
The gray and white kitchen cabinets look so sleek and sophisticated! And the white quartz countertop and backsplash provide the perfect clean and simple backdrop for meal prep. But what really catches my eye is the matte white subway tile backsplash – it adds just the right amount of texture and visual interest to the design. And how about that dining table? It's a total statement piece! Those gray and red chairs are the perfect choice to tie together the colors in the cabinets and backsplash.
Gray and White Raised-Panel Cabinets
Do you want a gray and white kitchen cabinetry design and do not have any idea which cabinetry design style to choose? We can recommend gray and white raised-panel cabinets! However, before any recommendation, let's understand what are raised-panel cabinets. A raised panel is the middle, slightly elevated, section of a cabinet door. There are many different designs and styles for raised panels. Many colors and finishes to choose from. To achieve a more modern look and catch today's design look, you can use gray and white raised-panel cabinets for your kitchens!
A cabinet door having a center panel that is somewhat higher than the surrounding wood is known as a raised-panel cabinet door. Due to their versatility, raised-panel cabinet doors are employed in both traditional and contemporary kitchen designs. The door is constructed by either inserting the panel into grooves that have been carved into the door frame or by securing the panel using glue. Arched or square margins are both possible on raised panel doors. They could also include glass or metal inserts to give the cabinet unit some special touches.
.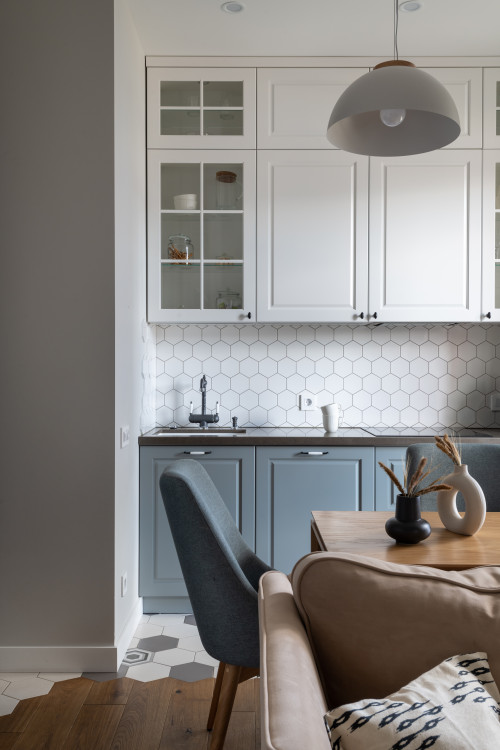 ID# 161217 | Houzz.com – Credit | © Вера Шеверденок | Roomba interior
---
Small Eclectic Kitchen with White Tile Backsplash
Oh my, this kitchen truly takes your breath away! Its unique and charming vibe has a way of pulling you in from the get-go. The gray and white raised panel cabinets blend seamlessly to create a touch of traditional elegance in the space. And let's talk about that white hexagon tile backsplash – it adds an extra pop of playfulness and eclecticism to the overall ambiance. The dark gray solid surface countertops elegantly complement the lighter-toned cabinetry, bringing depth and richness to the entire design. The glass-fronted upper cabinets provide an added touch of openness. They also allow you to display your favorite kitchen items and décor in a beautiful way!
Backsplash for Gray and White Kitchen Cabinets
A backsplash is a design element that both provides an aesthetic and complementary view, and protection for our walls from food spills, water splashes, and moisture. Choosing a backsplash is one of the last phases of the kitchen design to complement the kitchen cabinetry and add a stylish visual impact. If you have a gray and white color scheme, a backsplash for gray and white kitchen cabinets can be many things that you can easily combine with the white and gray colors since they are versatile and can go with many shades.
You can have glass to marble, pink to white, or slab to tile backsplash designs that complement the gray and white color kitchen cabinets. It is possible to accentuate the backsplash with brass or chrome details. Even a wood backsplash for gray and white kitchen cabinets will make a strong impact with its warm and cozy appeal. Let's scroll down and see what can you decide for a backsplash for gray and white kitchen cabinets.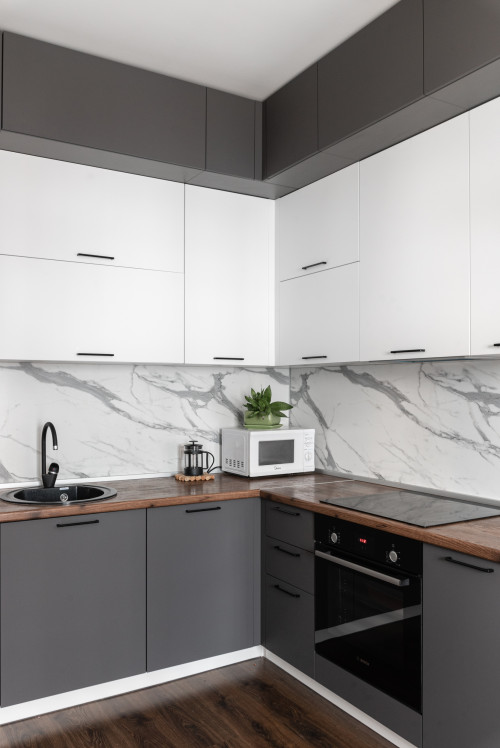 ID# 161218 | Houzz.com – Credit | © Интерьерный фотограф – Кутырина Анастасия
---
Marble-Look Quartz Backsplash with Two Tone Cabinetry
As you step inside this modern kitchen, you can't help but feel impressed by its sleek design and thoughtful details. The dark gray and white kitchen cabinets complement each other perfectly, creating a striking contrast that exudes contemporary appeal. The quartz backsplash, with its marble look, oozes luxury and adds an elegant touch to the design. And the wood countertop? It brings in a sense of warmth and natural beauty to the overall aesthetic which can make you feel cozy and relaxed. The black hardware adds a bold and stylish accent to the space, elevating the modern vibe of the kitchen to new heights. This small yet stunning kitchen is designed with efficiency and style in mind, making it an ideal space for those who appreciate a minimalist, yet chic approach to their culinary haven.
What backsplash goes with gray and white cabinets?
When it comes to kitchen design, some classic choices never go out of style. Take, for example, white slab or tile backsplashes paired with gray and white cabinets. But maybe you're looking to mix things up a bit and try something bolder, like a gray or black backsplash. Ultimately, the decision comes down to your design taste and the specific style of your kitchen. However, if you're looking for a recommendation, I would suggest sticking with a white backsplash. It's a timeless and complementary choice that will look great with your gray and white kitchen cabinets no matter what trends may come and go.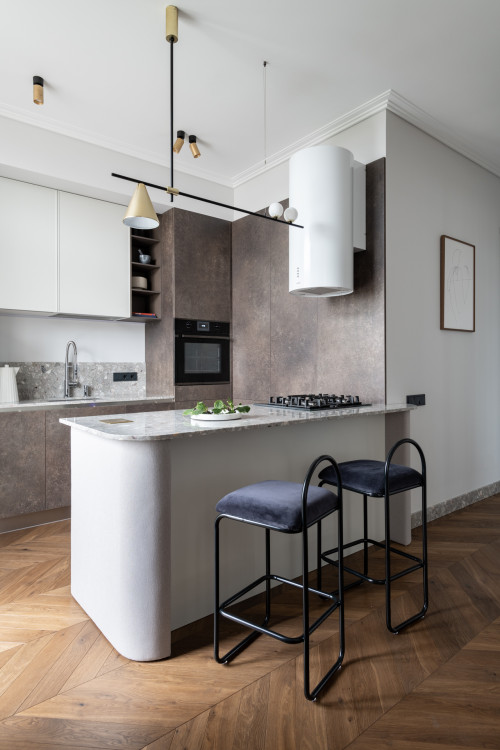 ID# 161219 | Houzz.com – Credit | © Buro 19.23
---
Elegant Gray and White Kitchen Cabinets with Granite Countertops
This open concept kitchen is designed for those who appreciate a contemporary yet timeless approach to their culinary space, with a perfect balance of functionality and aesthetics. The gray and white kitchen cabinets create a harmonious blend of textures and tones with pure white upper cabinets adding a touch of brightness and sophistication. The gray base cabinets feature a stone-like texture, adding depth and character to the design. The granite countertops and backsplash add durability and timeless appeal to the space, while the white peninsula with elegant chairs serves as a chic focal point for dining and entertaining. The modern white circular range hood adds a sleek and minimalist touch, complementing the overall aesthetic of the kitchen. Additionally, the minimalist lighting fixture above the peninsula adds a warm and inviting ambiance to the space.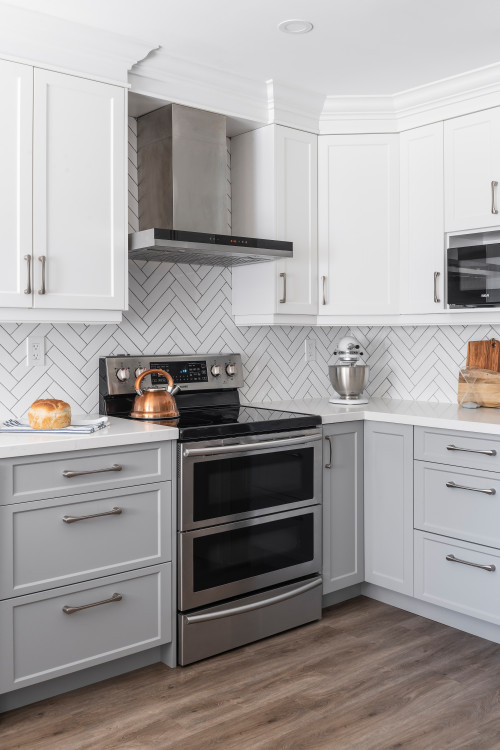 ID# 161220 | Houzz.com – Credit | © Jackie Schagen Design
---
White Herringbone Tile Backsplash with Gray Grout
These stunning shaker-style white and grey cabinetry are true masterpieces! The intricate yet graceful design of the white herringbone tile backsplash is highlighted by gray grout. It adds an elusive element of charm that's hard to ignore. Additionally, the faultless and sleek white laminate countertop provides an undisturbed surface that evokes an ambiance of contemporary sophistication. Every aspect has been meticulously thought-out in this thoroughly modern style, right down to the chrome hardware that also enlivens the aesthetic.