31+ Quartz Backsplash Ideas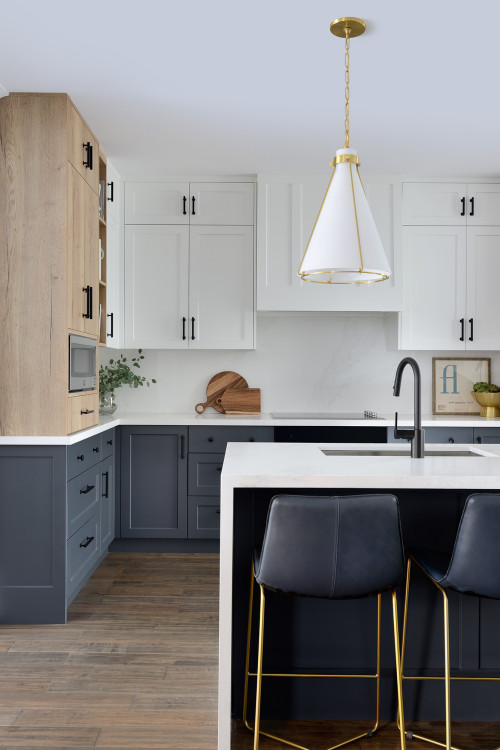 ID# 138601 | Houzz.com – Credit | © AMANDA SHIELDS INTERIORS
---
Quartz Backsplash Ideas with Two-tone Cabinetry and Brass Hardware
Visually rich, this modern kitchen is characterized by white, blue, and wood cabinets that bring together warm and cold tones. As a unifying element, the white quartz backsplash offers a sleek look to the countertops. The brass details on the cone-shaped pendants, rustic wood floor, and black hardware on the cabinets stylize the design, injecting also character into the space.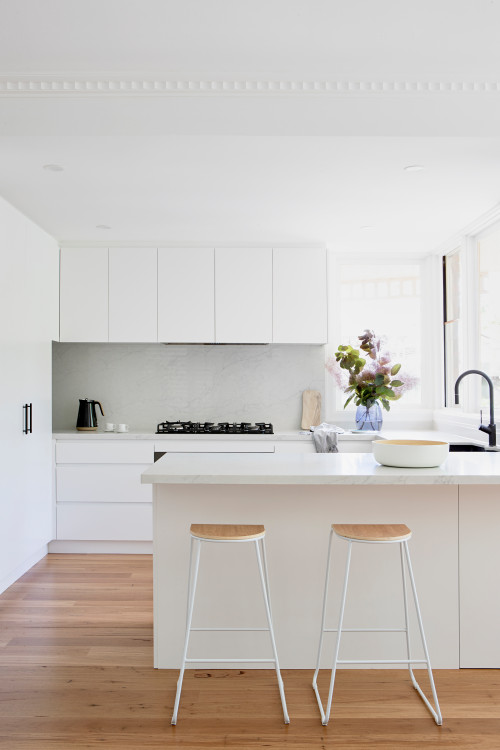 ID# 138616 | Houzz.com – Credit | © Lisa Cannon Interior Design
---
White Kitchen with Quartz Slab Backsplash and Black Fixtures
Another all-white kitchen that is visually lightweight and gives the illusion of floating! It consists of flat-front cabinets and a gray quartz backsplash that introduces a subtle shade of color. Also, the integrated sink with a black tap complies with the overall sleek profile of the kitchen. Like its other counterparts, again, wood welcomes us as a floor and stool coating material to break up the otherwise too-monotonic kitchen.
Quartz Backsplash Ideas
Coming as great alternatives to natural stones, thanks to their pore-free nature, quartz backsplashes are solid and modern materials, consisting of 90% quartz and 10% pigments and resin. Their durability, stain and heat resistance, and ease of maintenance help quartz preserve its popularity. And since it is available in various colors, finishes, and patterns, you might feel confused about how to start and choose the right quartz backsplash for you. But don't despair because this blog will introduce you to various quartz backsplash ideas in multiple setups and design styles.
Whether the overall theme of your kitchen falls into the category of modern farmhouse, contemporary, mid-century, industrial, or traditional, you can create engaging looks with quartz that will surely blend with the rest of the theme. In other words, independent of the size of the kitchen and the style of your home, you can install quartz backsplashes around your window, behind the stove, and as a full-height or standard backsplash. So, if you want to get a more solid idea of how they look on kitchen walls, scroll down to discover some quartz backsplash ideas and get inspired for your oncoming renovation projects.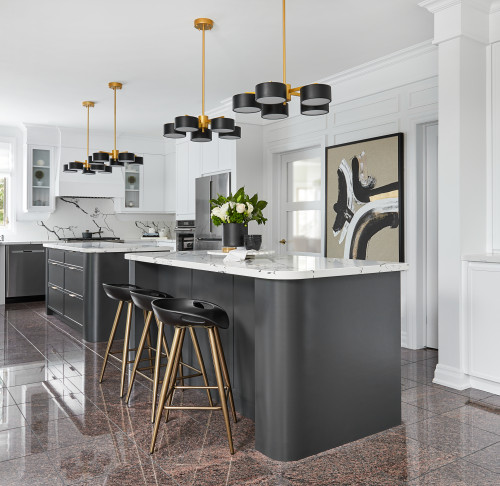 ID# 138602 | Houzz.com – Credit | © Rüme Design
---
Transitional Kitchen with Double Islands and White Quartz Backsplash
Spanning a vast space, this transitional kitchen has not one but two island units spoiling this kitchen's users. In the background, the white quartz backsplash with branch-like streaks introduces biomorphic forms, which continue on the quartz countertops as well. Overhead, the identical black lighting fixtures providing task lighting for the benchtops bring this vast kitchen together, creating also a coherent design.
Is quartz backsplash a good idea?
Quartz is an engineered product that consists of 90% quartz and pigments and resin that comprise the other 10 %. As it is man-made, it is pore-free, thus offering ease of maintenance when compared to other textured and porous materials like marble and granite. Thanks to the same qualities, it doesn't require any sealing and special cleaning products.
In aesthetic terms, it is a very stylish and modern material that brings effortless beauty to your kitchen and creates comforting aesthetics. You can find them in any color you can imagine, including yellows. Also, if you are looking for a substitute for a marble backsplash, Carrara and Calatta effect quartz backsplashes can mirror marble patterns masterfully for an authentic marble look.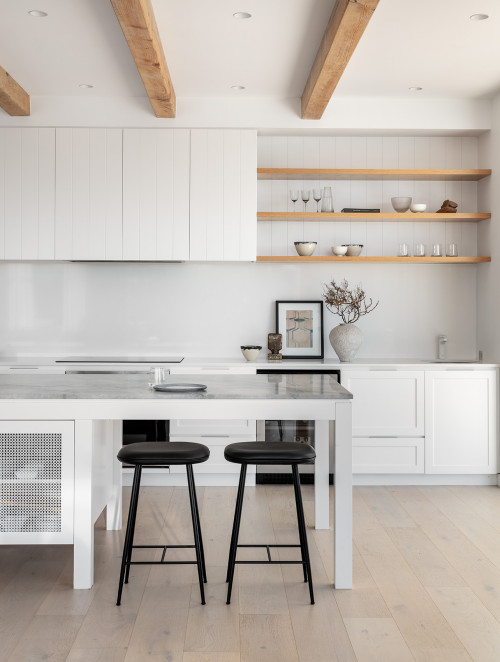 ID# 138603 | Houzz.com – Credit | © Georgina Wilson Associates
---
Serene Kitchen Design with White Cabinets and Exposed Wood Beams
Presenting a stylish serenity, this white-dominant kitchen is warmed up with exposed wood beams and timber floating shelves. The white quartz backsplash with its seamless surface provides a smooth transition between the white cabinets, while the beadboard cabinets generate a sense of movement, building extra interest to command attention.
Top Colors for Quartz Backsplash
Calacatta quartz backsplash: Calacatta version has many sub-groups, but all mainly feature a white base with light gray veins in various forms and sizes.
Sparkling white quartz: This version is dotted with speckles on a white base with a mild sparkle.
Pearl grey: Pearl grey has flecks of dark greys on a light gray background, which you can pair with white, dark grey, wood, and black cabinets.
Silestone quartz colors: This brand abounds in the shade and pattern options, also featuring dark and snowy white quartz.
Seleno: If you love dark brown spots on a white base, this quartz has the perfect look for you. You can combine them with white and light brown cabinets.
White Zeus Extreme: This one is a snowy white with a high-gloss finish. If you have a small kitchen and dark cabinets, you can make the kitchen feel larger with this one.
Arctic quartz: This one features subtle brown patterns and neutral flecks which can be paired with brown and wood cabinets perfectly.
White Quartz Backsplash
Thanks to their seamless and neutral look, white quartz backsplashes easily harmonize with other kitchen furnishings. Also, by not only enlarging but also brightening up the interiors, they instill a soothing atmosphere into the kitchen so that homeowners can cook in a peaceful space even after a long day spent at work.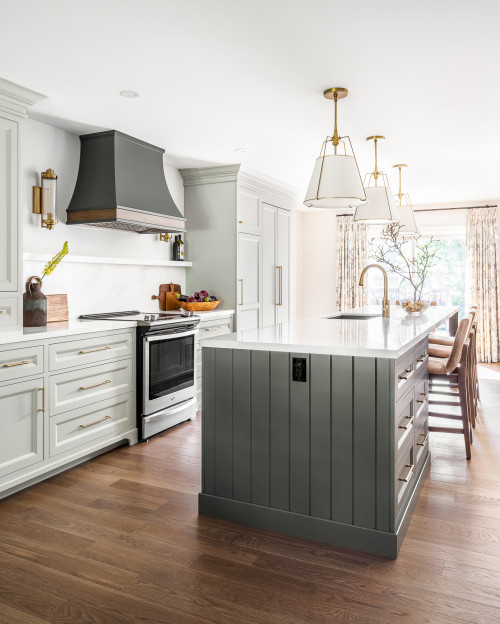 ID# 138604 | Houzz.com – Credit | © Patti Wilson Design Inc.
---
Transitional Kitchen with White Quartz Backsplash Ideas And Gray Island
In this open-plan home, this heartwarming kitchen design is characterized by white perimeter counters and gray beaded island cabinets. The white quartz backsplash reaches its standard size and is framed by a floating shelf of the same material as the backsplash. The gray range hood coordinates with the island, while the brass accents of lighting fixtures lend sparkle and warmth to the union of gray and white.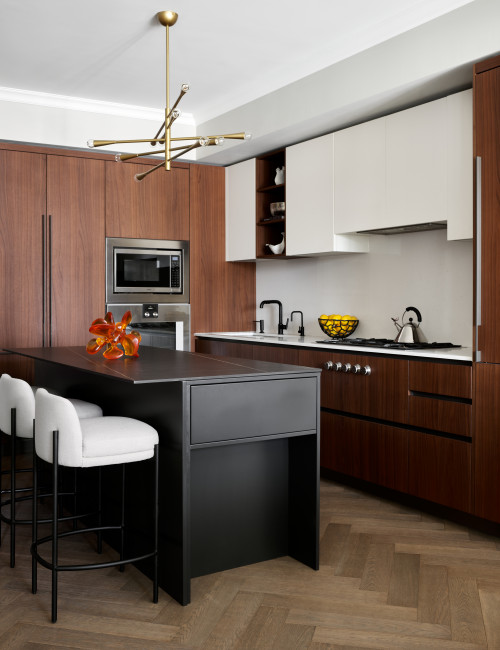 ID# 138605 | Houzz.com – Credit | © Designtheory Inc.
---
White Quartz Backsplash Ideas with Wood Cabinets and Black Island
This modern kitchen employs the popular pure white and wood theme of mid-century kitchens, pairing it with a black island. This dramatic and solid kitchen look earns lightness with the white quartz backsplash and countertops, while the brass sputnik lighting fixture brings back the 1950s vibes into the kitchen.
Is quartz too thick for a backsplash?
The thickness for a standard backsplash of any kind in tile is about 3/16 to ¼ inches, which naturally increases with the slab backsplashes. As for the quartz, its thickness also has the same range; so, it is as thick as any other slab backsplash, neither less nor more.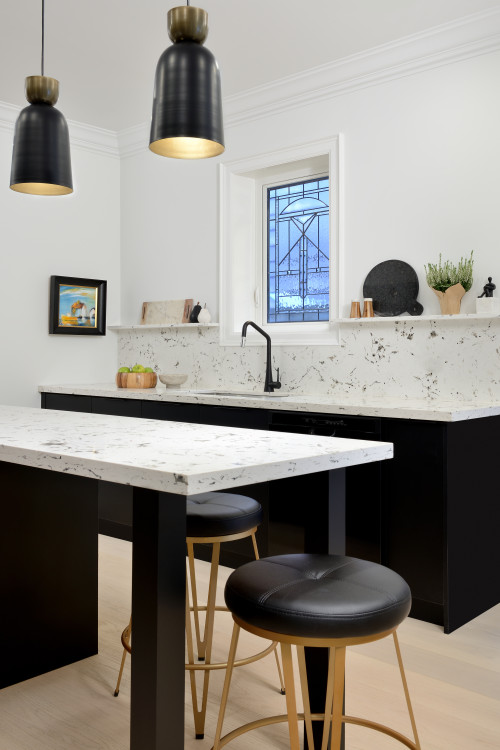 ID# 138606 | Houzz.com – Credit | © BedfordBrooks Design Inc.
---
Contemporary Kitchen with Dark Cabinets and White Backsplash
This super-chic contemporary kitchen is grounded on a contrasting color palette that is rigorously proportioned to the space, while the white quartz-clad dark cabinets serve as an anchor for the stunning pendants. On the top half of the kitchen, the walls are kept white, allowing the white quartz backsplash to melt into the background. Also the black stain-like features on the backsplash spice up the walls for extra interest.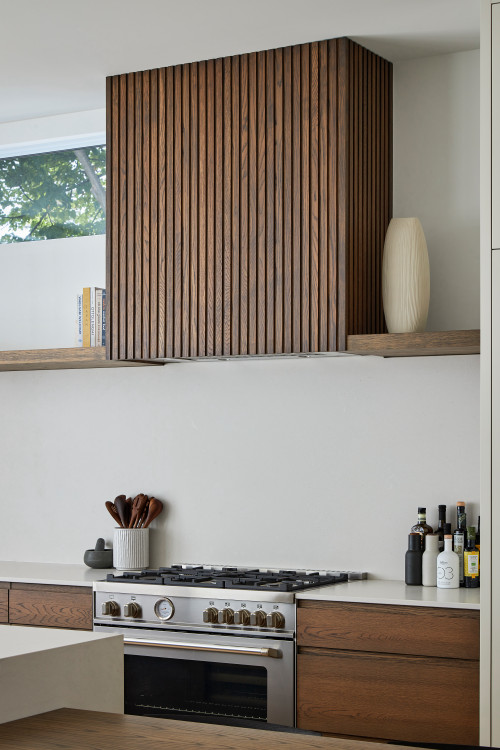 ID# 138607 | Houzz.com – Credit | © Art & Stone Group
---
Scandinavian Kitchen with Fluted Design Cabinets and Cantilevered Island
This kitchen is designed in compliance with the Japanese wabi-sabi principles just like the rest of the home. Consisting of relaxing wood shades and textures and a white quartz backsplash as a unifying color, it creates a sensation of amplitude, thanks to the open-plan layout. The fluted-design hood fixture and a floating shelf treated with a sculptural vase and books impart character to the walls and the backsplash. Lastly, the quartz-carved cantilevered island with a wood extension to host at least 6 people integrates a social hub into the room.
ID# 138608 | Houzz.com – Credit | © ZED Studio
---
Black Kitchen Design with White Quartz Backsplash and Gold Pendants
This dramatic kitchen design is brimming with black cabinets, while the undulating forms on the quartz backsplash and floor tiles ensure a sense of flow throughout. Most importantly, the well-distinguished kitchen sections find embodiment in the two-tiered island that function as a worktop and breakfast bar at two different levels without bleeding into each other.
Gray Quartz Backsplash
Just like white, gray is another soothing shade, which can also boost a sense of edginess and bring a gloomy edge to the kitchen. The same applies to the quartz backsplashes. Since they are available in concrete, matte, gloss, and speckled finishes, you can create various looks with gray quartz and incorporate them into industrial, contemporary, and transitional kitchens effortlessly.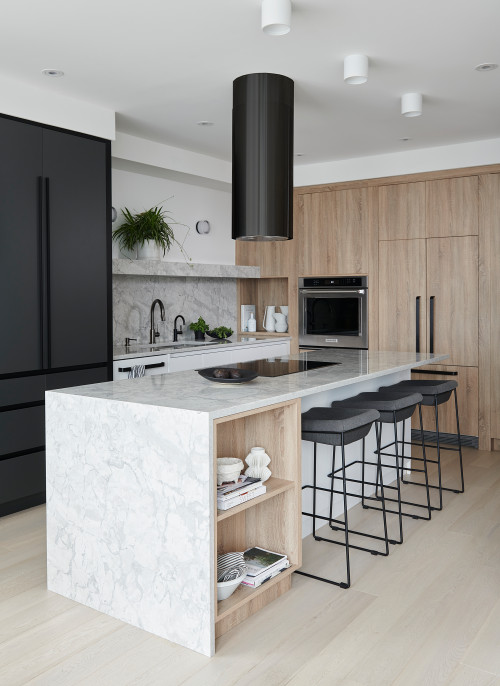 ID# 138609 | Houzz.com – Credit | © avenue design inc
---
High-End Design with Gray Quartz Backsplash and Floating Shelf
The core of this contemporary kitchen design is built upon the gray quartz backsplash that adds a very modern edge to the kitchen. It is complemented with full-height timber cabinets, built-in sleek appliances, and a black cylinder-shaped range hood that orchestrate an upscale feel. To avoid clutter and establish a better dynamic between different elements, the cylinder-shaped white flush mounts replace the pendants, providing task lighting for the island in total synchrony with the hood. The floating shelf and island countertop made of the same material as the backsplash tie the design together, while the kitchen plants bring a sense of life.
Is it expensive to use quartz as a backsplash?
Quartz is an expensive material and could even be more expensive than natural stones.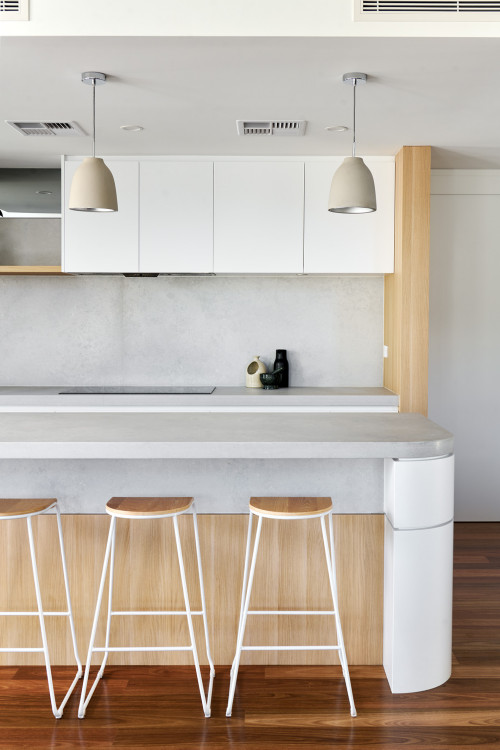 ID# 138610 | Houzz.com – Credit | © Western Cabinets
---
Scandinavian Kitchen with Concrete-Look Quartz Backsplash Ideas and Oak Cabinets
The Scandinavian kitchen is designed with the premise of creating a socially interactive spot for the guests and hosts, which renders cooking a social activity and necessitates a user-friendly environment. To establish this dual task, the designers go with natural oak cabinetry and concrete-look quartz countertops and backsplash for a more organic and rawer feel that comes in a refined form. This way, they inject warmth and lightness into the space that feels soothing. The curvy form of the island also introduces a user-friendly feature with soft edges, increasing the users' safety, while the rest feels complete with wood accents sprinkled here and there for various functions.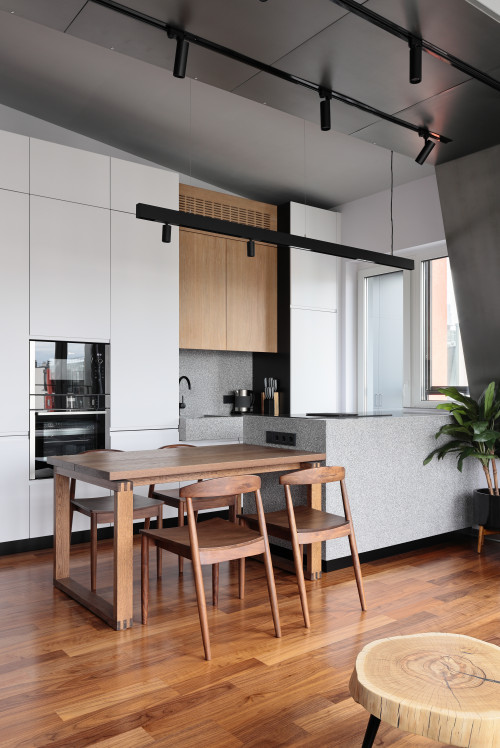 ID# 138611 | Houzz.com – Credit | © Maxim Maximov
---
White Cabinets with Two-Tiered Kitchen Island and Speckled Quartz Backsplash
One of the best parts of the quartz backsplashes is that they are available in various finishes and colors. This contemporary kitchen, for example, chooses a speckled-finish gray quartz backsplash, which is also utilized to clad the kitchen island to create a continuous look. In a similar vein, the wood dining table serves as the second section of the two-tiered island unit, extending to a lower level and coordinating with the wood panels hiding the range hood. And lastly, white full-height cabinets maximize the use of storage, increasing the efficiency of the kitchen while brightening it up at the same time.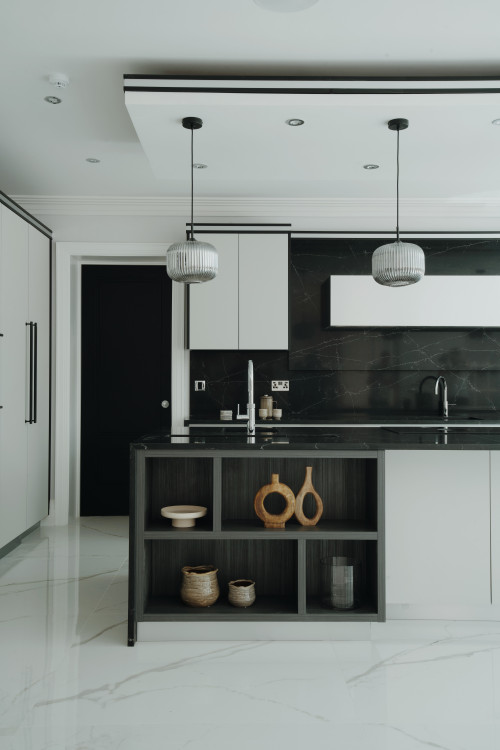 ID# 138612 | Houzz.com – Credit | © The Wood Works
---
Black Quartz Backsplash with White Marble Floors and False Ceiling
This amazing concrete-finish black quartz creates visual drama between the white cabinets in this contemporary kitchen. Nestled under the false ceiling with built-in spotlights and stylish pendants, it presents a continuous look with black quartz countertops. What runs parallel to it is a kitchen island with a duo of larders that face the lounge. This way, the design provides extra space to exhibit sculptural decorative pieces that make the kitchen feel more artsy and stylish. The black interior of this feature contrasts nicely with the white cabinets of the island. And to balance all-these black features, white marble-look quartz clads the ground throughout the open layout for a sense of lightness and brightness.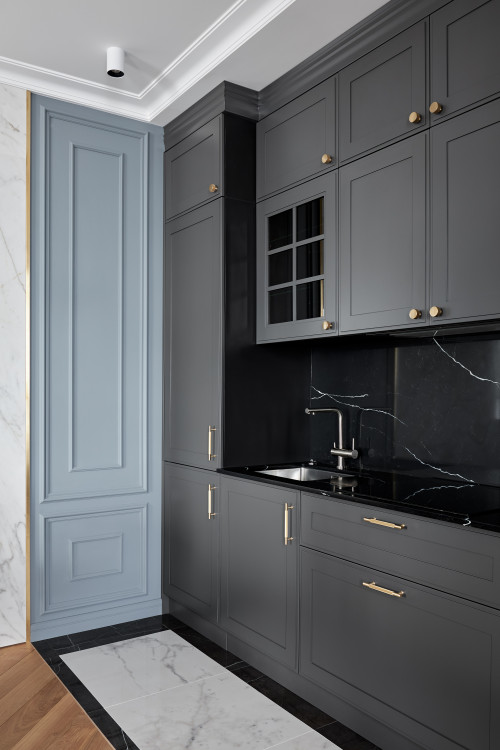 ID# 138613 | Houzz.com – Credit | © Maxim Maximov
---
Gray Cabinets with Black Quartz Backsplash Ideas and Brass Hardware
This Saint Petersburg kitchen owes its edgy and gloomy atmosphere to the gray cabinets paired with a black quartz backsplash and countertops. The gloss-finish on the quartz adds a flow and healthier look to the kitchen, supported by beautiful brass hardware to make the kitchen more approachable. On the ground, the white marble floor tiles framed by black quartz zone the kitchen, encountering chevron pattern wood floor marking lounge area.
Marble Look Quartz Backsplash
Marble-look quartz backsplashes offer a great substitute for marble, among which we can count Calacatta botanica, Calacatta Laza, Calacatta Clara, and statuary Classique. Each one of those has distinguished patterns (pronounced, oversized, small, and barely visible) on a white backdrop, exuding elegance with almost authentic-looking veining.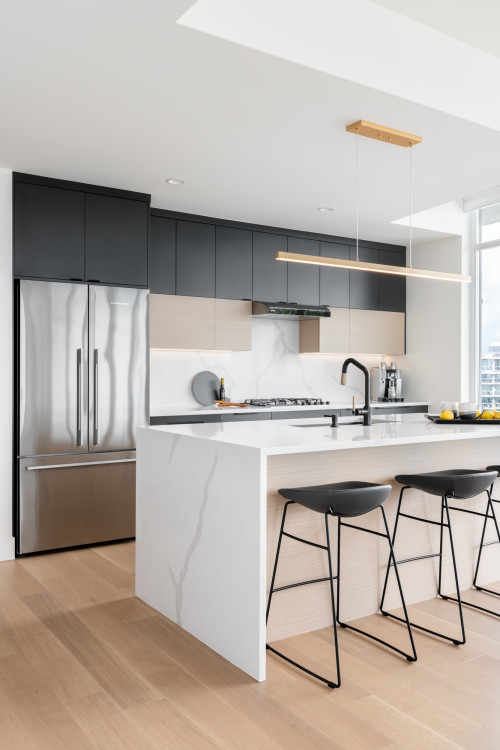 ID# 138614 | Houzz.com – Credit | © MAC Renovations LTD.
---
Marble-Look Quartz Backsplash with Waterfall Island and Two-tone Cabinets
This ultra-stylish penthouse kitchen has a soothing color vocabulary that comprises shades of cream, white, and black and employs a waterfall island that has become an indispensable feature in contemporary kitchens. In the background, the grayish veins on the white quartz backsplash mirror marble patterns, extending themselves on the streaming lights delivered by the floor-to-ceiling minimalist windows and patio door opening onto the terrace.
How to install quartz backsplash?
First, start by cleaning the application area. If there are any bumps, you can flatten them with sandpaper and clean the surface again to get rid of the unwanted dust. Continue by covering the countertops with a plastic sheet to avoid any damage.
When you are ready to install the backsplash, spread the construction adhesive on the back of the quartz backsplash, place it on the wall and apply some pressure for it to attach properly. If you need to cut it, you can use a circular saw for cleaner edges. While cutting it, keep moving the blade every 30 seconds to keep the temperature low.
As for the next step, since it is a slab backsplash, you don't need to worry about grouting and grout lines and sealing since it is pore-free. But, don't forget to caulk the joint between countertops and the backsplash to prevent water from seeping through these gaps in the future. After caulking, dampen your finger and move it along the joint until the caulk feels even and flattened.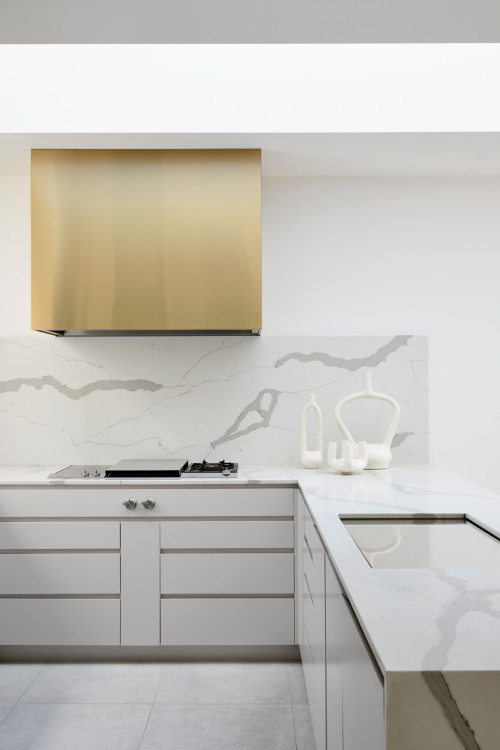 ID# 138615 | Houzz.com – Credit | © WALA
---
Marble-Look Quartz Backsplash Ideas with White Cabinets and Gold Hood
Lover of all-white marble looks? Well, this kitchen offers one of the best looks for you. Tying together white flat-front cabinets with a white marble-look quartz backsplash and countertops, it embodies an ultimate form of sophisticated simplicity. And it goes with a brass hood fixture to honor this basic yet elegant look with a touch of gold.
Quartz Backsplash Types
Calacatta Laza Quartz: It features gray dramatic veining on a milky white background, exuding elegance and presenting a clean look. You can pair this quartz type with gray quartz countertops, stainless steel appliances, and white cabinets.
Blanca Arabescato Quartz: This quartz type comes with timeless beauty, mirroring marble patterns with deep brown veining and an understated gray backdrop. By installing LED-strip lighting or under-cabinet spotlights, you can direct attention to this quartz backsplash and make it the showpiece.
Mystic Gray Quartz: Subtle dark spots and gray streaks are the distinguishing features of this quartz that gives it a mystic vibe. You can combine it with concrete countertops and cabinets in modern, contemporary, and industrial kitchens.
Caesarstone / Silestone Quartz: For those looking for a pure white quartz backsplash, these quartz brands offer pristine white quartz.
Midnight Majesty Concrete Finish Quartz: This quartz has a dark background with delicate white veining, offering a perfect option for soapstone and black marble. It is sophisticated, chic, and dramatic as well.
Quartz Slab Backsplash
Quartz slab backsplashes, though also available in tile versions, offer great alternatives to other solid stone backsplashes such as soapstone, onyx, granite, and marble. Providing modern and sleek features, they also share common features with glass sheet backsplashes except for the fact that quartz doesn't have an intrinsic translucent nature like glass. Rather, it is as solid and seamless as other natural stones. But it has one extra advantage, which is that it is pore-free, making it easy to maintain.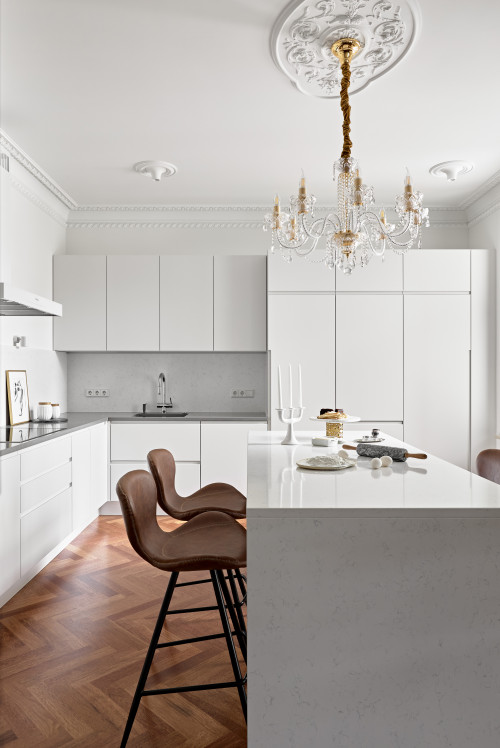 ID# 138617 | Houzz.com – Credit | © Maxim Maximov
---
Quartz Backsplash Ideas with White Cabinets and Chandelier
A statement chandelier with brass features and a ceiling with elaborate moldings are enough to make this space look stylish and classic. When you have such remarkable touches, an all-white look serves best to honor them. Starting from the quartz slab backsplash to the white cabinets and all-white island unit, a neutral set-up is provided. To accompany them, brown stools with intriguing shapes add a stylish touch, pairing with the kitchen island designed to have a laid-back eating space, instill a sense of casualness, and create a social hub of sorts in the kitchen.
How much does quartz backsplash cost?
The price range of a quartz backsplash is dependent on various factors, including the quartz type. But the prices typically stretch from $10 to $100, and the average cost ranges from $150 to $10,000 for a total installation.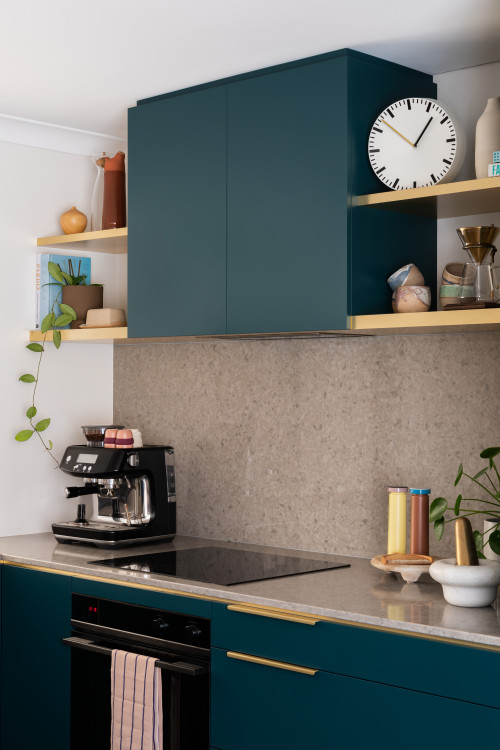 ID# 138618 | Houzz.com – Credit | © TEMPO STUDIO
---
Brown Quartz Backsplash with Timber Floating Shelves And Blue Cabinets
This contemporary kitchen goes with a bolder color scheme, comprising blue cabinets that command attention. Between them, a brown quartz backsplash with understated patterns creates a breathing spot for the eyes to rest and relax. Right above, the light timber floating shelves allow personalizing the design, exhibiting personal items of the homeowners and kitchen plants to add freshness to the kitchen.
Full-Height Quartz Backsplash
Full-height quartz backsplashes especially serve well in compact and small kitchens if you want to open up the space and are looking for a replacement after freeing the walls from the upper cabinets. And to enrich the look, you can use floating shelves and wall sconces that will pop against the backdrop.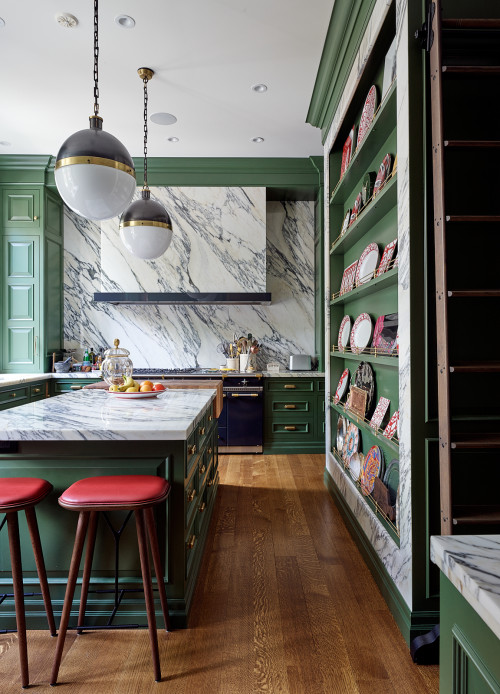 ID# 138619 | Houzz.com – Credit | © Whitehall Homes
---
Stunning Traditional Kitchen with Green Cabinets and Stone Slab Backsplash
If you are using a statement backsplash with pronounced veins like in this kitchen, it would be best to take it up to the ceiling just to create a visual focal point. You can even let it envelop the range hood as well as the countertops for a seamless feel. But before doing that, if you want to know how it looks altogether, this kitchen shows how. And to complement this, it doesn't even go with humbler elements. Rather, it matches this statement backsplash with bold shaded cabinets and fixtures. To do so, it starts with green cabinets and continues with brass hardware, red stools, and a red ladder kept away from sight. In the center, it places an island commuting between the arms of the cabinets effortlessly, paired with mid-century-inspired orb lighting fixtures.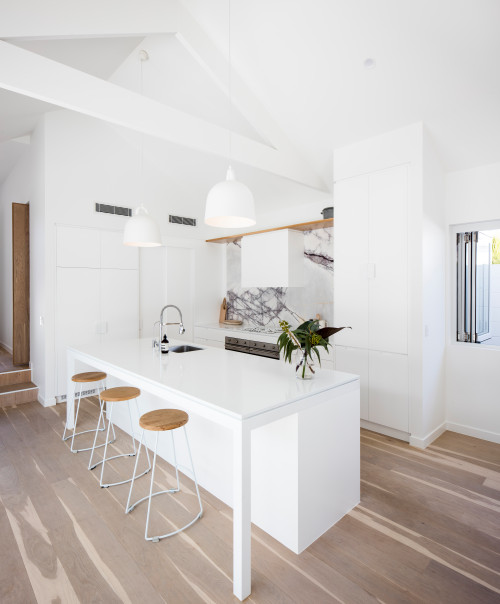 ID# 138620 | Houzz.com – Credit | © Nick Hayes Constructions
---
All-White Kitchen with Quartz Backsplash Ideas and Wood Accents
This barely-there kitchen consists of white flat-front cabinets that melt into the background, almost ghosting the kitchen if it weren't for the statement quartz backsplash with spectacular dark veins. Flanked by white cabinets, it serves as a showstopper piece of the kitchen, neighboring an all-white breakfast bar that is paired with modern stools. A duo of white dome-shaped pendants dropped down from the gabled ceiling over the island adds intriguing volumes, and the rustic wood floor coordinates with the other wood accents implanted into the kitchen. In case you want to introduce a sense of life, a kitchen plant or a flower placed into a glass bowl can do it for you.
How thick is a quartz backsplash?
A typical quartz backsplash measures between 3/8 and 1/2 an inch, which serves as armor for the walls and feels thin enough to install easily. But the thickness varies from quartz to quartz; for example, some engineered quartz backsplashes only feature a thickness of ¼ inch.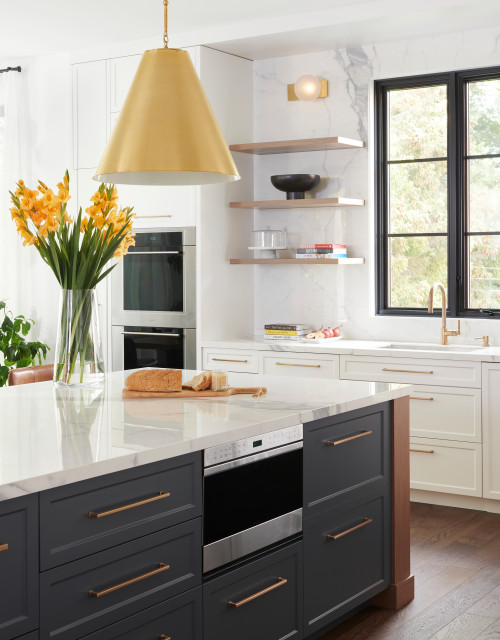 ID# 138621 | Houzz.com – Credit | © Jodie Rosen Design
---
Full-Height Quartz Backsplash with Brass Hardware and Statement Island
In this modern kitchen, the full-height white quartz backsplash provides a blank canvas, allowing brass fixtures and timber floating shelves to pop. The white cabinets paired with a statement gray island add extra interest and color variation, while the medium-tone wood floor also channels warmth.
4 Inch Quartz Backsplash
4- inch refers to the standard backsplash size, which is the same for quartz. If you have wall units, windows, or any other furniture that restrict the backsplash from reaching an upper level, it is simpler and easier to keep a quartz backsplash at its standard size or 4-inch.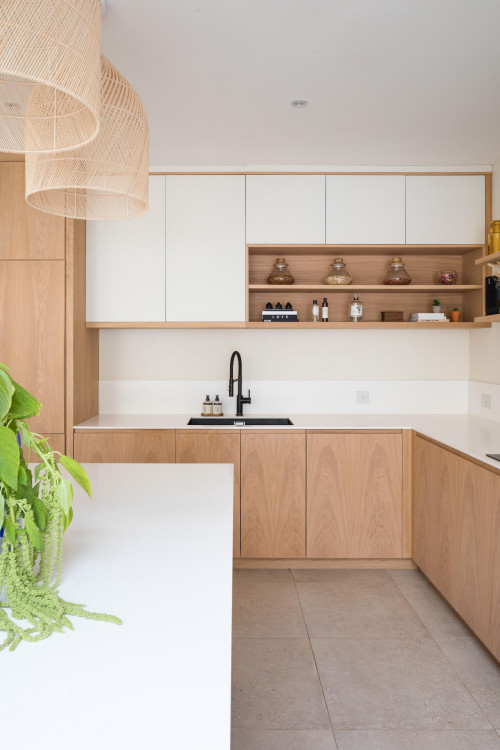 ID# 138622 | Houzz.com – Credit | © Sustainable Kitchens
---
Scandinavian Kitchen with White Quartz Backsplash and Countertops
Relying on the harmonious relationship between white quartz and timber, Scandinavian kitchens are celebrated for their soothing aesthetics. And this kitchen is no exception. From the double larders to the European oak clean line cabinetry, and quartz backsplash and countertops that form an integral of the design, each piece feels calm and soothing. The boho-style pendants, green plants, and large-format gray tiles traversing the ground comprise the rest of the repertoire of the kitchen to add more characteristic touches and also biophilic forms to align itself with organic modernism.
Is quartz backsplash cheaper than tile?
Tile versions of the quartz backsplash cost less than the slab backsplashes.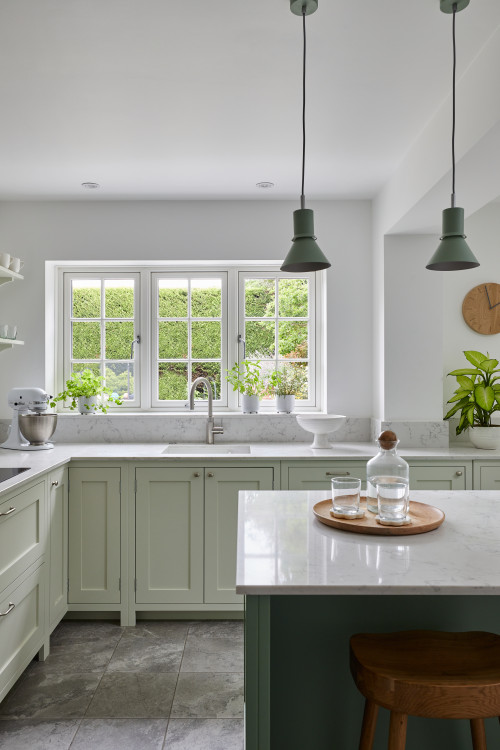 ID# 138623 | Houzz.com – Credit | © PlaceDesign Kitchens and Interiors
---
Transitional Kitchen with Quartz Backsplash Ideas and Green Cabinets
Colors set the tone of the designs and endow the spaces with an emotional state. Here, for example, this transitional kitchen chooses a relaxing color theme with light shade green cabinets and a grayish Carrara effect quartz backsplash that runs shorter on the wall and envelops countertops. On the other hand, the rest of the walls are white and kept free of upper cabinets to open up the space to suit the tranquility of the green shades.
Quartz Backsplash and Countertops
Quartz backsplash and countertops are practical options in kitchens that tend to get easily dirty and messy, thanks to their pore-free and easy-to-clean nature. Unlike natural stones, they also don't require sealing or any special cleaning products. As for the design options, either you can match your backsplash with countertops or, if you love diversity, you can use two different quartz types. For example, while using a speckled or veiny version for the backsplash, you can go with pure white quartz to easily navigate what is on the countertops.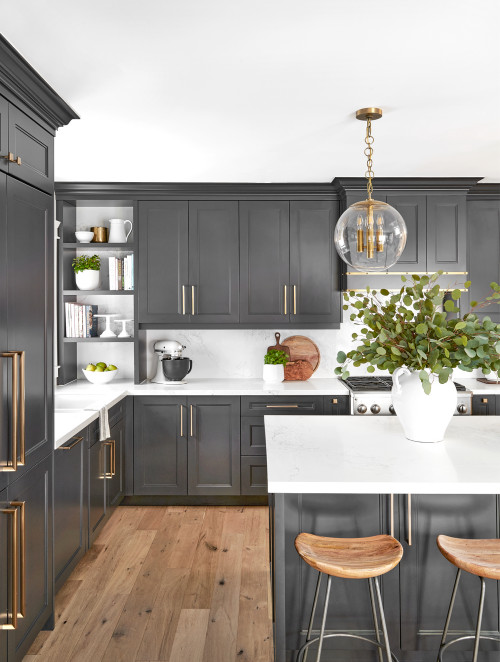 ID# 138624 | Houzz.com – Credit | © Staci Edwards Design Inc
---
Blue Cabinets with Quartz Backsplash and Countertops
This transitional kitchen has a very consistent theme, populated by dark blue shaker cabinets and a white quartz backsplash that continues on the countertops for a seamless look. What adds up to these basics comes as an open-cabinet shelf, oil-rubbed brass hardware, and glass globular pendants to spice up the look, while rustic, stained wood floors and modern wood stools inject a healthy dose of warmth and wellness into the space.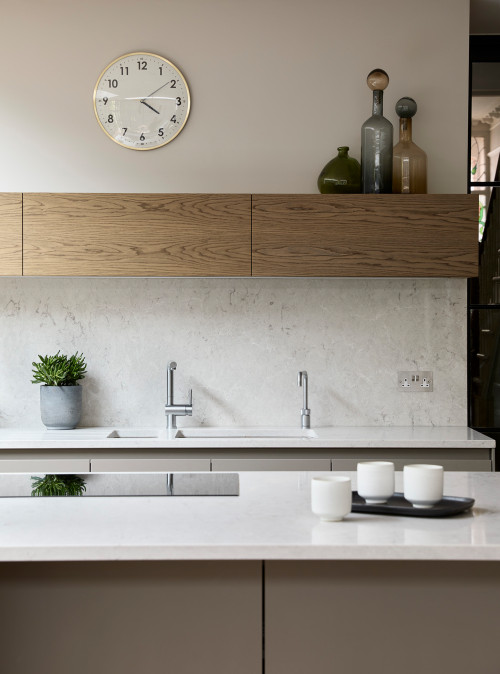 ID# 138625 | Houzz.com – Credit | © Kitchen Architecture Ltd
---
Quartz Backsplash Ideas with Quartz Countertops and Natural Shades
The natural earthy shades balanced with white quartz countertops and a grayish backsplash give the space its understated character. The wooden horizontally stacked wall units minimize their use of space on the walls to leave more room for personal items and a clock to track time. The hidden appliances and low-profile hob blend seamlessly with the cabinets, keeping the kitchen design to the bare essentials.
Can quartz be used as a backsplash behind the stove?
Quartz is heat-resistance; so, you can safely install a quartz backsplash behind the stove. But still, it is important to keep in mind that when quartz is exposed to too much heat in the long term, it might as well get damaged. And if you decide to use it as a countertop, it is best to avoid placing any hot pans on it.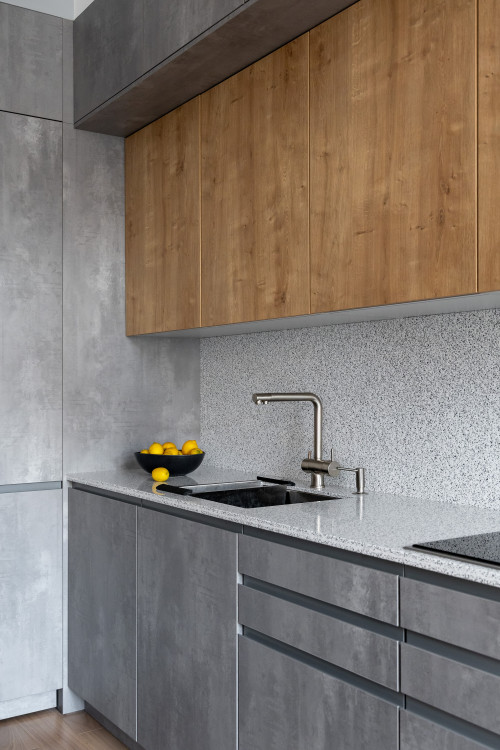 ID# 138626 | Houzz.com – Credit | © Maxim Maximov
---
Speckled Quartz Backsplash with Matching Countertops and Concrete Cabinets
Time-tested material concrete has all the features a homeowner would expect it to have: durability, ease of maintenance, and aesthetic value. And this kitchen makes use of it to its full potential while preferring to have it in cabinet forms. To complement them, it goes with a speckled quartz backsplash and matching countertops that also jazz up the background. Right above, the wooden wall units lend warmth, making the contemporary and industrial edge of the kitchen more approachable and also charming.
Quartz Backsplash Around Window
Paragraph If you have windows that get in the way, don't despair as you can cut quartz backsplashes and arrange them to fit around the window. As long as you have the right tools such as a wet saw with a diamond blade, cutting quartz can be simpler than you would expect it to be.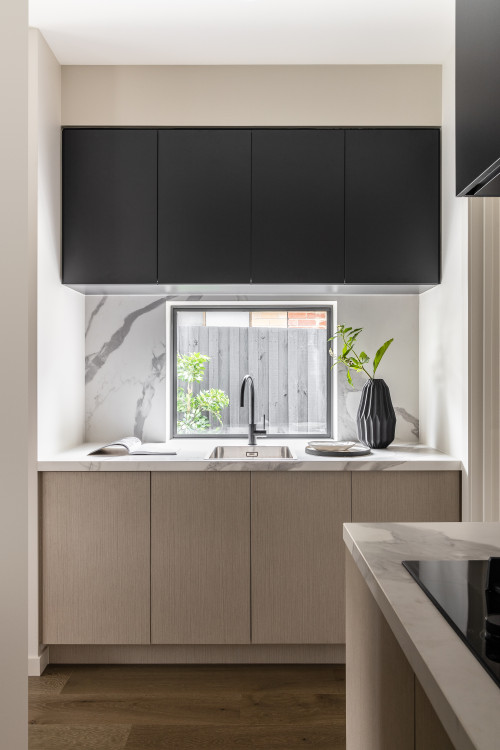 ID# 138627 | Houzz.com – Credit | © Collection by Glenvill Homes
---
Contemporary Kitchen with Quartz Backsplash Around Window and Timber Cabinets
This contemporary kitchen offers a sophisticated look with a quartz slab backsplash and two-tone cabinetry. The stunning streaks on the quartz echo the color scheme of the kitchen which consists of light timber cabinets and pitch-black wall units. Since the same backsplash is also used to envelop the countertops, the kitchen also presents a uniform and high-end look, framing the picture window with quartz backsplash.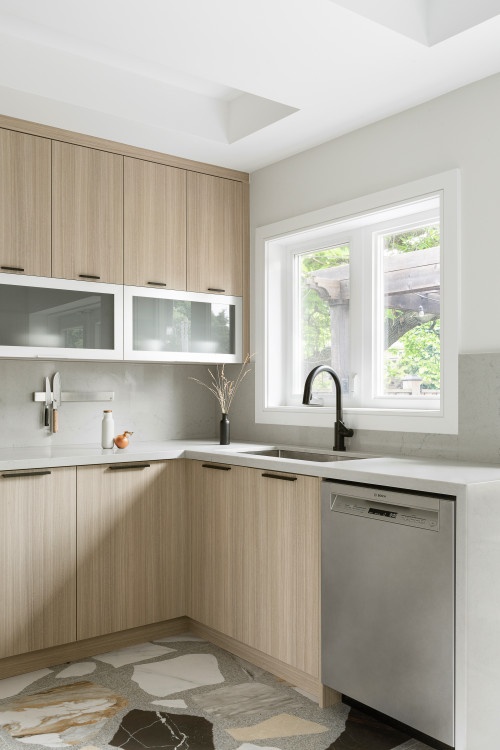 ID# 138628 | Houzz.com – Credit | © Bobeche Interiors
---
Quartz Backsplash Ideas with Timber Cabinets and Terrazzo Floor
From the gray quartz backsplash to gray countertops, modern sleek line cabinetry, and terrazzo, this kitchen abounds in statement features, presenting a calming aesthetics. The compactness of the kitchen feels effortlessly compensated with a soothing color scheme awash with touches of gray. On the floor, the use of terrazzo with big chips comes as a well-thought-out visual trick to expand the ground visually. It also formulates a contemporary version of centuries-old terrazzo while ensuring the longevity of the design.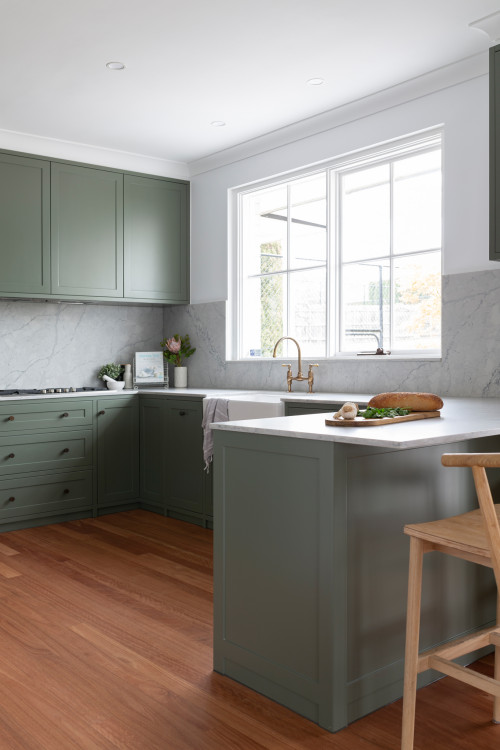 ID# 138629 | Houzz.com – Credit | © Studio Black Interiors
---
Green Cabinets with Gray Natural Stone Backsplash and Countertops
Located in the Canberra suburb of Old Deakin, this kitchen had been home to journalists, which has been recently renovated with muted shaker cabinets and gray natural stone backsplash and countertops for a young family. This resulting scheme feels soothing and welcoming enough, borrowing shades from nature and feeling warmed up with brass tap and oil-rubbed brass cabinet hardware. Also, the gray slab backsplash instills a sense of sophistication with understated veins, showcasing the egalitarian approach of the kitchen toward each element.
Quartz Backsplash Behind Stove
Since quartz backsplashes are engineered products and offer high resistance to heat, they are one of the perfect materials to be used behind the stove. Plus, their seamless and pore-free feature makes them less prone to absorb splatters, grease, and food spills. As such, they are easy to clean and maintain, which makes it easier for homeowners.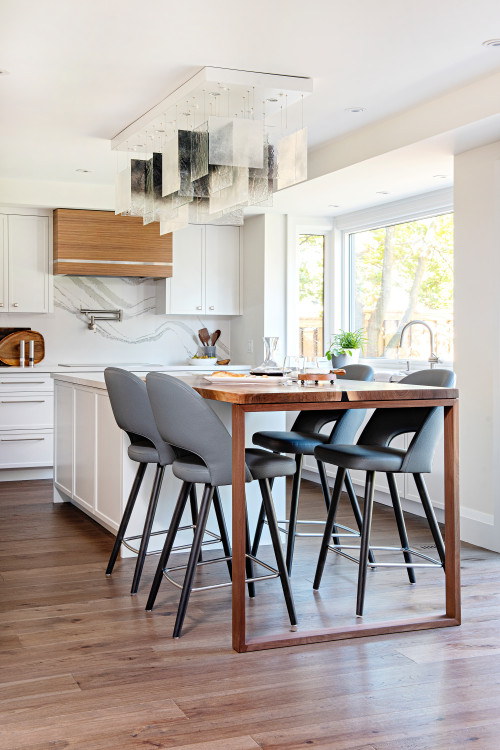 ID# 138630 | Houzz.com – Credit | © Frahm Interiors – Burlington ON
---
Quartz Backsplash Ideas for Stove and White Cabinets
This contemporary kitchen uses three different backsplashes for various kitchen works; for example, it goes with quartz for the stove, a window backsplash for the worktop, and glass for the home bar. This way, it establishes a well-functioning design that is differentiated by the different materials and needs of the space. As quartz provides high resistance to heat, it serves as a durable background for the stove, while the window backsplash provides an abundance of natural light to the worktop and glass offers an easy-to-clean surface for the home bar. And the rest is designed to ensure that all these pieces get connected with a neutral setup, which is accomplished with shaker cabinets in this kitchen.
How do you cut the quartz backsplash?
When you have the right tools, cutting a quartz backsplash could be a piece of cake. All that you need is a circular saw with a diamond blade, measuring tape, pen, heavy-duty gloves, goggles for eye protection, and a mask (you can also use a face shield). It is also recommended to work outdoors or in a well-ventilated area for safety precautions as inhaling the quartz dust could cause damage to the body.
When it comes to the cutting process, first, measure the area well and mark the spot where you need to cut the backsplash. Before cutting it, leave some extra space because you will also have to smooth the edges. Now you can start cutting with a diamond blade attached to the circular or wet saw that will give you straight and clean cuts. Since the cutting generates heat, the water of the wet saw will help to cool it down and keep the airborne dust under control. For one final touch, you can use a polishing wheel and oil to smooth the newly cut edges.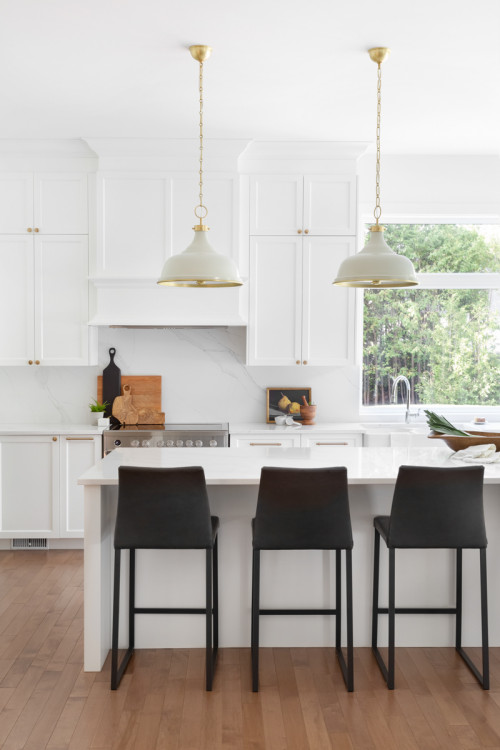 ID# 138631 | Houzz.com – Credit | © Hibou Design & Co.
---
Monochromatic Transitional Kitchen with Marble-look Quartz Backsplash and Brass Accents
All-white looks are still pretty popular, creating soothing looks that slow the pace of time indoors and making a counterpoint to the hectic schedules of city life. And this achromatic transitional kitchen presents one of those designs that feel silent and resilient. Awash with shades of white, it is populated by white shaker cabinets, a white marble-look quartz backsplash, and white quartz countertops that blend seamlessly together. To soften this achromatic look, the brass cabinet handles and wood-floor finish bring much-needed warmth to the kitchen, while a duo of dome-shaped pendants comes as a stylish feature, adding interest to the otherwise too-simple kitchen island.