32+ Backsplash for Dark Cabinets and White Countertops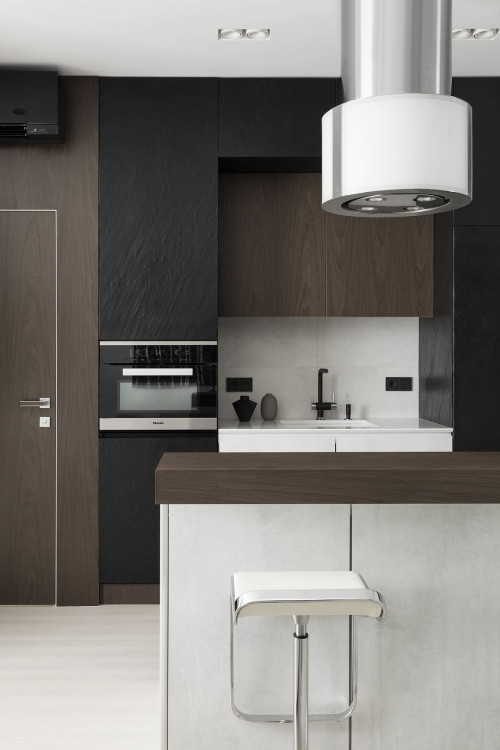 ID# 144702 | Houzz.com – Credit | © Архитектурное Бюро Соколова Кирилла
---
Dark Brown Cabinets with White Backsplash and Countertops
If you are bored with all-white looks, you can give a try to contrasting color schemes that achieve dramatic looks. Here, this contemporary kitchen in Moscow chooses dark colors for its upper and base cabinetry to anchor the white backsplash and countertops. Black appliances blend with the black cabinets, while the two-tiered island accommodates the low-profile hob paired with a chrome rounded range hood that brings an upscale feel. The dark timber extension of this small island serves as a laid-back eating space where you can also enjoy a couple of drinks.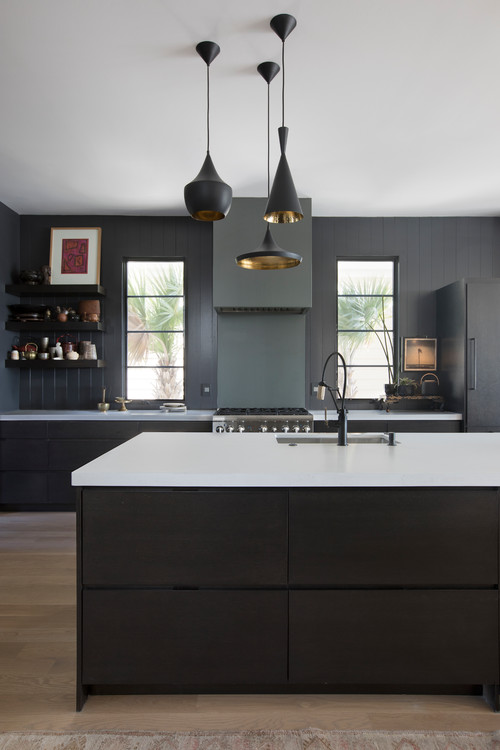 ID# 144720 | Houzz.com – Credit | © Sea Island Builders LLC
---
Dark Oak Cabinets with Subway Tile Backsplash and Zinc Hood
This stylish kitchen knows how to engage with the space. From the dark oak cabinets to the floating shelves, variously shaped lighting fixtures, and zinc-wrapped hood, each piece generously contributes to the dramatic design aesthetic. The gray vertically stacked oversized subway tiles give the kitchen a contemporary spin. The stove part is additionally accentuated by a zinc backsplash that acts as a singular body with the hood. Flanked by the windows, this kitchen station stands out as a statement zone, peeking out behind the white-topped dark oak cabinetry.
Backsplash for Dark Cabinets and White Countertops
What makes a kitchen "kitchen" is the harmonious combination of backsplash, cabinetry, and countertop. As long as you achieve a cohesive look with these three elements, the rest can just play along and you can upgrade complementary features as you wish when needed. Needless to say, all-white looks have almost always been very popular, welcoming all sorts of colors and designs. But what about the dark cabinets topped by white countertops? How should you combine them? Should you go with a lighter or dark-colored backsplash for dark cabinets and white countertops? It, indeed, depends on many factors, from the layout of the cabinets to the size of the space, the placement of the windows, and to what degree your kitchen is visited by natural lights.
To put it differently, choosing a backsplash for dark cabinets and white countertops can sometimes be tricky, but don't worry. Here we have compiled multiple backsplash design ideas for dark cabinets and white countertops. Check them out closely and get a broader idea about how to choose the right backsplash for dark cabinets and white countertops.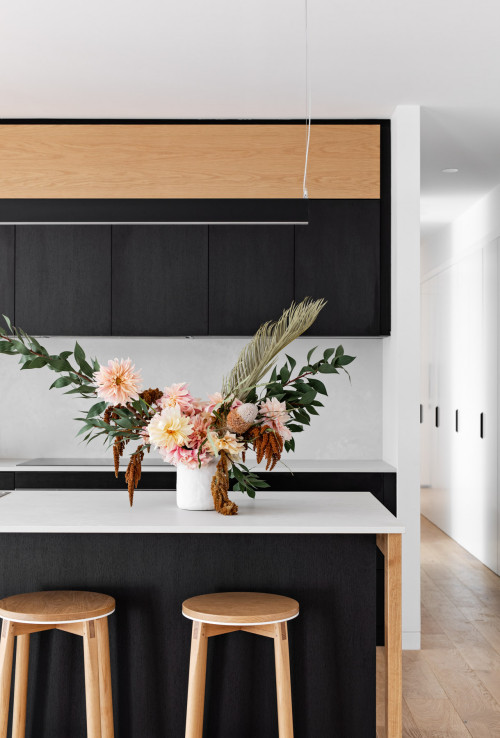 ID# 144701 | Houzz.com – Credit
---
White Backsplash for Dark Cabinets and White Countertops
The combination of dark cabinets and white countertops is warmed up with the wood accents used throughout the space. And seamless white backsplash pairs perfectly with the countertops. The wood backless stools tucked under the recessed bottom of the island expands the central walkway, while the light wood floor finish echoes the timber accents in the kitchen.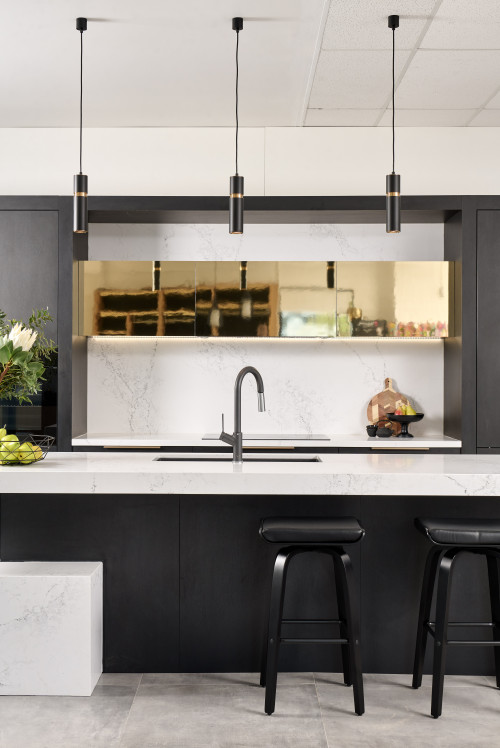 ID# 144703 | Houzz.com – Credit | © Joyce Kitchens
---
Modern Kitchen Design with White Stone Slabs
Nothing exudes elegance and sophistication as a modern kitchen with a dark-and-white color combination does, which is showcased by this modern kitchen deftly. Here, the black cabinetry grounds the Caesarstone slab backsplash, which feels timeless and contemporary. To preserve the streamlined look of the kitchen, the hood and appliances remain out of sight, and the mirror-effect cabinet doors add an element of opulence over the electric hob. With the integration of the island, this single-wall kitchen turns into a galley-style kitchen, featuring an extra benchtop and seating space. The island is paired with black LED pendants and black stools that further stylize the kitchen with contemporary touches.
What is the best backsplash for dark cabinets?
Dark cabinets have a charm of their own. Yet, finding the best backsplash for them might seem like a daunting task, especially when the aim is not to end up with some ordinary dark-and-white look. But with a smart choice of materials, you can create a chic design that feels timeless as well. And here are some ideas.
To start with, a seamless glass sheet backsplash makes a great addition to dark cabinets, bringing a contemporary look. You can even get them in black since glass' translucent nature wouldn't encroach on the space but rather bring a nice sheen to contrast the dark cabinets.
Secondly, marble slab backsplashes ensure a high-end overall aesthetic that will withstand the test of time. Whether you get them in tiled or slab versions, take them up to the ceiling or not, they create focal points effortlessly.
Thirdly, geometric tile backsplashes are great options for an on-trend look and can serve multi-purposes. For example, you can use them to integrate color and pattern into the design, which will update the classic dark cabinets and give them a contemporary spin.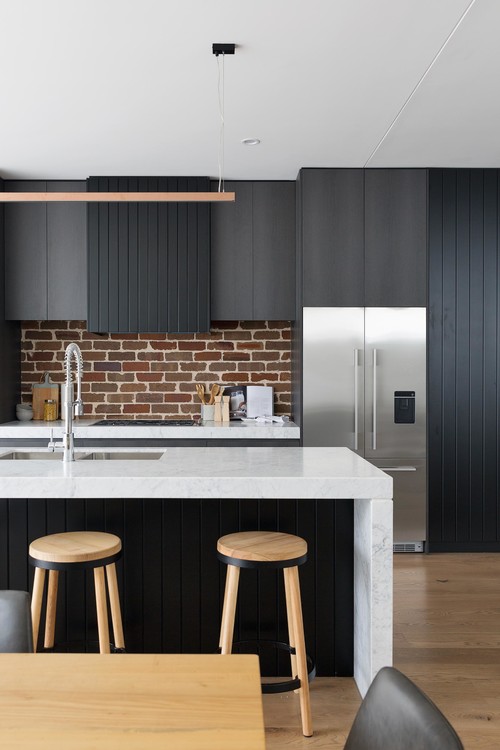 ID# 144704 | Houzz.com – Credit | © Trio Style Co
---
Gray Kitchen Cabinetry with Exposed Brick Wall
Looking for something contemporary-industrial? Check out this kitchen closely as it wallows in authentic touches and raw additions. First of all, the background is defined by a reddish-brown brick backsplash paired with black cabinets, some of which feature a V-groove door style to add extra movement. The thick white countertops lighten up this otherwise dark kitchen, injecting a level of optimism. The stainless-steel appliances, the commercial faucet, and the wood bar stools enrich the material repertoire of the kitchen, building a sense of character to soften the impact of dark cabinetry.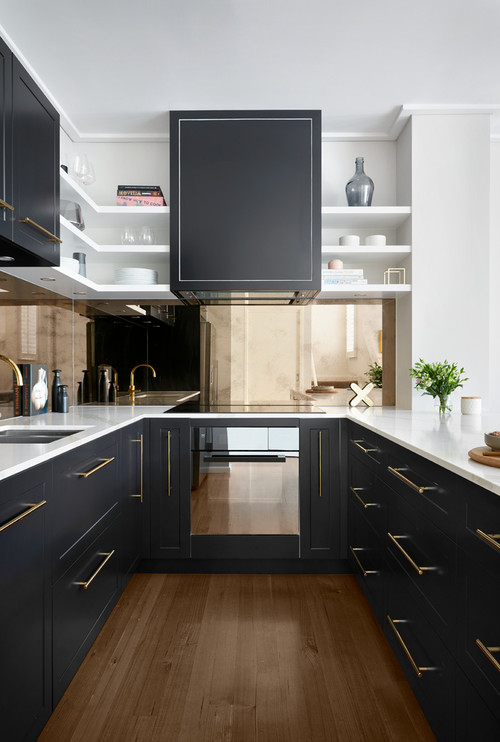 ID# 144705 | Houzz.com – Credit | © Cranberry Design
---
Mirror Backsplash and Dark Blue Cabinets with Brass Hardware
If you have a small kitchen like this one, a mirror backsplash and white countertops are enough to make the space larger. And to complement them, you can benefit from dark blue cabinets that provide a solid set-up and brass hardware that adds a touch of warmth. White floating shelves also open up the kitchen's top half for more breathable space. Plus, if the kitchen is open-plan and inserted into the living room, a U-shaped layout strategically creates a space of its own to distinguish it from the lounge as seen in this kitchen.
Should the backsplash be lighter or darker than the countertop?
Typically, a backsplash is kept lighter than the countertops to create an efficient working space that feels bright and well-lit. But if your kitchen receives a good amount of natural light and has a good lighting system (such as under-cabinet LED strip lighting), you can also prefer a darker shade for your backsplash.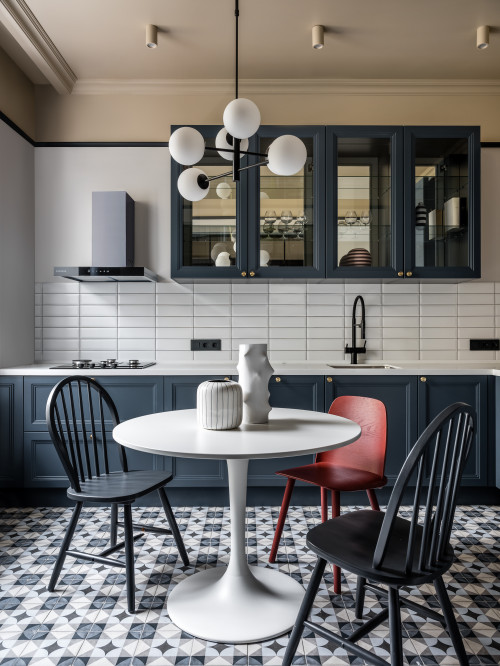 ID# 144706 | Houzz.com – Credit | © Зуева Анна
---
Blue Cabinets with White Stacked Tile Backsplash and Spanish Floor Tiles
Featuring multicolored Spanish floor tiles that echo the overall color scheme, this Moscow kitchen is given a traditional spin with the modest millwork on the blue cabinets. This shaker joinery also feels peppered with mirrored upper wall units. And in between the cabinets, white laminate countertops and white stacked subway tile backsplash provide a modern touch to the kitchen. In addition to its cool and sophisticated theme, the crème-painted ceiling and lighting fixtures inject a small dose of warmth. The miniature but comfy dining table complements the overall design aesthetic, paired with colored spindle stools and decorated with monumental sculptures.
Backsplash Color Options for Dark Cabinets and White Countertops
White and gray are the most popular color options for dark cabinets and white countertops. But also feel free to incorporate vibrant shades such as yellow or blue to evoke certain moods. And keep in mind that each color has its own language, having a great influence on the mood of the space and its users! Scroll down and find different color options for kitchen backsplashes!
White Backsplash for Dark Cabinets and White Countertops
If you think that your kitchen is short of natural light, it is time to consider a white backsplash. Since the cabinets are already dark, you would need something to brighten them up. Plus it would also blend harmoniously with white cabinets and create an efficient working space.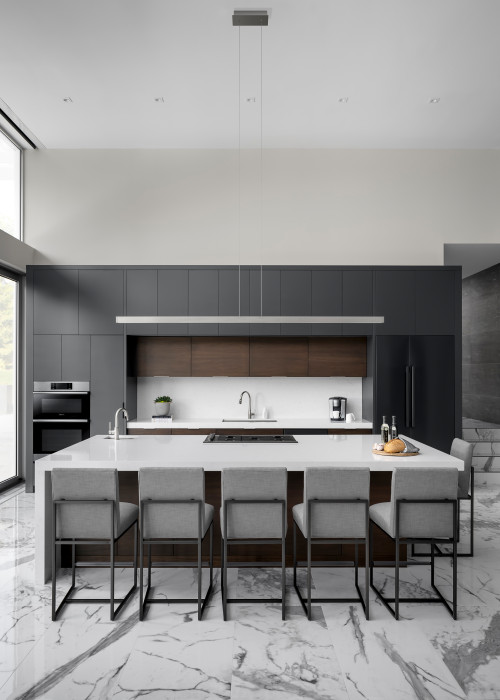 ID# 144707 | Houzz.com – Credit | © Chervin Kitchen & Bath Inc.
---
Modern Kitchen with Gray and Wood Cabinets
Led through internal steps, this modern and sleek kitchen enjoys the double-height room interspersed with floor to ceiling windows. Receiving plenty of natural lights allows for a more dramatic and dark color scheme, which explains the abundant use of black cabinets. The rest features dark brown cabinets that soften the black joinery and white backsplash and countertops to balance out the dark cabinetry. The oversized kitchen island not only offers a dining zone but also accommodates a sink and hob, serving as the workhorse of the kitchen. And on the floor, the marble tiles run across the space, bringing the kitchen into dialogue with the lounge.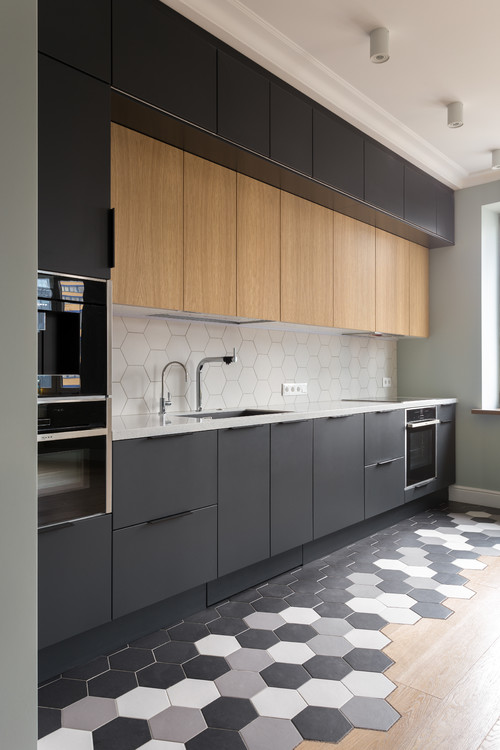 ID# 144708 | Houzz.com – Credit | © PUUSTELLI MOSCOW
---
One Wall Kitchen Design with Hexagon Tiles
This single-wall kitchen, despite its pint-size space, has a bit of everything: pattern, timber, and contrasting features. Especially the layered look of the upper wall units command attention, bringing extra depth ad dimension to the background. And the large format white hexagon tile backsplash adds a Scandinavian feel, blending harmoniously with the white countertops. The same hexagon tiles, this time in shades of gray and black, clad the kitchen floor, encountering the light wood flooring that zones the other part of the kitchen.
How do you brighten a kitchen with dark cabinets?
To brighten a kitchen with dark cabinets, you can benefit from light-colored backsplashes, white or off-white countertops, a good-lighting system such as LED-strip lighting under the upper wall cabinetry, and light-colored floor tiles. And even if you want to go with a dark backsplash, you can choose glass as your main material so that it will not darken the kitchen completely but bring a nice sheen and reflective surface.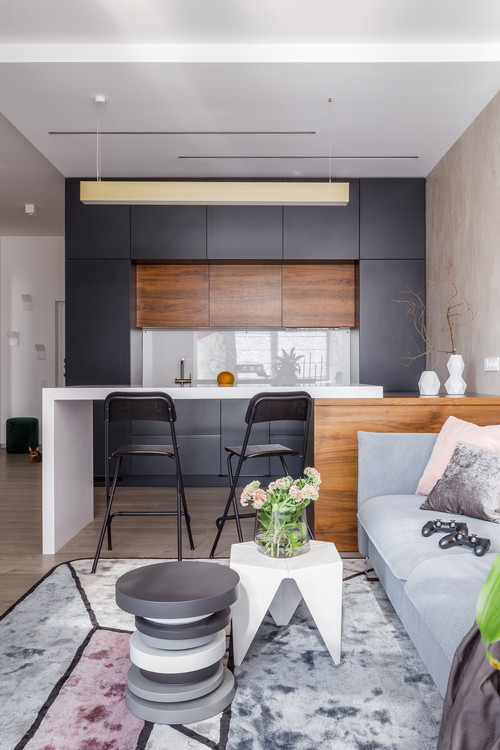 ID# 144709 | Houzz.com – Credit | © MAKEdesign
---
White Glass Sheet Backsplash and Gray Cabinets with White Countertops
For a super-modern and seamless look, a glass sheet backsplash is an excellent alternative to go with, especially when you also need to enlarge your kitchen visually. In this contemporary kitchen, for instance, the white glass sheet backsplash is beaming, bringing a flashy presence. It is accompanied by dark cabinets and matte white countertops that downplay its shimmering effect. The wood cabinets and island base, on the other hand, add a sense of warmth and texture.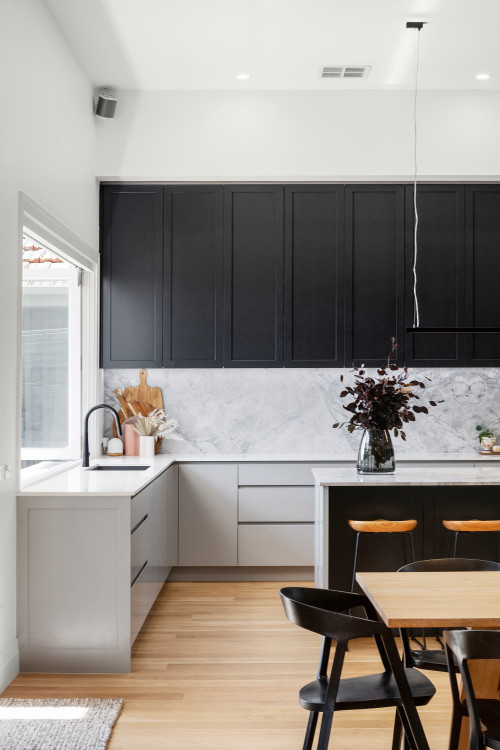 ID# 144710 | Houzz.com – Credit | © Everlong Constructions
---
Contemporary Kitchen with Marble Backsplash and Dark Cabinets
This contemporary kitchen reverses general design rules by using black for the upper cabinetry and white for the base counters. This way, it establishes a lighter design that grows stronger, slimmer, and taller as you draw your eyes up. And what adds to it is the sophisticated white marble backsplash teaming up with the white countertops to create a well-lit working space. As the kitchen continues to reveal itself further, our eyes meet with the island unit and a dining table that offer informal and formal seating options, respectively.
Should backsplash match cabinets or countertops?
A backsplash can differ from the cabinets and countertops. If the aim is not to create a monochromatic look, a backsplash can be used to achieve a contrasting look and introduce color to the space. For example, if you have dark cabinets and white countertops, utilizing a multi-colored backsplash will recreate the overall look and add a new dynamic to the kitchen.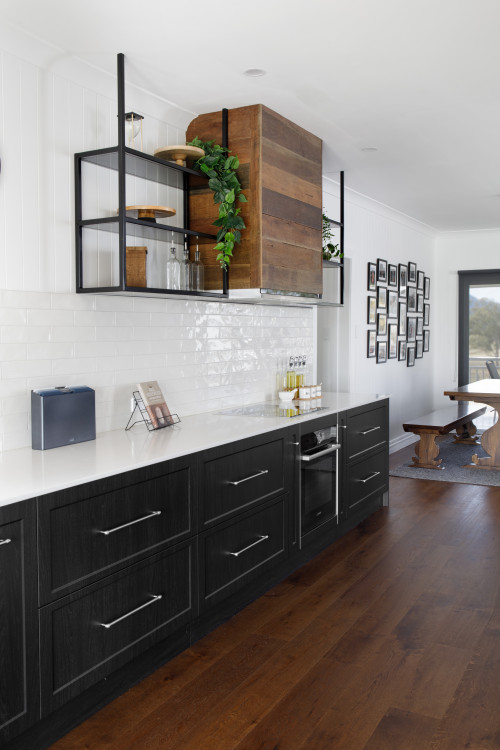 ID# 144711 | Houzz.com – Credit | © New Leaf Design Studios
---
Industrial Kitchen with Wood Range Hood and Black Cabinets
This industrial kitchen marries contemporary touches and light shades to lighten up the background with a white backsplash. The white subway tile backsplash laid in a running-bond pattern paired with a white countertop team up with black cabinets. Overhead the black suspended shelves flank the wood range hood that is in complete synergy with the parquet flooring. The chrome hardware allows for an easy grip for the drawers, while the let-go-of-upper cabinets provide more breathable space.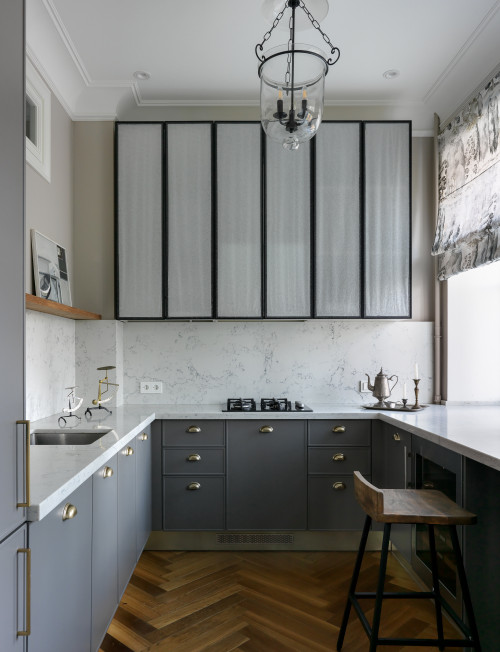 ID# 144712 | Houzz.com – Credit | © Мария Пилипенко
---
Gray Cabinets and White Backsplash with Brass Hardware
If you have a small space, curb your desire for too-dark color schemes and go with a medium-ish tone as this transitional kitchen in Moscow does. Here, the light-dark gray cabinets bring the right amount of drama not to encroach on the space, while their cozy U-shaped layout creates an efficient cooking space with a minimized walking distance and well-coordinated kitchen stations. Also, allocating only one of the walls to the upper walls keeps the space freer and airier. The timber floating shelf and brass hardware embed liveliness to make the design more approachable. The white countertops and backsplash lighten up the interior, not to mention the bell-jar style lighting fixture that brings an old-world charm.
Black Backsplash for Dark Cabinets and White Countertops
Fond of contemporary and industrial looks or moody kitchen designs? Then black backsplashes are up your alley. Don't be afraid of using black with dark cabinets. Black-on-black looks ensure timelessness and elegance as much as white kitchens do. Plus, the white countertops break up this monochromatic look and introduce a sense of lightness between two dark elements.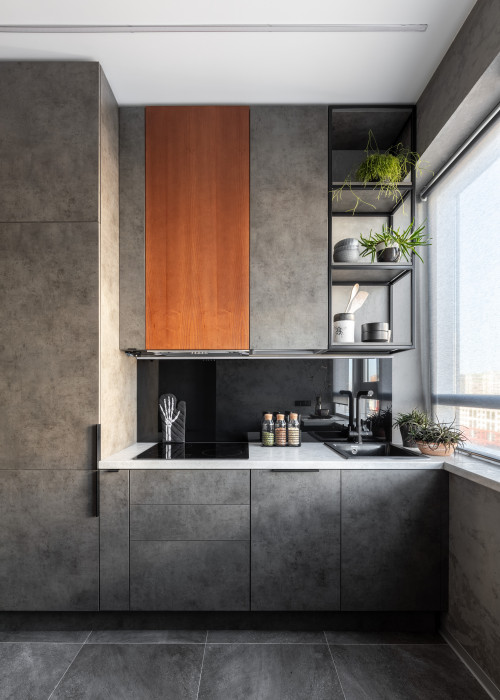 ID# 144713 | Houzz.com – Credit | © AGinterior.ru
---
Black Backsplash for Dark Cabinets and White Countertops
Inspired by the concrete, this kitchen benefits from cement-look veneer cabinets to establish a newfound identity for the kitchen. But what makes it truly stand apart from its counterparts is its strategic use of backsplash. Here, the incorporation of another black element in the form of a glass sheet backsplash adds a nice seamless surface without further darkening the kitchen. Above, the industrial-style cabinet shelves introduce a level of transparency, while the medium-tone wood hood cover brings a warmth that livens up the atmosphere. The picture window lends enough natural light to keep the interior light and airy!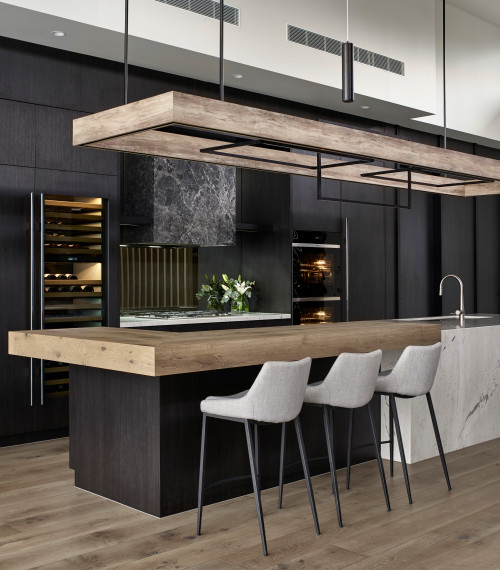 ID# 144714 | Houzz.com – Credit | © Maker + May
---
Glass Sheet Backsplash with Dark Cabinets and Marble Hood
Feel free to juxtapose different materials, and if you have concerns about how to do so, this contemporary kitchen in Melbourne has one great example for you. From the glass sheet backsplash to the black marble range hood fixture, and timber suspended shelf and countertop, this kitchen ties together a wide range of materials, while the dark cabinets provide a neutral set-up. The LED lighting emphasizes the wine rack and in-built appliances for further interest and warmth. The two-tiered island carved out of two different materials adds more depth while the suspended shelf serves as a false ceiling.
What paint color goes best with dark kitchen cabinets?
White, gray, and light cream are the most neutral and timeless colors that suit best dark kitchen cabinets. However, if your kitchen receives enough sunlight to compensate for the dark color palettes, you can even go with black for backsplashes and countertops. This dark look especially suits industrial and contemporary kitchens and those who prefer edgy and moody vibes.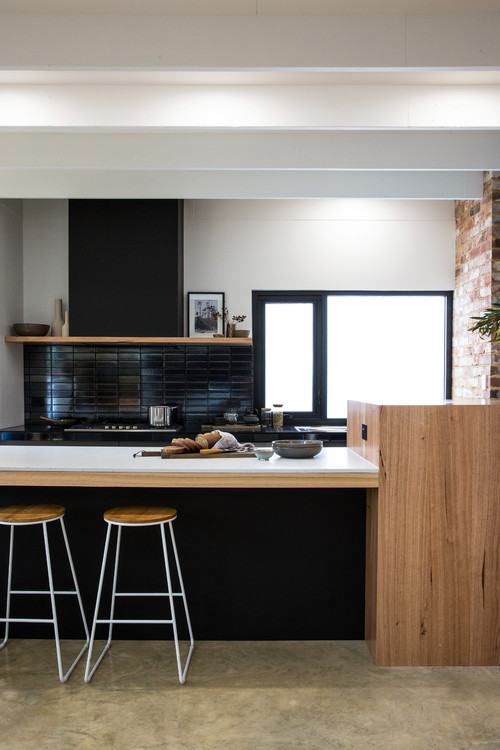 ID# 144715 | Houzz.com – Credit | © Space Craft Joinery
---
Black Stacked Tile Backsplash with Black Cabinets and Wood Accents
If you want to create a different look with dark cabinets, why not go with an industrial look? Here, the black subway tiles stacked horizontally provide an eye-catching and sleek background, blending beautifully with the black countertops and cabinets. By contrast, the kitchen island serves as a space-lightening factor with white countertops and wood accents that deliver warmth. Not to mention the brick feature wall and poured concrete floor, which incorporates raw touches, presenting the gist of industrial looks.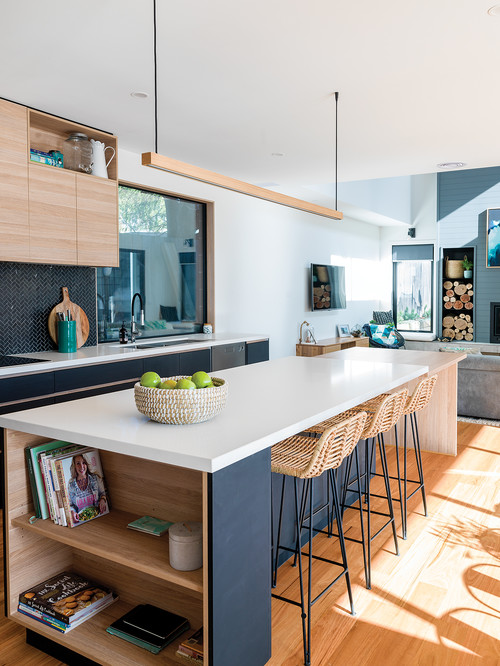 ID# 144716 | Houzz.com – Credit | © Jdesign Group
---
Black Backsplash for Dark Cabinets and White Countertops
This beach-style kitchen welcomes you with a cozy and well-executed design. The timber cabinets with wicker woven chairs alongside the wood extension of the island envelops the kitchen with warmth, creating a coastal flair. The black small herringbone tile backsplash adds depth and texture, paired with white countertops that bring a sense of lightness. But if you want to take the beach-style look to the next level, you can give the backsplash a satin or gloss finish to build a nice sheen that reflects light with a shimmering effect. And you can use wicker pendants over the island and match them with the stools.
Gray Backsplash for Dark Cabinets and White Countertops
In case you don't prefer black or white, why not try a gray backsplash? It is versatile, neutral, and sophisticated! Depending on the context it is used, it can create different vibes. You can also give it a polished or satin finish so that it comes with a beautiful sheen and creates a true statement look.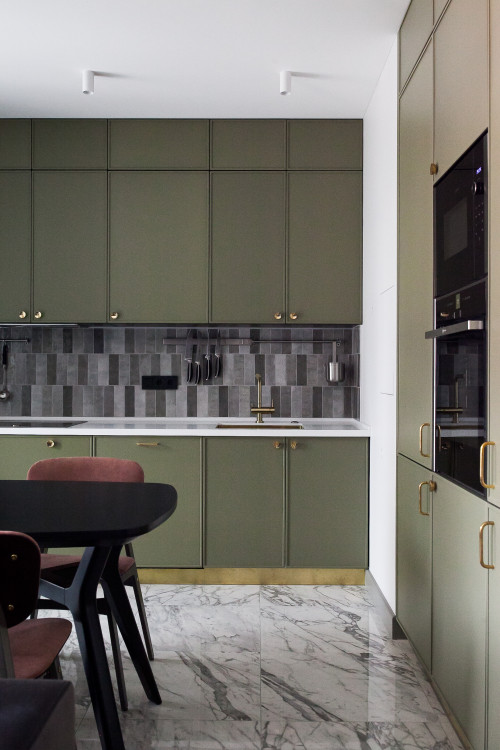 ID# 144717 | Houzz.com – Credit | © BW buro
---
Green Cabinetry with Gray Stacked Tiles and Marble Floor Tiles
This sophisticated and contemporary kitchen instills calmness in its users, thanks to its earthy palette with green cabinets and gray ceramic tile backsplash. Vertically lined in an offset pattern, the kitchen walls elevate the overall feel with subtle tonal variations, making the design its own. The brass hardware stylizes the flat-front cabinet doors, and wildly streaked marble tiles ooze elegance and opulence.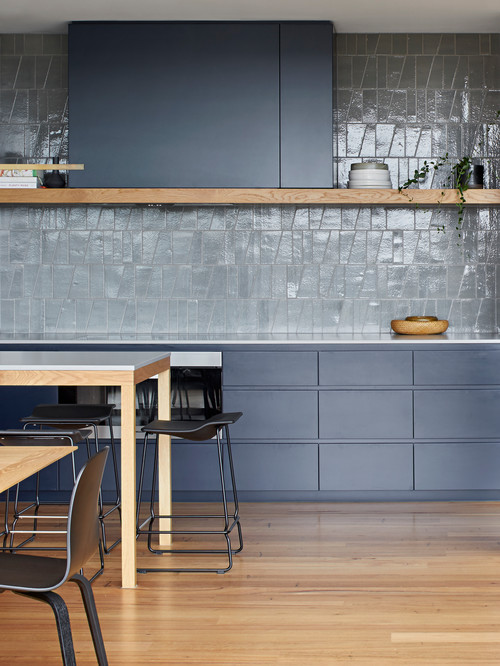 ID# 144718 | Houzz.com – Credit | © Clancy Constructions
---
Gray Backsplash for Dark Cabinets and White Countertops
The highlight of this contemporary kitchen is without a doubt the gray geometric tile backsplash. And to honor it, this kitchen trades upper cabinetry with a ceiling-height backsplash and accentuates it with a timber floating shelf. The rest is kept streamlined and sleek; the range hood is hidden behind the gray panels that match the cabinet style. The thin laminate countertops brighten up the kitchen, and sporadic timber injections soften the white-and-gray color palette. Lastly, the slight gloss finish on the backsplash adds contrast to other honed and matte finish materials.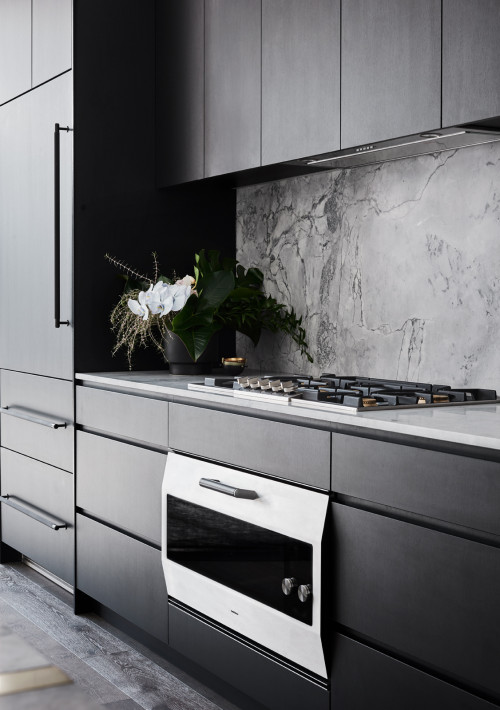 ID# 144719 | Houzz.com – Credit | © Kitchens by CJ
---
Monochromatic Kitchen with Natural Stone Backsplash and Dark Cabinet
This upscale scale, abundant in sumptuous finishes, is characterized by dark cabinets paired with a gray natural stone backsplash and white countertops for a fully-fledged cooking experience. The elongated cabinet pulls, almost as wide as the cabinet themselves, are very contemporary and accentuate the space without breaking the streamlined look. And the dramatic veins on the backsplash just make things better!
Other Backsplash Color Options for Dark Cabinets and White Countertops
Green, blue, yellow, pink, and orange are other group of popular colors in addition to the neutral shades discussed above. As each color has a world of its own, it is important to create a cohesive look and make the design revolve around a certain theme, idea, or even mood. For example, nature lovers can go with green backsplashes and pair them with wooden elements. Eclectic kitchens, on the other hand, go with yellow and orange shades. With dark cabinets and yellow backsplashes, you can also achieve very masculine looks. Pink, on the other hand, can create soft aesthetics, which you can pair with dark grey cabinets and white countertops.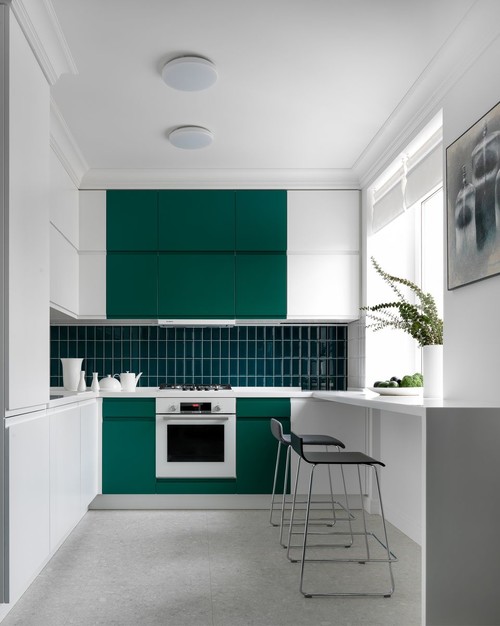 ID# 144721 | Houzz.com – Credit | © «Точка дизайна»
---
Green and White Kitchen with Gray Floor Tiles
In this contemporary kitchen, dark green cabinets with a dark green stacked subway tile backsplash create a focal point effortlessly enveloped by a white-dominant setup. The vertical alignment of the tiles elongates the kitchen, and the flush mounts preferred over pendants keep the top half clutter-free without stealing any space from this compact kitchen. The monochromatic abstract painting adds a contemporary touch to the wall, accompanying the white peninsula paired with a duo of dark modern stools.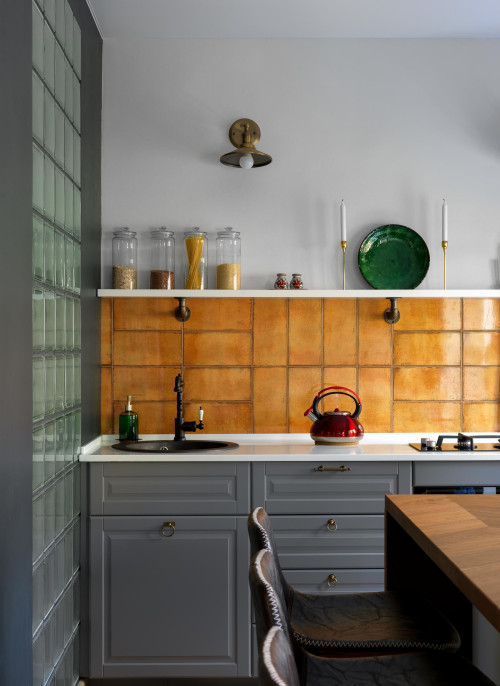 ID# 144722 | Houzz.com – Credit | © Daria Nazarenko
---
Eclectic Kitchen with Yellow Backsplash and Gray Cabinets
Don't shy away from using yellow if you want to go for an eclectic look. Here, this Moscow kitchen combines a yellow backsplash with gray raised-panel cabinets, while white countertops marry these two strong shades in harmony. The white linear floating shelf starts where the backsplash ends to create a frame of sorts, enriched with personal accessories whimsically brought together. Brass hardware and the traditional-style bridge faucet further stylize the kitchen along with the wall-mounted antique brass wall sconce that incarnates a lived-in feel.
How do you make dark cabinets look modern?
Backsplashes play an important role while designating a character to the space. So, if you would like to make dark cabinets look modern, you can get geometric tile, glass sheet, quartz, and marble backsplashes. Letting go of upper cabinetry and using counter-to-ceiling backsplashes also make a great difference. And to support this look, rather than using small floating shelves, going with a linear cantilevered shelf and coordinating it with a linear lighting fixture overhanging the island (if you have one) helps a lot.
Kitchen islands, again, are important statement-makers if you want dark cabinets to look modern. Marble-carved and two-tiered islands stand out as very contemporary pieces.
Appliances are significant. Upscale appliances (stainless-steel; black) can modernize the kitchen instantly; especially the rounded range hoods make a huge difference. Likewise, low-profile hobs and integrated sinks help preserve the streamlined look of the kitchen. And most importantly, if you need to hide the range hood, avoid using bulky range hoods that are chimney-like. Rather, cover them with flat panels and make them disappear inside the sleek cabinet-look dressings.
As for the accessories, you can use biomorphic forms, monumental stools, and irregularly-shaped vases, abstract art paintings that deliver modern touches.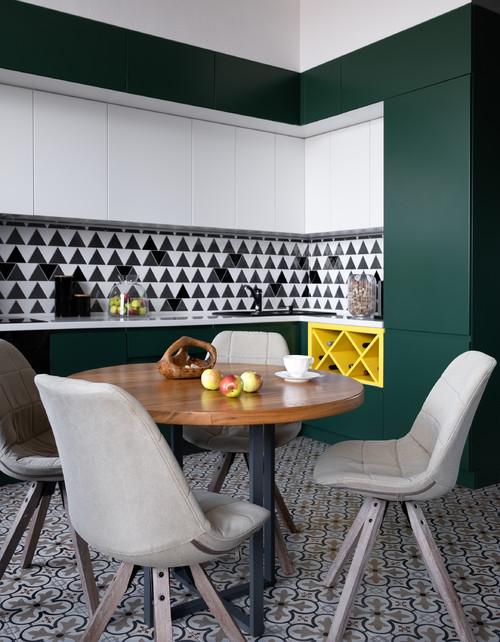 ID# 144723 | Houzz.com – Credit | © Interior designers Pavel and Svetlana Alekseeva
---
Geometric Pattern Backsplash for Dark Cabinets and White Countertops
This kitchen provides dark green cabinets and white countertops with a contemporary voice by using a geometric pattern backsplash. The black triangle patterns on a white base create an eye-popping background that commands attention. The yellow wine rack integrated into one of the cabinets waken up the dark-and-white color scheme with a raw shade. On the floor, the Spanish tiles color the ground, making a strong visual statement. The wooden dining table with metal legs brings an industrial edge along with sleek black appliances.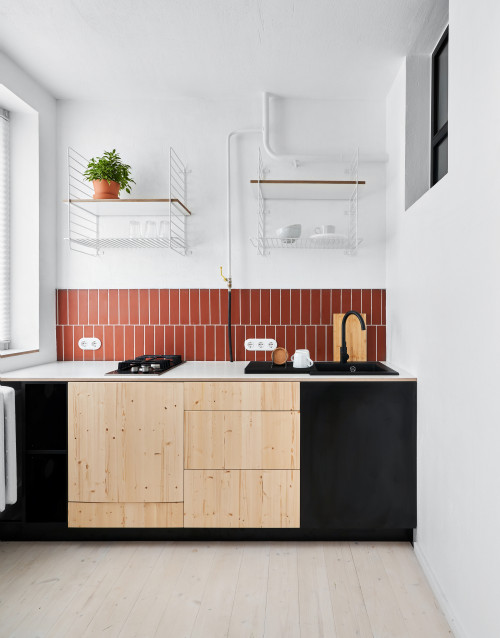 ID# 144724 | Houzz.com – Credit | © Line Design Studio
---
Orange Tile Backsplash with Black and Wood Cabinets
This Scandinavian-inspired contemporary kitchen goes with an orange tile backsplash to punctuate its pristine white walls that ensure this pint-size space feels well-lit and airy. For a more modern look, it also flips the all-time favorite tiles to install them in an offset pattern for extra interest. This way, the kitchen also gains a movement of sorts on the vertical axis. Below, the dark cabinets combined with light wood counters anchor this stunning dark orange shade, while the black sink-and-faucet pair and stove accentuate the white countertops. Overhead, the white open shelves give the kitchen a new storage vocabulary, offering a spot for personal accessories and kitchen plants.
White Countertop Materials
In today's market, there are different countertop materials from marble to laminate, each having its unique functional and aesthetic benefits. Quartz and porcelain are perfect to achieve ultra-modern looks. But for natural stone lovers, marble and granite stand out with upscale material options. And if you are looking for something more budget-friendly, you can consider laminate countertops.
Backsplash for Dark Cabinets and White Marble Countertops
White marble countertops are a great way to complement dark cabinets, bringing a high-end feel. And just because they are white doesn't mean that they look boring or plain. Instead, each inch of them has unique patterns which might look feathery or bold depending on the type of marble. And when they are maintained and sealed properly, the marble countertops have a long life span. You can pair this statement material with marble, quartz, and glass sheet backsplashes.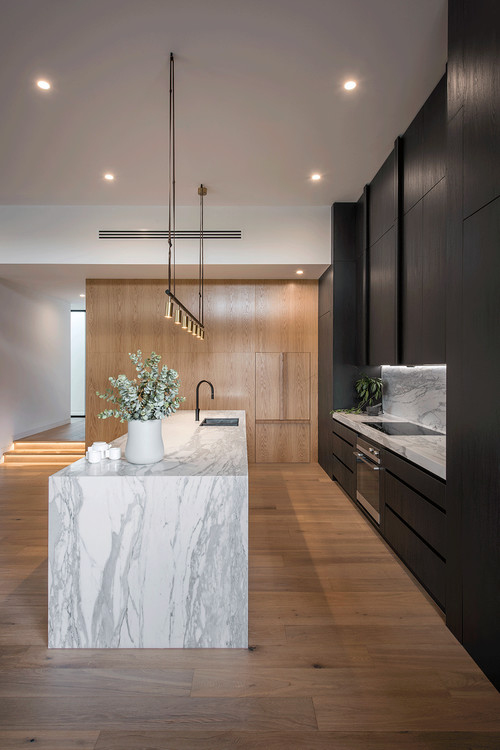 ID# 144725 | Houzz.com – Credit | © Alby Turner and Son
---
Modern Black Cabinets with Marble Kitchen Island
If you want to bring in elegance and sophistication, make the marble the protagonist of the design -as demonstrated by this contemporary kitchen-. Here, for example, the white marble not only makes a backsplash and countertops but also creates a statement island that injects opulence. The dark full-height cabinets give extra height to the kitchen by going up to the ceiling and enveloping the marble backsplash on all sides. The integrated sink and an electric hob stay loyal to the sleek profile of the kitchen, while a linear pendant brings a nice accent above the island.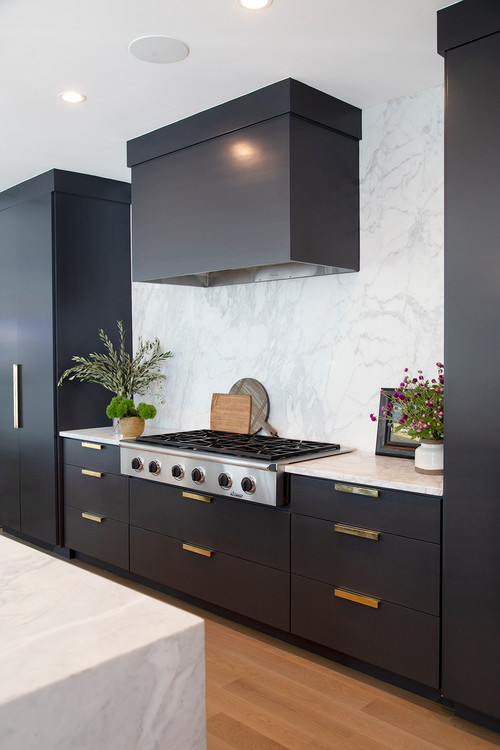 ID# 144726 | Houzz.com – Credit | © Paper Moon Painting
---
Ceiling-Height Backsplash with Dark Cabinets and Brass Hardware
You can catch timeless looks with dark cabinets as much as you do with all-time favorite white counters. And this contemporary kitchen is one of the best examples of it. Here, the dark cabinets are punctuated by oil-rubbed brass hardware for extra interest, not to mention the ceiling-height marble backsplash that assists the dark cabinets best. In addition to those, the painting, cutting boards, and indoor plants exhibited on the marble countertops add a dose of personality to achieve a purposeful casualness.
Backsplash for Dark Cabinets and White Quartz Countertops
If you would like to create a modern feel with dark cabinets, consider topping them with white quartz countertops! Quartz is an engineered material that is easy to maintain, and heat-resistant, providing seamless looks. And to complement them, you can benefit from quartz slab backsplashes and glass sheets. If you love tiles and geometric patterns, they would also suit quartz countertops and dark cabinets.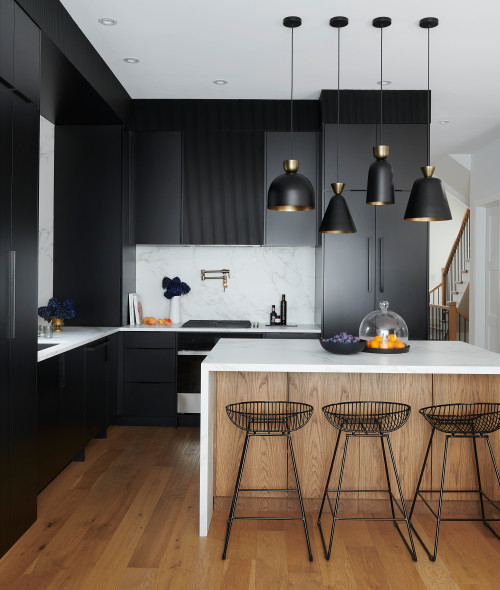 ID# 144727 | Houzz.com – Credit | © avenue design inc
---
Black Cabinets with White Marble Backsplash and White Quartz Countertops
This L-shaped contemporary kitchen uses a wood base island to introduce a different material and texture to the dark cabinets and the white marble backsplash. The white quartz countertops top all the counters, including the waterfall countertop of the island falling over the edges to pull the design together. The variously-shaped black lighting fixtures and black wire super-modern stools anchor the island to the overall design aesthetic.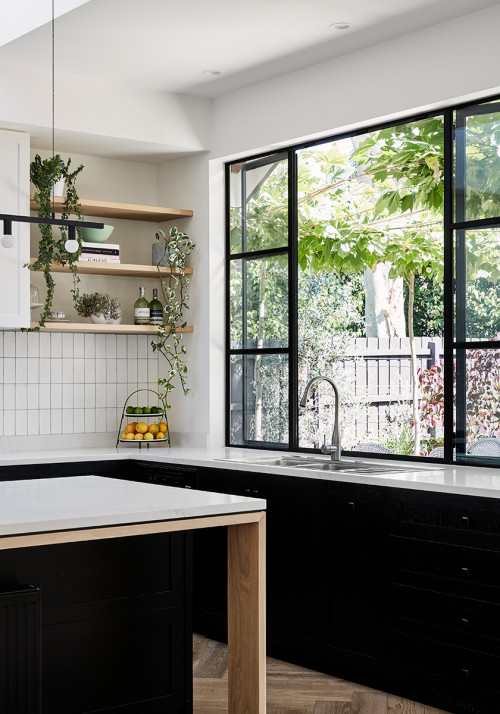 ID# 144728 | Houzz.com – Credit | © Quadrant Design Architects
---
White Backsplash for Dark Cabinets and White Countertops
It wouldn't be wrong to assume that this cozy kitchen uses the window as a secondary backsplash, inviting the beautiful views of the outdoors. And this natural cue translates into indoor plants, wood accents, and a trio of timber shelves installed near the window in the kitchen. To complement the overall feel, the white vertically stacked subway tile backsplash and white countertops pair with the black cabinets that ground the modern look.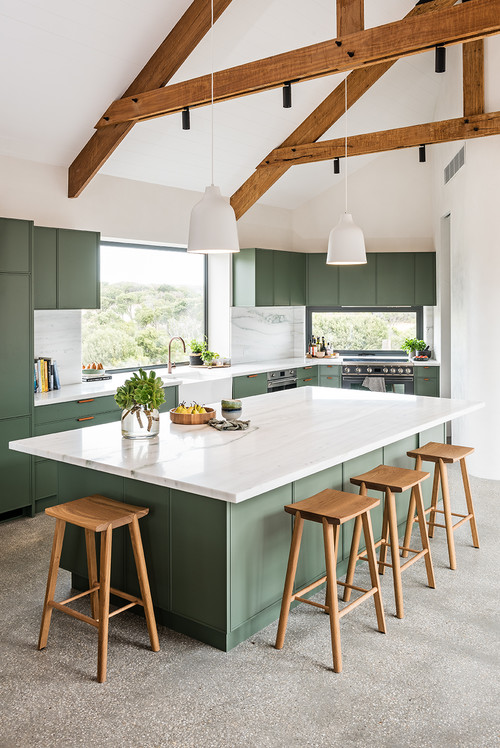 ID# 144729 | Houzz.com – Credit | © Let's Talk Kitchens & Interiors
---
Contemporary Kitchen with Green Cabinets and White Countertops
When we say dark, we don't necessarily mean black or dark brown. These light-ish-dark green cabinets also fall into this category if you are loath to try black and brown cabinets. All you need to do is to find something that sparkles your imagination. This contemporary kitchen, for example, uses nature as its main inspiration and goes with all-green cabinets, wooden beams, wood stools, and a concrete floor finish. The white quartz countertops and window backsplashes lighten up the interiors, while white marble slab backsplashes assist them in further characterizing the space.
Backsplash for Dark Cabinets and White Laminate Countertops
Laminate countertops are back and have been taking their place in today's home designs. Thanks to the advancement in technology, they have become more durable, resistant, and easy to maintain in addition to their improved aesthetic qualities. You can pair harmoniously with a wide array of materials, including dark cabinets and backsplash options for them.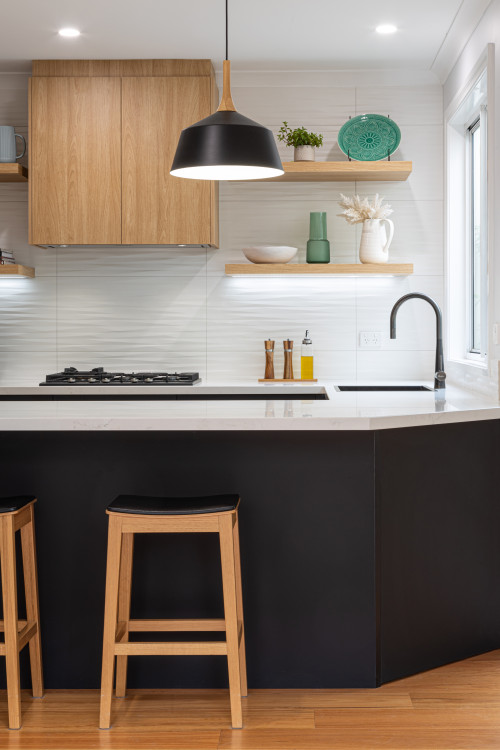 ID# 144730 | Houzz.com – Credit | © Lisa Cannon Interior Design
---
White Backsplash for Dark Cabinets and White Countertops
The combination of wood, black, and white never lets you down! Here, for example, this combination creates a timeless and well-balanced look. The horizontally stacked white slim tile backsplash defines the walls, reaching up to the ceiling and illuminating the kitchen.
What is the trend for backsplash in 2022?
Ceiling height, slab, geometric pattern, and glass sheet backsplashes are some of the most on-trend backsplashes in 2022. In addition to those, subway tiles still preserve their popularity too. But rather than their typical 3*6-inch versions laid in a running-bond pattern, the square subway tiles, larger, and slimmer formats are much more popular. Likewise, the running-bond layouts are also traded with horizontally or vertically stacked subway tiles in addition to the subway tiles laid in a herringbone and chevron pattern.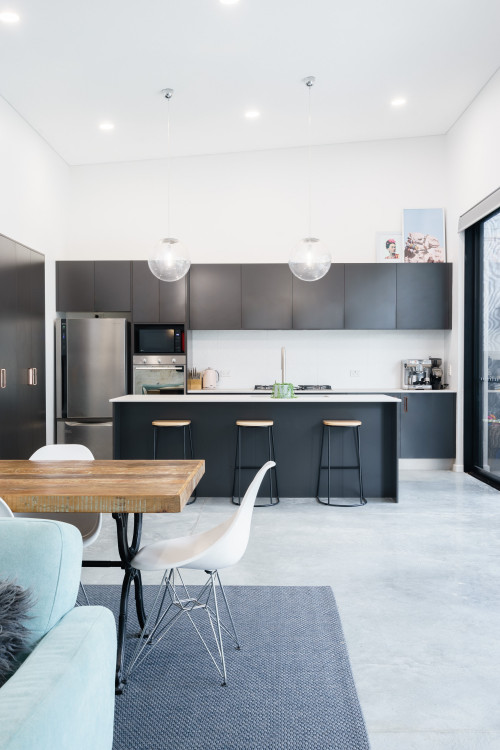 ID# 144731 | Houzz.com – Credit | © Nathalie Scipioni Architects
---
Contemporary Kitchen with White Laminate Countertops and White Backsplash
The dark cabinets add a sense of depth to this open-plan kitchen to differentiate it from the rest of the room. The white laminate countertops and a white backsplash brighten up the dark cabinets, making the cooking space feel larger.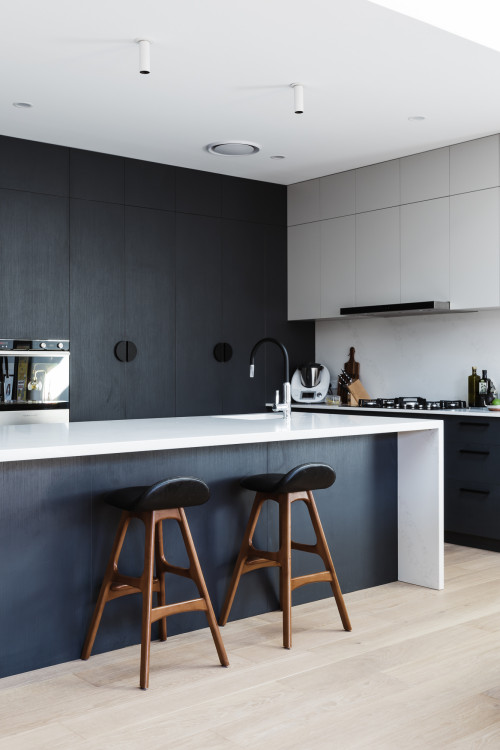 ID# 144732 | Houzz.com – Credit | © Coswick
---
Two-Tone Joinery with White Countertops and White Backsplash
By using color-blocking and half-way splitting techniques, you can mark your kitchen cabinets to increase the aesthetic value of the design as showcased by this kitchen. Here, two-tone joinery, white and black, ensures a well-balanced look, not letting any color have a domineering effect on the other. The white countertops and white backsplash, on the other hand, provide smooth transitions between the color switches.