29+ Kitchen Backsplash with Laminate Countertops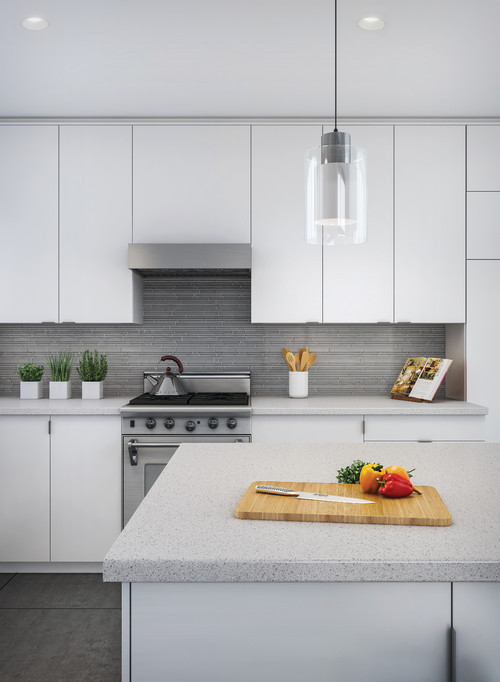 ID# 148010 | Houzz.com – Credit | © Arborite Australia
---
White Flat Panels and a Glass Kitchen Backsplash with Laminate Countertops
The stunning gray glass tile backsplash perfectly complements the sleek and modern look of the all-white flat-panel cabinetry in this kitchen! The gray color of the backsplash seamlessly blends with the stainless steel appliances, creating a cohesive and contemporary feel throughout the space. The simple and stylish gray hardware adds to the modern aesthetic of the kitchen and beautifully ties in with the backsplash. Overall, this kitchen design is a perfect example of how a well-chosen backsplash and hardware can elevate the style of a kitchen to a whole new level.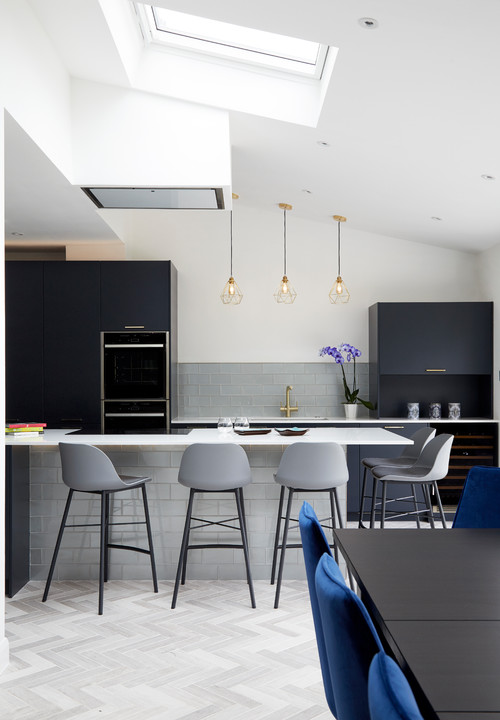 ID# 148017 | Houzz.com – Credit | © Monita Cheung Design Ltd
---
Black Flat-Panel Cabinets and a Gray Island
The gray glass tile backsplash and the blue undertone of the black flat-panel cabinets combine to give beachy sensations a modern twist. The backsplash and front wall of the island are both made of glass tile, giving the space a unified appearance. The white countertops give the cabinetry design a contrasting appearance while coordinating with the backsplash and floors.
Kitchen Backsplash with Laminate Countertops
If you choose the proper backsplash, your new kitchen will have the ideal finishing touch. The portion of the wall between the base of your cabinets and your countertop is known as a backsplash. It is essential to both good aesthetics and functionality. It shields your walls from liquid stains and other forms of harm caused by sloppy kitchen operations. Additionally, it's a fantastic method to complete your kitchen's interior design and add a decorative element. For countertop material, laminate is popular nowadays. Choosing a kitchen backsplash with laminate countertops will be the main issue in today's post.
Due to the availability of realistic designs that replicate many materials, like marble, soapstone, wood, and more, laminate countertops, an outdated mainstay, are once again becoming more and more popular. Fans of vintage design will be happy to know that laminate is still available in vibrant colors and themes that pay homage to the mid-century era. Better still, modern laminates are more resistant to wear than ever before; while comparing alternatives, search for those that resist scratches and stains. If you will use this material, let's focus on a kitchen backsplash with laminate countertops since a backsplash puts the finishing touch to kitchen cabinetry design.
Is laminate good for a kitchen countertop?
If you look for a budget-friendly countertop, laminate is perfect for this role. There are numerous grades of laminate. Like other materials, the performance improves with grade. Laminate countertops may easily last 10 to 15 years with proper upkeep. Since the plastic melamine that makes up the top layer of laminate is almost impermeable, laminate counters are perfect for the abrasion that comes with regular cooking. Laminate, however, is brittle and prone to scuffs; even worse, it may burn. If you accidentally place a hot skillet on your laminate countertop, you'll have to decide whether to replace it or accept an unattractive stain. Some patterned and textured laminates conceal small dings and blemishes, but lighter laminates can fade and get discolored.
Kitchen Backsplash Material Options for Laminate Countertops
You should consider your general decorating style at this point. Which design trend do you like best: classic, contemporary, mid-century modern? These are only a few illustrations of common interior design trends. Kitchen backsplash material options for laminate countertops, like the color options, may alter numerous design elements. Such example, a glass backsplash with laminate worktops may produce a modern appeal, a marble backsplash can provide a rich and costly look, or you can explore the world of ceramic tiles to discover the ideal design choice for your laminate countertops.
Choosing a backsplash might be challenging. However, choosing the kitchen backsplash material options for laminate countertops is one way to make this simpler. Once the purpose has been established, you can concentrate on the look and select the ideal backsplash to meet your needs and preferences. We separated it into many materials here.
Ceramic Kitchen Backsplash with Laminate Countertops
Available in a plethora of colors, styles, and textures, are long-lasting, inexpensive, and simple to install! The most popular choice among homeowners and interior designers is a ceramic kitchen backsplash with laminate countertops because of its practicality and lovely appearance. There are several installation areas, ranging from flooring to kitchen backsplash, bathroom tile, and ceiling tile for ceramic tiles. Scroll down to uncover the greatest and most fashionable kitchen ideas that will inspire you if you're looking for additional details about a ceramic kitchen backsplash with laminate countertops.
Whether you have laminate countertops or not, picking a backsplash tile can be challenging. There is no better alternative for a ceramic kitchen backsplash with laminate countertops to meet these requirements than a kitchen backsplash that combines both aesthetics and practicality. A ceramic kitchen backsplash with laminate countertops enables you to give your design uniqueness thanks to its nearly unlimited variety of color, pattern, style, form, and texture possibilities. You may install tiny ceramic tiles to create a mosaic design that offers a startling focal point or use the traditional subway tile look to create a timeless appeal. Therefore, a ceramic tile backsplash will be the ideal complement to your kitchen with laminate countertops, no matter what you decide! Installing a ceramic kitchen backsplash with laminate countertops will shield your walls from water and food spills in addition to giving your kitchen more aesthetic flair.
What are the disadvantages of laminate countertops?
As with every countertop material, laminate countertops have their cons, too. Such as;
–Value at resale. Unfortunately, although being better than it formerly was, laminate today still has almost no resale value. In fact, it can make it more difficult to sell your house.
– Durability. Although laminate countertops are reasonably heat-resistant and impact resistant, they are also readily scratched. Delamination can be brought on by moisture-penetrating seams.
– Not fixable. Deep scratches and chips cannot be repaired; however, small scratches can be touched up with special resin paint. While temporary fixes are conceivable, the functionality of mended areas will never be the same. The countertop will need to be replaced if the layers start to separate at the edges.
– Lifespan. When compared to other common countertop materials, they have the lowest lifetime.
Glass Kitchen Backsplash with Laminate Countertops
You can create a striking appearance with a glass kitchen backsplash with laminate countertops! The transparent glaze is burned onto the back of each glass tile, which is constructed of tiny glass fragments. They are available in a wide variety of hues, designs, and patterns, and you can easily incorporate them into a variety of spaces, including kitchen backsplashes and bathroom walls. No matter what your design aesthetic is—contemporary, traditional, modern, or farmhouse—you may find a variety of solutions for your unique design concept. They are more popular than ceramic or porcelain because of their capacity to reflect light and the larger diversity of surface designs.
Since glass is a timeless material, the end product is unquestionably stunning when contemporary, flawless duplicates of other materials with the laminate countertops are combined with its glitzy allure. One of the possibilities that might give a creative appearance from an aesthetic perspective is a glass kitchen backsplash with laminate worktops. Glass tiles may also be used in tiny rooms to give the impression that the space is larger due to their reflecting surface. The durability of a glass tile is among its main benefits. These lovely tiles offer surfaces that are easy to clean and stain-resistant. So let's look at what a glass kitchen backsplash with laminate countertops may be used for.
How can I make my laminate countertop look good?
If you feel that your laminate countertops look a little bit outdated and need an update, the most budget-friendly way to make them look good is by using countertop paints! Painting your countertops is a fantastic alternative if you want a fresh appearance but don't want to spend a lot of money. This is a clever method of updating countertops without having to replace them. Additionally, this is the simplest method for updating bathroom countertops.
Marble Kitchen Backsplash with Laminate Countertops
In our kitchen, we gather, eat, prepare food or beverages, converse, weep, or just wait outside to get a drink of water. We spent most of our time in the kitchen, the heart of the house. While we are there, we employ its components, particularly the backsplash and countertops while preparing food or drinks. They are one of the crucial components you might think about while designing your kitchen. Of course, the visual appeal of a marble backsplash will be used to determine the price of your kitchen. If your counters are laminate you may choose to build a marble backsplash with elegant, modern, or vintage design elements. Your kitchen may have a fashionable look with a marble backsplash with laminate countertops while yet feeling more opulent thanks to the marble.
The backsplash industry offers a variety of options, including various colors, patterns, and materials. Depending on your taste, you have a range of alternatives for a backsplash for laminate countertops, and a marble backsplash is one of them. One of the best ways to achieve a contemporary or sculptural design is to pair a marble backsplash with laminate countertops. Laminate worktops can be used with a light marble backsplash for more open and inviting views. Let's take a look at some of the stunning marble backsplash designs we discovered for this post.
Laminate Countertops Colors
We are aware that everyone wants a kitchen that inspires them and appeals to their aesthetic sense. People frequently like to utilize light and airy materials or colors for the laminate countertops in their kitchens. Given that the word "dark" conjures up images of a gloomy, uninteresting kitchen, you might wish to choose lighter laminate countertop color selections. With so many different materials, colors, patterns, and design possibilities available in the design industry, laminate countertop colors have been used in innumerable creative ways.
There are so many alternatives that you might wish to restrict your choices to white backsplash designs for white laminate countertops. Of all, nothing creates a more striking contrast than a white backsplash and black laminate countertops. You can select a tile backsplash or a slab backsplash depending on your choices in design. Dark backsplashes are an alternative if you decide against having a sharp contrast and instead decide to include the backsplash colors for dark laminate countertops. It is possible to have a colorful backsplash for laminate countertops to offer a brilliant burst of color even if there are no alternatives for bright or dark. Check out the backsplash options for various laminate countertop colors.
Kitchen Backsplash with White Laminate Countertops
Your kitchen backsplash with white laminate countertops may be given new life by the trendy and polished attitude of numerous backsplash materials. Thanks to all the alternatives for backsplash ideas with white laminate countertops, you won't regret the elegant addition to your kitchen for a very long time. For any design concept, there is the ideal material for a kitchen backsplash with white laminate countertops choices. What design categories do you prefer? Modern? Contemporary? Vintage? No matter what style you choose for your kitchen, these ideas for a backsplash with white laminate countertops will come in handy.
Kitchen backsplash designs with white laminate countertops provide several benefits. With the elegant look of a kitchen backsplash with white laminate worktops, kitchen backsplash ideas may increase your home's value. View some gorgeous designs of a kitchen backsplash with white laminate countertops by scrolling down!
What is the most popular laminate countertop?
Formica is unquestionably the most recognizable brand of laminate countertops, and its 180fxTM line has helped it shed many of its previous connections. There are 36 distinct designs available, including sizable representations of genuine, raw stone and a walnut wood grain.
Large patterns enable entire counters without repeating patterns, which undermines the realism of many laminates with stone- and wood-like appearances.
A complete, one-year limited guarantee against damage is provided for the 180fx series.
Formica offers an IdealEdge option: curved, clipped, or square edges that entirely erase the obvious brown seam that indicates the countertop is laminate. The manufactured edge of quartz, solid surface or stone countertop exactly matches the appearance of these edge profiles.

Kitchen Backsplash with Gray Laminate Countertops
As a modern substitute for conventional white, the color gray has become one of the most popular options for kitchens of all shapes and sizes. Perhaps in the past, people's views on kitchen color were more all or nothing. Today's color palette is more constrained, and gray kitchen design features are becoming more and more common. For instance, a fashionable kitchen backsplash with gray laminate countertops.
Warmer grays offer a distinctive mood when contrasted with blue-based tones. Within the gray family, where warmer grays offer a unique sensation from shades of slate with a blue undertone, the tone is crucial, perhaps even more so. When creating gray countertop ideas, take into account backsplashes, cabinets and any other surfaces in between. Do not be intimidated even though a kitchen backsplash with gray laminate countertops may be challenging. Given that the color is so versatile, you may choose a kitchen backsplash with gray laminate countertops in fashionable shades like white, blue, black, or even gray!
Kitchen Backsplash with Black Laminate Countertops
If you have laminate countertops, do not be hesitant to utilize the color black. Did you know that black laminate countertops may be used to both create a cozy ambiance and provide the appearance of luxury with a delicate contrast? Of course, it depends on the style of design. Here the kitchen backsplash with black laminate countertops becomes more significant. Everything about the design may be altered by the backsplash's materials and colors. If you decide you want to create a focal point, combine white cabinets with a black kitchen backsplash with black laminate countertops. The black cabinets and black laminate countertops can also be used with a black backsplash to create a subtle elegance!
Depending on your preferences and design style the options might change. With black laminate countertops, the farmhouse kitchen design may make you feel cozy. White brick's natural appearance can complement this warmth. The rooms in which we spend the most time are the kitchens. To get some ideas, scroll down, and let's explore the universe of design possibilities for a kitchen backsplash with black laminate countertops.
How long will laminate countertop last?
The lifespan of a laminate countertop depends on various factors such as the quality of the laminate material and the level of care and maintenance. Generally a well-maintained and properly installed laminate countertop can last between 10 to 20 years. However, this material is as not durable as natural stones such as marble or granite.
Kitchen Backsplash with Stone Look Laminate Countertops
Yes, the undeniable beauty of the natural stone countertops is just perfect. However, these types of countertops are very expensive that can over your budget. So, of you are looking for more affordable alternatives, stone-look laminate countertops might be your solution!
How much does it cost a laminate kitchen countertop?
The most affordable of today's standard countertops laminate costs about $30 per square foot in materials. The price range can be as low as $10 per foot and as much as $50 for tops that are specially made. Professional installation costs about $30 per square foot in addition to the cost of the materials.
Kitchen Backsplash with Wood Look Laminate Countertops
The foundation of laminate countertops is comprised of particleboard which is bonded to a layer of paper or plastic. The paper may be colored in a wide variety of ways, giving laminate countertops the appearance of being constructed of various materials. Such as wood-look laminate countertops. Compared to butcher blocks, laminate countertops offer several benefits. The cost of laminate is by far its greatest benefit. The flexibility of laminate is greater than that of hardwood. It is now simpler to wrap them around a corner or a sharp bend because of this. Installing lightweight laminate is significantly simpler than installing butcher block if you're planning a DIY makeover that isn't as involved. Additionally, laminate is relatively water resistant and easy to maintain. After deciding on choosing the material for countertops, let's check some of the stylish examples of kitchen backsplash with wood-look laminate countertops.
What backsplash goes with a laminate kitchen countertop?
Slab backsplashes are perfect for laminate countertops.