26+ Kitchen Backsplash Ideas 2023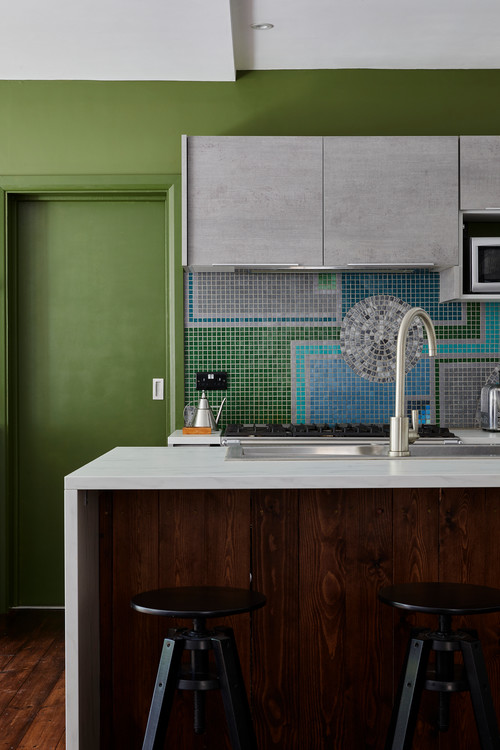 ID# 154203 | Houzz.com – Credit | © Caroline Couzens
---
Contemporary Style with Kitchen Backsplash Ideas 2023
This contemporary kitchen is an example of a bold patterned kitchen backsplash with colorful mosaic tiles. The light gray flat-panel kitchen cabinets and the colorful backsplash mosaics complement and balance each other while adding movement to the space. The white countertops and the dark wood island harmonize with each other adding a natural touch. The green walls, the door, and the mosaic tiles bring nature to the kitchen's environment with a design approach.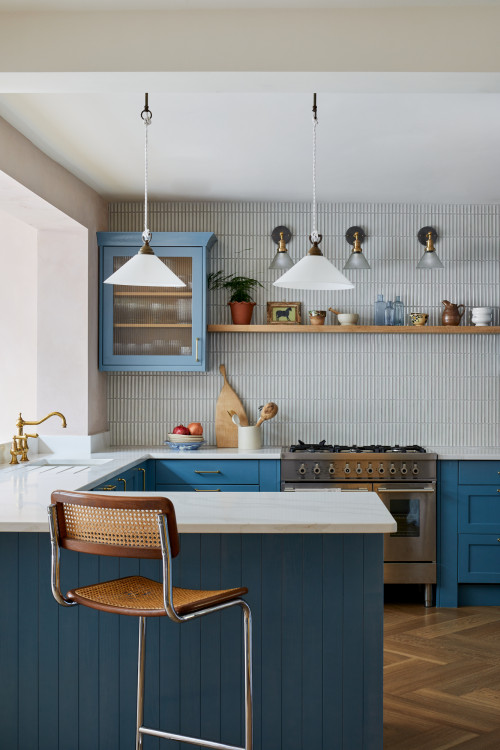 ID# 154216 | Houzz.com – Credit | © Vaughan Design and Development
---
Blue Shaker Cabinets with a Gray Full-Height Backsplash and White Countertops
With its striking stylistic contrast and inviting environment, this transitional kitchen greets you. The kitchen's wooden components and blue shaker cabinets make a chic contrast for an aesthetically pleasing appearance. While the gray ceramic stacked tile kitchen backsplash balances the brightness of the counters, the white quartz countertops illuminate the blue cabinets. The brass accents and the light wood floating shelves work well together to maintain the cozy ambiance.
Kitchen Backsplash Ideas 2023
It's a terrific idea to consider upgrading your kitchen's appearance as the new year approaches. The backsplash is one place that gets little attention yet has a tremendous impact. Kitchen backsplash ideas 2023 follows its own set of guidelines, just as in previous years. For kitchen backsplashes, natural materials like stone, wood, and clay are becoming more and more fashionable. These components give off a warm, natural vibe that may give your kitchen a hint of rustic appeal. In addition to conventional flat tiles, backsplashes with patterns, textures, and bold colors are also becoming more fashionable. These backsplashes, which have raised or indented designs, may give your kitchen more depth and appeal.
Stylish & Trendiest Kitchen Backsplash Ideas 2023
Consider using strong patterns and colors for your kitchen backsplash if you want to make a statement. There are several alternatives for adding a distinctive and eye-catching accent to your kitchen, from geometric designs to vibrant mosaics. Using a variety of materials in your kitchen backsplash is another method to follow kitchen backsplash ideas 2023. This may be done by mixing several tile kinds or by using metal or glass in the pattern. The popularity of kitchen backsplashes produced from recycled materials or naturally replenishable resources is rising as homeowners continue to place a high value on sustainability and environmental friendliness. Whatever style you choose, the most crucial thing is to pick a backsplash that matches your preferences and the overall aesthetic of your kitchen. To learn the newest trends scroll down and find kitchen backsplash ideas 2023!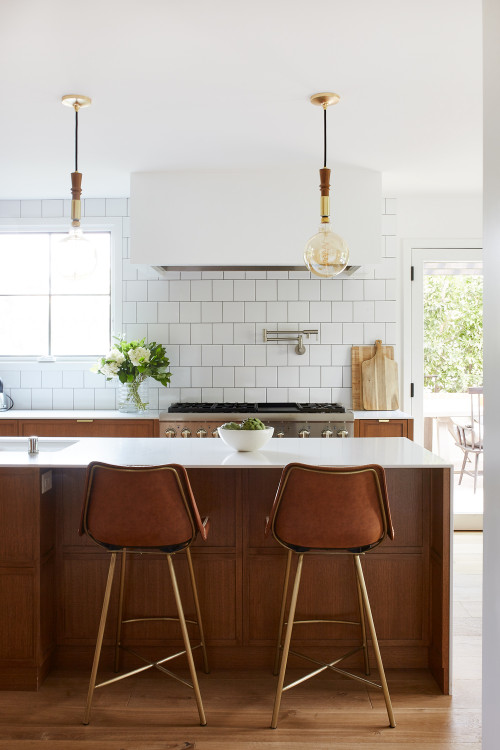 ID# 154201 | Houzz.com – Credit | © Stelly Selway Ltd
---
Kitchen Backsplash Ideas 2023 with White Subway Tiles
This contemporary kitchen has such simple yet stylish design components that welcome you with a warm atmosphere. The medium-tone wood cabinets and the island are enlightened by the white quartz countertops. The leather top island chairs pair perfectly with the medium-tone wood cabinetry of the island and the kitchen cabinets. The wood kitchen floors complement the cabinets. The white square subway tile backsplash provides a textural look and movement to the kitchen with a classic touch.
What are the backsplash trends of 2023?
Kitchen backsplash ideas 2023 include geometrical focal point backsplashes, patterned tiles, bold backsplash designs, full-height or ceiling-height backsplash ideas, natural stones, and glossy finish backsplashes.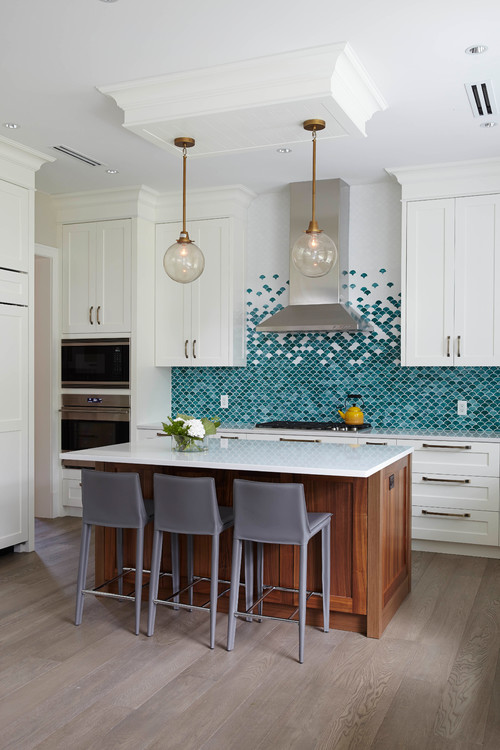 ID# 154202 | Houzz.com – Credit | © Dakota Homes
---
U-shaped White Cabinets with Blue and White Mosaics
White shaker cabinets and black hardware add a sophisticated contrast to the traditional mix, while the wood island and white countertops create a cozy ambiance. The blue and white fish scale tile kitchen backsplash is the design feature that catches the most attention. The small wood island with a white top provides an aesthetic contrast with the blue and white backsplash mosaics. The brass details of the pendant lighting fixtures join the warm atmosphere of the wood textures while adding a luxurious touch.
What Backsplash Trends Will Be Popular In 2023?
Not exactly a design feature you want to worry about updating frequently is a kitchen backsplash. It takes a lot of time and costs money. In light of this, you might as well use the start of a new year as an excuse to try something new if you're ready for a change in appearance. Fortunately, 2023 will see the emergence of a few kitchen backsplash trends, according to designers and industry insiders. There will undoubtedly be a kitchen backsplash trend in the near future that provides inspiration and ignites enthusiasm for your upcoming kitchen renovation, whether you're prepared to exhibit a dramatic marble slab or construct a unique wall built of mixed materials. From geometrical focal point backsplash designs to full-height backsplash ideas, you will find your answer to what trends will be popular for kitchen backsplash ideas 2023, in this post.
Geometrical Focal Point
Geometric backsplashes are bringing modern Art Deco into the kitchen as the trend grows. It can stretch the viewer's imagination while enhancing the wow impact with a geometrical focal point. Kitchen backsplashes are more than just a practical feature that provides a layer of protection for walls. Similar to cabinets or countertops, a kitchen backsplash is a key component of interior design that ties everything together. And the most typical and well-liked material for kitchen backsplashes is tile. Tiles are the ideal way to add eye-catching elegance to your kitchen since they provide nearly endless design choices. Geometrical tiles are a great complement to any design if you want to give it a modern feel.
The first tiles that spring to mind when thinking of a tile backsplash are the traditional rectangular ones. Although there are many other forms that might be a perfect substitute for subway tiles, they are nonetheless elegant and timeless. Geometric tile backsplashes are available in a broad variety of shapes, including striking diamond tiles and streamlined hexagons that bring a geometrical focal point to your space. You may blend them into various kitchen styles and make them a reflection of your tastes thanks to the unlimited variety.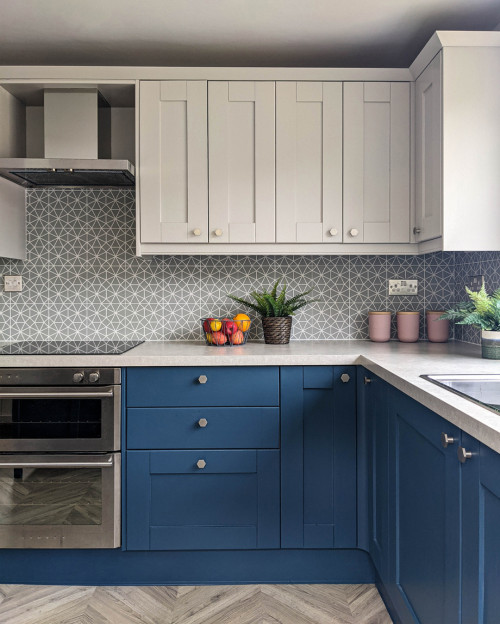 ID# 154204 | Houzz.com – Credit | © No Space Like Home
---
Coastal Vibes with a Geometrical Focal Point Backsplash Design
This kitchen has a beachy, coastal vibe thanks to its white shaker top cabinets and blue shaker base cabinets! The space gets a boost of color and pattern from white countertops and a backsplash with a gray and white floral pattern, making it feel lively and warm. The room's light wood herringbone floors, which also add a hint of nature, go well with the white and blue color scheme. The area has a modern air thanks to the chrome accents and stainless steel equipment.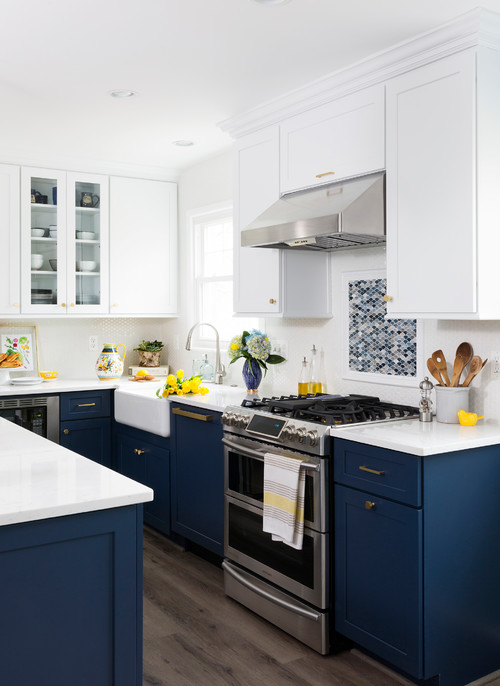 ID# 154205 | Houzz.com – Credit | © Case Design/Remodeling Halifax
---
Navy Blue Shaker Cabinets and White Countertops with Brass Hardware
The clean backdrop and beachy ambiance are created by the white countertops, white uppers, and navy shaker cabinetry. The white backsplash is highlighted by the blue mosaic tile mural backsplash that is situated behind the stove. This backsplash design gives the kitchen cabinet design movement and visual interest creating a geometrical focal point. The brass hardware adds a luxurious touch and enriches the cabinetry.
What backsplash does not go out of style?
The most timeless option for a backsplash is subway tile. Look for white or neutrals rather than loud, popular hues. Keep it basic and add color in other parts of the kitchen with more readily replaceable objects like dish towels, artwork, fruit bowls, and rugs.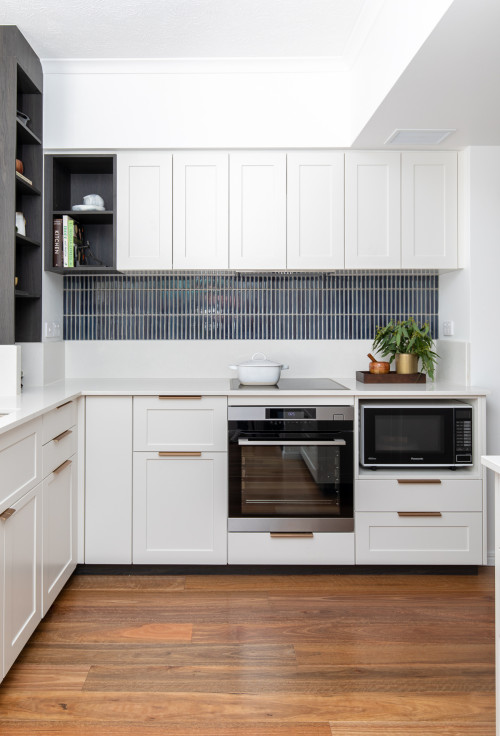 ID# 154206 | Houzz.com – Credit | © Designtank
---
Geometrical Focal Point with Navy Blue Backsplash Tiles
With its deep blue backsplash and white cabinetry, this kitchen exudes simplicity and elegance. The white cabinets give the room a bright and airy appearance, while the blue backsplash gives it a punch of color and visual intrigue. Warm wood floors provide a friendly, domestic ambiance in the space, while the white countertops offer a modern, fresh touch. Brass hardware and wood floors together give the design a feeling of balance and harmony.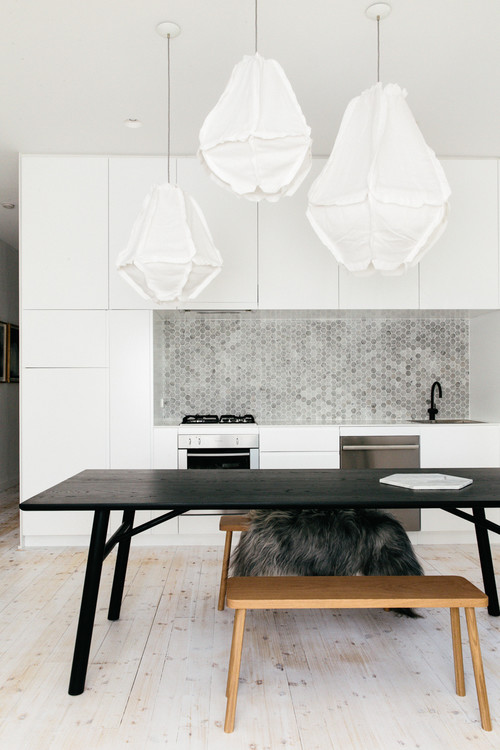 ID# 154207 | Houzz.com – Credit | © Caroline McCredie
---
Contemporary and Monochromatic Appeal with White Flat Panels
The kitchen has all-white flat-panel cabinets and light beige flat-wood floors, which give it a tidy aspect. The contrast between the wood seats and the black table is striking. The gray marble hexagon tile backsplash stands out and creates movement because of the simple design of the cabinets and worktops. Stainless steel appliances look fantastic with a backsplash made of gray marble.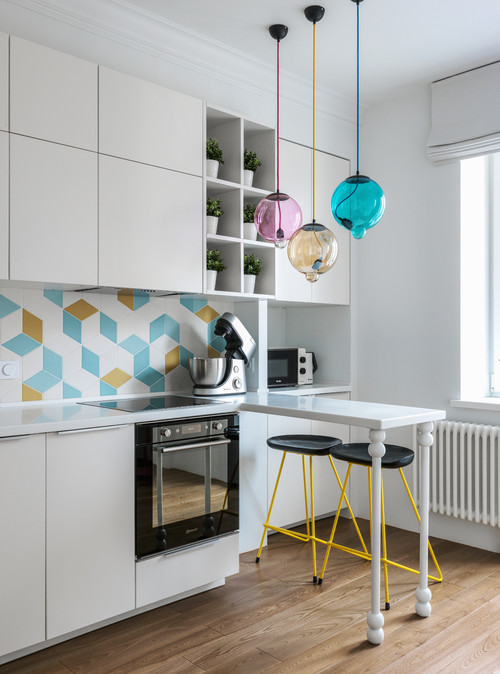 ID# 154208 | Houzz.com – Credit | © Geometrium – Студия дизайна интерьеров
---
Colorful and Contemporary with a Geometrical Focal Point Backsplash
Neutral hues don't have to make modern design bland or uninspiring! White solid counters and flat-panel cabinets offer a background against which the backsplash may stand out. The backsplash tiles in blue and orange give a punch of color and contrast. The yellow color of the stool legs contrasts with the lively vibrations of the backsplash. The orange and blue cement tiles are made even more attractive by the vivid glass pendant lights.
Patterned Tiles
Patterned tiles for backsplashes can be an expression of art in your kitchen from kitchen backsplash ideas 2023 onward. With this fantastically fashionable and aesthetically pleasing choice, you may evoke personally meaningful emotions and stories with a particular pattern, add charm with contemporary geometric designs, and create a rustic feel with various lines. Hexagonal tiles can be especially stunning, creating a unique and one-of-a-kind look that will draw the eye for years to come. Even in small kitchens, the texture, color, and pattern of these tiles bring out a tremendous amount of warmth, character, and personality.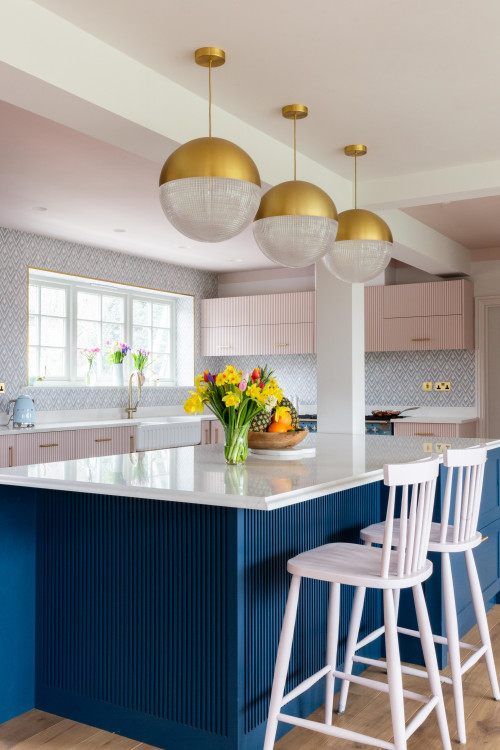 ID# 154209 | Houzz.com – Credit | © Randell Design Group
---
Pink and Blue Kitchen Cabinets with Patterned Tiles for the Backsplash
The pale pink color of the kitchen cabinets and the navy island provide an excellent look in the kitchen! The light wood floors emphasize their perfect harmony and add a warm atmosphere. The brass hardware and the details such as the pendant lighting fixtures above the island bring an opulent look. The white quartz countertops enlighten and balance the colorful kitchen cabinetry design while the patterned backsplash tiles bring movement to the space. The gray hues of the backsplash harmonize with the pink cabinets perfectly and provide a visually appealing design look.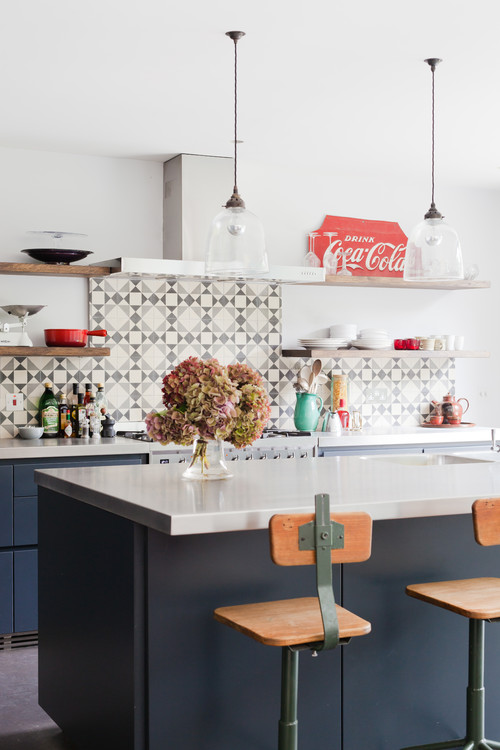 ID# 154210 | Houzz.com – Credit | © Brooke Copp-Barton Interiors
---
Dark Gray Flat-Panel Cabinets and Stainless Steel Countertops for a Contemporary Style
This stylish kitchen greets you with the lovely patterned tile backsplash design! The dark gray flat-panel kitchen cabinets and the stainless steel countertops provide industrial-style vibes while the patterned tile backsplash design brings a warmer look with an intimate and stylish appeal. The medium-tone wood floating shelves keep the warm atmosphere alive. The wood-top island chairs create a beautiful contrast to the dark gray island adding a harmonious appeal with the floating shelves.
What is a timeless kitchen backsplash?
A classic design that never goes out of style is a timeless kitchen backsplash. It is a straightforward, stylish, and simple method to refresh your kitchen without having to do a full overhaul. Glass, metal, and even real stone like marble or slate may all be used to create a timeless backsplash.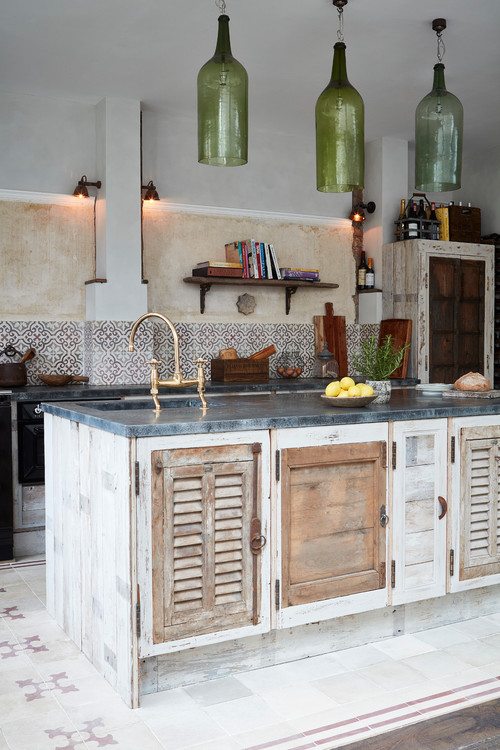 ID# 154211 | Houzz.com – Credit | © Maitland & Poate Ltd
---
Mediterranean Kitchen with Patterned Tiles
This kitchen has the ultimate look for a Mediterranean style! The distressed kitchen cabinetry is accentuated by the louvered cabinet fronts that add a visually appealing look with movement. The patterned cement tile backsplash keeps the movement alive with an organic flow thanks to its floral pattern. The brass faucet adds a hint of a modern and luxurious vibe. The dark countertops create a sophisticated touch to the space. The light beige walls keep the warm atmosphere alive with an intimate look.
Bold Backsplash Designs
Kitchen backsplashes defend your kitchen walls by shielding them from grease, regular spills, and water splatters. And since they have such a significant purpose, why not make them beautiful as well? The variety of tile designs, materials, and colors is practically infinite on the market today thanks to technological advancements, giving homeowners countless design options. Bold backsplash designs, in particular for those who prefer cabinets and counters in white or neutral tones, may instantly boost the look and make the room feel as though it has been completely redone by establishing a distinctive focal point.
Bold backsplash designs are a terrific way to give your kitchen flair if you're wanting to do so. These statement backsplashes may give your room a distinctive touch and increase visual intrigue. In keeping with the current trend in interior design, bold colors and patterns are increasingly being used in tile work. An ordinary wall may become a work of art by being tiled. While patterned tiles can act as a visual focal point, neutral tones can help keep the tiles from being overloaded or overbearing.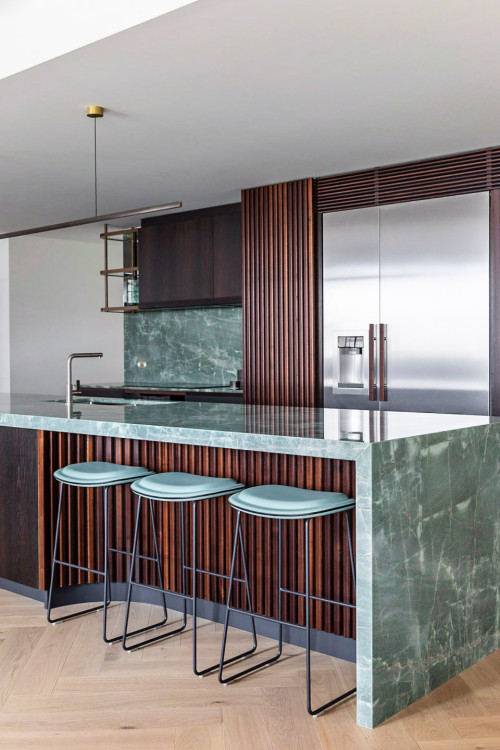 ID# 154212 | Houzz.com – Credit | © Matter Design & Make Pty Ltd
---
Bold Backsplash Design with Smokey Green Marble
The dark wood kitchen cabinets are refreshed and have a more natural feel thanks to the waterfall on the island, the slab backsplash, and the smokey green marble counters. The light wood kitchen floors let the dark wood cabinets design stand out, adding to its elegant appearance. While the dark wood cabinetry provides a simple appeal in the kitchen the marble countertops, backsplash, island, and waterfalls provide a bold and eye-catchy view in the kitchen.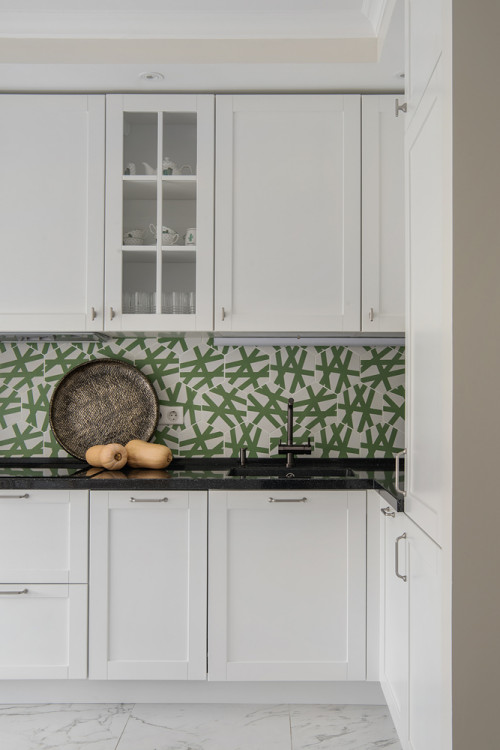 ID# 154213 | Houzz.com – Credit | © Мила Колпакова
---
Green Hexagon Patterns with Black Countertops for an Eclectic Design
This kitchen's atmosphere changes when green light filters through the hexagonal patterns on the backsplash, giving it an eclectic feel. This backsplash is sandwiched between white cabinets, and the black countertops provide a stunning contrast. The floor is covered in porcelain tiles that mimic marble in harmony with the rest of the color scheme. Overall, the backsplash's abstract brush stroke-like designs are brought into a state of tranquility by the white-black color scheme.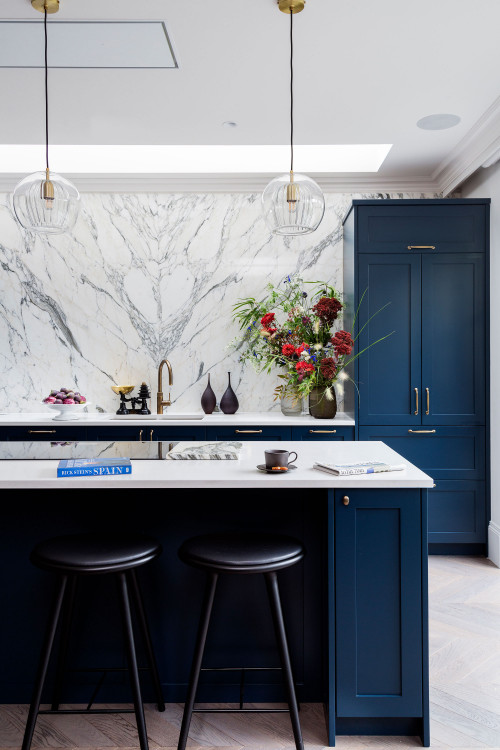 ID# 154214 | Houzz.com – Credit | © Zulufish
---
Navy Shaker Cabinets and a Bold Backsplash Design with a Bookmatched Marble Slab
The large full-height book-matched marble slab backsplash is a focal point in this kitchen. The beautiful veins of the marble provide an organic flow with a symmetrical view. The navy blue shaker cabinets and the white countertops add a striking contrast creating a sophisticated look in the space. The brass hardware and the details complement the opulent look of the marble slab backsplash with a luxurious glimpse.
Full-Height Backsplash
A typical backsplash begins directly above the countertop surface and extends for 4 inches. To produce a more striking appearance, backsplashes in modern design extend all the way to the ceiling. Full-height backsplashes commonly referred to as ceiling-height backsplashes, cover the space between the upper cabinets and the countertop or may even reach the ceiling.
This year, the popular design trend of full-height backsplashes is making a reappearance. In kitchens with high ceilings and exposed cabinets, this trend provides a dramatic and coherent design that is particularly effective. Many homeowners are choosing to include full-height backsplashes in the designs of their kitchens, imitating the stunning architecture found in contemporary eateries and commercial structures. Designing a backsplash that extends to the ceiling is a chic and original approach to giving your kitchen depth and intrigue. They work particularly well to create a unified and seamless appearance in rooms with high ceilings and exposed cabinets.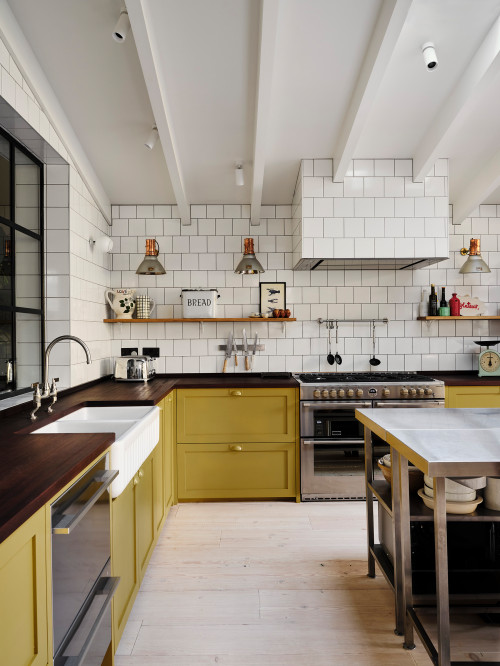 ID# 154215 | Houzz.com – Credit | © Field Day Studio
---
Eclectic Kitchen with a Full-Height Backsplash Design
This eclectic kitchen features a warm and welcoming appeal with mustard yellow shaker cabinets, dark wood countertops, and a large subway tile full-height backsplash. The subway tile keeps its classic and timeless attitude as improving with the new trends. The large white tiles and the black grout add depth and a textural focal point in the kitchen. The stainless steel appliances and the island bring a stylish appeal while the brass hardware brings a shine with warmth.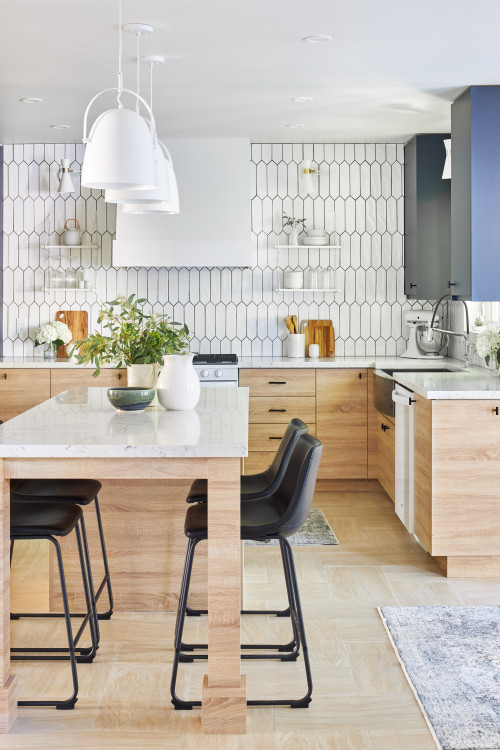 ID# 154217 | Houzz.com – Credit | © PULSAR DESIGN INC.
---
Elongated Hexagons and White Countertops with Wood Cabinets
The fashionable contrast between the light wood base cabinets and the blue upper ones is striking, while the white quartz countertops provide a contemporary flair. It's no wonder the full-height, picket-tiled white porcelain backsplash elevates the space even further, and the light wood flooring radiates warmth and cohesiveness. This beautifully designed kitchen truly evokes a feeling of comfort and is immensely functional when it comes to storage, cooking and entertaining.
What is the most popular kitchen backsplash?
Ceramic tiles are a popular choice for kitchen backsplashes, giving a wide range of design possibilities and are available in various shapes, sizes and colors, for an individual touch. With ceramic tile, you can create a custom, unique look that expresses your personal style and evokes a sense of warmth and comfort.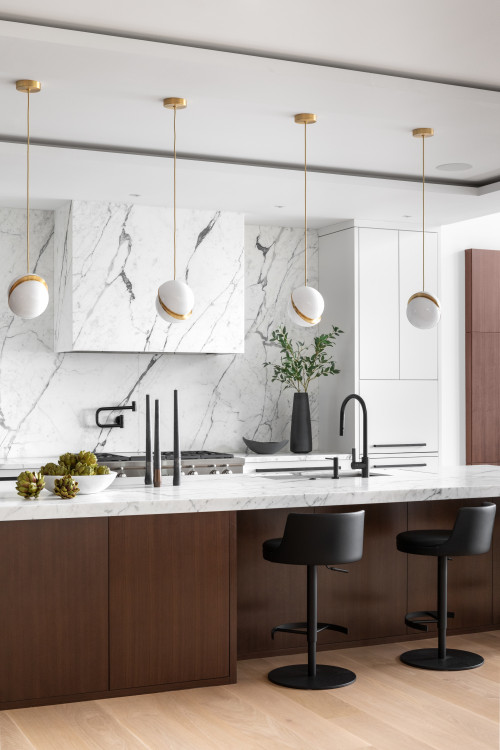 ID# 154218 | Houzz.com – Credit | © Madeleine Design Group Inc.
---
Full-Height Kitchen Backsplash Ideas 2023 with Marble Slabs and Countertops
Use marble backsplash countertops and dark gray knobs to add movement and a coherent look to your white kitchen cabinets design if you want to emphasize it. The dark gray marble veins offer additional movement, enhancing the interior of the kitchen's natural flow. The marble-covered range hood design keeps the unified appeal of the backsplash design. Thanks to the paneled appliances this unified appeal provides a stylish canvas for the wood island to stand out.
Glossy Finishes
High gloss tiles or glossy finishes are an excellent method to make a space feel brighter because of their natural propensity to reflect light. Glossy finishes are a popular option for homeowners who want to create warm, glowing effects in both kitchens and baths. Tile with metallic tones or metal components may also reflect light to provide a beautiful gloss that seems gorgeous and one-of-a-kind in the home. A glossy tile backsplash is a terrific choice if you want to give your kitchen more brightness and sparkle. These tiles naturally reflect light, giving the room a cozy and bright feel.
Glossy finishes are a terrific way to open up and brighten up a tiny or gloomy kitchen. The tiles' inherent ability to reflect light can aid to spread light around the space, giving it a bigger, cozier effect. Glossy finishes are not only attractive, but they are also simple to keep clean and maintain. The tiles are a practical option for busy kitchens because of how quickly spills and splatters can be removed from their smooth surface. Glossy finishes are adaptable and suited for a wide range of design styles since they come in several colors, sizes, and forms. Let's scroll down and check!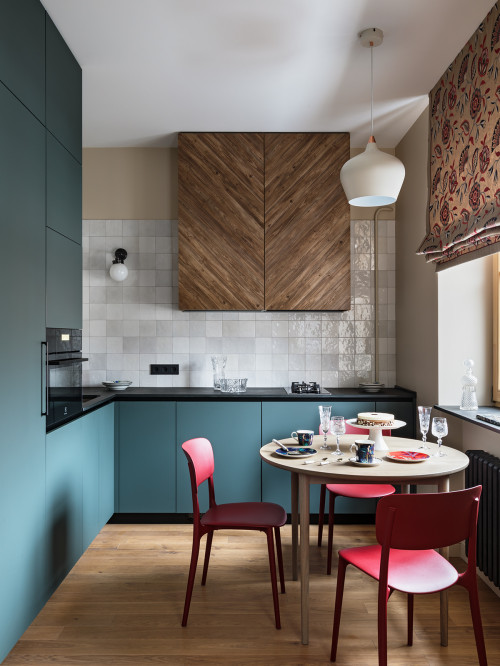 ID# 154219 | Houzz.com – Credit | © Erashevich studio_Ерашевич Алёна
---
Glossy Finish for a Square Tile Kitchen Backsplash Ideas 2023 with Black Countertops
The walls of beige and the wooden flooring stand in stark comparison to the blue flat-panel cabinets. The black countertops give off an aura of elegance and modernity, while the black appliances offer a perfect match for the entire setup. The gray square tile backsplash adds its own subtle sparkle with its glossy coating. A custom-designed hood fabricates a dynamic air of sophistication, with its wood panels exhibiting a book-matched pattern. This kitchen surely holds its own unique charm that brings with it a sense of awe and wonder.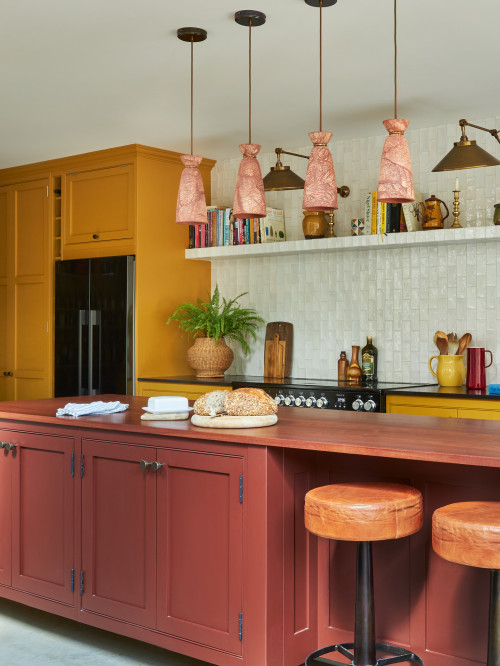 ID# 154220 | Houzz.com – Credit | © Boffe Design
---
Dry-rose Island with Warm Yellow Shaker Cabinets for a Transitional Kitchen
The yellow shaker cabinets radiate a delightful warmth, creating a welcoming and familiar atmosphere. Featuring an uncommon dry-rose hue for the island adds a mesmerizing sight to the kitchen. Consequently, these cabinets provide a homely feel, similar to the countertops of a complementing shade. The invigorating color palette is harmoniously paired with the dazzling white glossy kitchen backsplash tiles, providing an attractive counterpoint to the black countertops.
Which is better for the kitchen backsplash?
The greatest possibilities for excellent functioning are ceramic, porcelain, glass and metal tiles since they are nonporous materials that are resistant to stains, fading, discoloration, heat and moisture.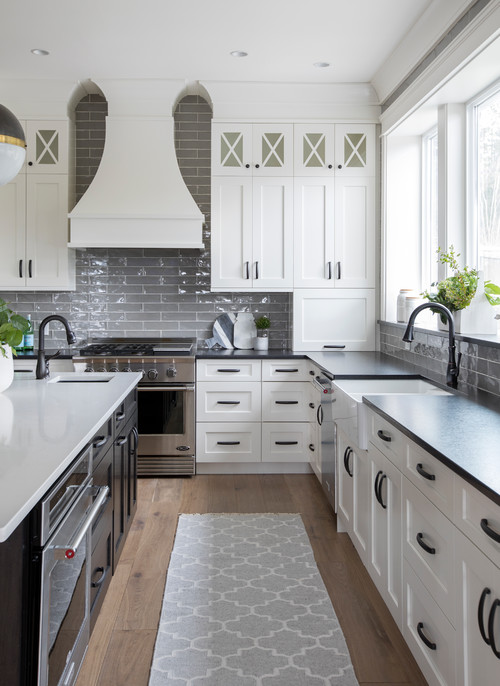 ID# 154221 | Houzz.com – Credit | © PlaidFox Studio
---
White Shaker Cabinets and a Gray Subway Tile Kitchen Backsplash Ideas 2023
Black hardware, gray ceramic subway tile, and white shaker cabinets are typical pairings for creating a cohesive kitchen design. This classic trio matches a variety of kitchen styles and could provide the space with a sleek, modern appearance. To add a feeling of drama and elegance to your kitchen, think about using a black island and black countertops. The white cabinets and subway tile backsplash will contrast sharply and stylishly with these dimmer components. To balance the contrasting colors and keep the space feeling warm and welcoming, you might want to consider adding wood kitchen floors. The design will feel softer overall because of the warm, natural wood tones.
Natural Stone Mosaic Tiles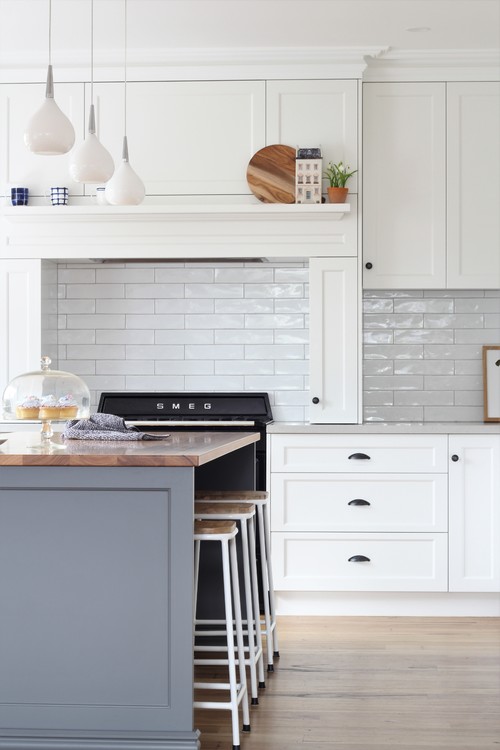 ID# 154222 | Houzz.com – Credit | © My Beautiful Abode
---
White Shakers and Black Hardware for a Country Kitchen Design
White shaker cabinets with black hardware give a kitchen the traditional appearance of a country-design style. The black appliances also contribute to this timeless style, maintaining the contrast. The brilliant appeal of the white kitchen cabinets and the white subway tile backsplash design is balanced by the gray laminate worktops. The kitchen area is given a coherent aspect by the gray island and gray laminate counters.
Natural Stone
The realm of backsplash products is limitless. You may use a variety of materials as a backsplash for your kitchen, from traditional ceramic subway tiles to metal sheets. Finding the ideal backsplash for your tastes may be intimidating with the variety of materials available. However, a natural stone backsplash is a certain way to get a stunning and classic aesthetic. These are natural materials that are mined from various parts of the world, as the name would imply. A natural stone backsplash is available in a variety of material choices, each with its characteristics and aesthetics, from rough, texturized stones to smooth, pricey ones.
Natural stones continue to be a popular design choice for projects involving interior decoration, with kitchen backsplashes being one of the most popular applications. A natural stone backsplash, whether it be an elegant marble slab or an organic slate stone, can quickly bring a ton of flavor to kitchens. Natural stones may also be utilized in kitchens of many various types due to the extensive selection of material, color, texture, and pattern possibilities. Yes, their charms are innately lovely, but you could be worried about the upkeep of the stone backsplash. They need to be constantly sealed because they are made of natural materials and have porous surfaces. Don't be intimidated by that; with the appropriate attitude and some simple upkeep, these backsplashes provide limitless possibilities.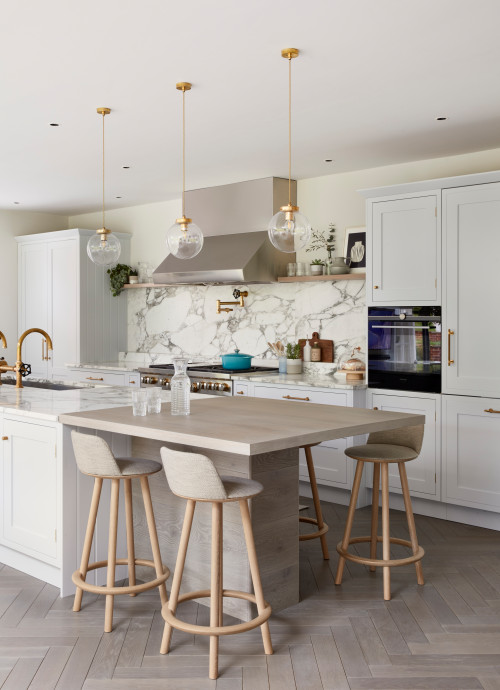 ID# 154223 | Houzz.com – Credit | © Snug Kitchens
---
Natural Stone Backsplash with a White Marble Slab and Countertops
The white shaker cabinets give the overall appearance of the kitchen a classic and enduring charm. A dining table positioned next to the island and light wood floors give the kitchen a cozy feel. Due to the white marble backsplash and worktops, the brass hardware and glass components of the pendant lighting fixtures add to their luxurious appeal and beauty.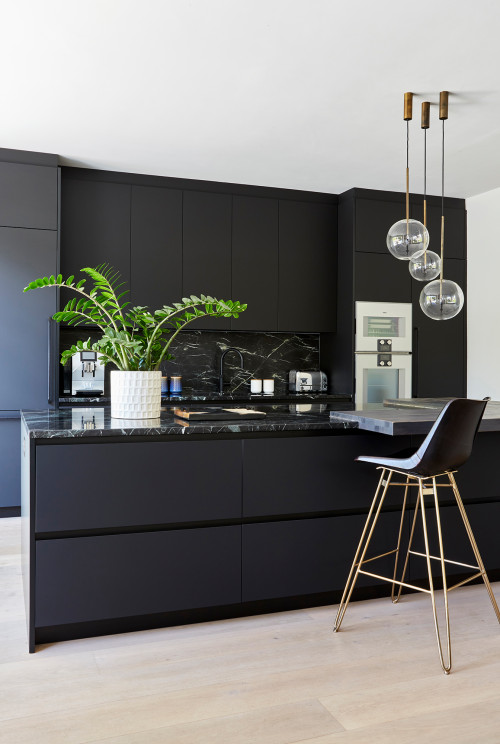 ID# 154224 | Houzz.com – Credit | © Espresso Design
---
Black Flat-Panel Cabinets and Black Countertops with Light Wood Floors
The sophisticated black beauty of the kitchen draws you in, with its flat-paneled cabinets and black marble countertops, highlighted by the light wood floors and the bright white walls, ceilings, and backsplash. The contrast between the white and the black creates a strikingly modern atmosphere. Complementing it with greenery further intensifies the feeling of invigorating freshness.
What type of backsplash is best for behind the stove?
When used as a backsplash behind the stove, ceramic or porcelain tiles give a sturdy, heat-resistant surface that resists inevitable sauce and oil spills while providing plenty of space for imaginative kitchen wall décor.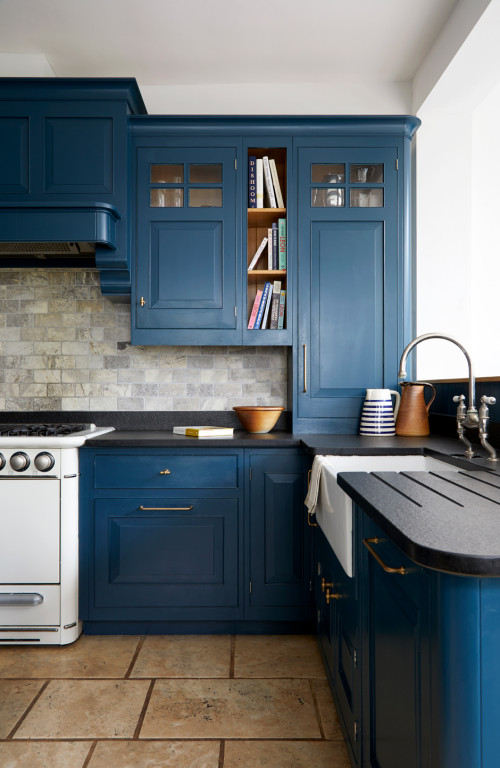 ID# 154225 | Houzz.com – Credit | © Fable Interiors
---
Natural Stone Tiles with Black Countertops and Blue Kitchen Cabinets
Thanks to its blend of blue cabinets, silver hardware and stone tile backsplash, this kitchen has an opulent and elegant aspect! This kitchen has a more natural vibe thanks to the materials matte surfaces which also give the room depth and texture. The brass hardware gives the kitchen a bit of glitz and elegance while the blue cabinets give it a splash of color and individuality. In this kitchen, the stone tile backsplash stands out and adds to the opulent appeal of the room.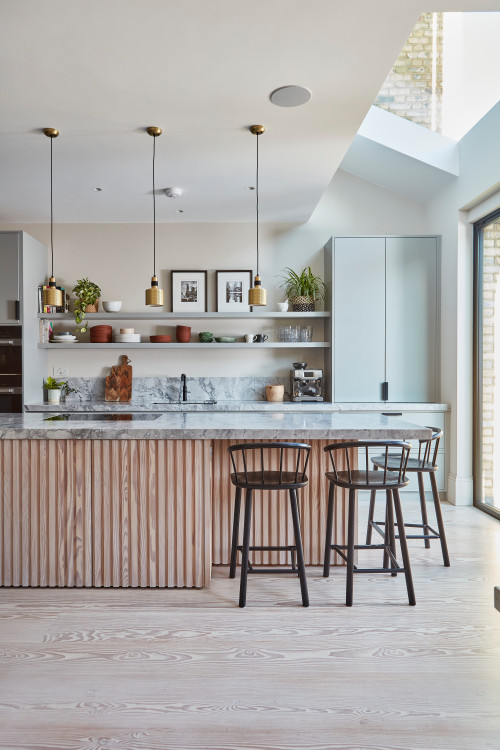 ID# 154226 | Houzz.com – Credit | © Pencil and Brick
---
Short Slab Backsplash and Marble Countertops for a Fresh Kitchen
Thanks to its color scheme of light wood, gray, and beige, this large kitchen offers a bright and airy look! The short slab backsplash and gray marble counters provide a touch of class and luxury while the light wood floors and island give the room a feeling of warmth and natural beauty. The wide vaulted ceiling window and the light beige walls create an airy open feeling that lets natural light stream into the room.