25+ Top Tile Trends For 2023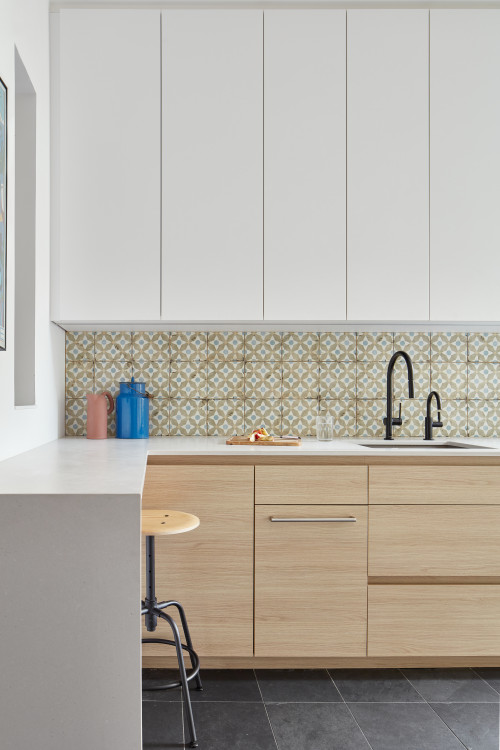 ID# 159810 | Houzz.com – Credit | © Flux Developments Inc.
---
Top Tile Trends for 2023 with Statement Patterns and Two-Tone Joinery
Visually soothing and relaxed, this Scandinavian kitchen boasts two-tone joinery, consisting of wood and white cabinets. The patterned tiles in light earthy shades make a statement to spice up the otherwise too-calm design. A peninsula is attached to the main arm of cabinetry to create a relaxed dining zone. It is also punctuated with artwork and an accent window that opens onto an unexpected indoor view.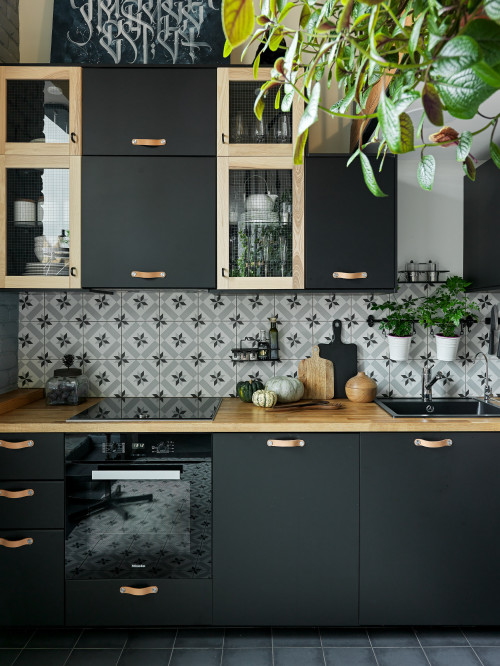 ID# 159813 | Houzz.com – Credit | © Totaste.studio | Виктор Штефан
---
Top Tile Trends for 2023 and Industrial Kitchen with Black Cabinets
If you want something industrial that doesn't feel too unfinished yet rather homier, this kitchen design shows how to create one. Here, the black cabinets are given a fresh vibe with floral-patterned backsplash tiles. The kitchen plants sprinkled here and there also support the lively atmosphere. The timber countertops and copper hardware enhance the material vocabulary of the kitchen without breaking its visual integrity.
Top Tile Trends For 2023
2023 has arrived, and it has come with new tile trends, urging homeowners to experiment with patterns and tiles. Bright shades, effervescent colors, statement patterns, and textured tiles, you name it; 2023 is up for it! In the nutshell, his year is very inclusive in the sense that it has plenty of room for imagination and improvisation. So, consider designing as an impromptu performance since top tile trends for 2023 promote playfulness with colors, materials, and natural textures.
From terrazzo to wood-look, patterned, and bright-colored tiles, top tile trends for 2023 are quite bold and delirious. They wrap the homes in pops of color, creating instant statement moments. And here are five major categories we gathered for you that focus on the top tile trend ideas. To see some examples, keep on reading and immerse yourself in the colorful world of 2023 design trends.
What colors will tiles be in 2023?
Popular colors in 2023 range from vibrant reds and oranges to pink and rosy hues, earthy colors, and warm neutrals. Simply put, bright hues ditch the neutral color schemes for the sake of more warmth and a dynamic atmosphere, creating a visual feast for the eye.
This year allows homeowners to go overboard with their color choices. With color-blocking techniques, more energy can be invited indoors via colorful tiles. And backsplashes play a key role in that in kitchens. And they encourage prioritizing colors that celebrate optimism and joyfulness. Thus, make your kitchens look more enthusiastic with unique design narratives rather than playing safe. Avoid neutral colors such as grays and whites. Rather, evoke a festive feel. Let rooms gain a level of fluidity and flexibility as the colors move deliriously Scroll down and learn more about kitchen and bathroom tile trends!
What are the tile trends for 2023?
Tile trends for 2023 focus on bright and colorful elements that emulate organic patterns or come in geometric shapes. Natural materials, likewise, add to the popular tile trends, including dramatic marble tiles, terrazzo, and wood-look tiles.
Textured Tiles
Handmade, terracotta and Zellige tiles are popular options for textured tiles. Featuring staggered edges and imperfections, they add extra interest to the background. If you want to create a nature-inspired look with earthy color palettes, you can support it with textured tiles.
What tile pattern is timeless?
Available in multiple sizes, materials, and designs, subway tiles are one of the most timeless patterns. Yet what makes them truly timeless is their suitability for a variety of layout options. In other words, they can be customized easily and experimented with. For example, one can lay them in a herringbone or chevron pattern. Or they can be stacked vertically or horizontally. If you want something more dimensional, beveled subway tiles come as another alternative. And if you want to give the illusion of a larger or higher space, go with slim versions and stack them vertically.
What is the most popular flooring for 2023?
It is 2023, and new interior designs have been an intriguing topic recently. With the resurgence of bright hues, we are ensured that 2023 is the year to welcome vibrant colors. Yet what about the flooring design trends for 2023? The same on-trend approaches apply to them as well. And we see them enjoy their colorful designs as they have a moment of their own.
Though ceilings and floors are not generally the first things that come to mind, they have a high potential to make a statement. And this year, floors get the attention they deserve, coming in busy and patterned tiles and introducing bright and bold colors. Now let's take a closer look at what materials you could use to achieve an on-trend and timeless look.
Encaustic Floor Tiles
Also known as inlaid tiles, encaustic floor tiles consist of colored clays, which make them look more authentic. They are used for floor and stair cladding popularly, featuring a wide range of designs. Whether you want something soft or bold, you can find all sorts of options. Plus, they are easy to clean and durable, offering convenient use.
Terracotta Tiles
If you are looking for a more natural way to introduce red, terracotta tiles are a great alternative, creating earthliness. To give them a fresh vibe, a glossy finish can be applied.
Terrazzo Flooring
Colorful and dynamic, terrazzo tiles are ready to conquer our homes. They consist of glass, quartz, granite, and marble chips mixed into epoxy or cement. Easy to clean and highly durable, they make an excellent flooring material. Plus, they are eco-conscious materials and are best at introducing color and new energy to a room.
Wood-Look Tiles
Wood is not always a good option because it can wear over time. That's why wood-look tiles offer new and easy-to-install alternatives. Made of ceramics, porcelain, glass, and marble, wood-look tiles mimic wood patterns realistically. They are both classic and contemporary, withstanding the test of time. So, if you want something on-trend that also feels timeless and relevant in the long wrong, you can go with wood-look tiles.
Checkerboard Flooring
Checkerboard pattern flooring is as popular as checkerboard backsplashes. With this pattern, you can give your home a retro feel and travel back in time easily.
Large Floor Tiles
Using large floor tiles makes your room feel larger. Plus, it is a way of highlighting the pattern itself.
Don't skip carpets
2023 is also the year to embrace more and more textures. So, feel free to bring in carpets, tapestries, and kilim rugs. They could be used to introduce a bonus pattern and color. Or in open floor plans, you can use them to develop a sense of space. For example, with a carpet placed under the dining table, you can create a dining zone and establish a visual boundary. No one would also like to say no to something that provides extra comfort underfoot.
Statement Patterns
Keep your design interesting with statement patterns. Printed ceramic tiles, encaustic tiles with Mediterranean-inspired patterns, and geometric patterned backsplashes are very popular this year. Even if you keep the entire kitchen white and neutral, you can recreate your kitchen with a statement pattern backsplash. To create a more cohesive look, you can take the patterns and colors as your cue and repeat them throughout the room.
Pastel Tones
Soft and muted, pastel tones are a great alternative for those who don't prefer jewel and bright tones. If you want to create calm looks, including nature-inspired designs, pastel tones are the way to go. Sage green, mint green, soft pink, and muted blue are only some of the most popular options. Though, pink and green shades stand out a bit more than other colors.
Which tile is the most versatile?
Known for their affordability and durability, ceramic tiles rank among the top versatile tiles. And it is for a good reason. They are available in a wide range of designs, patterns, and sizes, opening up almost limitless design possibilities. In addition to them, ceramic tiles can mimic patterns of natural materials, such as wood and stone, and capture the authenticity of those materials skillfully. For Mediterranean and Tuscan-style kitchens, one can benefit from their printed designs too that can compete against pattern-rich encaustic tiles. Such diversity makes them eligible to create all sorts of looks.
Plus, their ease of maintenance and suitability for indoor and outdoor designs add another value to them. Even in terms of use, they are versatile. Heat-resistant and non-slip (unless given a high-gloss finish), they can be installed on bathroom floors and behind stoves. On the other hand, natural stone tiles are other versatile option that can add value to your home!
Terrazzo Tiles
Having been around for centuries since the 16th century, terrazzo tiles are back again, having a time of their own. Comprised of a mixture of marble, granite, glass, and quartz chips brought together with a cement or epoxy binder, terrazzo tiles are born to create a dynamic and quirky look. The sizes of these chips vary significantly, achieving different impacts. And as they are durable materials mixed into cement, terrazzo offers high durability and can even outlive your home. Thus, it is no surprise that it is preferred in high-traffic areas like airports, hospitals, and parking lots. Plus, it is easy to maintain and available in tile and slab versions. Slab versions are a great way to have minimal grout lines. On top of that, it is also highly sustainable since it reuses the leftover natural materials, turning them into something magnifique.
What is the most classic tile?
Marble tiles are one of the most classic tiles that ooze elegance and sophistication. Suitable for all sorts of designs, from traditional to contemporary, marble gives the design a classic and high-end finish. This year, marble is again one of the most popular tiles. Especially its dramatically veined versions are extremely on-demand.
Wood-Look Tiles
Wood is a porous natural material, which may not be very durable and sustainable in the long term. Due to its low resistance to heat, it is also not a very practical option to install behind the stove. However, if you can't give up on wood looks, there is a wide range of options and materials that mimic wood patterns.
One of them is porcelain tiles which are affordable, durable, and easy to maintain. Since it also has additives and is fired at higher temperatures, it is even stronger than ceramics. And it is very much adept at mimicking natural materials, including wood. Another alternative is wood-look recycled glass tiles mostly available in hexagon patterns. Eco-conscious, easy-to-clean, and heat-resistant they also provide a practical option.
Additionally, wood-look tiles are easy to install and available in various styles, patterns, and finishes and they can be used as wall and floor tiles. Thanks to the advancement in technology, they are as impactful as the original ones.