25+ Top Tile Trends For 2023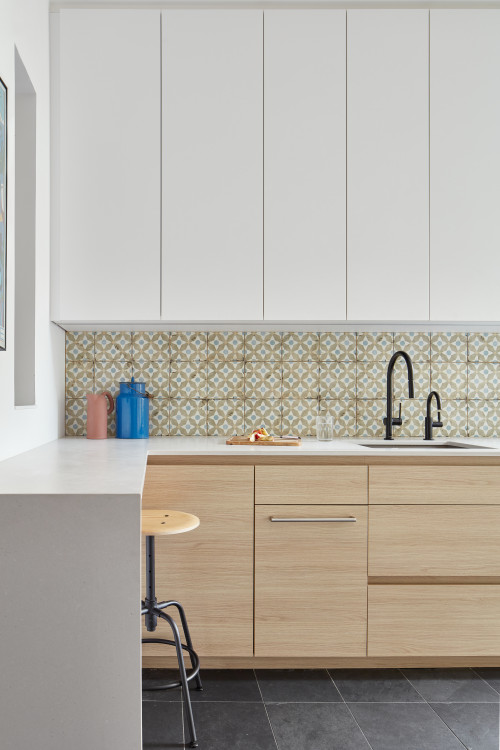 ID# 159810 | Houzz.com – Credit | © Flux Developments Inc.
---
Top Tile Trends for 2023 with Statement Patterns and Two-Tone Joinery
Visually soothing and relaxed, this Scandinavian kitchen boasts two-tone joinery, consisting of wood and white cabinets. The patterned tiles in light earthy shades make a statement to spice up the otherwise too-calm design. A peninsula is attached to the main arm of cabinetry to create a relaxed dining zone. It is also punctuated with artwork and an accent window that opens onto an unexpected indoor view.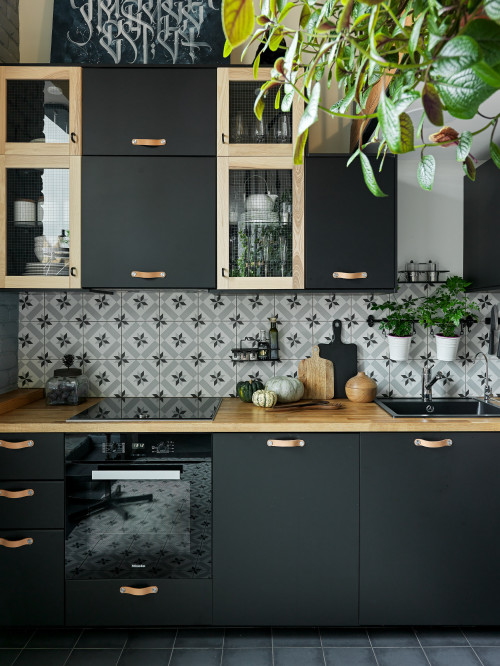 ID# 159813 | Houzz.com – Credit | © Totaste.studio | Виктор Штефан
---
Top Tile Trends for 2023 and Industrial Kitchen with Black Cabinets
If you want something industrial that doesn't feel too unfinished yet rather homier, this kitchen design shows how to create one. Here, the black cabinets are given a fresh vibe with floral-patterned backsplash tiles. The kitchen plants sprinkled here and there also support the lively atmosphere. The timber countertops and copper hardware enhance the material vocabulary of the kitchen without breaking its visual integrity.
Top Tile Trends For 2023
2023 has arrived, and it has come with new tile trends, urging homeowners to experiment with patterns and tiles. Bright shades, effervescent colors, statement patterns, and textured tiles, you name it; 2023 is up for it! In the nutshell, his year is very inclusive in the sense that it has plenty of room for imagination and improvisation. So, consider designing as an impromptu performance since top tile trends for 2023 promote playfulness with colors, materials, and natural textures.
From terrazzo to wood-look, patterned, and bright-colored tiles, top tile trends for 2023 are quite bold and delirious. They wrap the homes in pops of color, creating instant statement moments. And here are five major categories we gathered for you that focus on the top tile trend ideas. To see some examples, keep on reading and immerse yourself in the colorful world of 2023 design trends.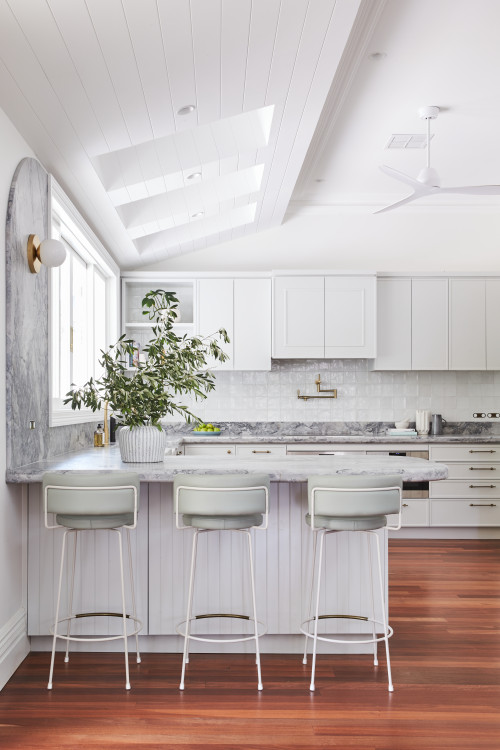 ID# 159801 | Houzz.com – Credit | © Danielle Victoria Design Studio P/L
---
Top Tile Trends for 2023 with Marble and White Square Tiles
The way you want to change up your monochromatic kitchen is up to you. If you want to give it an update and align it with one of this year's trend looks, this kitchen has an answer for you. Here, first, a gray marble slab creates an accent wall to accompany the peninsula. And to ensure visual consistency throughout, the book-matching countertops and a 4-inch marble backsplash accompany the base counters. While the white square tiles provide a clean background with a nice sheen, the marble brings a calming effect. Not to mention, its curved-cut ends that match the rounded countertop and cabinets deepen the artistic mood of the space.
ID# 159802 | Houzz.com – Credit | © Ирина Чернейкина
---
Star-patterned Tile Backsplash with Two-tone Cabinetry
This year welcomes pops of colors that give a quick contemporary upgrade to otherwise neutral color schemes. Here, for example, the two-tone joinery comprises white and gray cabinets, giving birth to a very neutral look. Yet the star-patterned mosaic tiles create a visual interest that alters the dynamics of the design. An oversized cherry-shaped pendant, a dog-shaped accessory, and pseudo-cupcakes add pops of red to take the energy of the room to the next level.
What colors will tiles be in 2023?
Popular colors in 2023 range from vibrant reds and oranges to pink and rosy hues, earthy colors, and warm neutrals. Simply put, bright hues ditch the neutral color schemes for the sake of more warmth and a dynamic atmosphere, creating a visual feast for the eye.
This year allows homeowners to go overboard with their color choices. With color-blocking techniques, more energy can be invited indoors via colorful tiles. And backsplashes play a key role in that in kitchens. And they encourage prioritizing colors that celebrate optimism and joyfulness. Thus, make your kitchens look more enthusiastic with unique design narratives rather than playing safe. Avoid neutral colors such as grays and whites. Rather, evoke a festive feel. Let rooms gain a level of fluidity and flexibility as the colors move deliriously Scroll down and learn more about kitchen and bathroom tile trends!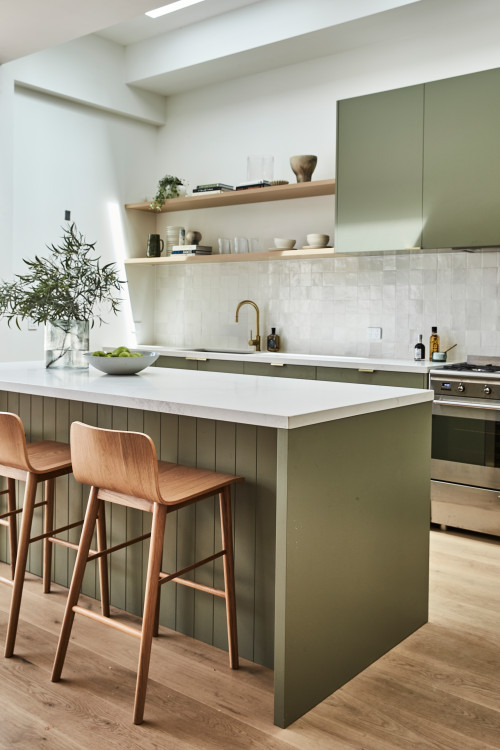 ID# 159803 | Houzz.com – Credit | © Naibu Design
---
Checkerboard Tile Backsplash with Green Cabinets and Shiplap Island
Warm neutral and earthy shades are as welcome as checkerboard tile patterns. And in this farmhouse-inspired design, both find references. Here, first, the green cabinets set the tone of the kitchen, instilling calmness with their soft pastel shades. Secondly, the white checkerboard backsplash with subtle tonal variations creates a more natural backdrop rather than looking too matchy-matchy. Though considered a traditional pattern, checkerboard tile has a retro and modern vibe to it. Depending on the context it is integrated into, it creates different impacts, which makes it a fail-safe option. To constitute a subtle yet assertive background, feel free to go with a checkerboard tile pattern.
What are the tile trends for 2023?
Tile trends for 2023 focus on bright and colorful elements that emulate organic patterns or come in geometric shapes. Natural materials, likewise, add to the popular tile trends, including dramatic marble tiles, terrazzo, and wood-look tiles.
Textured Tiles
Handmade, terracotta and Zellige tiles are popular options for textured tiles. Featuring staggered edges and imperfections, they add extra interest to the background. If you want to create a nature-inspired look with earthy color palettes, you can support it with textured tiles.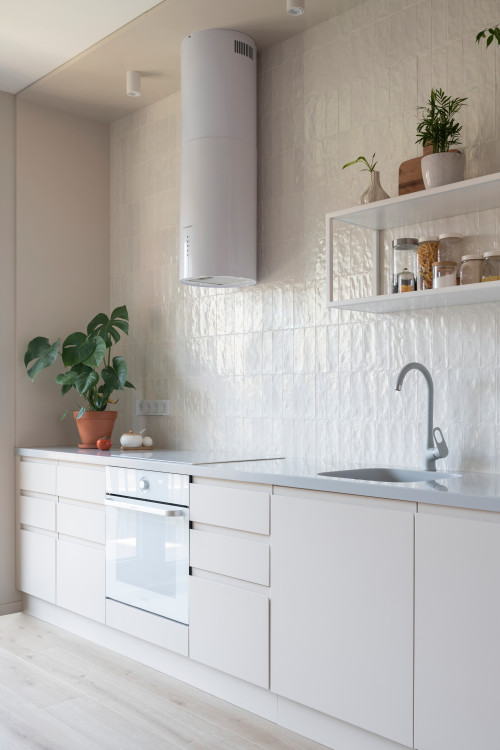 ID# 159804 | Houzz.com – Credit | © FREYA Architects
---
Top Tile Trends for 2023 with Textured Tiles and White Countertops
Get tiles that stimulate your tactile senses, which will again help align your kitchen with on-trend looks. In this Scandinavian kitchen, the shifts and irregularities on the tile surfaces add depth while creating an eye-popping look. Plus, the fact that the tiles are taken up to the ceiling gives this subway tile backsplash more chance to display itself. Since they are stacked vertically, they also modernize the room while giving extra height to the interior. The rest of the design just plays along to keep the attention on the textured tiles. For example, the white open shelving, rounded range hood, and white countertops blend with the backsplash seamlessly. And off-white cabinets with yellow undertones ooze warmth. The kitchen plant brings a pop of color.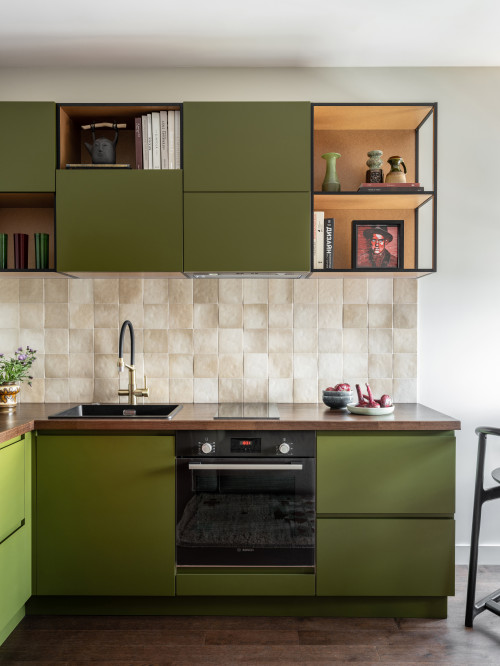 ID# 159805 | Houzz.com – Credit | © Студия Татьяны Архиповой
---
Textured Tiles with Green Cabinets and Brown Countertops
Green has become the new neutral, as the saying goes. And it is definitely a popular color this year too, giving designs an earthed quality. As proven by this interior design too, here, the stunning green cabinets bring an outdoor feel along with brown countertops. The textured tiles in light brown and subtle color shifts create a neutral and tactile background. The staggered edges make them look more dynamic rather than manufactured, all-same, and homogeneous. Such textuality surely plays up the ambiance that emulates outdoor spaces. The open cabinet shelves with cookbooks and accessories add to the intimate atmosphere. And the dark wood flooring anchors the entire room, creating visual drama.
What tile pattern is timeless?
Available in multiple sizes, materials, and designs, subway tiles are one of the most timeless patterns. Yet what makes them truly timeless is their suitability for a variety of layout options. In other words, they can be customized easily and experimented with. For example, one can lay them in a herringbone or chevron pattern. Or they can be stacked vertically or horizontally. If you want something more dimensional, beveled subway tiles come as another alternative. And if you want to give the illusion of a larger or higher space, go with slim versions and stack them vertically.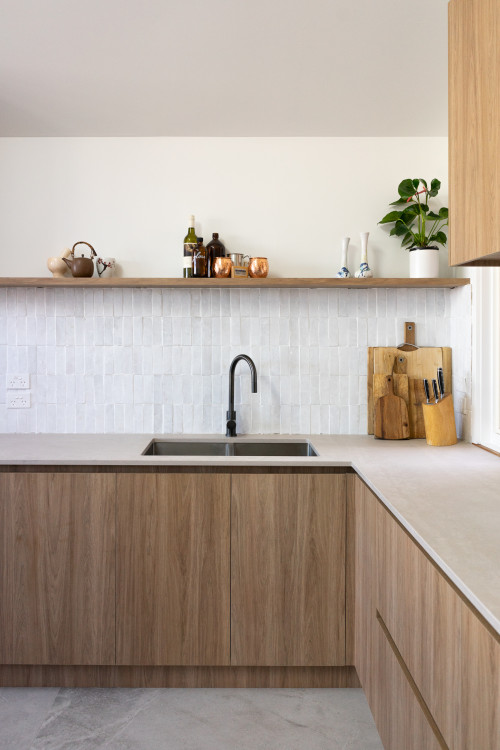 ID# 159806 | Houzz.com – Credit | © VMD Interiors
---
Zellige Tile Backsplash with Timber Cabinets and Floating Shelf
Handmade Zellige tiles are one of the best options to create a texture-rich background. Though mostly square, they are also available in various sizes and shapes. In this modern kitchen, for example, they come in the form of subway tiles. Vertical subway tile creates an eye-catching background. The timber floating shelf with timber cabinets bring further layers of texture. Though, the sleek and clean-lined joinery ensures the kitchen doesn't sacrifice its modern look. The built-in appliances and an integrated sink contribute to the overall design aesthetic. Keep in mind that gloss and high-gloss finishes can be applied in case you would like to create a nice sheen.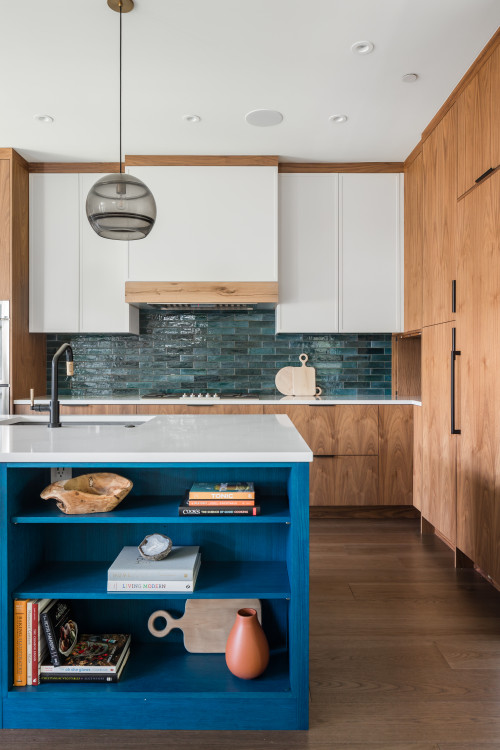 ID# 159807 | Houzz.com – Credit | © Designs by KS
---
Top Tile Trends for 2023 with Blue Subway Tiles and Timber Cabinets
Merge warming wood shades with colorful tiles to create a more intriguing look. And don't refrain from introducing a third color to lighten up the room. In this contemporary kitchen, the juxtaposition of white and wood cabinets supplies the kitchen with a timeless setup. The blue subway tiles laid in a running bond pattern give the design visual uplift while bringing a jolt of color. The satin finish on the tiles adds an extra layer of texture for bonus intrigue and interest. The blue kitchen island with open storage creates another focal point, keeping the otherwise calm design dynamic and awake. To finalize the look, black cabinet hardware, black faucet, and globe pendants pull the design together.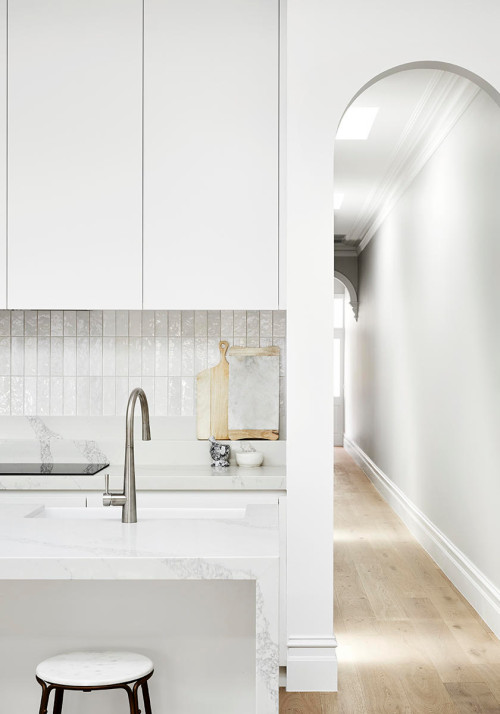 ID# 159808 | Houzz.com – Credit | © Seytim
---
White Quartz Countertop with White Subway Tile Backsplash and White Cabinets
Led through an archway, this all-white kitchen is a deliberate choice so that it can be changed up in the future when needed. Though giving the impression of a monotonic look, at first sight, it unveils its characteristic features slowly. For instance, what catches the eye first is the marble effect white quartz. Both coming as a functional and aesthetic option, it offers an easy-to-maintain surface. This 4-inch quartz backsplash also extends on the countertops to retain visual consistency. And the second layer of backsplash is brought in by the white textured subway tiles to create a dual-identity background and establish depth. These subway tiles, additionally, mimic the slim forms of the flat-front cabinets for a continuous look.
Placed opposite the perimeter counters, the waterfall island brings a sense of fluidity. Complementing the look is light wood flooring that runs across the hallway and the kitchen to bring the space together.
What is the most popular flooring for 2023?
It is 2023, and new interior designs have been an intriguing topic recently. With the resurgence of bright hues, we are ensured that 2023 is the year to welcome vibrant colors. Yet what about the flooring design trends for 2023? The same on-trend approaches apply to them as well. And we see them enjoy their colorful designs as they have a moment of their own.
Though ceilings and floors are not generally the first things that come to mind, they have a high potential to make a statement. And this year, floors get the attention they deserve, coming in busy and patterned tiles and introducing bright and bold colors. Now let's take a closer look at what materials you could use to achieve an on-trend and timeless look.
Encaustic Floor Tiles
Also known as inlaid tiles, encaustic floor tiles consist of colored clays, which make them look more authentic. They are used for floor and stair cladding popularly, featuring a wide range of designs. Whether you want something soft or bold, you can find all sorts of options. Plus, they are easy to clean and durable, offering convenient use.
Terracotta Tiles
If you are looking for a more natural way to introduce red, terracotta tiles are a great alternative, creating earthliness. To give them a fresh vibe, a glossy finish can be applied.
Terrazzo Flooring
Colorful and dynamic, terrazzo tiles are ready to conquer our homes. They consist of glass, quartz, granite, and marble chips mixed into epoxy or cement. Easy to clean and highly durable, they make an excellent flooring material. Plus, they are eco-conscious materials and are best at introducing color and new energy to a room.
Wood-Look Tiles
Wood is not always a good option because it can wear over time. That's why wood-look tiles offer new and easy-to-install alternatives. Made of ceramics, porcelain, glass, and marble, wood-look tiles mimic wood patterns realistically. They are both classic and contemporary, withstanding the test of time. So, if you want something on-trend that also feels timeless and relevant in the long wrong, you can go with wood-look tiles.
Checkerboard Flooring
Checkerboard pattern flooring is as popular as checkerboard backsplashes. With this pattern, you can give your home a retro feel and travel back in time easily.
Large Floor Tiles
Using large floor tiles makes your room feel larger. Plus, it is a way of highlighting the pattern itself.
Don't skip carpets
2023 is also the year to embrace more and more textures. So, feel free to bring in carpets, tapestries, and kilim rugs. They could be used to introduce a bonus pattern and color. Or in open floor plans, you can use them to develop a sense of space. For example, with a carpet placed under the dining table, you can create a dining zone and establish a visual boundary. No one would also like to say no to something that provides extra comfort underfoot.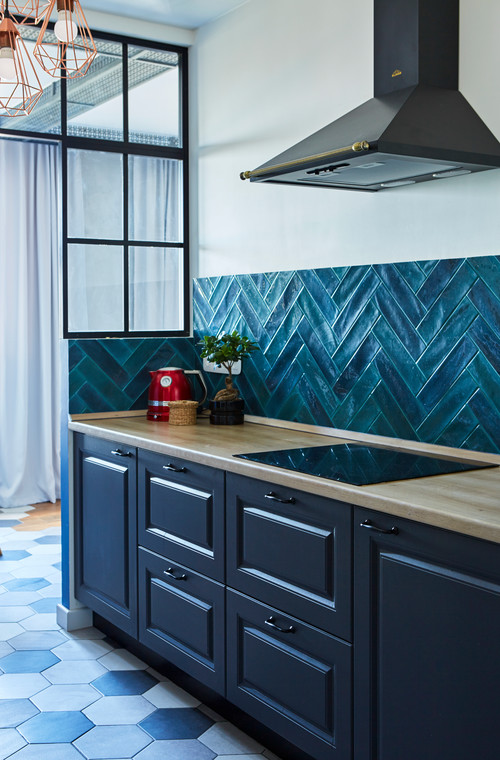 ID# 159809 | Houzz.com – Credit | © Creative Home
---
Blue Herringbone Tiles with Butcher Block Countertops and Raised-Panel Cabinets
Featuring an abundance of blue shades moving deliriously throughout the space, this contemporary kitchen is communicative in every possible way. Here, first, the textured subway tiles laid in a herringbone pattern create a geometric backsplash that demands attention. The dark raised-panel cabinets anchor the vibrant blue hues of the tiles, while butcher block countertops ensure a soft transmission. On the floor, the multi-colored hexagon tiles resonate with the overall color scheme. They introduce another layer of pattern and shades without going over the top. The low-profile stove, the exposed classic range hood, and the copper geometric lighting fixtures complement the design. The final product? It is well-curated, dynamic, and eye-catching.
Statement Patterns
Keep your design interesting with statement patterns. Printed ceramic tiles, encaustic tiles with Mediterranean-inspired patterns, and geometric patterned backsplashes are very popular this year. Even if you keep the entire kitchen white and neutral, you can recreate your kitchen with a statement pattern backsplash. To create a more cohesive look, you can take the patterns and colors as your cue and repeat them throughout the room.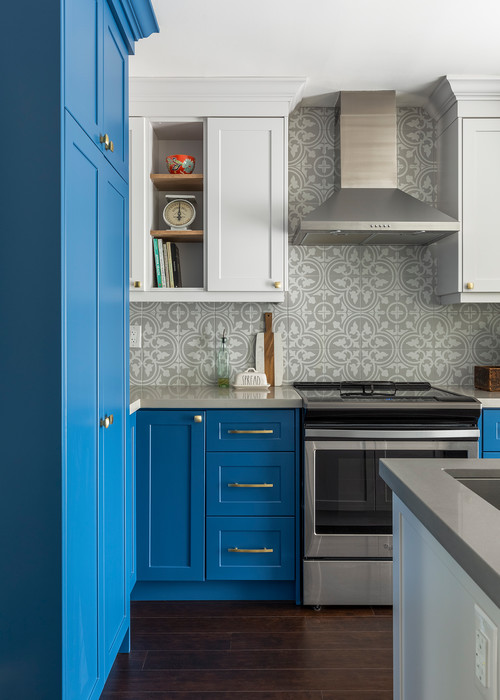 ID# 159811 | Houzz.com – Credit | © Urbanest Construction
---
Blue Cabinets with Gray Patterned Tiles and Gold Hardware
This transitional kitchen adopts a different approach. It keeps the backsplash tiles neutral and makes the design pop with vibrant blue cabinets. Though, the statement patterns on the decorative tile are enough to add more intrigue to the background. The gray quartz countertops and exposed range hood blend harmoniously with the gray backsplash. The gold cabinet handles with wood cabinet shelves deliver warmth, adding a nice metallic touch. And the dark wood flooring creates visual drama, giving the room a final classic finish to complement the look.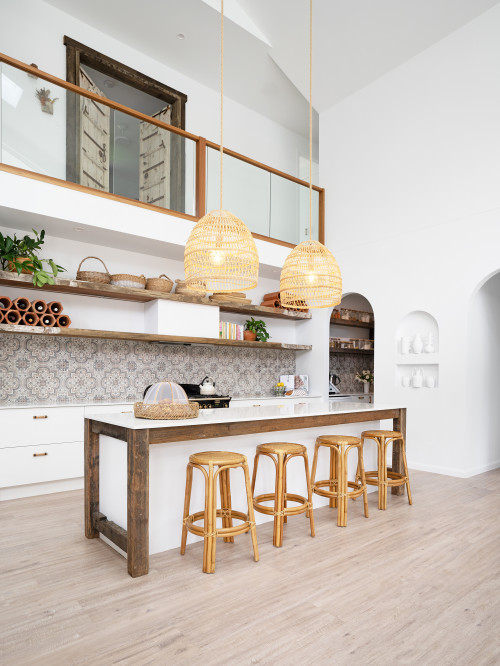 ID# 159812 | Houzz.com – Credit | © Dall Designer Homes
---
Double-Volume Coastal Kitchen with Gray Encaustic Backsplash and Rattan Pendants
Tinged with a Mediterranean vibe, this beach-style kitchen provides a blank canvas with its white-painted double-volume space. The subtly patterned gray encaustic tiles create a soft and warm background. Accentuated by linear rustic shelves and exposed wicker baskets, the tiles feel more approachable. The rattan pendants with rattan stools puncture the space, capturing the true spirit of the Mediterranean and coastal designs. Not to mention, the arched way that leads to a pantry with an arched niche gives the room extra depth and intimacy.
Pastel Tones
Soft and muted, pastel tones are a great alternative for those who don't prefer jewel and bright tones. If you want to create calm looks, including nature-inspired designs, pastel tones are the way to go. Sage green, mint green, soft pink, and muted blue are only some of the most popular options. Though, pink and green shades stand out a bit more than other colors.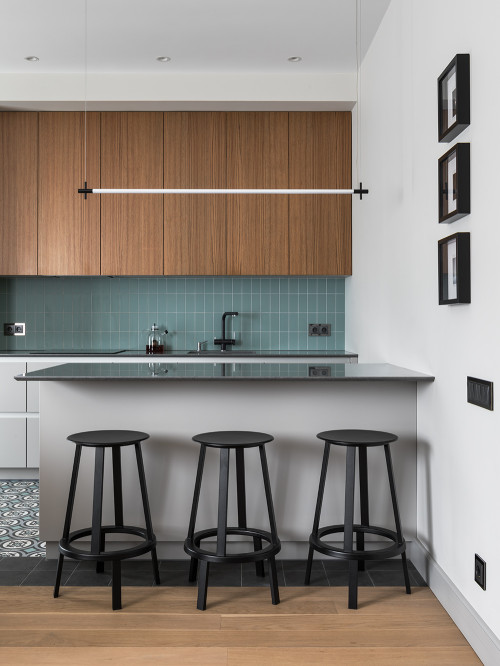 ID# 159814 | Houzz.com – Credit | © Вера Прохорова
---
Top Tile Trends for 2023 with Blue Backsplash and Black Countertops
Despite its small footprint, this contemporary kitchen is able to curate a design that includes patterns, contrasts, and pastel shades. Here, first, the blue subway tile backsplash in pastel hues imparts serenity. The tile design adds a ripple of color to the otherwise neutral color scheme consisting of wood and gray cabinets. The gloss finish black countertops come as a sexy finish, letting light bounce around the room. Well-proportioned to the room, the small island is like a mirror image of perimeter counters. It is paired with a trio of monochromatic art prints. A linear pendant and black stools pair with the island, creating a minimalist and laid-back design. Lastly, the pattern-rich blue tiles zone the kitchen, demarcating the kitchen from the laminated lounge.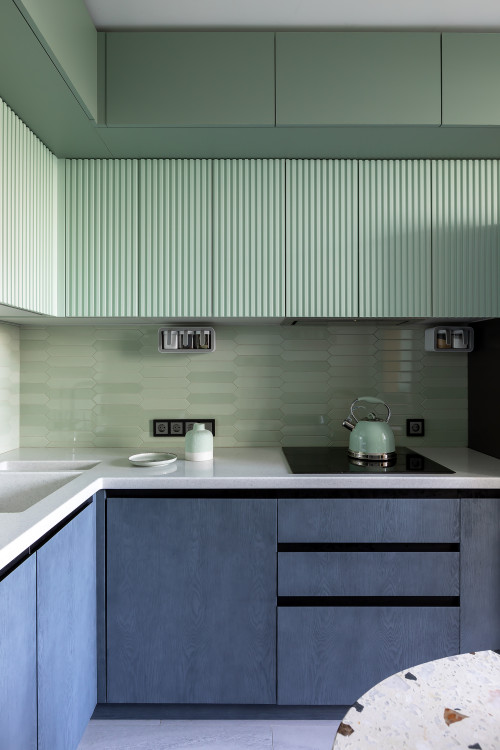 ID# 159815 | Houzz.com – Credit | © "ЭСТЕТ DESIGN " Надежда Ракова и Алёна Гуслиц
---
Blue and Green Cabinets with Green Picket Tile Backsplash
There is no need to stick to one pastel shade. Rather, consider two different pastel shades that go well with each other and apply the combination. This contemporary kitchen, for example, juxtaposes pastel blue and green cabinets. And to add more texture, it goes with fluted design cabinets, while the green picket tile backsplash evokes extra visual curiosity. Its polished and clean finish gives it a nice smooth texture and sheen.
Which tile is the most versatile?
Known for their affordability and durability, ceramic tiles rank among the top versatile tiles. And it is for a good reason. They are available in a wide range of designs, patterns, and sizes, opening up almost limitless design possibilities. In addition to them, ceramic tiles can mimic patterns of natural materials, such as wood and stone, and capture the authenticity of those materials skillfully. For Mediterranean and Tuscan-style kitchens, one can benefit from their printed designs too that can compete against pattern-rich encaustic tiles. Such diversity makes them eligible to create all sorts of looks.
Plus, their ease of maintenance and suitability for indoor and outdoor designs add another value to them. Even in terms of use, they are versatile. Heat-resistant and non-slip (unless given a high-gloss finish), they can be installed on bathroom floors and behind stoves. On the other hand, natural stone tiles are other versatile option that can add value to your home!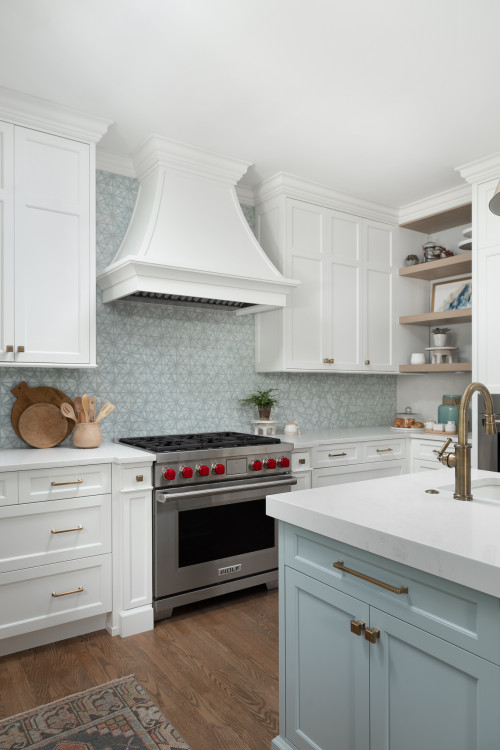 ID# 159816 | Houzz.com – Credit | © Plain & Posh
---
Beach-Style Kitchen with Blue Backsplash and White Shaker Cabinets
This beach-style kitchen uses a pastel blue shade not only for the backsplash tiles but for the island. Together they instill serenity and calmness in the kitchen, while the white shaker cabinets give the room a traditional spin. The gold hardware and timber floating shelves bring in warmth.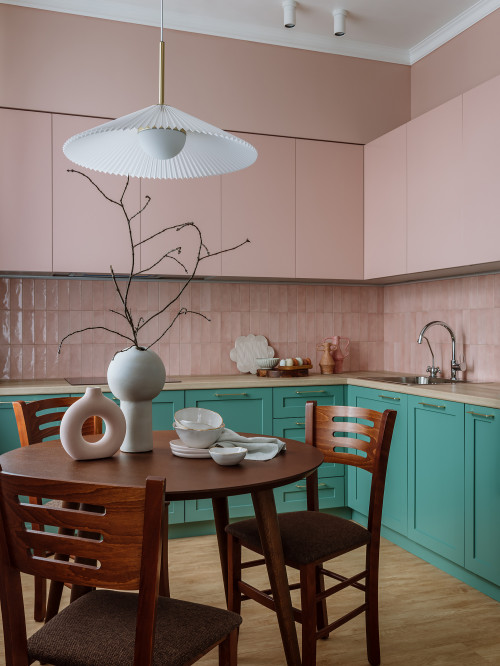 ID# 159817 | Houzz.com – Credit | © bellager design
---
Top Tile Trends for 2023 for Pink Tiles and Green Cabinets
Pink has taken off this year. Use this chance to create a tender and sensitive kitchen design. Here, this mid-century kitchen uses pink in two ways, as a backsplash and as upper cabinets. First introduced by vertically stacked subway tiles, this pink backsplash is also treated with a satin finish for a beautiful sheen. And secondly, the pink cabinets are used to blend into the pink-painted walls. As for the base counters, they come in green shades to layer the kitchen with new energy. The sculptural accessories and a wounded wood table inject warmth and an organic feel to downplay the rush of the color.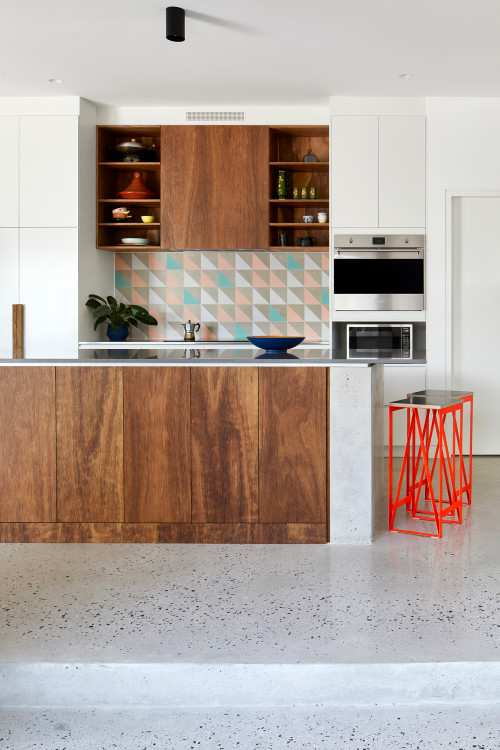 ID# 159818 | Houzz.com – Credit | © Poly Studio
---
Geometric Tile Backsplash with Wood Cabinets and Concrete Floor
In this contemporary kitchen, the multi-colored geometric tile backsplash instantly captures the eye with its pops of color. The timber cabinets, by contrast, bring a calming effect, toning down the bright hues. On the floor, the poured concrete finish constitutes an impressive and easy-to-maintain design. The raw orange bar stools add another layer of bright hues that elevate the overall look.
Terrazzo Tiles
Having been around for centuries since the 16th century, terrazzo tiles are back again, having a time of their own. Comprised of a mixture of marble, granite, glass, and quartz chips brought together with a cement or epoxy binder, terrazzo tiles are born to create a dynamic and quirky look. The sizes of these chips vary significantly, achieving different impacts. And as they are durable materials mixed into cement, terrazzo offers high durability and can even outlive your home. Thus, it is no surprise that it is preferred in high-traffic areas like airports, hospitals, and parking lots. Plus, it is easy to maintain and available in tile and slab versions. Slab versions are a great way to have minimal grout lines. On top of that, it is also highly sustainable since it reuses the leftover natural materials, turning them into something magnifique.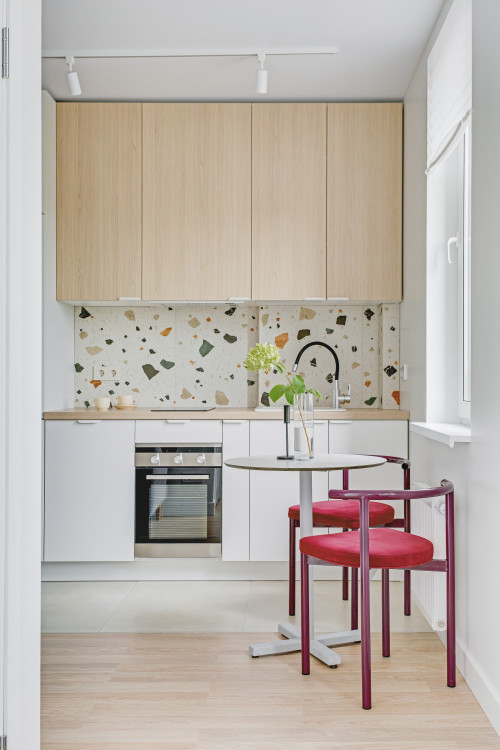 ID# 159819 | Houzz.com – Credit | © Суворова Анна
---
Top Tile Trends for 2023 with Terrazzo and Light Timber Cabinets
Not only visually stunning but also durable and cost-effective, terrazzo has gained a more contemporary character thanks to the advent of technology. Today, popularly used in a myriad of ways, terrazzo also finds its way to kitchens. And here, it welcomes its users as a backsplash featuring colorful and large chips that add a dynamic feeling. Tied together with cream-colored cement, the chips generate movement, which is downplayed by light timber cabinets. Above all, this kitchen proves that just because it is small doesn't mean you need to sacrifice aesthetic quality. With a small touch that comes with terrazzo, you can make the entire room pop.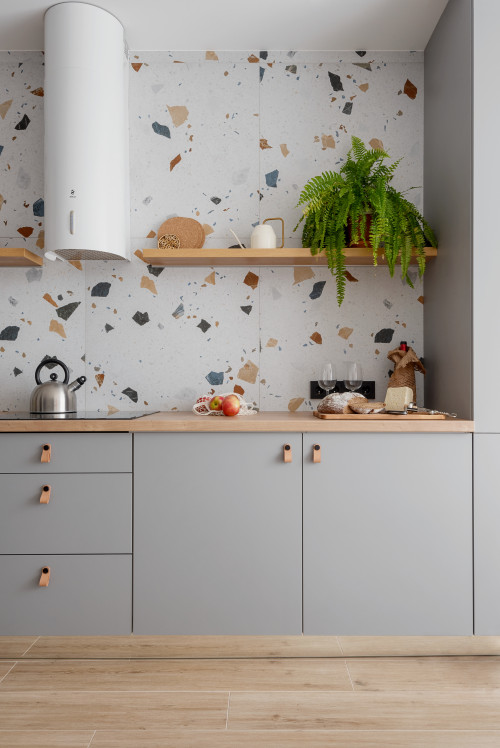 ID# 159820 | Houzz.com – Credit | © KEIS_project
---
Ceiling-Height Terrazzo Backsplash with Timber Shelves and Gray Cabinets
Let go of the upper cabinetry and replace it with a full-height terrazzo backsplash. It is colorful, dynamic, and contemporary. What else could you ask for? Especially if you are bored of formulated looks and neutral schemes, you can redefine your kitchen with terrazzo. The suspended chips add a sense of fluidity and randomness that inject casualness- as proven by this kitchen. Here, also, the gray cabinets with timber floating shelves are brought in to tone down its dynamism. The butcher block countertops and wood cabinet hardware further the softness and warmth. Above, a rounded white range hood comes as a high-end addition, while plants bring a breath of fresh air.
What is the most classic tile?
Marble tiles are one of the most classic tiles that ooze elegance and sophistication. Suitable for all sorts of designs, from traditional to contemporary, marble gives the design a classic and high-end finish. This year, marble is again one of the most popular tiles. Especially its dramatically veined versions are extremely on-demand.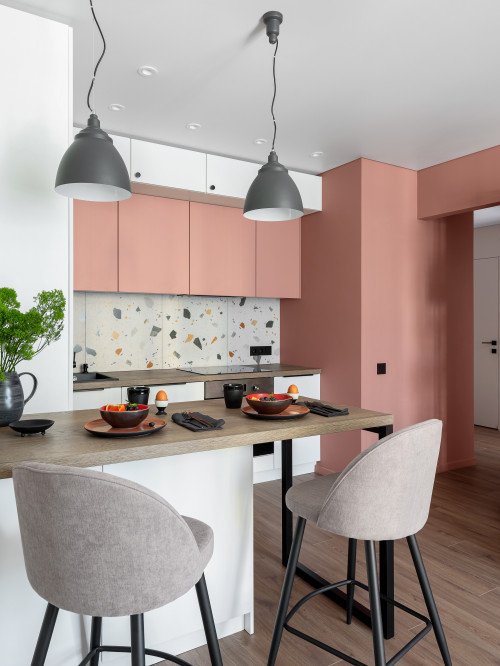 ID# 159821 | Houzz.com – Credit | © Maxim Maximov
---
Pink Cabinets with Dark Wood Countertops and Terrazzo Tiles
Evoking tenderness and creating a blushed effect, here, pink modern cabinets charge the kitchen with positive vibes. The cheerful and energic terrazzo tiles become their accomplice of them, taking the design to the next level. By contrast, the white base counters calm this energy down to establish a sense of balance. And the dark butcher block countertops help ground this dreamful design. The breakfast bar with gray pendants and upholstered stools provides a cozy dining space that feels as relaxed as the overall design aesthetic. However, if you prefer to keep the pink shades further brightened up, you can consider gold fixtures and light timber cabinets.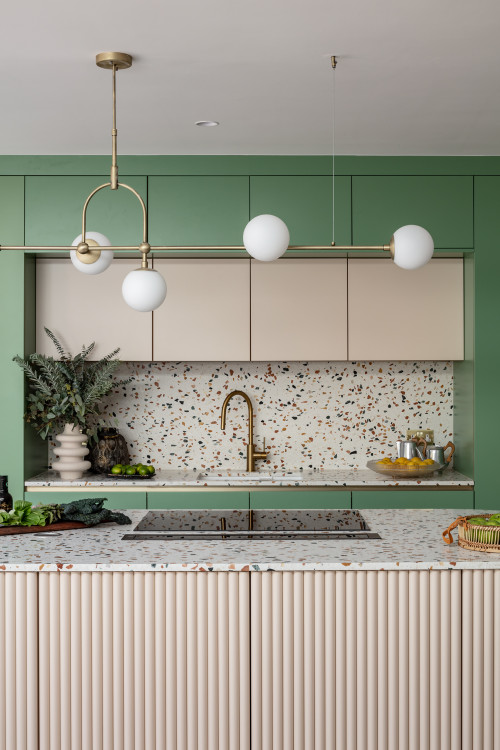 ID# 159822 | Houzz.com – Credit | © Diespeker Terrazzo & Marble
---
Top Tile Trends for 2023 with Terrazzo and Ribbed Design Island
In this memorable kitchen design, on the one hand, you get to enjoy the juxtaposition of pink and green shades that create an optimistic look. On the other hand, you luxuriate in the colorful terrazzo slab splash-back and countertops dotted by small chips. This stunning terrazzo basically overtakes the design without suppressing other design features. The antique brass faucet and brass linear chandelier further accentuate the look for a sense of warmth. Yet the design's statements don't end there. The ribbed design of the island brings texture to create a look that speaks to all senses of its users. The final product proposes an effervescent design bombarding its users with unexpected pops of color tinged with femininity.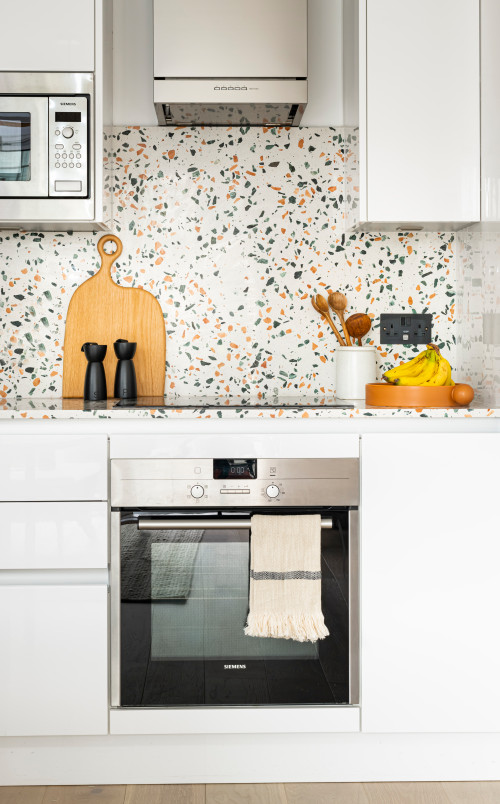 ID# 159823 | Houzz.com – Credit | © Interior Fox
---
Midcentury Kitchen with White Cabinets and Terrazzo Backsplash
The all-white mid-century kitchen is bestowed with a terrazzo backsplash and terrazzo countertops. Featuring orange and blue small chips, the stunning terrazzo installations jazz up the otherwise achromatic kitchen.
Wood-Look Tiles
Wood is a porous natural material, which may not be very durable and sustainable in the long term. Due to its low resistance to heat, it is also not a very practical option to install behind the stove. However, if you can't give up on wood looks, there is a wide range of options and materials that mimic wood patterns.
One of them is porcelain tiles which are affordable, durable, and easy to maintain. Since it also has additives and is fired at higher temperatures, it is even stronger than ceramics. And it is very much adept at mimicking natural materials, including wood. Another alternative is wood-look recycled glass tiles mostly available in hexagon patterns. Eco-conscious, easy-to-clean, and heat-resistant they also provide a practical option.
Additionally, wood-look tiles are easy to install and available in various styles, patterns, and finishes and they can be used as wall and floor tiles. Thanks to the advancement in technology, they are as impactful as the original ones.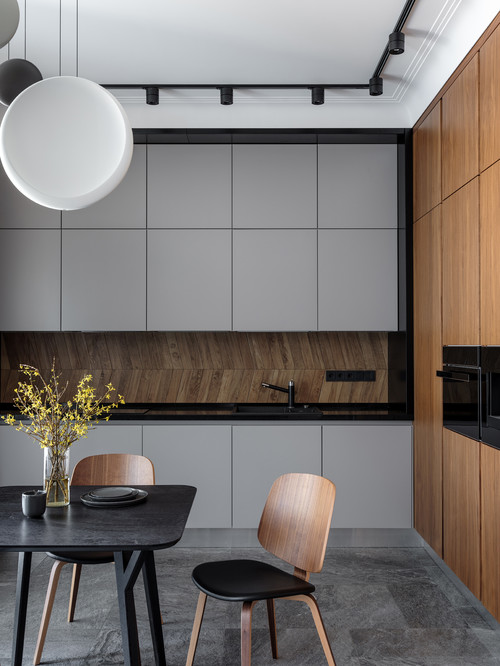 ID# 159824 | Houzz.com – Credit | © Дементьева Екатерина
---
Wood-Look Backsplash with White Cabinets and Black Tracking Spotlight
This good-sized contemporary kitchen prides itself on its continuous and integrated look comprising three key elements and shades. First of all, here, the color-blocking technique creates different sections throughout. For example, the full-height cabinets are kept wood, giving the room extra height and providing ample storage. On the other side, the off-white cabinets provide a visual break without intervening with the design's integrity. The wood-look tiles laid in a chevron pattern add a sense of movement to the background. The black countertops and built-in appliances achieve solidity, cementing the kitchen's immersive look. The black tracking spotlights give the design a contemporary upgrade, while a cluster pendant adds depth and dimension.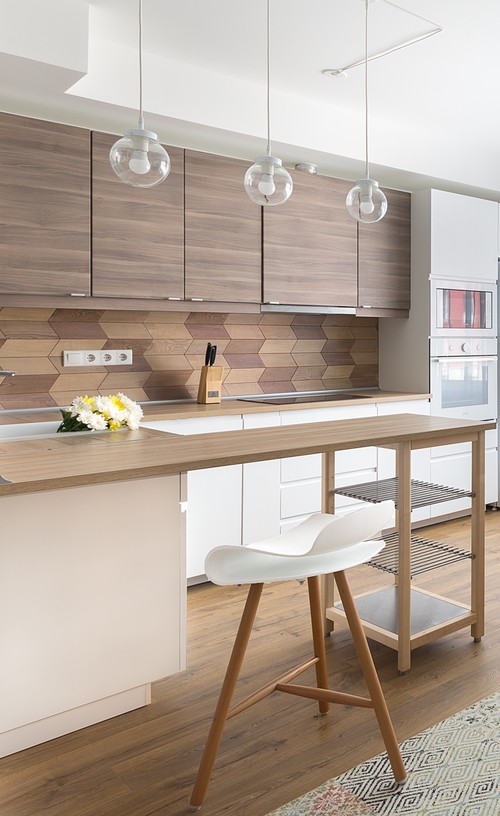 ID# 159825 | Houzz.com – Credit | © nikki_rusanova
---
Top Tile Trends for 2023 with Wood-Look Tiles and Timber Countertops
The year 2023 promotes the use of wood in various ways. So, whether original or faux, feel free to incorporate them into your kitchen. Here, the wood-look tiles are used as a backsplash that is put into dialogue with wood cabinets and butcher block countertops. To complement them, the white base counters brighten up the interior. The slim kitchen island that also serves as a breakfast bar mirrors the perimeter counters for a continuous look. The globe-shaped glass pendants offer a subtle accent without overtaking the design. The result? The wood-look tiles stay as the protagonist of the design. Not to mention, the dark and light color switches and geometric patterns make this wood-look backsplash more astonishing.