24+ Black Cabinets with Brass Hardware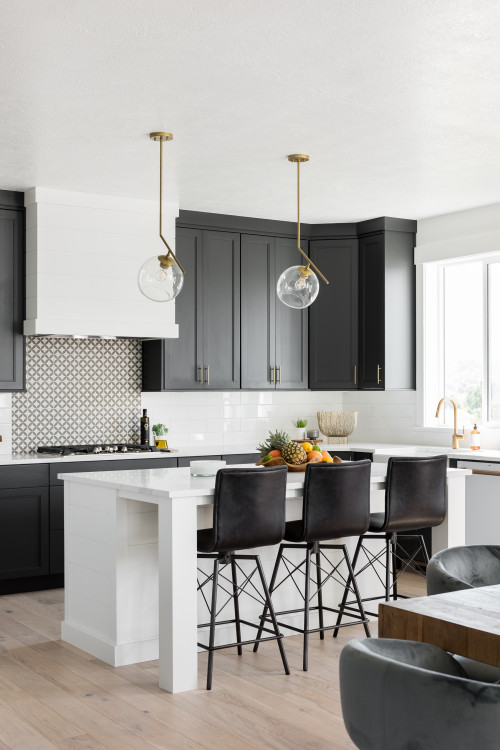 ID# 135202 | Houzz.com – Credit | © Visionary Homes
---
Black Cabinets with Brass Hardware combination in Transitional Kitchen
While black and white are always an indispensable pair, they are colors that can be easily adapted to any kitchen and preserve their nobility. In the kitchen, which consists of black recessed-panel cabinets, a white counter, and a white subway backsplash, a patterned backsplash is added to the back of the stove, adding mobility to the space. White stainless steel appliances and a farmhouse sink are used, and the island consisting of white cabinets has a white bench and black leather chairs around it. Floating wooden shelves are placed on the wall next to the window and wooden parquet is used on the floor. Brass hardware adds an elegant atmosphere to the plain kitchen. Cabinet handles, pendant lights, and sink mixers are made of brass and complete the space in a cool way.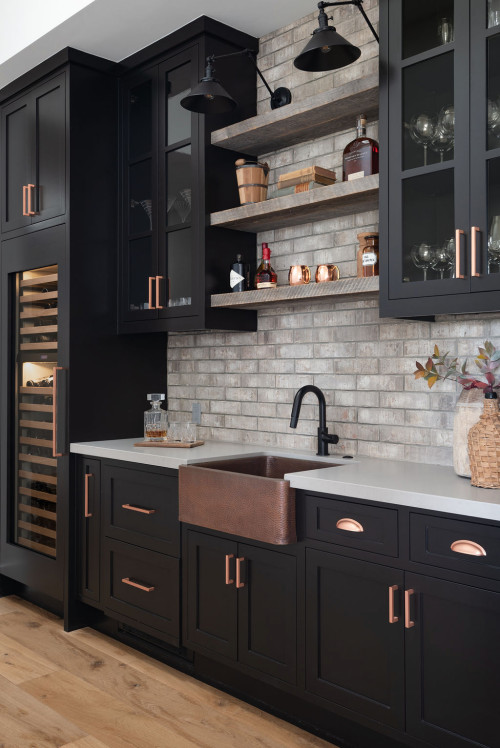 ID# 135215 | Houzz.com – Credit | © Design 4 Corners
---
Black Cabinets Design with Brushed Brass Hardware in Farmhouse Home Bar
While black shaker cabinets and white countertop are combined with their always successful harmony, subway brick backsplash accompanies them in this home bar that speaks its style. Wooden shelves above the sink and glass upper cabinets on both sides are used. Medium tone wooden parquet is used on the floor. While the copper color farmhouse sink is one of the most elegant details of the bar, the sink mixer is chosen black, creating a very cool atmosphere. The black sconce lighting on the washbasin is in harmony with the environment. In addition, the brushed brass hardware used gives the space a luxurious atmosphere and creates a stylish bar.
Black Cabinets with Brass Hardware
In today's market, cabinet hardware comes in a wide range of material and finish options such as oil-rubbed bronze, chrome, or brushed nickel. But, if you are looking for the most popular option, brass hardware is one of the hottest trends! Brass hardware is the details which provide a heavy and stylish appearance in the applied areas. It harmonizes beautifully with various color options. And, if you are using black cabinets for your kitchen design, pairing black cabinets with these gold details can be a stunning addition to your kitchen to add a glamorous look! In this article, we rounded up black cabinets with brass hardware ideas so you can find different design alternatives!
We know that black is always a timeless and indispensable color. We are witnessing exquisite designs in many styles such as modern, traditional, and farmhouse, depending on cabinet types and space. This hardware, which is generally preferred in traditional kitchens, gains a cool elegance with black cabinets. Black cabinets and brass hardware are a perfect match. Scroll down and see this beautiful combination in different designs.
Is brass kitchen hardware trendy?
Brass kitchen equipment keeps up with fashion as it can be easily applied to any style of kitchen. Its models in different shapes can be easily adapted to any modern, traditional, or classical style. Since brass hardware is of course a weighty design type, it creates a cool and stylish atmosphere in every application area.
Black Cabinet Finishes
There are so many varieties of black that cannot be ignored. Whether to choose matte or glossy is an issue that needs attention. When used correctly, it creates all kinds of striking effects. Other details used for this are very important. Care is taken to choose the right fixtures, backsplashes, and chairs.
Matte Black Kitchen Cabinets with Brass Hardware
Matte black kitchen cabinets add depth and serenity and provide a stylish look. According to the cabinet types, it can easily take on modern and elegant styles. Since black always represents nobility, it creates fascinating effects in the environment where it is applied. Combined with Brass hardware, it almost takes on a luxurious air. Brass hardware, which harmonizes very well with black cabinets, is preferred by most designers. And this dual trend, which leaves a completely different effect in every different option, has become one of the kitchen styles.
How is brass hardware made?
Brass sand casting is a brass hardware forming process, and brass sand casting is one of the most common and has been used for a very long time. While sand casting, one of the most important materials is sand as a mold material. During this process, both clay and water are added to the sand mold. The clay helps bind the mold, while water is added to strengthen the clay.
Sand casting will initially require a rubber mold that fits the specific measurements of your brass hardware. Next, it is necessary to put the mold and sand in a "gate system". When this is complete, molten brass or zinc is added, removing the rubber from the sand casting. The sand and casting can then be removed after the brass has cooled and hardened.
Lacquer Black Kitchen Cabinets with Brass Hardware
Lacquered cabinets have a much brighter surface than other kitchen cabinets. Unlimited color options are available. It is durable and long-lasting and is resistant to water and moisture. Also, it is hard and durable as its surface undergoes a layer of the polishing process.
Lacquered black cabinets are one of the most popular design trends for kitchens. They are one of the favorite options for cool designs that break the ordinary. When used with brass hardware, it is the epitome of luxury and elegance. Lacquer Black Kitchen Cabinets with Brass Hardware is the choice of many designers and users, as it makes a good combination.
Brass Cabinet Hardware Finishes
Cabinet equipment creates more effects than expected in the space. These types of equipment, which have their fashion world, are in various shapes and different styles and colors are trending from time to time. Since even just changing the equipment adds a difference to the space, users who want to change can find the chance to make small innovations in their spaces at an affordable cost.
They are the most trendy and stylish varieties in brass hardware. There are different coating types such as polished, unpolished, satin, and antique in these types of equipment. For this reason, it should be noted that all brass cabinet hardware finishes are in the same style when applied in a place.
Black Cabinets with Brushed Brass Hardware
These days when black cabinet designs are quite common, we see brushed brass hardware that combines it best. This equipment, which creates a very luxurious style with its light matte texture, is among the preferred options for modern spaces.
Black Cabinets with Antique Brass Cabinet Hardware
Antique Brass Cabinet Hardware black cabinet is a trending duo these days. Brass hardware, which has an original appearance with its aged texture, adds an authentic atmosphere. Bohemian is among the preferred options of traditional style stylish places. When combined with the nobility of black cabinets, very successful designs emerge.
Black Cabinets with Polished Brass Hardware
The most preferred parts of black cabinets are undoubtedly brass hardware. It is indispensable for many users that they become a duo that suits each other very well. Shiny brass hardware adds a stylish and luxurious air as it shines like a jewel in black.
What hardware finish is in Style 2022?
Black is still and always the most trendy option for 2022. Satin and matte black hardware are the most common choices, especially for light-colored cabinets. A modern black look is a type of design that not every user can say no to.