23+ Hardware for Black Cabinets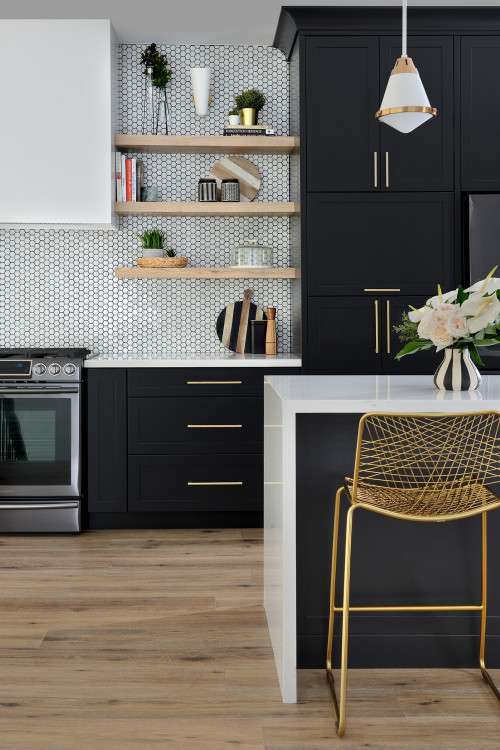 ID# 156501 | Houzz.com – Credit | © Michelle Berwick Design
---
Brass Hardware for Black Cabinets and Penny Round Tile Backsplash
This eye-catching design owes its statement look to the white round tile backsplash. Taken up to the ceiling and peeking out behind the floating shelves, it creates a sophisticated background. The gray grout between the tiles encourages them to feel highlighted, making these tiles easily connect with the black cabinets. The wood floating shelves and brass cabinet handles bring a calming contrast. The brass wire stools, geometric pendants, and white wall sconces with brass accents used here and there create a continuous look. And this visual integrity pulls the design together, while the floating shelves inject casualness into the kitchen's well-curated look.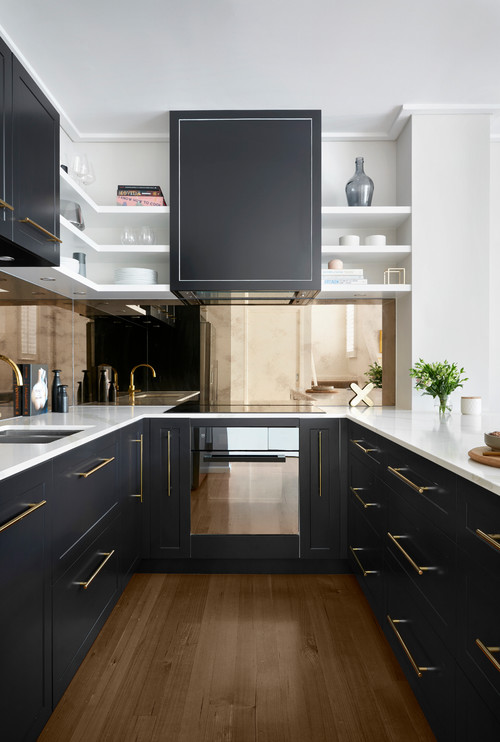 ID# 156513 | Houzz.com – Credit | © smarterBATHROOMS+
---
Gold Hardware for Black Cabinets and Mirror Backsplash
In this U-shaped modern kitchen, a mirror backsplash plays as a space-enhancing factor, reflecting the room and creating a sense of flow. White quartz countertops and open shelving features add to the brightening impact of the mirror, further lighting up this section. The dark shaker cabinets, by contrast, anchor the design. The gold hardware brings the warmth out of these cabinets while puncturing them meanwhile. The gold tapware coordinates with the cabinet handles, creating visual synchrony, while the wood floor finish adds more warmth.
Hardware for Black Cabinets
Considered the jewelry of cabinets, hardware is an important design element, which is sometimes taken for granted. We often forget how much they make our lives easier in the kitchen and how often we open and close the cabinets. Plus, it is not only that they offer practicality but also prevent us from leaving fingerprints on cabinet doors, not to mention their aesthetic value. Available in different finishes, colors, and shapes, hardware is a statement element, too. And in this round-up, we will be looking at hardware for black cabinets and trending hardware designs in 2023.
Hardware for black cabinets ranges from brass cup pulls to brushed nickel bar pulls, black hardware, and shiny chrome knobs. Among all these options, sometimes it feels tricky to choose what is better. But a kitchen's overall theme and hardware's coordination with other elements around that theme play a key role.
Aside from those, if you plan to renovate your kitchen without spending a fortune, changing hardware is one of the easiest and cheapest ways. So, just read on to explore some ideas for hardware options for black cabinets.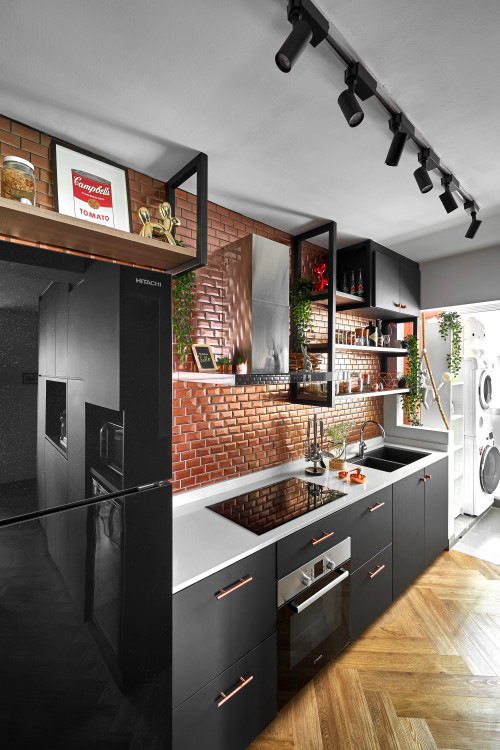 ID# 156502 | Houzz.com – Credit | © Ideasxchange Ptd Ltd
---
Statement Backsplash and Copper Hardware with Black Cabinets
This single-wall contemporary kitchen knows how to balance out the impact of black cabinets. First, a statement orange tile backsplash taken up to the ceiling adds a brightening and enlivening effect. Secondly, copper cabinet pulls accentuate the black base counters. And thirdly, white countertops provide a smooth transition between the black cabinets and orange subway tile splash-back. This well-managed color coordination is also taken to the next level with green plants climbing downward. The floating shelves and accessories, additionally, bring the design to life. The final product feels visually satisfying with a designer look.
What color hardware looks best on black cabinets?
Black cabinets are dramatic, modern, and classic all at once, thus suitable for a wide range of hardware options. As such, it is hard to tell what suits them best. But if you know the look you aim for, then it gets easier to decide. For example, for a sleek contemporary look, a chrome look is the most popular option.
The second classic option following it is brushed nickel. It adds a timeless and aged feel with a sense of casualness. It particularly suits beach-style, industrial, and farmhouse styles. For their cleaner version, you can go with satin nickel as well.
Those who looking for something warmer can consider brass, bronze, and copper finishes. Just like chrome and nickel, they are also available in satin, brushed, and antique finishes. Just focus on your overall design theme and decide accordingly. Choose something that suits your kitchen's total look.
And if the aim is to stay more minimalist, black hardware is the way to go. It just blends into the black cabinets, only adding minimized volume.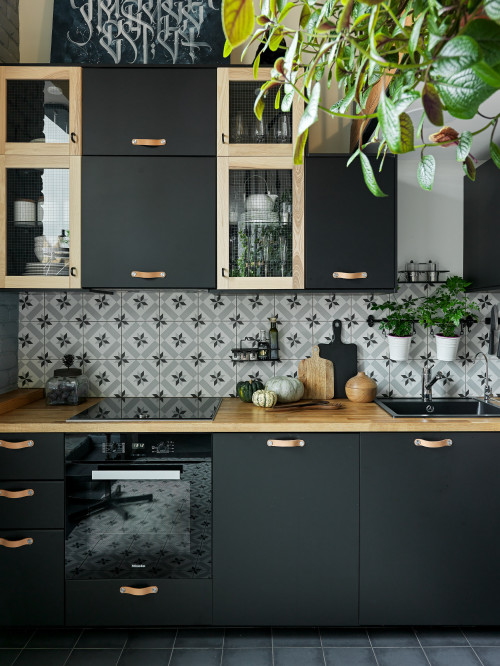 ID# 156503 | Houzz.com – Credit | © Totaste.studio | Виктор Штефан
---
Butcher Block Countertops and Dark Cabinets with Floral-Patterned Backsplash
This industrial kitchen has a way of presenting a very homey vibe while maintaining its industrial flair. Here, the floral-design backsplash tiles make a visual statement between the dark cabinets. Put into dialogue with indoor plants sprinkled here and there, this backsplash injects a very natural feel. The butcher block countertops add another layer of organic touches. The glass-front upper units and copper hardware soften the black cabinets, giving birth to a brighter and more lively ambiance. Also, sleek appliances, including a low-profile stove, and a drop-in sink keep things clean-lined and well-defined.
What Color Hardware for Black Kitchen Cabinets?
Hardware options range from brass to black, copper, chrome, and nickel. In addition to them, polished, satin, and brushed finishes add those metals a different aesthetic value. Plus, this year, colored and painted hardware along with glass cabinet fixtures enhances hardware options.
Black Hardware for Black Cabinets
Though black hardware for black cabinets doesn't sound very plausible, it is actually very popular. And indeed, it is one of the most popular hardware colors, adding a dramatic and contemporary look. Available in black chrome, black nickel, and a wide range of shapes, they punctuate the black cabinets perfectly. If all you need is just some convenient use without making a bold statement, then you can consider black hardware. It just blends into the black cabinets, offering easy grab to open and close the cabinet doors.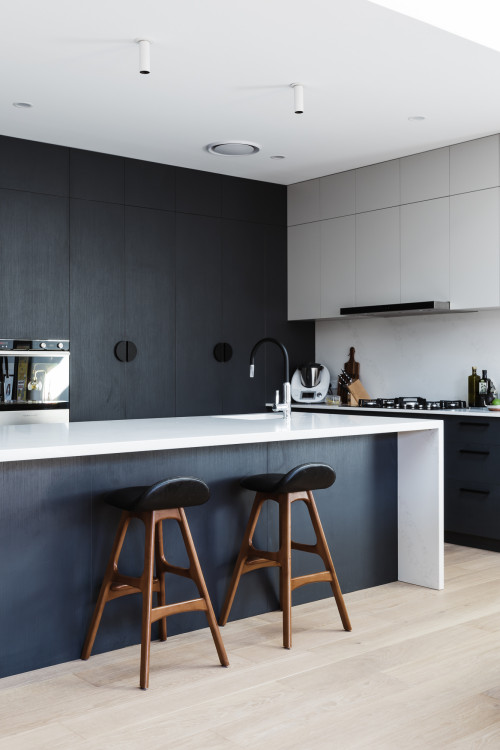 ID# 156504 | Houzz.com – Credit | © Coswick
---
Black Hardware for Black Cabinets and White Countertops
For a seamless look, black hardware feels like the best option for black cabinets. It just adds another tiny volume to the cabinet doors for extra interest. And to construct some contrasts and add further depth, bringing in white cabinets could enrich the look. Here, this contemporary kitchen goes with two-tone cabinetry- white and black-, using halfway splitting and color-blocking techniques. The white cabinets kept hardware-free contribute to the sleek profile of the room. The base counters and black full-height cabinets are also individualized with different styles of cabinet handles. And in the rest, the white quartz-topped countertop of the waterfall island creates a sense of flow, rounding up the look.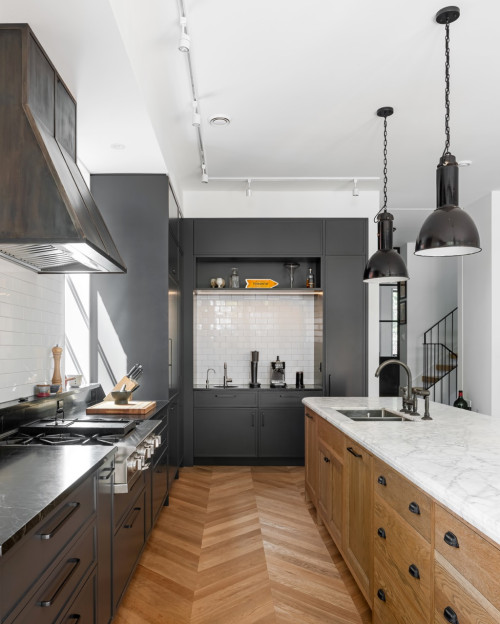 ID# 156505 | Houzz.com – Credit | © M-Squared Contracting Inc.
---
Black Cabinets with Wood Island and White Tile Backsplash
If you plan to go with two-tone cabinetry, you can tie them together using the same cabinet hardware. It gives you a more integrated and harmonious design. Here, this transitional kitchen employs wood and black cabinets. While the perimeter counters are black, the island introduces warmth with its wood base. And the black hardware punctuates all the cabinets, though with one difference. The island has larger cup bulls, whereas the black counters feature slim pulls. This variety creates a nice eye-catching accent. In the rest, a white square tile backsplash makes a counterpoint to the kitchen. Black industrial-style lighting fixtures overhang the island, anchoring it to the design. And finally, chevron pattern wood flooring adds texture and warmth underfoot.
Does black hardware look good on black cabinets?
Black-on-black serves well in kitchen designs. Especially black hardware used on black cabinets ensure a seamless look. Plus, it is also available in black chrome and black nickel, for those looking for a black metal finish. In terms of style, instead of classic pulls or knobs centered on the cabinet, black edge pulls could be considered for a sleeker look. This way, you can also draw more attention to backsplashes.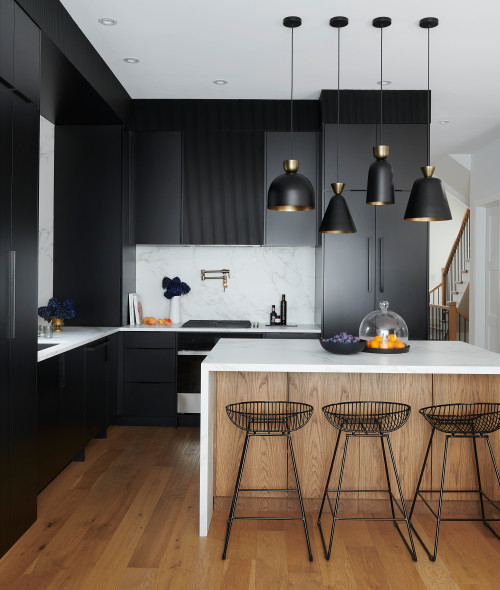 ID# 156506 | Houzz.com – Credit | © avenue design inc
---
Contemporary Kitchen with Marble Backsplash and Dark Cabinets
Black cabinet hardware just blends into the dark cabinets, adding a sense of movement. A white marble slab backsplash with white quartz countertops highlights the provocative presence of black cabinets. The wood-base waterfall island serves as a softening feature that distracts the white-and-black color scheme. The black wire stools and variously-shaped cluster pendant anchors the island to the design. The brass pot filler matches the brass-interior lighting fixtures, even if it can't coordinate with the black hardware. Designers still arrange material and finish combinations to keep the integrity maintained. The resulting visual scheme is a well-balanced look that has warmth, contrast, and intriguing forms all at once.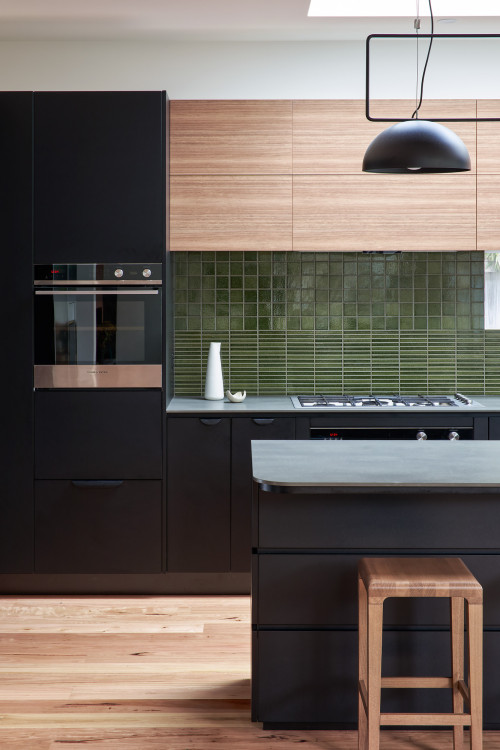 ID# 156507 | Houzz.com – Credit | © Jasmine McClelland Design
---
Black Hardware for Black Cabinets and Green Tile Backsplash
In this colorful and solid kitchen design, there is just so much to enjoy and so many unexpected yet subtle details. First, the backsplash tiles shift from horizontally stacked kit kat tiles to square tiles, while the color stays the same. Looking as if they have been just plucked from nature, these green tiles just liven up the atmosphere. The subtle tonal variations add further richness to the color palette, while wood and black cabinets provide a frame for them. The curved edge pulls add accents to the black counters while providing convenient use. The gray countertops, built-in appliances, and semi-globe lighting fixtures complement the rest of the design. Taking its cues from organic modernism and contemporary looks, this kitchen creates a perfect cross-pollinated design.
What color hardware is timeless?
Nickel and chrome are two timeless hardware options for kitchen cabinets. While chrome stands out as a more contemporary upgrade nickel feels more traditional, warmer, and classic!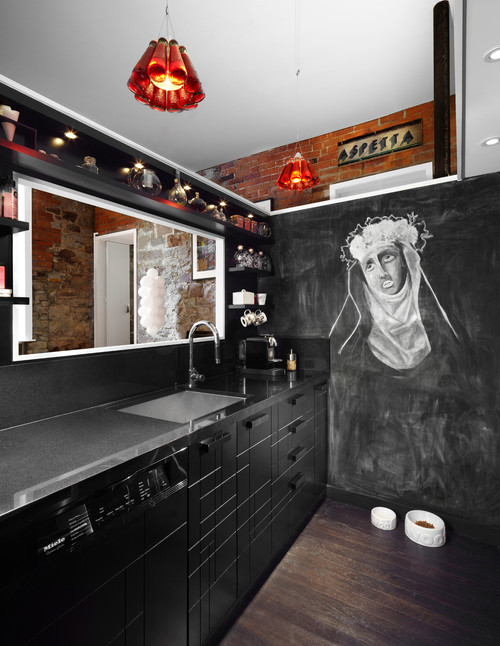 ID# 156508 | Houzz.com – Credit | © stephane chamard
---
Eclectic Kitchen with Black Cabinets and Floating Shelves
This black-dominant eclectic kitchen has surprises for its guests. A full-height chalkboard, for example, offers a perfect canvas to practice some drawing skills. And what you draw could serve as part of the design narrative- as displayed by this eclectic kitchen. Here, also, black cabinets create a harmonious look with a black backsplash and floating shelves. Accessories, red lighting fixtures, and an original brick wall peeking out behind add to the whimsical character of the room. Inspiring with its unique design, this semi-enclosed kitchen has also a window that opens onto the main lounge.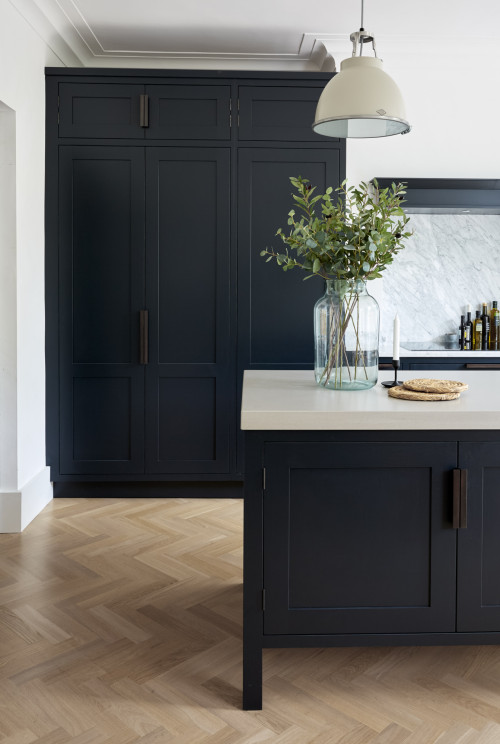 ID# 156509 | Houzz.com – Credit | © Mowlem & Co
---
Marble Backsplash for Black Cabinets and White Countertops
Contrasting color schemes are not only classic but also favorite looks of contemporary kitchens- as proven by this kitchen. Here, a white-and-black color palette is kept intact, honored by a sophisticated marble slab backsplash. In this kitchen, also, the shaker cabinets are given a contemporary upgrade in shades of black. And the black hardware is used to contribute to the seamless profile of the kitchen. In the rest, the white countertops with white lighting fixtures just keep things simple, providing an antithesis to the black cabinets. Overall, it all feels well-balanced without making the contrasting color scheme play too high.
In case you want to soften it, wood accents, kitchen plants, and gold finishes could be added. For example, brass cabinet handles can replace black cabinet hardware.
Brass Hardware for Black Cabinets
One of the most on-trend hardware colors, brass hardware is on the radar of designers in 2023. Warm and eye-catching, brass hardware makes a counterpoint to the dark black cabinets, bringing warmth out of them. So, if you want to offset the black's darkening effect, brass hardware is the route to go. Plus, it also adds a glamorous vibe. To complement it, you can go with a white tile backsplash and use gold grout. Or if you are not low on budget, employ a marble backsplash with gold and brownish striations. Brass lighting fixtures, brass wall sconces, and brass tapware can also be used to pull the design together.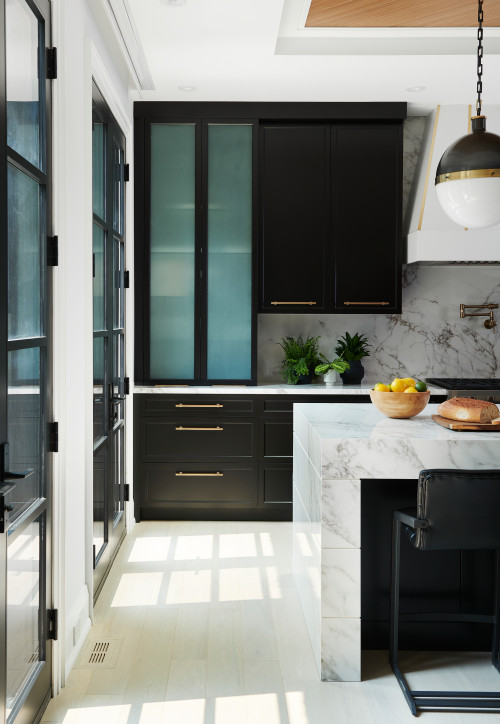 ID# 156510 | Houzz.com – Credit | © Jodie Rosen Design
---
Brass Hardware for Black Cabinets and Marble Backsplash
When choosing cabinet hardware for modern kitchens, use slim and long pulls that feature a sleeker look. This contemporary kitchen does the same and gets them in a brass finish for further emphasis. These brass handles also extra go well with the brownish veins on the marble for visual integrity. Used both as a backsplash and countertop for the island, the marble slab serves as a showstopper of the kitchen. The dark cabinets just accompany it to ground the entire room. The mid-century-inspired orb lighting and brass stripes on the hood create a continuous look with brass cabinet handles. Directly opening toward a charming garden view and engulfed in sunlight, this kitchen feels warmed up, witnessing the interplay of light and shadow.
What color hardware is in style for 2023?
Though contemporary kitchens seem to be favoring hardware-free cabinets for a super sleek look, hardware has come back. Creeping back into our kitchen lives, cabinet hardware reclaims its high status in kitchens. And this return is quite big.
Given that kitchen design ideas for 2023 favor integrating vintage elements, bold statements, and patterns, the same applies to cabinet hardware. This year they are also bold, colorful, and more geometric. So, don't be surprised when you encounter vintage cabinet hardware in bold gold colors, arched hardware, and colored fixtures.
This year, it is also recommended to keep all cabinet hardware finishes the same to retain visual integrity. Plus, mixing metals feel kind of outdated in 2023. Instead, different styles or shapes of hardware can be brought together. Especially cup pulls, pull bars, knobs, and latches are the focus. For example, in your kitchen, you can mix bars, cup pulls, and knobs.
Additionally, instead of traditional hardware styles such as knobs and pulls, you can get geometric-shaped fixtures, which are more popular. Bold-colored ones, from blue to pink, gold, and green, can give your kitchen a new vibe. Also, keep in mind that cabinet hinges are also part of cabinet designs. If you wish, you can also keep them pronounced and coordinate them with cabinet pulls.
All in all, upgrading kitchens is expensive and causes a lot of mess. However, only with small changes, you can still add a new fresh look to your kitchen. Hardware is only one of them, which can elevate the overall design significantly.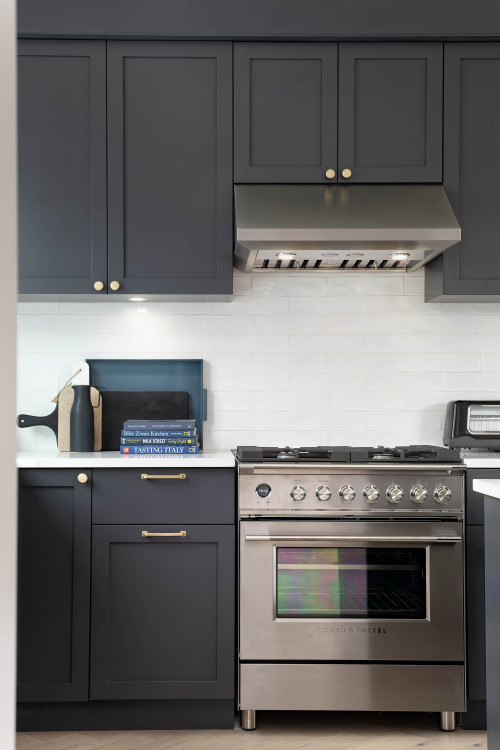 ID# 156511 | Houzz.com – Credit | © Area3 Design Studio Inc.
---
White Subway Tile Backsplash with Black Cabinets and Brass Hardware
If you want to bring in a tiny warm touch, brass hardware is there for you. In this beach-style kitchen awash with neutral shades, the brass pulls are employed to add gentle accents to the dark cabinets. They come in different shapes, as knobs and pulls, giving the kitchen a fresh vibe. To complement them, a white subway tile backsplash provides a clean backdrop as white grout enables an almost seamless look. Laid in a running-bond pattern, these ceramic subway tiles generate movement and add a classical appeal. On the countertops, cookbooks, appliances, trays, and cutting boards come as stylish elements. And high-end appliances add to the clean profile of the kitchen. Here, what contributes to the overall design is also the under-cabinet spotlights that provide task lighting for the countertops. At night, they can also be used to serve as accent lighting and create a cozy atmosphere.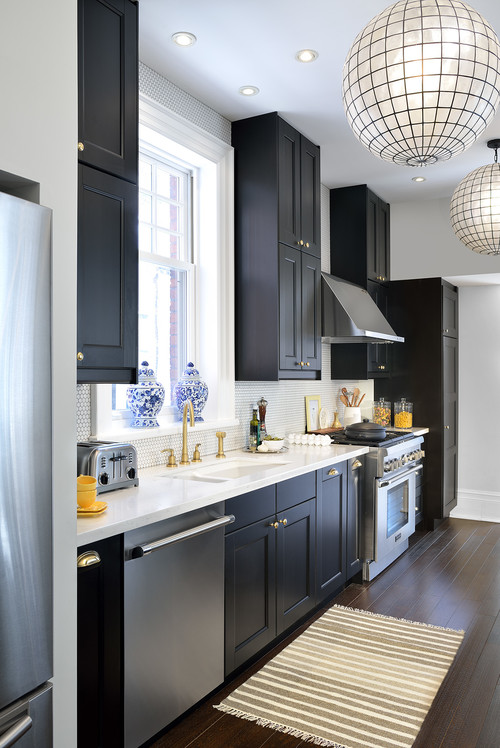 ID# 156512 | Houzz.com – Credit | © Arnal Photography
---
Transitional Kitchen with Black Cabinets and White Countertops
In this single-wall transitional kitchen, the black cabinets are paired with a white penny round mosaic tile backsplash. The brass cabinet knobs and brass tapware channel warmth to break up the white-and-black color scheme. The horizontally-lined runner in earthy shades adds warmth underfoot and protects the wood floor from water splashes. Overhead, a duo of globe-shaped lighting fixtures creates a stylish moment. Reminiscent of disco balls, they make a counterpoint to the casual atmosphere of the room. Additionally, here, the window ledge serves as additional storage to exhibit eye-catching vases that give the design a traditional spin. By contrast, the sleek stainless-steel household appliances modernize the kitchen immediately.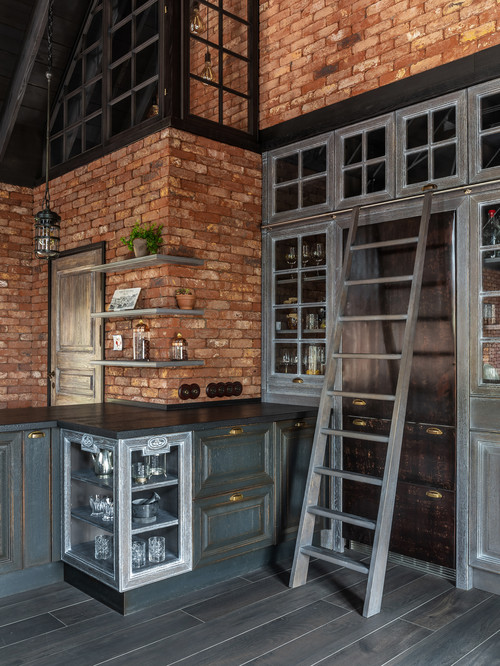 ID# 156514 | Houzz.com – Credit | © Мастерская Андрея Сухоцкого
---
Industrial Kitchen with Brick Backsplash and Weathered Cabinets
Nestled under a vaulted ceiling, this industrial kitchen comes with a very authentic vibe with its brick walls and weathered cabinets, resulting in a winning composition. In addition to them, the display cabinets both as upper units and base counters enhance the cabinet repertoire of the kitchen. These glass-front units give homeowners the chance to exhibit their antique accessories and beautiful glassware. Likewise, the corner shelves and brushed brass hardware further the antique feel. And the dropped-down industrial-style lighting fixtures add depth and dimension to the room. Also, drawing eyes upward, they highlight the kitchen's double height. The ladder adds a visual accent to round up the overall design.
How do I choose cabinet hardware color?
The first important point to consider when choosing hardware color is the overall color palette and design theme. For example, if you have a black-and-white scheme, you can bestow this winning combination with chrome hardware. For farmhouse kitchens with green cabinets or dark blue cabinets, generally, the gold hardware is preferred. As for rustic kitchens with wood cabinets, brushed bronze could be a perfect hardware color. Antique brass finishes also suit rustic and farmhouse-style kitchens. However, if you love eclectic designs, colorful cabinet hardware could be your cup of tea.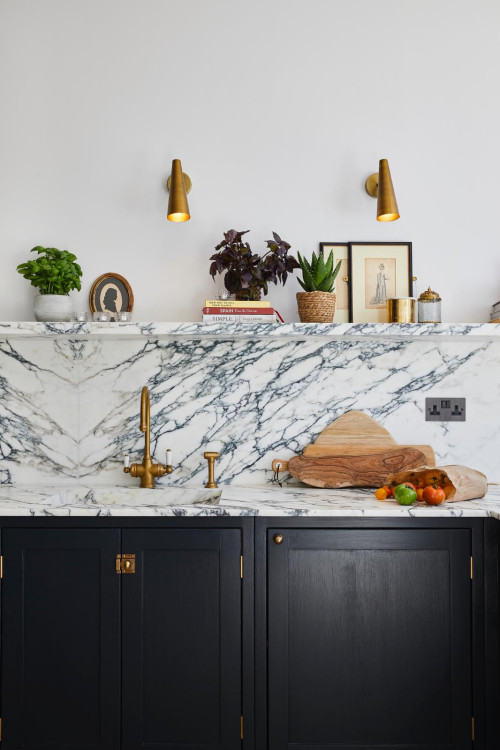 ID# 156515 | Houzz.com – Credit | © CAST – by The London Joinery Co.
---
Black Cabinets with Marble Backsplash and Brass Wall Sconces
One step inside this contemporary kitchen is enough to transfer kitchen users to another world abundant in dramatic dark blue shades. Here, to start with, a white marble backsplash with blue bold striations and dark blue cabinets create a minimalist and opulent look. The long marble-carved linear shelf adds a contour of sorts to mark where the backsplash ends. The rest of the upper wall painted white is left bare to provide more freed-up space on the wall. This, in turn, could be seen as an opportunity to hang artwork or create a gallery of plates. Though, here, this kitchen sticks to brass wall sconces that are modern and classical all at once. Brass tapware, thin hinges of the cabinets, and inserted hardware all come together for the sake of visual consistency.
In the rest, indoor plants, cutting boards, art prints, and cookbooks show that this room is more than a kitchen. Rather, it is a personal sanctuary defined with organic touches and dramatic nuances.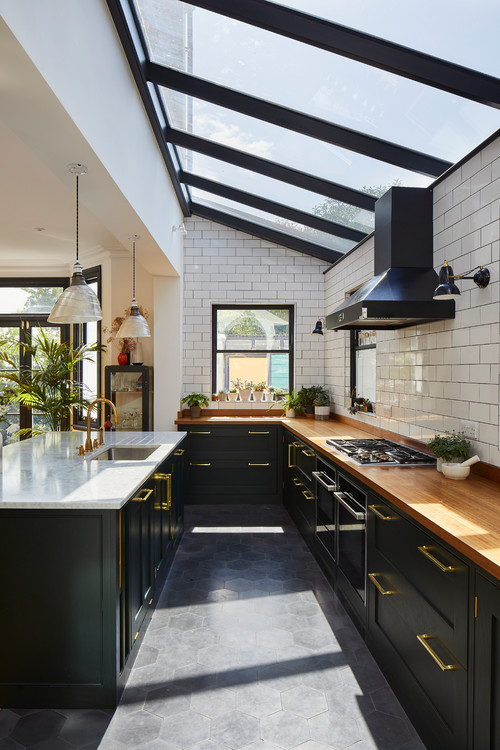 ID# 156516 | Houzz.com – Credit | © CAST – by The London Joinery Co.
---
Brass Hardware for Black Cabinets and Butcher Block Countertops
Immersed in sunlight delivered by the glazed roof, this open-plan kitchen offers more than a cooking zone. Mainly defined by a white subway tile backsplash and dark cabinets, it lays its foundation on a contrasting scheme. And this gives the room a timeless and classical feel. Taken up to the ceiling, the white ceramic backsplash lends an urban outfit, ditching the upper cabinets. Below, the dark cabinets ground the design, and the butcher block countertops add a calming contrast. Also, making a counterpoint to the contrasting scheme, the warmth of the wood countertops enables a smooth transition between the kitchen and lounge filled with plants. In the kitchen, likewise, miniature versions of indoor plants located on the countertops invite a further outdoor vibe. On the floor, dark hexagon tiles introduce an organic pattern. And the brass cabinet pulls and tapware round up the overall aesthetic design.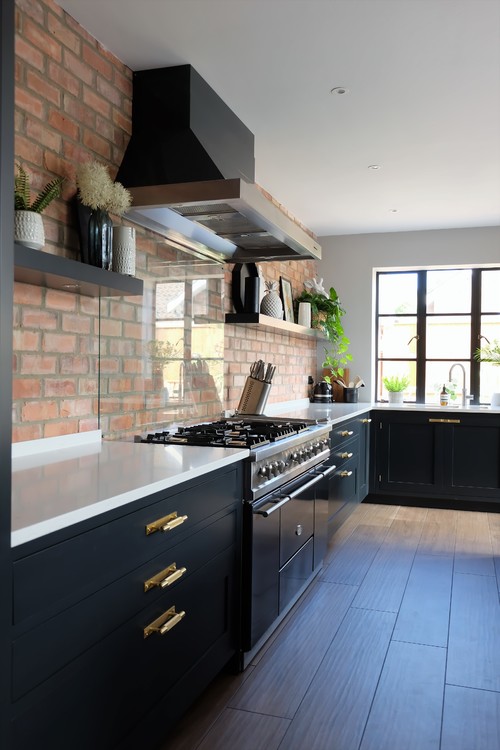 ID# 156517 | Houzz.com – Credit | © H Interiors
---
Brick Backsplash with Black Cabinets and White Countertops
If your kitchen receives enough daylight, you can act freely when it comes to choosing your dream color palette, whether dark or light. This kitchen, for example, combines dark, light, and bold shades to achieve a sense of balance. First, the red brick backsplash extends up to the ceiling to introduce texture and color. The floating shelves puncture it to draw more attention to the backdrop. They also provide opportunities for homeowners to add more personal details to the room. Additionally, for extra protection from food splatters, a glass sheet is installed on the brick wall behind the stove. This strategic addition offers an easy-to-clean surface and convenient use. Right below, the white countertops top the dark flat-front base counters. Brass oversized cabinet handles just bring the room an intriguing shape. Unlike the slim and sleek hardware, these good-sized cabinet handles play big to demand attention.
Chrome Hardware for Black Cabinets
Popular in sleek contemporary designs, chrome hardware brings a sophisticated and clean finish with its shiny look. Reflecting light, it even adds extra brightness and asserts glam aesthetics. Thus, they suit black cabinets extra better. You can combine it with chrome tapware and chrome lighting fixtures or glass pendants. In terms of functionality, since chrome is plated with a thin chromium veneer, it is more resistant to rusting. Though, of course, proper and regular maintenance is required to keep the best version of chrome in the long run.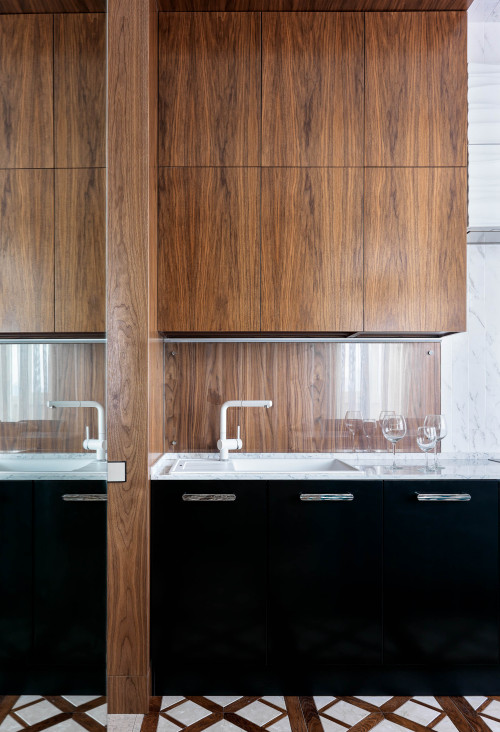 ID# 156518 | Houzz.com – Credit | © Николай Николаев/Дизайн студия Н-Куб
---
Chrome Hardware for Black Cabinets and Marble Backsplash
In this transitional kitchen, the juxtaposition of black and wood veneer cabinets results in a decluttered and smooth look, which appeals to the eye. The gloss finish of black base counters is easily contrasted with the upper wood cabinets, giving birth to a harmonious visual scheme. And between these cabinets, a wood panel backsplash is used to define the background, bringing another layer of warmth. Protected by a transparent glass sheet to prevent the wood from absorbing water splashes, it is treated with another layer of armor. In addition to them, a marble slab backsplash and marble countertops take care of the rest of the space. Injecting sophistication and opulence, they bring in softness with their feathery striations. As for complementary elements, the white drop-in sink with white tapware blends with the marble. And the chrome pulls punctuate the base counters, contributing to the contemporary feel of the room.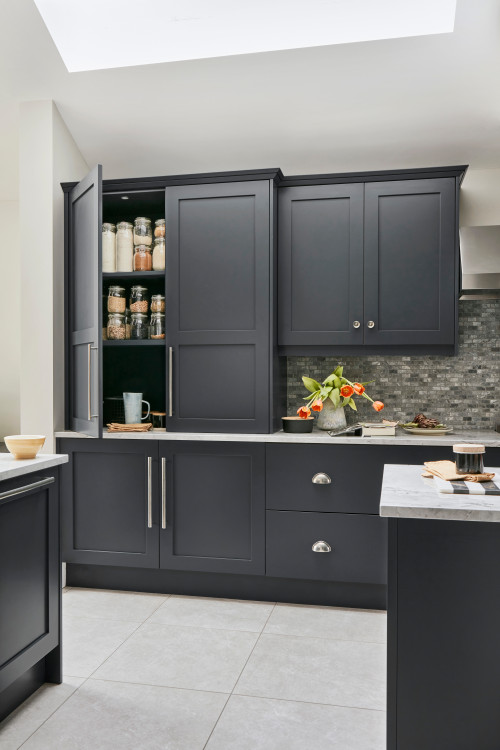 ID# 156519 | Houzz.com – Credit | © John Lewis of Hungerford
---
Gray Marble Subway Tile Backsplash with Dark Cabinets and Chrome Hardware
Borrowing from both traditional and modern designs, this chic kitchen also plays safe with its neutral color scheme. Here, first, the shaker cabinets get combined with flat-front units, which comes as an unexpected design trick to create diversity. The full-height cabinet serves as a secret pantry, keeping unsightly items in its bulky corpse. The white marble countertops and a gray marble backsplash complement these cabinets with natural touches. Consisting of subway tiles laid in an offset pattern, the backsplash adds a sense of drama. And as it echoes the overall color scheme, it establishes a continuous look with the rest. As for the hardware, chrome is chosen to be the common finish, while the shapes show variances. From knobs to pulls and cup pulls, cabinets feature a wide range of hardware styles. This design choice just keeps the kitchen more alive and interesting.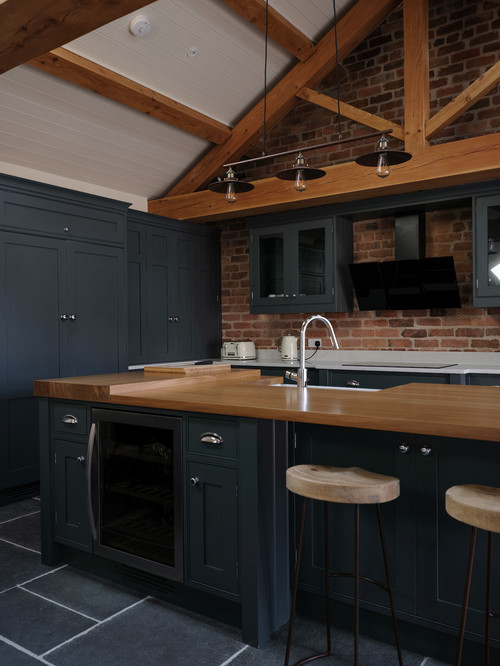 ID# 156520 | Houzz.com – Credit | © Sheerin Bespoke
---
Black Cabinets with Brick Backsplash and Butcher Block Countertops
Industrial design themes suit the double-volume kitchens with vaulted ceilings. And this transitional-industrial kitchen offers one of the greatest examples. Here, the brick walls and exposed wall beams draw eyes upward, reminding the colossal volume of the room. The black cabinets bring solidity, serving as an anchor for the room. The butcher block countertops on the island inject another layer of warmth. On the perimeter counters, by contrast, white marble countertops act as a space-illuminating factor. Overhead, white-washed shiplap ceiling supports the brightness, while chrome fixtures introduce glam. Introduced by a faucet and cabinet handles, the chrome features add a chic element that slightly contrasts the rough industrial look. In the rest, sleek appliances, backless wooden stools, and dark floor tiles finalize the look. They stay loyal to the modern-rustic look of the kitchen.
Brushed Nickel Hardware for Black Cabinets
Versatile and classic, brushed nickel hardware with black cabinets is a popular and winning combination. Having withstood the test of time, this combination adds authenticity while ensuring convenient use and durability. Unlike chrome, brushed hardware also features inherently warmer hues and can be incorporated into designs rich in texture. You come across them, especially in the industrial, beach-style, farmhouse, and rustic designs.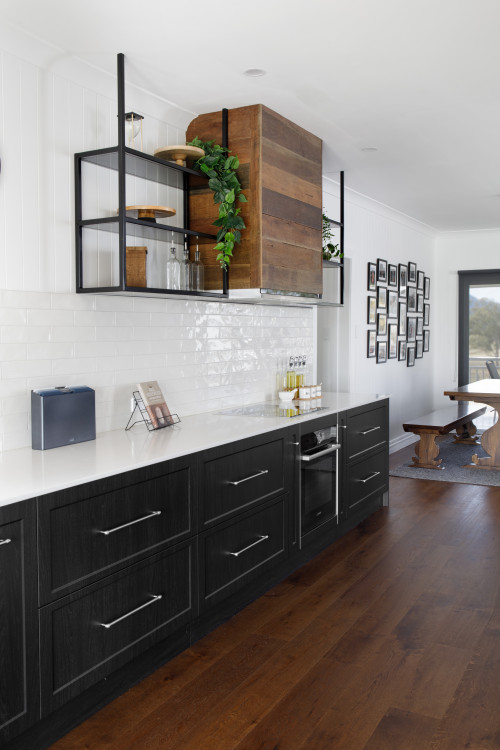 ID# 156521 | Houzz.com – Credit | © New Leaf Design Studios
---
Brushed Nickel Hardware for Black Cabinets and White Subway Tile Backsplash
If you are looking for casual kitchen designs that stick to the basics, here we have one great example. In this contemporary-industrial single-wall kitchen, dark cabinets add a solid presence. Due to its I-shaped layout, the kitchen allows for exits and entrances at multiple points, unlike U-shaped layouts. Thus, the kitchen section feels open and has a better space, integrated into the living room and dining area. For the background, the white subway tile backsplash lends brightness and visual lightness. Laid in a running-bond style, the backsplash adds a classical feel too while placing the kitchen in an urban context. Also, its satin finish delivers extra charm to the tiles. As for the rest, the wood range hood with plants introduces organic vibes and a natural feel. The suspended shelves capture the industrial spirit of the room, along with the brushed nickel hardware that lends a lived-in feel.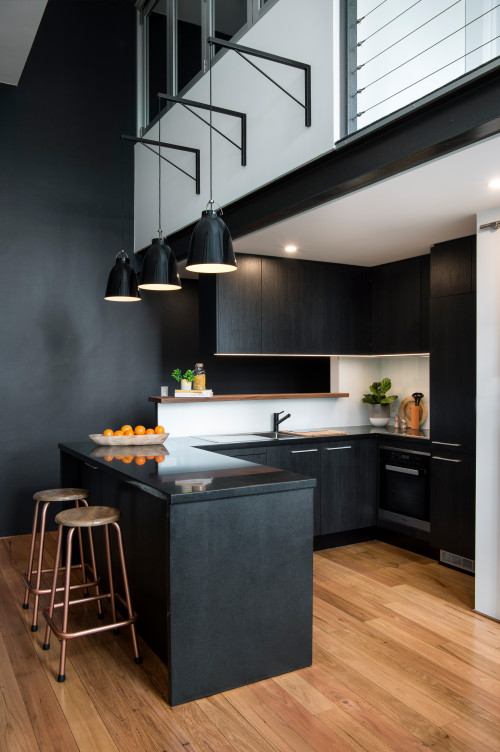 ID# 156522 | Houzz.com – Credit | © McGarry Constructions Pty Limited
---
U-Shaped Kitchen with Black Cabinets and Black Countertops
This cozy U-shaped kitchen looks approachable enough despite its black-dominant scheme. The black flat-front cabinets topped by black countertops provide the kitchen with a seamless look. Making a counterpoint to them is a white slab splash-back that lends some brightness to countertops. This way, a more efficient working space is achieved, which is also supported by a good lighting system. Spotlights and an under-cabinet lighting system, here, are enough to keep the room well-lit. Brushed nickel hardware also adds an accent to the cabinets with a slight brightening effect. And a wood linear floating shelf brings much-needed warmth with engineered wood flooring. Also, the copper stools introduce another form of metal for extra interest and intrigue. Overall, the white-and-black color scheme results in a dynamic and well-balanced look without any need for a jolt of color.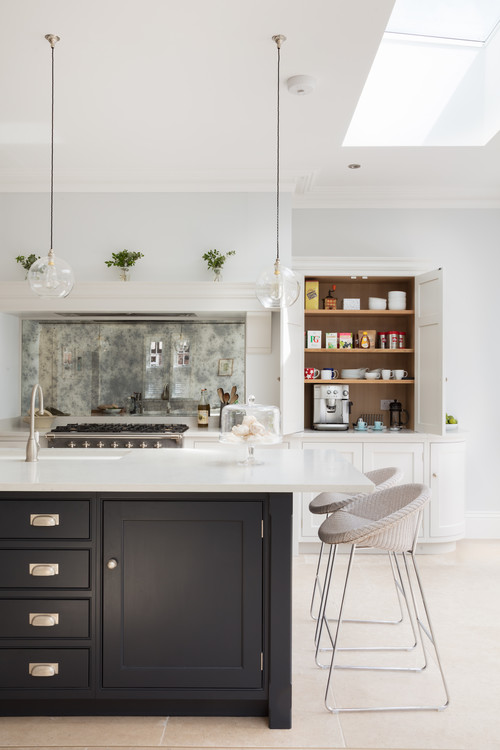 ID# 156523 | Houzz.com – Credit | © Humphrey Munson
---
Antique Mirror Backsplash with Glass Pendants and Dark Cabinets
This white-dominant kitchen instills calmness in its users right away, initiating peaceful communication. And this monochromatic palette is added interest without breaking up the calmness of the design. For example, a contrasting statement island brings black shades. And in the background, an antique finish mirror backsplash proposes a lived-in look counterpoising the fresh and new look of the kitchen. At the very back is also a full-height shaker cabinet that serves as a pantry. It houses a coffee machine, mugs, tea boxes, and more to keep the main kitchen zone clutter-free. Overhead, a skylight lends fresh daylight, and a trio of glass globe-shaped pendants team up with the island. Upholstered stools also pair with the black island, offering extra comfort. The brushed nickel hardware and faucet bring in bonus authenticity, which is put into dialogue with the antique mirror.