23+ Hardware for Black Cabinets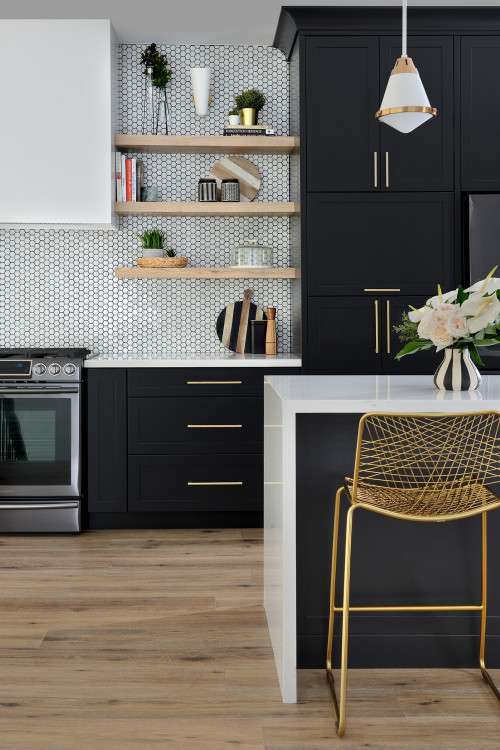 ID# 156501 | Houzz.com – Credit | © Michelle Berwick Design
---
Brass Hardware for Black Cabinets and Penny Round Tile Backsplash
This eye-catching design owes its statement look to the white round tile backsplash. Taken up to the ceiling and peeking out behind the floating shelves, it creates a sophisticated background. The gray grout between the tiles encourages them to feel highlighted, making these tiles easily connect with the black cabinets. The wood floating shelves and brass cabinet handles bring a calming contrast. The brass wire stools, geometric pendants, and white wall sconces with brass accents used here and there create a continuous look. And this visual integrity pulls the design together, while the floating shelves inject casualness into the kitchen's well-curated look.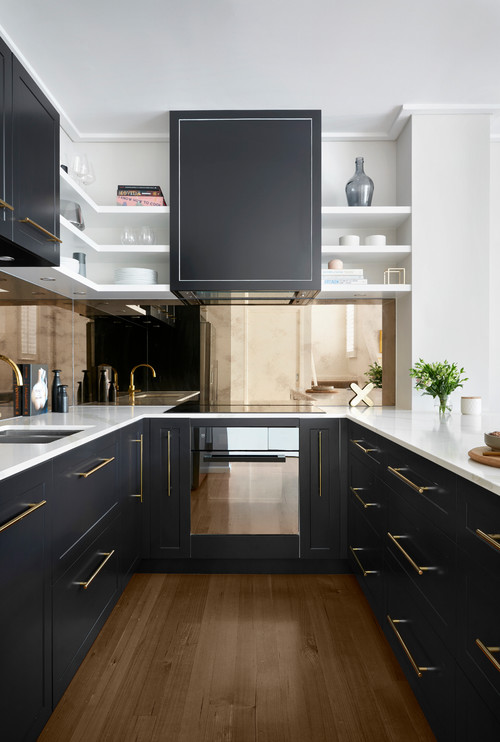 ID# 156513 | Houzz.com – Credit | © smarterBATHROOMS+
---
Gold Hardware for Black Cabinets and Mirror Backsplash
In this U-shaped modern kitchen, a mirror backsplash plays as a space-enhancing factor, reflecting the room and creating a sense of flow. White quartz countertops and open shelving features add to the brightening impact of the mirror, further lighting up this section. The dark shaker cabinets, by contrast, anchor the design. The gold hardware brings the warmth out of these cabinets while puncturing them meanwhile. The gold tapware coordinates with the cabinet handles, creating visual synchrony, while the wood floor finish adds more warmth.
Hardware for Black Cabinets
Considered the jewelry of cabinets, hardware is an important design element, which is sometimes taken for granted. We often forget how much they make our lives easier in the kitchen and how often we open and close the cabinets. Plus, it is not only that they offer practicality but also prevent us from leaving fingerprints on cabinet doors, not to mention their aesthetic value. Available in different finishes, colors, and shapes, hardware is a statement element, too. And in this round-up, we will be looking at hardware for black cabinets and trending hardware designs in 2023.
Hardware for black cabinets ranges from brass cup pulls to brushed nickel bar pulls, black hardware, and shiny chrome knobs. Among all these options, sometimes it feels tricky to choose what is better. But a kitchen's overall theme and hardware's coordination with other elements around that theme play a key role.
Aside from those, if you plan to renovate your kitchen without spending a fortune, changing hardware is one of the easiest and cheapest ways. So, just read on to explore some ideas for hardware options for black cabinets.
What color hardware looks best on black cabinets?
Black cabinets are dramatic, modern, and classic all at once, thus suitable for a wide range of hardware options. As such, it is hard to tell what suits them best. But if you know the look you aim for, then it gets easier to decide. For example, for a sleek contemporary look, a chrome look is the most popular option.
The second classic option following it is brushed nickel. It adds a timeless and aged feel with a sense of casualness. It particularly suits beach-style, industrial, and farmhouse styles. For their cleaner version, you can go with satin nickel as well.
Those who looking for something warmer can consider brass, bronze, and copper finishes. Just like chrome and nickel, they are also available in satin, brushed, and antique finishes. Just focus on your overall design theme and decide accordingly. Choose something that suits your kitchen's total look.
And if the aim is to stay more minimalist, black hardware is the way to go. It just blends into the black cabinets, only adding minimized volume.
What Color Hardware for Black Kitchen Cabinets?
Hardware options range from brass to black, copper, chrome, and nickel. In addition to them, polished, satin, and brushed finishes add those metals a different aesthetic value. Plus, this year, colored and painted hardware along with glass cabinet fixtures enhances hardware options.
Black Hardware for Black Cabinets
Though black hardware for black cabinets doesn't sound very plausible, it is actually very popular. And indeed, it is one of the most popular hardware colors, adding a dramatic and contemporary look. Available in black chrome, black nickel, and a wide range of shapes, they punctuate the black cabinets perfectly. If all you need is just some convenient use without making a bold statement, then you can consider black hardware. It just blends into the black cabinets, offering easy grab to open and close the cabinet doors.
Does black hardware look good on black cabinets?
Black-on-black serves well in kitchen designs. Especially black hardware used on black cabinets ensure a seamless look. Plus, it is also available in black chrome and black nickel, for those looking for a black metal finish. In terms of style, instead of classic pulls or knobs centered on the cabinet, black edge pulls could be considered for a sleeker look. This way, you can also draw more attention to backsplashes.
What color hardware is timeless?
Nickel and chrome are two timeless hardware options for kitchen cabinets. While chrome stands out as a more contemporary upgrade nickel feels more traditional, warmer, and classic!
Brass Hardware for Black Cabinets
One of the most on-trend hardware colors, brass hardware is on the radar of designers in 2023. Warm and eye-catching, brass hardware makes a counterpoint to the dark black cabinets, bringing warmth out of them. So, if you want to offset the black's darkening effect, brass hardware is the route to go. Plus, it also adds a glamorous vibe. To complement it, you can go with a white tile backsplash and use gold grout. Or if you are not low on budget, employ a marble backsplash with gold and brownish striations. Brass lighting fixtures, brass wall sconces, and brass tapware can also be used to pull the design together.
What color hardware is in style for 2023?
Though contemporary kitchens seem to be favoring hardware-free cabinets for a super sleek look, hardware has come back. Creeping back into our kitchen lives, cabinet hardware reclaims its high status in kitchens. And this return is quite big.
Given that kitchen design ideas for 2023 favor integrating vintage elements, bold statements, and patterns, the same applies to cabinet hardware. This year they are also bold, colorful, and more geometric. So, don't be surprised when you encounter vintage cabinet hardware in bold gold colors, arched hardware, and colored fixtures.
This year, it is also recommended to keep all cabinet hardware finishes the same to retain visual integrity. Plus, mixing metals feel kind of outdated in 2023. Instead, different styles or shapes of hardware can be brought together. Especially cup pulls, pull bars, knobs, and latches are the focus. For example, in your kitchen, you can mix bars, cup pulls, and knobs.
Additionally, instead of traditional hardware styles such as knobs and pulls, you can get geometric-shaped fixtures, which are more popular. Bold-colored ones, from blue to pink, gold, and green, can give your kitchen a new vibe. Also, keep in mind that cabinet hinges are also part of cabinet designs. If you wish, you can also keep them pronounced and coordinate them with cabinet pulls.
All in all, upgrading kitchens is expensive and causes a lot of mess. However, only with small changes, you can still add a new fresh look to your kitchen. Hardware is only one of them, which can elevate the overall design significantly.
How do I choose cabinet hardware color?
The first important point to consider when choosing hardware color is the overall color palette and design theme. For example, if you have a black-and-white scheme, you can bestow this winning combination with chrome hardware. For farmhouse kitchens with green cabinets or dark blue cabinets, generally, the gold hardware is preferred. As for rustic kitchens with wood cabinets, brushed bronze could be a perfect hardware color. Antique brass finishes also suit rustic and farmhouse-style kitchens. However, if you love eclectic designs, colorful cabinet hardware could be your cup of tea.
Chrome Hardware for Black Cabinets
Popular in sleek contemporary designs, chrome hardware brings a sophisticated and clean finish with its shiny look. Reflecting light, it even adds extra brightness and asserts glam aesthetics. Thus, they suit black cabinets extra better. You can combine it with chrome tapware and chrome lighting fixtures or glass pendants. In terms of functionality, since chrome is plated with a thin chromium veneer, it is more resistant to rusting. Though, of course, proper and regular maintenance is required to keep the best version of chrome in the long run.
Brushed Nickel Hardware for Black Cabinets
Versatile and classic, brushed nickel hardware with black cabinets is a popular and winning combination. Having withstood the test of time, this combination adds authenticity while ensuring convenient use and durability. Unlike chrome, brushed hardware also features inherently warmer hues and can be incorporated into designs rich in texture. You come across them, especially in the industrial, beach-style, farmhouse, and rustic designs.