41+ Colorful Herringbone Backsplash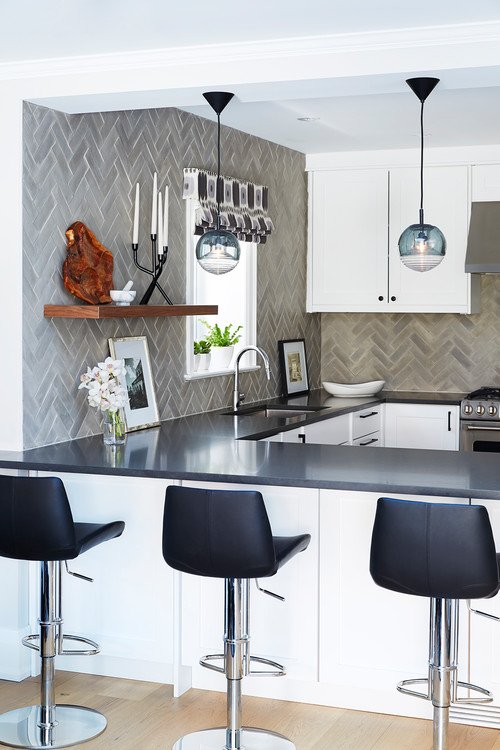 ID# 123806| Houzz.com – Credit | © The Dickson Design Group
---
White Kitchen Cabinetry with Black and Wood Accents
The matte gray ceramic herringbone backsplash tiles are a transitional touch of this kitchen! We love adding a warm color of brown, into this kitchen where is preferred cool tones like grays, with, and black. Black accents like hardware and countertop emphasize the cabinetry by creating a nice contrast.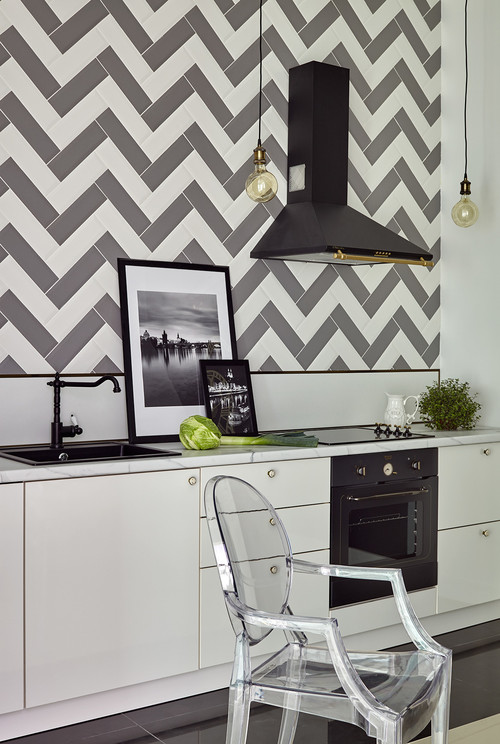 ID# 123805| Houzz.com – Credit | Vera Tarlovskaya Interiors | © Sergey Ananiev
---
Scandinavian Kitchen with Frameless White Cabinets
The gray and white ceramic herringbone tiles are used as one of the elements to combine different styles and to create a transitional kitchen. The modern look is given with the herringbone diagonal stripes pattern, transparent chair, European cabinet door styles, and lighting fixtures. The marble countertop adds a dose of luxury while the black range hood stands out on the backsplash tiles and creates a focal point.
Is Herringbone backsplash difficult?
The installation of the herringbone tiles is just easy as other patterns. Depending on where to start tiling, you need to cut some tiles to fit into space because of the v shape of the pattern. With a little more patient and time, you can easily apply the beautiful herringbone tiles.
Is Herringbone backsplash in style?
Herringbone is a classic pattern for backsplashes that you don't have to concern about the trendiness. From modern to rustic, contemporary to traditional, herringbone tiles can combine with different styles. Also, herringbone tiles come in an array of materials like glass, marble, ceramic which increase the popularity of herringbone.
Most popular Herringbone backsplash color?
Just like the other tiles, white also is the most popular color for herringbone backsplash. Glossy glass tiles to matte ceramic ones, white color offers a clean and fresh look with a herringbone pattern. But if you want to try something different and more distinctive, herringbone patterns look also beautiful in different colors from vibrant greens, blues, reds to sophisticated blacks.
Herringbone Backsplash Grout Colors
Herringbone backsplash tiles have already a unique and distinctive look and the choice of grout color is important to elevate this design. The color of the grout depends on how much you want your tiles to stand out. Lighter shades are good to create a cohesive look and darker shades highlight the pattern more. White, black, and gray are the most popular herringbone grout colors that work well with the different tiles.
Herringbone Backsplash with White Grout
White grout is the most popular option for herringbone tiles that creates a clean and fresh look, especially when combined with white tiles. And the advantage of the white grout is I can work well with every color that you imagine. But keep in mind, lighter colors like white can potentially show more stains. That means it required more maintenance and regular cleaning.
Most popular Herringbone backsplash material?
Ceramic and marble are the most popular materials for herringbone backsplash. Ceramic tiles highlight the classic look o the herringbone, while marble tiles lend sophistication to this pattern.
Herringbone Backsplash with Grey Grout
Grey is a versatile color that can combine with different colors. From bright white tiles to sophisticated black tiles, gray offers a cohesive look for a different type of herringbone tiles.
Most popular Herringbone backsplash size?
1 x 3, 2 x 4 or 3 x 6-inch sizes are perfect to create a classic traditional look of the herringbone. Longer tiles like 2 x 6 or 2 x 8 inches give a sleeker and more modern look.
Herringbone Backsplash with Black Grout
Using black grout is the best way to highlight the distinctive look of the herringbone pattern especially with the bright white tiles. Whether you pair it with white, black, or other colors, black grout offers a timeless look. With a grout sealer, you can keep the bold black color of the grouts as good as it did on the day it was installed.