33+ Beach Style Kitchen Ideas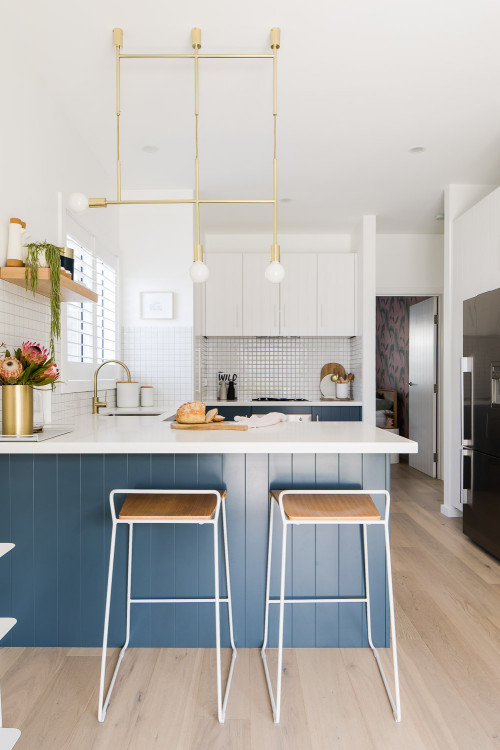 ID# 152501 | Houzz.com – Credit | © Rebecca Lu
---
Beach Style Kitchen Ideas with White and Blue Cabinets
The beach-style kitchen exudes a feeling of relaxed coastal vibes, thanks to its white upper cabinets, blue base cabinets, and a blue peninsula! White quartz countertops, a white tile backsplash, light wood floors, and brass lighting fixtures all come together in harmony to create an inviting, elegant atmosphere. This cozy space truly captures the essence of the sand and sea, providing a unique and beautiful spot to unwind and enjoy.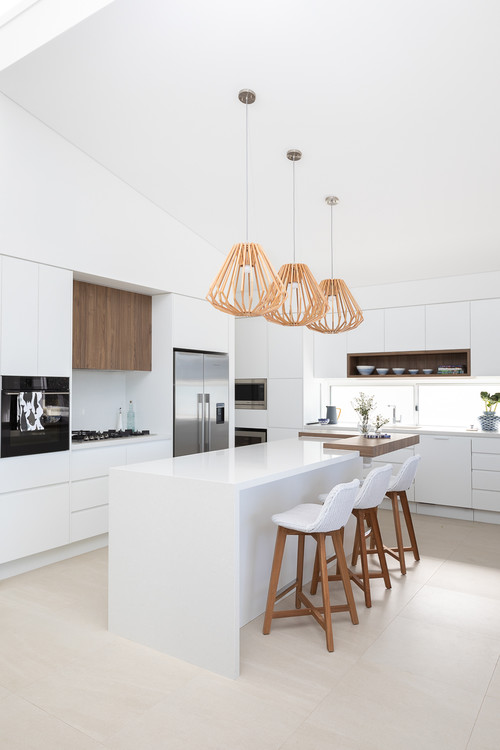 ID# 152524 | Houzz.com – Credit | © PRG Architects
---
White Flat Panels and Light Beige Floors
The white countertops and modern handless cabinets are a stylishly practical choice, bringing contemporary elegance to the space! The addition of a white waterfall island, plus wood and white island chairs, brings warmth and texture, while the stainless steel appliances add a modern touch that perfectly complements the coastal style. The bright and airy atmosphere of the white vaulted ceiling and light beige floors are grounded by the wooden upper cabinetry, creating an inviting and cozy feel.
Beach Style Kitchen Ideas
A beach-style kitchen is a kitchen design that is inspired by the coastal or beach aesthetic. This design style is characterized by its light and airy color palette, natural materials, nautical accents, open shelving, and indoor-outdoor flow. Beach-style kitchen ideas often feature white, pale blue, and sandy beige colors, wooden cabinetry, woven baskets, jute rugs, ship wheels, anchor-patterned dishes, rope-wrapped light fixtures, and large windows. A beach-style kitchen is to create a laid-back, casual, and relaxing atmosphere that evokes the feeling of a seaside getaway, where you can entertain, cook and unwind. Scroll down and check out these stunning beach house decorating ideas!
Bring the laid-back charm of a seaside getaway into your home with these beach-style kitchen ideas. Whether you live near the beach or simply want to create a coastal-inspired space, these design elements will help you achieve the look. With these beach-style kitchen ideas, you'll be well on your way to creating a coastal-inspired space that's perfect for entertaining, cooking, and relaxing. Let's scroll down and deep dive into the beach-style kitchen ideas!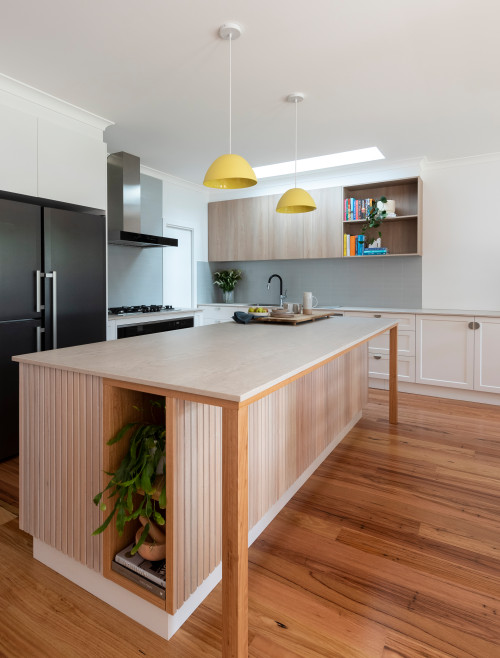 ID# 152502 | Houzz.com – Credit | © Tennille Joy Interiors
---
White Shaker Cabinets with Upper Wood Flat Panels
This kitchen welcomes you with a warm and stylish appeal. The wood island and the light wood countertop of it complement the wood kitchen floors providing a cohesive look. The white shaker cabinets add a classic touch with a familiar appeal. The light wood flat-panel upper cabinets create a contemporary look in the kitchen with the black stainless steel appliances.
What is coastal kitchen style?
The coastal kitchen style is one for which relaxation and invigoration is the primary goal. From the calming light and airy color palette and natural materials, like wood and stone, through to seashells, starfish, and coral – all chosen to create a quintessential beachside atmosphere in your home kitchen. These design elements invoke a sense of awe and admiration for the wonders of the ocean, helping to evoke a strong human connection to nature and the feelings of serenity and tranquillity associated with it.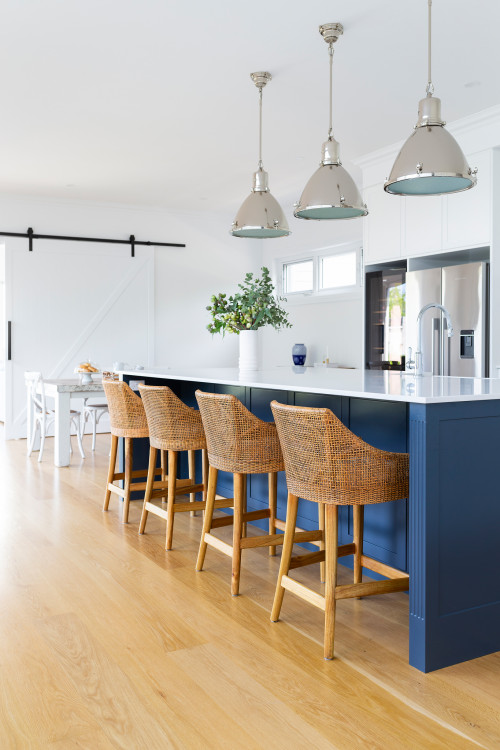 ID# 152503 | Houzz.com – Credit | © Studio Black Interiors
---
Freshness with Beach Style Kitchen Ideas
The white subway tile backsplash of this beach-inspired kitchen brings a clean, classic feel, creating a calming atmosphere. The gray countertops, coupled with the gray tiles behind the stove, provide subtle accents and contrast against the bright white environment. The black hardware adds a touch of sophistication that serves to further enhance the beauty of the white subway tiles. The warmth and texture of the medium-tone wood floors lift the spirits and bring a sense of comfort. Finally, the navy blue island with a wood top is a unique and captivating addition that imparts a rustic charm and a cheerful pop of color.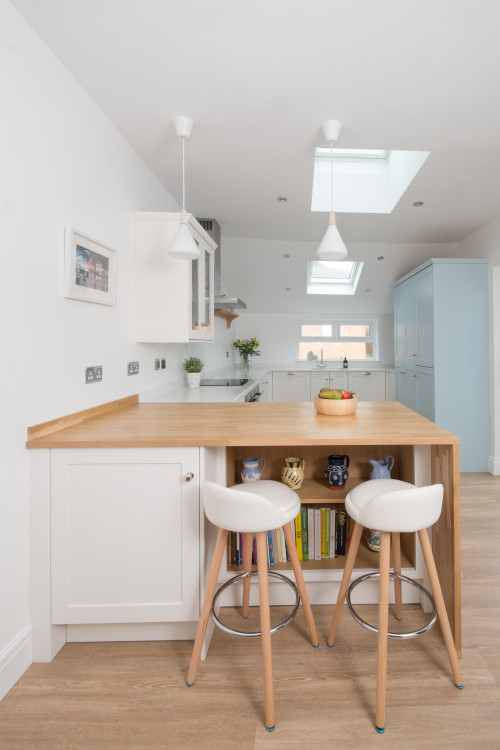 ID# 152504 | Houzz.com – Credit | © Chalkhouse Kitchens
---
Peninsula with a Butcher Block Top and Waterfall with White Cabinets
This clean and crisp white kitchen creates a bright and inviting atmosphere. The white cabinets, countertops, and backsplash all work in harmony to create a cohesive space, while light wood floors offer warmth and texture. The oak top peninsula with its waterfall edge provides an eye-catching contrast to the white color scheme and provides additional counter space. Natural light streams in from the tall white ceilings with windows, illuminating the space for a feeling of openness. Altogether, the kitchen has a simple yet elegant, modern design. The use of a white color palette evokes a sense of spaciousness and cleanliness, while the warm wood and oak accents provide a comforting and natural feeling.
What are beach-themed colors?
Beach-inspired colors evoke a strong sense of ocean and shoreline in any space. White is the perfect way to bring a sandy feel to any room with its walls, cabinetry and countertops. Blue evokes a sense of the infinite, calming expanse of the ocean and is great for walls, cabinetry, and accents. Beige also brings a natural, sand-like hue to any area. Light gray has a calming, sky like appearance which works with any decor style. Last but not least, seafoam green brings a peaceful and relaxing feel, perfect for any walls, cabinetry, and accents. Together, these beachy colors provide a space with a sense of calm and harmony.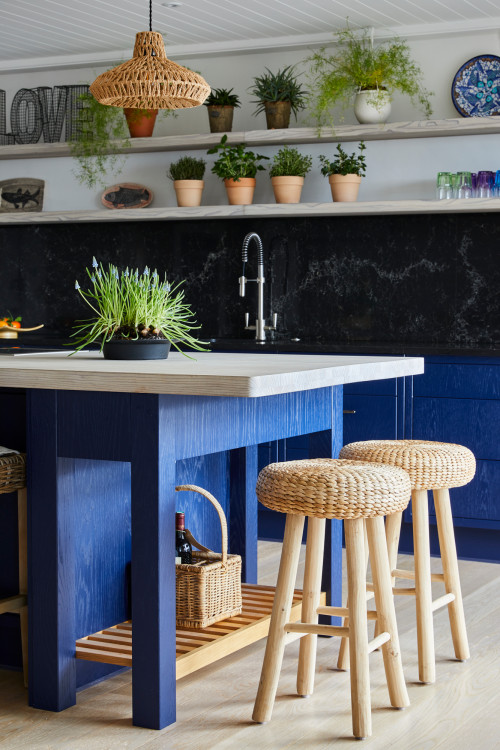 ID# 152505 | Houzz.com – Credit | © Stoneham Kitchens
---
Black Quartzite Backsplash for Beach Style Kitchen Ideas
This beachy eat-in kitchen features a white shiplap ceiling, adding a touch of coastal charm to the space. The upper cabinetry is open and features light wood floating shelves, which provide ample storage and display space. The black quartzite backsplash and dark countertops add a touch of sophistication and contrast to the space. The dark blue base cabinets provide a pop of color and a coastal feel, while the light wood stools, rattan pendant light and island worktop add warmth and texture. The island itself serves as a functional element and provides additional counter space, as well as a spot for casual dining!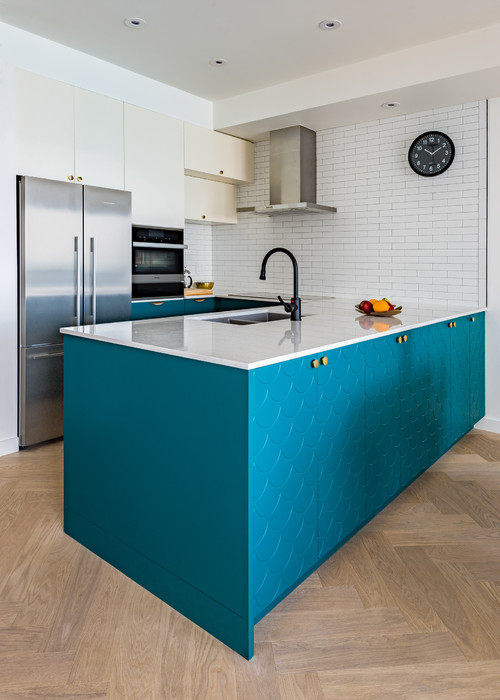 ID# 152506 | Houzz.com – Credit | © Jason Fung Architect Inc.
---
Light Blue and White Cabinets with White Countertops
This Scandinavian-style kitchen exudes a subtle beachy vibe, courtesy of the light blue base cabinets, white upper cabinets, and light wood herringbone floors. An elegant touch is added with the white countertops, while brass hardware and a black faucet provide contrast. Stainless steel appliances give the kitchen a modern feel, and the white tile backsplash, white walls and ceiling contribute to the homey and bright atmosphere. It truly is a breath of fresh air with its use of light colors creating a spacious and clean feeling, while the light blue cabinets and wood flooring bring warmth and a sense of nature into the room!
How Do You Make a Beachy Kitchen?
A beach-inspired kitchen is achievable by adding some key design components. Achieving a coastal atmosphere is easy to attain with the use of light, breezy colors like white, blue, and dune beige. Natural materials such as wood and woven fibers contribute to the languid atmosphere. Light fixtures in a nautical or coastal design further bring the beach into the home. You can enhance the feeling with coastal-style decorations such as shells, seastars, and coral. When it comes to flooring, lighter-colored hardwood, tile or stone enhances the beachy feeling. Finish the design with beachy furniture like rattan chairs, or a wooden table.
And lastly, to top it off, opt for a backsplash in light-colored and coastal-inspired tiles. Allow yourself to feel at peace as you drift away into a tranquil beachy kitchen, using these simple design components and the right color palette. Create a calm and inviting atmosphere, and wake the senses with a tranquil and inviting vibe. Let the feeling of a seafront getaway sink in, and let the smell of the ocean seep through your kitchen walls.
Beach Style Kitchen Cabinets
Beach-style kitchen cabinets offer a tranquil and inviting atmosphere, reminiscent of being by the ocean. The colors used for these cabinets can be key in creating a coastal-inspired home, therefore selecting light and airy colors such as white, blue, and sandy beige can enhance the relaxed vibes of the home. If a mix of colors such as white and blue are selected, this can help carry the "by the beach" feeling throughout the space. With the right materials such as wood and wicker, cabinets can be adorned with warmth and texture. Finishing off the look with coastal-inspired decorations and accessories can help add the perfect touch to any coastal home.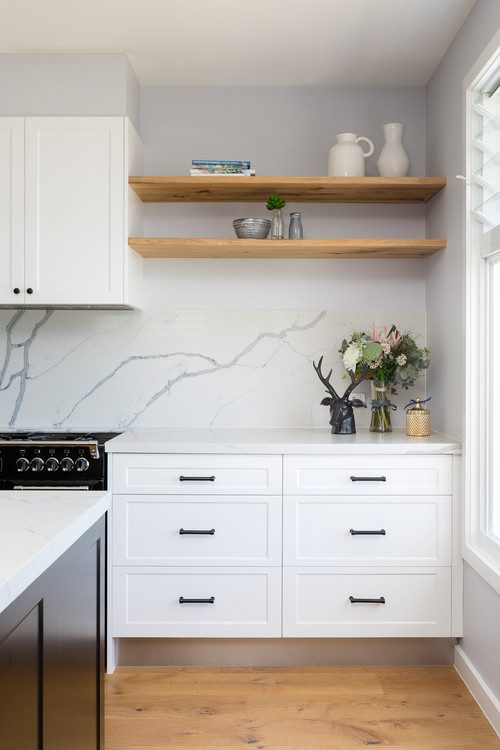 ID# 152507 | Houzz.com – Credit | © Flux Architects
---
Beach-Style Kitchen Cabinets with White Shakers
The black hardware adds contrast and sophistication, enlivening the oasis-like atmosphere. The white quartz countertops and slab backsplash create a congruent white cabinet backdrop, resulting in an elegant end product. Light gray walls exude a calming, soothing mood, while the light wood floating shelves and floors bring warmth and texture. These together give off natural vibes, making the kitchen feel inviting, comforting, and charmingly coastal. Not only is it visually pleasing, but the shelves and floors also provide ample storage and display space, ensuring the kitchen is not just aesthetically beautiful, but also highly practical.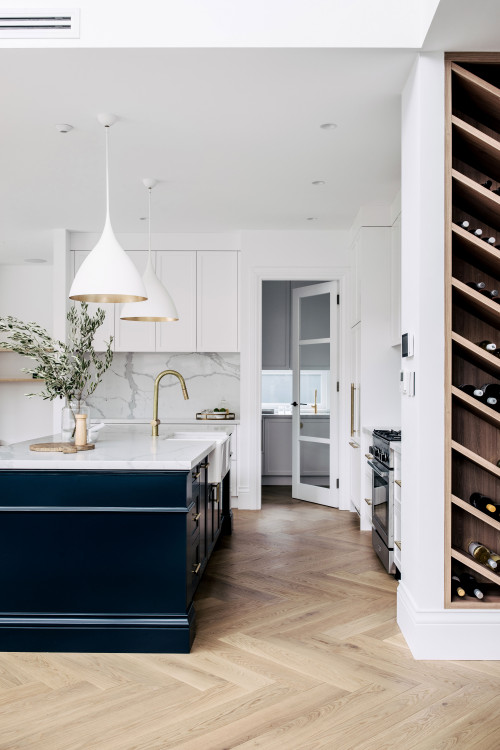 ID# 152508 | Houzz.com – Credit | © BCD Building Pty Ltd
---
Stylish Kitchen with Black and White Colors and Brass Accents
The bright white countertops, slab backsplash, and gleaming white cabinetry create an airy and cohesive atmosphere! The black island, standing out against the pristine white and light wooden flooring, provides a dramatic and striking contrast imbuing the space with a sense of depth and visual interest. The warm and tactile herringbone pattern on the flooring, along with the brass accents and hardware, add an air of sophistication and beauty. The minimalist color palette, coupled with clean lines, gives the kitchen a tidy and modern feel. The mesmeric contrast of the black island on the white base and the soft wooden floors evoke emotions of beauty and delight. The brass hardware and subtle hint of texture from the herringbone pattern bring a touch of comforting warmth and refined elegance to the room.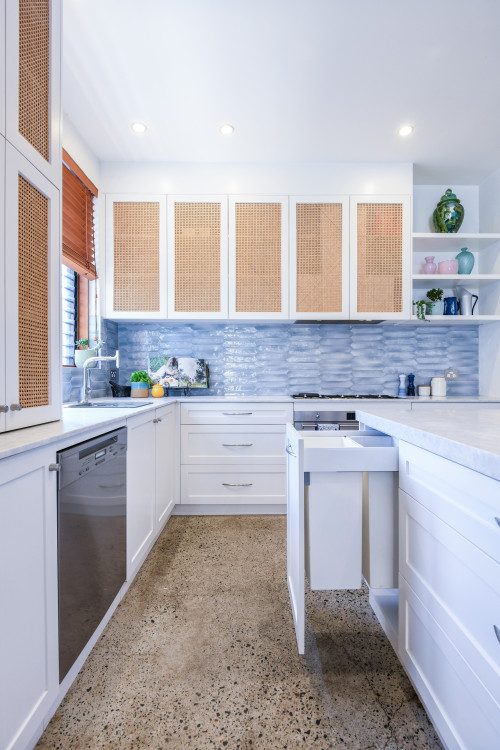 ID# 152509 | Houzz.com – Credit | © Improva
---
Light Wood Cage Panel Beach-Style Kitchen Cabinets with
This kitchen evokes a sense of tranquil coastal vibes with its mix of materials, colors, and textures. The white countertops and cabinets elegantly complement each other and provide a timeless look, while the blue tile backsplash adds just the right amount of color to give the room a coastal feel. The chrome hardware and concrete floors enhance the room with a modern industrial twist. The charming white island with a light gray benchtop adds function and warmth with its natural contrast of colors. To complete the beachy vibe, the white shaker base cabinets, and light wood upper cabinets add a welcoming, inviting feel. This kitchen is sure to create relaxed, peaceful vibes for everyone who steps inside.
How can I make my kitchen look beachy?
Create a bright, relaxing kitchen space with light and airy colors such as white, blue, beige, light gray, seafoam green, coral, and yellow. These colors will bring harmony and serenity to your kitchen. Incorporate natural materials such as wood, stone, jute, seagrass, or sisal to add a touch of natural beauty and warmth to the room. Then bring in a coastal theme with artwork, accessories, tile, or even lighting fixtures impacted by seashells, coral, or starfish. Finally, use fixtures that evoke the beachy feel such as coastal pendants, light chandeliers, or nautical wall sconces. Lastly, think of how to maximize natural light in the space to bring a bright and peaceful atmosphere.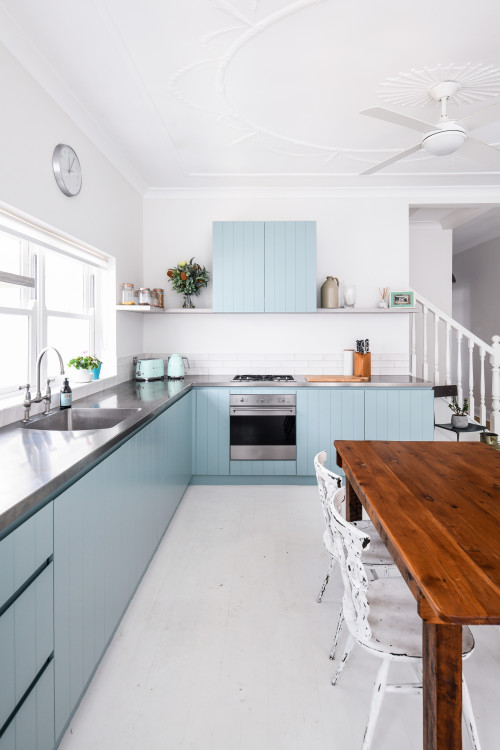 ID# 152510 | Houzz.com – Credit | © Improva
---
Light Wood Beadboard Panels with Gray Countertops
The warm tones of the light wood beadboard cabinetry provide a rustic yet cozy vibe for this beach cottage kitchen. The sleek, modern touch of the gray stainless steel countertops is complemented by the white tile flooring, creating an inviting and harmonious ambiance overall. The white subway tile backsplash adds a traditional feel to the whites of the kitchen, while the wooden dining table contributes a homely atmosphere to the area – perfect for enjoyable meals and intimate gatherings.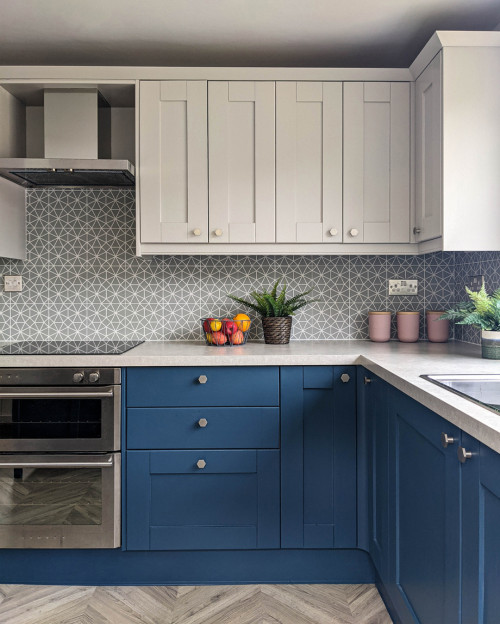 ID# 152511 | Houzz.com – Credit | © No Space Like Home
---
Beach-Style Kitchen Cabinets with Blue and White Shakers
This kitchen has a cheerful, inviting aura with its mix of white and blue shaker cabinets, white countertops and lively floral pattern in green and white. The natural warmth of the light wood herringbone floors provides a perfect contrast, while the chrome hardware and stainless steel appliances add a contemporary feel. We can't help but feel happy and content in this cozy coastal getaway.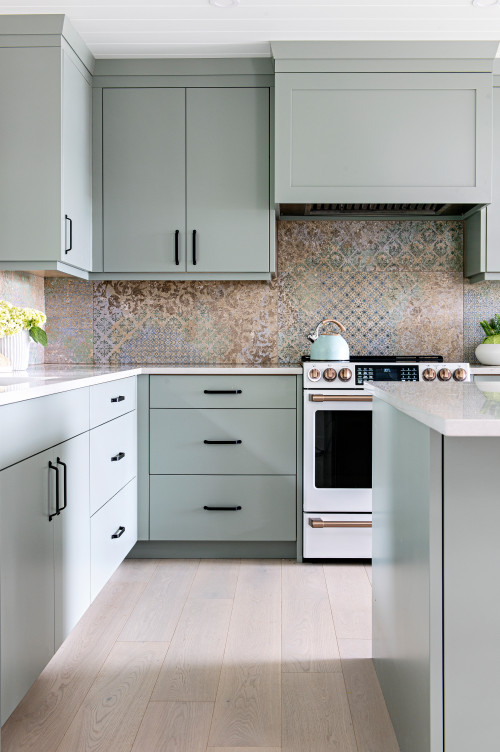 ID# 152512 | Houzz.com – Credit | © Michelle Berwick Design
---
Pale Blue Flat Panels with Black Hardware and Light Wood Floors
This kitchen offers a tranquil and serene atmosphere with its pale blue flat-panel cabinets. The black hardware adds a contemporary flair adding contrast to the muted palette. The white countertops and appliances tie in perfectly with the blue cabinetry creating a harmonious aesthetic. The blue and brown patterned backsplash adds a pop of vibrancy while seamlessly blending the colors creating an inviting atmosphere.
Beach Style Kitchen Backsplash
A backsplash is a fantastic way to add style to your kitchen. Backsplashes can truly make your kitchen unique because they come in so many different colors, patterns, and styles. Every kitchen needs to have a backsplash that matches the room's overall style, whether that be loud and colorful or simple and white. In one page, we've included some of the best beach-style backsplash ideas.
It could be a lot of fun to select a beach-style kitchen backsplash tile. You must first decide on the kind of style you wish to adopt. The beach design can be kept more neutral or use a variety of beachy colors, such as whites, grays, and soft subdued blues, for a striking impact. If you don't already have one, installing one in your kitchen is a simple process. If an old backsplash doesn't go with your beach house kitchen, you may remove it and install a new one. You might try doing this yourself, or you could always pay a specialist to do it for you. Let's examine some of these beach-style kitchen backsplash suggestions.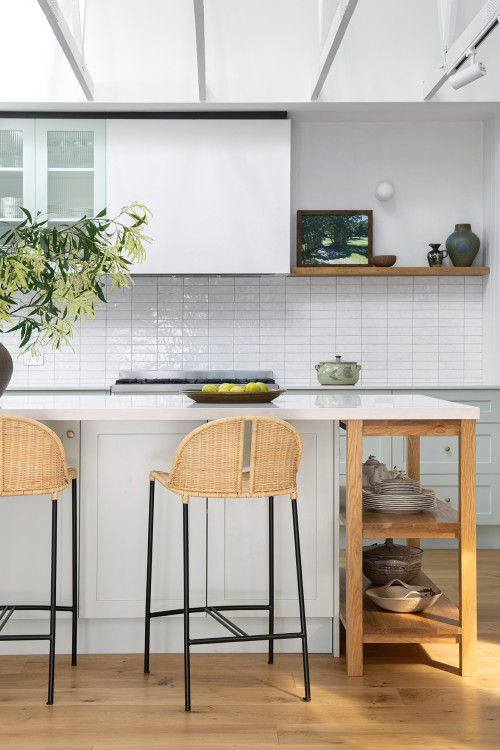 ID# 152513 | Houzz.com – Credit | © Cedar + Suede
---
Beach-Style Kitchen Backsplash with White Stacked Tiles
The light wood floors add a natural and warm element to the space, creating a cohesive design throughout the kitchen. The white countertops provide a clean and modern touch that complements the white cabinetry. The white stacked tile backsplash adds a touch of texture and interest to the space, while also being easy to clean and maintain.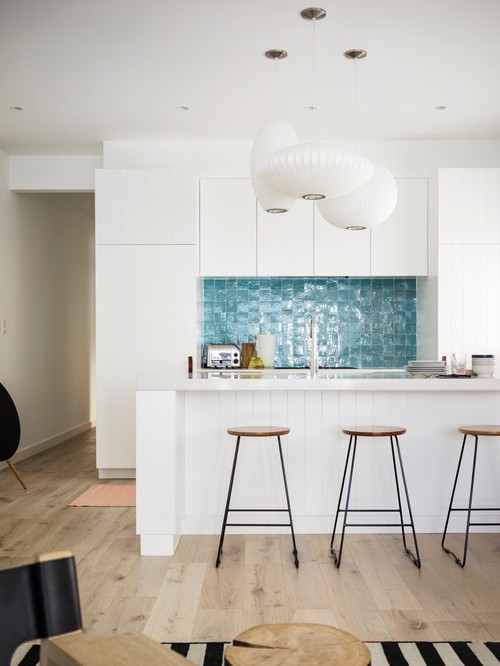 ID# 152514 | Houzz.com – Credit | © Decus Interiors
---
Blue Square Tiles with a White Flat-Panel Cabinetry
This kitchen features a coastal design aesthetic with its use of white flat-panel cabinets and white countertops, which create a bright and airy feel! The light wood floors add warmth to the space and complement the white cabinetry. The blue tile backsplash adds a pop of color and a beachy feel, while the paneled appliances blend seamlessly into the overall design. The white island with its wood-top stools serves as a functional and stylish focal point, providing additional counter space and seating.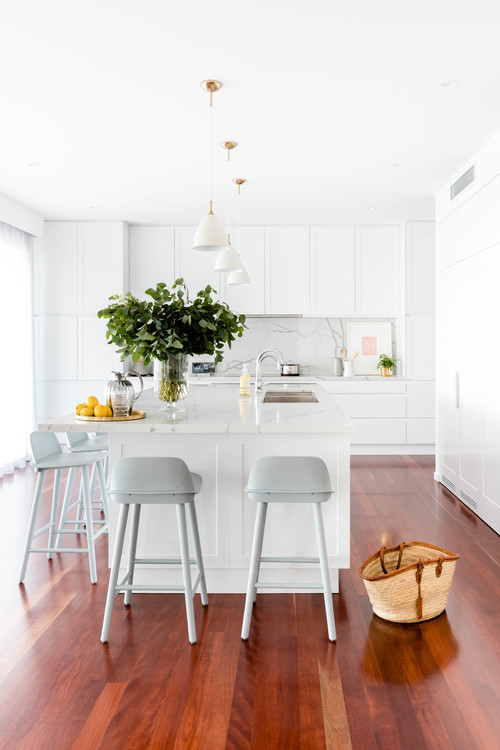 ID# 152515 | Houzz.com – Credit | © Berkeley Interiors
---
Beach-Style Kitchen Backsplash with White Slab Quartz
This kitchen has a sophisticated and stylish appeal and is carefully crafted with a harmonious balance of medium-tone wood floors and white shaker cabinets. The sleek appliances blend effortlessly in the elegant ambiance, creating a flow of continuity and an uncluttered atmosphere. The white island serves as an integral piece, offering practical counter space and handy storage. The white quartz countertops and white quartz slab backsplash provides a pristine and luminous look, while also offering durability and ease in maintenance. All in all, this kitchen is a delightful sight that exudes calmness and usefulness all in one harmonious space.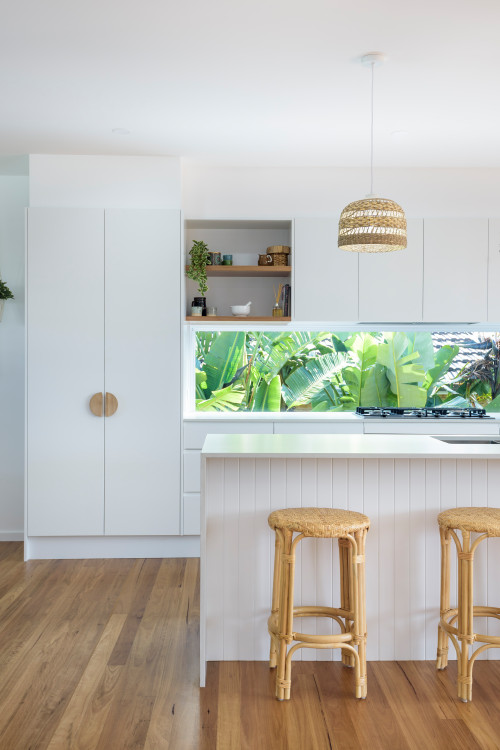 ID# 152516 | Houzz.com – Credit | © Vista Kitchens Newcastle
---
Lots of Plants with a Natural Energy
This kitchen exudes a special combination of beachy and contemporary vibes with its white flat-panel cupboards, medium-tone timber floors, and light timber accents. The white countertops create a pristine contrast with the wood, producing a classy feel to the room. To double the level, the garden-view window backsplash brings in ample light and even a natural link with the plants showcased. The light wood stools finish off the look, introducing an inviting sense of casual luxury – it's hard not to feel comforted and uplifted!
Beach Style Kitchen Lighting Fixtures
Creating a beach-style kitchen brings forth a range of exciting possibilities for style, ambiance, and atmosphere. Lighting fixtures play an integral part in bringing the vibe alive and can establish the perfect beachy atmosphere. Touches of seaside inspirations, such as coastal-inspired pendant lights, can create a welcoming feeling with its use of naturally occurring materials such as rope, wicker or driftwood, providing an inviting atmosphere. From chandeliers to wall sconces, there is a multitude of possibilities to choose from in order to express your own heartfelt emotions and feelings about the sea in the kitchen.
White Beach Style Kitchen
Bringing a relaxed, coast-like ambiance into your home will be effortless with white beach-style kitchen designs. Utilizing white as the main color and adding hints of blue, grey, and organic wood in accents, will transform your space into a beach-vibe haven. For white beach-style kitchens, key elements are cabinets crafted of either painted or lacquered wood, or natural wood which has been either bleached or whitewashed. To give your cabinets the essence of simplistic and minimalistic style, look into lines of glass-front doors, to display dishes or decor. As well, dabbling with natural materials will create a sense of unity with nature; such as a reclaimed wood or butcher block countertop, a stone backsplash, or a brick accent wall. This will capture the human emotion of comfort and warmth, allowing you to instantly feel part of this coastal and calming ambiance.
Is coastal decor going out of style?
Beach decor is always in vogue. Coastal architecture never goes out of vogue, unlike other types or styles of homes. Other design concepts alter when certain trends develop into fresh hues or fashions. Although seaside decorating does change, it is simpler to adjust to.
Modern Beach Style Kitchen
Modern beach-style kitchen designs are a terrific way to infuse your house with a new, modern perspective on coastal life. For a style that is both chic and laid-back, these designs combine clean, minimalist components with natural materials and sea-inspired embellishments. The use of clear, straightforward lines is one of the essential components of a modern beach-style kitchen. This may be accomplished by using sleek, matte-finished cabinets with concealed handles as well as basic hardware and fittings. This sleek, contemporary appearance is also enhanced with stainless steel equipment and a neutral color scheme.
The use of natural materials in a modern beach-style kitchen is another crucial component. This can be done by using brick accent walls, reclaimed wood or butcher block counters, or a backsplash made of stone. These elements give the room a sense of coziness and texture while also grounding the contemporary design. Large windows and skylights are frequently used in contemporary beach-style kitchens to add natural light. Linear LED lighting or simple, contemporary pendant lights can be used to complement this. Include sea-inspired details like a driftwood chandelier, a sea glass backsplash, or a water feature to give the room a coastal feel. A subtle method to incorporate beachy sensations is to add light blue or gray accents to the walls or utilize patterned tiles.