23+ Inexpensive Kitchen Backsplash Ideas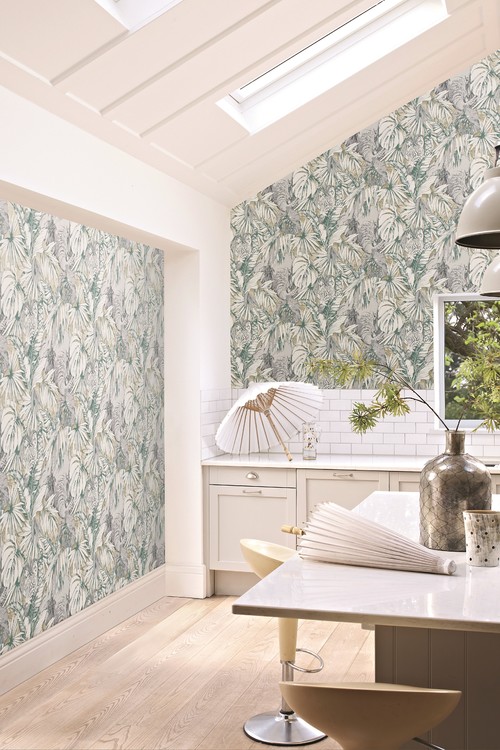 ID# 140611 | Houzz.com – Credit | © Wallpaperdirect UK
---
Subway Tiles with White Shakers and Quartz Countertops
This classic kitchen trio has a new and exciting companion! The blue wallpapers, with their tropical vibes, lend a sense of style and life to the room–bringing warmth to the atmosphere and providing a delightful contrast with the light wood floors. The white shaker cabinets, quartz countertops, and white subway tile backsplash give a sense of harmony to the dynamic look of the space, and the colors bring a cheerful and inviting feeling.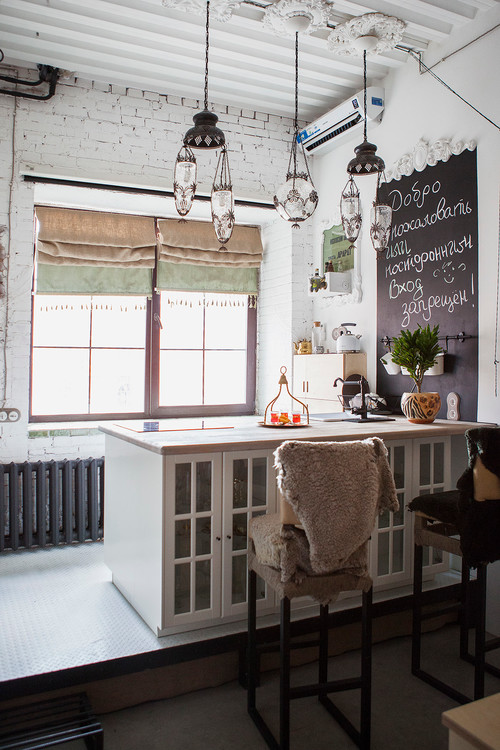 ID# 140631 | Houzz.com – Credit | © Yuri Grishko
---
Cozy Vibes with White Exposed Brick Wall and White Kitchen Cabinets
The boho-chic environment of the kitchen welcomes you with a warm atmosphere. The dark floors emphasize the white cabinetry and harmonize with the black chalkboard paint backsplash. The backsplash also adds a striking contrast with the white environment. The exposed brick wall adds homey vibes, also.
Inexpensive Kitchen Backsplash Ideas
Depending on your goals for a kitchen backsplash, you might be able to install the design you want while still staying on (or under) budget. Kitchen backsplashes can range from simple affairs to intricate, floor-to-ceiling patterns, and having inexpensive kitchen backsplash ideas with a stylish view is one of the perfect ways to achieve your dream design.
Identifying the precise quantity of backsplash your kitchen need is the first step in constructing an inexpensive kitchen backsplash idea. You must first choose whether you want the backsplash to completely cover the wall space above your counters or just a section of it. The cost of your backsplash will increase with how elaborate it is. Therefore, you might want to think about covering only a piece of the walls above your worktops if you want to make an economical backsplash. A typical style used by homeowners covers 25% to 75% of the wall above the counters. Based on how much cooking you do and how close the wall is to the most active cooking area, you should select the lowest amount of coverage that will still offer enough protection for the walls if you're looking to reduce the impact on your budget.
There are inexpensive kitchen backsplash ideas that you can have on a budget and create beautiful designs. Let's check some budget-friendly backsplash options from ceramic tiles to thin metal sheets!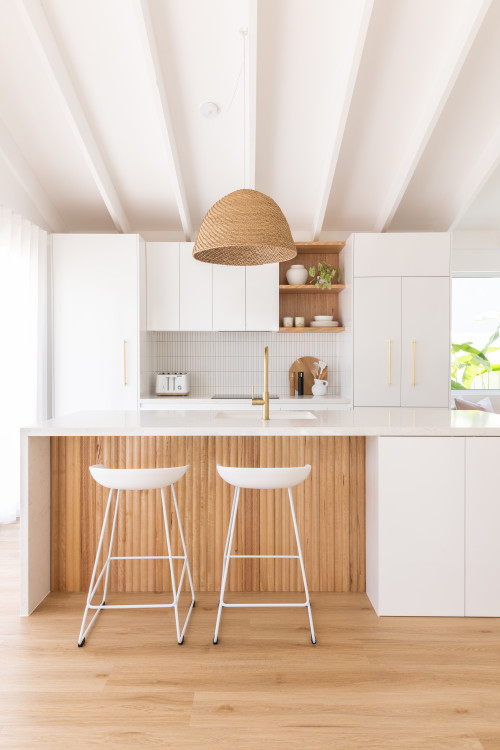 ID# 140610 | Houzz.com – Credit | © Tile Touch
---
Beach Style Design with an Inexpensive Kitchen Backsplash Idea
The light wood island and white flat-panel cabinets create a bright and fresh appearance that fills the room with blissful contentedness. The simplistic composition of the inexpensive backsplash ideas invokes an exciting sensation of vibrancy and delight. The plainness of the flat-panel cabinets is superbly complemented by the white ceramic tiles, whilst the brass hardware balances with the light wood tones to create a feeling of ultimate luxury.
Ceramic Tile Kitchen Backsplash
There is a solid reason why ceramic tile kitchen backsplashes are the most prevalent form in homes. Ceramic tile is strong, affordable, simple to install, and available in an almost limitless variety of designs, hues, and textures. Installing a ceramic tile backsplash in your kitchen may enhance the aesthetic appeal and design of the space while shielding the walls from unattractive and potentially damaging food splashes.
The fact that ceramic tile is quite simple to clean is another benefit of ceramic tile kitchen backsplashes, which is crucial in any busy kitchen. If dinner preparation has left them splattered with food and filth, the majority of ceramic tile kitchen backsplashes will easily wipe clean. One of the alternatives with the most customization for a kitchen backsplash is ceramic tile. It can be bought at practically any home improvement store, online or in-store, and comes in an almost infinite variety of designs, hues, and sizes. In addition, a wide variety of ceramic tile specialist shops are available to meet any unique requirements for shape, color, and texture. You might probably locate the sort of ceramic tile kitchen backsplash you're looking for among the countless variations.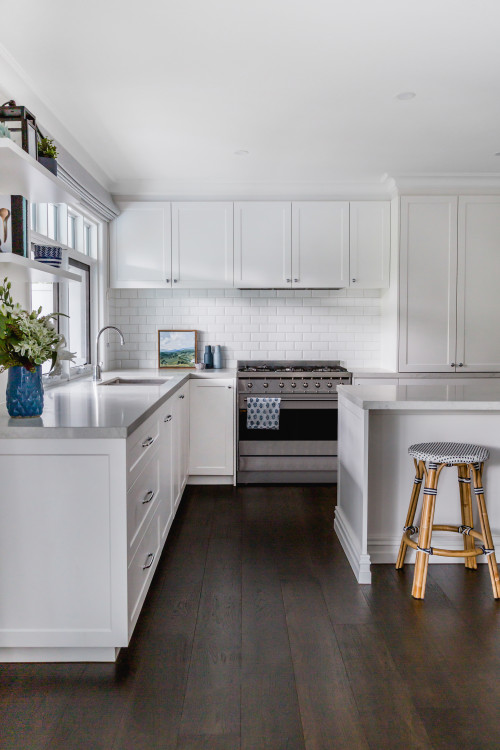 ID# 140612 | Houzz.com – Credit | © Gallerie B
---
Ceramic Tile Kitchen Backsplash with White Shaker Cabinets and Gray Countertops
The white shaker cabinetry design stands out thanks to the dark hardwood kitchen floors. The contrast between the dark hardwood and the white shaker cabinetry brings a strong impact. The white ceramic subway tile backsplash is one of the timeless options you can match to the white shaker cabinets. The gray countertops complement the white cabinetry and backsplash balancing the bright appeal.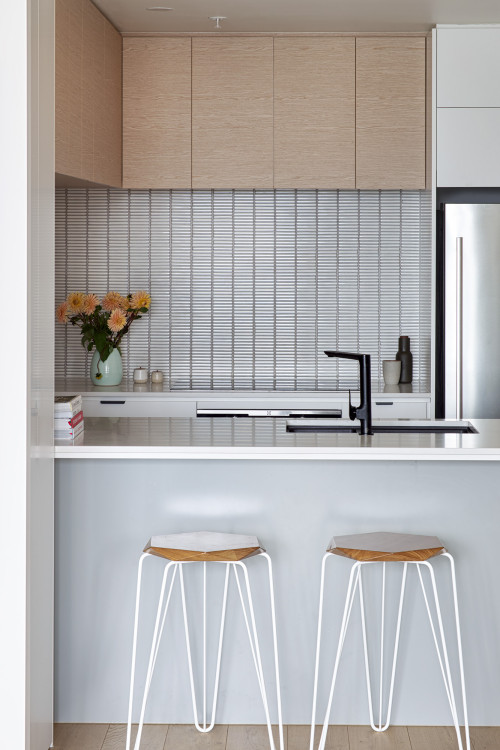 ID# 140613 | Houzz.com – Credit | © Jasmine McClelland Design
---
Contemporary Design with Wood Flat-Panel Uppers and White Countertops
The light wood flat-panel upper cabinets and the stacked ceramic tile backsplash complement each other providing a minimalistic design look. The white ceramic tile backsplash has a light gray grout that makes the backsplash stand out with texture. Thanks to the white countertops and white flat-panel base cabinets, the uppers and the movement of the backsplash are well-balanced.
What is the most economical backsplash?
Paint, chalkboard paint, chalkboard wallpapers, and peel-and-stick backsplashes are the most economical backsplashes.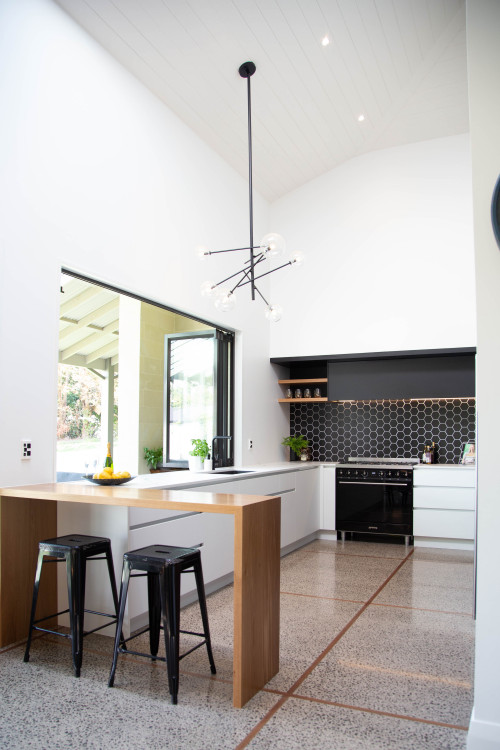 ID# 140614 | Houzz.com – Credit | © Niche Design Co | Chelsey Mathieson
---
Modern Design with a Black Ceramic Tile Kitchen Backsplash
The hexagon tiles are one of the backsplash designs you can go with to create a focal point in your kitchens. Especially black ones provide stunning looks when combined with the wood accents and yellow led lights. The black uppers keep the unified look of the black theme and bring a striking contrast with the white cabinets. The white countertops complement the white cabinetry enlightening the backsplash and the black upper cabinets.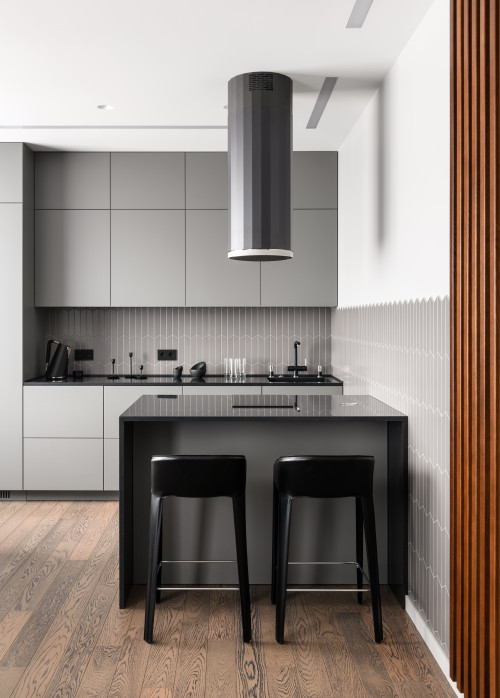 ID# 140615 | Houzz.com – Credit | © Olga Ladurko Interior Design
---
Contemporary Design with Gray Flat Panels and Black Countertops
The plain design of the gray flat-panel cabinetry draws attention. The gray ceramic tile backsplash and the cabinets complement each other providing a unified appeal while the black countertops draw a straight line with a sophisticated touch. The medium-tone wood floors and the gray cabinets bring a warm and stylish look.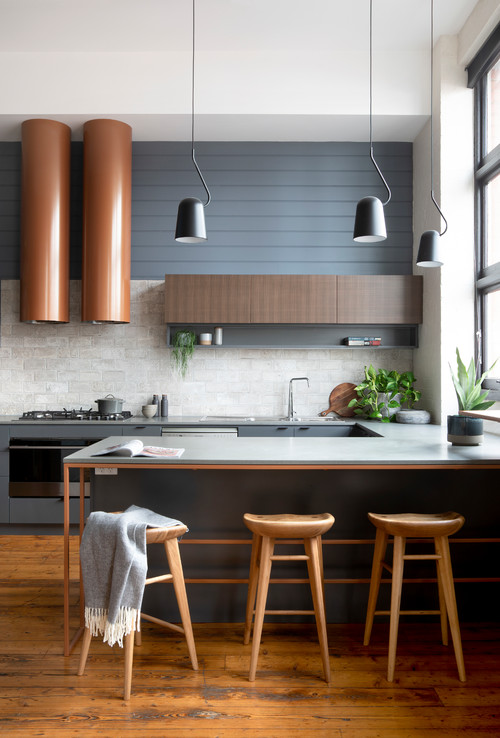 ID# 140616 | Houzz.com – Credit | © Jasmine McClelland Design
---
White Ceramic Tiles as Inexpensive Kitchen Backsplash Ideas
The blue-gray color palette of this kitchen creates an aesthetic contrast with the brown textures, such as the hoods, floors or stools! The light gray countertops complement the gray cabinetry while the white ceramic tile backsplash design enlightens the environment. The subway tile design adds movement and texture to the plain design of the kitchen!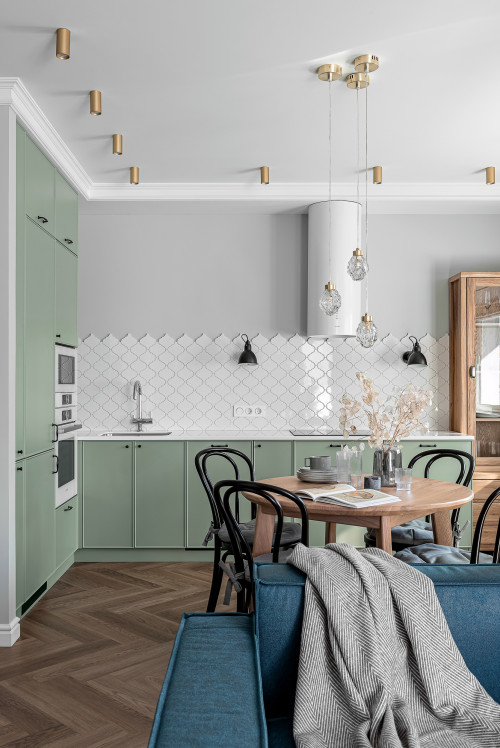 ID# 140617 | Houzz.com – Credit | © Михаил Косачёв
---
Brass Accents with Green Cabinets for a Contemporary Design Style
The brass accents welcome you with luxurious glam. The white ceramic arabesque tile backsplash design provides a focal point in the kitchen. The light green kitchen cabinets and the white quartz countertops bring a fresh look harmonizing with the medium-tone wood kitchen floors. This harmony also adds a natural feel to the kitchen.
How can I make an inexpensive kitchen backsplash?
For renters, a complete kitchen makeover is not worthwhile since it is expensive, time-consuming, and in general a tremendous pain. Fortunately, there is no shortage of inspiration for quick, low-cost DIY projects that can brighten up your kitchen at almost any time or work in the era of Pinterest. One of the simplest methods to modify something? enhancing the appearance of your backsplash. Here are a few of our favorite simple kitchen backsplash ideas to make your room look brighter.
–Stick-on Vinyl Backsplash Ideas
–Painting your existing backsplash
-Have a beadboard backsplash
–Use peel-and-stick tiles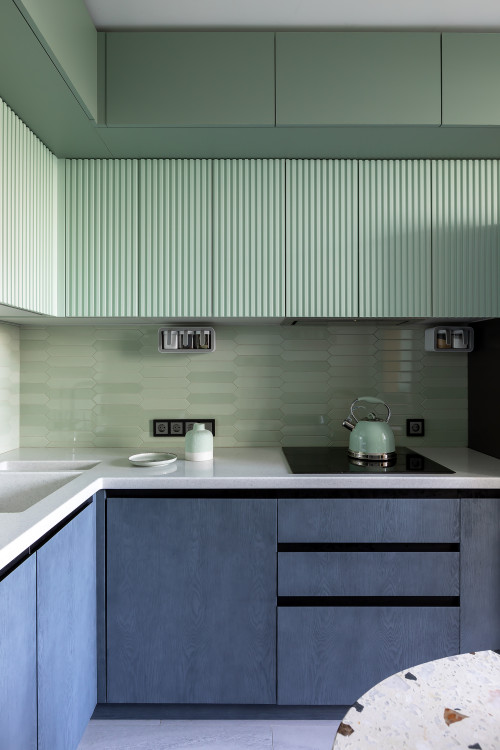 ID# 140618 | Houzz.com – Credit | © "ЭСТЕТ DESIGN " Надежда Ракова и Алёна Гуслиц
---
Green Picket Ceramic Tile Kitchen Backsplash with Green Uppers and Blue Base Cabinets
The green uppers and the green picket ceramic tile kitchen backsplash complement each other creating an ultimate freshness in this contemporary kitchen. The blue flat-panel base cabinets balance this freshness with a pastel touch. The white countertops enlighten the colors of the cabinets balancing the environment. Black details provide a contrast creating an aesthetic touch.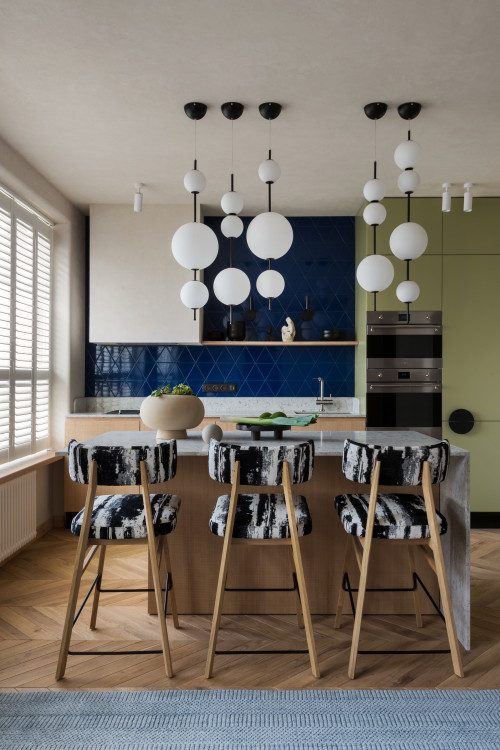 ID# 140619 | Houzz.com – Credit | © WP – INTERIOR DESIGN
---
Inexpensive Kitchen Backsplash Ideas for Multicolor Contemporary Design 
The navy blue ceramic tile kitchen backsplash draws attention with a sophisticated atmosphere among the light colors! The white flat panel cabinets and countertops provide a contrasting look with the backsplash while balancing the wood textures of the environment and the tall olive green cabinets. The unique lighting fixture design creates a focal point above the dining area and makes a strong statement. For a final touch, the black and white cushions of the stools perfectly complete the one-of-a-kind appeal!
Wallpaper Backsplash
Removing or adding a backsplash is a simple method to modernize a kitchen. In addition to being merely aesthetically pleasing, backsplashes also protect walls from cooking debris. However, it might be difficult to remove an unattractive backsplash while you're renting. Spending a lot of money on a replacement doesn't make sense because it won't be your lifelong home. There is a lovely solution to this issue! You can use a wallpaper backsplash design that will immediately change your kitchen's atmosphere!
Wallpapers are a great option whether you own your house or rent, especially for individuals who can't commit to a certain material or style. Wallpapers are a terrific option if you're looking for inexpensive kitchen backsplash ideas. You may keep experimenting with wallpapers without having to spend a fortune every time. Choose wallpaper backsplash with a glossy, matte, or rough cement surface and from beautiful flower patterns. Try putting the kitchen backsplash wallpaper yourself to further save costs and have some fun with DIY projects in your kitchen.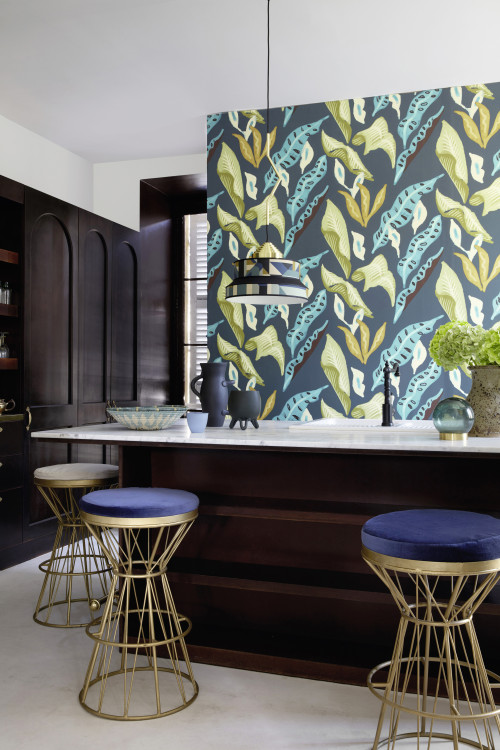 ID# 140620 | Houzz.com – Credit | © LE MÛRIER
---
Transitional Kitchen with Dark Wood Cabinets and a Wallpaper Backsplash Design
The vibrant colors and patterns of the wallpaper backsplash have an eye-catchy look. The floral patterns provide an organic flow with energetic vibes to the kitchen. Thanks to the dark wood kitchen cabinets and the white countertops the wallpaper backsplash stands out! The brass accents increase the visual interest of the kitchen with glam!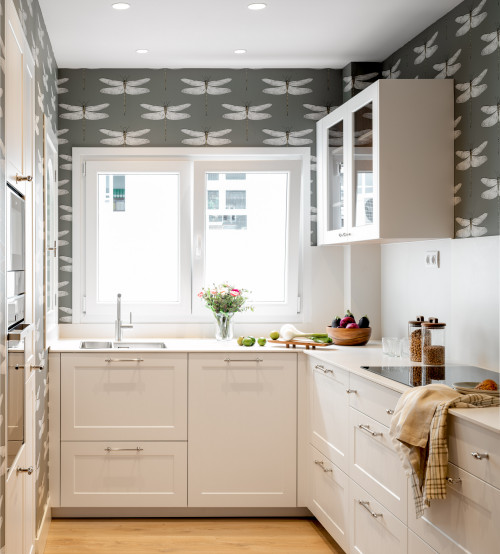 ID# 140621 | Houzz.com – Credit | © Sube Interiorismo
---
Scandinavian Design With White Shakers and Quartz Countertops
The white shaker cabinets and white quartz countertops enlighten this small Scandinavian kitchen creating an airy atmosphere. The chrome hardware harmonizes with the cabinets and the stainless steel appliances adding a modern look. Thanks to the wallpaper backsplash design there is a movement among the sleek design of the white cabinetry.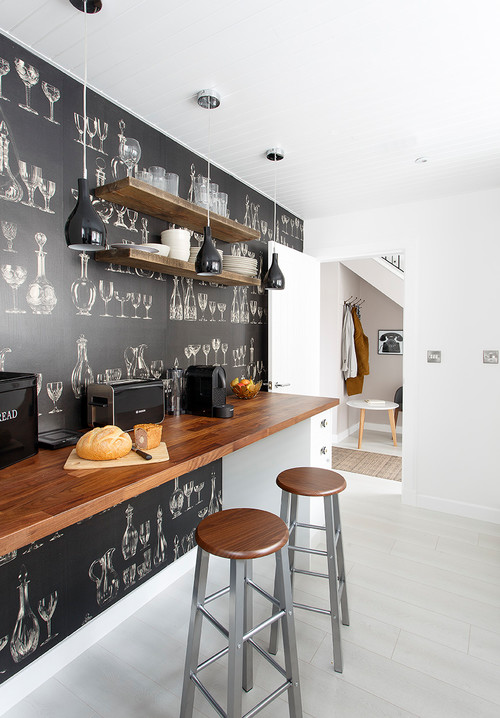 ID# 140622 | Houzz.com – Credit | © Decodence
---
Modern Kitchen with a Wallpaper Backsplash Idea with Wood Countertops
If you want some movement in your kitchens you can try out a wallpaper backsplash! The black and wood contrast provides a focal point in this kitchen. The patterns of the wallpaper bring movement to the kitchen with a modern look. Thanks to the wood textures there is a warm and joyful atmosphere in the kitchen.
What can I use instead of a backsplash?
The two most popular substitutes for a typical tile backsplash are paint and wallpaper. One fascinating alternative is to paint a wall in the form of a blackboard with varied designs using chalkboard paint.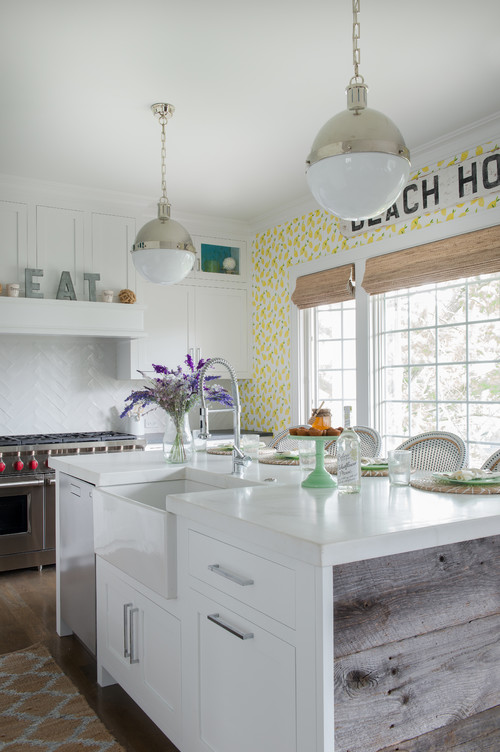 ID# 140623 | Houzz.com – Credit
---
Inexpensive Kitchen Backsplash Ideas for White Kitchens
The beachy vibes welcome you to this energetic and stylish kitchen. The white shaker cabinets and the quartz countertops are the classic duos you can easily rely on, of course. However, if you want to give a different touch to your kitchen you can try out a wallpaper backsplash, as in this beach-style kitchen. The wallpaper draws attention creating a focal point.
Thin Metal Sheet Backsplash
We can recommend that one unusual backsplash design that is really simple to maintain and is not expensive is the thin metal sheet backsplash. If you want to go with a look other than tile, a thin metal sheet backsplash is a terrific material option. It may be immediately fastened to your wall using glue or screws.
Thin metal sheet backsplashes are distinguished by their streamlined, modern appearance. The metal sheets' contemporary look may elevate any kitchen and complement stainless steel appliances. There are several materials that may be used to incorporate a metal backsplash into kitchens, from the sleek appearance of stainless steel to the opulent appearance of brass. Thin metal sheet backsplash designs can be the answer if you're seeking anything other than tiles.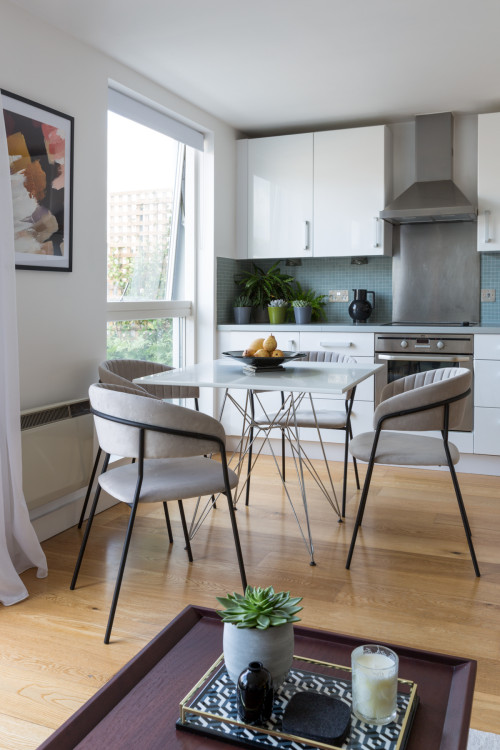 ID# 140624 | Houzz.com – Credit | © Cigal Kaplan Interiors
---
Thin Metal Sheet Backsplash for the Stove in a Modern Kitchen
While the glossy white flat-panel cabinets and the blue backsplash add a fresh and stylish appeal, the thin metal sheet backsplash behind the stove brings a contemporary design look to the kitchen. The stainless steel appliances and the thin metal sheet backsplash match each other creating a cohesive appeal.
Laminate Backsplash
Laminate sheets, which mimic genuine wood, are excellent, affordable backsplash materials for kitchens. A laminate backsplash is a common kitchen backsplash on a budget option since it is simple to get in many condos. They are reasonably priced, non-porous, simple to clean, and largely water-resistant.
The full-wall sheet backsplash, which is frequently constructed from laminate countertop materials, is one of the greatest aesthetics in kitchen and bathroom design. In backsplash evolution, it is a natural conclusion. It is superior to any other backsplash material in terms of wall protection and ease of cleanup because it is seamless, smooth, and frequently a single color. It is essentially a need for any sort of kitchen that strives for an ultra-modern, streamlined look, and is increasingly common in designer kitchens. Although any material can be used for a sheet backsplash, a laminate backsplash is the most typical choice. Large sizes and affordable prices make laminate the perfect material for making sheet backsplashes.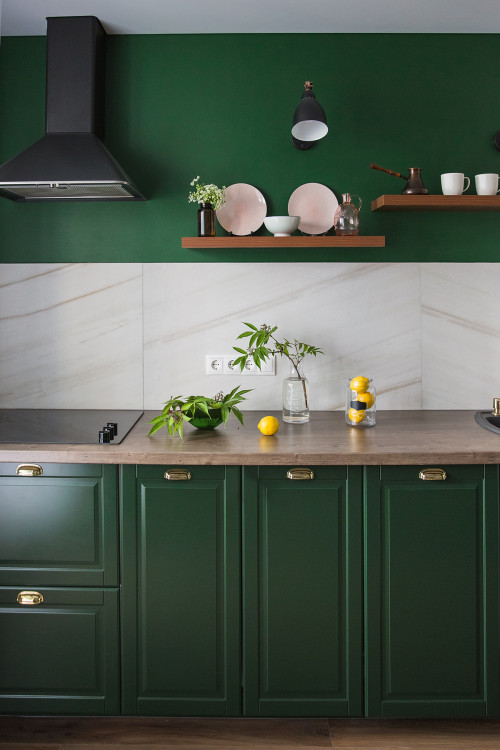 ID# 140625 | Houzz.com – Credit | © Zarkua Anastasia
---
Green Cabinets and Laminate Backsplash with Beige Countertops
The green kitchen cabinets and the beige countertops complement each other creating a natural look in the kitchen. The floating wooden shelves harmonize with the countertops adding a similar color hue. The white laminate backsplash enlightens the dark colors of the kitchen. The brass hardware increases the luxurious feel of the kitchen.
How do I make a homemade kitchen backsplash?
Wallpapers, peel and stick tiles or wall paints are the easiest DIY projects for backsplashes. On the other hand you can easily install a tile design by following the basic steps. To learn these steps check our 'how to install backsplash tile' blog and start to renovation!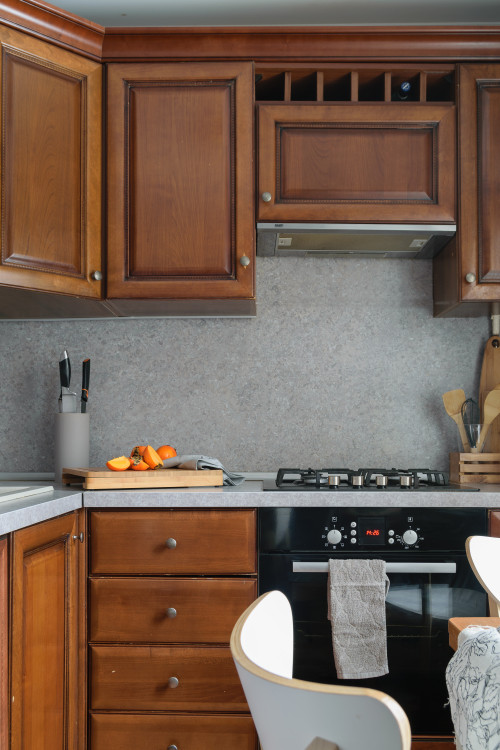 ID# 140626 | Houzz.com – Credit | © Galina Goliney
---
Wood Raised Panel Kitchen Cabinets With Gray Countertops
The gray laminate countertops and backsplash bring a calming harmony to the warm, welcoming atmosphere of the kitchen! The interplay of brown and gray colors creates a neutral palette, while the matte hardware binds the elements together, ensuring a quiet continuity of style and emotion.
Beadboard Backsplash
A vertical row of thin wood boards is known as a beadboard. Each wood board has a "bead," which is a little depression or ridge running through it. The majority of beadboard sold now comes in long, flat sheets that are easy to install and simulate the appearance of thin vertical boards. A beadboard backsplash is perfect for kitchens since it is simple to keep clean. It looks fantastic in kitchens that are farm-style, rustic, or seaside and may be stained or painted. Beadboard adds architectural depth to basic walls and provides any space with a polished feel. Along with kitchen walls, ceilings, and backsplashes, beadboard is an option.
A beadboard backsplash is among the easiest methods to improve the homey ambiance in your kitchen, while the antique kettle and lace curtain treatment provide a touch of Victorian elegance. Additionally, it is far less costly and easier to install than tile. Let's explore the world of the fashionable beadboard backsplash and see what it can do for kitchens.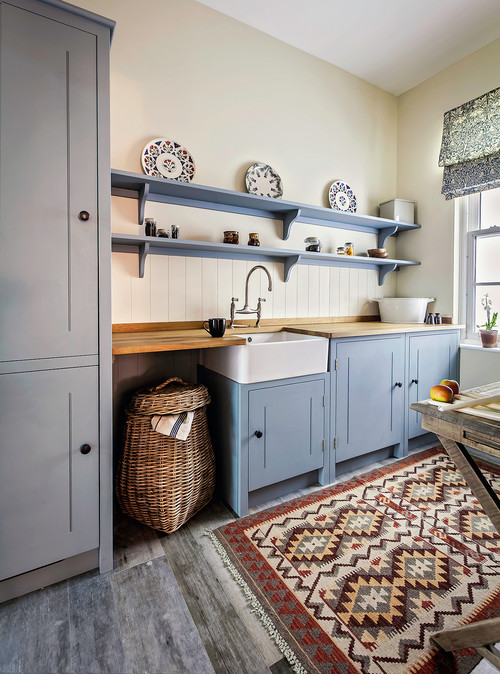 ID# 140627 | Houzz.com – Credit | © British Standard by Plain English
---
Beadboard Backsplash with Blue Cabinets and Wood Countertops
The homey vibes are at their pick point in this farmhouse kitchen design! Thanks to the white beadboard backsplash and the wood countertops, there is a cottage-like feel that creates warm vibes. The blue cabinets and the butcher block countertops bring a stylish and aesthetic contrast to the kitchen. The shelving system boosts the homey and cozy atmosphere of the cabinetry design.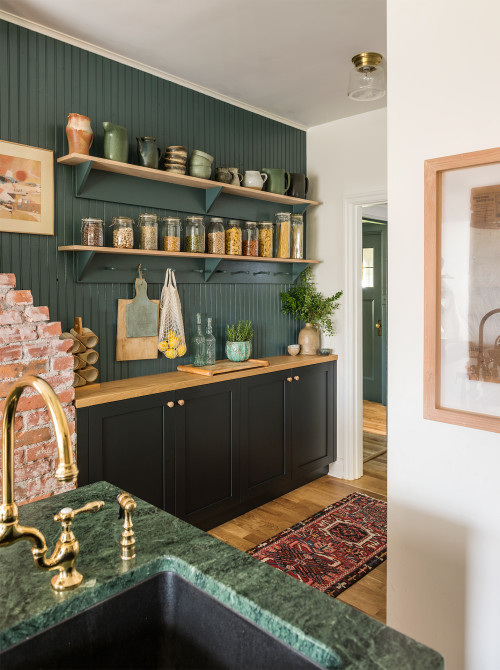 ID# 140628 | Houzz.com – Credit | © Atarah Humphreys, Designer at Urbana Kitchens
---
Black Shaker Cabinets and Butcher Block Countertops for a Farmhouse Kitchen
The butcher block countertops, wood floors, and shelves bring a warm appeal to the black shaker cabinets while the brass hardware and details add a luxurious glam to the kitchen. Thanks to the dark green beadboard backsplash and the wood countertops there is a natural design look with a cozy atmosphere!
What is cheapest kitchen tile?
Ceramic tiles are the cheapest tiles.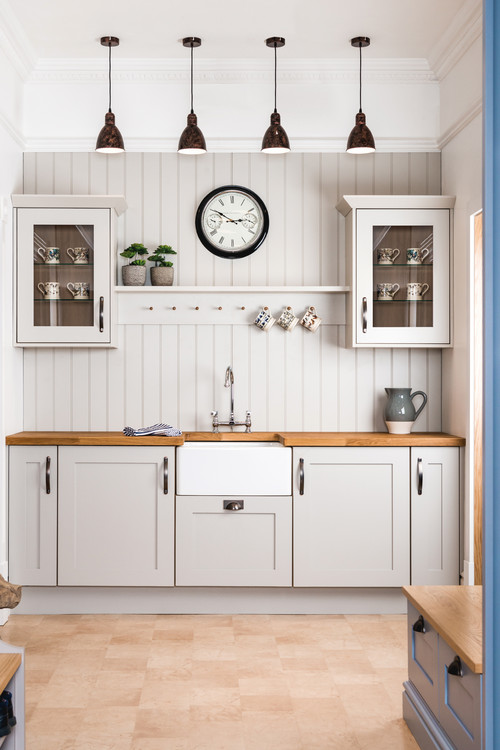 ID# 140629 | Houzz.com – Credit | © Mulberry Kitchen Studios
---
Gray Beadboard Panels as Inexpensive Kitchen Backsplash Ideas
The elegance catches your attention when you look at this kitchen design. It is common to have wood countertops when you install a beadboard backsplash. They complement each other perfectly and provide homey vibes with a familiar look. Thanks to the simplicity of the shaker cabinets you can create a modern touch to your farmhouse kitchen.
Chalkboard Paint
There are several reasons why chalkboards are popular for house decor, and they can be utilized anywhere, from kitchens to home offices. A chalkboard paint backsplash offers a ton of benefits: it's inexpensive, it fosters creativity, it's interactive, and it adds appeal to the area. When tiles are too common, marble is too pricey, and you don't feel like polished metal, a chalkboard paint backsplash is a wonderful idea to try. It has a creative and distinctive appearance. Since chalkboard surfaces contrast bright and light-colored cabinets and lend drama to somber interiors thanks to their dark tones, they are appropriate for any color of kitchen cabinets.
Try a chalkboard paint backsplash for a simple and economical way to add some fun. This unique paint has a finish that is similar to a genuine chalkboard and is produced from tough pigments. Use normal chalk to jot down menus and notes, or create drawings. To clean your backsplash, use a typical chalk eraser or a moist towel.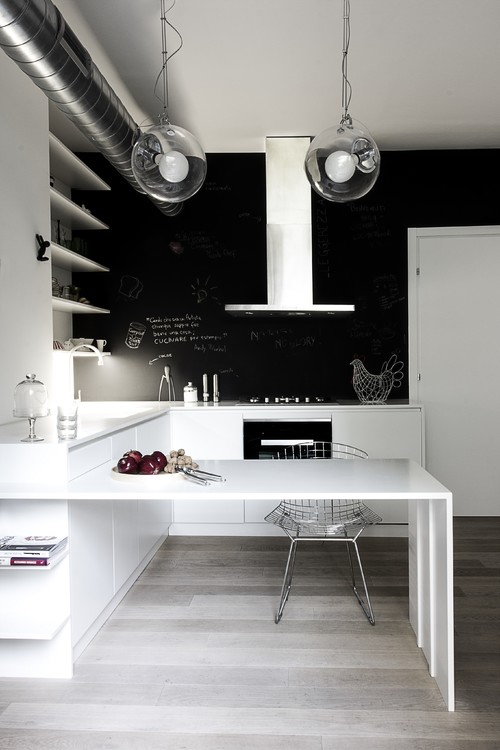 ID# 140630 | Houzz.com – Credit | © Studio Tenca & Associati
---
Chalkboard Paint Backsplash with White Flat Panels and White Countertops
The striking black and white contrast shows off in this contemporary kitchen! The black chalkboard paints as a backsplash and the white cabinetry design has a strong statement maker appeal. The creative drawings on the chalkboard paint backsplash provide the movement with visual interest.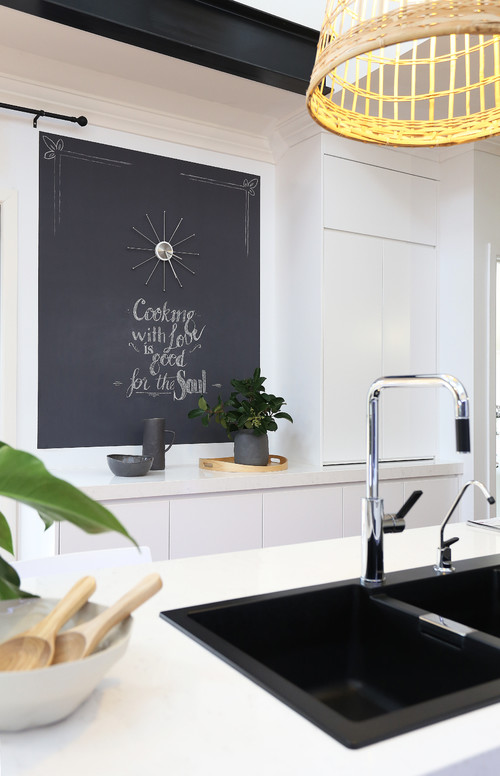 ID# 140632 | Houzz.com – Credit | © Bearcanvas Interiors
---
Chalkboard Paint for Inexpensive Kitchen Backsplash Ideas
If you want to add visual interest making a difference in your all-white kitchen design, you must try out a chalkboard paint backsplash! Enjoy your creativity while changing the backsplash design every time! Thanks to the black color of the paint, the stylish contrast adds movement to the kitchen.
Can you use paint instead of a backsplash?
Yes, you can use paint instead of a backsplash. While the paint is one of the most affordable backsplash alternatives, it is less lasting and more likely to show signs of wear sooner than some other backsplash kinds, while being water-resistant. Due to its low cost and range of colors and finishes, this is a perfect alternative if you're seeking to liven up your backsplash area on a budget. So, if you want to use your backsplash for long year, opt for tiles!