42+ Dark Kitchen Backsplash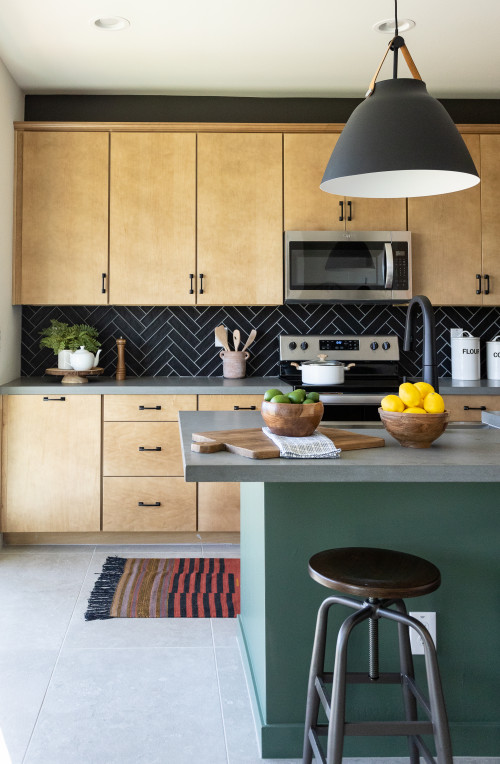 ID# 131804 | Houzz.com – Credit | © Aldrete Design
---
Wood Cabinets with Dark Kitchen Backsplash and Black Hardware
The neutral color scheme and the natural textures offer a warm and welcoming kitchen design! The black herringbone tile backsplash modernizes the overall look while the black hardware complement the backsplash. The natural wood kitchen cabinets give a cozy vibe while the green kitchen island with gray concrete countertop serves a unique look.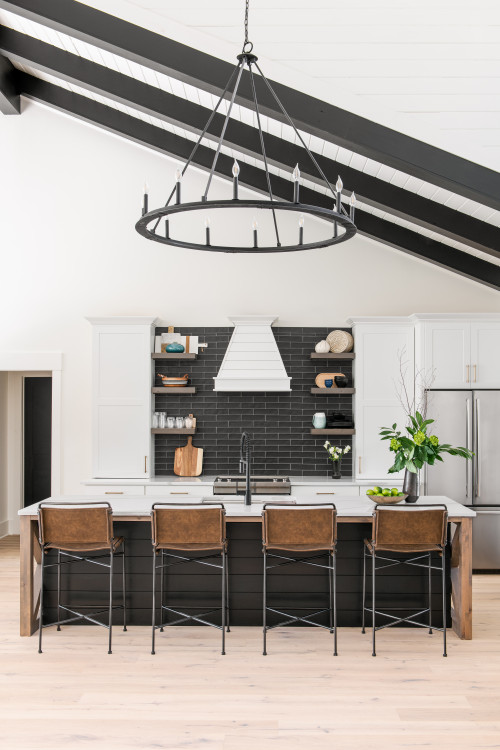 ID# 131825 | Houzz.com – Credit | © ARDIN interior design
---
White Cabinets with Black Subway Tiles and Wood Floating Shelves
With natural details, this modern kitchen creates a luxurious experience. The black backsplash works great with the white quartz countertops, white cabinets, and wood open shelf trend. Wooden open shelves provide some breathing space and provide additional visual interest. White quartz kitchen countertop, black base, and wooden legs make up the stylish kitchen island that integrates with the wooden floor. Leather barstools, modern black lighting, and brass handle complete the look of this kitchen with black wooden beams.
Dark Kitchen Backsplash
Kitchen backsplashes are one of the most important elements for kitchens that brings all the other elements together. Traditionally, the main aspect of the backsplashes is functional. They create a protective layer for the walls to prevent deformation from water and food splashes. However, besides its functionality, a backsplash can also add visual interest by creating visually pleasing surfaces. With the endless variety of materials, colors, and styles, a backsplash can instantly elevate the overall look. Of all these options, bright colors especially the white ones are the most common options for backsplashes. But, if you want to emphasize the backsplash and create a more dramatic appeal, dark-colored backsplashes will be a perfect addition to your design project! Keep reading and find the stylish dark kitchen backsplash ideas to find some inspiration!
From classic white subway tiles to sleek hexagons, we are seeing white color on most of the backsplash designs. Yes, these tiles provide a timeless appeal with their clean and fresh look, and thanks to their versatility, they can work with different colors and styles. But what about trying something different? A dark kitchen backsplash can also be as timeless as white tiles and they can be the centerpiece of your kitchen. From elegant navy blues to sophisticated blacks, there are plenty of color options to create a dark-colored focal point. To find more about these tiles, scroll down and search for these stunning design ideas!
Different Dark Color Options for Kitchen Backsplash
Dark-colored backsplashes have a strong and impactful appeal, but which color is right for your design? Each color has different visual impacts and before choosing the color, you need to decide what kind of visual aspect you have! Also, when deciding the color of your backsplash, you need to consider the other elements like cabinets and countertops. There is plenty of color option to create a dark kitchen backsplash and whether it is a sleek dark gray or elegant black, warm dark brown, or adventurous dark green, you can create statement maker backdrops with a dark kitchen backsplash. Keep reading and find these different color options in different styled kitchens!
Dark Gray Kitchen Backsplash
Gray is a versatile color that has thousands of shades. From very light grays to almost black ones, there are variations of gray including grayscale shades that lie between white and black. Of all these options, there is a right shade of gray for everyone's taste. Light gray is not dramatic, but, dark grays offer the most dramatic appeal of all these shade options. Not as much as black but dark gray still has a sharp look. You can create a strong contrasting look by pairing your dark gray kitchen backsplash with light shades or combining it with other neutrals to create a cohesive appeal.
What cabinets go with a dark backsplash?
A backsplash is a very personal choice and you can design and you can design it however you want. For all the kitchen types, white is the most popular backsplash color but if you want to create a more bold and dramatic appearance, you can try a dark backsplash!
Dark Blue Kitchen Backsplash
Blue is the reminiscence of the sea and sky and it provides a serene feel for the interior design projects. If you want to add seaworthy appeal to your kitchen design a blue backsplash will be the perfect addition and the dark shades of blue are a great way to create an elegant look with a dramatic feel. Navy, cobalt, royal, or midnight blue. Whatever the shade is, a dark blue kitchen backsplash will make a statement on your kitchen walls!
Dark Green Kitchen Backsplash
A backsplash is a very personal decision and it is a perfect place to be playful. That means you can go crazy as you want and try something different! Green color is a perfect alternative for those who want to go a little bit adventurous and if it is a dark shade of gray, such as emerald or forest green, can lend a sophisticated feel!
Black Kitchen Backsplash
There is no doubt that black is the most sophisticated and dramatic color! With its sharp and strong appearance, black color can instantly add a character to any space. You might think that black is not for backsplashes but, just like white, black is one of the most popular colors for kitchen backsplashes. From subway tiles to black marble backsplash, there are plenty of ways to incorporate a black backsplash into kitchens. You can pop up your black backsplash between the white cabinets, go with an all-black design to create a super modern look, or complete the neutrality of the black backsplash with some natural elements!
What cabinets go with a dark backsplash?
When it comes to the dark backsplash, there are a lot of different color options from black to dark blue and you need to consider the color of your backsplash when you are choosing your cabinetry. But in general, if you want to make your backsplash is the centerpiece of your kitchen, using lighter-colored cabinets like white or light gray will emphasize your backsplash. For example, if you have white cabinets, a black backsplash will bring more depth to the kitchen and create a striking focal point. On the other hand, if you want to create a more dramatic atmosphere for your kitchen, you can pair your dark backsplash with dark cabinets.
Dark Brown Kitchen Backsplash
You might think that brown is a boring and outdated color but just because brown is an ordinary color doesn't mean your kitchen can't be extraordinary. With the right material, layout, and style, a brown backsplash can be the centerpiece of your kitchen which elevates the design. While the light tones of brown offer a soft appearance, dark shades of brown can create a dramatic atmosphere!
Grout Colors for Dark Kitchen Backsplash
Grout is a composite material that is used for filling spaces between tiles. These materials provide a protective layer against the water and food spaces and expand the backsplash life. However, besides its functional aspect, grout also affects the visuality of the backsplash. When it comes to the backsplash, grout color is as important as the tile colors. White is the most popular grout color for all tile colors and shapes but you can finish your dark kitchen backsplash with different grout colors such as black, beige, or gray to create different visual appearances.
Dark Kitchen Backsplash with White Grout
White is the most popular and common grout color for kitchen backsplash tiles. It can work with all colored tiles and it is great to create a clean and fresh look. If you are working with a dark kitchen backsplash, and if you want to highlight the beautiful pattern that is created by the tiles, using a white grout is the best option to emphasize this pattern. White grout will create a contrasting look with the dark-colored tiles and give more attention to the backsplash. You might think that white grout can get dirty easier than darker grout colors. Yes, it can show dirt more than a dark grout but with the regular cleaning routine and a good grout sealer, you can keep the white grout as clean as the first day.
Dark Kitchen Backsplash with Dark Grout
If you want to create a bold and dramatic appearance for your dark kitchen backsplash, pairing the dark-colored tiles with a dark grout will be the most effective way. Black is the most popular color option among all the dark grout colors and it offers a timeless appeal for all tile colors. On the other hand, you can use gray, brown, or even blue grout to finalize your dark tiles. Also, if you want less maintenance of your grout, darker shades will be better than white grout.