35+ One Wall Kitchen Ideas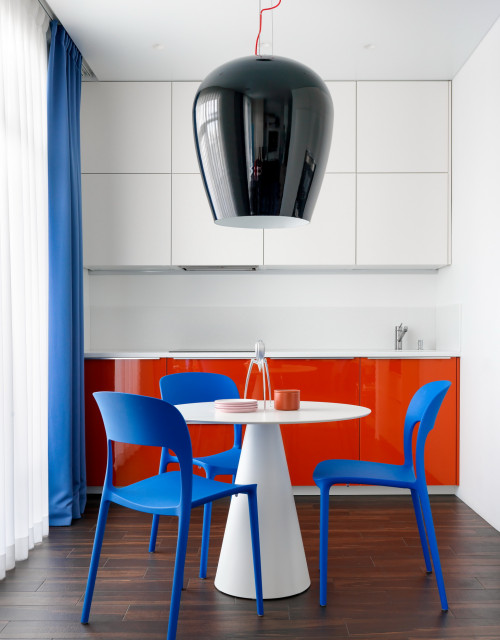 ID# 143813 | Houzz.com – Credit | © iPozdnyakov Studio
---
One Wall Kitchen Ideas with Red Cabinets and Blue Stools
If you are fond of pops of colors but aren't sure how to integrate them, this kitchen will ignite your imagination for sure. Here, the white upper cabinets team boldly with the gloss-finish red cabinets with a halfway splitting technique. This way, this small kitchen feels slightly enlarged, and the single-wall configuration of the cabinets gives a straightforward profile for the colors to impose their provocative presence. Adding to that are also the blue stools and curtains that enrich the color palette, while the oversized black pendant creates a focal point above the white rounded table.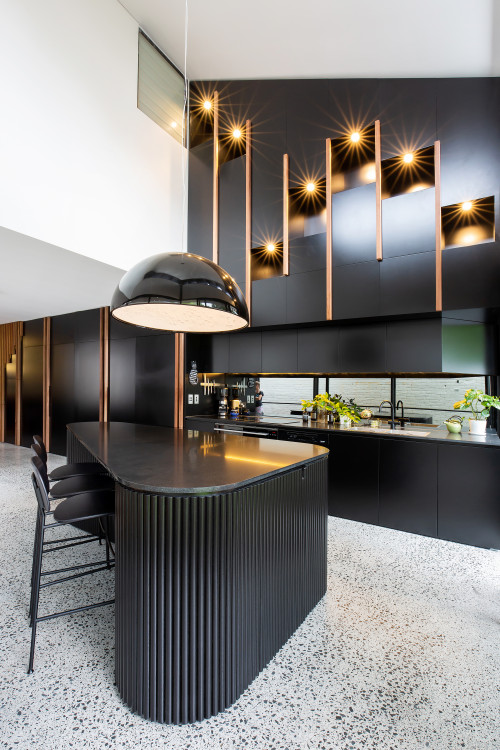 ID# 143821 | Houzz.com – Credit | © HBH Joinery
---
Sophisticated Kitchen with Black Cabinets and Triangle Island
Even if your kitchen is small but your ceiling is high, you can dedicate that one single wall to the cabinetry. Here, for example, thanks to its double height, this contemporary kitchen defines the wall with the black-matte finish cabinets coupled with a mirror splash-back. Opposite it, the ribbed design triangle-shaped island with curved edges creates a focal point, exuding elegance. On the floor, the speckled-finish concrete floor provides a seamless look for this already-perfect kitchen. The lighting fixtures inserted into the black cabinets and the black pendant accentuate the space.
One Wall Kitchen Ideas
Also known as single wall and I-shaped, one wall kitchens are especially popular in smaller homes, studio apartments, and open-concept floor plans, accommodating all cabinets aligned against one wall. As such, these kitchens allow everything (appliances, worktops, and hob) to be placed closer to each other, which results in an efficient and user-friendly cooking zone. That's why one wall kitchen ideas are used more and more especially in open-plan Scandinavian and contemporary kitchens.
Also, just because they are generally smaller doesn't mean that the design possibilities for single-all kitchens are limited. Color blocking and halfway-splitting design methods can create engaging and well-articulated color schemes. Additionally, island units can be incorporated to provide extra worktops and storage. But depending on the needs, a formal or informal dining such banquette can also be adjoined to the kitchen zone to develop a better perception of space. Looking for some solid examples? Here we gathered multiple one wall kitchen ideas that will whet your appetite and inspire your next overhaul projects.
What is one walled kitchen?
Generally found in lofts and studio apartments, one wall kitchen, a.k.a single-wall kitchen, refers to kitchens featuring cabinets aligned against only one wall. In other words, it accommodates a single arm of cabinetry, which is preferable in small spaces. But it is more efficient than it is assumed since the appliances and sink are kept closer in these kitchen layouts.
One Wall Kitchen Layout
One wall kitchen layout requires all the cabinets aligned along a single wall, keeping appliances, sink, cooking space, and hob close to each other. This way, it provides a more compact space and still feels efficient. As for the aesthetic needs of one-wall kitchens, you can feel free to go with monochromatic and contrasting color schemes, pops of colors, and geometric forms to build enough interest.
One Wall Kitchen with Island
If you have enough space and the perimeter counters don't provide you with enough benchtop and storage, why not get an island? Some homeowners even use island cabinets as pantries. In short, you can employ them for a variety of reasons.
Open Concept One Wall Kitchen
When one-wall kitchens are open-plan concepts, they can benefit from the lounge area as well and even steal some space from it. And by integrating a kitchen island, you can easily develop a sense of space and differentiate the kitchen from the lounge. In other words, open-plan layouts benefit single-wall kitchens significantly, while the separate ones are denied extra airiness and spaciousness that could be borrowed from the living area. When designing such kitchens, you can either use a monochromatic palette for the kitchen to distinguish it or orchestrate a similar color and material palette to create a harmonious look.
What are the disadvantages of one wall kitchen layout?
One-wall kitchen ideas layouts, since they align everything along a single wall, might look cramped for they pack everything all together (appliances, sink, hob, dishwasher, etc.). But from another perspective, it also means that you won't have to move around too much in these kitchens as everything you need feels closer.
Secondly, a limited benchtop is another disadvantage, making it hard for more than two people (or perhaps even one) to work at the same time. Thus, it necessitates the incorporation of something extra which could be an island, cart, or free-stand table.
Small One Wall Kitchen
Some designers choose different colors for top and bottom cabinets to add a distinguished character to the kitchen. And these kitchens are extra eligible for contemporary and industrial looks. So don't shy away from incorporating different textures and materials depending on your personal taste! Just because they are small doesn't mean that they will be short of any statement looks.
How much space do you need for one wall kitchen?
Generally, you will need an 8 feet space for a one wall kitchen layout to ensure efficiency and create user friendly working area. On the other hand, you need to consider the specific needs and aspects when determining the necessary space size.
What are the benefits of having a one-wall kitchen layout?
First of all, one-wall kitchen layouts tend to cost less when compared to other layouts. This, in turn, allows you to spend more money on other items and materials. For example, instead of going marble-look porcelain tiles, you can get a marble backsplash.
Another benefit of these kitchens is that you find everything easily within arm's reach. Thus, you won't have to move around too much.
Thirdly, designing these kitchens is extra fun. You can use color-blocking and halfway-splitting methods to create different visual zones and introduce pops of colors. Since the application areas are relatively smaller, as mentioned before, you can go with high-end materials. Plus, it also means that you have less backsplash surface and worktop to clean in addition to the less backsplash area to seal as well.
Above all, if you live alone or don't have a big family, a one-wall kitchen will feel big enough for you to perform all sorts of kitchen tasks efficiently.
What are the smallest dimensions you can have for a one-wall kitchen?
Generally, the minimum is 5.91 feet*9.84 feet, which leaves a minimum distance of 2.95 feet to 3.94 feet for human traffic. Given that such small dimensions are more common in studio apartments and lofts with open-plan layouts, you can steal some space from the lounge and integrate a seating area, banquette, or island to extend your kitchen to a degree.
Modern One Wall Kitchen
Modern kitchens generally support one-wall layouts with an island that has a cantilevered or curved form. And they also generally go with two-tone or monochromatic joinery and use highend materials to provide a streamlined look. Crafting refined looks, they provide comfort for the eyes and focus on the less-cluttered looks thus keeping the countertops free as much as possible.
One Wall Kitchen Backsplash
Backsplashes for one-wall kitchens could be anything from mirror backsplashes to metal, glass sheets, ceramic, marble, and quartz. You can also lay subway tiles in a pattern that feels more geometric and eye-catching. Marble slab backsplashes, again, are popular in these kitchens too, providing sumptuous finishes. But the good part is that since these kitchens generally have less space for the backsplash, you can go with a high-end material like marble, which wouldn't cost you much in total. Less space would also minimize the installation and labor costs.
How do you make the most of a single-wall kitchen?
To make the most of a single-wall kitchen, you can take all the cabinets to the ceiling. You can integrate more full-height cabinets if the intention is to maximize the storage capacity of your kitchen. But if you think, the base counters are enough for you, you can go with a floating shelf instead of upper wall units. This way, you make your kitchen feel open and free, which will result in a more welcoming look.
Design and bringing the right materials and colors also help you make the most of the single-wall kitchen. For example, mirror and reflective glass sheet backsplashes are popular to enhance the kitchen.
And if you have enough space, you can incorporate a kitchen island. Most single-wall kitchens prefer to go with a kitchen island, big or small, to create a social hub of sorts, a bonus worktop, and storage.
One Wall Kitchen Cabinets
In one-wall kitchen cabinets, you can utilize full-height cabinets to optimize storage and base counters paired with wall units. But if you don't need upper cabinetry, that's even better. You can get floating shelves or use suspended shelves instead of closed cabinets. The open shelves leave more room for the backsplash, personal items, and art objects. Especially, if you think eclectic kitchens offer the best look for you, then you can use floating shelves and suspended shelves to ditch the upper cabinetry.
How much does one wall kitchen cost?
The costs of a one-wall kitchen depend on the size of the space and which material you choose for the backsplash, cabinets, and floor tiles. Typically, the prices range between 75 and 150 USD per square foot. On the other hand, according to your choices, this price can go up from $25,000 to $35,000 or more, the limit is the sky!