34+ Industrial Bathroom Ideas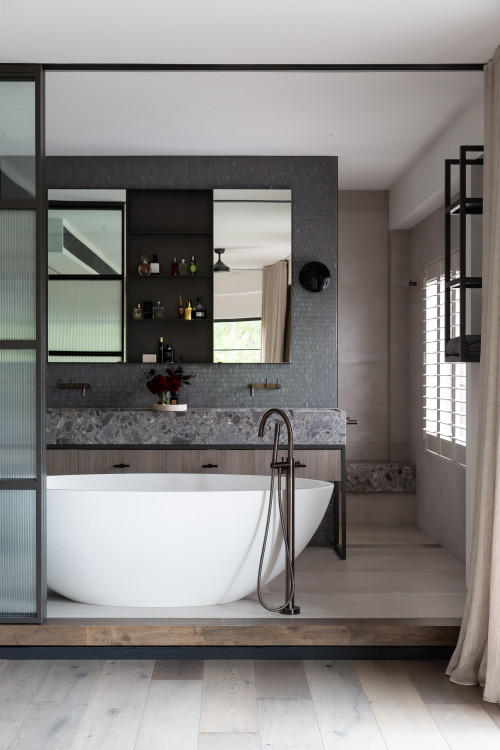 ID# 152601 | Houzz.com – Credit | © Anna Antoniades Architecture
---
Industrial Bathroom Ideas with Concrete Countertops
In an industrial bathroom design, elements like concrete and wood give it a raw, rugged effect – perfect for anyone looking to express their own unique style. Countertops made from concrete are both durable and attractive, while wood floors add a warmth and depth to the design. For a modern feel, why not try a white freestanding tub, and contrast with dark gray accents through tile or paint? Flat-panel wood cabinets provide much-needed storage and enhance the homely, industrial vibe. Finally, use shades of white on walls, ceilings and fittings to keep the space feeling light, airy and welcoming.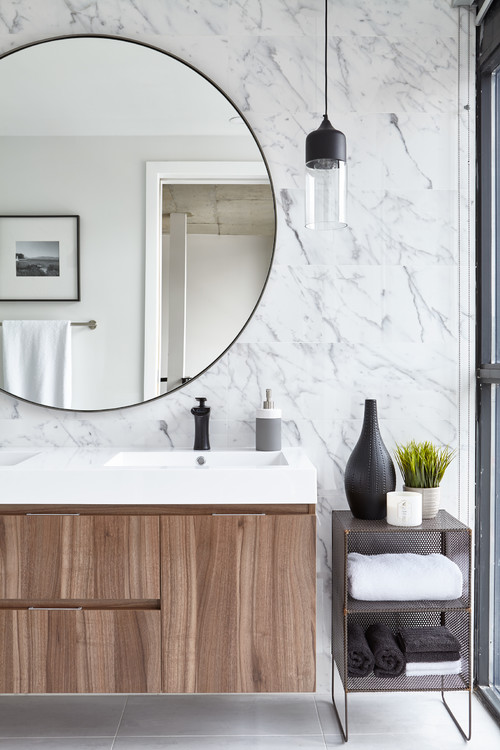 ID# 152618 | Houzz.com – Credit | © LUX Design | Interior Design Build
---
Black and Glass Pendant for a Sleek Design
The modern and space-saving floating vanity design gives the illusion of extra space, while the crisp white countertops combine with the medium-tone vanity to create a sense of cleanliness and simplicity. The double-integrated sinks and black faucets bring sleek functionality to the room, perfectly supplementing the modern aesthetic. The large round mirror exudes elegance with its thin black frame, reflecting light and radiating a sense of depth. Marble-like wall tiles add a luxurious touch to the design while the neutral gray floor tiles are practical to clean and maintain. Together, this design brings a harmonious combination of beauty, functionality, and comfort to the bathroom — an inviting and refreshing space of relax and renewal.
Industrial Bathroom Ideas
Industrial bathroom ideas offer a unique way to add a bold and edgy ambiance to your home. With its use of raw, unfinished materials like concrete, steel, and exposed plumbing, it's the perfect style for those who admire urban aesthetics and wish to add an industrial twist to their bathroom. To create this look, incorporate concrete in your design. Opt for a concrete sink, countertops, and tiling on the walls to exude an industrial vibe. Or, if you prefer something simpler, a concrete sink with an industrial-style faucet and a stainless steel toilet are great options that'll give your bathroom a modern-industrial flair. Whatever you choose, industrial bathroom ideas will surely inject your space with botanicals of chic, yet edgy, energy.
Stylish Industrial Bathroom Decor
Raw and unfinished materials such as reclaimed wood, brick, and stone can create an enchanting industrial atmosphere in your bathroom. Enhancing the space with a reclaimed wood vanity or an accent wall crafted from brick can give it a welcomed touch. While adding these materials, pick industrial-style lightings like a metal cage sconce or a bare bulb pendant light to round up the look. You could opt for a neutral palette of black, white, gray, and natural wood tones to achieve a minimalist, clean aesthetic that's well-suited to the stylish industrial materials. Don't forget to style it up with a few simple and minimal accessories to make it more welcoming.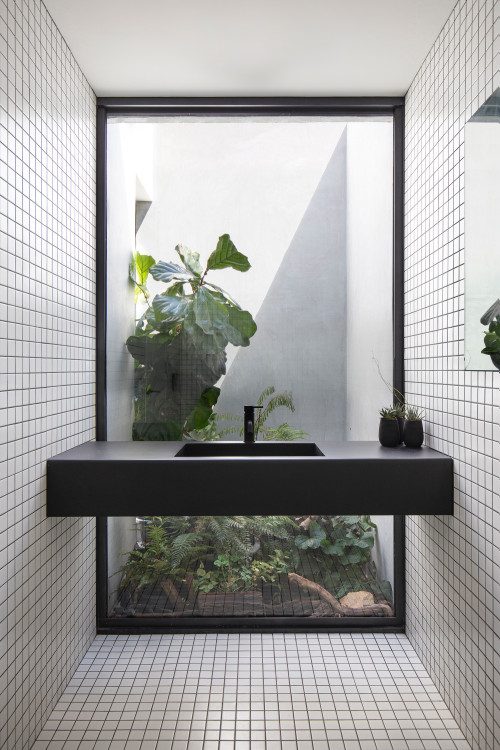 ID# 152602 | Houzz.com – Credit | © Brickworks Building Products
---
Black Countertops with a Black Integrated Sink and a Window Backsplash
This industrial bathroom design inspires awe, with its
unique and bold backsplash
window! The black frame supplies a captivating contrast to the bright white small square tile walls, and offers an exquisite view of the outdoors. This window ties the room together with the addition of natural light and greenery, giving the room a refreshing sense of nature's presence. The use of the white tile on the walls and floors together with a striking gray grout create a crisp, modern look; while the innovative black countertop and integrated sink lend a cohesive and minimalist feel. Altogether, this bathroom design invokes a feeling of elegance and luxury.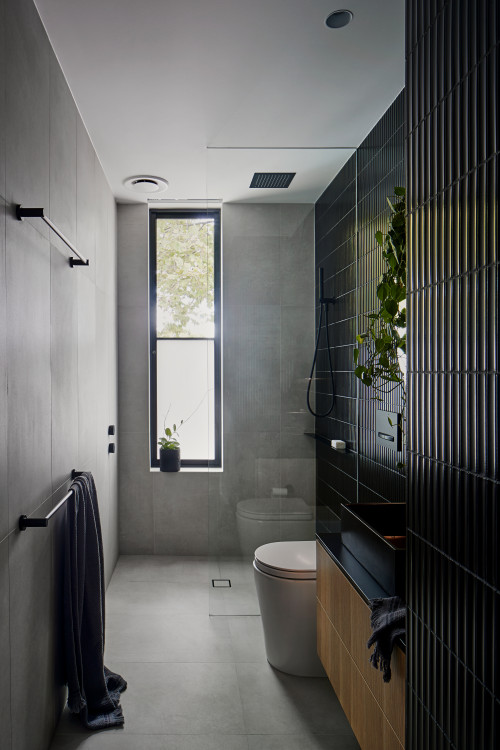 ID# 152603 | Houzz.com – Credit | © Mcmahon and Nerlich
---
Black Wall Tiles for Industrial Bathroom Ideas
This industrial bathroom design offers an elegant and sleek look, with its combination of grey floor and wall tiles. The neutral color of the tiles adds depth and dimension to the bathroom, creating a versatile backdrop for the other design elements. The floating vanity adds a unique touch, its flat-panel wood material giving warmth and contrast to the grey tiles. The black countertops further enhance the modern and cohesive look of the bathroom, and the open shower with its black tile accent wall makes a bold statement. This accent wall also doubles as a backsplash – a practical and aesthetically pleasing addition. Altogether, this bathroom design evokes feelings of sophistication, balance, and harmony.
How do you style an industrial bathroom?
Achieve an industrial-style bathroom by using brick, concrete and metal for the walls, fixtures, and materials. Neutral hues of black, white, and grey can also contribute to the atmosphere. For light fixtures, try hanging metal pendants or vintage-style bulbs for an attractive feel. To add a warm touch, incorporate open shelves or a wooden vanity crafted from reclaimed wood. Ultimately, these pieces will make your bathroom look and feel industrial and inviting.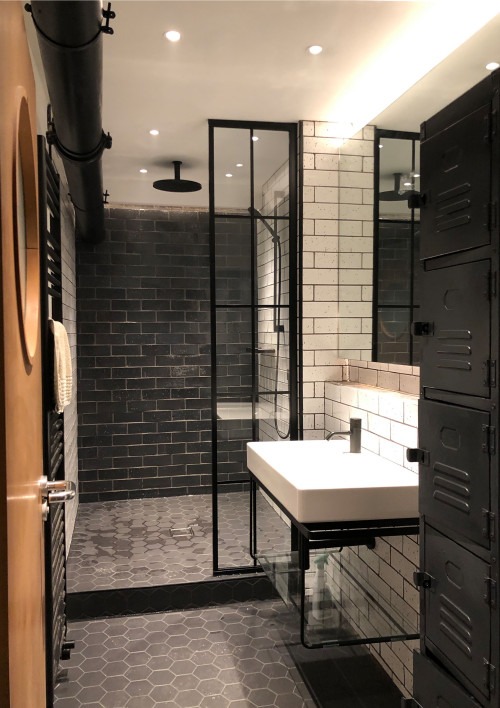 ID# 152604 | Houzz.com – Credit | © Mustard House Design
---
Black and White Subway Tiles With Gray Hexagon Floors
This industrial bathroom design offers a captivating blend of gray hexagon tile floors and black and white subway tile walls. The hexagon tile floors provide a unique and eye-catching dynamic to the space, while the black and white subway tile walls in the walk-in shower present a riveting contrast. This monochromatic color scheme of black, gray, and white is heightened by the wood door, which gives a cozy atmosphere to the area. The white grout of the black hexagonal tiles adds a complementary touch to the black-and-white dichotomy, crafting a sleek and harmonious look all through the restroom. This combination of various textures and styles creates a stunning and inviting space that stirs emotions.
Natural Stone Mosaic Tiles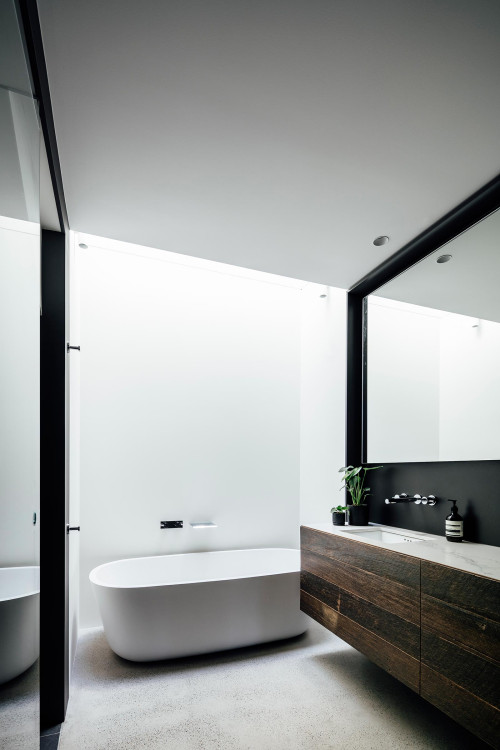 ID# 152605 | Houzz.com – Credit | © Mitsuori Architects
---
Contemporary Industrial Bathroom Ideas with a Dark Wood Vanity
This industrial modern bathroom design features a combination of both light and dark elements that evoke pleasant feelings of openness, brightness, warmth and elegance. The white vaulted ceiling and ceiling window combine to create a sense of spaciousness, inviting natural light to flood the space and create a bright and airy atmosphere. The walls, in white, offer balance to the ceiling, making the room feel even more open and expansive. Beige floors then provide the perfect warm and neutral base, allowing the other design elements — like the floating vanity — to truly stand out. This vanity, made of dark wood, adds a touch of warmth and sophistication, while the white countertops provide a lovely contrast, appearing crisp and modern in their own right.
What colors go well with industrial?
Industrial style can be enhanced with neutrals like black, white, gray and brown – creating a masculine, hard-wearing look. For an extra splash of vibrancy, add deep blues, greens or pops of yellow or red. Natural materials such as wood, leather and stone can help add a sense of warmth and texture, making it a space where you'll love to be.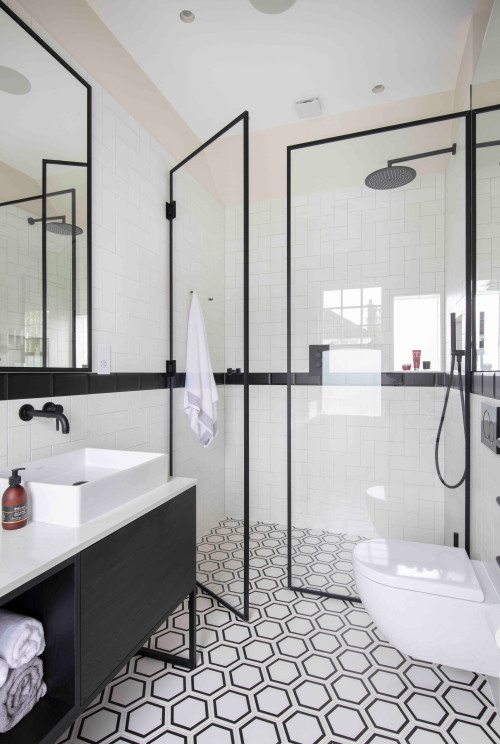 ID# 152606 | Houzz.com – Credit | © Amberth
---
Striking Black and White Contrast with Hexagon Floor Tiles
This industrial bathroom design creates an intriguing aesthetic that is sure to capture the eye! Utilizing a combination of white subway tile walls and black and white hexagon floor tiles it creates a modern and dynamic look that evokes emotion. The contrast between the white and black provides a textured appeal that adds depth and dimension to the space. The unique and graphic pattern of the floor tiles further enhances the feeling of depth in the industrial design style.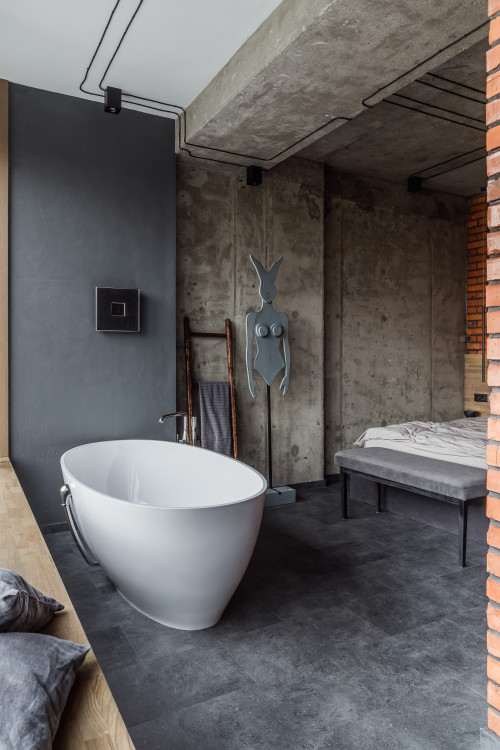 ID# 152607 | Houzz.com – Credit | © Андрей Попов
---
Industrial Bathroom Ideas with Concrete and Brick Walls
This industrial bathroom design has an undeniably raw and rugged aesthetic, with concrete walls and gray floor tiles creating a rough and unfinished look. The addition of brick walls adds a unique texture to the space, making it visually striking, and the exposed black cables bring authenticity to the industrial vibes. Meanwhile, the white freestanding tub provides a refreshing contrast to the raw elements and draws the eye as a luxurious and restful focal point. This thoughtful choice of materials evokes strong feelings of relaxation and comfort, as well as robustness and durability.
Industrial Bathroom Decor
When it comes to bathroom design, industrial style is a unique and visually striking choice. Industrial bathroom decor incorporates raw and rugged materials such as concrete, brick, and metal, which give a sense of authenticity and functionality to the space. One of the key elements of industrial bathroom decor is the use of concrete. Concrete can be used for countertops, floors, and even walls, creating a raw and unfinished look typical of industrial design. The rough texture of concrete also adds depth and dimension to the space. Brick is another popular material choice in industrial bathroom decor. Exposed brick walls add an interesting texture to the space and give the bathroom a sense of authenticity. Exposed pipes and cables are also often incorporated in industrial bathroom designs, which adds to the raw and rugged aesthetic of the space.
Add Character to Your Bathroom
Flooring is another important aspect of industrial bathroom decor. Gray floor tiles, wood, or even concrete floors are popular choices as they add a sense of depth and dimension to the space while also providing a neutral base for other design elements to stand out. Dark wood, metal, and black accents are also often used in industrial bathroom decor to add contrast and depth to the space. A floating vanity made of dark wood and black countertops, black frames for the shower or window, black tapware, and a black vessel sink all can be great choices to complement the space.
In addition to raw and rugged materials, industrial bathroom decor also incorporates sleek and modern elements such as white freestanding tubs, large frameless mirrors, and natural light. These elements add a sense of luxury and relaxation to the space and provide a clean and refreshing contrast to the raw and rugged materials. Lighting is also an important aspect of industrial bathroom decor. Using natural light through large windows, skylights or even a ceiling window is a great way to create a bright and airy atmosphere in the bathroom.
Industrial Bathroom Vanity
When it comes to designing an industrial bathroom, the vanity is a crucial factor in creating an aesthetic that radiates warmth, style and utility. A popular, yet timeless style is the floating vanity, which provides an elegant touch to the space and uncomplicated visibility, due to its lack of contact with the floor. Different materials like wood, metal, or concrete can be used to compose a floating vanity, each creating a distinct atmosphere. If a dark wood and black countertop are chosen, it could bring a rich contrast to the warm industrial materials, granting a timeless touch of comfort and beauty to the space.
Experience a lifetime of durability and convenience with the use of a concrete vanity in your industrial bathroom. This raw, unfinished look stands to provide a consistent and low-maintenance styling that invokes a sense of security, stability, and comfort. With a coordinating concrete countertop and black or white vessel sink, achieving this timeless industrial appeal is made simple.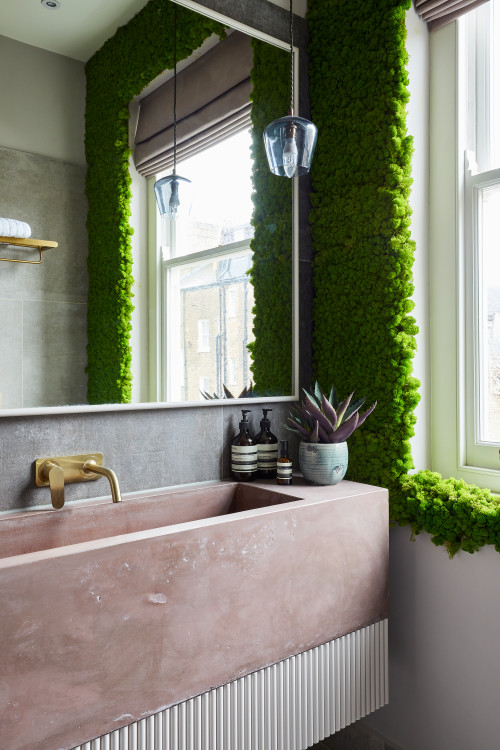 ID# 152608 | Houzz.com – Credit | © Warrington + Rose
---
Reindeer Moss Wall for an Industrial Bathroom Vanity Design
This bathroom has a unique pink concrete countertop and a sink paired with white cabinetry for a striking contrast! The gray wall backsplash adds a touch of industrial style, while the large mirror with thin white frames provides a sleek and modern look. The white walls and living wall of reindeer moss add a natural element to the space, making it a visually interesting and cohesive design.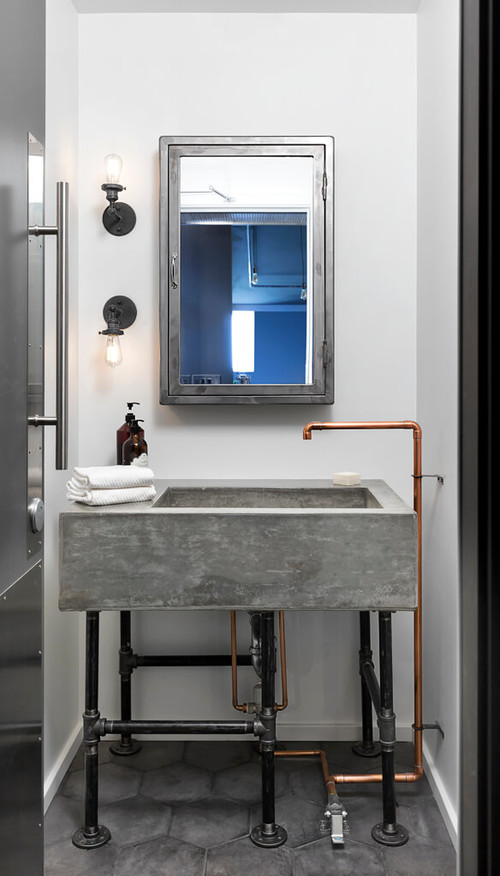 ID# 152609 | Houzz.com – Credit | © jodi foster design + planning
---
Small Bathroom Design with Concrete Countertops
This unique bathroom offers a contemporary aesthetic with its freestanding vanity, constructed from black pipes and topped with a chic concrete countertop and basin. Adding convenience and style, the vanity offers extra workspace as well. The glamorous brass faucet adds a hint of elegance to the overall look, while the bright white walls provide a beautiful contrast with the industrial design of the vanity. The textured, patterned hexagon concrete tiles complete the design, making this delightful space come alive.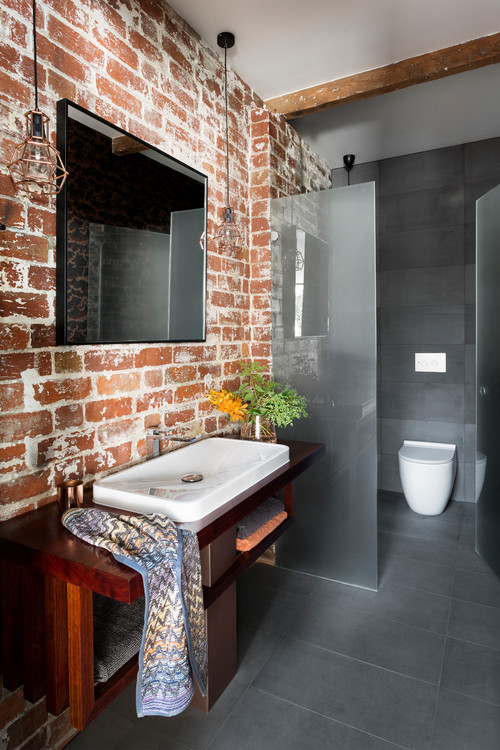 ID# 152610 | Houzz.com – Credit
---
Brick Backsplash Wall for an Industrial Bathroom Vanity
This industrial bathroom has a unique combination of materials and textures that create an interesting and cohesive design! The dark wood open cabinetry provides storage and a warm contrast to the white drop-in sink. The brick backsplash wall gives the space an industrial feel, and extends to the toilet area, creating a cohesive design. The gray floor and wall tiles add to the industrial aesthetic, while also providing a neutral backdrop that allows the other design elements to stand out. The frosted glass partition wall divides the toilet area from the vanity area, providing privacy while still allowing natural light to flow through the space.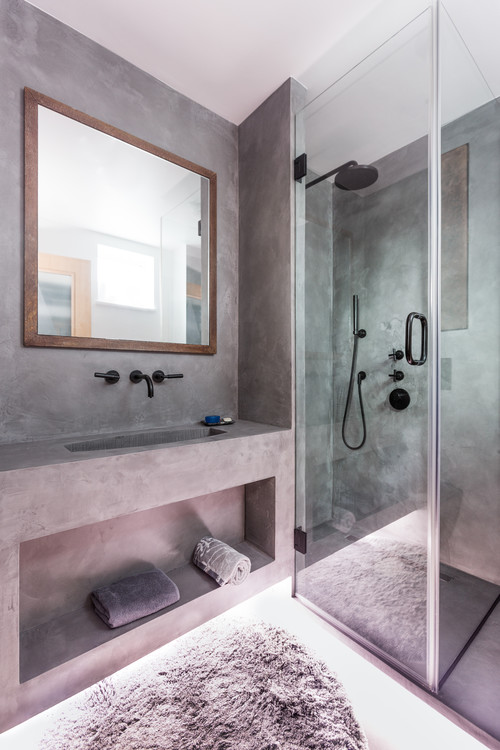 ID# 152611 | Houzz.com – Credit | © Cemlux
---
Concrete Walls with an Open Cabinetry
This master bathroom radiates a refreshing vibe with its modern and unique design. The concrete walls, cabinetry and countertops evoke a sleek industrial energy. A wood frame mirror delicately warms up the area, while the white tile floors bring a classic contrast. LED lighting under the floating concrete cabinets radiates a subtle and even glow, making the room seem airy and bright. The white ceilings complete the clean and minimalistic ambiance, allowing an immense feeling of spaciousness.
Industrial Bathroom Backsplash
The industrial bathroom backsplash can breathe life and personality into a bathroom, creating a warm and inviting ambiance. With raw and unfinished materials, such as concrete, brick, and metal, this style of design radiates simplicity and functionality. Let's explore the best industrial backsplash designs and how you can bring them into your space. Concrete makes an excellent choice for an industrial bathroom backsplash. It provides a durable, classic look that can easily be cleaned and maintained, giving your bathroom a unique and timeless appearance. Imagine the warmth and inviting atmosphere that concrete brings – a perfect addition to any bathroom.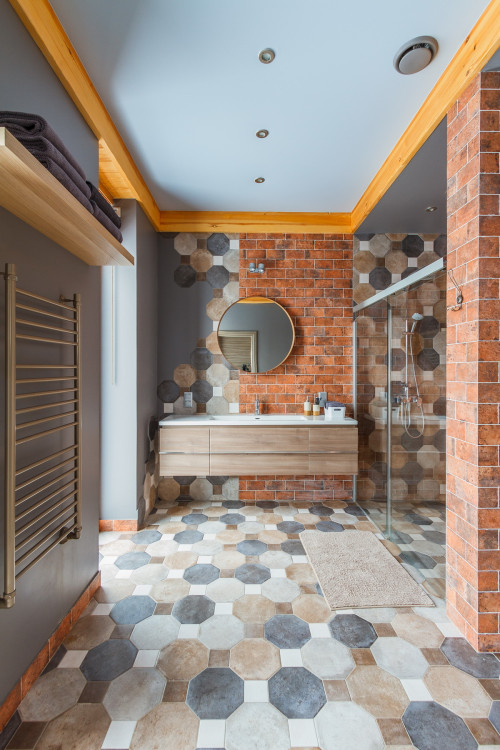 ID# 152612 | Houzz.com – Credit | © Салон интерьеров "EGO Design"
---
Industrial Bathroom Backsplash with Bricks and Hexagons
This industrial style bathroom showcases an interesting use of hexagon floor tiles in a gray and beige color scheme! The hexagon tiles are not only used for flooring but also as a backsplash wall, creating a cohesive and visually appealing design. The combination of gray and beige gives the space a neutral and elegant look. The backsplash wall also features bricks, which adds a rustic and industrial touch to the space. The bricks are in harmony with the hexagon tiles, making the wall a focal point in the bathroom.
The light wood flat-panel floating vanity with white countertops provides a clean and modern look, which contrasts well with the rustic elements in the space. The round mirror adds a touch of elegance and simplicity to the space. The use of light wood also brings warmth to the space making it feel inviting.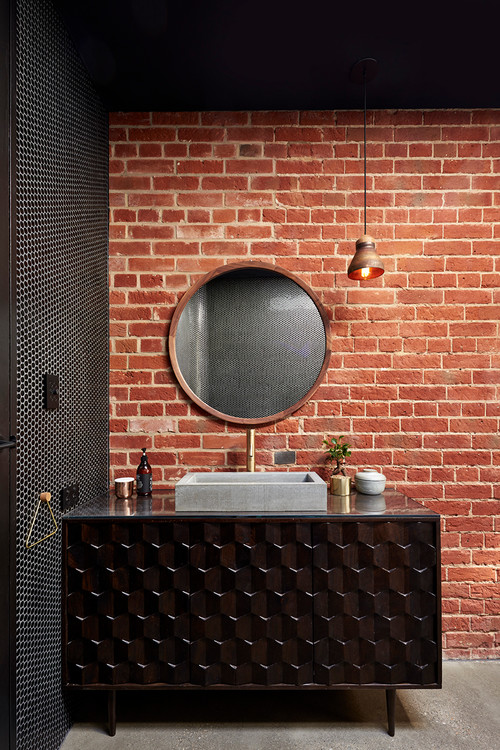 ID# 152613 | Houzz.com – Credit | © sw-architects
---
Furniture Like Cabinets with a Concrete Vessel Sink
The brick wall offers a fascinating texture and sight for the other elements of the design. The warm and stylish furniture-like dark wood cabinetry matches beautifully with the brick wall, adding a sense of coziness and comfort. The concrete vessel sink unified with brass is a blend of luxury and elegance, while the subtle use of brass details provides an air of sophistication and glitz. The black tiles on the ceiling and walls set a dramatic atmosphere and generate a homely industrial effect. Finally, the grey floors balance the black and wood modifications and provide a comfortable ground for this special design.
How much does it cost a build an industrial bathroom?
The cost of constructing a luxurious industrial bathroom may vary greatly depending on different factors such as size, materials and the project's location. For a basic industrial-style bathroom redesign, estimates usually range from $5,000 to $10,000—including new fixtures, tiles and paint but not including any major structural adjustments.
However, for a more sophisticated industrial design bathroom model, budgets could range from $15,000 to $30,000 or even more. This could include incorporating exposed brick or concrete walls, integrating a reclaimed wood vanity and high-end industrial lighting into the setup.
Be conscious that the costs will vary depending on locale, materials and labor. To get an idea on what your budget should be, seek multiple quotes from diverse contractors.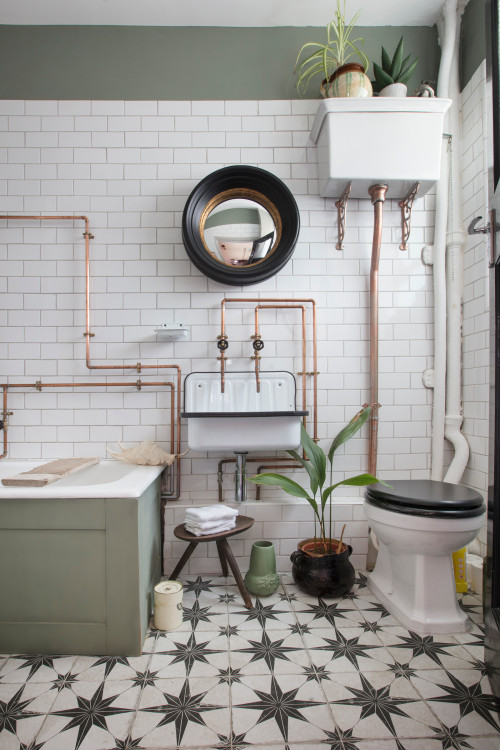 ID# 152614 | Houzz.com – Credit | © Zoe Willis Design
---
Industrial Bathroom Backsplash with White Subway Tiles and Pipes
This bathroom has a classic and timeless design with a white subway tile wall and backsplash combination. The neutral tones of the white tiles majestically provide a clean, classic look that is effortless to maintain. The subway tiles, a classic design element, effortlessly tie the room together and can fit in any style of bathroom. The unique olive green and white patterned tile floor adds a burst of life and interest to the space, breaking the cleanness of the white walls. The subtle eye-catching emerald green color wonderfully complements the tiles and invokes an atmosphere of freshness and nature. The brass pipes add a hint of poise and class to the room, perfectly harmonizing with both the white and green tiles, making everything aesthetically pleasing.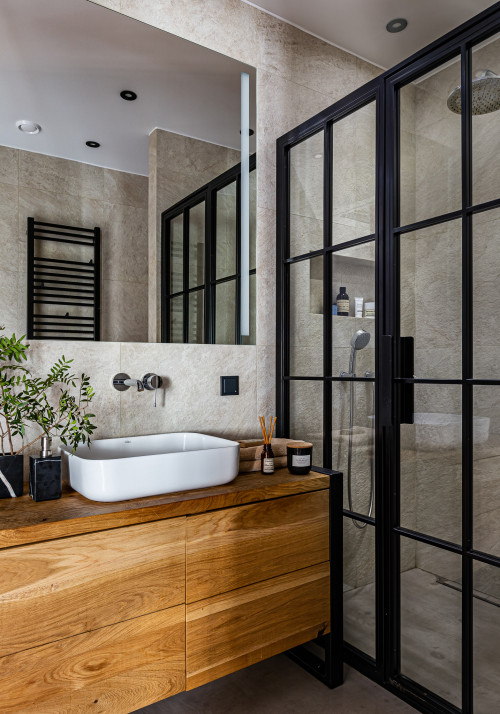 ID# 152615 | Houzz.com – Credit | © Tatiana Nikitina
---
Beige Porcelain Tiles and a Medium-tone Wood Floating Vanity
The vanity offers plenty of storage and countertop space while its elegant floating design illusorily grants more room in the bathroom. The medium-toned wood finish of the vanity infuses the area with a cozy and organic atmosphere that befits the overall aesthetic of the space. The white vessel sink perched atop the wood countertop fashions a crisp and contemporary vibe. Vessel sink designs add a stylish touch to bath areas, as the sinks are designed to be placed atop countertops instead of a recessed area that further spotlights the sink.
The warmly hued countertop further enhances the vanity's calming presence, as do the beige porcelain wall tiles. The tiles offer a neutral and composed appearance that perfectly matches the wood countertop and the medium-toned vanity, making the space complete with a unified and delightful visual appeal. The tiles are easy to maintain and tidy, making them a practical choice for bathrooms.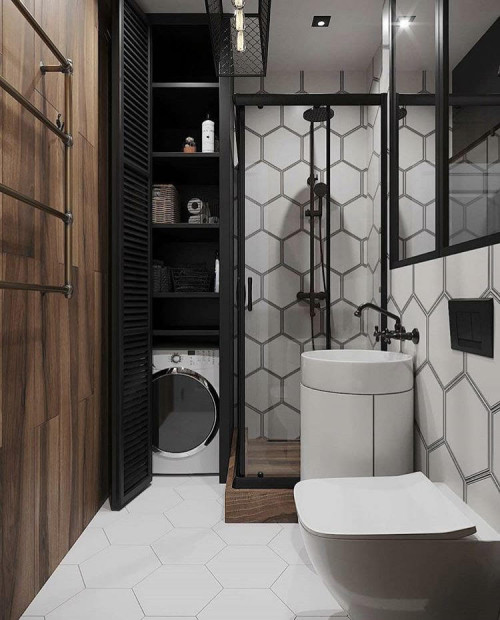 ID# 152616 | Houzz.com – Credit | © DOMEO / ДОМЕО
---
Industrial Bathroom Backsplash Ideas with Hexagon Tiles
The bathroom has a distinct and visually appealing design, with gray and white hexagon tiles on the walls and shower that bring texture and fascination to the area! The hues form a neutral but classy combination and the tiles reach the ground for a consistent finish. Wood panels cover the walls, inviting warmth and natural vigor to the room and creating a rustic yet cozy mood. The black cabinetry simultaneously modernizes and cleanses the space while the wall-hung toilet and black details, like the frame of the mirror and tapware, bring a touch of sophistication and elegance. The black elements bring a unified look, enhancing the cabinetry and contributing to the humans' comfort.
Industrial Bathroom Lighting Fixtures
Industrial design is characterized by raw and unfinished materials, such as concrete, brick, and metal, and is known for its simplicity and functionality. When it comes to lighting, industrial bathroom lighting fixtures can add a unique and stylish touch to any bathroom design. In this article, we'll explore some of the best industrial bathroom lighting fixtures and how you can incorporate them into your bathroom. One popular industrial bathroom lighting fixture is the use of bare bulb pendants. These fixtures are simple and minimalistic, and they add a raw and unfinished feel to the space. They can be hung individually or in a cluster, depending on the desired look. They can also be used to highlight specific areas of the bathroom, such as the sink or shower.
Using a ceiling fan with a light kit is another great option for industrial bathroom lighting. This type of fixture can provide both task and ambient lighting, and it can also help circulate air in the bathroom. Ceiling fans with light kits are an energy-efficient option and they come in a variety of styles and finishes to match the industrial aesthetic of the bathroom. Another popular industrial bathroom lighting fixture is the use of reclaimed wood. Reclaimed wood is not only environmentally friendly, but it gives the space a natural and rustic feel. It can be used to create a unique and interesting light fixture, such as a reclaimed wood chandelier.
Different Styles of Industrial Bathrooms
For those seeking to add a unique and sophisticated flair to their bathroom décor, industrial bathroom design is a perfect choice! With its inventive blend of raw materials, exposed pipework, and timeless vintage elements, an industrial style bathroom can be crafted to suit your individual style and personality. In this article, we'll examine the different kinds of industrial bathroom design, from modern and chic, to rustic and cozy, to small and efficient. No matter your desired style and atmosphere, industrial design will bring a touch of striking elegance and edgy 'wow factor' to your home.
Modern Industrial Bathroom
Modern industrial bathrooms evoke emotion through their clean lines, minimalistic design and focus on functionality. Exposed brick or concrete is given a polished look, while sleek black and stainless steel fixtures play the role of adding a contemporary edge. It is easy to imagine the feeling of luxury when viewing the simple and functional furniture, floating vanity and large mirrors with thin frames. We are invigorated by the possibilities that present themselves in modern industrial bathrooms.
Rustic Industrial Bathroom
Rustic industrial bathrooms can bring a sense of warmth and history, with their focus on warm, earthy tones and natural materials. Reclaimed wood, stone, and metal elements can be used for a sense of coziness, while vintage or antique fixtures like clawfoot tubs and metal-legged sinks create an inviting ambiance. Exposed light bulbs or pendant lights can further enhance the feeling of comfort and relaxation in your rustic industrial bathroom.
Small Industrial Bathroom
Small industrial bathrooms are designed to maximize space and functionality, while still incorporating industrial elements. A small industrial bathroom often features a minimalistic design, with a focus on functionality and space-saving features such as wall-mounted toilets and floating vanities. Exposed pipes and raw materials such as concrete or brick can be used to add a sense of industrial chic. Lighting fixtures and decor are kept minimalistic to avoid overloading the space and create a sense of spaciousness.