31+ Bathroom Design Trends 2023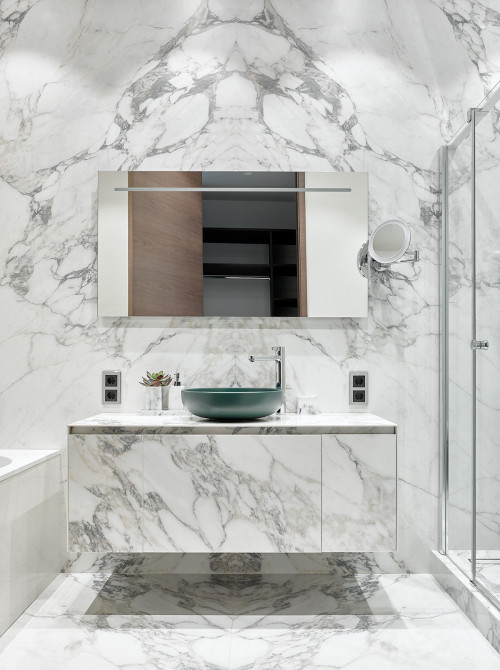 ID# 155204 | Houzz.com – Credit | © Ariana Ahmad Interior Design
---
All-marble Design for Bathroom Design Trends 2023
2023 is the year of the statement-maker bathrooms! The book-matched design of the marble walls and floors provides a strong and opulent design look. The marble floating vanity design joins their richness and complements the eye-catchy look. The blue color vessel sink drops a pop of color and creates a visually interesting appeal to the space.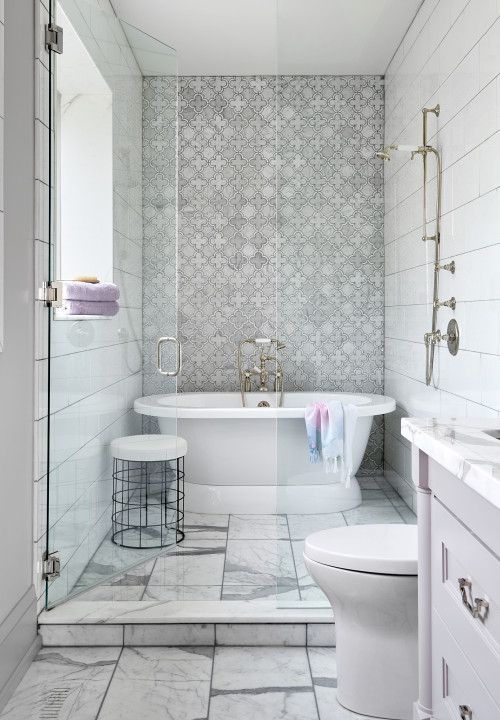 ID# 155222 | Houzz.com – Credit | © Homekin
---
Textures and Patterns for a Stylish White Bathroom
This bathroom is an oasis of sophistication and opulence thanks to its luxurious design. The marble floor tiles add a touch of exquisite grandeur while the white shiplap walls create a crisp and classic look. The center of the room is the white freestanding bathtub, surrounded by gleaming chrome accents such as handles, tapware, and hardware for a modern feel. To further enhance the bathroom's classic aesthetic, the shower area features a beautiful gray and white patterned marble-look tile accent wall, providing an elevated touch of elegance. This bathroom is inviting and luxurious, designed with human feelings in mind to create a captivating and harmonious space.
Bathroom Design Trends 2023
Bathroom design is always going through a transformation, and the latest bathroom trends 2023 represent a harmonious blend of modern and traditional styles.
White bathrooms
have long been a favorite and they remain a timeless choice for those wanting to create a serene and tranquil ambiance. By utilizing white-colored tile, countertops, and cabinetry, one can easily achieve an elegant effect, while adding a dash of color or pattern can give it an exciting touch. Moreover, adding a bold tile design is an excellent way to inject a powerful statement into the space – from geometrical shapes to vibrant mosaics, these tiles can be used to adorn walls, floors, and even as a shower boarder. It's an amazing feeling when we can bring life to a room and watch it transform.
Bathroom
design trends
2023 are all about creating a tranquil and alluring atmosphere in the home! With minimalist designs becoming increasingly in demand, individuals are looking for ways to achieve this clean look by incorporating simple shapes and lines and restricting their color palettes to monochromatic hues. The spa-like atmosphere is a route many homeowners are taking, leaning towards natural materials like wood and stone, while integrating luxurious elements like rainfall showerheads or freestanding tubs, helping to achieve that cozy sanctuary feel. Homeowners can take their pick of either of these designs, clean and simple retreat or a bold and captivating statement; either way your bathroom is sure to be a comforting and peaceful space!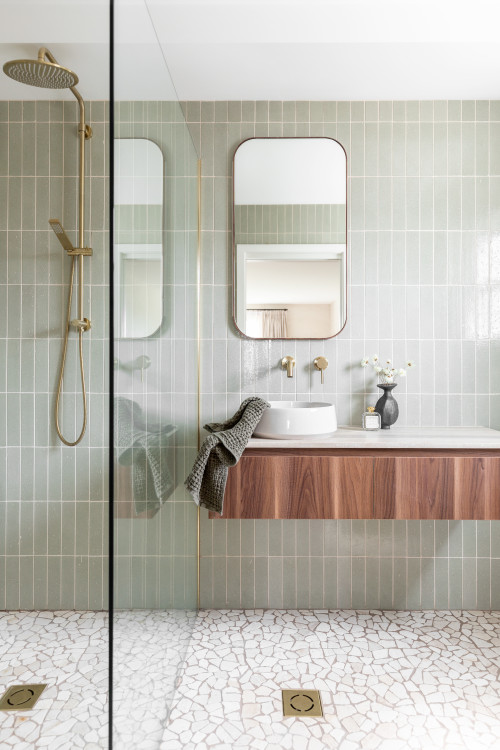 ID# 155201 | Houzz.com – Credit | © ABI Interiors
---
Floating Vanity for Bathroom Design Trends 2023
This bathroom design creates a peaceful and spa-like atmosphere, featuring a floating vanity, walnut wood cabinets and light green tile. These elements combine to create a tranquil and modern space, that showcases natural materials, minimalistic lines and contrasting tones. The floating vanity creates a sense of openness and serenity, while the walnut cabinets offer an organic and modern feel. The sage
green backsplash
tile evokes a calming and refreshing atmosphere, and the white vessel sink completes the look. Altogether, every design element works together to create a calming and visually-striking bathroom, a perfect retreat to relax and reset.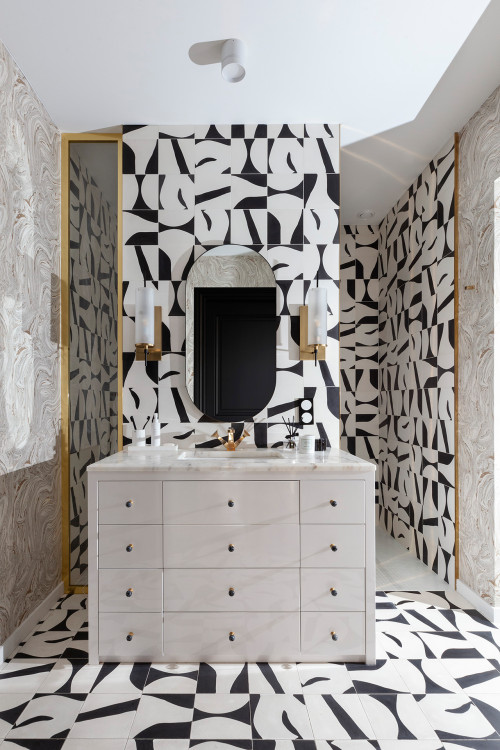 ID# 155202 | Houzz.com – Credit | © Lavka-Design
---
Bold Contrast with Black and White Tiles
The
black and white
patterned tiles take the spotlight, making the white
vanity
almost invisible. The bold lines of the brass against the tiles bring the area to life with a dynamic, lively feel. As these intricate details come together, they create a bathroom interior full of movement and emotion that evokes strong human feelings.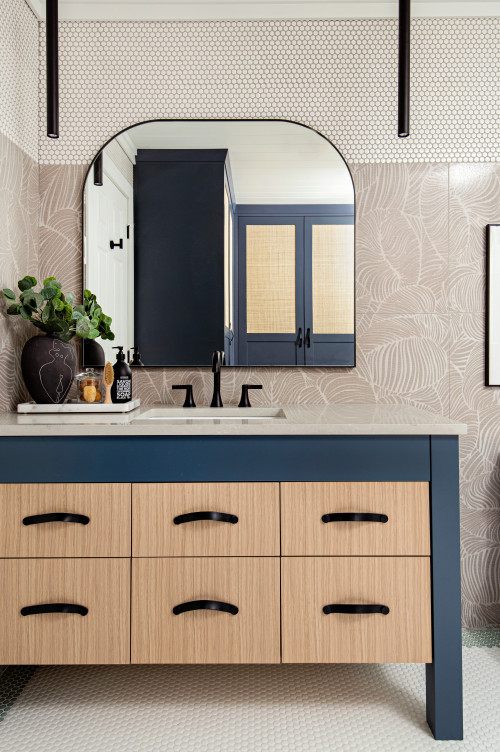 ID# 155203 | Houzz.com – Credit | © Michelle Berwick Design
---
Beach-Style for Bathroom Design Trends 2023
The beach-style bathroom has minimalistic design elements that provide a visually striking look! The blue details of the vanity create an aesthetic contrast with the light wood flat-panel cabinetry of the vanity. Thanks to the black hardware the contrasting look stays lively. The light gray countertops and the beige tile backsplash wall keep the balance of the colorful design. The black details such as the pendant lighting fixtures, mirror frame, and faucet complement the black hardware adding a cohesive and modern appeal to the space.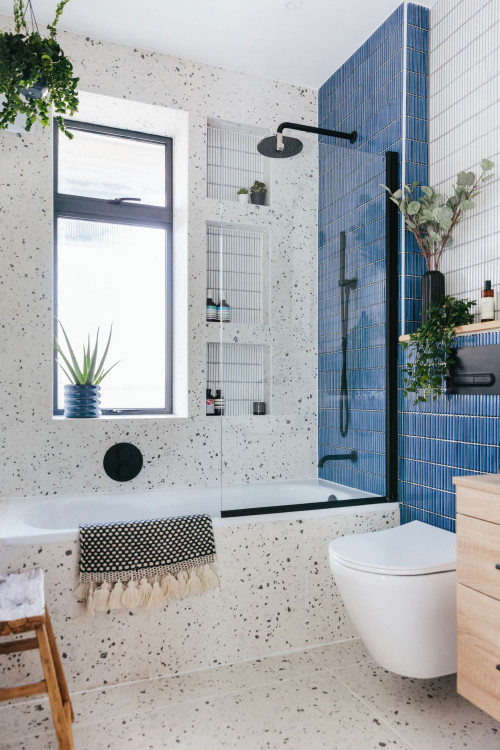 ID# 155205 | Houzz.com – Credit | © My Bespoke Room
---
Terrazzo Details for Bathroom Design Trends 2023
This bathroom is a lovely example of a contemporary bathroom design in 2023! The details draw the eye! The drop-in tub has a lot of texture and pattern details such as terrazzo wall tiles, floor tiles, white matchstick niches, and a blue matchstick accent tile. The terrazzo floors and the blue tiles add a warm and natural aesthetic to the bathroom creating a dynamic atmosphere!
What Are The Current Bathroom Trends for 2023?
The actual haven of the house is the bathroom. It's a location where one may perhaps find tranquility and seclusion. Therefore, design is crucial in these settings. A lot of individuals were finally completing projects they started in prior years but were halted owing to the difficulty of supply chain problems that arose during the epidemic, making 2022 an intriguing year for bathroom design. Because homeowners are now able to appreciate previous patterns and fashions, they are now lasting longer than they may have in the past. Bathroom design will be more significant than ever in 2023. We will see all-white designs for bathrooms, terrazzo tiles, or statement-maker vanities. Let's scroll down and learn what are the current bathroom trends in 2023.
All-White Bathrooms
Using white to create a timeless and classic look in the bathroom evokes a sense of cleanliness and serenity. It is a neutral color that can easily be adapted by changing accessories or decorations to complete the look. White is also a color that reflects light, making the room feel brighter and more spacious – contributing to a peaceful and calming atmosphere. All these features unite to make all-white bathrooms an enduring trend and a favorite among those looking to create a tranquil, inviting atmosphere at home.
Designing an all-white bathroom requires thoughtful consideration of texture and light, to create the desired depth and atmosphere. By mixing glossy and matte finishes on tile and countertops, a pleasing contrast and visual interest can be achieved. Similarly, pairing different textures such as a beautiful glossy subway tile and a rough-hewn marble countertop can create an interesting mix, providing a touch of character and intrigue. When creating an all-white bathroom, natural light should also be considered. With their reflective surfaces, white bathrooms especially benefit from ample natural light, helping to bring out their airy and open feel. In rooms where natural light is limited, consider adding a skylight or a large window to ensure the space can still be filled with brightness and life.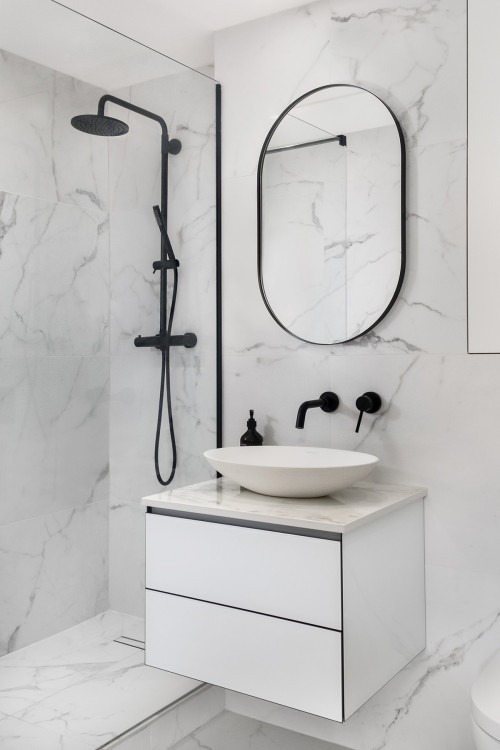 ID# 155206 | Houzz.com – Credit | © KANDO STUDIO
---
All-white Bathroom Design with a Stylish Contrast
This bathroom is an excellent example if you want to create a minimalistic and contemporary design! The marble-look ceramic tile walls and floors surround the bathroom with a classic and elegant appeal while the small white floating vanity complement that design look. The white vessel sink puts a stylish touch on its sleek design. The black tapware and details provide a stylish contrast to the marble texture.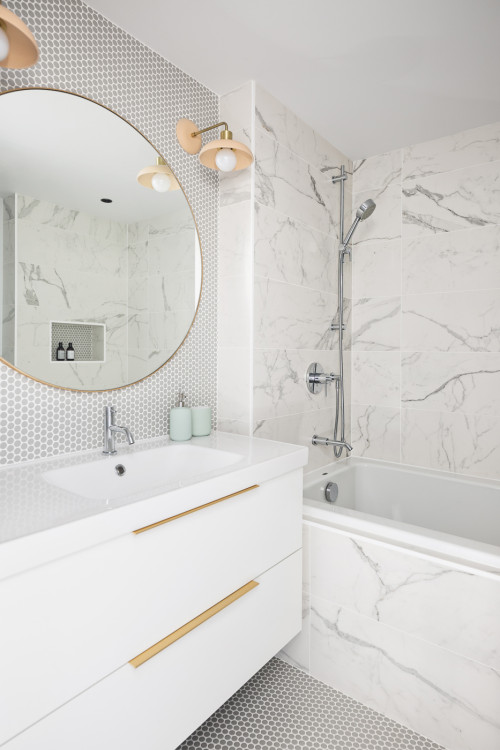 ID# 155207 | Houzz.com – Credit | © Stephanie Brown Inc.
---
Opulent Touch with Brass Details
The penny-round white mosaic tiles are perfect to create a textural look and depth in the bathrooms. The white mosaic tile backsplash and the walls complement each other creating a harmonious look with the marble shower walls. The chrome tapware keeps the modern appeal look alive while the brass details enhance the opulent design look of this all-white bathroom.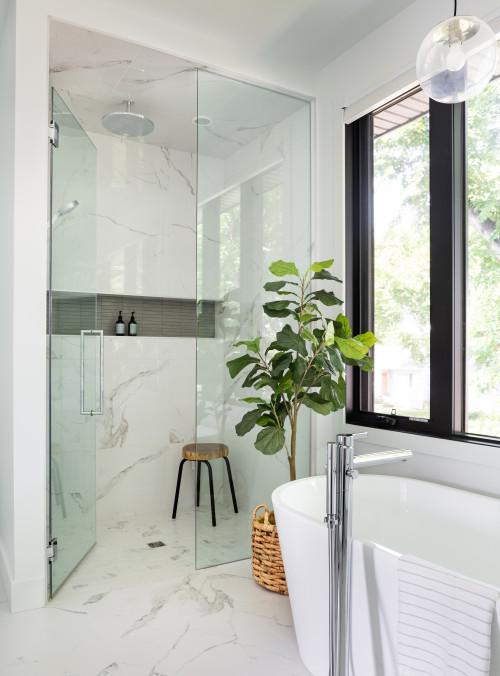 ID# 155208 | Houzz.com – Credit | © Alykhan Velji Design
---
All-white Bathroom Ideas with a Natural Charm
If you have natural light in your bathroom having a plant is a wonderful way to put a little bit of natural charm to the space! This contemporary bathroom has a sleek design look thanks to the white marble floors and walls. The marble enhances the richness of the environment. The wood and greenery bring a warm atmosphere to the bathroom's general look. Thanks to the gray tile shower niche there is a more contemporary look with a space-saving solution. The glass doors of the walk-in shower perfectly complete the bright appeal which is created by the white tiles.
Bold Tile Designs
This year, bold tile designs are transforming bathrooms, providing homeowners with an inspired way to showcase their unique style and create an inviting atmosphere in small spaces. From colorful mosaics to geometric patterns, these statement-making tiles can be used on walls, floors, and in showers to captivate the eye and add a touch of personality to the space. Best of all, these designs can make
small bathrooms
feel larger, drawing the eye around the room with dynamic and flowy patterns on the floor or an illusion of depth with a bold geometric design on a shower wall. No matter the design, it's clear bold tile designs are making a big impact this year, giving homeowners a chance to express their feelings and make their bathrooms even more special.
Statement Maker Tiles
Tiles in the bathroom offer unparalleled customization possibilities; they come in a wide variety of patterns, ranging from the classic to the abstract – a truly avant-garde experience. Plus, the available colors range from neutral to vibrant. With so many choices, you can easily find something that speaks to you, your personality, and your needs. When styling your bathroom, don't forget to keep in mind how tiles can add an emotive touch to the space – from elegant sophistication to joyfulness and everything in between.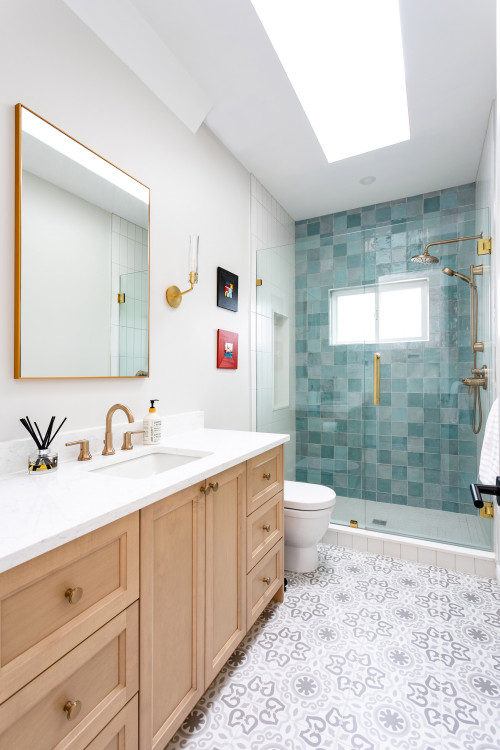 ID# 155209 | Houzz.com – Credit | © SGDI – Sarah Gallop Design Inc.
---
Bold Tile Designs for Bathroom Design Trends 2023
This transitional bathroom welcomes you with a fresh smile! The light wood shaker cabinets and the brass accents complement each other creating a warm atmosphere with a luxurious touch. The blue square tile accent shower wall draws attention and creates harmony with the blue and white floral pattern floor tiles. The wood vanity and the blue hues of the bathroom also provide an aesthetic contrast.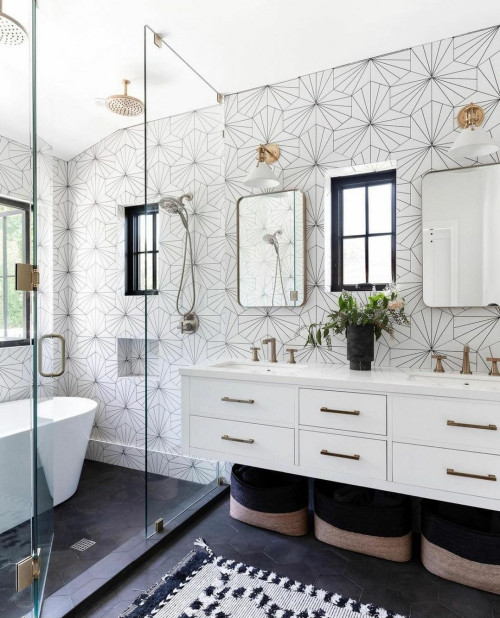 ID# 155210 | Houzz.com – Credit
---
Striking Contrast with Black and White for a Contemporary Style
The black and white bathroom's varied wall and backsplash tile patterns give the area a lively feel. These backsplash tiles look fantastic with the white worktops and floating flat-panel vanity design. The elegant atmosphere produced by the brass hardware and decorations contrasts with the dark floor tiles. The black floor tiles in the bathroom offer a touch of drama and refinement in contrast to the light and bright bathroom fixtures and accessories. The area feels even more opulent thanks to the brass accents and hardware, which also provide it with a sense of beauty and elegance.
What are the bathroom colors for 2023?
The timeless classic bathroom colors of 2023 include earthy tones like sandy beiges, warm ochres, and dark browns. Either combine many hues inspired by nature, or stick to the multiple saturations of a single color.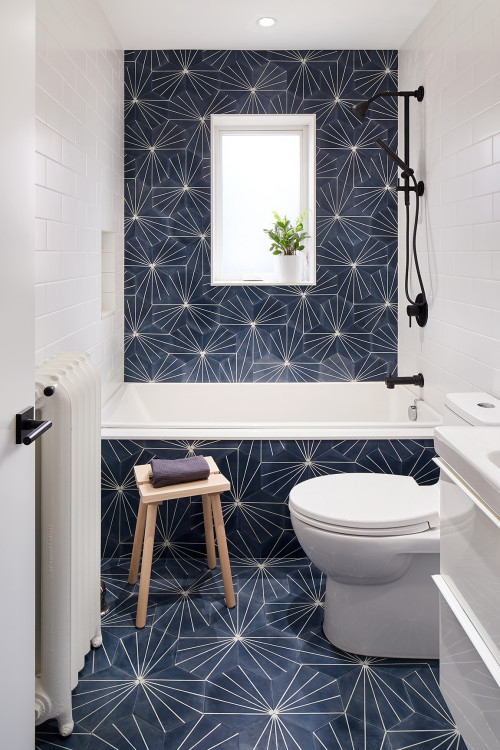 ID# 155211 | Houzz.com – Credit | © AAmp Studio
---
Bold Tile Design for Bathroom Design Trends 2023
This contemporary interior design features navy blue floor tiles with white graphic patterns that resemble stars, giving the space a whimsical and magical feel reminiscent of Dumbledore's bathroom from the Harry Potter series. The floor tiles are also used as an accent wall in the shower, adding to the cohesive and unique design. The remaining walls are covered in white tiles, and a white floating vanity adds a modern touch. The black tapware contrasts nicely with the white tiles and adds a touch of elegance to the space.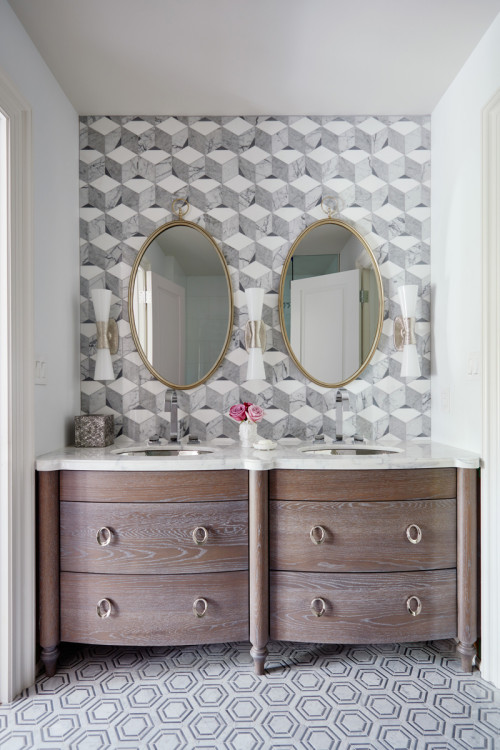 ID# 155212 | Houzz.com – Credit | © M-Squared Contracting Inc.
---
3d Effect with Cubical Pattern of the Backsplash Wall
This traditional bathroom offers inviting and sophisticated vibes, inspiring human emotions. The built-in double vanities, white countertops and brass frame mirrors bring elegance and luxury to the space, and the black and white
hexagon tile
floor adds a classic, timeless look. The crisp white walls are contrasted with the unique and intriguing 3D cubical pattern backsplash wall. This beautiful combination of white, black and brass creates a harmonious atmosphere, making the bathroom perfect for multiple users.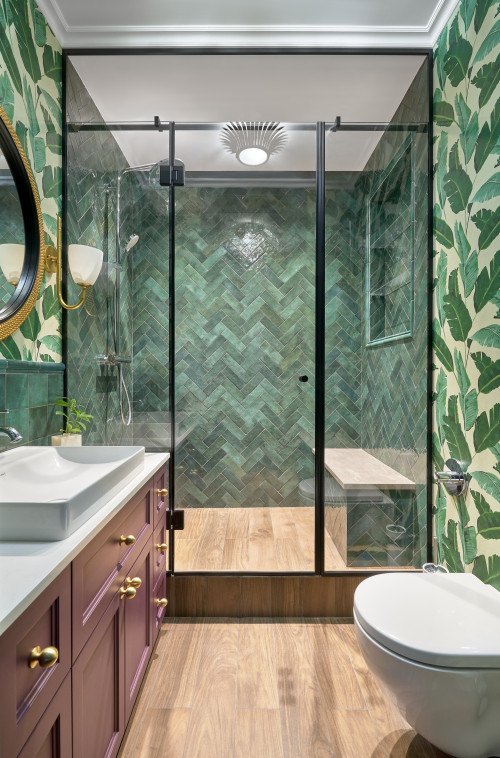 ID# 155213 | Houzz.com – Credit | © Natalie Vershinina
---
Bold Tile Designs with Green Herringbones for an Eclectic Bathroom
This quirky bathroom is a feast for the eyes, with its inviting mix of visual design elements. The walls are decorated with lively green-and-white leafy wallpaper, bringing a breath of nature and brightness to the room. The green herringbone tile shower walls add texture as well as dimension and depth to the space. Warm, light-wood-like floor tiles bring a cozy, natural ambiance – the perfect pairing to the leafy wallpaper! The standout feature of this space has to be the purple shaker cabinetry vanity with white countertops; its boldness gives the area a playful and quirky flair, while the white countertops keep the atmosphere clean and classic. All in all, it's a space filled with personality and charm that surely brings a smile to the face.
Colorful Sinks
Colorful sinks are making a big comeback for bathroom design trends 2023 and they are an excellent way to add a bold and unique touch to any space. These sinks are a great option for powder rooms, in particular, where they can serve as a focal point and add a pop of color to a small space.
One of the best ways to incorporate colorful sinks into your bathroom design is by pairing them with bold paint for the walls or bathroom vanities. This creates a dramatic and cohesive look that can turn your powder room into a jewel box. The combination of a colorful sink and bold paint can create a truly elevated and unique design in your bathroom.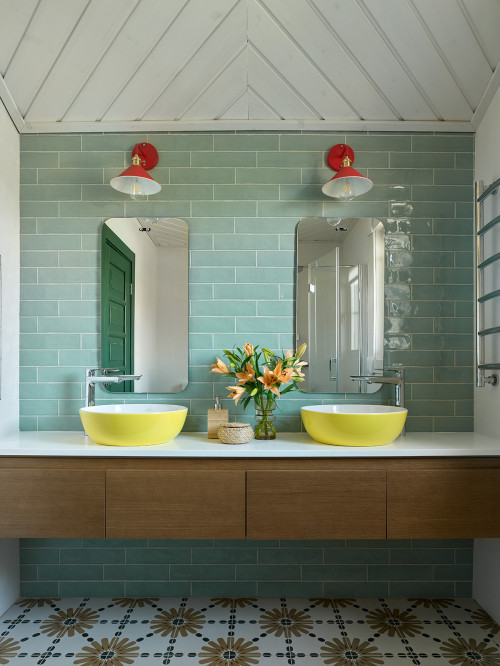 ID# 155214 | Houzz.com – Credit | © Марина Пенние
---
Colorful Sinks with Colorful Lightings for a Rustic Bathroom
This rustic bathroom exudes warmth and coziness with its use of natural materials and earthy colors. The centerpiece of the bathroom is the flat-panel wood double sink floating vanity, which provides a rustic aesthetic while maintaining a modern and sleek look. The white countertops and yellow sinks contrast nicely with the wood vanity, providing a clean and refreshing look. The backsplash wall is covered in green glass subway tile, adding a touch of color and shine to the space. The multicolored brown-white-green patterned floor tiles continue the earthy color scheme, and the white walls provide a clean and crisp backdrop. The ceiling is finished with white vaulted shiplap, adding a rustic charm and a sense of warmth and coziness to the bathroom.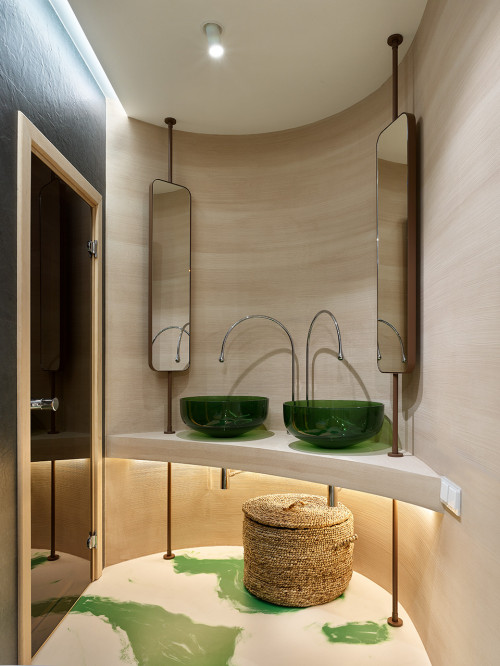 ID# 155215 | Houzz.com – Credit | © Рожкова Полина
---
Curvy Edges for a Powder Room with Wood Countertops
This contemporary bathroom space has an enchanting and sophisticated atmosphere, providing a unique and delightful setting to relax in. The captivating curved wall with its light wood panels is the main highlight of the room, radiating warmth and comfort while simultaneously creating an interesting shape. The exquisite countertops are made of the same light wood, introducing a sense of unity and finesse. An edgy blackout wall enhances the aesthetic with a haunting contrast against the bright wood, inducing a sense of drama and mystery.
The classy door is a smooth modern detail, amplifying the room's contemporary vibes. Greens and patterns liven up the floor, embracing your feet and stimulating your senses with a dash of color. To top it off, the elegant glass vessel sinks lend an air of elegant luxury. This bathroom is a guaranteed delight; your feelings will be enthralled in its modern and luxurious atmosphere.
Minimalist Designs
Minimalism is becoming an increasingly popular design trend as more and more individuals strive to create a sense of serenity and simplicity in their homes. By implementing minimalist designs in the bathroom, one can achieve a refreshing atmosphere of tranquility. Through the use of clean lines, sleek fixtures, and a neutral color palette, you can create an environment that's soothing yet highly efficient. This style also encourages you to focus on organization and functionality, ensuring that all of your bathroom necessities are within easy reach. All in all, minimalism in bathroom design can help to bring feelings of peace and clarity to your daily routine.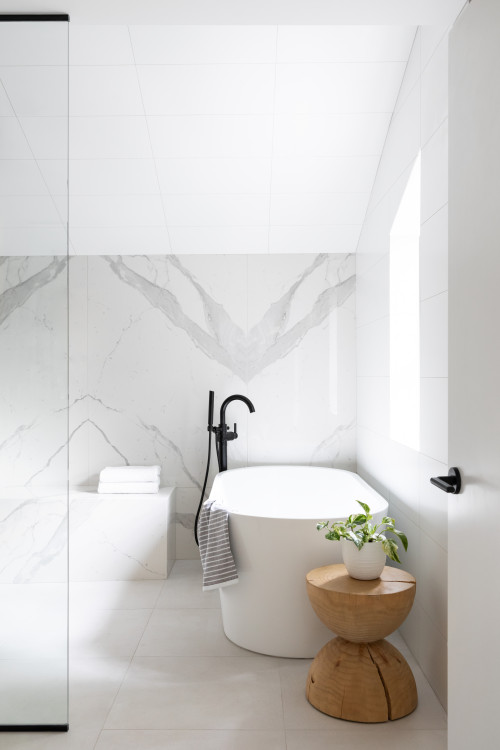 ID# 155217 | Houzz.com – Credit | © SHIFT Interiors
---
Minimalist Designs with a White Color Palette for a Bathroom
The sleek white floor tiles exude a sense of continuity, taking you on a journey throughout the entire space. The
freestanding white bathtub
placed in an open shower provides a touch of luxury, while the eye-catching
book-matched marble
accent wall adds visual and textural interest. The white walls and vaulted ceiling create a feeling of spaciousness – making the bathroom seem both larger and more inviting. The bold black tapware stands out against the whites to bring a sense of drama and energy to the otherwise serene monochromatic palette.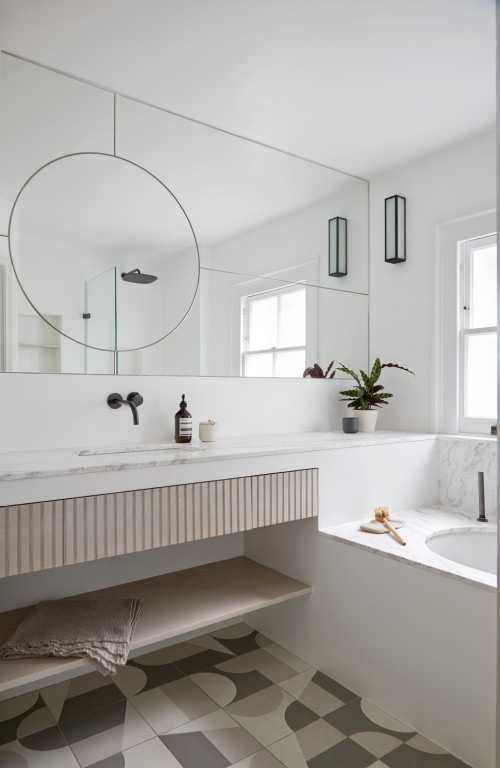 ID# 155218 | Houzz.com – Credit | © Indie & Co.
---
Contemporary Bathroom for Bathroom Design Trends 2023
A nice aesthetic is provided by the pale pink floating bathroom vanity and its white marble top. The notion of an extending countertop is brilliant! The floor tiles' various hues and patterns provide movement to the bathroom's overall aesthetic. The full-height frameless mirror's distinctive design creates a focal point for the bathroom.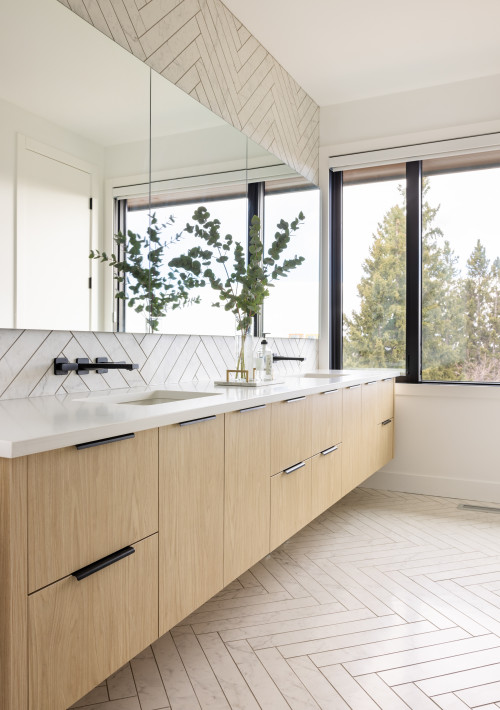 ID# 155219 | Houzz.com – Credit | © Alloy Homes Incorporated
---
Scandinavian Style with Minimalist Designs
The floating vanity in this bathroom with its light wood flat-panel cabinets and white tabletop is decorated in the style of Scandinavia. Black wall faucets, cabinet hardware, and double under-mount sinks complete the modern style. Interaction and texture are added by a backsplash made of herringbone tiles and a frameless mirror.
Spa-Like Atmosphere
The bathroom is no longer just for functional utility; it can be a place of respite and relaxation, a peaceful retreat from the day-to-day. Homeowners are increasingly looking to create a truly calming, spa-like atmosphere in their bathrooms, inspired by the serenity of nature and all its tranquility-invoking elements. Natural materials, such as wood and stone, help bring this dreamy atmosphere to life; the warmth of the wood is like a comforting hug, while the solidity of the stone can be grounding and serene. By incorporating these elements into the room, homeowners can achieve a sense of balance and harmony, making their bathroom a true sanctuary for peaceful reflection.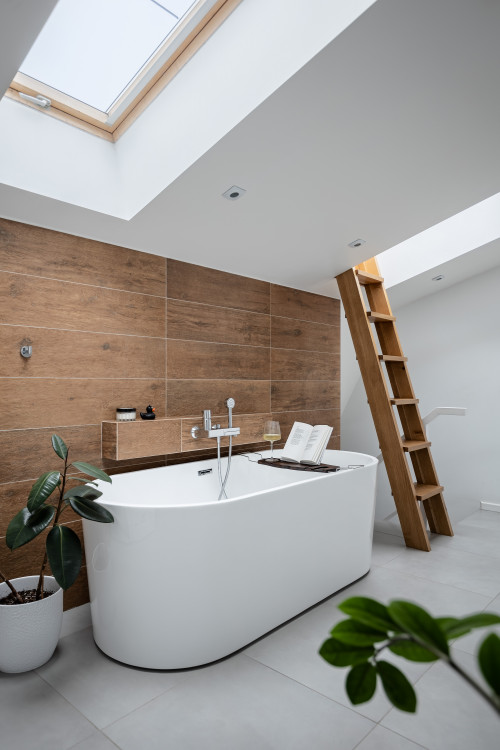 ID# 155220 | Houzz.com – Credit | © ointerior
---
Scandinavian Bathroom with a Spa-like Atmosphere
The use of white throughout the space fills it with a tranquil and peaceful atmosphere. The warmth and natural texture of the
wood-look accent wall
is comforting and inviting. The white vaulted ceilings with windows let the sunlight in and fill the room with a spa-like ambiance. Adding plants brings a touch of nature and nurtures the soothing and restorative atmosphere to provide a genuine retreat.
Marble Effect for Bathroom Design Trends 2023
In 2023, marble effects provide a luxurious, timeless look for any bathroom design that evokes a feeling of natural beauty. Homeowners can access this chic style at an affordable cost and with increased durability, due to its synthetic character. Tiles and counters with a marble-like look come in various designs, sizes, and finishes to fit any style – from traditional to modern.
Furthermore, with multiple color options, there is something for everyone, allowing for creativity and personalization. Not only are these materials budget-friendly and practical, but due to their synthetic character, they are also an eco-friendly choice, helping protect natural resources. In 2023, marble effects offer a luxurious and timeless aesthetic that evokes a sense of natural beauty. These materials provide an affordable way to get a high-end, spa-like look without high costs and maintenance. Their versatile array of designs, sizes, finishes, and color variations make it easy to personalize any bathroom design and remodel without compromising on quality. Sustainable and practical, marble-look materials are the perfect way to give your bathroom a modern feel while protecting natural resources.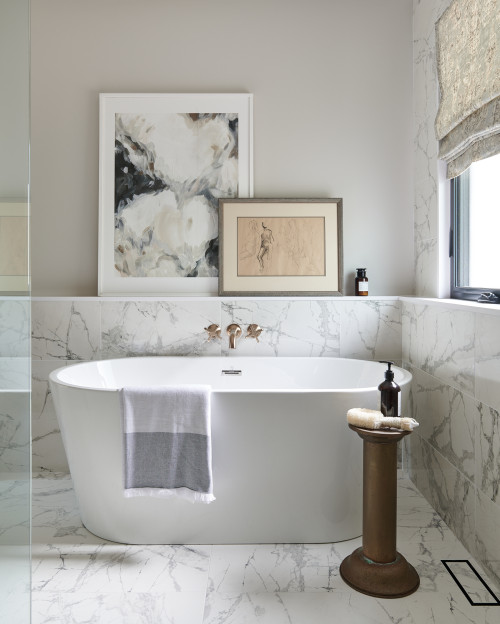 ID# 155221 | Houzz.com – Credit | © Erin Interiors
---
Transitional Bathroom with a Marble Effect
This primary bathroom is a true sanctuary for relaxation and indulgence, transporting one to a tranquil oasis. Sumptuous
marble tiles
take center stage in the space, adding an undeniable air of luxury. Meanwhile, the traditional soaking tub serves as a focal point, while the neat brass tapware adds an additional touch of glamour. The sublimely soothing grey walls allow natural light to flood in, evoking feelings of peace and contentment.
What bathroom colors are timeless?
White, muted grays, and beige hues are timeless colors for the bathrooms.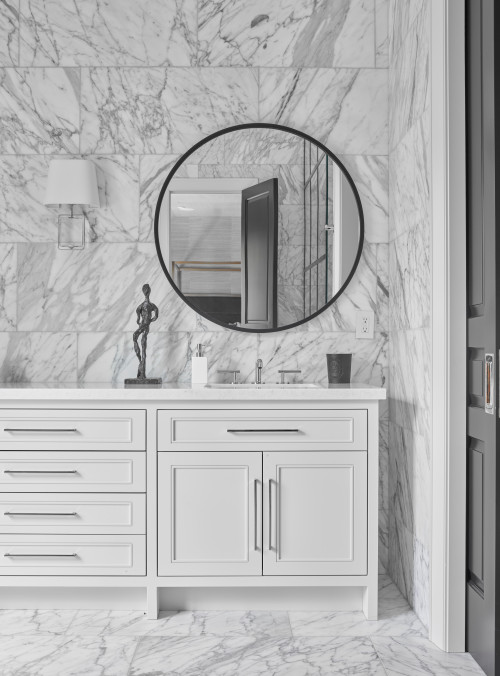 ID# 155223 | Houzz.com – Credit | © Taylor Made Designs
---
Marble Effect with Floor and Wall Tiles
This marble-effect bathroom exudes an air of luxurious elegance, and the light gray veins in the stone wall and floor tiles add a unique touch of sophistication! The white shaker cabinetry vanity design provides a stylishly cohesive look to the bathroom, while the simple yet classic countertop adds to the timeless, elegant atmosphere. The round mirror with a black frame offers a modern edge making a bold yet tranquil contrast to the soft gray marbling.
Statement Maker Vanities
When it comes to designing bathroom spaces, the vanity is an essential piece that can contribute to the overall mood of the space. In recent years, designers have been repurposing cabinets and other pieces of furniture to create unique and interesting vanities that stand out as statement-maker pieces. The utilization of statement-maker that mimic exquisite pieces of furniture is one trend that is gaining popularity. These vanities are made to last and frequently combine traditional and exquisite materials, such as rich walnut wood and genuine marble stones. This is a terrific way to give your bathroom a little more opulence while still making it seem cozy and welcoming.
The usage of antique or recycled vanities is a trend that is also becoming more and more fashionable. This is an excellent alternative for individuals seeking a more environmentally friendly one because it helps to preserve the object and prevent it from ending up in a landfill. Your bathroom may appear distinctive and exquisite with the addition of vintage or reused statement-maker vanities, giving it a curated and welcoming atmosphere. The popularity of statement-maker vanity designs reflects the fact that many homeowners are placing greater importance on eco-friendly design. You may design a bathroom that is fashionable and eco-friendly by selecting vanities made of sustainable materials and reusing vintage items.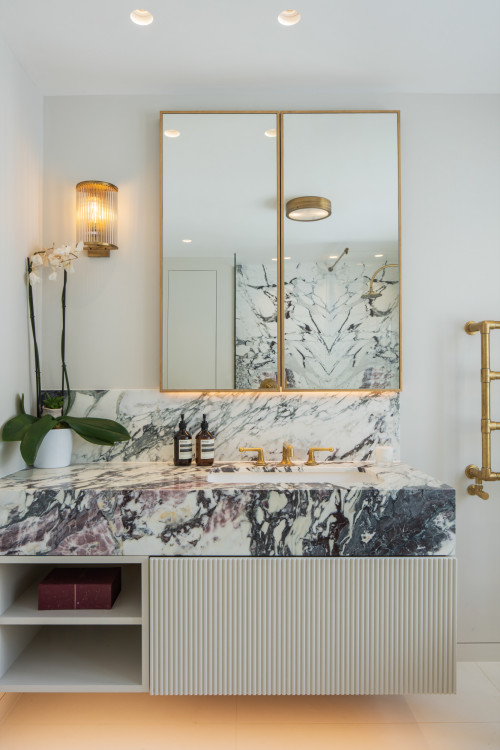 ID# 155224 | Houzz.com – Credit | © All Done Design Ltd
---
Statement Maker Vanity with Marble Countertops and Backsplash
A sleek statement-maker floating vanity with marble top counters and a white cabinet base can be found in this modern bathroom. The wall lighting fixture, faucet, and mirror frames are brass accessories that give the room a glamorous feel. The floor is tiled in a cozy beige color, but the walls and ceiling are a stark white. The room emanates a feeling of flair and refinement.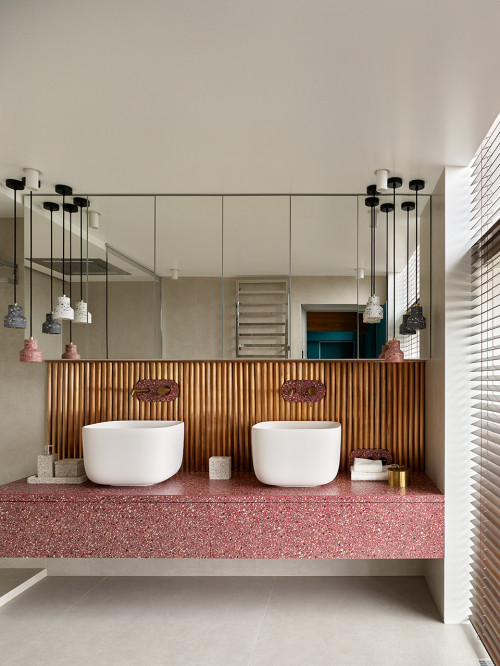 ID# 155225 | Houzz.com – Credit | © Рожкова Полина
---
Contemporary and Eye-catchy Bathroom Design Trends 2023
This contemporary bathroom is a space of daring personality, with the standout feature being the hot-pink floating double-sink vanity in the center. Set upon matching pink countertops with white vessel sinks, the room is harmoniously pleasing to the eye. The taps and vertical natural wooden panel wall-backsplash both maintain a warm ambiance, while the light-gray floors embolden the pop of pink with a neutral backdrop. Sleekness is incorporated with the use of mirror-panel cabinetry and white- walls that perpetuate the light-filled environment. And, not to be forgotten, a window with blinds brings in an abundance of natural light to complete the inviting atmosphere.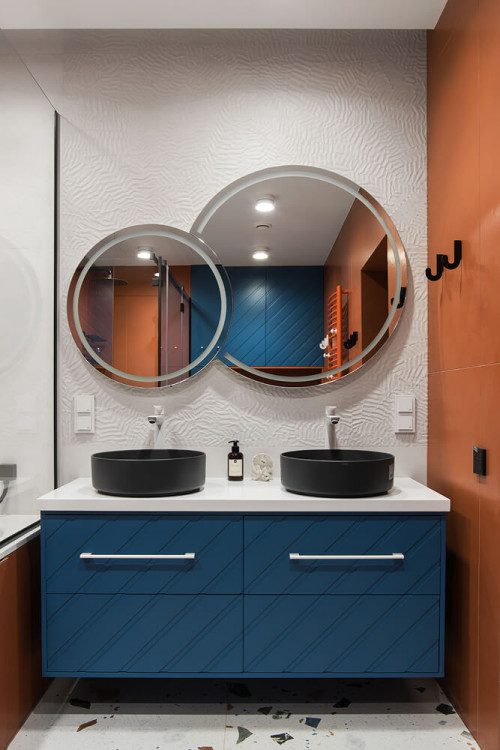 ID# 155226 | Houzz.com – Credit | © Nice Design
---
Statement Maker Vanity with White Countertops and Blue Cabinets
This bathroom is sure to exude a feeling of style and modernity with its white countertops, blue flat-panel floating vanity, and sleek and bright hardware. The black vessel sinks provide a stylish yet dramatic contrast, and the terrazzo floor tiles give a luxurious touch and create an inviting ambiance with the brown tile wall. This harmonious combination of colors and textures provides an atmosphere of timeless elegance and sophistication.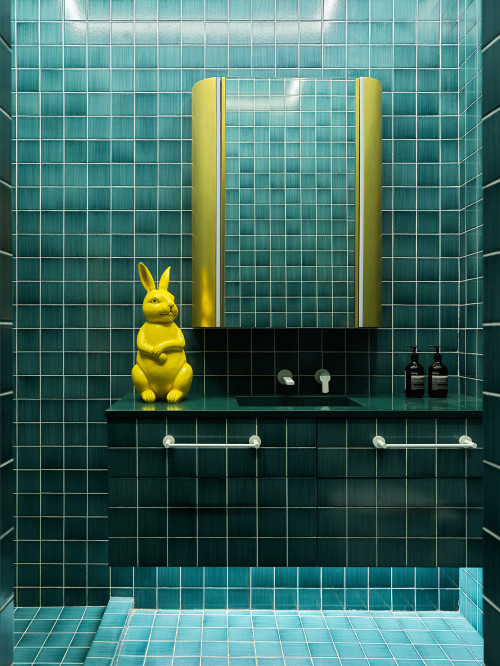 ID# 155227 | Houzz.com – Credit | © Дарья Василькова, студия «Art Group»
---
Green Square Tiles for Walls and Floors
This eclectic bathroom is a visually stunning space – an amalgamation of different design elements forming an inviting and remarkable look. The star feature is the square green tiles on both the floors and walls – they provide a unified, vivid base. The vanity also matches with its cabinets, countertops, integrated sink, white hardware, and tapware, resulting in a sense of unity. All in all, this bathroom's charm is palpable and delightful!
Terrazzo Tiles
Terrazzo tiles, made with a combination of marble, granite, quartz, and/or glass fragments, have created quite a buzz in recent years. Their vintage charm and flair are ideal for transforming a bathroom into a stylish and fashionable space. Designers adore terrazzo's timeless beauty and its ability to elevate and enliven any room. An increasingly popular technique is the incorporation of fluted terrazzo tiles on walls, lending a luxurious feel and captivating visual texture. An additional modern look is utilizing large flat squares of terrazzo to create a contemporary atmosphere!
It's no wonder terrazzo tiles continue to draw in admirers: their unique blend of elegance and personality evoke deep-rooted emotions – making bathrooms both aesthetically pleasing and incredibly inviting.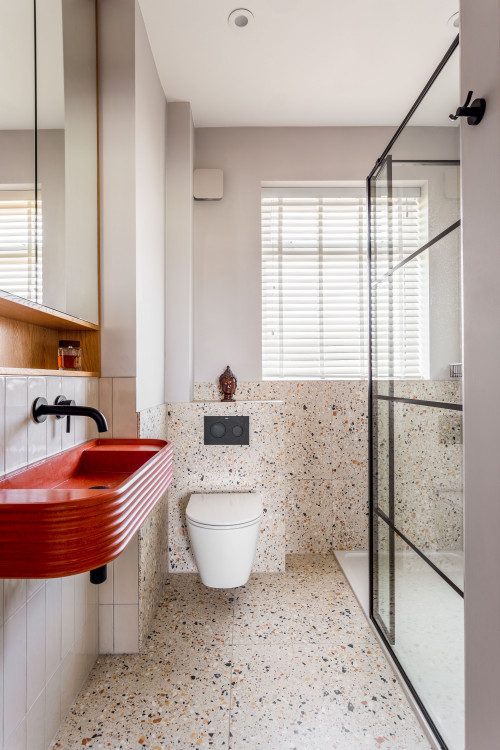 ID# 155228 | Houzz.com – Credit | © Nicky Percival Limited
---
Terrazzo Tiles for Floors and Half of the Walls as an Accent
This eclectic bathroom is a unique and striking space that combines a variety of different design elements to create a bold and visually interesting look. The most striking feature of the bathroom is the use of a floating red sink, which adds a bold pop of color and a playful touch to the space. The terrazzo floor tiles and terrazzo wall tiles as an accent halfway through the walls create a cohesive base for the space while adding a unique and retro vibe to the bathroom.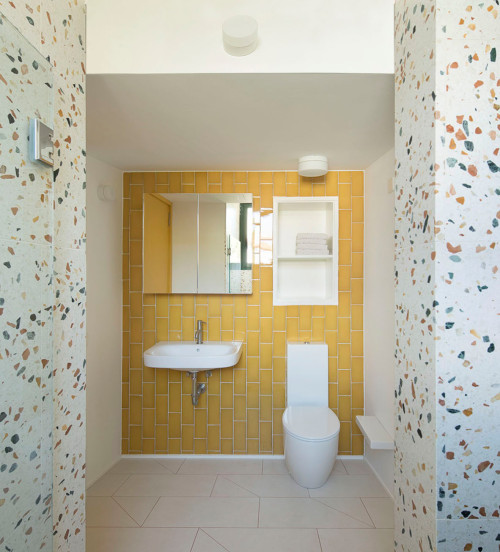 ID# 155229 | Houzz.com – Credit | © studioNOLET
---
Yellow Subway Layout for Bathroom Design Trends 2023
This contemporary bathroom elicits a sense of awe and admiration. Its bold and unique design, combining various elements, makes for a visually appealing space. The cheerful yellow subway tiling on the backsplash wall breathes life and modernity into the scheme. The crisp white wall-mount sink and two-piece toilet have a minimalist appeal, furthering the contemporary feel. An interesting textural touch is added with the terrazzo tile wall details that break up the monochromatic yellow and white palette. The white walls and floor tiles create a sense of lightness and openness. Lastly, the white niche above the toilet is a practical and attractive addition that provides extra storage space. Altogether, this bathroom is sure to invoke feelings of joy and contentment.
What is the latest trend in bathroom tile?
Bold colors, patterns are on the stage of course, however, as we go green day by day, using terrazzo tiles is another bathroom design trends 2023.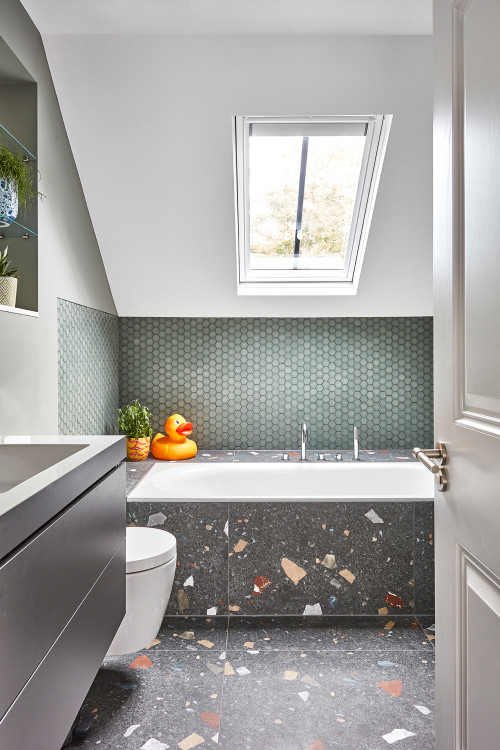 ID# 155230 | Houzz.com – Credit | © EMR Architecture
---
Gray Terrazzo Tiles with a Gray Floating Vanity
The terrazzo floor tiles provide a reassuring, solid foundation, expertly combining with other design elements in the space! The green hexagon mosaic tile accent wall for the bathtub offers an invigorating, refreshing pop of color, adding a captivating visual flair. The gray floating vanity, complete with flat-panel cabinets, presents an elegant and contemporary appearance, subtly enhancing the overall color palette. The light gray walls and white vaulted ceiling, with a ceiling window, allow for a sunny, airy feeling. This delightful combination of light gray walls, white ceilings, and abundant natural light creates a luminous, inviting atmosphere. Such a bright, open, and congenial space, teeming with warm, cheerful energy, is comforting and inviting.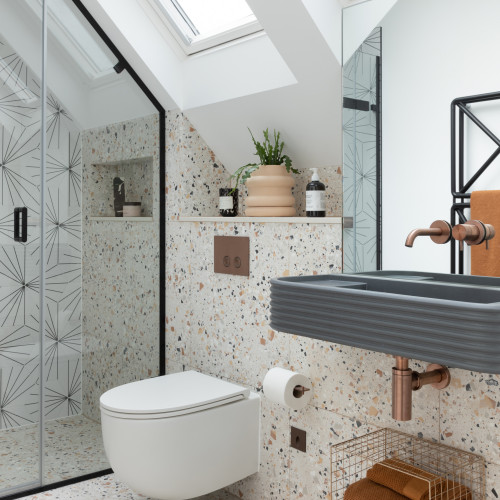 ID# 155231 | Houzz.com – Credit | © West One Bathrooms Ltd
---
Colorful Bathroom for Bathroom Design Trends 2023
This bathroom exudes a feeling of both comfort and grandeur, with its sleek and modern design! The terrazzo tile on the walls and floors creates a unified look, as well as adds a playful texture and variety. The white vaulted ceiling and window provide ample light, emphasizing a spacious feel. The gray wall mount sink and copper tapware evoke sophistication and the black frame glass shower door adds a touch of stylish, minimalistic flair. The frameless mirror completes the look, with its clean lines and uncluttered appearance. One feels in awe when entering this vibrant space, that is both beautiful and functional.