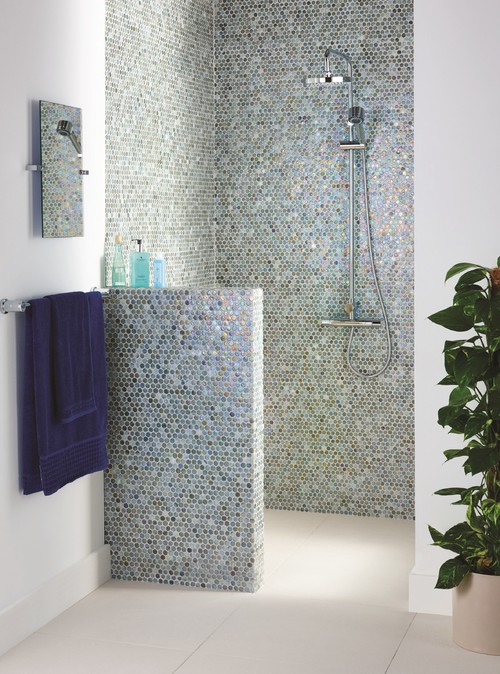 ID# 151910 | Houzz.com – Credit | © Original Style
---
Small Shower Ideas with Glass Penny Round Mosaics and Chrome Tapware
Boasting shimmering iridescent mosaics, this contemporary shower room definitely knows how to provide a satisfying bathing experience. First of all, going with colorful glass penny round mosaics stands out as a smart design decision. Set with an intention to deliver charming vibes, it calms its users right away. The polished finish chrome hardware just mingles with the sparkling feature of these glass tiles. On the floor, the white large format tiles inject bonus serenity, bringing a calming contrast. The wall-mounted towel rail makes it convenient for users to grab a towel right after emerging from the shower. The indoor plant also contributes to the spa-like atmosphere of the room. It not only brings a sense of life but also a breath of fresh air.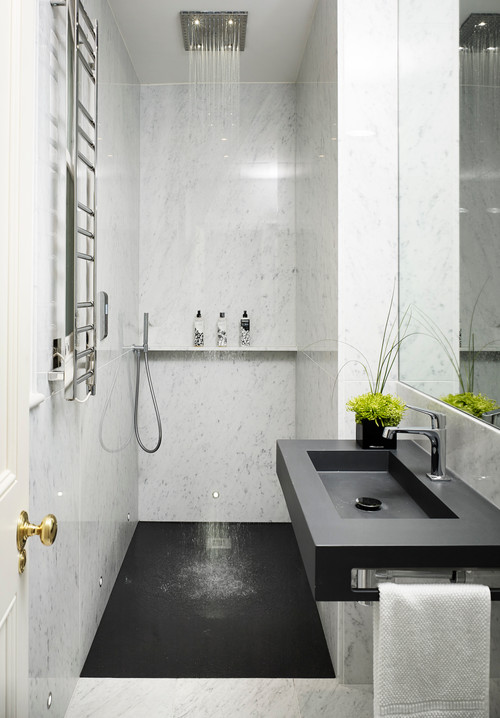 ID# 151921 | Houzz.com – Credit | © Studio Clark + Co
---
Small Shower Sizes with Marble Tiles and No Shower Door
For small shower sizes, what you could do is keep shower rooms door-free or open as much as possible. It, in turn, gives the illusion of sprawling out, letting showers own the entire room. The design we have here is one of the ultimate examples of this visual trick.
Characterized by white Carrara marble wall tiles, this shower room oozes elegance. And it executes a contrasting scheme with the black floor coating that matches the wall-mounted black washbasin. Overhead, the tech-savvy ceiling-mounted rain showerhead creates a waterfall effect, relaxing the users' tense muscles effortlessly. And to provide bonus storage, a marble-carved cantilevered shelf replaces a wall niche. Overall, the design, though its compact size, gives enough freedom to move around, ensuring showering here is a comfortable experience.
Small Shower Ideas
Even if you have a small bathroom, there is no need to worry. There are plenty of ways to integrate a shower room without making the bathroom feel claustrophobic. From wet rooms to walk-in and corner showers, and showers with glass enclosures, small shower ideas propose innovative solutions for the efficient use of space.
If you plan to give your bathroom a makeover but don't know how to start, here we have compiled a list of small shower ideas. They are replete with design tricks, various color palettes, tile layout options, and shower room designs. All you need to do is to read on to glean some information and get inspired for your next renovation.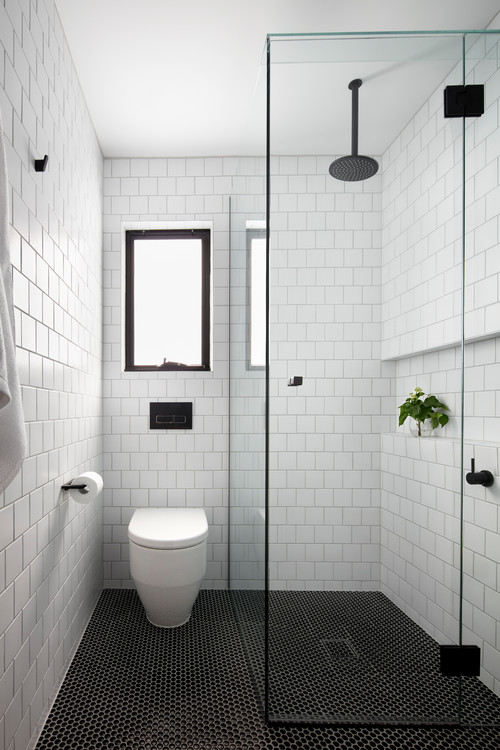 ID# 151901 | Houzz.com – Credit | © smarterBATHROOMS+
---
Small Shower Ideas with White Subway Tile Backsplash and Black Hexagon Floor Tiles
We love how this Scandinavian bathroom makes use of a contrasting color scheme to establish a timeless and soothing look. On the one side, you get to enjoy the clean and sleek look of the white ceramic square subway tiles. Laid in a running-bond pattern, they place the shower room in an urban context while generating movement. On the other side, you get a foot massage from the small hexagon floor tiles. Not only does their black shade anchors the airy look but also their small sizes make the floor less slippery.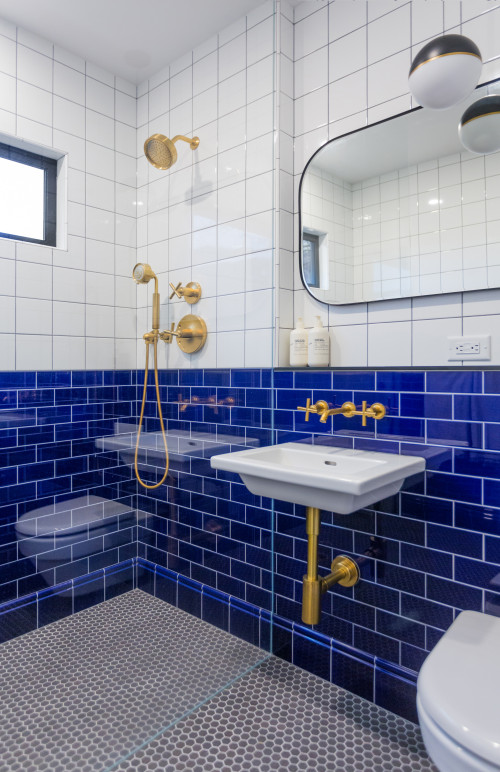 ID# 151902 | Houzz.com – Credit | © JDL Homes Vancouver
---
Blue Subway Tile Backsplash with Gray Floor Tiles and Gold Tapware
Divided from the main bathroom through a glass division, this modern bathroom knows how to utilize color. Here, the indigo-blue subway tiles split the space into the bottom and top sections. While the blue tiles define the bottom zone, white square tiles characterize the upper part. The golden tapware and plumbing fixtures bring pops of warmth to contrast the blue-and-white color palette. On the floor, small gray penny round mosaic tiles, again, provide texture and friction to minimize the possibility of slipping. For one final touch, the mid-century-inspired orb lighting fixtures dangle overhead to add extra depth to the design.
What is the smallest size for a shower?
According to ergonomic conditions, the smallest size for a shower is 32 inches wide by 32 inches deep. But if you are looking for a smalller one, you can also find 30 inches by 30 inches shower stalls.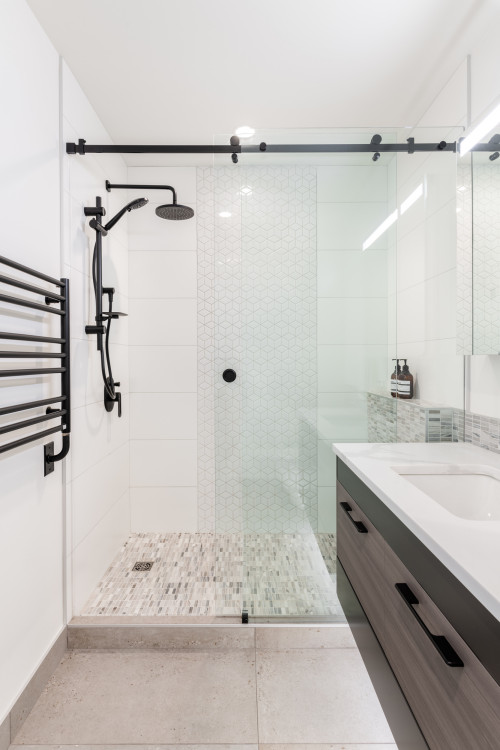 ID# 151903 | Houzz.com – Credit | © MAC Renovations LTD.
---
White Escher Tile Backsplash and Shower Room with Glass Sliding Door
This contemporary shower room has a sliding glass door that reserves itself a private spot. The small kit kat tiles clad the shower floor, whose white-and-gray color scheme echoes the overall color palette. The white Escher tile backsplash also creates a vertical strip that adds an accent to the shower room. The black showerhead and fittings bring solidity, matching the black cabinet pulls on the floating vanity. This way, the design comes together, coordinating the shower room with the vanity section. And if you want your shower routine to be more akin to a spa-like experience, you could get a bench for the shower room. Especially when you have such a good-sized space allocated for showering, why not use the space to add some details?
How do you make a small shower special?
Small showers, though compact in size, know how to create a more engaging design. All they need to do is to play with tiles and make a few additions. Then they can definitely lure their users for longer stays. Now let's take a look at small details you could add to your small shower to make it more welcoming.
Statement Wall and Floor Tiles
Marble, marble-look porcelain, flattened pebble stones, and stone-effect floor tiles could create an oasis right away. Plus, their texture-rich surface gives an extra calming effect for bathers. And if you love having fun, you can do so with tiling. With the mix-and-match method, you can create waterfall or bubble effects with color switches. You can even use water or the sea as your reference and add fish patterns if you like.
Sleek Glass Doors
If you care about privacy or, at least, proper divisions within the same room, glass enclosures can be considered special treatments. They add an extra sleek and modern element without sacrificing openness.
Tiling Wall Niches
Wall niches to store your toiletries are one way to optimize the available space in a small shower. And even better, you can make visual statements with them. To achieve that, just tile them in a different color or a patterned tile. This way, you can create visual diversity and more interest. Plus, you will have more room with niches to move around without bumping into any shelving.
Shower Hardware
If you love luxury, gold or brass and polished chrome hardware can add a nice detail to your shower room. When people say the devil is in the details, it is for a good reason. No one would appreciate any unsightly hardware or tapware in a shower. That's why choosing the right hardware is an important step to make a small shower special. Given that today's market offers very intriguing and tech-savvy designs, it is key to learn more about them. Then you can have an idea of what is the best of the best.
Shower Benches
For a spa-like look, shower benches make great additions. If money is not a worry, you can consider marble-carved benches. Or if you like, a wood stool could also create a seating option for you. Plus, a seating option reminds you that you can take it slow, rest, and enjoy each moment of taking a shower.
Indoor Plants
Not only do they introduce life and color but also create a jungle-like look. Perhaps you can even end up feeling as if you are in a rainforest.
Make use of skylight
If your bathroom has a skylight, allocate the area under it for a small shower. It pays off really well, letting you taking bath both in sunlight and water. This way, the shower room also enjoys its own natural lighting source, the sun.
Foot Towels
What matters is not only what happens inside a small shower but also the routine after it. Given that it starts right away after emerging from the shower, just get a foot towel with a funny statement on it. Add a sense of humor to the design and make use of these relaxing moments to the fullest.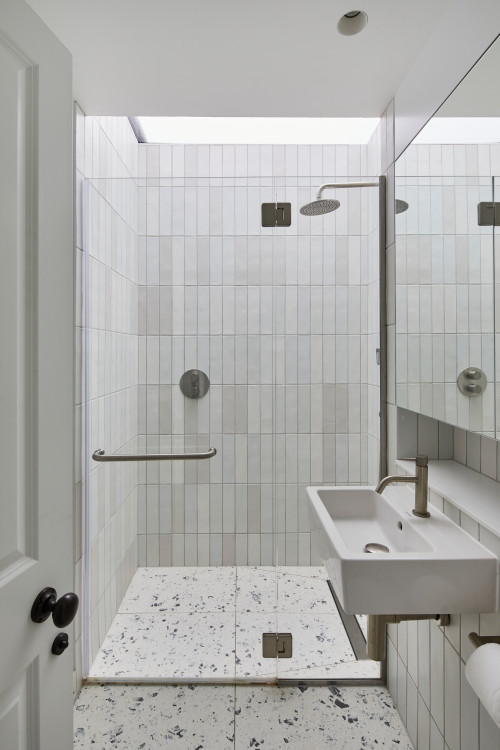 ID# 151904 | Houzz.com – Credit | © CATO creative Ltd
---
Small Shower Ideas with Subway Tile Backsplash and Terrazzo Floor
To make small shower rooms feel larger, sticking to a light color palette – as this bathroom does- is one of the best ways to go. In this shower room, for example, white ceramic subway tiles wrap around the entire room. As they are vertically stacked, they give the bathroom extra height. And the subtle tonal variations just enrich the color scheme without making the shower walls too monotonic. Also, blessed with streaming lights poured internally by the skylight, the shower room feels extra privileged. On the floor, terrazzo floor brings a contemporary voice, ensuring the longevity of the design. The glass door maintains the visual connectivity with the vanity zone that mimics the shower room in terms of aesthetics. This way, the bathroom feels much larger and integrated.
Small Walk-in Shower
Walk-in showers are always a practicable option whether you have a large or small bathroom. And they make a stylish addition as well. With the right touches, they can even create an oasis and give you a spa treatment. For example, shower benches, indoor plants, and fixed glass panels are some of the nice additions you can consider. Also, creating an accent wall in the shower or accentuating wall niches with different tiles could be another alternative.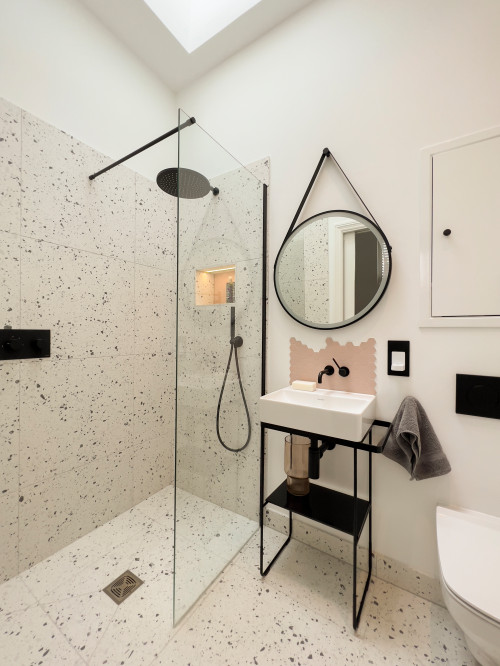 ID# 151905 | Houzz.com – Credit | © Ivywell Interiors | Bristol
---
Small Walk-in Shower with Black Hardware and Terrazzo Wall Tiles
This heartwarming small bathroom accommodates a walk-in shower that offers convenient access and practical use for sure. Though reserving a small corner, the continuous terrazzo backsplash tiles and floor-coating make the shower room feel like it's sprawling across the entire space. And the drain positioned almost under the showerhead guarantees that homeowners won't have to deal with flooding problems. As for the rest, the black showerheads dialogue with the black tapware and black legs of the white washbasin effortlessly. Together they achieve a continuous look. The small pinkish hexagon backsplash tiles are rigorously proportioned for a sense of visual balance. All in all, aligning itself with peaceful Scandinavian looks, this bathroom manages to impart calmness to its users.
How do you maximize a small shower space?
Not everyone is lucky enough to have a large bathroom. But with design tricks and space-enhancing additions, you can maximize a small shower space easily. To name, storage solutions, color palettes, and tile formats are some of the details that can maximize a small shower.
To start with, large format tiles expand the visual scheme in a small shower space. Likewise, you can go with porcelain or marble slabs instead of tiles. They provide a seamless look, which is perfect for small shower stalls.
The second tip is light color palettes. They encourage the shower to feel larger and brighter. But if you wish, you can also benefit from contrasting color schemes that play with the scale of the shower area.
Thirdly, glass doors are also effective to put a physical barrier without breaking the visual integrity. With seamless transitions within the same room, the shower space can also embrace the rest of the bathroom. Consequently, it feels more spacious. Also, with a short perimeter along the edge, you can make the shower room overlook the rest. This way, it gains an omnipresent position.
In addition to those, you can trade shelving with wall niches. It gives you more room to move inside the shower without bumping into anything.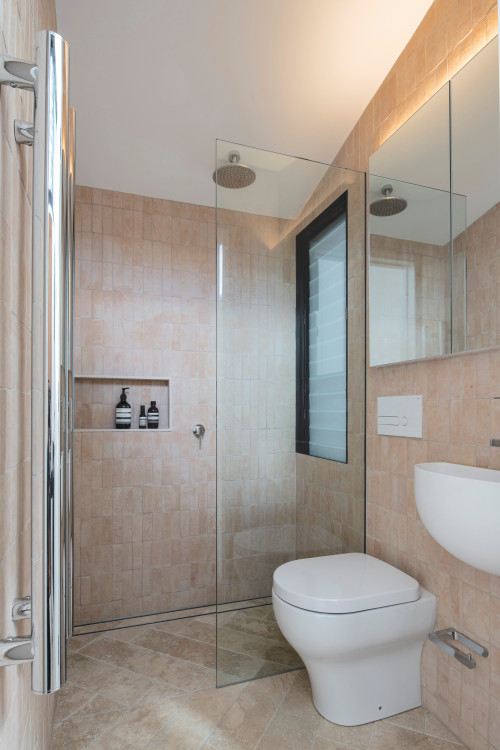 ID# 151906 | Houzz.com – Credit | © McGarry Constructions Pty Limited
---
Small Shower Ideas with Wall Niche and Stacked Subway Tiles
Sometimes glass division is more than enough to mark your shower area. It provides subtle privacy, preventing water from splashing across the entire space. And this contemporary bathroom offers one of the best examples of it. Reserving a shower room for itself at the back, it goes with a warm and natural tile backsplash and limestone-looking floor tiles. The vertically stacked wall tiles encourage the room to feel elongated and higher. The wall niche proposes a smart storage solution without causing any visual clutter or breaking the integrity. In the rest of the space, a mirrored cabinet seems enough to provide storage. And a wall-mounted washbasin just keeps it all looking minimalist. Ditching all non-essential elements, this bathroom plays very minimalist and stays loyal to the essential needs of bathroom users.
How big does a walk-in shower need to be to not have a door?
Doorless showers, also known as walk-in showers, are 7 feet by 4 feet. Yet they can feel much larger. It is mainly because they have an open end and direct access to the rest of the bathroom.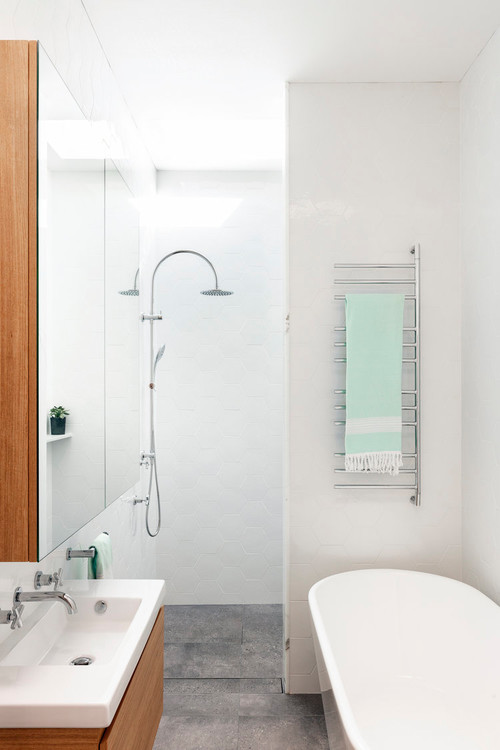 ID# 151907 | Houzz.com – Credit | © Brewer Architects
---
White Hexagon Tile Backsplash with Gray Floor Tiles and Chrome Showerhead
In this contemporary bathroom, the alcove offers a perfect spot for a shower room. It is illuminated by a skylight that delivers fresh sunlight, making it feel more special. The white hexagon tile backsplash builds upon the impact of the brightness achieved by sunlight. Likewise, the matching white grout makes the walls super sleek and clean. And the biomorphic patterns of hexagons reminiscent of bee hives bring a Scandinavian edge. To complement it, the wood floating vanity also supports the organic vibes of the look. The gray floor tiles add a subtle hint of color, breaking the otherwise all-white color scheme. Lastly, the chrome hardware and showerheads give the design a modern update.
Small Doorless Shower
If your bathroom has an awkward and dysfunctional layout, you can get away with a doorless shower. Usually larger than a closed shower stall, doorless showers provide convenient use and easy accessibility. The reason why they are larger than the standard sizes of shower stalls is mainly that they want to prevent water from escaping into the rest of the room. And their easy accessibility makes it safer for old people.
To be distinguished from the rest of the space, they feature a glass door on one or two sides. As a result, they also have an open end, and thus the name is doorless. And by using matching tiles, you can highlight this visual and physical connectivity easily. However, if privacy is your main priority, a doorless shower may just not be your thing.
To provide a spa effect and create a seating place for old people, some can also accommodate a bench. It makes bathing a more comfortable experience.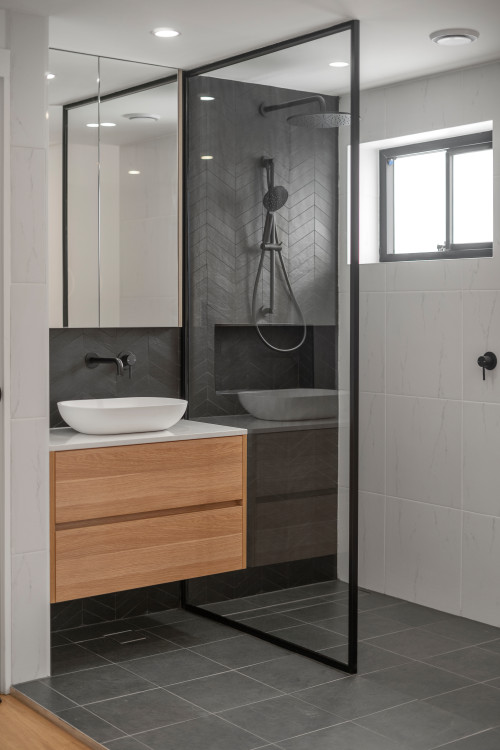 ID# 151908 | Houzz.com – Credit | © Jodie Dang ARCHITECTS
---
Small Doorless Shower with Black Chevron Tile Backsplash and Black Tapware
This bathroom uses a thin glass division to separate itself from the vanity section. By contrast, the black chevron tile backsplash also dresses the shower room for visual integrity. And inside the shower zone, the delicate balance between the light gray, dark gray, and off-white shades reach equilibrium through variously sized tiles. Yet the best part comes with the chevron tiles that create zigzags for an extra playful scene. The black showerheads, one of which is handheld, give showering options to choose from. As such, homeowners can navigate how they want to take shower. Overhead, spotlights ensure the space is lit evenly, while a clerestory window by the shower zone lends enough sunlight to bathers.
How much does it cost to tile a small shower?
How much it costs to tile a shower depends on the material, size, layout, and professional installation. That's why the prices are within a wide range and can show drastic changes. Yet the average cost of tiling a small shower is approximately 900 USD. And depending on the material, it can go up to 2000 USD.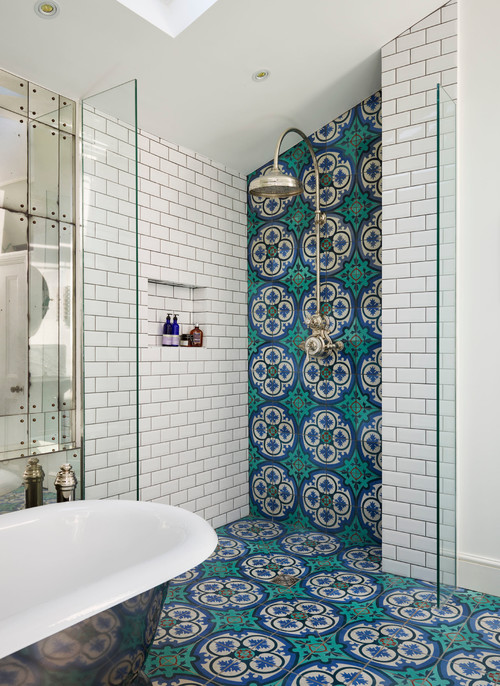 ID# 151909 | Houzz.com – Credit | © Rustico Tile & Stone
---
Cement Tile Backsplash with Subway Tiles and Freestanding Tub
Why stick to a shower room while you have enough space for a freestanding tub as well? Just bring them together and let your bathing zone own the entire space. This Victorian bathroom, for example, participates in the tradition of spa-like bathrooms, presenting a sprawling nature with a clever and strategic layout of tiles. Employing custom-made cement tiles, the bathroom, basically, creates a visual focal point. Starting from the shower side, these tiles continue on the floor and reach the freestanding tub. This way, a visual connection between the shower room and tub is created skillfully.
The colors and patterns on the tiles act as if they own the entire bathroom. The subway tile backsplash that clads the rest of the walls only provides a canvas of sorts to make the cement tiles the main focus. And the final product feels festive and a visual feast to the eye.
Small Corner Shower
The corners of the bathrooms are generally allocated for shower rooms. Feeling cozy and warm, they have a way of delivering freshness and comfort. If wished, they can be treated with glass doors or kept doorless.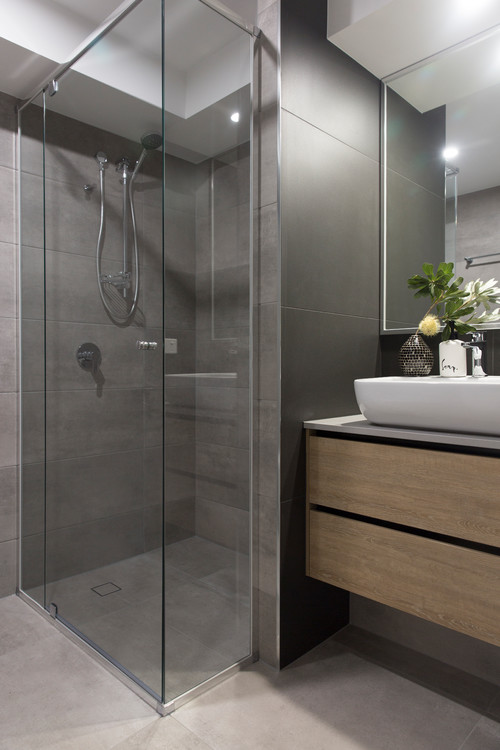 ID# 151911 | Houzz.com – Credit | © Donna Guyler Design
---
Small Shower Ideas with Corner Showers and Gray Tile Backsplash
Sometimes all you need to do after a long day is get some privacy and a water massage. And it doesn't matter whether it is delivered by an oversized shower room or a small one. Even a small corner shower room is more than enough to relax after an exhausting day. And here we have one of those compact corner showers, coming in the form of a corner cube box. Mainly characterized by a large gray tile backsplash, this corner shower proposes a neutral setup. And it is completely ready to calm the body of its users. The steel showerhead and spotlights just keep the complementary elements basic and simple while ensuring efficiency. In the rest of the design, a wood floating vanity, a LED mirror, and a touch of green form part of the bathroom. All of them add to the minimalist and contemporary design of the interior.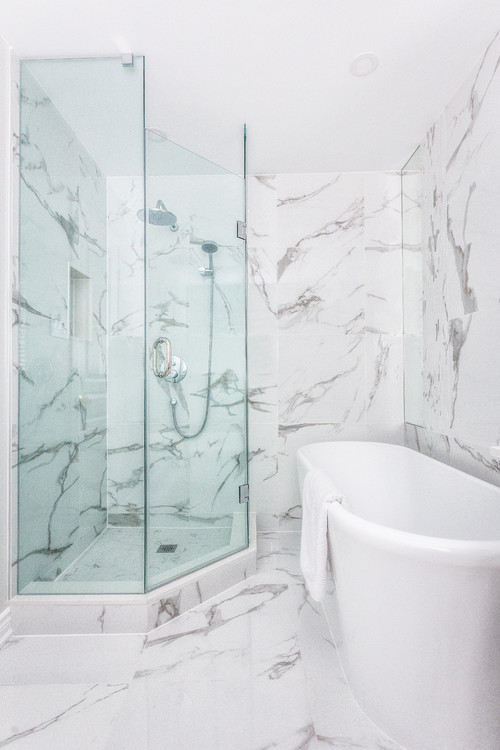 ID# 151912 | Houzz.com – Credit | © Bobeche Interiors
---
Carrara Marble Look Backsplash with Freestanding Tub and Custom-Shower
With a few color and design tricks, you can easily turn your bathroom into a spa. But if you don't know how to do so, just take note of this design. Here, this all-white sparkling bathroom, for example, goes with Carrara marble effect tiles, which makes it a perfect fit to create a spa effect. Cladding the entire room, these bold patterned white tiles surely propose a calm and luxurious design. The wall niche used to store toiletries helps maintain visual unity. Likewise, the chrome tapware matches the polished surface of marble-look quartz slabs, feeling rather camouflaged.
The freestanding tub and custom shower with diagonally-brought-together glass panels ooze opulence. Inviting extra charm and elegance, they exude sophistication like no other addition could do. Plus, a high-profile tray for the shower room gives it an elevated feel and an omnipresence.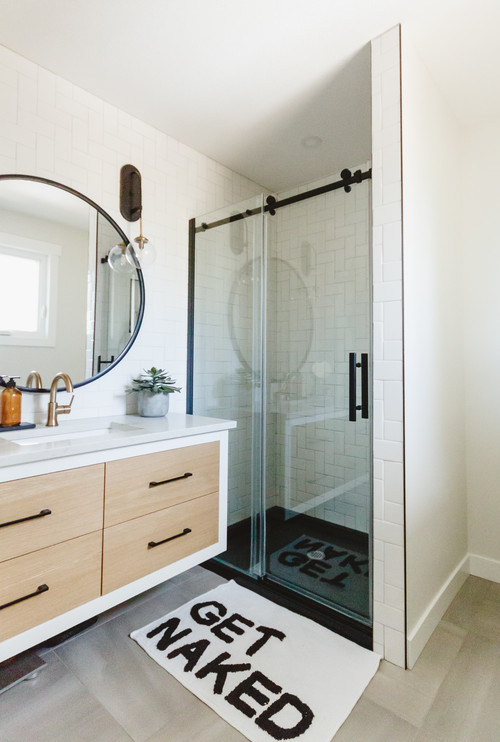 ID# 151913 | Houzz.com – Credit | © Citizen Design Co.
---
Small Shower Ideas with White Herringbone Tile Backsplash and Black Floor
Neighboring a modern wood floating vanity, this small corner shower celebrates its own space with contrasting features. More specifically, it goes with black floor tiles to highlight the white ceramic herringbone tile backsplash. The intriguing layout of known-as-subway tiles adds extra interest to the walls. When it comes to the shower itself, its glass sliding door prevents water from leaving the shower room. While in wet rooms, things can get a little bit messy, here this bathroom chooses to play completely safe. Yet while doing so, it doesn't refrain from having a little fun. The white towel that reads "GET NAKED" in black letters is totally up to catching your attention. With such an imperative, it makes an entertaining addition and brings a sense of humor to the design.
Small White Shower
White-tiled showers feel more spacious and brighter. That's why if you have a small shower room, one of the best ways to make it feel bigger is to go with a white backsplash. Also, keep in mind that large format tiles also serve as a space-enhancing factor. If you are looking for an alternative, consider white glass tiles that come with a beautiful sheen. Or stack white subway tiles vertically to elongate the shower room.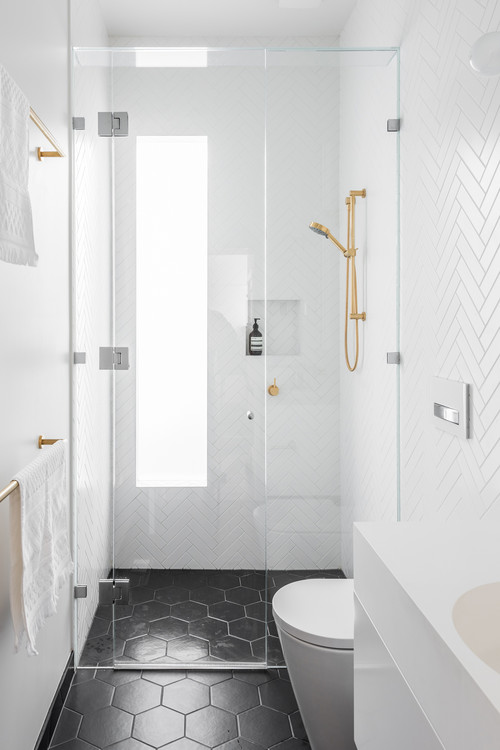 ID# 151914 | Houzz.com – Credit | © eat.bathe.live
---
Small Shower Ideas with White Herringbone Backsplash and Black Hexagon Tiles
Showers are meant to relax their users and refresh them. To achieve that, one of the design keys is the use of light color palettes. This contemporary bathroom, for example, uses a white tile backsplash. And in doing so, it manages to make the room feel more spacious and brighter. This way, it also compensates for the compactness of the room. The open-room approach, though separated by glass doors, also makes the design more welcoming and endearing.
Plus, you can always add more character to white shades by playing with the tile, material, and layout options. Here, for instance, the white ceramic subway tiles are installed in a herringbone pattern. These interlocking tiles give the walls a contemporary spin, while black hexagon floor tiles deliver contrast. Aside from those, yellow gold tapware brings much-needed warmth to break up the white-and-black color scheme.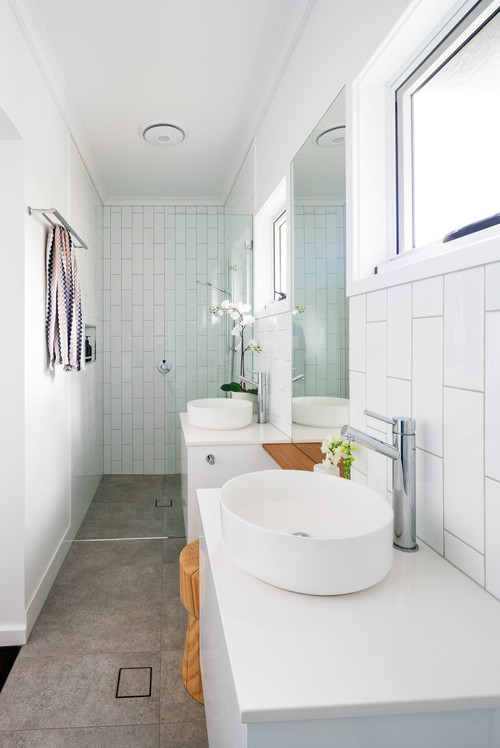 ID# 151915 | Houzz.com – Credit | © 4305design
---
Small White Shower with Stacked Subway Tiles and White Vanity
This rather narrow and compact bathroom in its rectilinear form only allows for a corner shower room at the back. Yet, it does so without making the space feel claustrophobic or jarring, thanks to the white backsplash. Stacked vertically in a running-bond pattern, the large format subway tiles actually give movement to the walls. As such, the design gains a sense of momentum and a new dynamic with bonus brightness. The white vanity with a double sink and chrome tapware further lightens up the bathroom. On the floor, the light sandy-gray tiles bring a sense of earthliness and some color to the otherwise all-white design.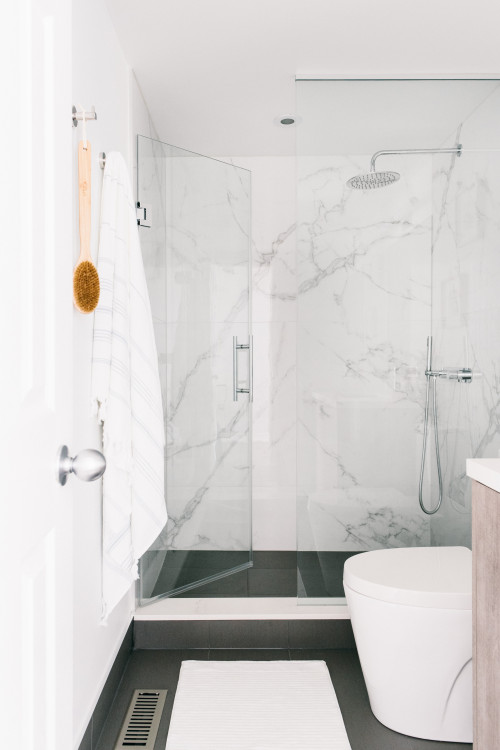 ID# 151916 | Houzz.com – Credit | © Ke Design Collective Inc.
---
Small Shower Room with White Marble Backsplash and Glass Doors
Rather than using tile backsplashes, sticking to natural stone slabs could be a better way to define the walls in shower rooms. This way, you don't only save yourself from cleaning grout lines but also get a more sophisticated and seamless look. For example, this modern bathroom offers one of the best examples of it by using marble slabs. White and delicately patterned, these marble slabs give the shower room a fresh and clean look. Peeking out behind the glass shower doors, they also lend elegance to the entire bathroom. By contrast, the black floor tiles serve as an anchor for the white marble. Additionally, the white foot towel offers comfort underfoot, providing a cloth to dry the feet of the bathers.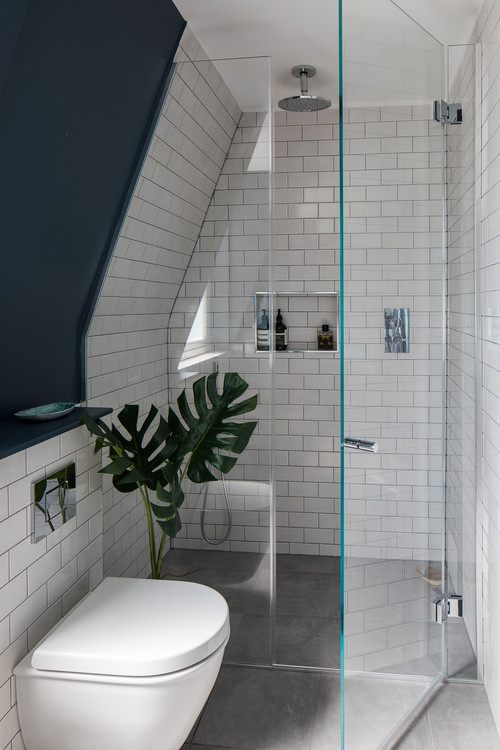 ID# 151917 | Houzz.com – Credit | © Imperfect Interiors
---
Contemporary Bathroom with Subway Tile Backsplash and Gray Floor Tiles
Awkwardly-shaped layouts can be unavoidable. And surely, they are challenging, making it harder for us to fit in. But the good part is that you can always integrate such areas into your room in some way. In doing so, you can turn negative spaces into usable forms, which especially works well in shower rooms. This contemporary bathroom exemplifies how to do so perfectly. Here, the sloping wall serves as the third wall of the shower room, making it impossible for anything except for a shower room.
The glass doors let us have a full view of it. And inside the shower zone, first of all, the wall niche maximizes the use of the interior area. Secondly, the white subway tiles serve as a fail-safe option, making the design timeless. Gray floor tiles add another neutral element to keep the color palette simple. The monstera plant brings the design to life, adding a touch of green and creating an oasis-like look.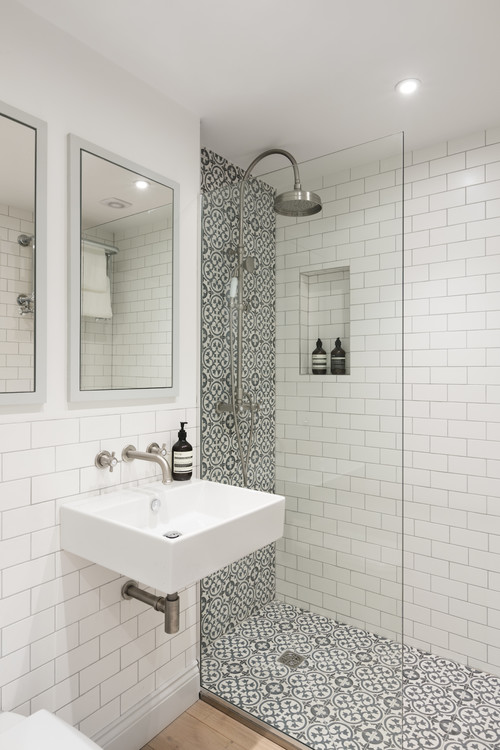 ID# 151918 | Houzz.com – Credit | © 4 You Residential
---
Small Shower Ideas with White Subway Tiles and Nickel Showerhead
Even if you have a small shower with white tiles, a statement wall in contrasting shades wouldn't hurt. Rather, it adds visual diversity and creates an eye-catching accent wall and stimulant all at once. This contemporary bathroom, for example, goes with Mediterranean-inspired pattern-rich tiles that create a feature wall. These tiles also continue on the floor for the sake of visual cohesion. In the rest, the white ceramic subway tiles laid in a running-bond pattern provide a blank canvas. Supporting the visual integrity are also the nickel fittings that put the wall-mounted washbasin into dialogue with the showerhead.
Design hint: If you want to accentuate your wall niche, you can clad it with different colored or patterned tiles.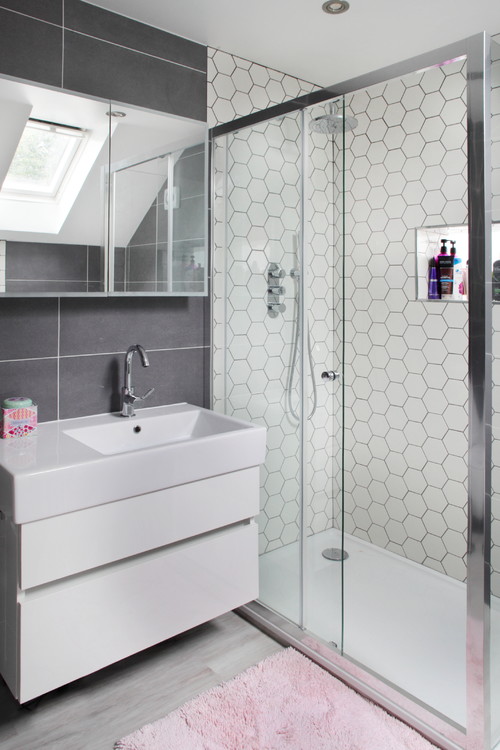 ID# 151919 | Houzz.com – Credit
---
Modern Bathroom with White Hexagon Tile Backsplash and Glass Doors
In this modern bathroom, white ceramic hexagon tiles surely own the shower. Stretching from floor to ceiling, they introduce a sense of geometry and break the existing symmetry. Since the bathroom is compact and everything is close to each other, homeowners prefer to go with an enclosed shower. And here, the glass sliding doors prevent water from escaping into the bathroom, making it super-easy for bathers. Plus, they also provide more privacy when compared to doorless showers. Apart from those, the pink runner brings extra warmth and comfort underfoot, minimizing the possibility of slipping.
Small Shower Sizes
Small shower sizes vary from 32 to 36 inches in width and depth. But with a few design tricks, they can feel much larger than they are. Keeping them doorless is one way to achieve that. Or you can just add glass doors that preserve the open feeling. Large format tiles or using slabs instead of tiles could also make a huge difference. Or even better, if you really lack space for a separate room for a shower stall or wet room, merge the shower room with the rest. And use a central drain as a space-savvy trick.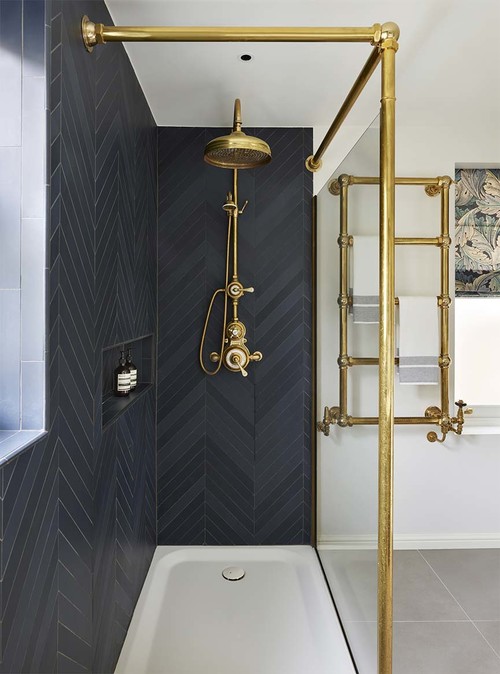 ID# 151920 | Houzz.com – Credit | © Drummonds Bathrooms
---
Small Shower Ideas with Black Chevron Tiles and Brass Fittings
Visually striking, this traditional bathroom adapts a modern design vocabulary, boosting confidence with black chevron tiles. Bringing a sophisticated urban edge, these matte-finish tiles also come in alternating shades. Thus, a soft balance gets easily established through subtle tonal variations. Yet, contrasting with the upper part is the low-level shower tray saving homeowners from lining shower tiles. And finally, to warm the interior up, the brass fittings form part of the design. They provide an aged and lived-in feel, taking the design to the next level. Since the shower room is fully exposed, shower curtains could be added for more privacy if wished.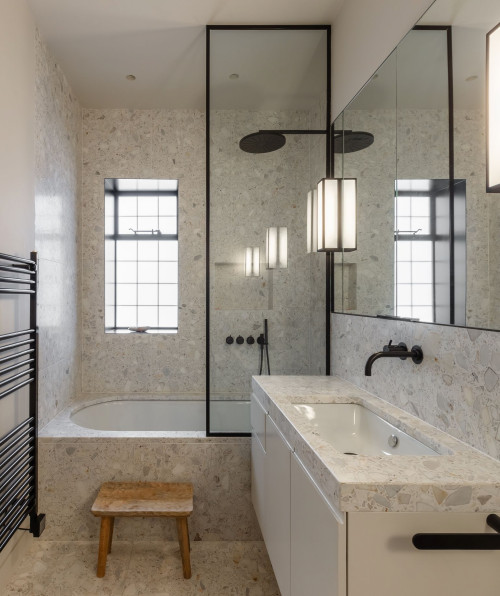 ID# 151922 | Houzz.com – Credit | © Bhuva Construction
---
Contemporary Bathroom with Terrazzo Tiles and Bathtub
Why not merge the bathtub and shower when you don't have enough space to accommodate both? This contemporary bathroom, for example, allocates the back part of the space to the bathtub. This bathtub comes with a shower option and a glass door on one side to prevent water from escaping. A wooden stool accompanies it to make getting into the tub easier. And what unifies them all together in aesthetic terms is the light and barely-there terrazzo-sheathing. It not only clads the shower walls but also the floor, the bathtub, the backsplash wall, and the vanity countertop. So, the resulting visual scheme feels visually cohesive and well-integrated. Not to mention the black tapware, towel rails, and black fittings, which, again, pull the design together.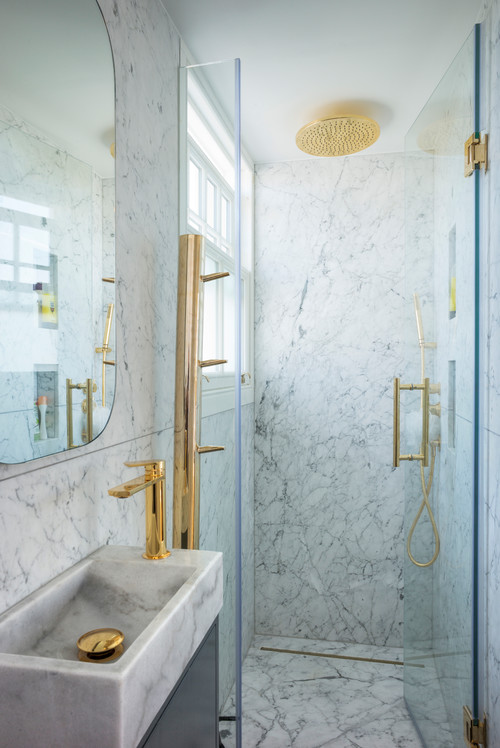 ID# 151923 | Houzz.com – Credit | © Space Group Architects
---
Small Shower Ideas with Marble and Gold Fixtures
This all-marble-clad bathroom, from floor to walls, and washbasin, arrests its users for longer stays. The delicate and gentle striations on the Carrara marble deliver sophistication, honored by yellow gold fixtures. And the light white-bluish color scheme injects serenity. This shower room also makes a division with its glass door, ensuring privacy for itself. Overall, this transitional bathroom proves that with two just elements, you can make the entire space stand out. Just focus on the material types and color coordination.