33+ White Bathroom Vanity Ideas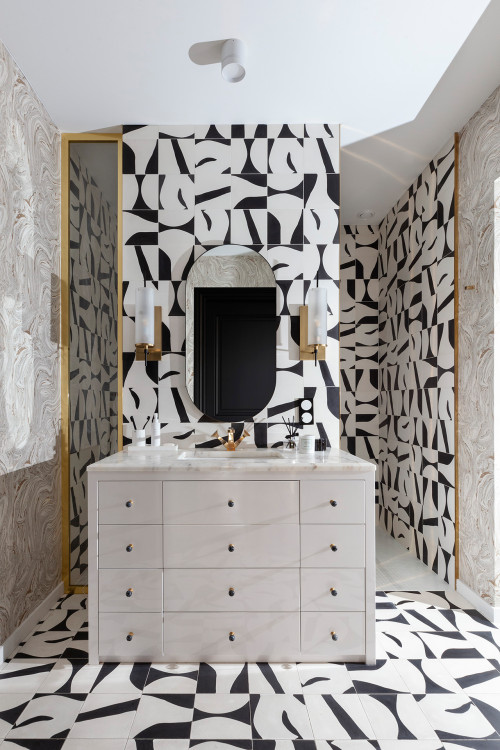 ID# 148401 | Houzz.com – Credit | © Lavka-Design
---
Contemporary Bathroom with White Bathroom Vanity Ideas
This contemporary bathroom features an arresting design, thanks to the white and black printed ceramic tiles used both on the floor and walls. To bring a contrasting calmness, a white bathroom vanity forms part of the design. It is flat-front and consists of several drawers to allow for better organization. Above it, the rounded frameless mirror adds a soft aesthetic feature. The brass strips and brass wall sconces add warmth to break up the monochromatic look. Likewise, the light beige patterned wallpaper designs utilized in less wet parts of the room give the tile design a visual break to bring in homey vibes.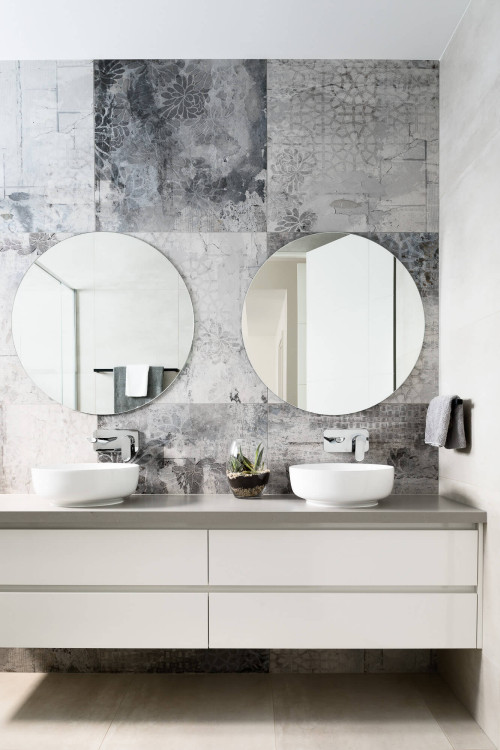 ID# 148424 | Houzz.com – Credit | © The Little Brick Studio
---
Contemporary Bathroom with Round Mirrors and Double Vanity
If you want to keep your bathroom vanity white and simple, it always pays off well in all designs. But sometimes you need something to change up the all-white looks. This contemporary bathroom, for example, goes with a statement backsplash. It is full-height, featuring understated patterns and shades. The frameless round mirrors and gray quartz countertops with chrome tapware complement the double vanity. Overall, the final product feels eye-catching, immersive, and contemporary.
White Bathroom Vanity Ideas
Bathroom designs loom larger in the minds of designers and homeowners for good reason. First, bathrooms are used frequently. Secondly, they are wet rooms, requiring a design that ensures comfort and longevity. And to create a viable bathroom design, one of the key elements is bathroom vanities. They provide us with countertops and storage solutions and accommodate sinks. Thus, they have many components to consider. And in this round-out, we will be investigating white bathroom vanity ideas that contribute to the overall design aesthetic substantially.
White bathroom vanity ideas range from cabinet styles to vanity types ( pedestal, corner, washstand, basin, vessel sink, floating, etc.) countertops, and hardware. Shaker and flat-front cabinet styles, for example, are the most popular designs for white bathroom vanities. Black, gold, and chrome hardware add nice gestures to these front panels. The design scenarios like these outgrow themselves every day. If you are looking for more solid ideas, here we have you covered with bathroom design tips and inspiring ideas about white bathroom vanities. Just read on to fire up your imagination!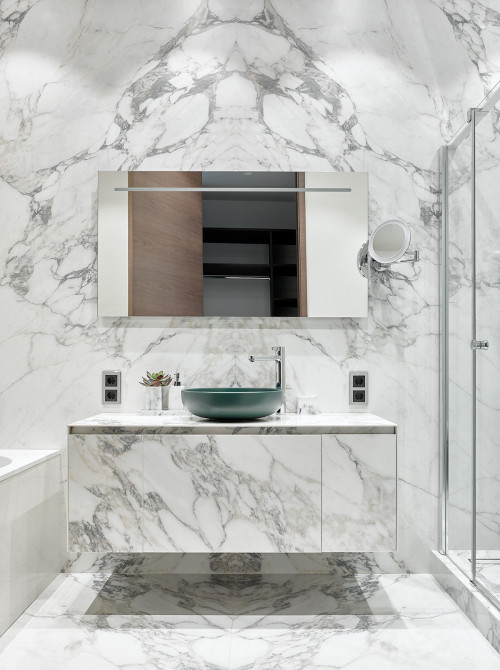 ID# 148402 | Houzz.com – Credit | © Ariana Ahmad Interior Design
---
Marble Backsplash with White Bathroom Vanity and Vessel Sink
Blessed with high ceilings, this contemporary bathroom lays its foundation on stunning marble. Not only that the white marble clads the walls and floors but also the vanity and countertop. This way, the bathroom ensures a continuous and cohesive look. But even better, with such a design, it sticks to the tenets of minimalism. Rather than juxtaposing different shades and materials, it constitutes an expressive look by merely relying on the bold veining on the white marble base. To complement the marble-clad interior, the green rounded vessel sink adds a ripple of color. Also, with the shower and bathtub options, this bathroom offers both of the best worlds.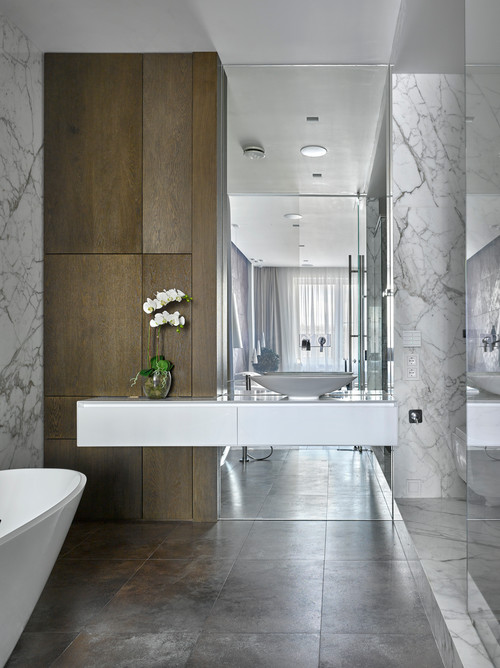 ID# 148403 | Houzz.com – Credit | © Бюро Александры Федоровой
---
Marble Walls with Wood Cabinet and White Vanity
Here, this contemporary bathroom celebrates the beauty of natural forms and textures, resulting in an austere look with the pure forms of the elements. First, it goes with a floor-to-ceiling dark wood cabinet that optimizes the storage potential of the bathroom. Secondly, it uses a bold-patterned marble backsplash, whose brown veining matches the wood cabinet. In the rest of the design, the metal finish tiles mimic oxidized or aged metal looks. They pack the design with style and a lived-in feel for extra interest. Additionally, the white floating vanity and a white freestanding tub lighten up the bathroom. Not to mention the floor-to-ceiling mirror that serves as a backsplash that makes the room feel larger. The use of a floating vanity also leaves more room on the floor, letting the floor tiles show off.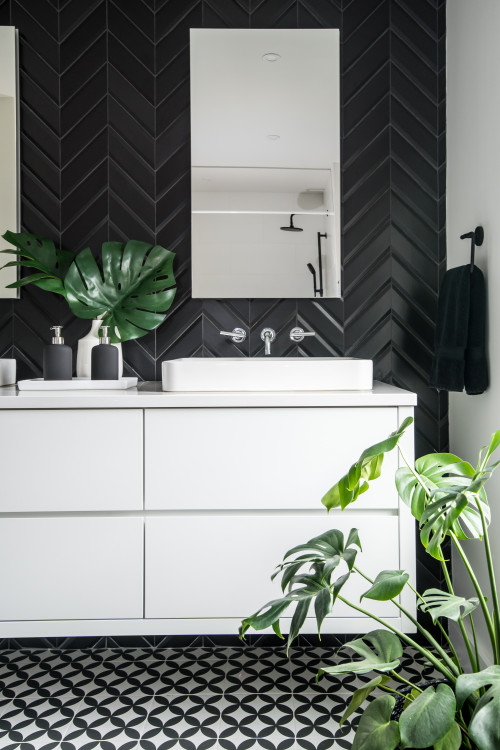 ID# 148404 | Houzz.com – Credit | © House of Hues Interiors
---
Black Chevron Tile Backsplash with Double White Vanity and Geometric Floor Tiles
Designed to offer an eye-pleasing design based on a white-and-black color scheme, this Scandinavian bathroom is quite intriguing in its own right. First, the black chevron tile backsplash stretches from floor to ceiling to provide full protection from water splashes. The white double floating vanity pops against the black background. And its clean lines orchestrate a perfect balance with geometric patterns that colonize the interior. The geometric pattern of white-and-black floor tiles jazzes up the overall aesthetic. The green plants, on the other hand, bring the design to life, while chevron patterns mimic their leaves for a cohesive look.
Types of White Bathroom Vanity Ideas
Luckily today, we don't have to worry about the confines of small bathrooms since bathroom vanities are available in many design options. From small to big, modern, bespoke, classic, floating, basin, and pedestal, bathroom vanity ideas are more than one can imagine. Now, let's take a closer look at them.
Modern White Bathroom Vanity
Modern white bathroom vanities are generally flat-front and characterized by clean and sleek lines. Most of them are floating and hovering above the ground to bring in a sense of flow. As such, they are also more ergonomic. Flutted-design front panels and curved forms are also very much associated with modern vanities. Additionally, they tend to consist of different layers. For example, a rounded basin can be placed in cube-shaped storage to pass as a contemporary form. Such intriguing forms also make white vanities more interesting and expressive with a designer look.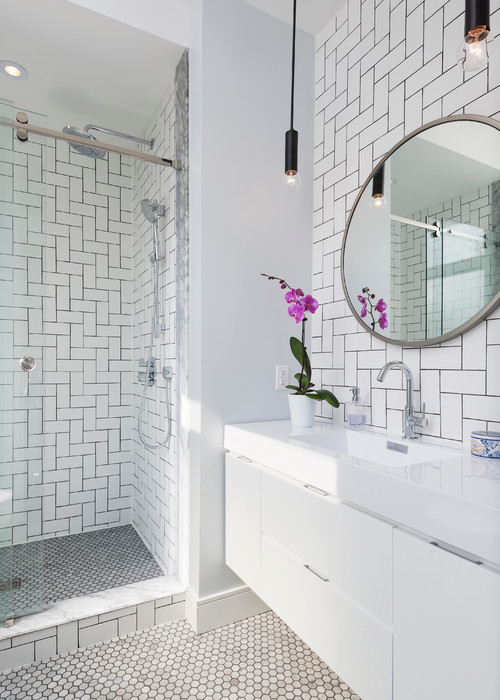 ID# 148405 | Houzz.com – Credit | © Studio Z Design
---
Modern White Bathroom Vanity Ideas with Subway Tile Backsplash and Hexagon Floor Tiles
This contemporary bathroom prefers using two different tiles to create diversity and a user-friendly design. For example, the small hexagon tiles clad the floors and the shower room to provide more friction and make the floor non-slip. And as for the walls, the subway tiles laid in a herringbone pattern add vibrancy and movement. The white floating vanity also serves as a strategic decision to enhance the openness – as the bathroom is relatively small. Finally, the chrome fixtures and basic black pendants further stylize the bathroom without overcomplicating the design.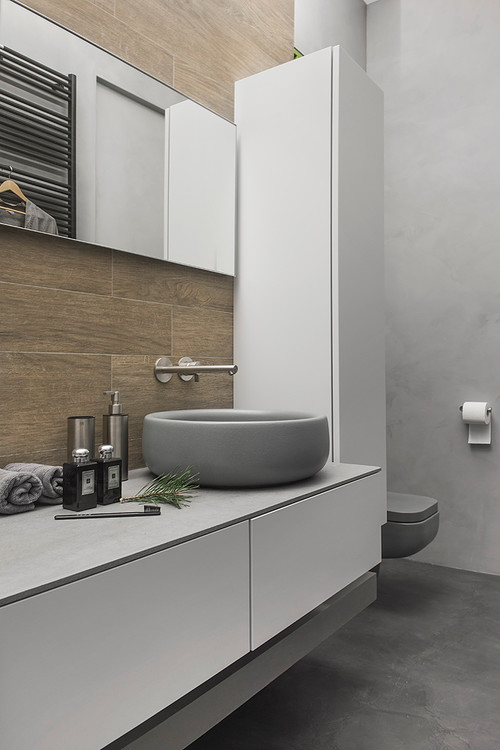 ID# 148406 | Houzz.com – Credit | © PROforma проектная группа
---
Industrial Bathroom with Wood Backsplash and Concrete Floor
This modern bathroom is characterized by a wood backsplash and concrete floor that gives the bathroom an industrial feel. These characteristic additions make the space more intriguing. The white floating shelf adjoined to a white wall unit offers plenty of storage. The rectangular mirror runs parallel to the vanity, overhead. The rounded and oversized gray vessel sink pairs perfectly with the rest of the design. The high ceilings also provide the perfect setup for industrial designs that are extremely suitable for colossal spaces.
Are white bathroom vanities hard to keep clean?
Unlike what is assumed, white bathroom vanities are much easier to keep clean than many other colors. It is mainly because when they get dirty, they make sure you see it. Thus, it is very much unlike darker cabinets that conceal them. It, in turn, prompts you to clean them more often, which prevents the accumulation of dirt, dust, and stains over time. So, rather than going through complicated cleaning routines, you can just get rid of the dirt much easier before it accumulates over time.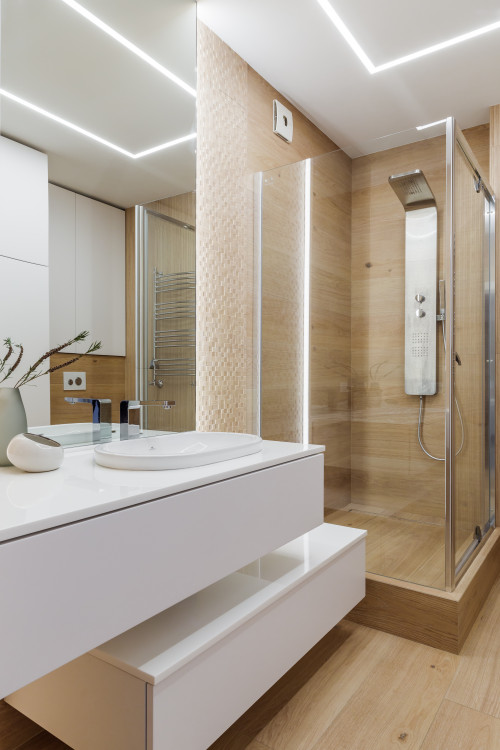 ID# 148407 | Houzz.com – Credit | © Архитектурная студия Astar project
---
Mirror Backsplash with White Vanity and Wood Floor
The soothing aesthetics of this contemporary bathroom majorly derives from the abundant use of wood cladding on both the floor and the walls. The light shade of it creates a visually lightweight look, supported by a full-height mirror backsplash. So, here, instead of a formal backsplash, a mirror forms part of the design, protecting the vanity-behind wall from water splashes. In addition to those, the ultra-contemporary design white floating vanity creates a focal point effortlessly, thanks to its two independent layers, which are rare to see. Lastly, overhead, the built-in Led-strip lighting ensures light diffuses evenly throughout the bathroom.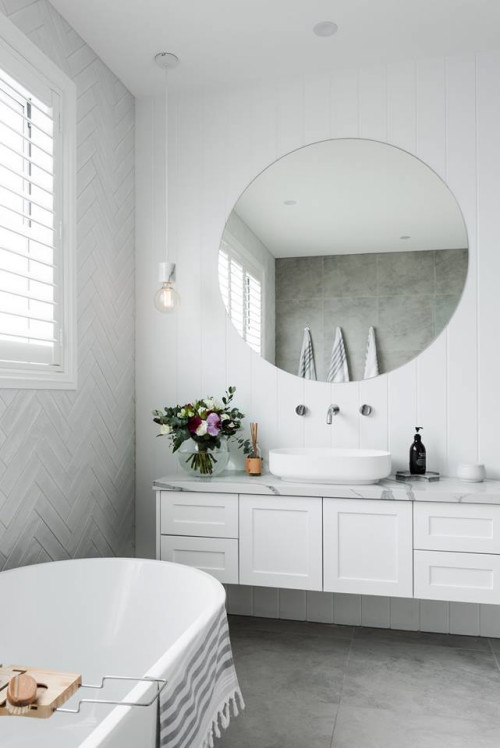 ID# 148408 | Houzz.com – Credit | © Apex Constructions N.S.W
---
Country Bathroom with V-groove Backsplash and White Bathroom Vanity Ideas
This chromatic country bathroom, despite its all-white look, manages to pack a wide range of textures and looks altogether. From the whitewashed V-groove panels behind the vanity to the herringbone tile backsplash and gray solid stone tiles, each element speaks volumes. By contrast, the hardware-free floating vanity makes a simple and basic addition. It is topped by a marble-look quartz countertop and a vessel sink. The chrome hardware and an industrial-style light bulb accompany the vanity. And the freestanding tub adds a level of luxury without stealing from the country look of the design.
What is the most popular color for bathroom vanity?
White is the most popular color for bathroom vanity. It is easy to match with a wide range of elements, making the room larger. But if you are looking for something different, off-white, greige, powder blue, earth green, and light wood bathroom vanities are among other popular vanity options.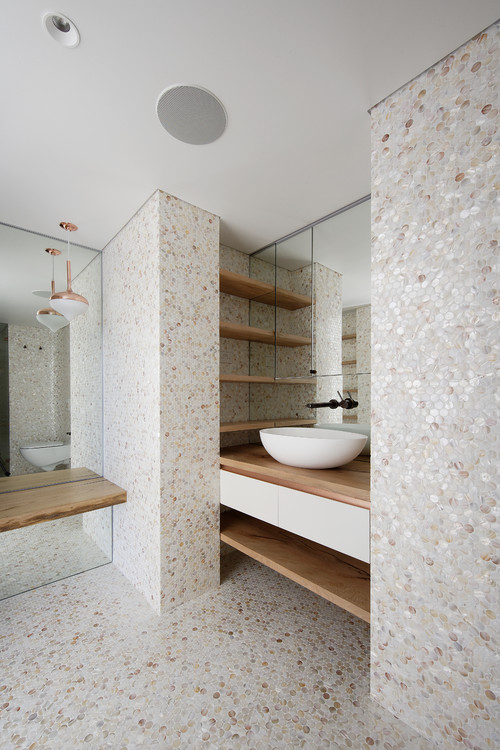 ID# 148409 | Houzz.com – Credit | © Niche Design Group – Kitchens and Joinery
---
Multi-Colored Penny Round Tile Backsplash and Timber Floating Shelves
This eye-popping bathroom design imparts a sense of calmness to its users, thanks to the timber floating shelves and a butcher block countertop. These natural elements downplay the penny round tile backsplash that clads the entire room for a cohesive look. The mirrors used in different formats and zones make the design flow into each other. And the light earthy alternating shades of the tiles prevent the space from feeling too matchy-matchy. The white floating vanity further calms this crowded design down. The final product is immersive, organic, and functional all at once.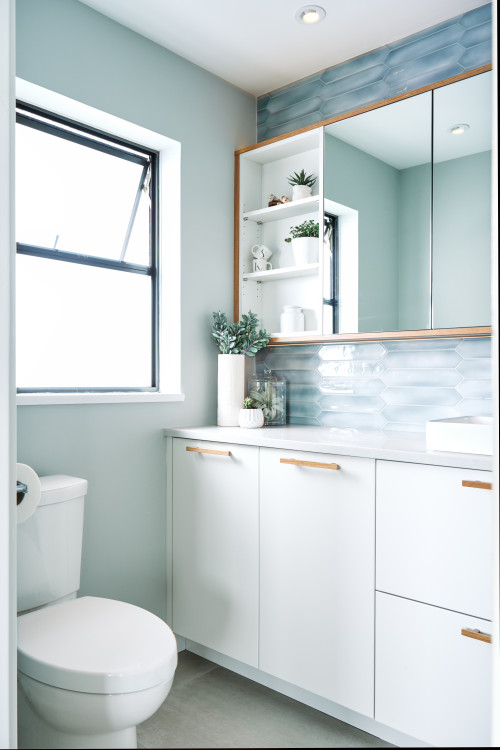 ID# 148410 | Houzz.com – Credit | © Designs by KS
---
Blue Hexagon Tile Backsplash with White Vanity and Wood Accents
In this contemporary bathroom, considering the smallness of the bathroom, the vanity flat-front vanity is used. This way, a sleek profile becomes established with clean-line joinery. Also, the backsplash tiles are given a polished finish. Plus, the use of elongated ceramic hexagon tile backsplash gives the bathroom extra width, while its blue shades instill serenity. And finally, to introduce a touch of warmth, the timber accents are used as cabinet pulls and a mirror-cabinet frame.
Small White Bathroom Vanity
Small bathroom vanities or single-sink bathroom vanities feature a wide range of designs. So don't despair if your bathroom is too small. The perfect size for any bathroom of any size does exist. All you need to do is to find the perfect spot for it and calculate the area carefully.
Small bathroom vanities measure 18, 19, 20, and 24 inches in width. And their lengths typically range from 14 to 18 inches, while their heights reach up to 35 inches. But the bigger versions are also available, with widths reaching up to 30 and 32 inches.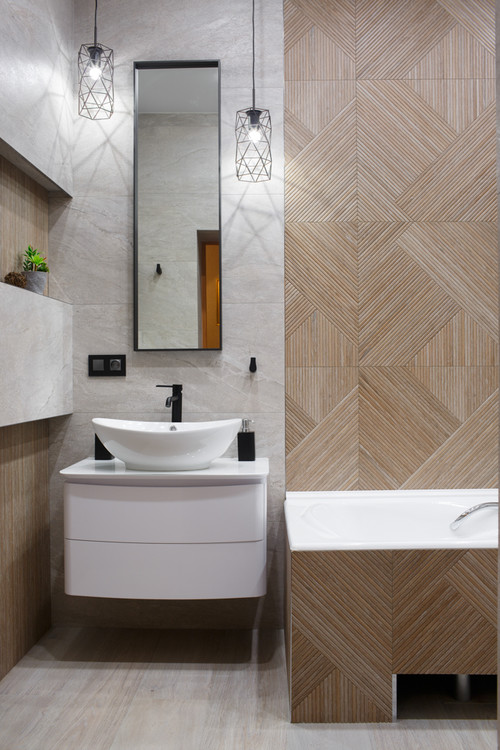 ID# 148411 | Houzz.com – Credit | © Дизайн-бюро Оксаны Мокриенко
---
Natural Bathroom Design with Small White Bathroom Vanity Ideas
One of the best ways to make efficient use of space is to use rigorously proportioned cabinets – as showcased by this contemporary bathroom. Here, the small vanity adds a cozy vibe, paired with a thin rectangular mirror installed vertically. The light sandy shaded tiles and wood-like feature walls create a natural background for this vanity. The concealed lighting fixtures and the modern wire pendants add more depth and dimension to compensate for the bathroom's smallness.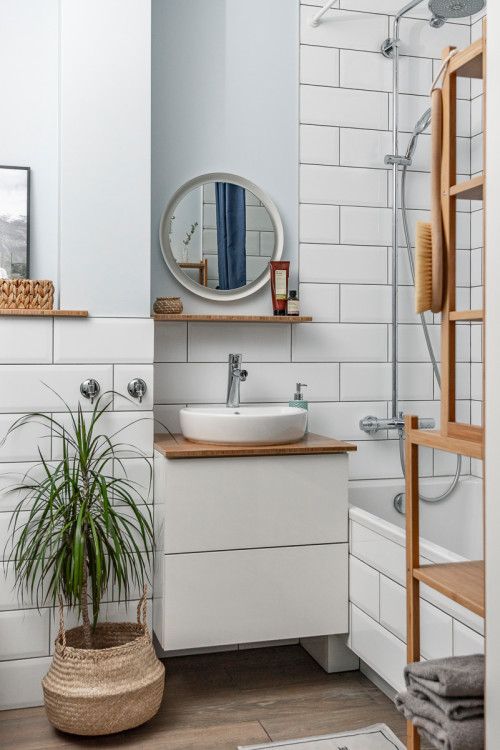 ID# 148412 | Houzz.com – Credit | © Александра Хасанова
---
Scandinavian Bathroom with Indoor Plants and Timber Shelves
In small bathrooms like this one, feel free to go with large format backsplash tiles. This way, you can create the illusion of a larger space- as proven by this Scandi-design bathroom. Here, the large white subway tiles sheathe the walls, including the bathtub. The timber floating shelves and wood countertop of the vanity inject warmth to create a natural look. Indoor plants also support it, placed in wicker baskets. Yet the best part here is the incorporation of open cabinets to build an intimate bathroom design. Plus, it proves that the exposed items don't necessarily lead to visual clutter. On the contrary, they bring life.
 Are white bathrooms out of style?
White bathrooms are still in style whether you want to go with a more classic or contemporary look. And it's mainly because white bathrooms provide a perfect neutral setup that can be upgraded at any time. As such, they have proven themselves to be versatile and viable in the long term. You can always change them up with pops of colors introduced by towels, tapware, runners, and plants. In other words, white bathrooms give homeowners all they need: a flexible setting that goes with anything.
In terms of functionality, white bathrooms are still popular, bringing many functional benefits. First, they brighten the space up and make the bathroom feel larger. Secondly, they are more reflective and playful with natural lights, which add extra charm to bathrooms.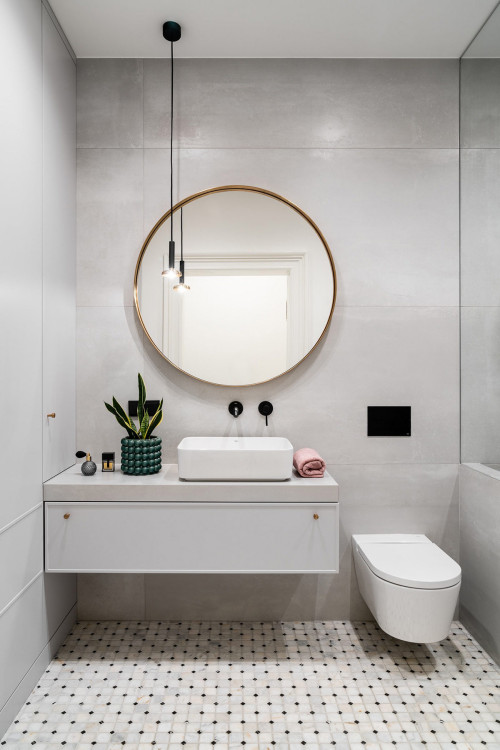 ID# 148413 | Houzz.com – Credit | © Евгений Райков
---
Monochromatic Contemporary Bathroom with Floating Vanity and Round Mirror
This monochromatic contemporary bathroom goes with a gray color palette that gives it a subtle hint of shade. While doing so, it still ensures that it is well-lit and visually lightweight. The small vanity, and a round mirror complete the minimalist appeal of the beige wall tiles while the dotted floor tiles inject further character into the space. Additionally, the brass-tinged mirror frame and little brass knobs bring warmth.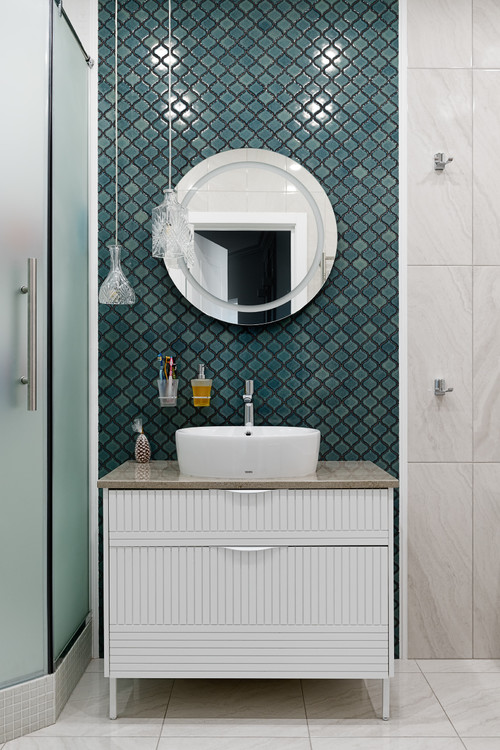 ID# 148414 | Houzz.com – Credit | © Маша Елтышева
---
Blue Arabesque Tile Backsplash with White Bathroom Vanity Ideas and Glass Pendants
This contemporary bathroom prides itself on the blue arabesque tile backsplash that stretches from floor to ceiling. The alternating shades of the tiles create a little vignette that honors the white-fluted design small vanity. The gray countertop, vessel sink, and glass pendants enrich the overall design aesthetic with minimal additions. They only accentuate the look without causing any visual confusion.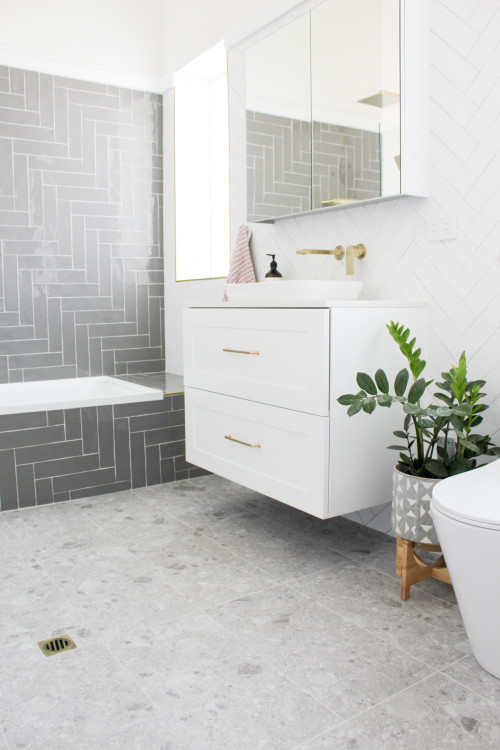 ID# 148415 | Houzz.com – Credit | © On The Ball Bathrooms
---
Terrazzo Floor with Gray Herringbone Tiles and Brass Hardware
This contemporary bathroom oozes elegance and luxury. The gray ceramic herringbone tiles define the bathtub zone, while the white ones create a clean backdrop for the vanity area. This way, the bathroom is strategically divided into different stations, which gives it extra visual interest. On the floor, the subtle gray terrazzo floor finish ensures the longevity of the design. An indoor plant in a ceramic vase and the brushed brass pulls and tapware bring the right amount of warmth.
Floating White Bathroom Vanity
If you want to leave more space on the floor, floating vanities are the route to go. They also help the space feel larger and more spacious while making cleaning much easier. Since they are wall-mounted, they don't create a secret spot for the dust and dirt to accumulate. Modern bathrooms generally prefer floating ones for their sleek profile.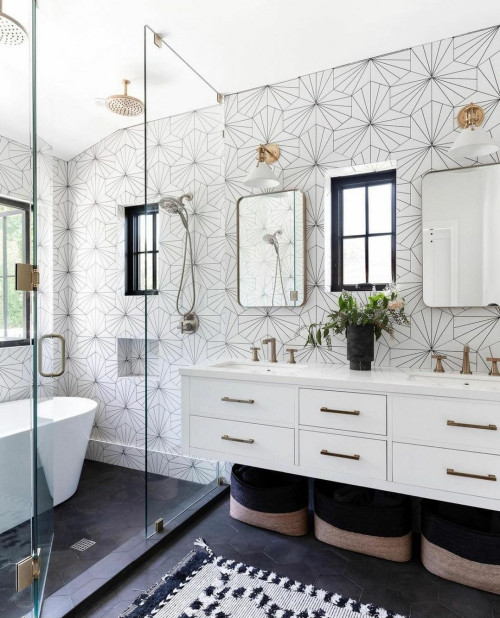 ID# 148416 | Houzz.com – Credit
---
Floating White Bathroom Vanity Ideas with Geometric Pattern Backsplash and Black Hexagon Tiles
Have you ever seen floral patterns in a more geometric form? Well, that's why this contemporary bathroom offers us. Stretching from floor to ceiling, these large format white patterned tiles make a visual statement. They are accompanied by black hexagon floor tiles that are kept smaller for the sake of more fractions. Plus, the stylish runner adds extra comfort and warmth to ensure a user-friendly design. Apart from those, getting a floating vanity leaves more room on the floor, which is evaluated with the placement of wicker-bottom baskets. The brushed brass hardware introduces warmth to break up the white-and-black contrasting color scheme.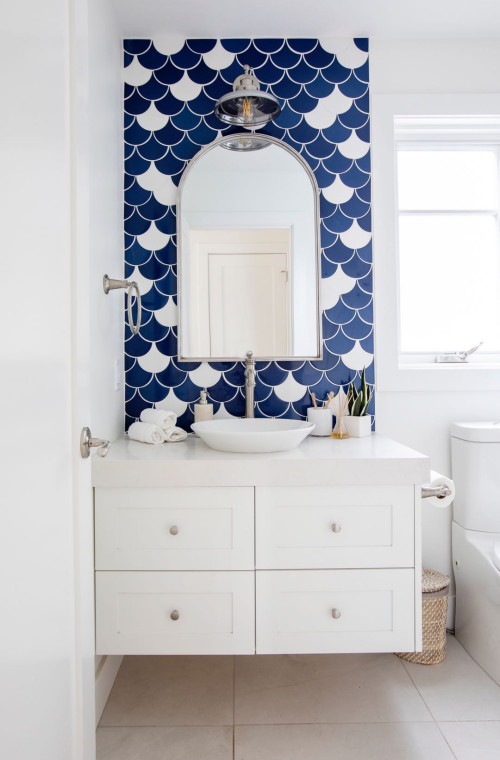 ID# 148417 | Houzz.com – Credit | © Alpine Countertops Ltd.
---
Fish Scale Backsplash with White Vanity and Round Ege Mirror
This lovely bathroom corner accommodates a white floating vanity that almost fades into the background. To complement it, the blue fish scale tiles add a splash of color and a new dynamic. The brushed chrome hardware, lighting fixture, and tapware round out the design.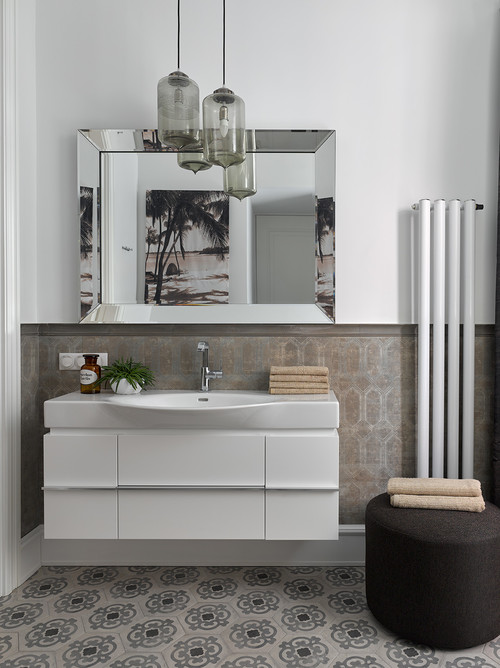 ID# 148418 | Houzz.com – Credit | © Дизайнер-декоратор Катя Грачёва
---
Contemporary Bathroom with White Floating Vanity and Oriental Floor Tiles
This contemporary bathroom is tinged with a coastal flair, thanks to the palm tree accents used throughout the bathroom. In the rest, the brown wallpaper design is dotted with silhouettes of hexagon tiles. These hexagonal lines capture a perfect balance with the white-painted walls. The floating vanity modernizes the bathroom. The powder-room-style cushion and oriental-pattern floor tiles build extra interest, building luxury.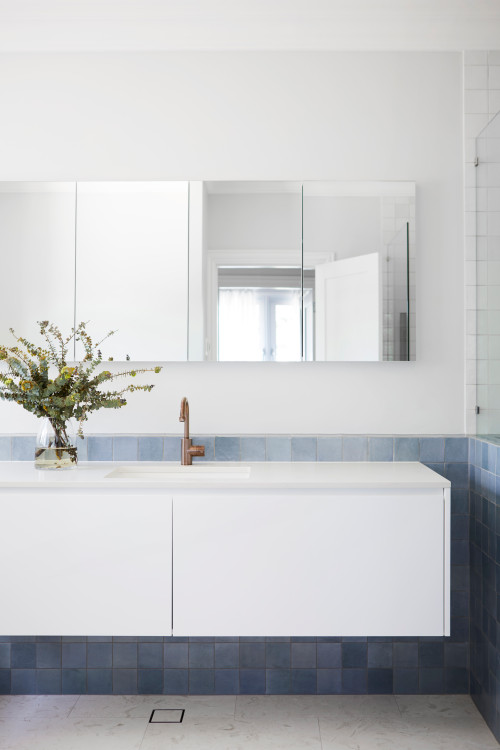 ID# 148419 | Houzz.com – Credit | © Jess Hunter Interior Design
---
White Bathroom Vanity Ideas with Blue Ceramic Tile Backsplash and Antique Brass Tapware
In this modern-country bathroom, the combination of blue and white makes for a serene design. Especially the alternating shades of blue make the backdrop extra eye-catching. The white floating vanity and white mirrored cabinet illuminate the bathroom while visually enlarging it at the same time. To finalize the overall aesthetic, the antique-brass tapware delivers warmth. The final product is unassuming and peaceful, offering a perfect spot to wash the day off.
Large White Bathroom Vanity
48, 60, and 72-inch bathroom vanities are among the generously sized ones that occupy a large portion of your bathroom space. They come with a mix of single sinks or double sinks, offering various options to suit customer needs. If you are looking for a vanity for your children, for example, a 48-inch vanity would be good enough to be shared by the siblings. Or, you can use it in a guest bathroom.
60- and 72-inch vanities are double vanities, which may come with a single sink or double sinks. Again, they can be customized following the needs of the customers. But for your ensuite bathroom, 72-inch vanities provide a better option. They provide plenty of storage, shelves, and drawers. Plus, you also have a hefty benchtop to keep your most-used lotions and creams.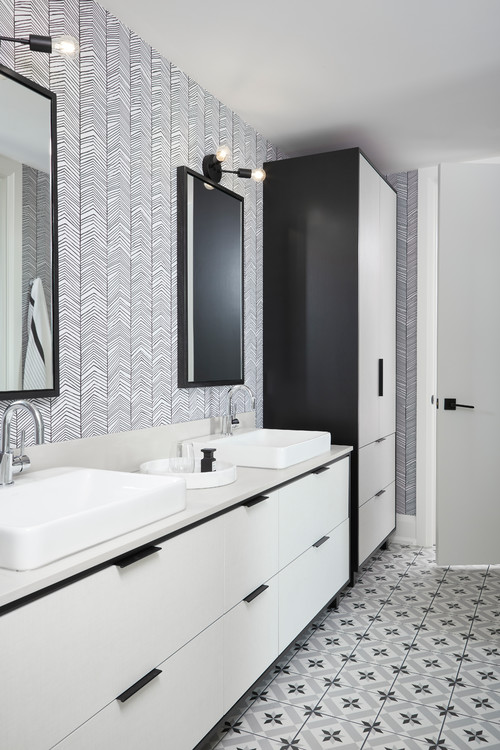 ID# 148420 | Houzz.com – Credit | © Lisa Lev Design
---
Large White Bathroom Vanity Ideas with Chevron Tile Backsplash and Black Hardware
This contemporary en-suite bathroom is well-appointed with a white double vanity accompanied by a full-height cabinet for extra storage. The black-and-white chevron tile backsplash reaches up to the ceiling to make a strong visual statement. As their sharp edges point upwards, they draw our eyes up, too, giving the bathroom extra height. The black-framed mirrors and black lip notches further stylize the interiors, supporting the white-and-black color scheme. Likewise, on the floor, the star-shaped patterns create an eye-catching look.
How much should I pay to have a bathroom vanity installed?
The average cost of a new bathroom vanity is about 1500 USD but according to material, color, and style options, the limit is the sky. The prices typically range from 300 to 3800 USD. Adding to that are also the installation costs that vary between 200 and 1000 USD.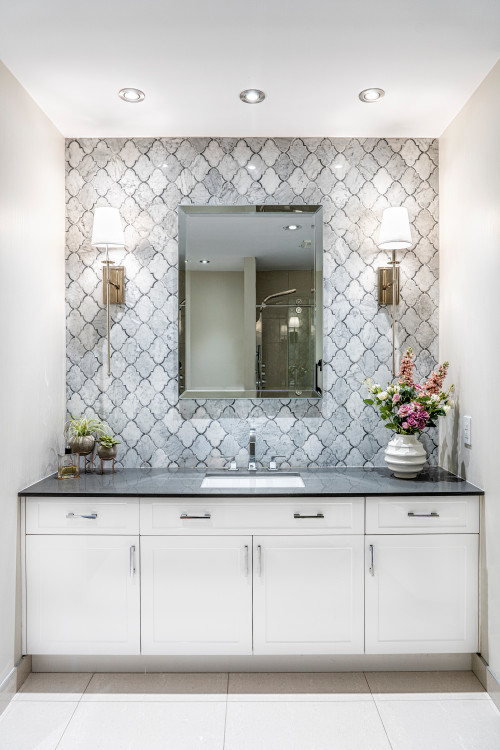 ID# 148421 | Houzz.com – Credit | © Natalinadesigns.com
---
Arabesque Tile Backsplash and Gray Quartz Countertop with White Vanity
This transitional bathroom design has an oriental side to it, thanks to the counter-to-ceiling marble arabesque tile backsplash. The beautiful veining and color fluctuations on the marble with the black grout add interest to the background. Below, the wall-to-wall double vanity offers a sleek look with an integrated sink. The chrome hardware and classic wall sconces along with the flowers and plants create a more formal and chic ambiance tinged with a touch of luxury.
White Bathroom Vanity with Sink
White bathroom vanities with sink offer clean and less layered looks, unless the vessel vanities. If you are looking for one for your ensuite bathroom, double bathroom vanities are also available. You can pair them with double sconces and a duo of mirrors. Some designers, if there is a double vanity, use a tall unit from the countertop to the ceiling to create subtle privacy between the two sections of the double vanities.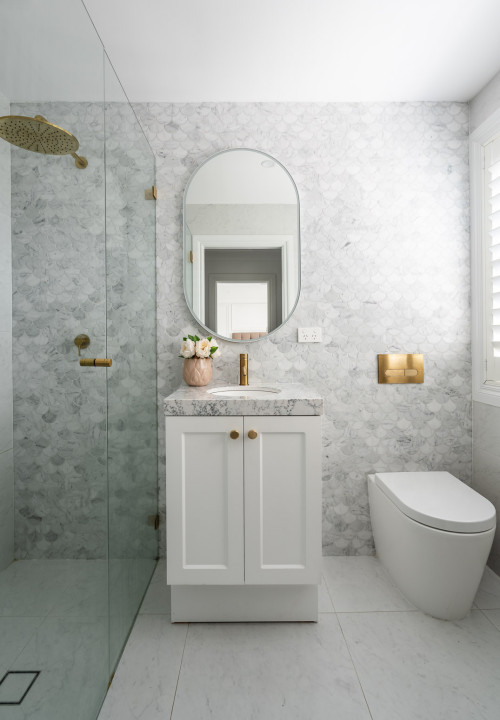 ID# 148422 | Houzz.com – Credit | © Coastal Hamptons Design Studio
---
Beach-Style Bathroom with White Bathroom Vanity Ideas and Marble Backsplash
This beach-style bathroom is packed with style and serenity with many special thanks to the marble backsplash. Serving as a wrap-around backsplash for a cohesive look, this marble fish scale tile backsplash gives the bathroom an upscale feel instantly. The marble countertop and a round edge mirror deepen the artistic mood of the design. The brassware, from the cabinet knobs to showerheads, pops against a neutral background, injecting warmth. The glass division skillfully distinguishes the shower room from the vanity area while maintaining visual connectivity. Lastly, a white shaker-panel vanity sits cutely, accommodating an integrated sink.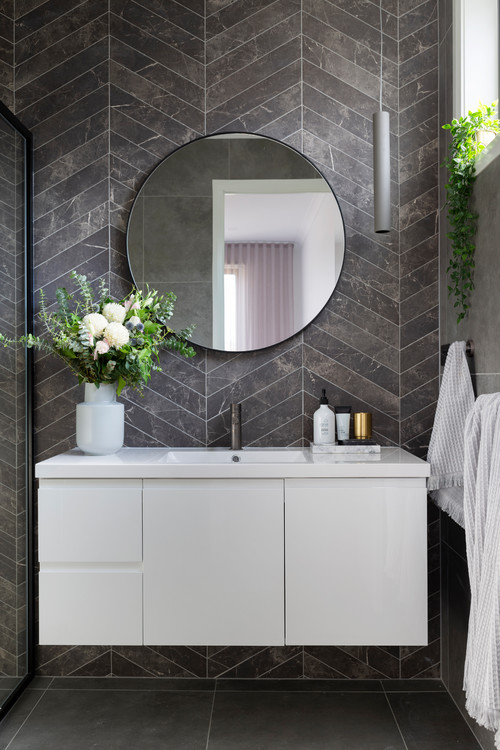 ID# 148423 | Houzz.com – Credit | © Studio Black Interiors
---
Dark Chevron Tile Backsplash with White Floating Vanity and Concrete Look Floor
Dark shades don't necessarily encroach on the space. Rather, they can also slow the passage of time and instill tranquility- as showcased by this modern bathroom. Here, the dark gray chevron tile backsplash goes up to the ceiling. Thanks to its marble-effect finish, it serves as the centerpiece of the design, oozing elegance. The white floating vanity, on the other hand, lightens up the interior, while concrete-look floor tiles bring an industrial edge. And finally, what is revitalizing the design is the integration of plants and flowers that bring freshness and an outdoor feel indoors.
White Bathroom Vanity with Black Hardware
If you want to punctuate your vanity, use black hardware. It could be knobs, pulls, cup pulls, or some eccentric-shaped hardware. White bathroom vanities are always popular and make designing less tricky most of the time. Thus, installing black hardware adds a soft contrast. If you have a farmhouse design, then you can accentuate the hinges as well for a more rustic feel without feeling over the top.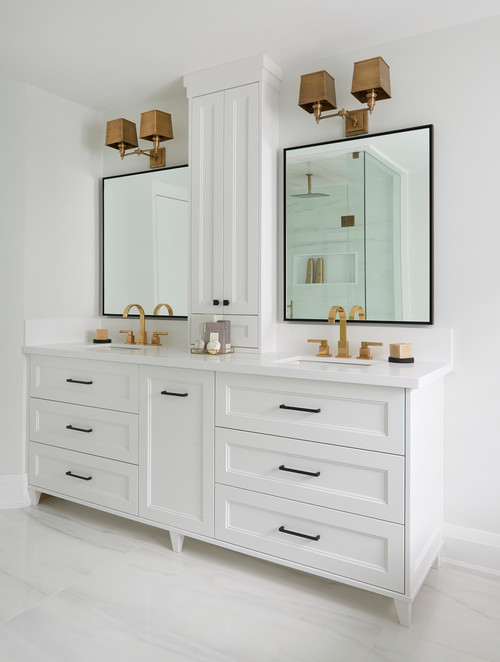 ID# 148425 | Houzz.com – Credit | © Casa Perfecta Inc
---
White Bathroom Vanity Ideas with Goldware and Square Mirrors
This all-white transitional bathroom is added a new dynamic with goldware that emanates warmth, while black accents create contrast. Here, the double-white shaker vanity is paired with a duo of black-framed square mirrors. And between the mirrors what stands is a counter-to-ceiling cabinet that brings subtle privacy. This way, the bathroom users can enjoy their private spot and have an extra place to keep their lotions.
What is the most durable material for bathroom vanity?
Solid wood is the most durable and long-lasting material for bathroom vanity. But if you are looking for more affordable options, consider plywood and MDF. Today, you can find plywood treated to be extra water resistant, which makes it a reliable option. As for MDF, it is an engineered material consisting of wood pieces and fibers.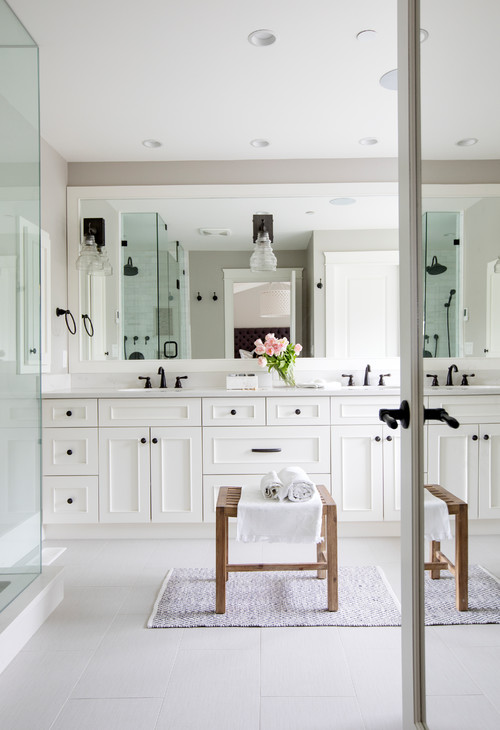 ID# 148426 | Houzz.com – Credit | © PlaidFox Studio
---
Soothing Bathroom with White Vanity and Black Hardware
This already spacious transitional bathroom feels much larger, thanks to its all-white palette. In the rest of the design, the white vanities stretch against the wall, paired with a wall-to-wall mirror. Additionally, the black hardware creates a strong contrast against the white features and makes a modern twist against the traditional style of the cabinets.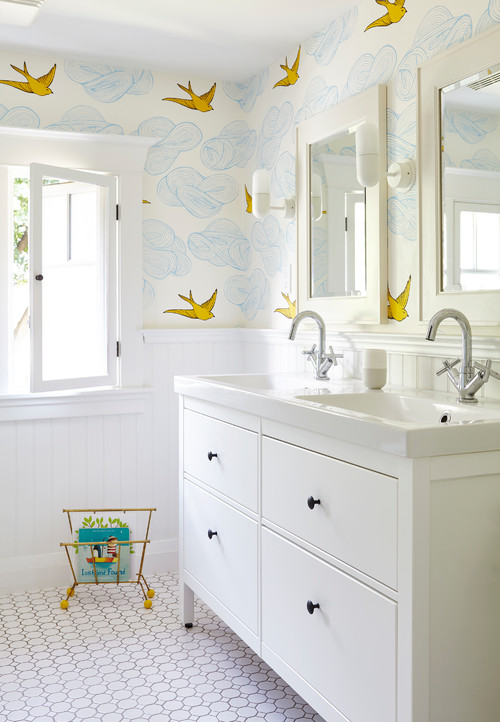 ID# 148427 | Houzz.com – Credit | © Designtheory Inc.
---
Wallpaper and V-Groove Backsplash with White Vanity
This transitional bathroom is designed for children, turning the bathing experience into fun. First, the white-washed V-groove cabinets clad half of the walls that bring a country flair. Yet, right above starts a wallpaper dotted with yellow birds and blue patterns, transforming the bathroom into a kindergarten of sorts. The pop of yellows and subtle shades of blue show the entertaining part of designing. And to keep the focus on the wallpaper, the double vanity comes in white, blending harmoniously with the rest.
White Shaker Bathroom Vanity
Shaker cabinets are not only popular in kitchens but also in bathrooms as well. Thanks to their easygoing nature, white shaker vanities are used in all bathroom designs. Yet transitional and country bathroom designs especially favor them. To celebrate their contribution to the design, you can pair them with brass, chrome, and stainless-steel hardware. With classical wall sconces and beautiful mirror frames, you can also take the design to the next level.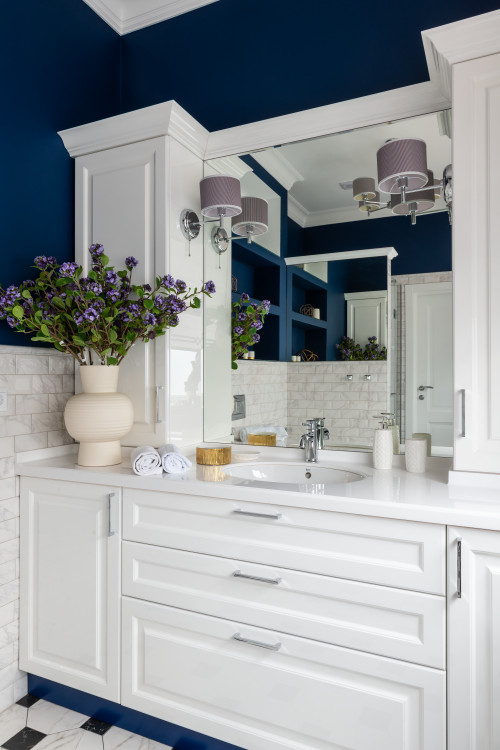 ID# 148428 | Houzz.com – Credit | © Дизайн Студия «МанИт»
---
White Shaker Bathroom Vanity with Blue Walls and Marble Subway Tile Backsplash
When designing a bathroom, sometimes we feel too focused on vanities, backsplash designs, and so on. But what about if we keep it all white but paint the walls? It is what exactly this transitional bathroom does. The dark navy walls create an immersive backdrop brightened up with a white shaker vanity. The white marble subway tiles line the walls behind the white shaker vanity. Flanked by two white wall units, the square mirror serves as a space-enhancing factor. For one final touch, the bluish-purple flowers add more life to the design.
Is it cheaper to buy premade vanity?
Premade vanities are much cheaper than custom-built ones. For example, while you can get the premade vanities at 100 USD minimum, custom-built ones start from 500 USD. Also, keep in mind that installation costs start around 200 USD reaching up to 1000 USD.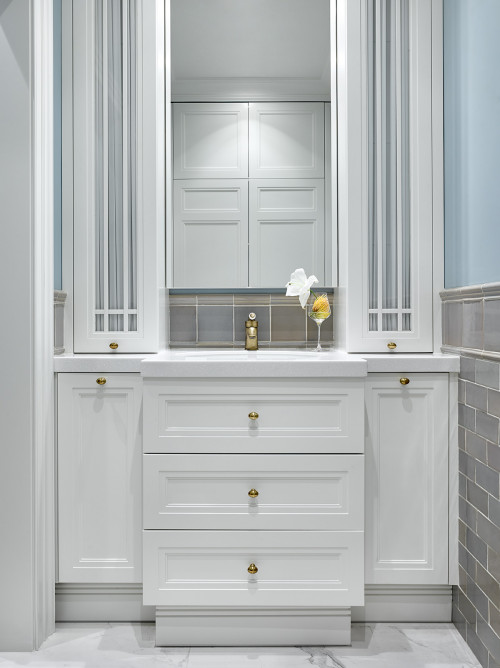 ID# 148429 | Houzz.com – Credit | © in[ex]terior by Solnyshkova
---
Gray Subway Tile Backsplash with Gold Hardware and White Vanity
This distant yet approachable design is characterized by a white shaker vanity and gray subway tile backsplash. The tall cabinets also assist the vanity to maximize storage. As they rather look slimmer, they give the space extra height. And the gold hardware adds a touch of luxury and glam.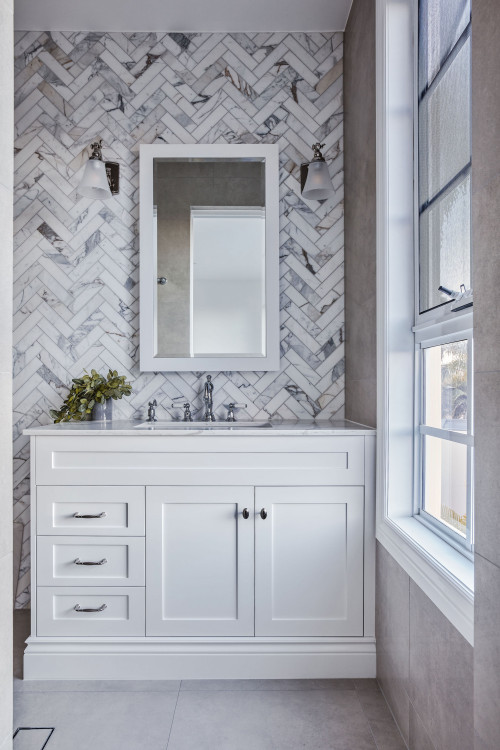 ID# 148430 | Houzz.com – Credit | © Stuart Osman
---
Beach-Style Design with White Bathroom Vanity Ideas and Marble Herringbone Tile Backsplash
The showstopper of this beach-style bathroom is the white marble herringbone tile backsplash. It peeks out behind the white-framed mirror, paired with a white shaker vanity and brushed chrome hardware. The eye-catching veining on the white marble base enchants its users, honoring the bathroom with a classic finish. And the overall look feels calming, modern, and classic at the same time.
Backsplash Options for White Bathroom Vanity
Backsplash options for white bathroom vanity include subway, mermaid, herringbone, and chevron tiles that fit both transitional and modern designs. Since the bathroom vanity is white, feel free to add pops of colors with backsplash tiles to energize the space. Additionally, you can use whitewashed V-groove panels, wood, and wallpapers to make the design cozy. You can also utilize contrasting tiles to mark the vanity and shower room. It almost always pays off well, ensuring visual diversity. But if you are after cohesive looks, marble slabs and penny-round tiles are used to clad the entire room. Additionally, if you have a small bathroom, you can also benefit from full-height mirrors as a backsplash. This way, you can also make the space feel larger by killing two birds with one stone.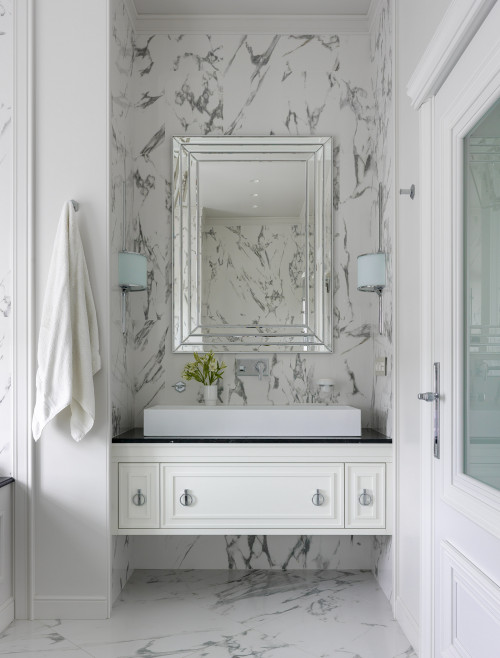 ID# 148431 | Houzz.com – Credit | © BERNIDESIGN
---
Marble Slab Backsplash with White Bathroom Vanity Ideas and Black Countertop
This time, we have a marble slab backsplash that blankets both the wall and floor to constitute a cohesive look. It is accompanied by a floating shaker vanity topped by a black countertop. Together they assert a sense of contrast without stealing attention from the stunning marble. The chrome hardware and the mirror with a mirror-made frame make the design stand out from many typical bathroom designs.
What is the trend for bathroom vanities in 2023?
Bathrooms, especially since Covid-19, have been reserving a more special seat in home designs. Considered to be an amazing relaxation space where you can feel rejuvenated, a bathroom design has a big potential to provide you with an ultimate retreat. Keeping that in mind, the bathroom trends in 2023 aim to build on this ideal: to make you feel peaceful and relaxed.
Though white still preserves its popularity in 2023, bathrooms are more likely to be layered with more color, texture, and pattern. This upcoming trend is also applicable to bathroom vanities. They can be colored with special hardware and topped by beautiful solid stone countertops for extra charm. Thus, the goal is a more layered look with the juxtaposition of different elements. It, in turn, gives the illusion of a designed-over-time bathroom for a sense of nostalgia.
Additionally, the bathroom trends in 2023 are also expected to bridge new and old. Thus, it seems that antique vanities will replace contemporary ones to create a historical sense of space. Adding to them are also the dark wood cabinets punctuated by aged hardware. In other words, 2023 trends are all about adding warmth, texture, and charm to make bathrooms feel cozier and homier, leaving lots of space for imagination.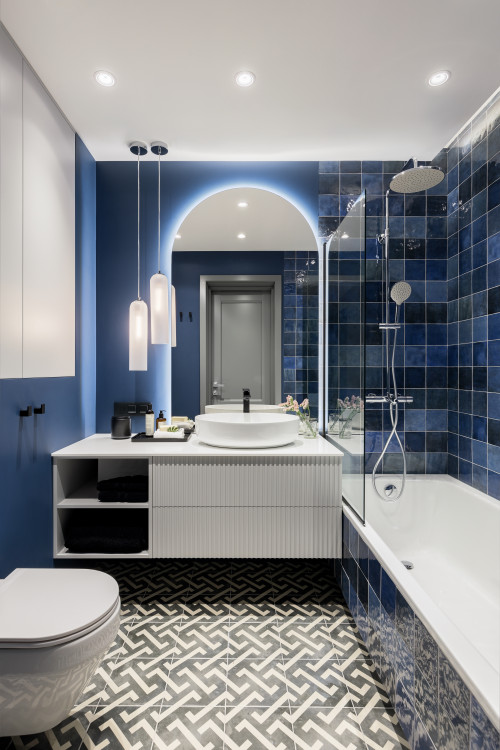 ID# 148432 | Houzz.com – Credit | © Maxim Maximov
---
Contemporary Bathroom with Blue Tile Backsplash and Fluted Vanity
This contemporary bathroom boasts eye-catching blue square tiles and a white fluted vanity with cabinet shelves. These statement features give the bathroom a designer look, while the blue-painted walls converse harmoniously with the blue ceramic tiles. Spotlights, mirror backlighting, and pendants orchestrate a dimensional lighting system that gives the bathroom depth.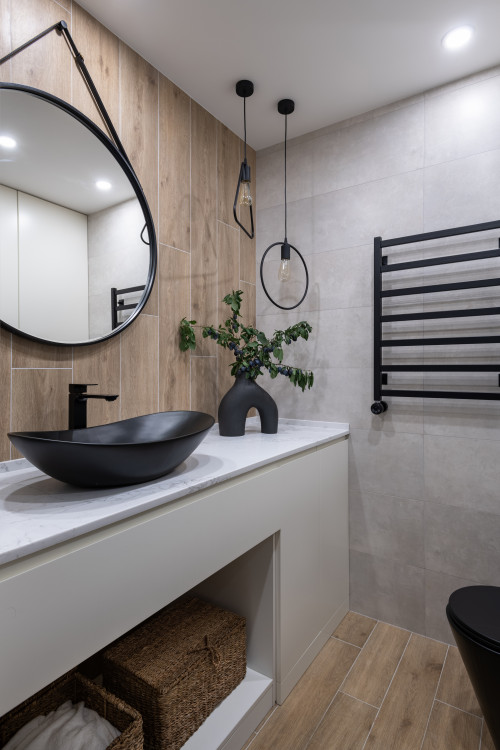 ID# 148433 | Houzz.com – Credit | © Юлия Карпухина
---
Wood-Look Tiles with Black Sink and White Vanity
This natural design bathroom prides itself on its porcelain tile backsplash that mirrors wood patterns authentically. In the rest of the design, the white bulky white vanity is paired with a black vessel sink. The vanity's open feature in the center adds a cavernous detail that accommodates wicker baskets. Such details along with biomorphic and curved forms used throughout support the biophilic design of this bathroom.