32+ Kitchen Ceiling Ideas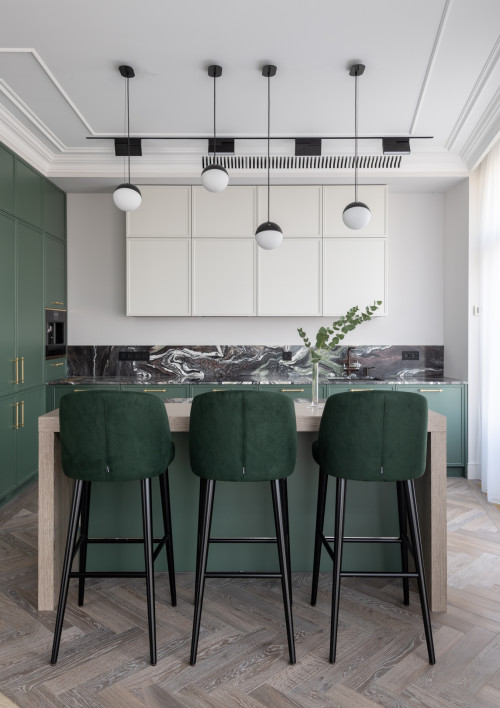 ID# 156904 | Houzz.com – Credit | © Евгений Гнесин
---
Green and White Flat-Panel Cabinets with Black Granite Countertops
With its bold color scheme, this contemporary kitchen offers a one-of-a-kind appeal! The green kitchen cabinets create an elegant look with the black granite countertop and backsplash. The striking look of the black slab creates a focal point. On the other hand, the white upper cabinets create a continuous look with the wall paint and balance the dark shades to bring a spacious feel. The wood waterfall countertop of the island complement the natural sense of the green while the black lighting fixtures enhance the modernity. The brass hardware seems like a small detail but it perfectly complete the vibe and add a dose of sparkle.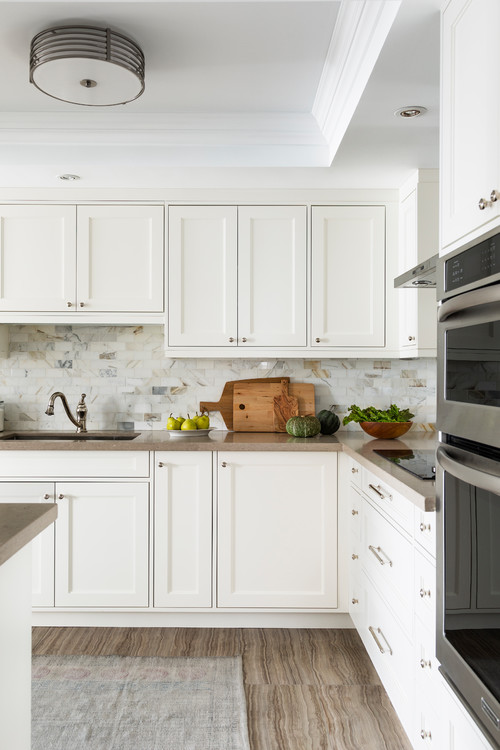 ID# 156928 | Houzz.com – Credit | © BedfordBrooks Design Inc.
---
White Countertops and Wood Countertops with a White Tray Kitchen Ceiling Ideas
The white cabinets provide a fresh and bright contrast to the warm medium-tone wood floors, creating a clean and welcoming space. The use of wood countertops adds a natural touch to the kitchen and emphasizes the beauty of the floor parquets. The standout feature of this kitchen is the white tray ceiling, which adds height and dimension to the space. The tray ceiling is a sophisticated and elegant design choice, lending a touch of luxury to the kitchen. The white finish of the ceiling continues the theme of clean and bright surfaces in the space, tying together the white cabinets, countertops, and floors.
Kitchen Ceiling Ideas
The ceiling of a kitchen is often overlooked, but it can be an important design element that enhances the overall look of the room. From traditional white-painted ceilings to more unique and creative options, there are many kitchen ceiling ideas to choose from. One popular kitchen ceiling idea is to install a beadboard ceiling. This classic design option adds texture and interest to the ceiling while still being neutral enough to match any kitchen style. Beadboard can be painted or stained to match the cabinetry or walls, and it can also be installed in a pattern to add even more visual interest. Scroll down and find stylish kitchen ceiling ideas that will inspire you!
Stylish Ceiling Designs for Kitchens
Another kitchen ceiling idea is to install a suspended ceiling with lights. This option allows for easy access to electrical and plumbing lines while providing a modern and sleek look. Suspended ceilings can be made of various materials including wood, metal, or plastic, and can be painted or finished to match the kitchen decor. The addition of lights can brighten up the kitchen and provide functional task lighting for food preparation and cooking. A third kitchen ceiling idea is to install a tin or metal ceiling. This option adds a touch of vintage charm to the kitchen and can be found in patterns such as stamped tin, embossed tin, or pressed metal. Metal ceilings can also be painted or finished to match the kitchen decor. They are durable and low maintenance, making them a great option for busy kitchens.
What is the new trend for ceilings?
The traditional styles of plain white ceilings that we are all accustomed to are no longer being used by designers. Instead, unique themes and components are employed to create interiors. We have gathered several suggestions that will enable you to select the Ceiling in 2023 that is both the most attractive and stylish.
Mirrors are on the stage this year. It is not required to drape the mirror over the entire ceiling; you can just use it to create a tiny patch of the surface. A chic and distinctive room design may be achieved by incorporating carvings into the ceiling decorations.
Also, you can use fabrics. They are very pricey. Yes. Difficult? Yes. But the outcome is worthwhile. Leading designers from throughout the world continue to appreciate fabric ceilings.

What Is the Best Type Of Ceiling For a Kitchen?
When choosing a ceiling for your kitchen, there are different points that you need to consider. If you're looking for a traditional and timeless look, a regular ceiling with a white painted finish is a good option. Exposed beams or shiplap ceilings can also add character to the kitchen by giving a warm and inviting feel.
For those who want to add height and drama to the kitchen, a vaulted or tray ceiling can make the space feel more spacious. If you're looking to give a more spacious atmosphere, skylights or recessed lighting in a drop ceiling can be a good option. If you're looking to add depth and interest to the kitchen, a coffered ceiling can be a good option. This type of ceiling features a grid-like pattern of recessed panels that can add texture and dimension to the kitchen. In this article we gather out different kitchen ceiling ideas. Scroll down and get inspired!
Regular Ceiling
When designing a kitchen, one of the key elements to consider is the ceiling. While high ceilings can add grandeur and spaciousness to a kitchen, regular-height ceilings are also a popular choice, offering both style and functionality to the cooking space. With a wide range of options available, regular ceilings in kitchens can create a welcoming and cozy atmosphere, while also providing practical and necessary features like lighting, ventilation, and storage.
The first thing to consider when choosing a regular ceiling for your kitchen is the overall style you want to create. Flat or white-painted ceilings are the most common and provide a clean, minimalist look that works well in contemporary or modern kitchens. Alternatively, adding texture or color to your ceiling can create a bold statement and add dimension to your space. Coffered, tray, or beamed ceilings can add depth and character to a kitchen, while crown molding can add a touch of elegance and sophistication. Another important aspect to consider when choosing a regular ceiling for your kitchen is the practicality of the space. Recessed lighting, fans, and speakers can be integrated into the ceiling, providing necessary functionality while also improving the look of the space. In addition, using the ceiling for additional storage, such as open shelving or cabinets, can help to keep your kitchen clutter-free and organized.
What should I put on my kitchen ceiling?
when designing a kitchen, the ceiling is one of the most important detail even if it doesn't look like that! Using a regular white ceiling is the most failsafe option but if you want to spice up it, there are plenty of ways to do it! Painting your ceiling with a bold and brave color is the easiest and most affordable way to make a statement. On the other hand, murals and wallpapers are really good alternatives to add visual interest to your ceiling. If you can increase your budget a little more, ceiling tiles will be a great addition.
Exposed Beams
Exposed beams are wonderful elements that can bring warmth, texture, and character to the kitchens! Whether you want to keep the original structure of your building or add a characteristic look to your kitchen, exposed beams will be a perfect option to create a stylish overall look! From wood to stainless steel, you can use lots of different materials for these beams. If you want to make a statement, you can even paint them with a bold and brave color!
Vaulted Ceiling
Vaulted ceilings are providing not only an aesthetically pleasing element but also a sense of spaciousness and airiness for the kitchens! these high ceilings can make a small kitchen feel larger and more open, adding visual interest to a functional space!
What is the cheapest way to cover a ceiling?
The cheapest way to cover a ceiling is to paint it or use wallpaper. These options are much more affordable than wood panels or coffered ceilings. But do not worry! Using these alternatives is not mean that your kitchen ceiling will look ordinary. You can make a statement even with regular paint!
Coffered Ceiling
Coffered ceilings are a classic and timeless architectural element that can add depth and dimension to any kitchen. These ceilings create a grid like pattern which adds a touch of sophistication and visual interest to any space. Whether you like traditional or contemporary styles, coffered ceilings are versatile and can be customized to fit your design preferences. The recessed panels draw the eye upward, making the kitchen appear more spacious, which is especially helpful in smaller kitchens.
Not only do coffered ceilings provide visual interest, but they can also be functional. Recessed lights can be installed in the panels, providing plenty of task lighting for cooking and food prep. Coffered ceilings can be constructed using a variety of materials, such as wood, drywall, or even metal.
Shiplap Ceiling
Shiplap ceilings are a fabulous design choice that can add a cozy and inviting feel to any room! This material is a type of wooden board that you've probably seen in construction or home decor. It's a popular choice in interior design to create a decorative feature on walls or ceilings. The boards are installed horizontally with a slight overlap, resulting in a distinctive and rustic look. The great thing about shiplap ceilings is that they come in a variety of colors and finishes, so you can choose one that matches your preferred style. Shiplap ceilings are also practical – they can help insulate a room, absorb sound, and create a more comfortable atmosphere.
What is the best option for ceiling?
There is no curtain answer to this question because it depends on several factors. When deciding a ceiling for your kitchen, you need to consider the style and size of the space and of course your budget.
Drop Ceiling
Drop ceilings, also known as suspended or acoustic ceilings, are very popular choices for modern and contemporary kitchens. Depending on the materials, these ceilings can also be used to create more traditional or industrial appeals. One of the biggest advantages of drop ceilings is their sound-absorbing properties which is an excellent choice for open-concept kitchens. By incorporating different textures, colors, and patterns, drop ceilings can add visual interest to the space and make it feel more engaging and inviting.
Tray Ceiling
Tray ceilings offer a touch of elegance and sophistication that can elevate the overall design of your kitchen! These versatile ceiling designs can easily create a sense of height and volume in the space. So, if you have a small kitchen space or want to add dimension to your flattened kitchen, a tray ceiling might be the best solution for you!
How do I choose a ceiling design?
When it comes to kitchen design, choosing the right ceiling for your kitchen can play a huge role in the overall look and feel of the space. Here are some key factors to consider when choosing kitchen ceiling ideas:
Kitchen Style:
Consider the overall style of your kitchen when choosing a ceiling design. For example, a traditional or classic kitchen may benefit from a coffered or tray ceiling, while a contemporary or modern kitchen might look best with an exposed ductwork ceiling or a minimalist suspended ceiling.
Ceiling Height:
High ceilings may benefit from a tray ceiling or a coffered ceiling with exposed beams, while low ceilings can benefit from a suspended ceiling or a ceiling with recessed lighting.
Budget:
Your budget will also play a role in your ceiling design choice. some of the ceiling designs such as coffered and tray ceilings can be much more expensive than a regular ceiling.
Lighting:
When planning your ceiling design, it's important to consider how you want to incorporate lighting into the space. From pendant lights to recessed lighting fixtures, there are plenty of different alternatives that can work with different ceilings.
Functionality:
Consider the functionality of your kitchen when choosing a ceiling design. For example, a suspended ceiling can make it easier to access plumbing or electrical fixtures, while a coffered ceiling with recessed lighting can provide ample overhead lighting for cooking and food preparation.
Skylights
If you need an extra light source, there is no better option than creating an opening in the roof! skylights can provide a unique source of natural light that can be used to highlight certain areas or features in the kitchen. They also allow you to enjoy the beauty of the sky, even when you are indoors.