29+ Stylish Kitchen Backsplash Ideas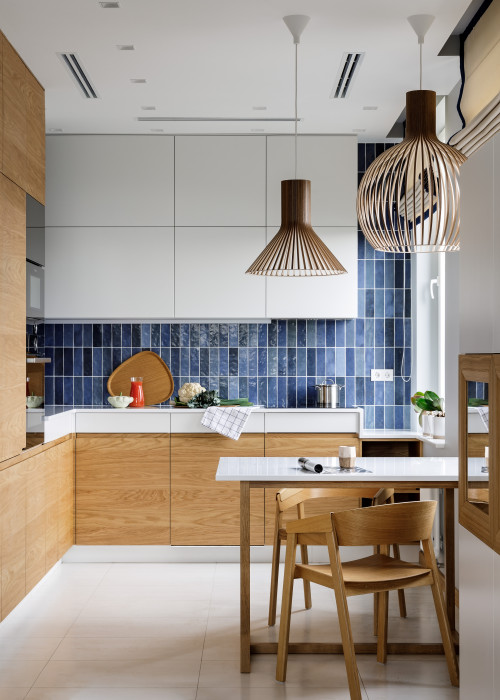 ID# 151211 | Houzz.com – Credit | © Anna Koroleva
---
Stylish Kitchen Backsplash Ideas with Blue Ceramic Tiles and Two-Tone Joinery
This Scandinavian kitchen in Moscow boasts two-tone joinery and blue ceramic subway tiles. This colorful yet modest kitchen design not only energizes its users but also creates a calming effect. The vertically stacked tiles give the kitchen an extra height, while white countertops ease the color transition between warming wood shades and blue tiles. In the rest of the design, the oversized wood-carved lighting fixtures take the Scandinavian feel to the next level. Additionally, the use of different forms of lamps ensures visual diversity to make the design more charming.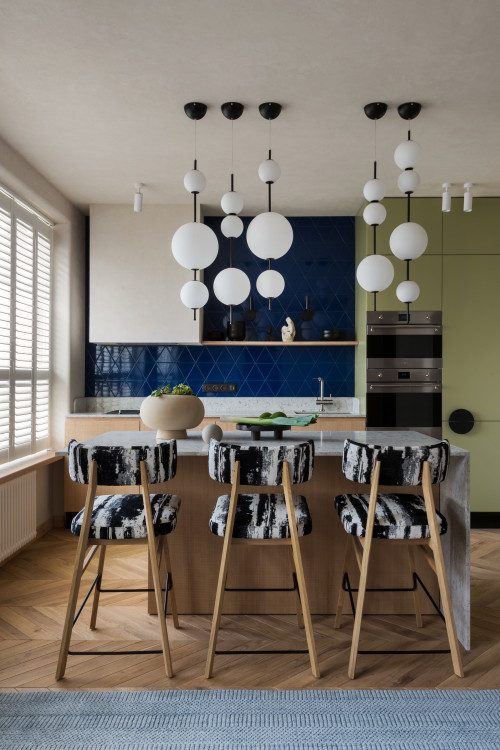 ID# 151220 | Houzz.com – Credit | © WP – INTERIOR DESIGN
---
Stylish Kitchen Backsplash Ideas with Blue Tiles and Three-Tone Joinery
This contemporary kitchen has all the comforts and design features a kitchen could have. First, the blue tile backsplash adds a solid pop of color, and their geometric form brings further interest. The white, green, and wood cabinets curate a colorful yet subtle visual scheme that delivers warmth, brightness, and naturalism. As a bonus, this kitchen also knows how to entertain itself. The variously-sized globe lighting fixtures give the illusion of an abacus that creates a more mathematical design. The half-waterfall island, again, introduces a different form, while the busy-pattern bar stools propose an eye-catching design. Overall, the final product is inviting, colorful, and visually comforting.
Stylish Kitchen Backsplash Ideas
If you want to give your kitchen a brand-new look, that's what stylish kitchen backsplash ideas are for. From patterned to geometric, subway, slab, and full-height backsplashes, today's design world offers homeowners a plethora of ways to curate a variety of looks with backsplashes. A sophisticated marble finish, printed ceramic tiles, or colorful geometric backdrop are only some of them that can be included in the category of stylish and trending looks.
To put it differently, while sometimes all you need to do is to flip the backsplash tiles, sometimes experimenting with layouts or applying a coat of fresh paint is enough to make a drastic change. Here we have stylish kitchen backsplash ideas for you that will fire up your imagination. Read on to catch up with the trending looks abounding in colors and patterns.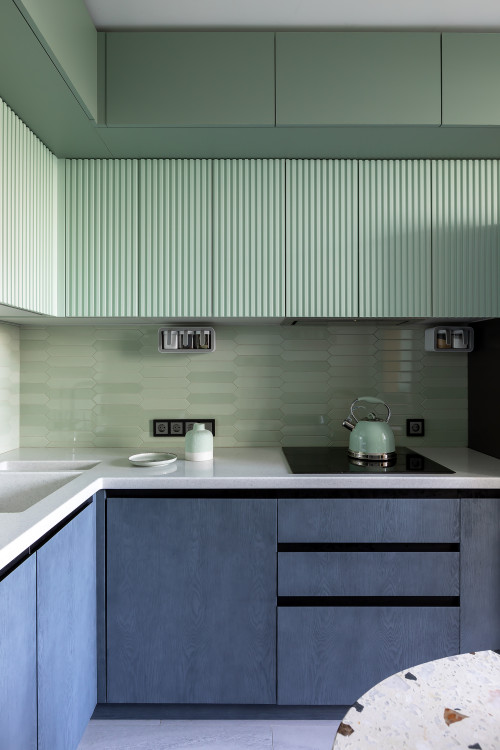 ID# 151201 | Houzz.com – Credit | © "ЭСТЕТ DESIGN " Надежда Ракова и Алёна Гуслиц
---
Stylish Kitchen Backsplash Ideas with Hexagon Tiles and Blue Cabinets
Geometric pattern backsplashes are always great at achieving stylish looks, and this contemporary kitchen is no exception. Here, the green horizontally stacked picket hexagon tiles elongate the kitchen on the vertical axis. This way, it expands the visual scheme. And right above the tiles, the fluted design of muted green cabinets creates a nice color coordination with blue base counters that impart serenity. The white quartz countertops brighten up the kitchen, staying loyal to the kitchen's sleek profile. The low-profile stove and integrated sink also keep the overall aesthetic design clean.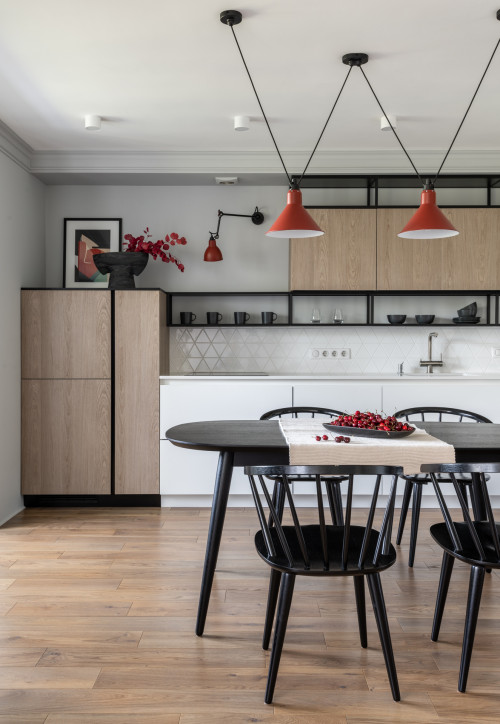 ID# 151202 | Houzz.com – Credit | © Анна Моджаро
---
Wood Cabinets with White Triangle Tile Backsplash and Red Lighting Fixtures
Even if you go with white tile backsplashes, you can always make them pop by choosing more expressive patterns. This contemporary kitchen, for example, goes with triangle tiles that interlock with each other. Their gloss finish adds extra charm to them, while the black shelves bring a sense of contrast. The flat-front wood cabinets soften the white-and-black color scheme. And the red wall sconces and pendants overhanging the dining table add further interest to the design. Not only that they bring a pop of color but also generate movement overhead.
What backsplash is in Style 2022?
From ceiling-height backsplashes to patterned tiles, marble slabs, and geometric tile splash-backs, 2022 has brought us various backsplash designs rich in pattern and form. Especially evident in geometric and patterned tiles, giving the kitchen a contemporary spin has been actualized through backsplash designs. As such, the backsplashes' aesthetic benefits have been quite a priority.
In addition to them, the subway tiles stacked vertically or horizontally have served as a refreshing take on the timeless classic laid in a running-bond pattern. And window and seamless slab backsplashes are considered popular options. They provide easy-to-clean and grout-free backdrops, making them more convenient for homeowners. For the same reason, the polished finishes on the backsplashes are also given priority. Especially when compared to honed finish natural stone splash-backs, gloss finishes provide a much smoother surface. This way, the design also features a beautiful sheen, letting lights bounce off around the room. And as a result, the space also feels brighter and enlarged, which brings both aesthetic and functional benefits.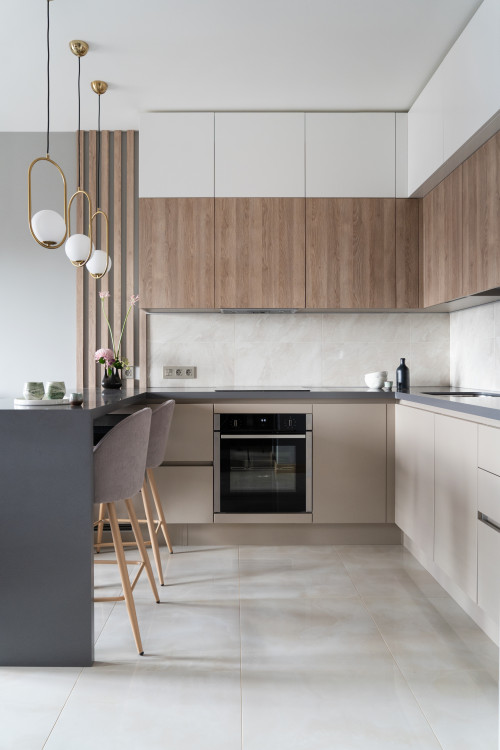 ID# 151203 | Houzz.com – Credit | © Flats Design / Евгения Матвеенко
---
Large Tile Backsplash with Cream Cabinets and Brass Accents
Another thing that makes a kitchen backsplash stylish is the use of large tiles. Especially when they come in light sandy shades and undulating forms. Here, this contemporary kitchen in Moscow goes with a large porcelain tile backsplash in a matte finish to make the design look more natural. The wood upper and cream base cabinets do support that. Likewise, the brass-accented lighting fixtures and gray countertops further the sense of earthliness while also enriching the color repertoire.
What Are the Latest Trends in Kitchen Backsplashes?
Full -height, slab, subway tile, geometric, and patterned tile backsplashes are some of the latest backsplash trends for  2023. So, whether it is the color and pattern you want to incorporate into your kitchen, the latest trends make it more accessible for you! Scroll down and find these different alternatives that dominate trends lists!
Subway Tile Kitchen Backsplash
As a timeless option, the origin of subway tiles goes back to the beginning of the 1900 s, to the New York Subway station. Having preserved their popularity since then, today they present themselves in various formats, materials, and colors. Plus, they can be installed in various layouts and create different patterns, including offset, stacking, basketweave, herringbone, and chevron. As such, they offer almost limitless design opportunities for designers and homeowners.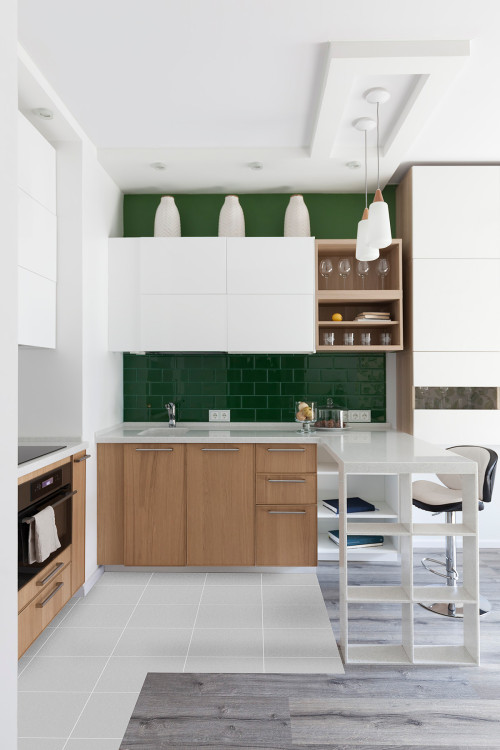 ID# 151204 | Houzz.com – Credit | © YU Dsgn Галкина Юлия и Беляева Юлия
---
Green Subway Tile Backsplash with White Cabinets and Wood Open Cabinet Shelves
Needless to say, subway tiles are a timeless classic. But can they look stylish too? And if they can, how? This contemporary kitchen makes them pop in dark green shades that are offset with a satin finish. These green subway tiles laid in a running bond style make a strong visual statement, bringing a color plucked from nature. The wood cabinets and open cabinet shelves downplay the tiles' impact on the interior design. The white countertops and all-white flat-front top units lighten up the pint-size kitchen. On the floor, the white tiles demarcate the kitchen from the laminated living room strategically. This way, they give the kitchen zone a better definition.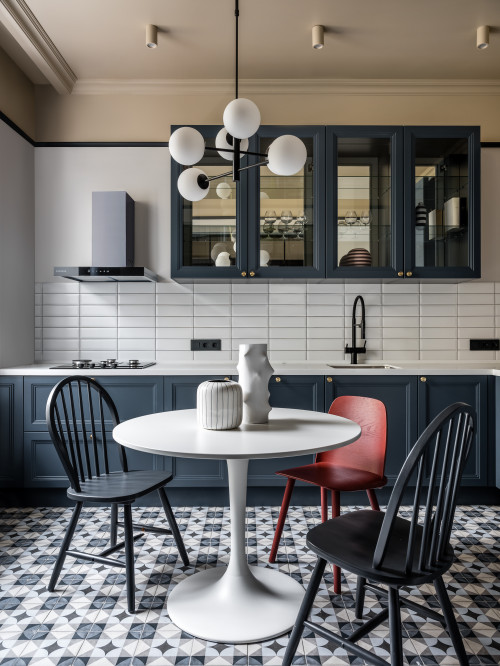 ID# 151205 | Houzz.com – Credit | © Зуева Анна
---
Stylish Kitchen Backsplash Ideas with Subway Tiles and Blue Cabinets
Though stacking subway tiles horizontally is one way to make the backsplash look more stylish, the surrounding context is as important as the tiles themselves. And this contemporary kitchen knows how to play with that. First, it starts by stacking the white subway tiles horizontally. Then it provides a setup that feels colorful and pattern-rich without feeling over the top. From the blue cabinets to the cream-painted ceiling, multi-colored floor tiles, and colorful chairs, each element incorporates character and a new contemporary vibe. And lastly, the sputnik-inspired lighting fixture design with white glass globes turns the center of the kitchen into a visual focal point.
What is the most popular backsplash for a kitchen?
Having proven themselves as a classic, ceramic subway tile backsplashes are the most popular backsplash options. Yet, nowadays, the alternative layout options and their beveled versions replace the 3*6-inch subway tiles laid in a running-bond style. Rather, they are stacked horizontally or vertically. Or they are taken up to the ceiling to create a more stylish backdrop. This way, the kitchen also feels much higher and elongated. Likewise, beveled subway tiles give the walls more depth and dimension. In short, even though subway tiles preserve their popularity, they are installed in various layouts. In other words, they keep themselves updated in their way.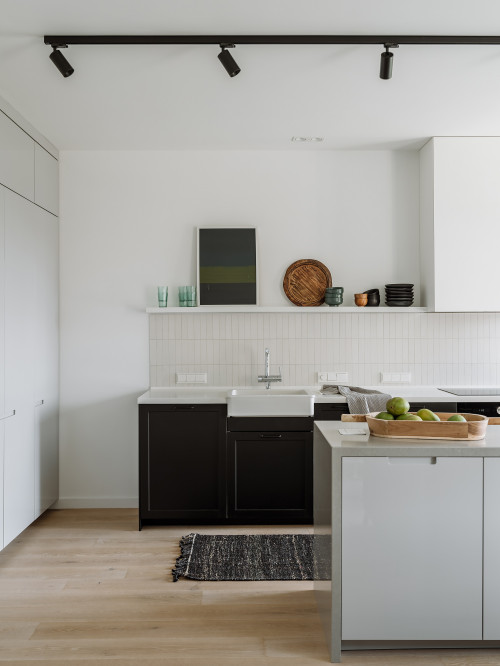 ID# 151206 | Houzz.com – Credit | © Style By Sorensen
---
Vertically Stacked White Subway Tile Backsplash with Black Cabinets and White Countertops
Neutral color schemes, functionality, and simplicity are the key defining features of Scandinavian kitchens. And this kitchen look- we have here- brings all the premises of Scandinavian kitchens. First, the black and white cabinets come together nicely. And the shaker and flat-front cabinets curate a great and clean look. This already-presentable look is taken to the next level with a white vertically stacked tile backsplash that introduces a sense of order to the backdrop. The floating shelf used instead of the upper units provides a more breathable spot along with the white-painted walls. The black runner lying between the perimeter counters and the island adds a soft and traditional touch. By contrast, the black tracking spotlights bring a contemporary voice to the overall design.
What is the most timeless kitchen backsplash?
White kitchen backsplash is the most timeless backsplash option that delivers brightness and lightness to any space. It creates a viable look that resonates with all sorts of kitchen designs, be it modern, transitional, or traditional. And unlike what is assumed, it doesn't necessarily lead to any sterile look. You can always keep it updated by choosing a pattern like a herringbone, triangle, and chevron. Also, you can mix it with the different saturations of white shades. This way, you can avoid a too-homogeneous look that would perhaps be boring in the long run. For a sense of change, you can additionally use a different grout color such as black, brown, or gold.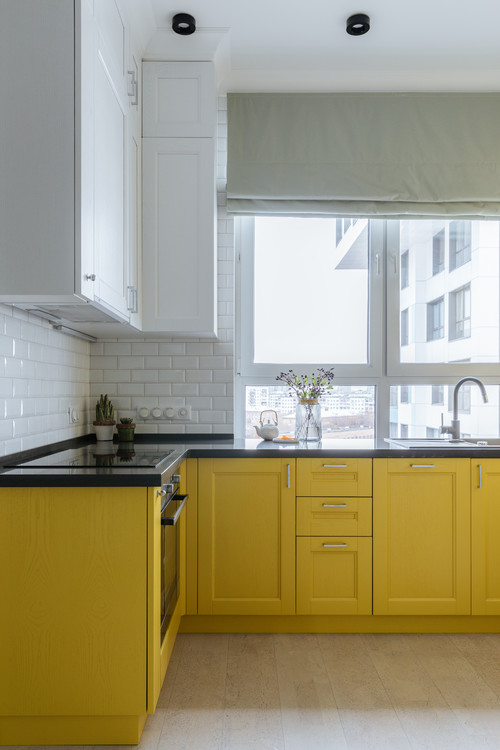 ID# 151207 | Houzz.com – Credit | © Tatiana Fursova
---
Yellow Shaker Cabinets with Black Countertops and Stylish Kitchen Backsplash Ideas
This transitional kitchen prides itself on the yellow shaker cabinets that make the design pop and brighten up the interior. In the background, the white beveled subway tile backsplash adds further depth and dimension to the walls. This way, the kitchen design is also given a more contemporary spin. Also, to calm the yellow cabinets down, the stainless-steel cabinet pulls and black countertops bring in an industrial feel while adding a masculine vibe. And the gray curtains introduce a different texture without stealing from the modern-industrial look of the kitchen.
Ceramic Tile Kitchen Backsplash
Highly-customizable and affordable, ceramic tile backsplashes are available in a wide range of materials and designs. Whether you look for something geometric, colorful, printed, or simple, ceramic tiles offer you alll. In addition to their aesthetic flexibility, their low maintenance also makes them an excellent option for homeowners and interior designers.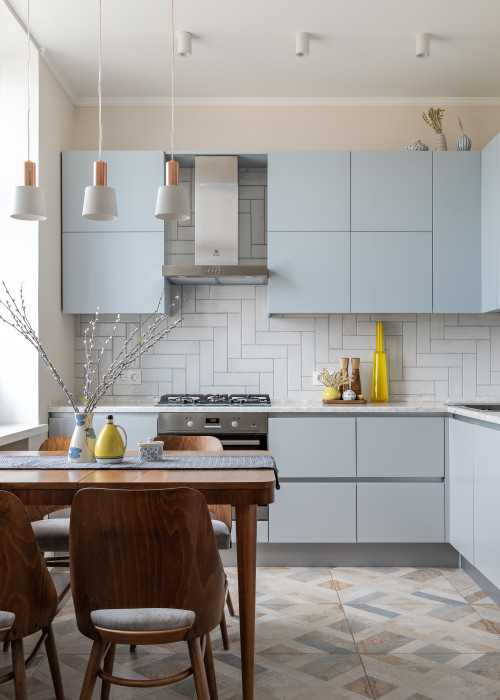 ID# 151208 | Houzz.com – Credit | © Maxim Maximov
---
Stylish Kitchen Backsplash Ideas with Herringbone Tiles and Blue Cabinets
The combination of soft blue cabinets and wood accents set the tone of this contemporary kitchen. This soft and natural look ensures that the design feels approachable and serene at the same time. In the background, the white ceramic herringbone tile backsplash gives the design movement. Yet the best part of these geometric layouts is that you can insert them in any direction. It, in turn, helps create different visual schemes. And to complement it, this kitchen goes with geometric pattern floor tiles whose understated shades echo the overall color scheme. This way, the floor design builds upon the already-existing design narrative. And even better, it proves that when you don't have a large kitchen, you can make the floor pop without making the top part look crowded.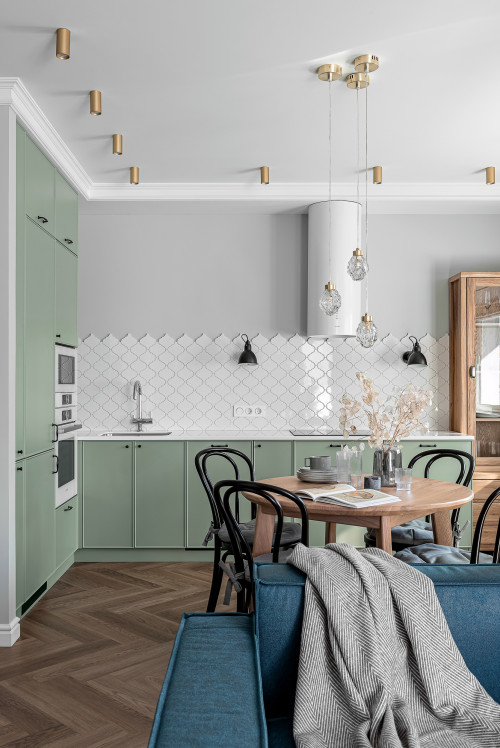 ID# 151209 | Houzz.com – Credit | © Михаил Косачёв
---
Lantern Tile Backsplash with Green Cabinets and Rounded Hood
This bright and natural kitchen design has a Scandinavian edge to it, thanks to the herringbone pattern hardwood floor and a rounded wood table. The soft curvy features of the dining table and stools resonate with the curvy lantern tile backsplash perfectly. This way, the kitchen design gains a sense of rhythm that orchestrates a continuous look. Yet what is better is that the kitchen only extends the backsplash from the countertop to the rounded hood. This choice, first, provides more breathing space. And secondly, it minimizes any potential visual clutter while creating a more stylish look. The muted green cabinets, again, keep things soft. And finally, on the ceiling, the gold finish cylinder-shaped lighting fixtures mimic the range hood. This sort of use of curvy forms throughout the design achieves a pretty cohesive look
What backsplashes are out of style?
Limestone, mosaic, granite, rustic wood, ornate designs, and 4 -inch backsplashes are not as popular as they used to be. It is mainly because they are not considered very functional and suitablle for modern kitchens. Nowadays, what makes backsplashes preferable is their functionality, low maintenance, and whether they make the design look more soothing and clean.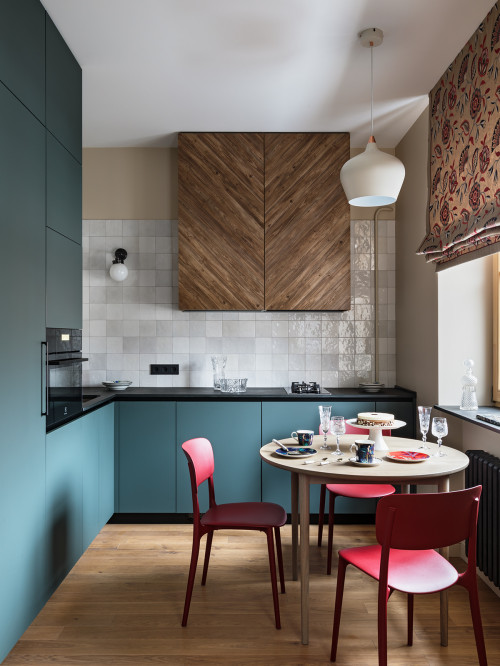 ID# 151210 | Houzz.com – Credit | © Erashevich studio_Ерашевич Алёна
---
White Ceramic Square Tile Backsplash with Black Countertops and Blue Cabinets
If there is one thing that is as common as traditional 3*6 inches subway tiles, it is the square tile backsplash. Here, it comes in ceramics, featuring different saturations of white and gray. These subtle color changes give the wall a more natural look rather than making it too matchy -matchy. Plus,  it's satin finish adds a beautiful sheen to the backsplash that is tempered with black countertops. And below, the blue flat -front cabinets make for a sleek and decluttered design. As for the upper unit that conceals the range hood, the diagonal patterns on the wood form a chevron pattern.
Marble Kitchen Backsplash
An upscale and sophisticated material, marble offers an excellent option for a luxurious finish. Available in both tiles and slabs, it also allows homeowners to curate different looks as they wish. Some designers even prefer to use it to coat the countertops and range hoods as well as walls for a seamless look. And to complement them, you can take the shade of their veining as a cue and add fixtures in that shade.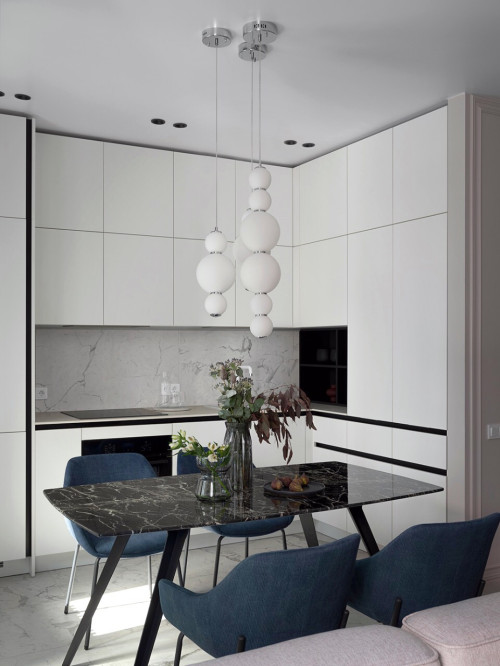 ID# 151212 | Houzz.com – Credit | © insdesign.ru
---
Marble Slab Backsplash with White Cabinets and Sleek Appliances
This pint-size open-plan kitchen is L-shaped, consisting of all-white flat-front cabinets that make the kitchen feel larger. The marble slab backsplash comes in off-white shades to introduce a subtle hint of color. And its gentle veining creates a genteel atmosphere. The sleek built-in appliances bring a sense of contrast that coordinates with the black inlays of the cabinets. Lastly, a black marble-topped dining table distinguishes the kitchen from the dining area, paired with stylish pendants.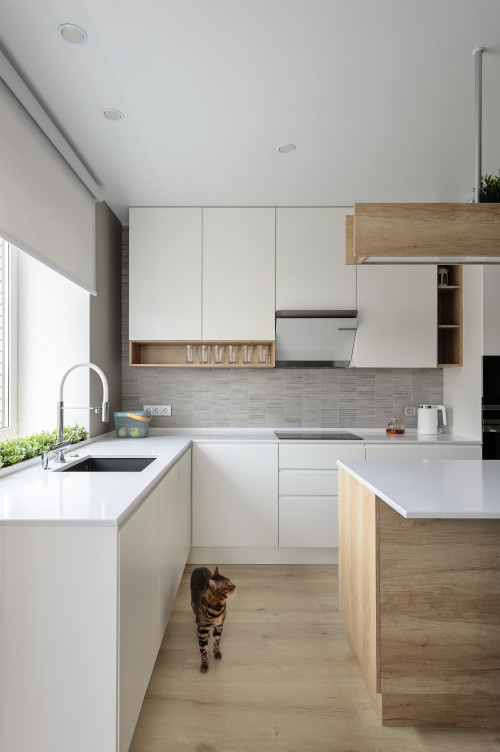 ID# 151213 | Houzz.com – Credit | © Maxim Maximov
---
Stylish Kitchen Backsplash Ideas with Marble and White Countertops
This Scandinavian-inspired kitchen is mainly characterized by a gray marble kit kat tile backsplash and two-tone cabinets. It makes use of a kitchen island to create a focal point and introduce a second color. The wood-interior top units and false ceiling overhanging the island bring the design together. The white countertops just blend seamlessly with the white contemporary cabinets. Overall, the resulting scheme is peaceful, relaxing, and well-balanced with a designer look.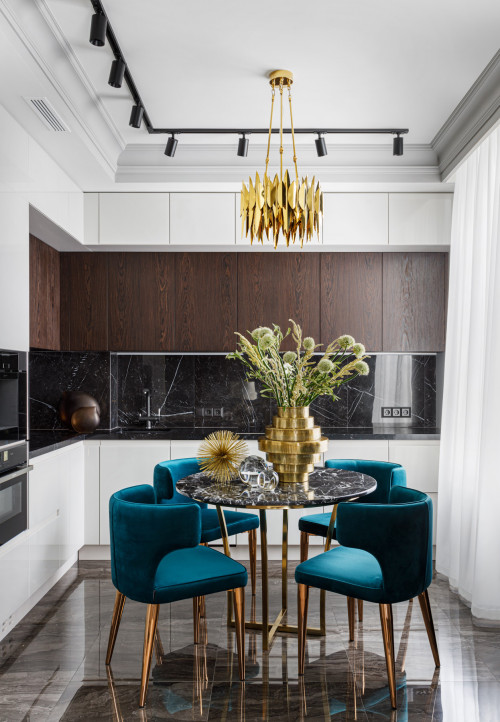 ID# 151214 | Houzz.com – Credit | © Рожкова Полина
---
Black Marble Backsplash with White Cabinets and Polished Floor
One of the best ways to further stylize your kitchen backsplash is to give it a polished finish. Plus, it also leaves more room for lights to bounce off around the room. Here, in this contemporary kitchen, for example, the marble backsplash and countertops feature a gloss finish. The marble-look porcelain floor tiles, likewise, come with a beautiful sheen. This way, the kitchen also feels more luxurious and cleaner. The dark wood upper units and white cabinets create a well-balanced color scheme. The blue dining chairs with gold tapered legs ooze opulence. Overhead, the gold-finish chandelier brings a traditional and deluxe feel. By contrast, the black spotlighting fixture taps into the spirit of contemporary designs, ensuring the space is well-lit.
Full-height Kitchen Backsplash
Full-height kitchen backsplashes are best at elongating the kitchen, mostly ditching the upper cabinetry to make more room for themselves. To punctuate them, you can benefit from floating shelves, wall sconces, paintings, and some personal accessories! They, in particular, suit contemporary, minimalist, and Scandinavian kitchens.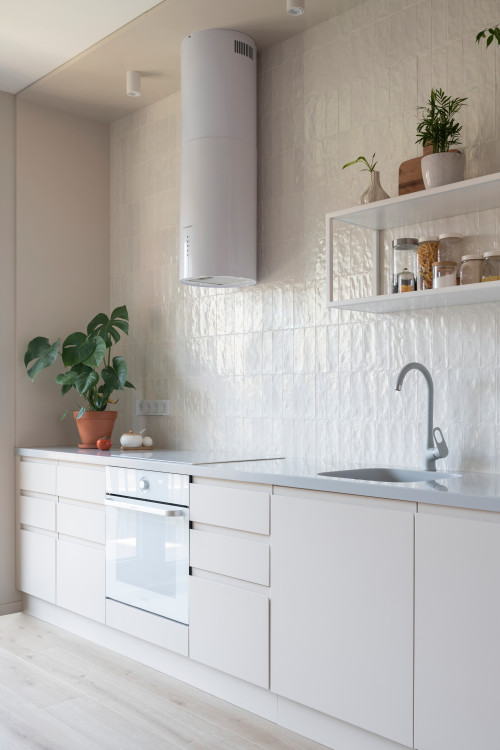 ID# 151215 | Houzz.com – Credit | © FREYA Architects
---
Full-Height Kitchen Backsplash with White Cabinets and Countertops
In this Scandinavian kitchen, the soft, warm color scheme and indoor plants allow for a smooth transition from inside and out. And the full-height backsplash only honors this softness while ensuring there is enough breathable space in the kitchen. Consisting of ceramic subway tiles in light sandy shades stacked vertically, this backsplash just blends harmoniously with the cream-painted walls. The white rounded hood and white cabinet shelf add a nice brightening touch to the backdrop. And the indoor plants add pops of green to enliven the light color scheme.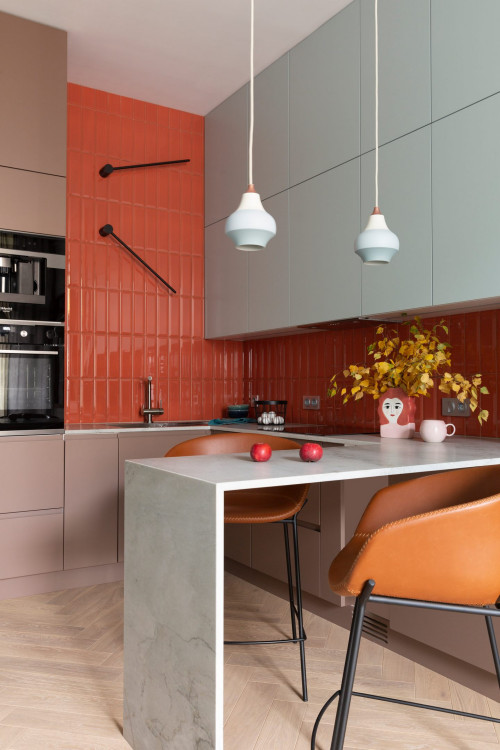 ID# 151216 | Houzz.com – Credit | © Константин Малюта
---
Stylish Kitchen Backsplash Ideas with Orange Tiles and Wall Sconces
This contemporary kitchen feels like a study of colors, bombarding its users with splashes of colors. From the soft pink cabinets to blue overhead units and an orange tile backsplash, each shade brings a world of its own. But what makes this design stand apart is its energizing orange subway tile backsplash. Not to mention the black wall sconces that add little gestures to it.
Is subway tile out of style in 2022?
Subway tiles are still a popular option. Though, they have their updated versions, such as beveled subway tiles. And they can be laid in a wide range of ways. Or they are available in larger and smaller formats to create more sophisticated looks. Even better, by playing with their format, you can also toy with the scale of the space. So, while subway tiles give you multiple options with layouts and formats, it would be hard to keep them out of the game.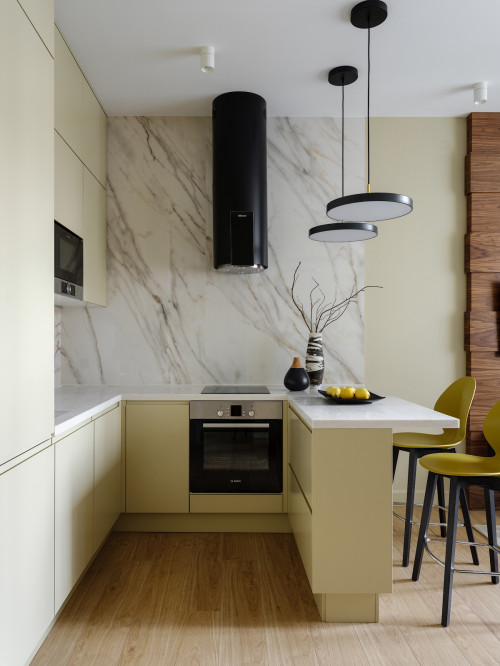 ID# 151217 | Houzz.com – Credit | © BW buro
---
Marble Backsplash with Light Blue Cabinets and Black Appliances
In this contemporary backsplash, marble serves as a hero finish that comes in the form of a full-height backsplash. It pairs perfectly with muted yellow cabinets and bright yellow stools, thanks to its brownish and gold veining. The black appliances, by contrast, add a solid contrast, and the wood floor finish injects a layer of warmth. And finally, finalizing the overall design aesthetic is a duo of tech-savvy pendants overhanging the peninsula
Slab Kitchen Backsplash
Available in soapstone, marble, granite, and quartz, slab kitchen backsplashes make for seamless designs. If you are not into tile backsplashes and are bored of cleaning grout lines, slab backsplashes provide an excellent substitute. And if you don't want natural or engineered solid stone backsplashes, glass sheets are worth considering as an alternative.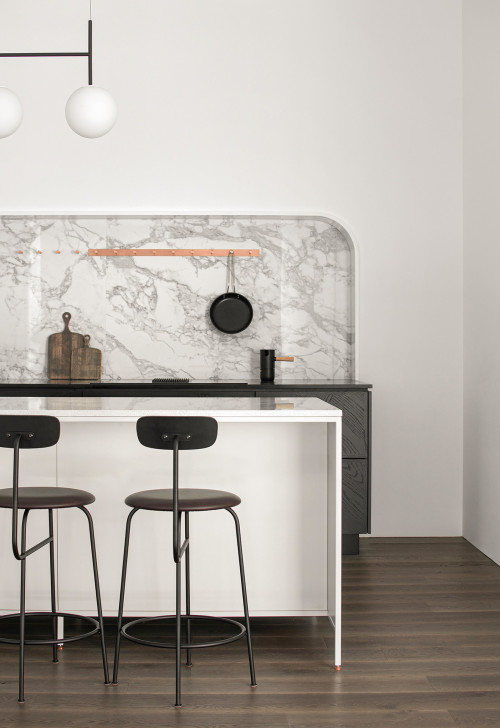 ID# 151218 | Houzz.com – Credit | © INT2architecture
---
Marble Slab Stylish Kitchen Backsplash Ideas with White Island and Black Cabinets
If you are not low on budget, custom-cut marble backsplashes are the way to go. Here, the curved edges of the stunning marble with bold veins add a super elegant and stylish touch. And the other elements just play along to let it shine. First, the black counters provide an anchor of sorts for the light backsplash. And the white island brightens up the look and forms a complementary contrast. The black stools and white glass globe chandelier finalize the look. But above all, the kitchen goes with a glass-sheet backsplash to protect the marble splash-back. And with a wall-mounted rack, the backsplash turns into a more functional element. This wood rail exposes some of the kitchenware for random purposefulness and keeps most used items within arm's reach. While all of these are happening, the glass layer prevents the marble from etching.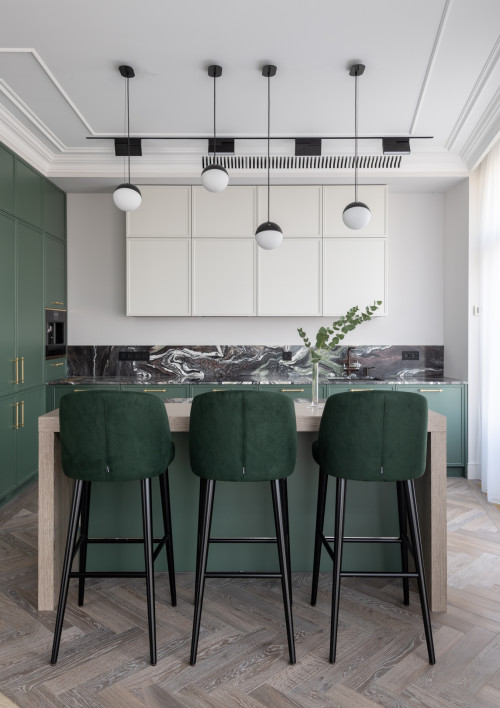 ID# 151219 | Houzz.com – Credit | © Евгений Гнесин
---
Green Cabinets with Black Marble Backsplash and Countertops
Unlike tile backsplashes, slab splash-backs provide a seamless profile, endowing the kitchen with a contemporary vibe. They also look very sophisticated-as showcased by this kitchen. Here, this contemporary design shows off with its black marble backsplash and countertops. And to enliven the look, it goes with green cabinets and brass hardware that delivers a farmhouse look without sacrificing its modern vibe. The wood island and herringbone hardwood floor add an organic feel. The green-cushioned stools and globe-shaped pendants give the kitchen a mid-century-inspired feel.
Geometrical Tile Kitchen Backsplash
From herringbone to chevron, hexagon, picket tile, triangle, and Escher, geometric tile backsplashes are ready to give your kitchen a refreshed look. They are also one of the best ways to bring a more contemporary spin. And if you would like to introduce a new shade, geometric tiles provide the most eligible backdrop.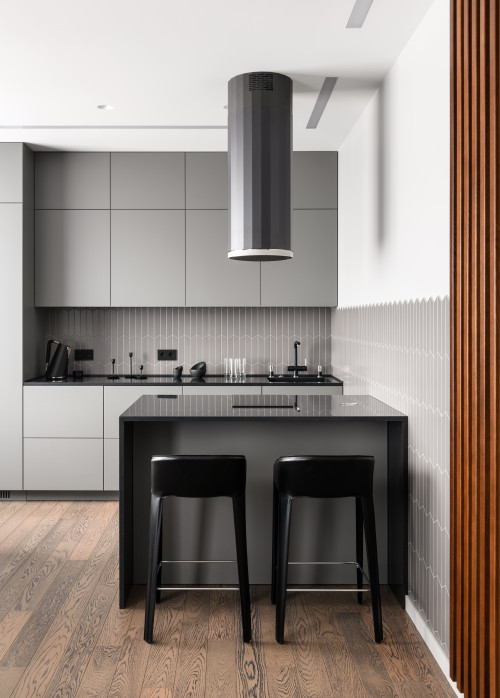 ID# 151221 | Houzz.com – Credit | © Olga Ladurko Interior Design
---
Picket Tile Backsplash with Upscale Range Hood and Gray Cabinets
Keeping this kitchen monochromatic in an open-plan apartment makes it look unified and separate from the rest of the room. And the best part is that it ensures there is enough variety with the use of different saturations of the same color and forms. For example, the rounded range hood adds an eye-catching feature. The black countertops help ground the gray-dominant color scheme. The gray picket tile backsplash generates a sense of movement to break up the otherwise too-plain look. The slotted wood features mark the end of the kitchen zone while adding a soft aesthetic feature. The wood floor coating also brings the right amount of warmth to offset the all-gray look.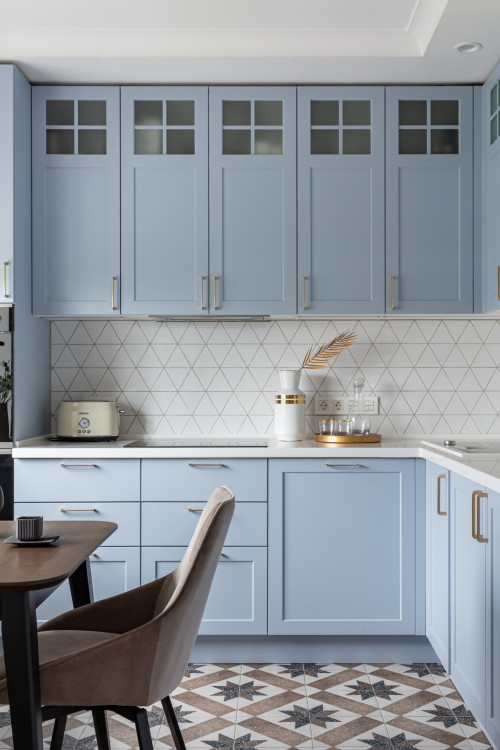 ID# 151222 | Houzz.com – Credit | © Миксон — мебель на заказ
---
White Geometrical Tile Backsplash and Blue Shaker Cabinets with Gold Hardware
Unique to this kitchen is a soothing and colorful combination that comes with muted blue cabinets and a white geometric tile backsplash. Despite the shaker cabinets that give the design a classical feel, in this context, the shakers feel pretty modern and in line with a sense of minimalism. The antique gold pulls add a gentle warmth to the cabinets without making themselves too obvious. And on the floor level, the star -shaped patterns bring accomplice to the white triangle backsplash tiles. Though, this time, they are bigger and multi-colored with a sense of earthliness.
What backsplash goes best with white cabinets?
White cabinets go well with a wide range of backsplashes. From glass to solid stone, ceramic, porcelain, and metal, homeowners have an array of options. But since white-on-white is a fail-safe option, white backsplashes with white cabinets are considered one of the best looks.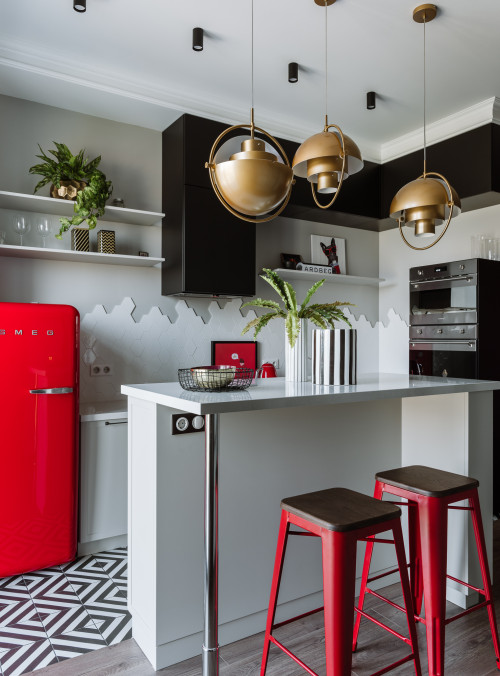 ID# 151223 | Houzz.com – Credit | © Анна Моджаро
---
Stylish Kitchen Backsplash Ideas with Hexagons and Two-Tone Joinery
This cozy kitchen goes with a more color-led approach that is evident in the red refrigerator and gold mushroom-looking lighting fixtures. This way, the kitchen departs itself from many of its counterparts and traditional designs. In the background, likewise, the white hexagon tile backsplash takes this look to the next level. Rather than being laid in an ordered and linear pattern, the small hexagon tiles form a more puzzle-like look. They deliver casualness and randomness along with the cantilevered shelves and personal accessories. The diamond-pattern floor also provides the kitchen with an eye-striking floor design. And the backless industrial stools add pops of red to match the refrigerator.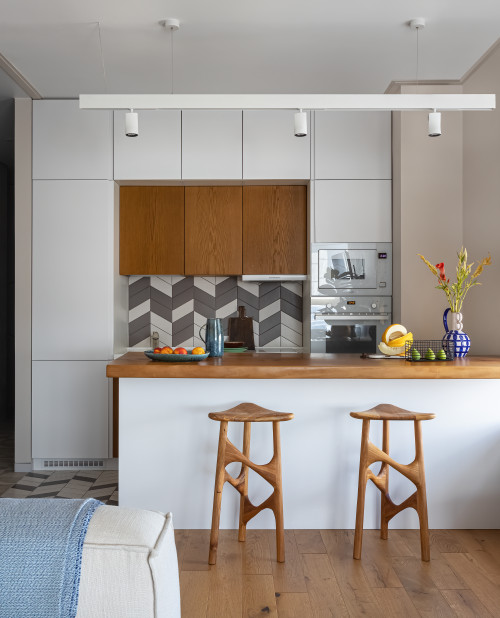 ID# 151224 | Houzz.com – Credit | © Brick buro
---
Chevron Tile Backsplash with White Cabinets and Butcher Block Countertops
This contemporary kitchen shares the same space as the lounge by using the island as the space-dividing device strategically. And tying the perimeter counters with the island are white cabinets and wood applications. For example, the butcher block countertop of the island finds correspondence in the wood upper units. And on the floor, the chevron tiles are used to create a continuous look with the backsplash. But the floor tiles feature fewer gray touches when compared to the backsplash. Yet still, cohesiveness and bonus stylishness are achieved. All in all, this kitchen proves that for a more stylish look, using a geometrical tile backsplash is good to introduce colors. Here, for example, chevron patterns form more pronounced zigzags that give the backdrop a better movement.
How do you pick a good backsplash?
Heat resistance, ease of cleanliness, and durability are three key assets to keep in mind when choosing a backsplash. Since renovation is messy work that requires a lot in financial terms, it would be best to make a smart choice in the first place. For example, metal splash-backs like stainless steel, solid stone backsplashes, and ceramic and porcelain tiles are very resistant to heat. Thus, they can be installed behind the stove with no hesitation. And they are easy to clean, except for the solid stone splash-backs filled with pores. But as long as natural stones are sealed regularly, they make for highly durable and resistant backsplashes.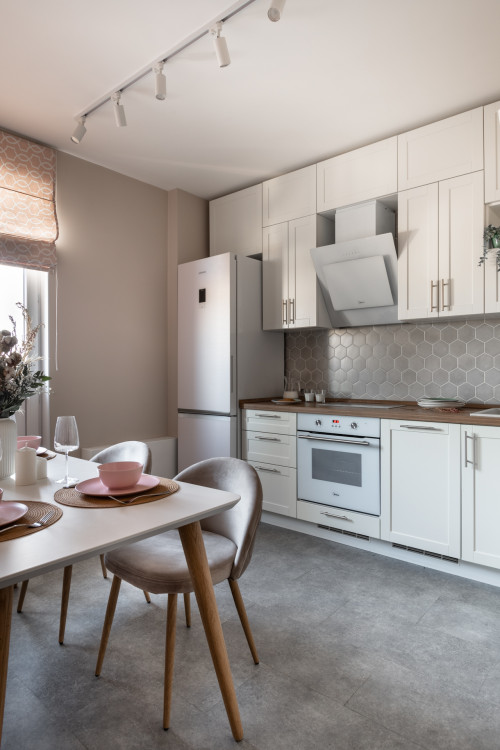 ID# 151225 | Houzz.com – Credit | © Choice architecture
---
Gray Hexagon Tile Backsplash with Cream Cabinets and Butcher Block Countertops
The soft and warm color scheme of this kitchen springs from the cream cabinets and butcher block countertops. Together they make the kitchen immediately approachable, which is supported by brass pulls. By contrast, the gray hexagon tile backsplash and gray floor tiles give a distant and sophisticated look. But as a result, the kitchen presents a well-balanced look while offering the best of both worlds tinged with a Scandinavian feel.
Patterned Tile Kitchen Backsplash
Patterned tile kitchen backsplashes are one of the best alternatives to make your kitchen glow. Colorful and pattern-rich abundant in diamond, floral, and star patterns, they are used to create an energizing look. Majorly favored by classic and contemporary kitchens, they bring a breath of fresh air to the kitchens.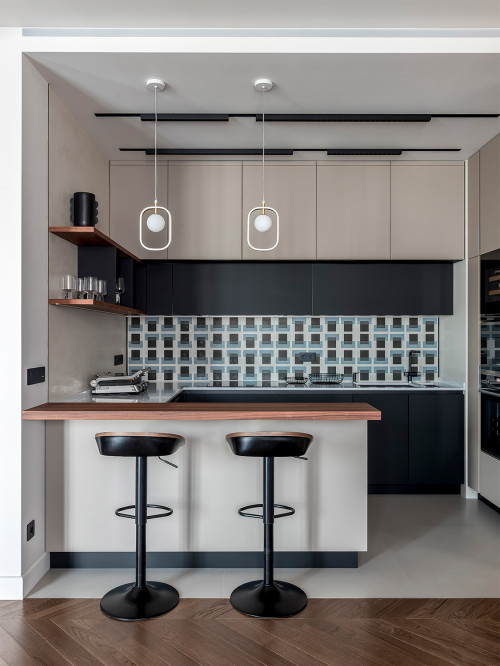 ID# 151226 | Houzz.com – Credit | © VIRSTAK Design
---
Stylish Kitchen Backsplash Ideas with Patterns and U-Shaped Layout
This U-shaped contemporary kitchen binds what feels more natural and modern. While the black and light sandy counters offer a more passive and soothing realm, the patterned tile backsplash and timber floating shelves spice up the look. The black accents, lighting fixtures, and stools synchronize skillfully to formulate a style with a designer look.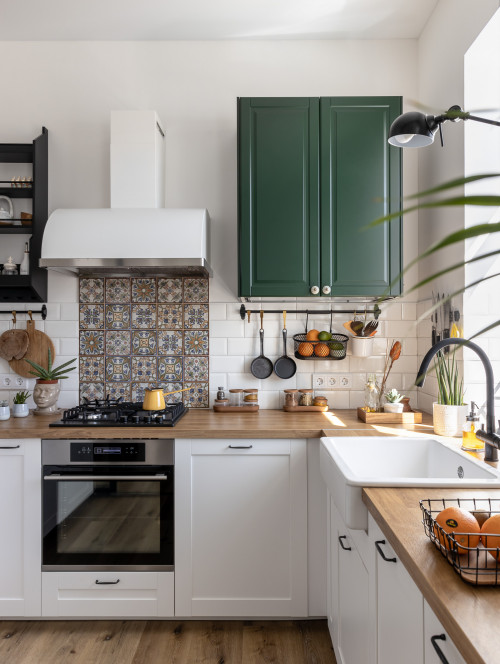 ID# 151227 | Houzz.com – Credit | © Сафина Светлана
---
White Cabinets with Patterned Tile Backsplash and Black Hardware
Unlike most of its counterparts, this Scandinavian kitchen feels much busier but it still stays relevant to its tenets. First, it establishes its nature-inspired bright color scheme with white cabinets and butcher block countertops. Secondly, it adds some contrast with black hardware. Thirdly, it goes with two backsplashes to ensure diversity. The subway tile backsplash is accompanied by a Mediterranean-inspired patterned tile splash-back. The latter defines the stove zone, while above, the green wall unit and black open shelves add dimension to the wall.
Do I need a kitchen backsplash?
Kitchen backsplashes are a must in kitchens not only in terms of aesthetics but also the functionality. Whether you have a small or big, closed or open-plan kitchen, a kitchen backsplash is necessary to protect walls from grease and water splatters. As such, backsplashes ensure that your walls stay intact and undamaged while splash-backs provide them with an armor of sorts.
ID# 151228 | Houzz.com – Credit | © Ирина Чернейкина
---
Patterned Tile Backsplash with Gray Countertops and Red Lighting Fixtures
One of the best routes to honor your kitchen backsplash is to go with eccentric fixtures- just like this kitchen does. Here, the cherry-shaped lighting fixtures and a dog statue make the design speak volumes. And in the background, the star-patterned tile backsplash serves as a visual focal point between the white and gray cabinets and countertops. This neutral setup gets treated with colorful and pattern-rich touches for a memorable look.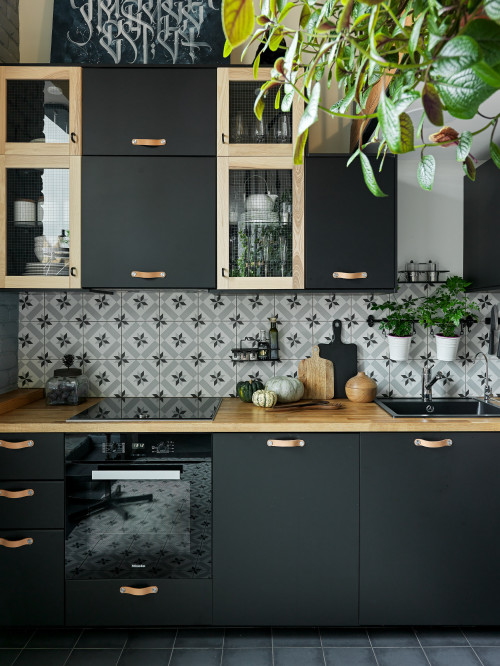 ID# 151229 | Houzz.com – Credit | © Totaste.studio | Виктор Штефан
---
Industrial Kitchen with Stylish Kitchen Backsplash Ideas and Indoor Plants
If you want something industrial but still somehow biophilic, this kitchen shows how to create one. To start with, here, the black flat-front cabinets provide a solid look for the kitchen only to be tempered with wood countertops. The indoor plants sprinkled throughout the space also build on the biophilic design narrative. Likewise, the metal touches cancel the impact of the dark cabinets. The floral-pattern minimalist study of the backsplash, in a similar way, makes the design more approachable and environment-friendly.