28+ Porcelain Tile Backsplash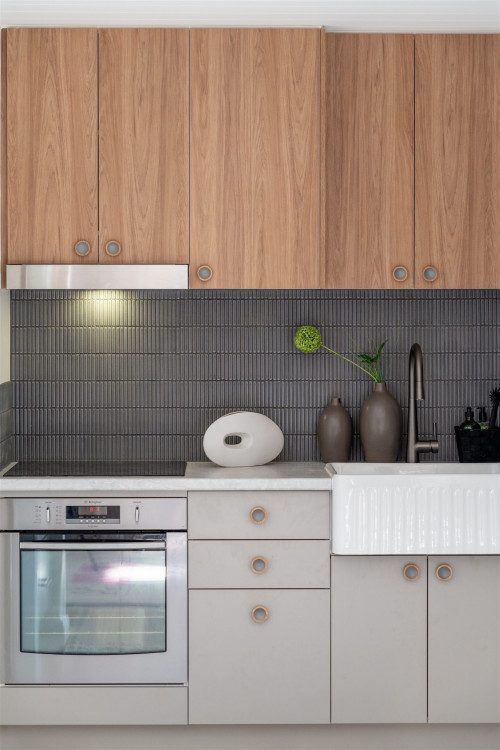 ID# 141719 | Houzz.com – Credit | © Annette Pust Design Studio
---
Gray Porcelain Tile Backsplash Effect in Modern Scandinavian Kitchen Design
In the Scandinavian style kitchen design consisting of gray and wooden flat cabinets, gray porcelain tile backsplashes with white countertops combine with a stylish stance. Gray porcelain backsplashes are stylishly eye-catching. Farmhouse sinks and built-in appliances are taking their place. It is a Scandinavian kitchen design formed in modern lines.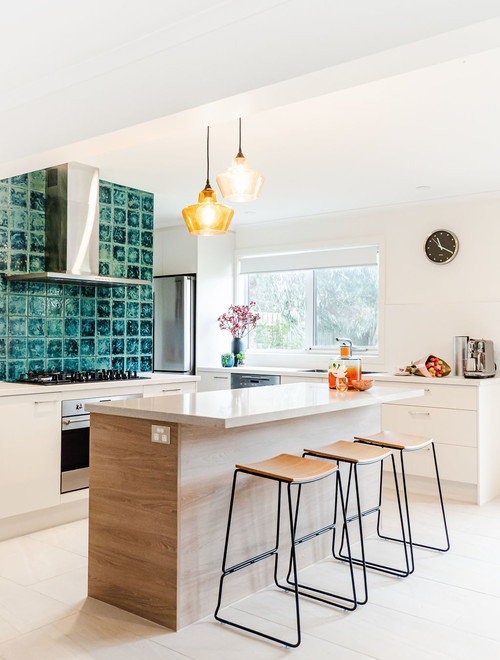 ID# 141732 | Houzz.com – Credit | © Green Room Interiors
---
Green Effect for Glazed Porcelain Tile Backsplash in White Contemporary Kitchen Design
The kitchen design, which is created with the fresh effect of white, is accompanied by a white countertop. Built-in appliances and under-counter washbasins take their places, while the window behind the washbasin creates a luminous effect on the space. In the middle, there is a long and narrow storage area under the island, and the top is used as a breakfast bar. Bar stools with black metal legs and wooden seats are in place with their modern designs. Green square glazed porcelain tile backsplashes add color to the whites. Its glossy surfaces leave a cool impression. By using upholstery in light tones on the floor, the bright image is fully provided.
Porcelain Tile Backsplash
As a sub-group of ceramics, porcelain tiles, though a bit costly, are one of the favored tiles for their durability, water resistance, ease of maintenance, and aesthetic values. Coming in various sizes, shapes, and designs, they even mimic natural materials such as stone, brick, wood, and marble, which make them irreplaceable in the backsplash market. Thus, a porcelain tile backsplash can be used in many different contexts, be it contemporary, farmhouse, industrial, beach-style, and transitional.
To start all over again, despite the natural materials' preferable parameters and aesthetics, they are hard to process and not very budget-friendly. It, in return, forces the customers and the market to seek substitutes, and porcelain tiles come into the picture at this point. Porcelain tiles can be used for interior applications like kitchen or bathroom backsplashes, shower floors, and exterior cladding for their high durability and resistance, mirror the patterns of natural materials and are available in various finishes and patterns. Based on these features, a porcelain tile backsplash comes as a great substitute for other materials and provides unique looks for your kitchen design. If you would like to know more about porcelain backsplashes and see some design projects, below we will be sharing 22 inspiring design ideas with you.
Can porcelain tile be used as a backsplash?
Yes, porcelain tiles make excellent backsplashes. Thanks to their color and pattern diversity, they even allow you to achieve a brick-and-marble effect. Glazed and honed versions add different textures to enrich the overall look while visually and tactually offering comforting aesthetics.
Color and Texture Options for Porcelain Tile Backsplash
Porcelain tiles come in various colors, ranging from earthy palettes to white, black, gray, blue, and green. Also, as they can mirror stone, brick, wood, and concrete patterns, they can at least visually evoke a sense of tactility stimulated by the mere mimicked look of these natural materials. Unlike other ceramic tiles, porcelain has a mineral called kaolin, which helps the porcelain vitrify. They are available in glazed, matte finish, and honed versions. For a glossy look, the glazed tiles are excellent, a perfect alternative to be used in beach-inspired kitchens to play with natural lights. Overall, the rich color and textures of the porcelain tile backsplash expand the design possibilities that can be accomplished with it.
White Porcelain Tile Backsplash
White porcelain tile backsplashes lighten up the interior space beautifully, accomplishing stylish designs. For example, Scandinavian-inspired, modern, and transitional kitchens can employ a white porcelain tile backsplash to combine it with wood elements and darker tones to build up contrasts.
Is it better to have porcelain or ceramic tile?
At first sight, it is very hard to differentiate porcelain from ceramic tiles. The main reason for that is they all share a rigid form made of natural clay that undergoes certain processes to harden. Though, as a sub-category of ceramic tiles, porcelain has distinct qualities that make them "porcelain."
Functional Differences
As aforementioned, with no remarkable differences between the two, they share a lot in common. But, unlike ceramics, porcelain tiles can vitrify due to their mineral called "kaolin" and are more water and moisture-resistant with less than 5% water absorption. They also have additives such as quartz, sand, or feldspar to diversify and strengthen the clay. As they are fired at higher temperatures, the result is harder and more rigid forms. For the same reason, porcelain tiles can also be used for outdoor cladding as long as the weather conditions are not too harsh, while the application places for ceramics are more limited. With a high capacity for heat resistance, the porcelain tiles can serve as a stove backsplash and endure in the long term.
As for the cons of the porcelain, the advantageous parts we just have aligned also have negative counterparts, which make them harder to carry, cut, and install. In short, they are only hard to work with. Even though it is hard for them to break when they are broken, repairing them doesn't come easy.
Aesthetic differences
In terms of their aesthetic values, ceramics are highly customizable. But porcelain tiles feature more flexibility to look like marble, slate, limestone, brick, and wood. Thus, they can endow the kitchen with a more natural look, while the ceramics feature manufactured and man-made.
To go back to the question, if you are looking for something harder, easy to clean, with more water resistance, and that can imitate brick, wall, and wood patterns, porcelain tiles might be what you are looking for. Needless to say, all these features make them a bit more expensive when compared to ceramics and difficult to cut. If you have pets running around, porcelain tiles, again, won't disappoint you.

Gray Porcelain Tile Backsplash
A gray porcelain tile backsplash is a favorable element in beach-style kitchens, especially when it is finished with a glaze effect. The gray's beautiful shades suggest sophistication and a level of lived-in look to mimic a distressed or weathered look. Though, when it's glazed, it features a mesmerizing surface reminiscent of the glittering sea. It can be combined with white cabinets, brass accents, and wicker fixtures for an impactful design.
Black Porcelain Tile Backsplash
Black porcelain tiles execute elegance and sophistication and can be effortlessly contextualized in modern, farmhouse, traditional, and Scandinavian kitchens. To accompany them, the designers employ timber accents and natural materials to subdue the black's strong and effective impact. In addition to the subway, herringbone, hexagon, and square pattern tiles, porcelain slab backsplashes provide impactful backgrounds, adding depth and a seamless look.
Does porcelain tile break easily?
No, porcelain tiles are resistant to water, heat, and breakages thanks to their rigid, heavy, and compact form. The clay for porcelain tiles is called "fine kaolin clay", which is denser and less porous, which impacts the overall character of the porcelain making them more durable when compared to other ceramic materials that are merely composed of coarse clay. Given that, you can safely use them in commercial properties and outdoors with high traffic as well as in wet areas to coat the walls and floors.
Blue Porcelain Tile Backsplash
Blue porcelain tiles beautifully enlivened the interior. If you want to break the monotonous look and add a different pattern and color, blue is the perfect color. Thanks to the deep feeling of blue, fresh, calm, and at the same time cool effects occur. Thanks to its various shapes and sizes, it leaves different effects in spaces.
Marble Look Porcelain Tile Backsplash
If you want a marble backsplash but feel unwilling to seal it every 6 months and do regular cleaning, a marble look porcelain tile backsplash is available as a substitute for marble. Even better, you can find the porcelain in the form of various tile patterns and as a slab panel backsplash. Additionally, if you get a vitrified porcelain backsplash, you won't have to seal it.
Brick Look Porcelain Tile Backsplash
One of the advantageous sides of porcelain tiles is that they can simulate the look of natural elements such as marble, brick, slate, limestone, and stone. In addition to their chic style, they can endow the kitchen with a rustic look.
How to paint porcelain tile backsplash?
Before starting to paint a tile backsplash, there are a couple of important steps you can't miss. First, clean off the counters, remove the electric outlets, and get rid of anything that will inhibit you from working freely. Then cover your counters to prevent paint from dripping and making a mess on the counters.
The second step requires sanding and cleaning the backsplash with a heavy-duty kitchen cleaner. First, scrub the tiles carefully to get rid of all the dirt, and sand them. In the third step, you apply prime. You can start from the grout lines and move on to the tiles. After applying the prime, wait for it to get dry and sand the tiles one more time. Finally, you can start painting your porcelain tiles in the color you have dreamed of. If the backdrop is black and you want it white, you might need to repeat the painting process a couple of times to cover the darker background with a lighter color.

Glazed Porcelain Tile Backsplash
Glazed porcelain tile backsplashes bring luminous and eye-appealing surfaces. In beach-style kitchens, they work well to give a glittering effect to remind the sea.
How to install porcelain tile backsplash?
Installing a porcelain tile backsplash is not so different from applying other tile materials. There are only two things to pay special attention to. First, porcelain tiles need a stronger adhesive as they are denser and heavier. Thus, ready-mix adhesives are not suggested for porcelain tiles. Secondly, it is hard to cut them. For that reason, you may need professional equipment to cut and apply them. It is also recommended for professionals install porcelain tile backsplashes. But for those who want to apply it by themselves, here is how it is done:
Installation Steps:
Clean the application area and remove the electric outlets, and measure the application area.
Get cardboard of the same size as the backsplash area and lay the tiles on it to see how it looks. See how much you need to cut the tiles beforehand so that they won't stick out.
After planning the design, you spread the adhesive carefully and start installing the tiles.
After you are finished laying the tiles, wait for 24-48 hours before coming back to apply the grout.
Large Porcelain Tile Backsplash
Large porcelain tile backsplashes feel closer to the slab panel backsplashes visually and are effective in creating seamless looks. Depending on the hues and patterns, it is also possible to create a stone-like effect to make the design gravitate toward nature.
Porcelain Subway Tile Backsplash
Subway tile backsplash options are a pattern that provides timeless elegance and never goes out of fashion. It provides unique effects in every material type and unlimited color options. Porcelain subway tile backsplashes, on the other hand, are a unique option for elegant designs, thanks to their quality stance.
How to grout porcelain tile backsplash?
If you get a pre-mixed grout, it makes things easier. In case you don't have one, you can mix water and grout with a knife until you get a homogeneous mixture. After mixing, wait for 5 minutes. Then start grouting. Hold the grout float at a 45-degree angle and apply pressure to make sure that the grout sinks between the tiles. Move the float in a diagonal motion, and apply the grout section by section. Wait for 5-10 minutes for the grout to settle. Then clean the excess with a damp sponge. Use the bucket filled with warm water to soak and clean the sponge, and repeat cleaning until the tiles themselves get rid of the grout. After you are finished and everything is dry, use a soft cloth to clean the rest. After 24 hours, come back to seal to prevent any staining.
The supplies that you need for grouting porcelain tile backsplash are painter's tape, masking, grout, plastic sheeting, sponges, bucket, warm water, soft cloth, and grout float. Instead of mixing the grout with water, you can get a grout additive, which will maximize the effect of the grout.