31+ Backsplash for White Cabinets and White Countertops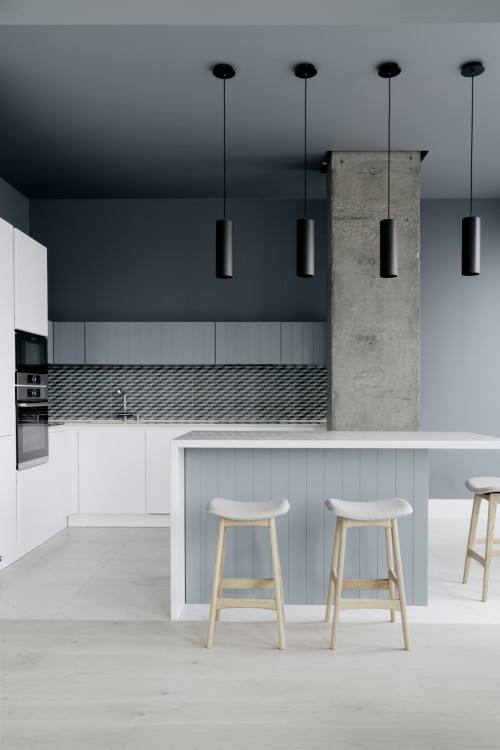 ID# 138808 | Houzz.com – Credit | © Architectural Studio RE
---
Gray Backsplash for White Cabinets and White Countertops
This contemporary kitchen in Moscow is addressed as "SAD," which stays true to the overall look and the feel it evokes. The exposed concrete feature wall, the gray backsplash, muted beadboard kitchen cabinets, and the walls painted dark gray with blue undertones create a moody atmosphere altogether, even though the incorporation of white cabinets and white quartz countertops lightens up the interiors to alleviate this gloomy ambiance. Apart from those, the black pendants and appliances introduce a third color, this time something richly pigmented and solid, to add more depth and dimension to the space.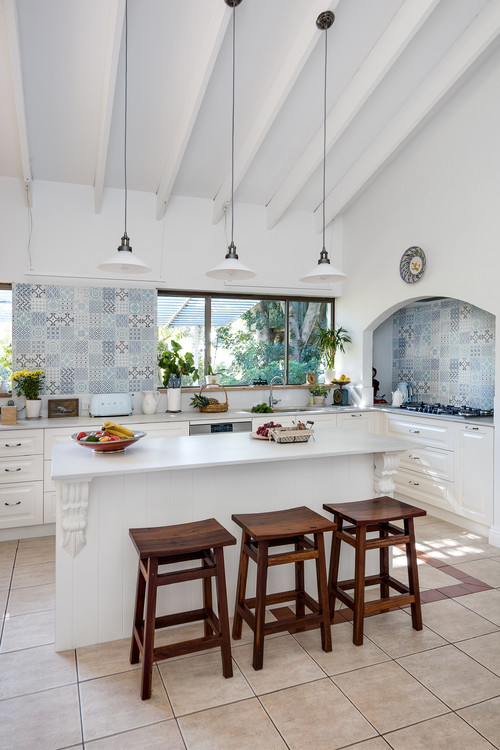 ID# 138816 | Houzz.com – Credit | © Trager Kitchens and Interiors
---
Blue Backsplash for White Cabinets and White Countertops
This Mediterranean-inspired kitchen has a pristine white design that is tinged with subtle shades of blue brought by the Mediterranean tile backsplash. Featuring intriguing patterns, the blue-and-white tiles deliver soft aesthetics. The lack of upper cabinetry opens up the space and plays up the white shades, while the sloping ceiling adds extra interest, reminding us of the Mediterranean ceilings. The dropped-down pendants over the island emphasize the large scale of the kitchen, and the corbels on the island's torso give the kitchen a classical spin. The beige floor tiles and dark wooden stools inject much-needed warmth to temper the cool tones.
Backsplash for White Cabinets and White Countertops
White cabinets paired with white countertops make for peaceful designs that not only brighten up the interior but also make it feel larger and roomy. Employed popularly in all sorts of designs, this couple brings a timeless feel to any space. And by choosing a backsplash for white cabinets and white countertops, you can make your kitchen grow closer to a more characteristic design.
Are you fond of rustic kitchens or contemporary designs? Do you prefer a Mediterranean-inspired kitchen or a more traditional one? Whatever look you have in mind, a well-chosen backsplash for white cabinets and white countertops can give you any look you want. Here we have gathered inspiring kitchen designs centered around variously colored backsplashes made of a wide range of materials. If you want to see how they look with white countertops and cabinets, just scroll down and get some inspiration.
Can you have white cabinets and white countertops?
Kitchen designs with white cabinets and white countertops feel timeless, which explains why this combination is popularly used. By going with a white-on-white, you don't only get clean simplicity but also bring in a sense of purity and create a blank canvas. As such, you can use this look in any kitchen and design. And it doesn't matter whether you have a small or big, closed or open-plan space. The resulting scheme feels satisfying and ensures a sense of lightness and brightness which will upgrade your mood as well.
Backsplash Color Options for White Cabinets and White Countertops
As one of the most important design elements, color determines the mood of the space and has a profound influence on its users. That's why choosing the right color palette makes a huge difference, while the best way to introduce color is via a backsplash as it is installed at eye level. And when it comes to the white cabinets and countertops, backsplash color options are abundant, from white to black, blue, green, yellow, pink, and more. When designing, you can either go with your favorite color that reflects your personality or a neutral shade that promises you a more timeless look.
White Backsplash for White Cabinets and White Countertops
White-on-white color palettes are popular, especially in traditional and transitional kitchens. You can spice up such designs with glass, cast iron, or metal pendants, oversized hardware, and backsplash material choices. For example, white marble, granite, and marble-look quartz backsplashes spice up the look even if they come with a white base.
What backsplash goes best with white cabinets?
White cabinets can go well with a wide range of backsplash options, but answering what goes best is a bit tricky since it is a more subjective topic and everyone's notion of a good-looking design is different. For example, for nature lovers, a rock and wood backsplash could be the best option, while industrial kitchen lovers consider exposed brick walls or faux brick panels the best backsplash for their white cabinets. But for a neutral and timeless look, a white backsplash with white cabinets would serve as the best option for everyone.
Gray Backsplash for White Cabinets and White Countertops
There is almost no shade that wouldn't go with gray and white. Plus, whether you want something elegant, sophisticated, or gloomy, you can achieve that with various shades of gray. Gray glass tiles and sheet backsplashes, in particular, pair well with white cabinets and countertops. In contemporary kitchens, gray marble backsplashes ooze opulence and elegance. And the darker you go with them, the more gloomy and edgy they look.
Can you do a white backsplash with white cabinets?
A white backsplash with white cabinets is a popular combination. While some designers choose gloss-on-gloss, some prefer cabinet and backsplash finishings to counteract each other. And some just add neutral, black, and wooden countertops to bring more dimension to the all-white look.
Black Backsplash for White Cabinets and White Countertops
To create a striking contrast with white cabinets and white countertops, black backsplashes are the way to go. Contemporary and Scandinavian kitchens, particularly, love these contrasting shades and use wood accents to counteract the stark contrast. Some designers even go with glazed black backsplashes to emphasize the contrast and bring an extra glow to the kitchen, which also serves as a design trick in small kitchens.
How do you match a white countertop to a backsplash?
White countertops are easy to match to any backsplash whether it is stone, wood, marble, or ceramic. Though, when choosing one, you need to consider the overall theme of the kitchen, how much sunlight it gets, and whether you have a good lighting system. Additionally, you need to be determined about what you want and what kind of mood and look your kitchen should represent. The answers to these questions will help you get a more solid idea about what kind of backsplash you should go for since white countertops are already ready to match any color, pattern, and look.
Blue Backsplash for White Cabinets and White Countertops
There is something about the color blue that feels timeless and hard to pin down. And the possibilities with it are just endless. As one of the most versatile colors, whose every shade evokes a different mood and feeling, it can bring a subtle or a spirited touch to deliver soothing and dramatic aesthetics. For example, while the muted, pastel tones instill a sense of calmness and tranquility, the dark blue with gray undertones can bring a sense of edginess and gloominess. But if you go with indigo or navy blue, these blue shades provide elegance and drama. But in all shades, it makes a strong complement to white cabinets and white countertops, also pairing well with chrome, steel, and wood shades. Thus, it is for a good reason that transitional, contemporary, and Mediterranean kitchens can't give up on this beautiful shade of blue.
Green Backsplash for White Cabinets and White Countertops
Available in various shades, including emerald, forest, mint, lemon grass, hunter, and more, green backsplashes, just like blue, can evoke different moods. Also, associated with nature and wisdom, green can create dramatic looks. If you favor organic modernism, rustic, and modern farmhouse looks, you can pair green backsplashes with white cabinets and white countertops. A few wooden accents, brass hardware, bell jar lighting fixtures, and poured concrete floors can create perfect couples with green-and-white combinations.
Where should the backsplash end cabinet or countertop?
Kitchen backsplashes vary in size. While the standard size is 4-inch and covers the area between countertops and cabinets, it provides enough coverage to protect the walls from grease and dirt. But for aesthetic purposes, some go up to the ceiling, and the second layer of backsplash is sometimes used, running short on the walls and occupying only ¼ of the standard-size backsplash. This second layer helps you take advantage of various functional benefits of different backsplash materials while adding extra dimension to the walls.
Tile Materials for White Cabinets and White Countertops
Tile materials for white cabinets and white countertops range from glass to ceramic, natural stone, metal, and natural materials such as brick, wood, and stone. If you love rustic kitchens, you can go with natural elements. Mediterranean kitchens, on the other hand, embrace mosaic tiles in light blue and sandy shades. And contemporary kitchens love sleek looks that can be incorporated with natural stone slab, metal, and glass sheet backsplashes. So, all you need to do is to decide on what kind of look you have in mind and choose accordingly.
Glass Backsplash for White Cabinets and White Countertops
The shimmering glass tile and sheet backsplashes team up perfectly with white cabinets and countertops. Available in numerous colors and designs, you can create eye-popping and memorable looks with them. And if you want to go green and reduce the burden on nature, you can use recycled glass backsplashes that come with wood and marble looks.
Ceramic Backsplash for White Cabinets and White Countertops
Easy to clean and maintain, ceramic backsplashes offer a plethora of design options. And if you want to jazz up your white-dominant kitchen, ceramic tiles can help you with that. For example for more authentic and Mediterranean-inspired looks, you can use printed versions that feature various colorful patterns.
What is the most popular backsplash for the kitchen?
Subway tile backsplashes are still considered the most popular backsplashes. We not only see them in classic and transitional kitchens but also in contemporary designs as well. Since they are available in a wide range of sizes, patterns, and designs, they offer almost limitless design possibilities, which helps preserve their popularity.
Stone Backsplash for White Cabinets and White Countertops
Stone backsplashes cover statement and upscale materials such as granite, marble, soapstone, and slate. And each of those has different vibes and characteristics, providing characterful additions for white cabinets and white countertops. Especially, if you are one of those who love clutter-free designs and empty countertops and don't want your kitchen to look sterile, using stone backsplashes will give all you need: clutter-free pattern and personality. In other words, without any extra addition, these backsplashes can just add enough depth and dimension, saving you from a lot of work thanks to their natural veins, streaks, and patterns.
How do you keep a white kitchen warm?
To keep a white kitchen warm, there are plenty of things you can do. To name a few, you can use kitchen plants, wooden accents, brass hardware, boho-style pendants, wallpapers, light sandy shades, and a statement island that introduces organic forms and textures. Additionally, if you have enough space, you can integrate banquettes and nooks to create an informal layout and a related dining space. This way, you can immediately warm up the kitchen and make it feel more inviting.
Metal Backsplash for White Cabinets and White Countertops
Metal backsplashes are anti-bacterial and highly durable options that pair well with white cabinets and white countertops. Available in various patterns and colors, including panel and tiled options, their subgroups include copper, bronze, silver, zinc, brass, and stainless steel. Additionally, if you want to give your kitchen a rustic feel, you can consider getting oxidized metal backsplashes that lend a lived-in feel and old-world charm.