31+ Backsplash for White Cabinets and White Countertops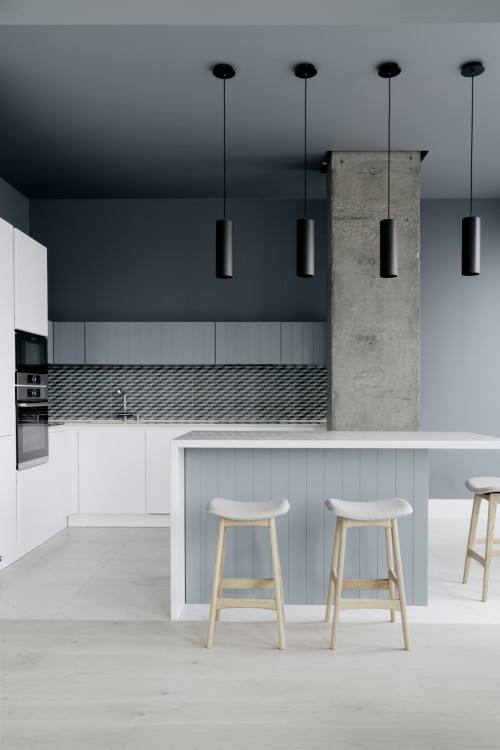 ID# 138808 | Houzz.com – Credit | © Architectural Studio RE
---
Gray Backsplash for White Cabinets and White Countertops
This contemporary kitchen in Moscow is addressed as "SAD," which stays true to the overall look and the feel it evokes. The exposed concrete feature wall, the gray backsplash, muted beadboard kitchen cabinets, and the walls painted dark gray with blue undertones create a moody atmosphere altogether, even though the incorporation of white cabinets and white quartz countertops lightens up the interiors to alleviate this gloomy ambiance. Apart from those, the black pendants and appliances introduce a third color, this time something richly pigmented and solid, to add more depth and dimension to the space.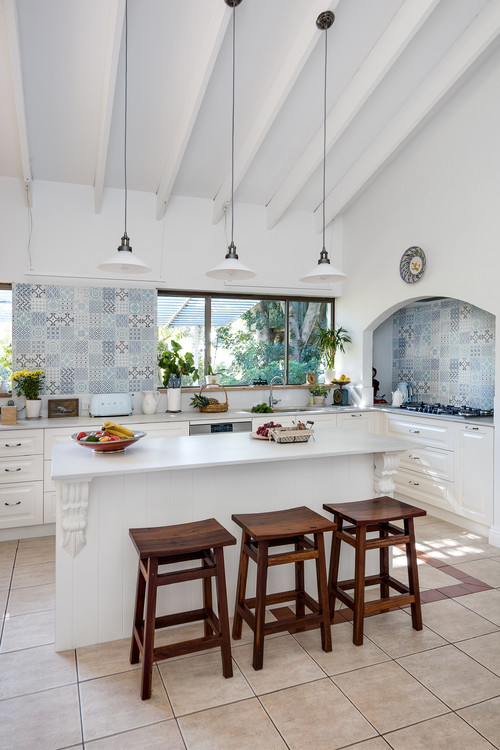 ID# 138816 | Houzz.com – Credit | © Trager Kitchens and Interiors
---
Blue Backsplash for White Cabinets and White Countertops
This Mediterranean-inspired kitchen has a pristine white design that is tinged with subtle shades of blue brought by the Mediterranean tile backsplash. Featuring intriguing patterns, the blue-and-white tiles deliver soft aesthetics. The lack of upper cabinetry opens up the space and plays up the white shades, while the sloping ceiling adds extra interest, reminding us of the Mediterranean ceilings. The dropped-down pendants over the island emphasize the large scale of the kitchen, and the corbels on the island's torso give the kitchen a classical spin. The beige floor tiles and dark wooden stools inject much-needed warmth to temper the cool tones.
Backsplash for White Cabinets and White Countertops
White cabinets paired with white countertops make for peaceful designs that not only brighten up the interior but also make it feel larger and roomy. Employed popularly in all sorts of designs, this couple brings a timeless feel to any space. And by choosing a backsplash for white cabinets and white countertops, you can make your kitchen grow closer to a more characteristic design.
Are you fond of rustic kitchens or contemporary designs? Do you prefer a Mediterranean-inspired kitchen or a more traditional one? Whatever look you have in mind, a well-chosen backsplash for white cabinets and white countertops can give you any look you want. Here we have gathered inspiring kitchen designs centered around variously colored backsplashes made of a wide range of materials. If you want to see how they look with white countertops and cabinets, just scroll down and get some inspiration.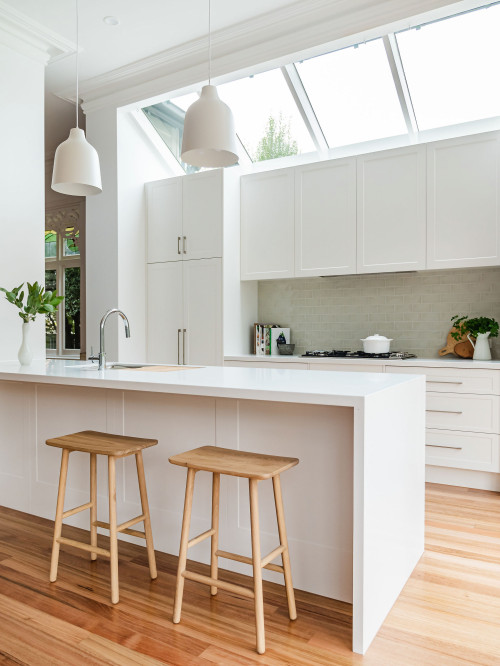 ID# 138801 | Houzz.com – Credit | © Eclectic Creative
---
Sage Green Backsplash for White Cabinets and White Countertops
This contemporary kitchen feels blessed by natural lights diving into the kitchen through the skylights. Right below, the white shaker cabinets topped by quartz countertops feature a clean and sleek look that is a comfort for the eyes. The sage green subway tile backsplash adds a natural shade, conversing with the Tasmanian oak solid floors. The waterfall island with wooden stools occupies the rest of the space allocated for the kitchen. One last nuanced detail comes with chrome hardware that allows for an easier grip on the bottom drawers and full-height cabinets while accentuating them with a touch of modernism.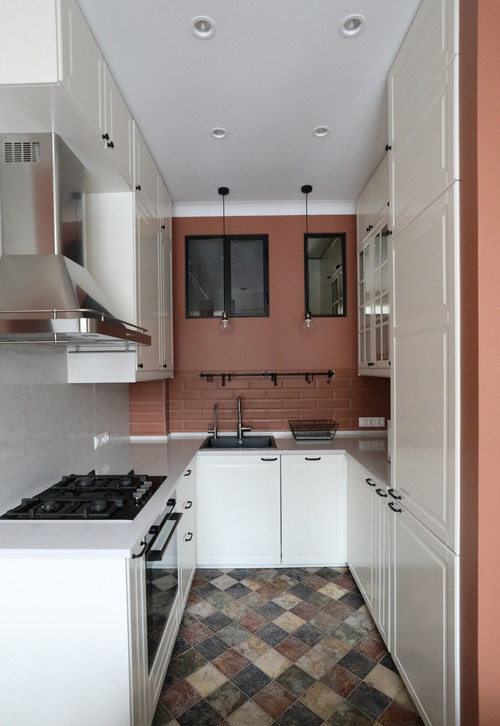 ID# 138802 | Houzz.com – Credit | © ANDdesign / Александра Дашкевич
---
U-Shaped Kitchen with Two Backsplashes and White Cabinets
This U-shaped compact yet self-sufficient contemporary kitchen is outfitted with white raised-panel cabinets and two types of backsplashes, including marble-effect quartz and orange-ish brown subway tiles. The use of two backsplash materials and colors adds depth and dimension while encouraging the space to feel larger than it is. Likewise, square floor tiles feature orange, black, and white shades to enlarge the ground, which is supported by the diagonal layout as well. To coordinate the black shades on the floor and develop better integrity, the kitchen cabinets get treated with black hardware and the walls with a black wall rail and a drop-in sink.
Can you have white cabinets and white countertops?
Kitchen designs with white cabinets and white countertops feel timeless, which explains why this combination is popularly used. By going with a white-on-white, you don't only get clean simplicity but also bring in a sense of purity and create a blank canvas. As such, you can use this look in any kitchen and design. And it doesn't matter whether you have a small or big, closed or open-plan space. The resulting scheme feels satisfying and ensures a sense of lightness and brightness which will upgrade your mood as well.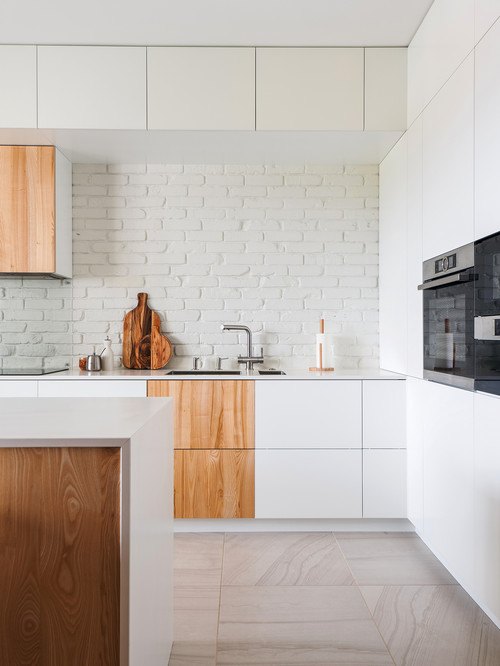 ID# 138803 | Houzz.com – Credit | © Line Design Studio
---
Whitewashed Brick Backsplash with White Countertops and Glass Sheet Backsplash
For those looking for a way to assimilate industrial brick walls into something contemporary and clean, whitewashing the bricks offers one of the best ways. Here, for example, this contemporary kitchen brings the whitewashed brick walls into dialogue with white countertops and cabinets, while the sporadic injections of wood panels for cabinet doors and the island front create a sense of softness. The transparent glass sheet backsplash installed behind the stove adds an extra layer of protection to offer an easy-to-clean and heat-resistance background. Lastly, the black built-in appliances bring just the right amount of contrast that contemporary kitchens love.
Backsplash Color Options for White Cabinets and White Countertops
As one of the most important design elements, color determines the mood of the space and has a profound influence on its users. That's why choosing the right color palette makes a huge difference, while the best way to introduce color is via a backsplash as it is installed at eye level. And when it comes to the white cabinets and countertops, backsplash color options are abundant, from white to black, blue, green, yellow, pink, and more. When designing, you can either go with your favorite color that reflects your personality or a neutral shade that promises you a more timeless look.
White Backsplash for White Cabinets and White Countertops
White-on-white color palettes are popular, especially in traditional and transitional kitchens. You can spice up such designs with glass, cast iron, or metal pendants, oversized hardware, and backsplash material choices. For example, white marble, granite, and marble-look quartz backsplashes spice up the look even if they come with a white base.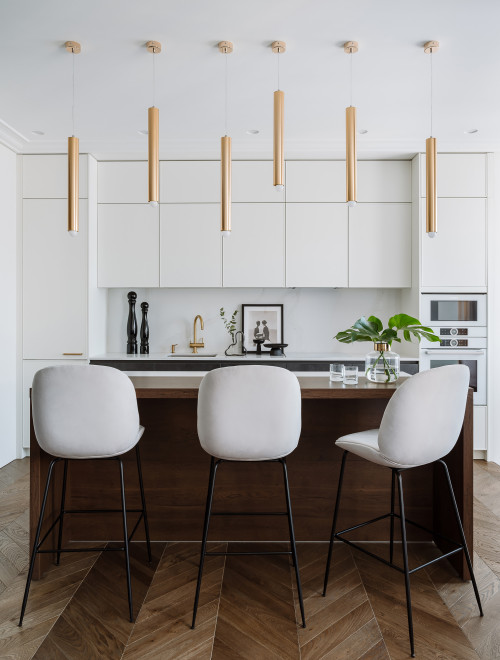 ID# 138804 | Houzz.com – Credit | © Елена Сидорина
---
White Marble Backsplash for White Cabinets and White Countertops
This contemporary kitchen celebrates a white-color palette honored by brass hardware and wooden textures. The white marble backsplash lends luxury, posing with oversized salt and pepper containers, a modern print, and a brass tap. The in-built appliances blend into the white cabinets, while the kitchen island becomes the true visual focal point with a wooden base and a cluster of gold LED lighting overhead. Since the lighting fixtures are not dropped down at the same height, they orchestrate a rhythmic and provocative presence, stealing the show and oozing opulence.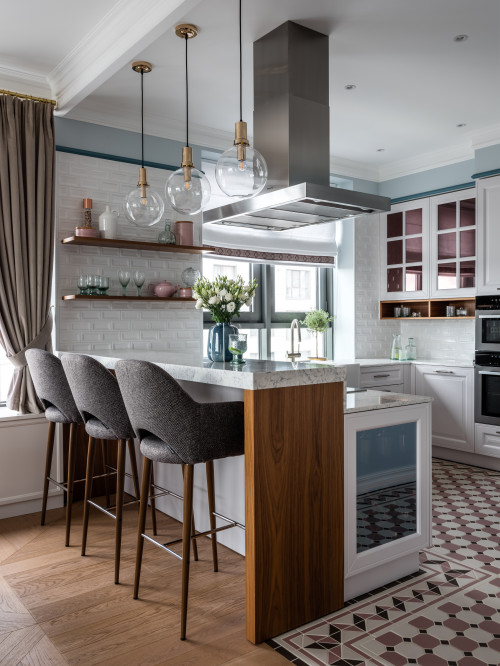 ID# 138805 | Houzz.com – Credit | © Неоклассика Кухня
---
Beveled Subway Tile Backsplash with Two-Tiered Island and Floating Shelves
If you can't give up on all-white looks and want to create something more modern out of the timeless, you can use a beveled subway tile backsplash that will give your kitchen a timeless and modern feel. Here, for example, white beveled tiles are taken up to the ceiling to add more dimension and movement to the walls. The timber floating shelves punctuate them, along with the mirrored wall units. In a similar vein, the white cabinets follow the backsplash style with raised panels, and the two-tiered island, again, consists of different layers. The wooden cabinet shelves and accents along with glass pendants and multi-colored floor tiles complement the overall look of the kitchen, which results in a dynamic yet soothing design.
What backsplash goes best with white cabinets?
White cabinets can go well with a wide range of backsplash options, but answering what goes best is a bit tricky since it is a more subjective topic and everyone's notion of a good-looking design is different. For example, for nature lovers, a rock and wood backsplash could be the best option, while industrial kitchen lovers consider exposed brick walls or faux brick panels the best backsplash for their white cabinets. But for a neutral and timeless look, a white backsplash with white cabinets would serve as the best option for everyone.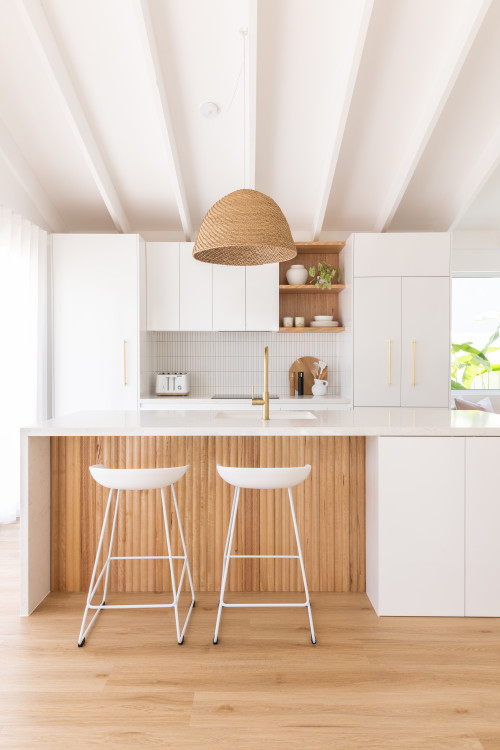 ID# 138806 | Houzz.com – Credit | © Tile Touch
---
Beach-Style Kitchen with Kit Kat Tile Backsplash and Boho Pendants
This beach-style kitchen is well-appointed with a white kit kat tile backsplash, white-flat-front cabinets, and white quartz countertops. And to jazz this all-white look and create a more relaxed atmosphere, it integrates boho pendants, wooden cabinet shelves, brass hardware, and bamboo into the kitchen's repertoire. These features make the design approachable and relaxed that suit the beach-style spirit. The white ceiling divided into different sections feels intriguing enough to draw the eyes up, making the kitchen a cozier place to visit during the day not only for cooking but also for its heartwarming environment.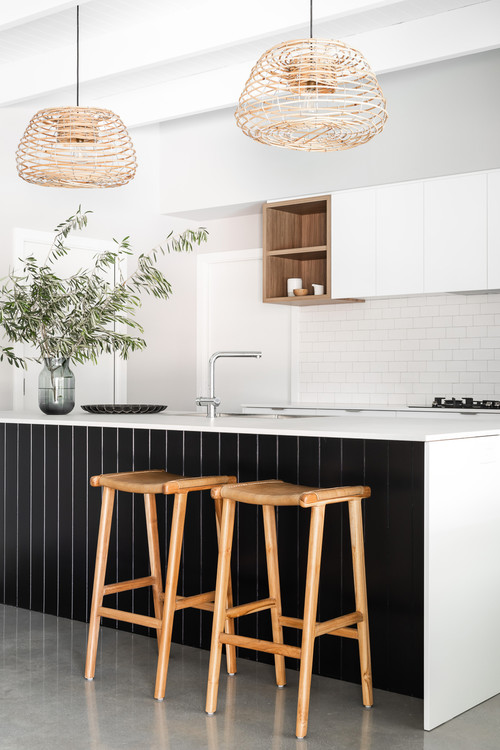 ID# 138807 | Houzz.com – Credit | © Jo Carmichael Interiors
---
Contemporary Kitchen with Repurposed Lighting Fixtures and Black Paneled Island
From the white cabinets to the white subway tile backsplash and countertops, everything remains in harmony and well-integrated in this contemporary kitchen. But to enrich the look, the black ink paneling comes in, bringing a strong contrast, while the repurposed cray pots turned into fantastic lighting fixtures soften this white-and-black color palette. This way, the kitchen showcases how to come up with cost-effective solutions. Overall, featuring soft and contrasting textures and colors, this contemporary kitchen evokes enough interest to lure its users for longer stays.
Gray Backsplash for White Cabinets and White Countertops
There is almost no shade that wouldn't go with gray and white. Plus, whether you want something elegant, sophisticated, or gloomy, you can achieve that with various shades of gray. Gray glass tiles and sheet backsplashes, in particular, pair well with white cabinets and countertops. In contemporary kitchens, gray marble backsplashes ooze opulence and elegance. And the darker you go with them, the more gloomy and edgy they look.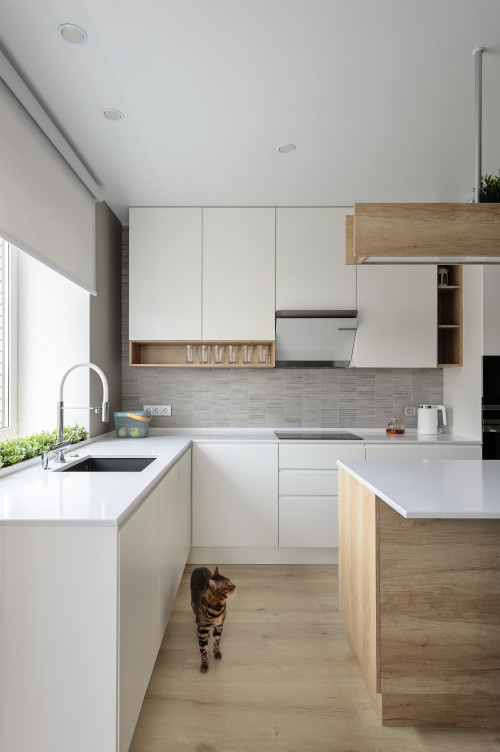 ID# 138809 | Houzz.com – Credit | © Maxim Maximov
---
White Cabinets and White Countertops with Wood Accents
This Scandinavian kitchen offers a functional layout that rests itself on the white clean-line cabinetry and countertops. The gray horizontally stacked backsplash with subtle tonal variations gives this all-white look a visual break, while the wood insertions just bring the right number of warm shades. These organic textures and hues execute comforting aesthetics for kitchen users, colored with the kitchen plants aligned near the windowsill for the sake of a biophilic design.
Can you do a white backsplash with white cabinets?
A white backsplash with white cabinets is a popular combination. While some designers choose gloss-on-gloss, some prefer cabinet and backsplash finishings to counteract each other. And some just add neutral, black, and wooden countertops to bring more dimension to the all-white look.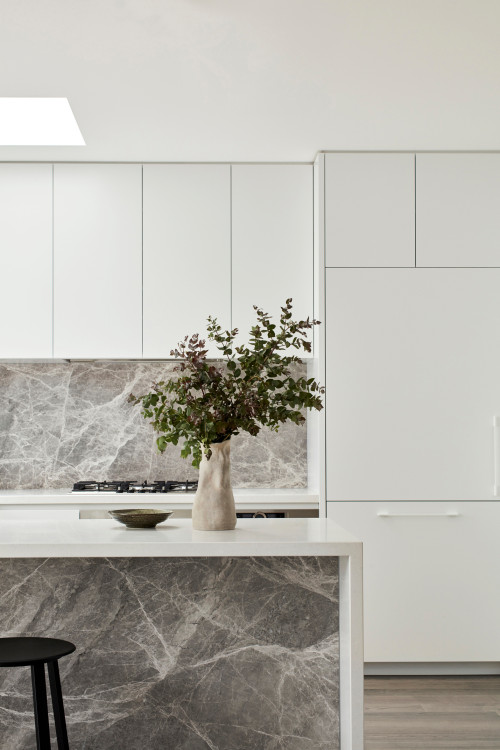 ID# 138810 | Houzz.com – Credit | © MMAD Architecture
---
Gray Marble Backsplash with White Cabinets and Countertops
Sophisticated yet approachable, the protagonist of this kitchen design is the gray marble without a doubt. Used both as a backsplash and to clad the island base, it brings the design together. The white undulating patterns on its gray base harmonize beautifully with the white sleek cabinets. The kitchen plants, the ceramic vase, and the black backless stools add characteristic touches, while the natural lights stream through the skylight and provide natural task lighting for the island. This way, the need for artificial light is lessened, and the interiors get injected with wellness, feeling healthier.
Black Backsplash for White Cabinets and White Countertops
To create a striking contrast with white cabinets and white countertops, black backsplashes are the way to go. Contemporary and Scandinavian kitchens, particularly, love these contrasting shades and use wood accents to counteract the stark contrast. Some designers even go with glazed black backsplashes to emphasize the contrast and bring an extra glow to the kitchen, which also serves as a design trick in small kitchens.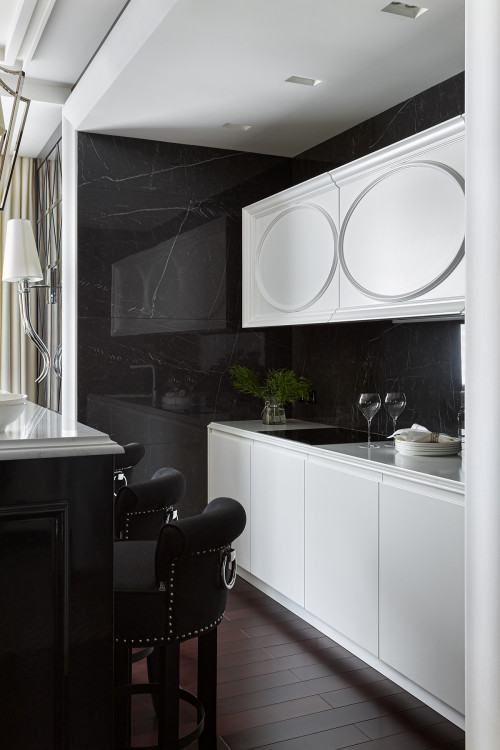 ID# 138811 | Houzz.com – Credit | © Ирина Шевченко
---
Black Backsplash for White Cabinets and White Countertops
This compact yet self-contained kitchen utilizes a black-and-white palette that is deftly proportioned to the available space. Featuring a false ceiling with in-built spotlights and zoned by the small island unit that acts as a half-feature wall, it has a well-defined room for itself. And in this zone, the white cabinets pop against the black marble backsplash that clads the entire wall surface allocated for the kitchen. The gloss finish on the marble gives the illusion of spaciousness. The circle details on the cabinets add dimension to the upper units but also make them feel recessed to expand the kitchen visually.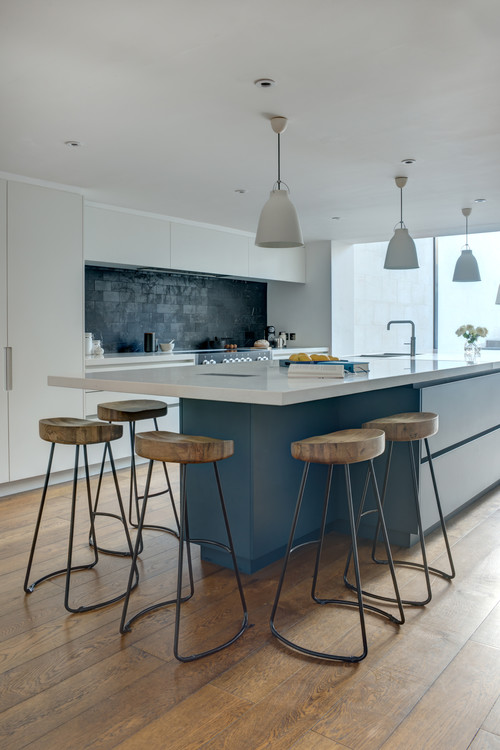 ID# 138812 | Houzz.com – Credit | © Roundhouse
---
Black Marble Subway Tile Backsplash and Blue Cantilevered Island with White Countertops
With balanced color and material repertoire, this well-lit contemporary kitchen offers modernism with classic elements such as marble. Used as a backsplash in subway patterns, this honed finish black marble backsplash provides a solid background. And it is accompanied by white matte cabinets and a blue cantilevered kitchen island. The island's gravity-defying form allows for a 5-seating place, adding a pop of color that energizes the kitchen. To couple with it, the wooden backless stools are used so that they can be tucked under the island easily, coordinating with the wood floor finish in the same shade. Lastly, the low ceiling and dropped-down pendants over the island make the ceiling much more accessible, creating a cozy atmosphere.
How do you match a white countertop to a backsplash?
White countertops are easy to match to any backsplash whether it is stone, wood, marble, or ceramic. Though, when choosing one, you need to consider the overall theme of the kitchen, how much sunlight it gets, and whether you have a good lighting system. Additionally, you need to be determined about what you want and what kind of mood and look your kitchen should represent. The answers to these questions will help you get a more solid idea about what kind of backsplash you should go for since white countertops are already ready to match any color, pattern, and look.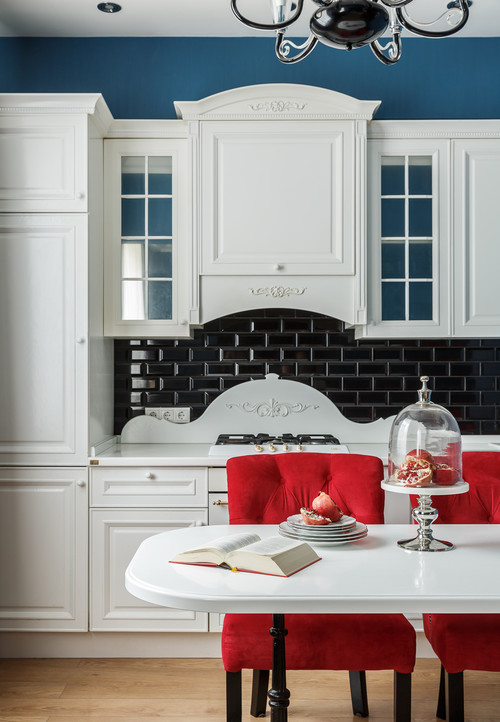 ID# 138813 | Houzz.com – Credit | © Тележный Никита
---
Black Ceramic Subway Tile Backsplash with Red Dining Chairs and White Cabinets
This transitional kitchen has a more classic edge to it with moldings and white raised panel cabinets, feeling overly elaborate. The undulating cabinet frames, glass-front cabinets, and black chandelier add extra luxury to the main bones of the kitchen. To serve the same aim, the dining table replaces a kitchen island, paired with eye-popping red-cushioned dining chairs. For the background, the black subway tiles serve as a showstopper between the white cabinets and countertops, while their glazed finish makes the tiles more pronounced. Designer tip: If you want your backsplash to have an extra easy-to-clean surface, glazing a backsplash gives it a smoother surface that is easier to maintain and clean.
Blue Backsplash for White Cabinets and White Countertops
There is something about the color blue that feels timeless and hard to pin down. And the possibilities with it are just endless. As one of the most versatile colors, whose every shade evokes a different mood and feeling, it can bring a subtle or a spirited touch to deliver soothing and dramatic aesthetics. For example, while the muted, pastel tones instill a sense of calmness and tranquility, the dark blue with gray undertones can bring a sense of edginess and gloominess. But if you go with indigo or navy blue, these blue shades provide elegance and drama. But in all shades, it makes a strong complement to white cabinets and white countertops, also pairing well with chrome, steel, and wood shades. Thus, it is for a good reason that transitional, contemporary, and Mediterranean kitchens can't give up on this beautiful shade of blue.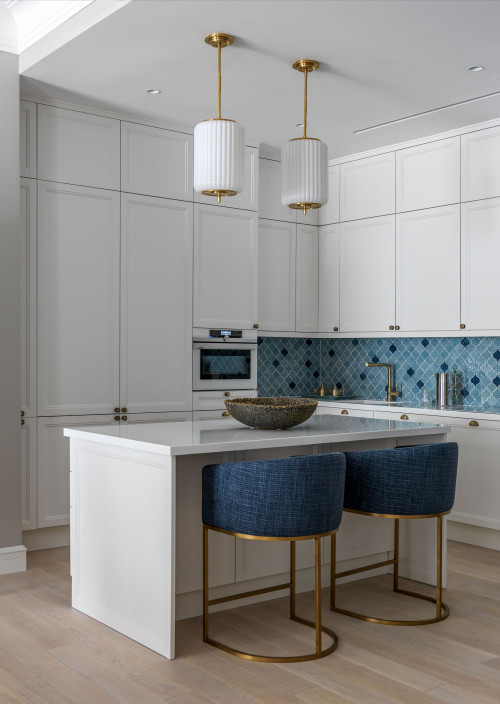 ID# 138814 | Houzz.com – Credit | © Ангелина Аскери / Angelina Askeri Interiors
---
Blue Diamond Tile Backsplash with Brass Details and White Cabinets
This compact contemporary kitchen features full-height cabinets configured in an L-shape that optimizes the storage capacity of the kitchen. These modern shaker cabinets provide the kitchen with a clean and sleek profile that is enriched with luxurious statements. For example, the blue diamond pattern tile backsplash with the sporadic injections of dark blue tiles creates an eye-appealing background, while the oil-rubbed brassware adds softness and glow. The small island unit also asserts itself as a formal dining space reserved only for two people. Paired with blue cushioned stools with brass legs and opulent lighting fixtures that sew a formal outfit for the island, it serves as a focal point.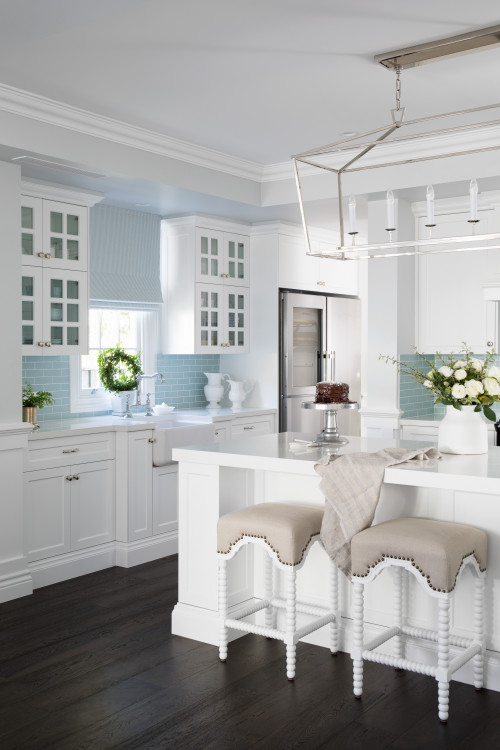 ID# 138815 | Houzz.com – Credit
---
Chic Kitchen with White Cabinets and Chrome Hardware
This super-stylish transitional kitchen uses a muted blue subway tile backsplash that adds a gentle touch. It is surrounded by white shaker cabinets, display wall units, and a white kitchen island that feels light and alleviated. The chrome caged pendants in synchrony with the steel appliances and chrome hardware stylize and accentuate the space, while white roses and pale pink classic stools lend enough interest. Overall, the kitchen feels as if it has jumped out of a fairytale, filled with joy and dreams.
Green Backsplash for White Cabinets and White Countertops
Available in various shades, including emerald, forest, mint, lemon grass, hunter, and more, green backsplashes, just like blue, can evoke different moods. Also, associated with nature and wisdom, green can create dramatic looks. If you favor organic modernism, rustic, and modern farmhouse looks, you can pair green backsplashes with white cabinets and white countertops. A few wooden accents, brass hardware, bell jar lighting fixtures, and poured concrete floors can create perfect couples with green-and-white combinations.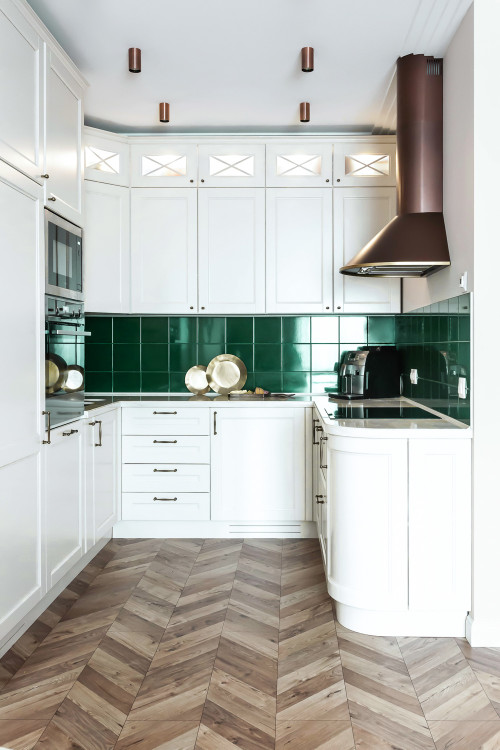 ID# 138817 | Houzz.com – Credit | © Женя Постухова
---
Green Backsplash for White Cabinets and White Countertops
Another color that suits white cabinets and white countertops is surely green which is a borrowed shade from nature. And here, coming in glazed square tiles, it traverses the walls and stands out between the white shaker cabinets. The brown range hood and lighting fixtures add solid hues, while the interior-cabinet lighting fixtures installed in the top glass-front shelves provide accent lighting, drawing eyes up and making the kitchen feel taller.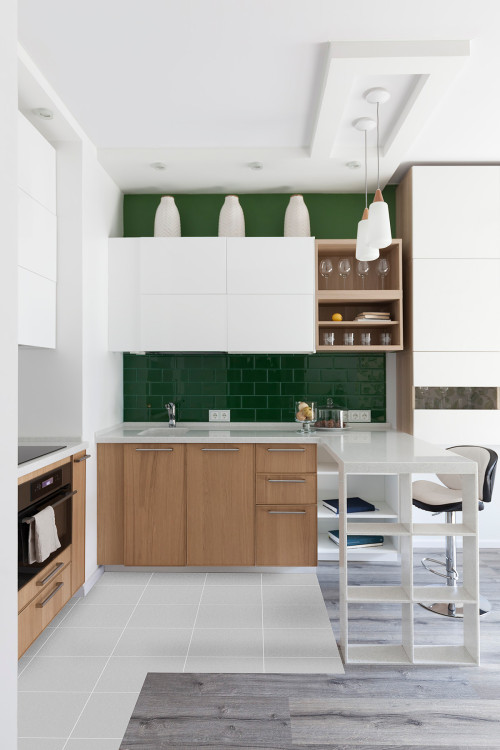 ID# 138818 | Houzz.com – Credit | © YU Dsgn Галкина Юлия и Беляева Юлия
---
Dark Green Subway Tile Backsplash and Wooden Cabinets with Peninsula
This open-plan kitchen forms part of the main lounge that converses with the guests and homeowners effortlessly. Thus, its color palette is designed so that it can jazz up the interior and evoke a more interesting look. The green ceiling-height backsplash and white and wooden cabinets accomplish this task, while the peninsula designates the kitchen zone that provides a subtle division between the kitchen and lounge. Plus, while the gray laminated parquet indicates the lounge area, the light gray subway tiles signify the kitchen zone.
Where should the backsplash end cabinet or countertop?
Kitchen backsplashes vary in size. While the standard size is 4-inch and covers the area between countertops and cabinets, it provides enough coverage to protect the walls from grease and dirt. But for aesthetic purposes, some go up to the ceiling, and the second layer of backsplash is sometimes used, running short on the walls and occupying only ¼ of the standard-size backsplash. This second layer helps you take advantage of various functional benefits of different backsplash materials while adding extra dimension to the walls.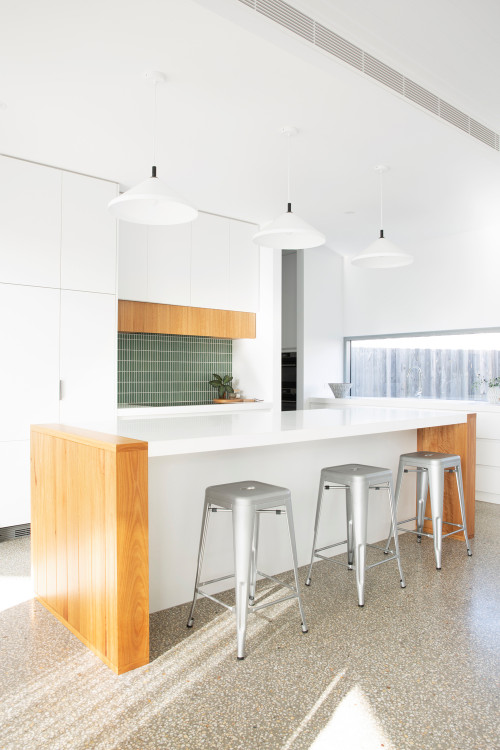 ID# 138819 | Houzz.com – Credit | © Elizabeth Schiavello Photography
---
Kit Kat Tile Backsplash with Industrial Stools and Concrete Floor
This contemporary kitchen draws on different styles including organic modernism and industrial, while the white countertops and cabinets just prepare the perfect setup for an easier connection between different design approaches. First, the green kit kat tile backsplash and sporadically incorporated wood accents embody organic modernism with natural touches. Secondly, to complement it, silverish backless stools and a speckled finish concrete floor give the kitchen an industrial flair. Though, their color and finishing styles moderate the strong industrial vibe and adjust them to this soft organic kitchen design.
Tile Materials for White Cabinets and White Countertops
Tile materials for white cabinets and white countertops range from glass to ceramic, natural stone, metal, and natural materials such as brick, wood, and stone. If you love rustic kitchens, you can go with natural elements. Mediterranean kitchens, on the other hand, embrace mosaic tiles in light blue and sandy shades. And contemporary kitchens love sleek looks that can be incorporated with natural stone slab, metal, and glass sheet backsplashes. So, all you need to do is to decide on what kind of look you have in mind and choose accordingly.
Glass Backsplash for White Cabinets and White Countertops
The shimmering glass tile and sheet backsplashes team up perfectly with white cabinets and countertops. Available in numerous colors and designs, you can create eye-popping and memorable looks with them. And if you want to go green and reduce the burden on nature, you can use recycled glass backsplashes that come with wood and marble looks.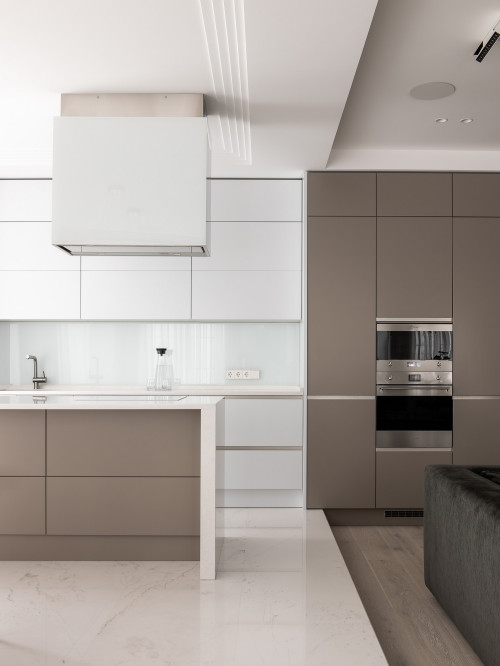 ID# 138820 | Houzz.com – Credit | © Студия дизайна PlatFORM
---
Glass Backsplash for White Cabinets and White Countertops
Glass sheets are one of the most favored materials in contemporary kitchens celebrated for their sleek and clean line looks. Here, for example, this contemporary kitchen goes with a white glass sheet, pairing it with white cabinets and white countertops. This all-white look enlarges the kitchen, presenting a well-organized and clean look. But to avoid a jarring and sterile look, the soft warm shades are invited in with the island and full-height cabinets. These colors placed in an asymmetric form give the kitchen an intriguing visual rhythm.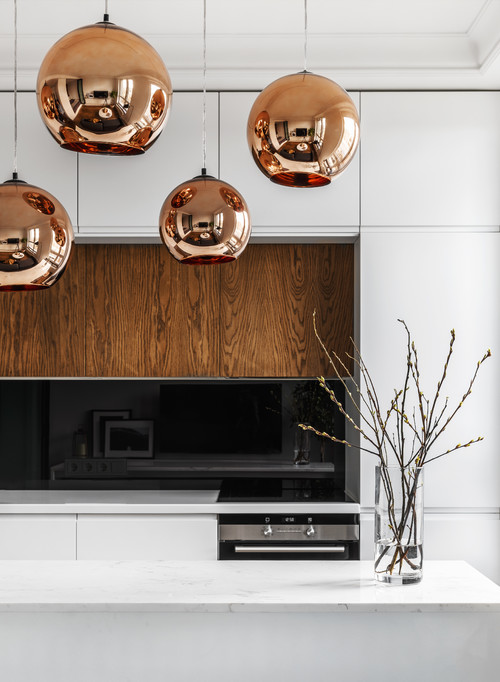 ID# 138821 | Houzz.com – Credit | © Geometrium – Студия дизайна интерьеров
---
Black Glass Sheet Backsplash with Cluster Pendants and White Cabinets
With the wood, black, and white combination, this contemporary kitchen bridges the sophisticated with approachability. To start with, it uses a black glass sheet backsplash to add depth to the background, while the full-height white cabinets make the kitchen feel elongated. The recessed dark wooden cabinets add a sense of warmth, mitigating the striking contrast between white and black. Likewise, the cluster pendant consisting of copper globular lighting fixtures adds a touch of sparkle and warmth, oozing opulence.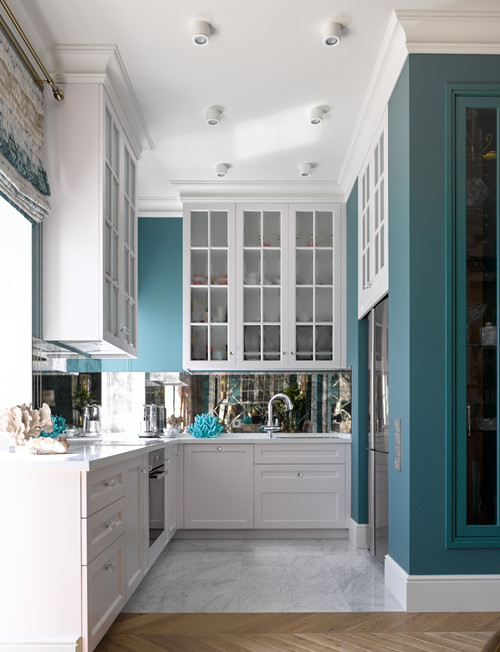 ID# 138822 | Houzz.com – Credit | © Анна Муравина
---
Diamond-Cut Glass Backsplash with Display Cabinets and Blue Walls
If you are looking for alternative ways to jazz up your kitchen's overall look while keeping countertops and cabinets white, this kitchen in a Moscow apartment shows how to do so. Here the blue-painted walls provide a colored background for the rest of the white elements. And the diamond-cut glass backsplash is used as a space-enhancing factor, passing as a neutral element to make the different corners of the combined-concept room flow into each other.
Ceramic Backsplash for White Cabinets and White Countertops
Easy to clean and maintain, ceramic backsplashes offer a plethora of design options. And if you want to jazz up your white-dominant kitchen, ceramic tiles can help you with that. For example for more authentic and Mediterranean-inspired looks, you can use printed versions that feature various colorful patterns.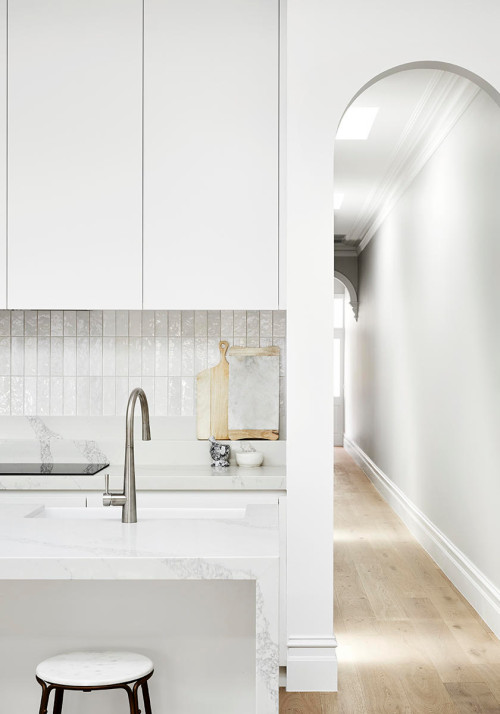 ID# 138823 | Houzz.com – Credit | © Seytim
---
White Ceramic Stacked Backsplash for White Cabinets and White Countertops
This modern kitchen in Melbourne provides two backsplashes for white cabinets and countertops. First, it uses a marble-look quartz backsplash that runs short on the wall, matching it with countertops. Secondly, it goes with an easy-to-clean ceramic subway tile backsplash at the standard size. These vertically stacked subway tiles expand the wall on the vertical axis, complying with the vertical slim forms of the cabinets. And lastly, the satin finish gives the tiles extra texture and glow for the sake of visual accent.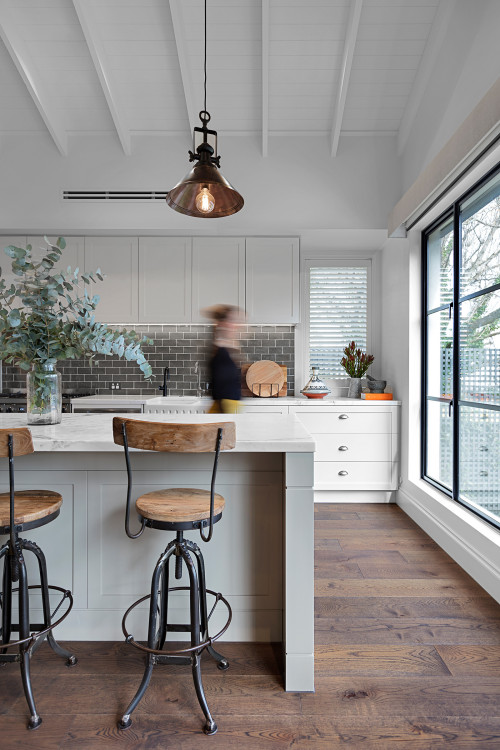 ID# 138824 | Houzz.com – Credit | © Glenvill Homes
---
Gray Ceramic Tile Backsplash with White Countertops and Modern Cabinets
In this country kitchen, the gray ceramic subway tile backsplash counteracts the all-white look established by white countertops and modern cabinets. The sandy and heartwarming wooden shades also incorporate organic textures alongside the lighting fixtures that bring an old-world charm.
What is the most popular backsplash for the kitchen?
Subway tile backsplashes are still considered the most popular backsplashes. We not only see them in classic and transitional kitchens but also in contemporary designs as well. Since they are available in a wide range of sizes, patterns, and designs, they offer almost limitless design possibilities, which helps preserve their popularity.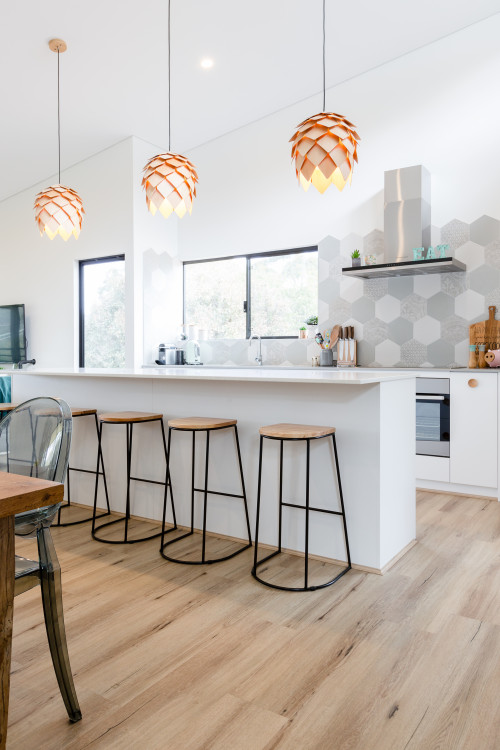 ID# 138825 | Houzz.com – Credit | © IQ Construction
---
Hexagon Tile Backsplash with Petal Hanging Lamps And White Cabinets
If you want to entertain your white-dominant kitchen, one of the best backsplashes to use is the hexagon tile backsplashes that interlock like puzzle pieces. Here, they come in different patterns to add a sense of variety to the white color palette. And what accompanies them to serve the same mission is the petal hanging lamps that resemble pineapples, bringing an iconic form and whimsical addition to the otherwise too monotonic kitchen.
Stone Backsplash for White Cabinets and White Countertops
Stone backsplashes cover statement and upscale materials such as granite, marble, soapstone, and slate. And each of those has different vibes and characteristics, providing characterful additions for white cabinets and white countertops. Especially, if you are one of those who love clutter-free designs and empty countertops and don't want your kitchen to look sterile, using stone backsplashes will give all you need: clutter-free pattern and personality. In other words, without any extra addition, these backsplashes can just add enough depth and dimension, saving you from a lot of work thanks to their natural veins, streaks, and patterns.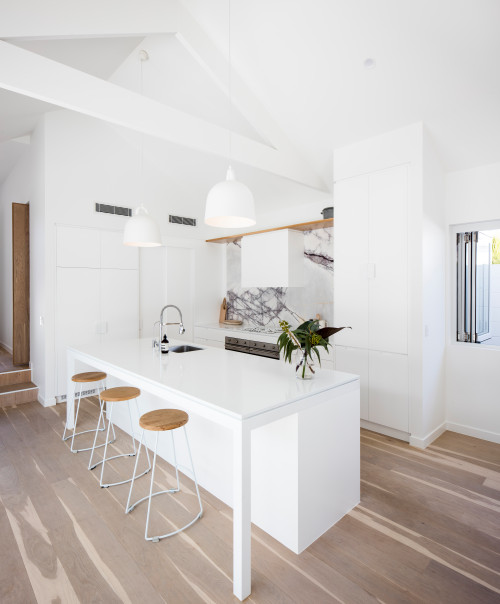 ID# 138826 | Houzz.com – Credit | © Nick Hayes Constructions
---
Marble Backsplash for White Cabinets and White Countertops
In this all-white kitchen, the only exceptional element with pronounced veins is the marble backsplash that draws all attention. Alongside it, the wooden accents soften the monochromatic look, and a white-painted truss adds dimension overhead.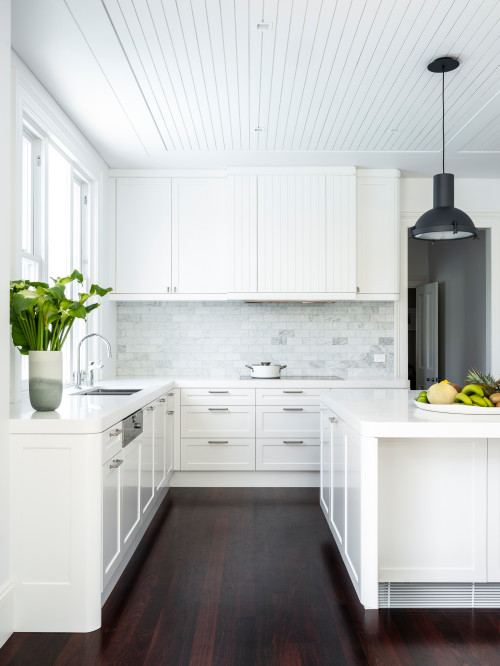 ID# 138827 | Houzz.com – Credit | © Porebski Architects
---
Marble Subway Tile Backsplash with White Cabinets and Chrome Hardware
Natural stone backsplashes are also available in tiled versions. Here, for example, this contemporary kitchen uses a subway tile marble backsplash that traverses the kitchen walls. It is accompanied by beadboard cabinets and white countertops that create a blank canvas altogether. And complementing them are dark wooden floors and black lighting fixtures that ooze a sense of drama and warmth.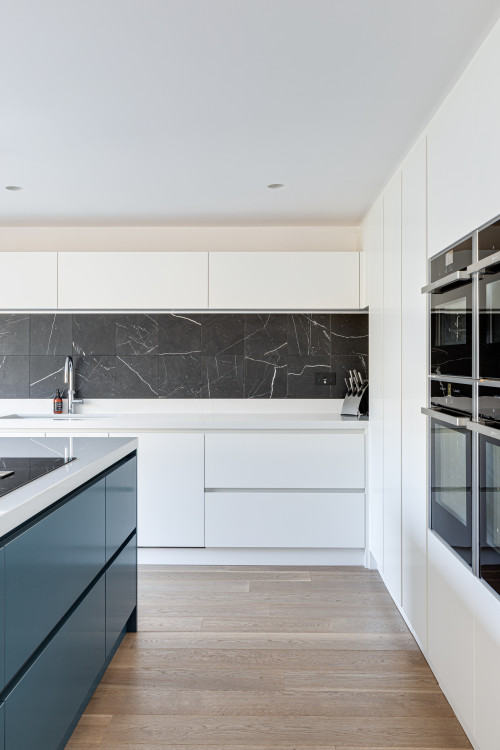 ID# 138828 | Houzz.com – Credit | © Planet Furniture
---
Black Solid Tile Backsplash with White Cabinets and Countertops
This renovated kitchen is designed to maximize the light and minimize the clutter by going with a monochromatic color scheme and clean-line cabinetry. Between the cabinets, a black solid tile backsplash is used to bring a sense of contrast and drama, while the blue island injects a healthy dose of color for extra interest. And all those pieces come together, resulting in a contemporary style that completely conceals the earlier form of this bespoke space.
How do you keep a white kitchen warm?
To keep a white kitchen warm, there are plenty of things you can do. To name a few, you can use kitchen plants, wooden accents, brass hardware, boho-style pendants, wallpapers, light sandy shades, and a statement island that introduces organic forms and textures. Additionally, if you have enough space, you can integrate banquettes and nooks to create an informal layout and a related dining space. This way, you can immediately warm up the kitchen and make it feel more inviting.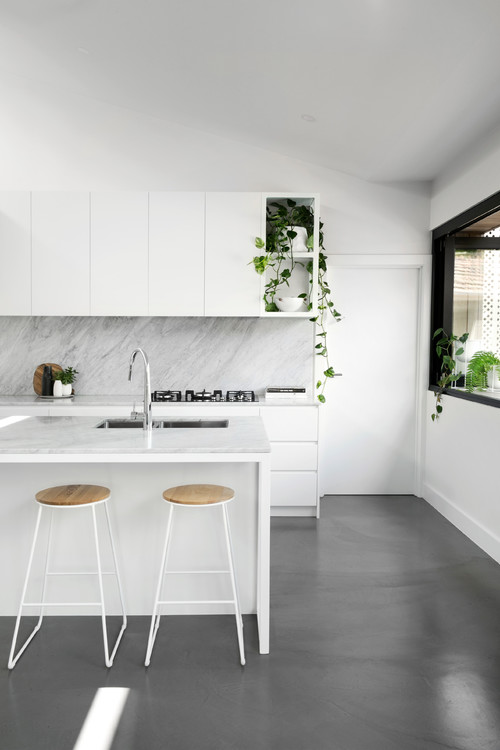 ID# 138829 | Houzz.com – Credit | © Embrace Design + Decoration
---
White Marble Backsplash and Concrete Floor for White Cabinets and White Countertops
The marble and concrete collaborations are one of the popular design themes nowadays. Both provide sleek and seamless profiles that bring a modern and industrial edge to the kitchen, thus making a characterful addition to white cabinets and white countertops.
Metal Backsplash for White Cabinets and White Countertops
Metal backsplashes are anti-bacterial and highly durable options that pair well with white cabinets and white countertops. Available in various patterns and colors, including panel and tiled options, their subgroups include copper, bronze, silver, zinc, brass, and stainless steel. Additionally, if you want to give your kitchen a rustic feel, you can consider getting oxidized metal backsplashes that lend a lived-in feel and old-world charm.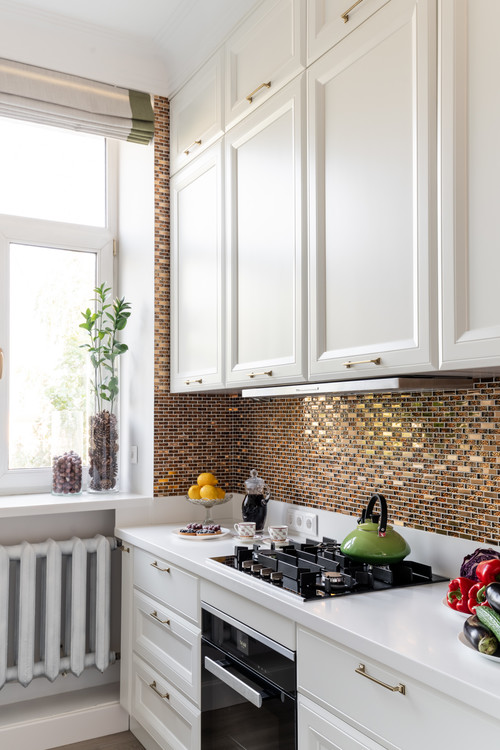 ID# 138830 | Houzz.com – Credit | © Наталья Широкорад
---
Metal Backsplash for White Cabinets and White Countertops
Stunning and glowing, this copper backsplash mixed with brass creates an eye-popping background. It is complemented by white shaker cabinets and white quartz countertops that downplay this extra shining surface, while the brass hardware punctuates the cabinets to tie them with the metal backsplash.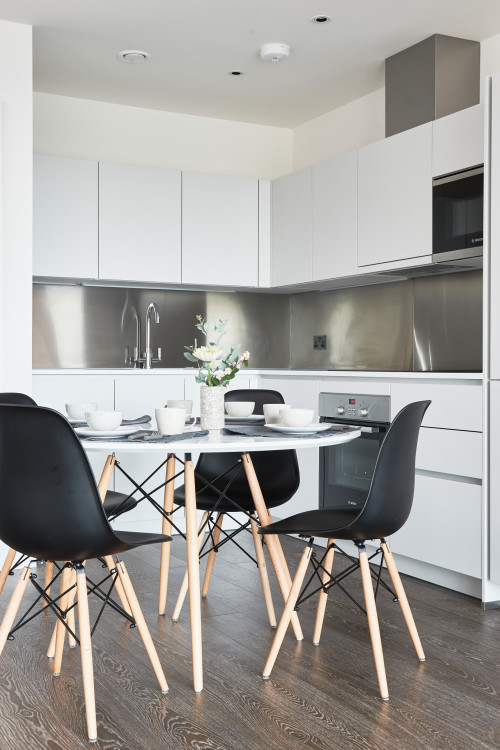 ID# 138831 | Houzz.com – Credit | © Make My House Home
---
Stainless Steel Backsplash with White Cabinets and Round Dining Table
This ultra-modern kitchen utilizes a seamless stainless-steel backsplash that makes it a chef's kitchen. Offering high durability, easy-to-clean surface, and heat resistance, it makes a very functional addition. The white flat-front cabinets and a round dining table paired with black chairs complement it, resulting in a contemporary and sleek visual scheme.