+42 Backsplash for White Cabinets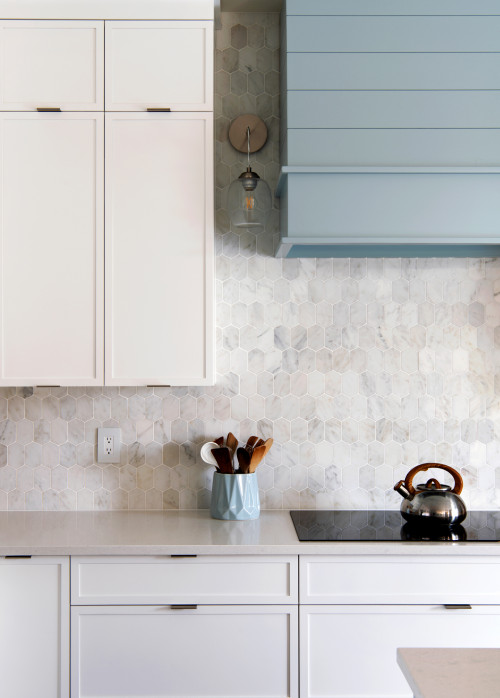 ID# 125002 | Houzz.com – Credit | © Gina Godin
---
White Cabinets with Marble Hex Tiles and Pastel Blue Range Hood
If you are looking something for more luxurious, marble might be your thing. The marble hexagon tiles add a sense of luxury to elevates the design. The geometrical shape of the tiles complements the modern look of the white cabinetry and white countertop. The pastel blue range hood creates a harmonious look with the marble tiles and adds a romantic vibe to this transitional kitchen.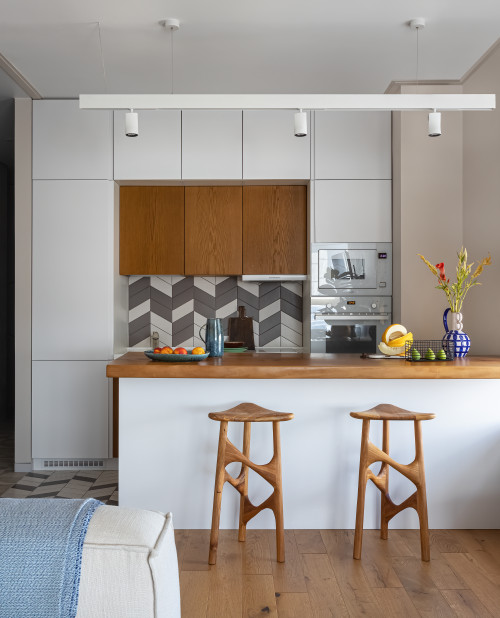 ID# 125004 | Houzz.com – Credit | © Brick buro
---
Gray Chevron Backsplash for White Cabinets
Playing colors and textures on the backsplash design is a great way to add interest to white kitchen cabinets. Here, the gray chevron backsplash tile brings dynamism between the flat-panel surfaces of the cabinets with its eye-catching pattern and gray shades. Wooden cabinets counter chairs, and the wooden countertop of the peninsula complement the earthy look of the backsplash tiles.
Best Kitchen Backsplash for White Cabinets
white cabinets are like a black canvas that can combine with every color, material, and style. Whether you want to create an all-white kitchen or highlights your backsplash, there are plenty of materials that you can use for your backsplash. Marble, glass, ceramic, and metal backsplashes are the most popular and best kitchen backsplash for white cabinets. Our materials are high-quality and durable to last you for decades to come. From marble to travertine, glass to ceramic, the exclusive collection of tiles offers you to build your dream home. If you want to get more information about the styles or materials, scroll down and find some inspirational design ideas that you'll fall in love with.
Countertop Colors and Materials for Backsplash
When deciding on a backsplash, you need to consider the overall look of the kitchen, and one of the most important parts that you need to consider is countertops. Whether you want to create a continuous look by using the same color and material on the backsplash and countertop or create a contrast between them, they need to be in harmony when it comes to the big picture. Here we gather out the top countertop colors that you can use with your combine with your white cabinets and backsplash.
Backsplash Ideas for White Cabinets and White Countertops
The combination of white cabinets and white countertops is the safest and most timeless design approach for the kitchen. This clean and fresh look provides a bright and spacious atmosphere for kitchens and it is the best way to make space feel larger, especially for small spaces. Depending on your style, you can complete this look with a bright white backsplash to create an all-white kitchen that is on the top of the trend lists or create a focal point by making a statement with darker backsplash tiles. If you are looking for something different, you can consider installing a wood or metal backsplash. You can find the top white countertop colors below.
• Caesarstone Ice Snow
• Caesarstone Pure White
• Silestone Pearl Jasmine
• Silestone Statuario
• Silestone Miami White
• Alaska White Granite
• White Mist Granite
• Cambria Brittanicca Warm
• Cambria Ironbridge
• White Ice Granite
• White Carrara Marble
Backsplash Ideas for White Cabinets and Black Countertops
The combination of theblack countertops and white cabinets has already a powerful look that can transform any kitchen. Depending on your taste, you can use a simple bright backsplash to highlight your black countertops or complement them with darker backsplash tiles.
• Black Galaxy Granite
• Nero Marquina Marble
• Cosmic Black Granite
• Jet Black Caesarstone Quartz
• Vanilla Noir Caesarstone Quartz
• Negresco Granite
• Black Marquina Marble
• Black Fusion Granite
• Portoro Genuine Extra Marble
• Black Antique Granite
What backsplash goes with white cabinets?
Whether its style is shaker or flat-panel, a white kitchen cabinet provides a canvas that you can play with it. Because of the rising all-white kitchens, white backsplashes have become popular choices for white cabinets. From glass to ceramic white backsplashes come in a wide range of material and style options that you can incorporate into your kitchen. Tranquil blues, natural greens, warm greys, or bold blacks. Besides the white, white cabinets are also suitable for all different colored backsplashes. If you are looking for something more different and bold, natural stones like marble, onyx, or travertine might be a perfect option for you.
Backsplash Ideas for White Cabinets and Gray Countertops
When it comes to white cabinets, gray is one of the most elegant and stylish countertop choices for kitchens. If you want to highlight the countertops but black is too dark for you, gray might be a perfect choice. Thanks to its versatility, the gray countertop can work well with different backsplash designs.
• Carrara Silver Marble
• Bianco Antico Granite
• Barroca Soapstone
• Airy Concrete Caesarstone Quartz
• Coastal Grey Caesarstone Quartz
• Bianco Antico Granite
• Silver Paradiso Granite
• Smoke Soapstone
• Silestone Bianco River
• Silestone Ariel
Backsplash Ideas for White Cabinets and Brown Countertops
In recent days, brown countertops are not been the first choices for homeowners and interior designers. But, with the right approach, a brown countertop can be the centerpiece of your kitchen. You can complete it with neutral-toned backsplash tiles and warm up your white kitchen cabinets. You might think that brown countertops are out of style but before making your final decision check these top brown countertop colors that you will fall in love with.
• Imperial Coffee Granite
• Caldera Caesarstone Quartz
• Dynasty Brown Marble
• Cambria Havergate Quartz
• Eternal Emperador Silestone Quartz
• Santa Cecilia Granite
• Imperial Gold Granite
• Albero Caesarstone Quartz
• Harlech Cambria Quartz
• Bedrock Premium Natural Quartz
Backsplash Ideas for White Cabinets and Granite Countertops
Granite is a popular countertop choice for homeowners and interior designers. It's hardy, solid, and less porous than marble that makes it a perfect countertop material. When this beautiful natural stone meets with the clean aesthetic of white cabinets, the result is just perfect. And choosing the right backsplash is important for this combination. You can use the same granite on both countertop and backsplash to create a continuous flow or use a white subway backsplash to achieve a traditional look. Here are some backsplash ideas for white cabinets and granite countertops.
• Andromeda White Granite
• Colonial White Granite:
• Nordic Black Granite
• Amadeus Granite
• Desert Brown Granite:
• Black Thunder Granite
• Bianco Antico Granite
• Arctic White Granite
• Nero Fantasy Granite:
• Tan Brown Granite:
Backsplash Ideas for White Cabinets and Quartz Countertops
Quartz countertops have become increasingly popular amongst homeowners because of their luxurious appeal and durable structure. When this natural beauty blends with clean white cabinets, an elegant and sleek overall kitchen look will be created. You can add dimension with a glass backsplash, blend another natural stone like marble with quartz, or use a darker-colored backsplash to create a focal point.
• Silestone Eternal Calacatta Gold
• Babylon Grey Quartz MSI
• GRAY LAGOON Quartz MSI
• Arabetto Caesarstone
• Cambria Bentley quartz
• Cambria greystone
• Alpine Mist Caesarstone
• Black Tempal Caesarstone
• Calacatta Maximus
• Classic White Silestone Quartz
Modern Backsplash For White Cabinets
White kitchen cabinets offer a clean and fresh look that creates a spacious atmosphere. And modern backsplashes emphasize clean lines and structure for a clean aesthetic. From glossy white subway tiles to, marble slabs, metallic sheets to colorful glass tiles, there is plenty of modern backsplash for white cabinets.
Backsplash Colors for White Cabinets
White is versatile. It can go with anything and blend seamlessly with a variety of colors. Using white cabinets allows you to customize your kitchen to fit your unique style. You just need to find the right backsplash! Whether you want an all-white kitchen or a pop of color, you can easily work it into your backsplash and white cabinets. Here are the most popular backsplash colors for white cabinets.
What is the most popular backsplash for a white kitchen?
If you are working on creating a white kitchen that is very popular on social media trends, you need to find the right backsplash to finalize your design. When it comes to a white kitchen, backsplash options are endless. Today, white backsplashes are the most popular choice for white kitchens. From modern hexagon tiles to classic subway tiles there are plenty of ways to use a white backsplash. Marble is another beautiful and popular material that you can never go wrong with it. The luxurious marble slabs or tiles instantly lends sophistication to any kitchen. Also, your backsplash can serve as an accent wall. Colorful patterned tiles, metal backsplash sheets, or wood planks are a great way to create a distinctive focal point between the white cabinets.