39+ Backsplash Ideas for Every Budget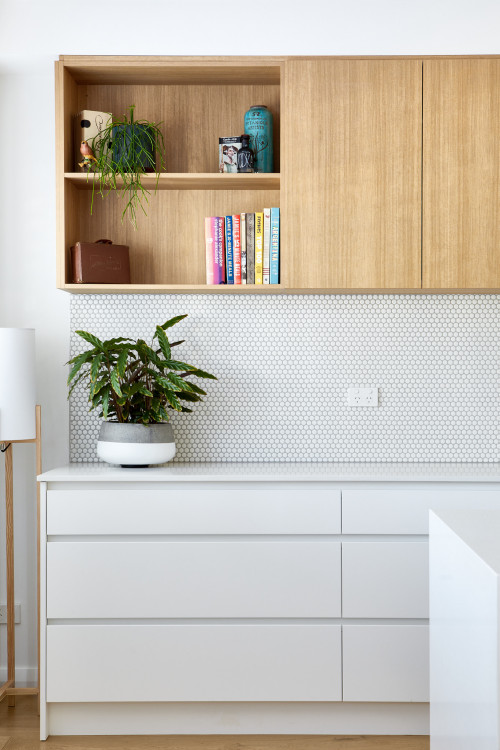 ID# 157204 | Houzz.com – Credit | © Absolute Carpentry & Cabinetry
---
Penny Round Mosaics with White Countertops and Flat Panels
This contemporary kitchen is a beautiful example of how to create a bright and airy space with a neutral color palette! The white countertops provide a clean and modern surface that contrasts with the warm light wood flat-panel uppers. The white flat-panel lowers are a sleek and modern touch that provides ample storage and a clean, uncluttered look. The penny round mosaic backsplash adds a unique and stylish touch to the space, creating visual interest and texture. Greenery plans perfectly complete the natural textures of the wood details and bring this kitchen into life.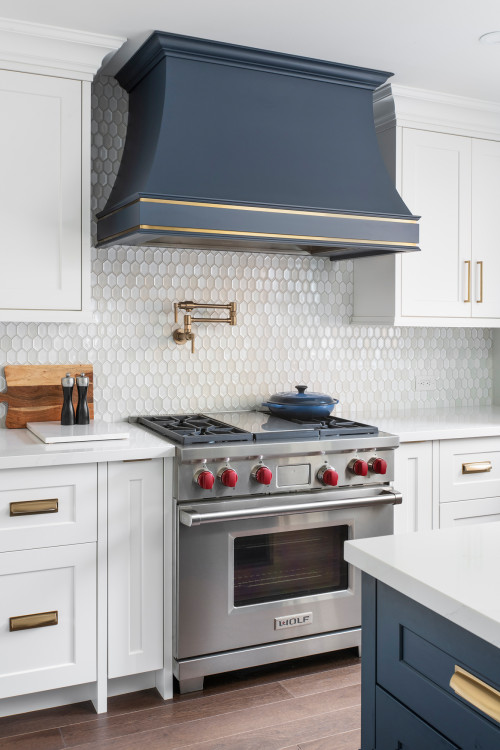 ID# 157226 | Houzz.com – Credit | © Ryan Fung Photography
---
Blue Details with a Glass Backsplash and White Countertops
With a combination of white and blue accents, this kitchen has a clean, contemporary aesthetic! The brass hardware adds a bit of warmth and complements the white shaker cabinets' clean, traditional appearance. The blue range hood and island with a white top lend a punch of color and visual interest to the space, while the white glass hexagon backsplash gives the design some texture and dimension.
Backsplash Ideas for Every Budget
A backsplash is an essential component of a kitchen or bathroom design, serving as both a functional and decorative element. Whether you're working with a large or small budget, there are plenty of creative backsplash ideas for every budget!
Find the Right Backsplash for Your Budget
Ceramic and porcelain backsplash tiles come in a wide variety of sizes, shapes, and colors, making it easy to find the perfect option to match your style. Mosaic tiles are a popular choice for backsplashes, as they can add visual interest and texture to your space. Another option is to opt for a glass backsplash, which can create a sleek and modern look while also providing an easy-to-clean surface. For those who have a larger budget, natural stone or metal backsplashes can create a luxurious and high-end look.
When choosing a natural stone or metal backsplash, it's important to consider the durability and maintenance requirements, as these materials can be more costly to repair or replace if damaged. Let's scroll down and see the designs of backsplash ideas for every budget!
Kitchen Backsplash Materials
Kitchen backsplashes are one of the most important design elements in the kitchen, not only adding visual interest but also protecting the walls from moisture and splatters. Even though they seem like a small detail of the overall look, backsplashes are the elements that bring the whole look together. That's why it it important to choose the right backsplash for your design. From glass tiles to natural stone slabs, there are a variety of material options for every budget. Scroll down and check these alternatives to find which one is the best for you!
Ceramic Tile Backsplash
A ceramic tile backsplash is a classic and versatile option for kitchen backsplashes. Not only is it durable and easy to clean, but it also comes in a wide range of colors, patterns, and textures. Whether you're looking for a subtle and understated design or something bold and eye-catching, ceramic tile can provide the perfect backdrop for your kitchen and it is a perfect option for backsplash ideas for every budget!. In this article, we will explore some of the best ceramic tile backsplash ideas to help you find the perfect style for your kitchen.
Stylish and Affordable
One of the most popular ceramic tile backsplash ideas is the classic subway tile. Subway tile is a timeless and classic design that is both simple and elegant. The rectangular shape of subway tile makes it easy to install in a variety of patterns, including a straight stack, herringbone, or offset. Subway tile is also available in a range of colors and finishes, making it easy to match with any kitchen style. Another popular ceramic tile backsplash idea is the mosaic tile.
Mosaic tile offers a more elaborate and intricate design, with small tiles arranged in intricate patterns to create a bold and eye-catching backsplash. Mosaic tiles come in a variety of shapes, including squares, hexagons, and circles, and can be used to create a range of styles, from classic to modern. Whether you prefer a classic black-and-white mosaic or a more colorful option, mosaic tile is a perfect choice for anyone looking to add a touch of personality to their kitchen.
What is the trend for backsplash in 2023?
Geometrical patterns, natural stones, glossy finishes and full-height layouts are the hottest trends of 2023!
Porcelain Tile Backsplash
Porcelain tile backsplashes are a stylish and practical choice for homeowners looking to upgrade their kitchens or bathrooms! These tiles are made from a dense, hard-wearing ceramic material that is resistant to moisture, staining, and scratches, making them a durable and long-lasting option for high-traffic areas such as a backsplash. Besides their durable surfaces, these tiles come in a wide array of style options that can work with different design aesthetics and color schemes.
What is the most inexpensive backsplash?
When it comes to backsplash tiles, ceramic and porcelain are the most affordable materials. Besides the tiles laminate sheets and faux stone panels are much more affordable options.
Marble Backsplash
Marble is a beautiful and versatile natural stone that has been used in interior design for centuries! Whether you are looking to create a classic, traditional look or a modern and contemporary space, there are many marble backsplash ideas that can help you achieve your desired aesthetic. However, marble is a natural stone which means it has a porous surface. To maintain the beautiful appeal of this material, you need to seal it regularly.
Should backsplash be lighter or darker than countertop?
There is no hard and fast rule for whether a backsplash should be lighter or darker than the countertop. It ultimately comes down to personal preference and the look you are trying to achieve in your kitchen.
Here are a few general guidelines:
Light backsplash with dark countertop: A lighter backsplash can help to balance out a dark countertop, and can create a nice contrast that makes both elements stand out.
Dark backsplash with light countertop: A dark backsplash can create a dramatic look when paired with a light countertop, especially if the countertop is made of a material like granite or marble.
Matching colors: If you prefer a more cohesive look, you can choose a backsplash that matches the color of your countertop. This will create a seamless transition between the two surfaces and can help to make your kitchen look more spacious.
Glass Backsplash
Due to its adaptability and durability, glass is a preferred material for kitchens and bathrooms. Glass backsplashes are a terrific choice whether you're trying to create a contemporary, minimalist aesthetic or a conventional, classic design. They may be made in several designs, colors, and patterns to suit your preferences and style, and they are simple to clean and maintain.
What is the most expensive backsplash?
The most expensive backsplash will depend on the materials used, the complexity of the design and other factors such as the location and size of the kitchen. However, natural stone and metal backsplashes are the most expensive materials.
How much should I budget for backsplash?
The cost of a backsplash depends on the size of the kitchen, the type of material used, and any labor costs involved in the installation. In today's market, there is a backsplash for every budget. Ceramic and porcelain tiles are one of the most affordable tile options that can cost $10 to $30 per square foot. High-end options such as marble or granite can cost $30 or more per square foot.
Metal Backsplash
Due to their longevity, ease of maintenance, and wide range of design possibilities, metal backsplashes are one of the most popular choices for kitchen and bathroom projects. Whether you are looking for a sleek modern appeal, or a durable surface for your kitchen walls, metal backsplashes are perfect options that provide both style and function. From stainless steel to copper, you can find different metal materials in the market and create a one-of-a-kind appeal fir your kitchen!
Does backsplash increase home value?
A well designed and attractive backsplash can easily add value to your home by enhancing the look of your kitchen and making it more appealing to potential buyers!
Are kitchen backsplashes worth it?
The short answer is yes, a kitchen backsplash is definitely worth it! Although the main aspect of a backsplash is protection, a well-designed backsplash can also easily elevate the overall look and add value to your home.
Wood Backsplash
Wood backsplashes are beautiful and versatile material choices for kitchens. Whether you're looking for a rustic, natural look or a more modern design a wood backsplash can easily do the job and bring natural warmth to your kitchen. When choosing a wood backsplash, it's important to consider the type of wood you want to use.
How to install a kitchen backsplash?
Here is a general guide on how to install a kitchen backsplash:
Materials needed:
Backsplash material (tile, stone, metal, glass, etc.)
Thinset mortar
Grout
Grout sealer
Trowel
Notched trowel
Sponge
Measuring tape
Utility knife
Level
Tile cutter or saw
Spacers
Caulk (for gaps around cabinets and countertops)
Steps:
Clean and prepare the wall surface: Clean the wall surface thoroughly to ensure that it is free of dirt, grease, and any other substances that could interfere with the adhesive.
Measure and plan: Measure the width and height of the area where the backsplash will be installed and determine how many tiles you will need. Plan the layout of the tiles to minimize cuts and ensure a balanced appearance.
Cut and dry fit the tiles: Cut the tiles as needed using a tile cutter or saw, and dry fit them to ensure a proper fit and to make any necessary adjustments.
Apply the thinset mortar: Using a notched trowel, apply a thin layer of thinset mortar to the wall and spread it evenly.
Install the tiles: Starting at the bottom row, press the tiles into the thinset mortar, using spacers to ensure even spacing. Wipe away any excess thinset with a damp sponge.
Allow the thinset to dry: Let the thinset dry completely, following the manufacturer's instructions.
Grout the tiles:
Mix the grout according to the manufacturer's instructions, and using a rubber float, spread it evenly over the tiles, working it into the joints. Wipe away any excess grout with a damp sponge.
Seal the grout: Let the grout dry completely, following the manufacturer's instructions, then apply a grout sealer to protect it from moisture.
Caulk around the edges: If necessary, caulk the edges of the backsplash where it meets the countertops and cabinets to create a seamless look and prevent water from seeping behind the tiles.
It's important to follow the manufacturer's instructions carefully and to take your time to ensure a professional-looking installation. If you're not confident in your ability to install a backsplash, it's best to hire a professional to do the job for you.