24+ Rustic Industrial Kitchen Ideas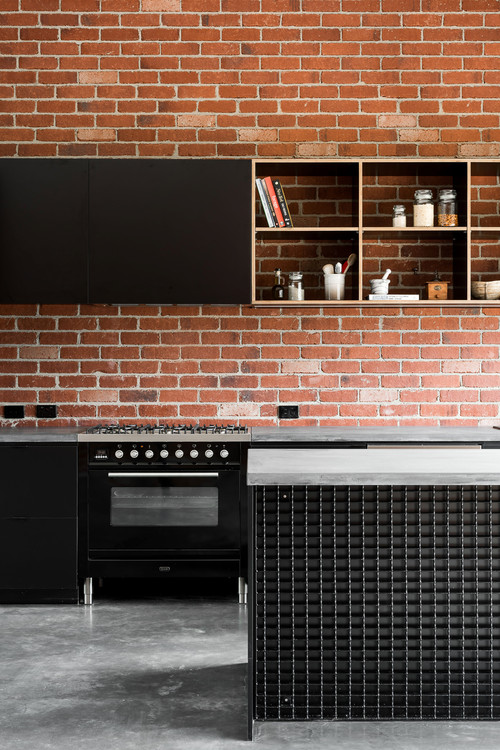 ID# 159603 | Houzz.com – Credit | © Cast Studio
---
Black Cabinets with Red Brick Backsplash for Rustic Industrial Kitchen Ideas
As you step into the kitchen, the first thing that catches your eye is the striking contrast between the cold, industrial gray tones of the floor material and the sleek black kitchen cabinets and island! But as you take a closer look, you notice the subtle touches of warmth that transform this space into a cozy haven. The brick backsplash and wall cladding exude a rustic charm with their rich brown tones while the wooden shelves add a natural element that enhances the homely vibe. For a functional advantage, the shelves are designed to be easily accessible, letting you quickly find what you need. But they also serve a decorative purpose, providing a welcome break from the otherwise cold ambiance of the kitchen.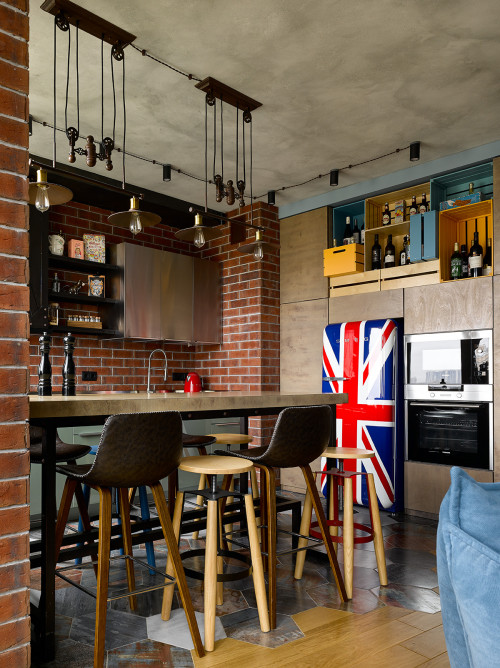 ID# 159613 | Houzz.com – Credit | © AR-1 | architecture & design
---
Open Concept Rustic Industrial Kitchen Ideas
Using brown and natural tones together can create a warm and friendly kitchen area. Combining different colors and patterns of wood materials in the space where high tables and bar chairs are preferred adds warmth and activity! The light-colored wooden surfaces in the storage areas gain vitality and movement with the addition of colored surfaces while the monochrome brick backsplash complements the rustic look when paired with green kitchen cabinets. Metallic pendant lighting is chosen for the table area, serving as both functional lighting and rustic decor that adds to the ambiance of the space.
Rustic Industrial Kitchen Ideas
Rustic industrial kitchen ideas bring together the best of both worlds, combining the timeless appeal of rustic design with the modern and urban aesthetic of industrial style. This unique fusion creates a kitchen that exudes warmth, character, and a sense of rugged elegance. With elements such as exposed brick walls, weathered wood surfaces, vintage metal accents, and open shelving showcasing a curated collection of cookware and utensils, a rustic industrial kitchen tells a story of history and authenticity. Edison bulbs hanging from wrought iron fixtures cast a warm and inviting glow, while concrete or reclaimed wood countertops provide durability and visual interest. The color palette typically features earthy tones like warm browns, deep grays, and muted greens, further enhancing the cozy and welcoming atmosphere of the space.
Step into a rustic industrial kitchen, and feel the possibilities come alive! It's a choice that speaks to those who value imperfection, appreciate natural materials, and adore industrial charm. This kitchen isn't just a space for meal preparation – it's where memories are cherished, conversations take flight, and loved ones gather. The rustic warmth and edgy industrial elements combine to create an inviting ambiance that is visually striking and highly functional for modern-day living. Experience the spirit of the environment and let your imagination run wild in a rustic industrial kitchen.
What is rustic industrial style?
The rustic industrial style is a captivating design trend that combines the raw and rugged elements of industrial design with the warm and inviting aesthetics of rustic decor. This unique style often incorporates elements such as reclaimed wood, distressed metals, exposed brick walls, and vintage fixtures to create a harmonious blend of old-world charm and modern industrial flair. The use of earthy color palettes, textured materials, and functional yet stylish furniture pieces characterize the rustic industrial style, creating a cozy yet edgy atmosphere in any space. Whether it's in a kitchen, living room, or bedroom, the rustic industrial style adds character, warmth and a touch of vintage appeal to any home or commercial space!
Rustic Industrial Kitchen Cabinets
Rustic industrial kitchen cabinets are the perfect blend of rustic charm and modern industrial style! These cabinets are typically crafted from sturdy materials like reclaimed wood or metal, showcasing their rugged and raw appearance. They often feature simple, clean lines with minimalistic hardware, adding to their industrial appeal. The rustic elements, such as distressed wood or aged metal, add warmth and character to the cabinets while the industrial elements bring a sleek and contemporary touch. The combination of rustic and industrial styles creates a unique and eye-catching look for kitchen cabinets that can elevate the overall aesthetic of any kitchen space. Whether paired with a rustic industrial kitchen island or used on their own, these cabinets add personality and style to any kitchen design.
What makes a kitchen rustic?
A rustic kitchen is characterized by its warm and inviting atmosphere that exudes a sense of charm and simplicity! Several key elements contribute to the rustic aesthetic of a kitchen. First and foremost, the use of natural materials such as wood, stone, and metal adds a sense of authenticity and warmth to the space. Exposed wooden beams, distressed or reclaimed wood, and stone or brick walls are often used to create a rustic look. Additionally, warm and earthy color palettes such as browns, beiges, grays and muted tones are commonly used in rustic kitchens. Vintage or antique elements, such as farmhouse-style sinks, vintage appliances, and distressed furniture, can also add to the rustic charm. Open shelving, handcrafted details, and simple, functional design elements are also indicative of a rustic kitchen style.
Rustic Industrial Kitchen Backsplash
While it is aimed to obtain a hygienic and useful area in the kitchens, it is possible to create original kitchen designs with different backsplash preferences. In the backsplash preferences that characterize the kitchen and define the usage area in rustic industrial kitchen designs, natural material, and color preferences come to the fore.
Among the rustic industrial kitchen backsplash ideas, materials such as brick and marble, as well as natural and processed elements that make up the kitchen design such as earth tones, brown and gray tones, and options that will provide visual harmony come to the fore. It is possible to create original rustic industrial kitchen styles with multi-colored alternatives compatible with the color palette preferred in the kitchen.
Rustic Industrial Kitchen Island
The rustic industrial kitchen island is a versatile and practical piece of furniture that can enhance the functionality and aesthetics of any kitchen. Constructed from durable materials like reclaimed wood, metal and concrete, this island exudes a raw and rugged charm that adds character to the space. Its open shelves, drawers, and hooks provide ample storage for kitchen essentials, making it a practical choice for busy kitchens. Whether you need a prep station for cooking or a gathering spot for socializing, the rustic industrial kitchen island is up to the task. Its unique blend of rustic and industrial design elements adds a touch of charm and sophistication to any kitchen space, making it a popular choice for those seeking a distinctive and functional addition to their kitchen!
Is Rustic the same as industrial?
While many people use the terms "rustic" and "industrial" interchangeably in interior design, it's important to note that they are two distinct styles. Rustic design is all about evoking a cozy, warm, and traditional aesthetic, with features like vintage decor, distressed wood, and pleasant color schemes. Industrial design, on the other hand, is much more raw and practical, with elements like exposed brick walls and utilitarian furnishings. However, when the two styles are combined in a rustic industrial design, something magical happens! This unique blend creates an atmosphere that is both inviting and edgy, using elements like reclaimed wood, metal accents and earthy colors to achieve an industrial-chic look that is truly one of a kind!
What is a good color for a rustic industrial kitchen?
When it comes to choosing a color for a rustic industrial kitchen, earth tones such as warm browns, deep grays, and muted greens are excellent choices. These colors evoke a natural and rustic feel which complements the industrial aesthetic perfectly. For a cohesive look, you can opt for a color palette that includes shades of these earthy colors, creating a harmonious and inviting atmosphere. Additionally, using contrasting colors such as black or white for accents, hardware or fixtures can add visual interest and depth to the overall design. Ultimately, the ideal color for a rustic industrial kitchen depends on your personal preference and the overall style and mood you want to achieve in your space!
Rustic Industrial Kitchen Shelves
It is possible to see industrial kitchen inspirations in rustic kitchens, where the warm appearance of wood tones is frequently used. In kitchens with industrial cooking areas, rustic breezes can have a perfect combination with shelves and the use of an island. Especially the rustic shelves make the space a warmer atmosphere. Reflective worktops and stoves of industrial kitchens combine seamlessly with the warm tones of wood.
How do you combine rustic and industrial?
The perfect harmony of wood and metal surfaces is frequently encountered in rustic industrial kitchens. Additionally, retro decoration products can be used to support the rustic look. Areas where earth tones are used, such as brick backsplash, are preferred. Industrial wide stoves and aged metal surfaces also create a perfect combination with rustic design.
Rustic Industrial Kitchen Decor
Rustic industrial kitchen decor is a trend that brings together the charm of rustic elements with the sleekness of industrial design. This style is characterized by a perfect balance of natural and industrial materials, such as wood, metal, concrete and aged surfaces. The result is a unique and captivating aesthetic that exudes warmth, character, and modernity. Rustic Industrial Kitchen Decor often features open shelving, exposed pipes, brick or stone walls and vintage-inspired fixtures, creating a sense of ruggedness and authenticity.
The use of warm wood tones, distressed finishes, and mixed textures adds depth and richness to the space. Whether it's in a farmhouse kitchen or a loft-style urban home, Rustic Industrial Kitchen Decor adds a touch of personality and sophistication to any kitchen space, making it a popular choice among interior design enthusiasts who appreciate the beauty of contrasting styles!
What is rustic industrial decor?
There's just something about wooden surfaces and brick backsplashes that bring a sense of warmth and character to a kitchen!! And when you add in some concrete structures, you get a unique blend of rustic and industrial that is simply irresistible. The combination of earth tones and metal surfaces, like iron or steel, is essential to achieve that perfect balance of rugged and refined. This is what makes rustic industrial kitchen decor so popular – it has a distinctive aesthetic that speaks to those who crave a unique and stylish look for their home.