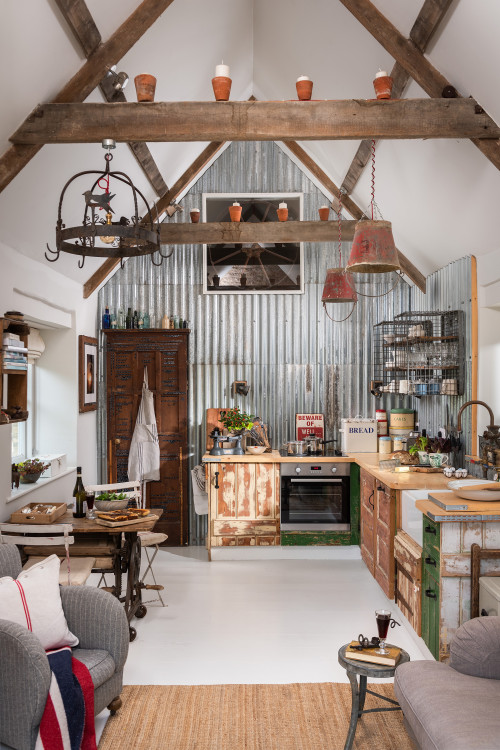 ID# 166608 | Houzz.com – Credit | © Unique Homestays
---
Rustic Backsplash with Beige Granite Countertops and Wood Cabinets
This mountain-style kitchen offers a heartwarming space where you will feel at home right from the very beginning. This cooking zone is only a part of a larger kitchen, which is distinguished by metal panel walls to entertain the space and emanate cool vibes to absorb the heat during the cooking process. The wood cabinets are in complete unity to retain integrity. The consistency and variety of the material types to create diversity are well-balanced. Also, the beige granite countertops strengthen the rustic allure of the space.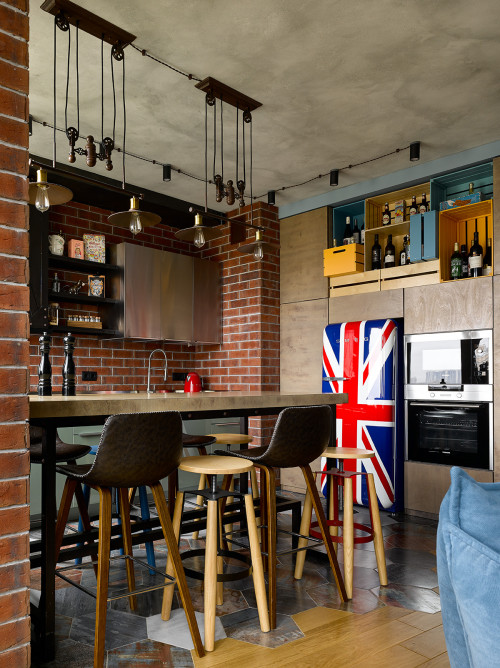 ID# 166612 | Houzz.com – Credit | © AR-1 | architecture & design
---
Open Concept Kitchen with Rustic Details
Brick walls. Check. Wood materials. Check. Black features. Check… Even though these most industrial-like elements are combined here, this industrial kitchen offers something a bit unusual. In contrast to its presumed darker themes, it proposes a different look, which is bright and fresh rather than something gloomy and deep. To capture that effect, it brings the floor-to-ceiling brick walls and light wood cabinets together. They do give the renovated feeling with a touch of freshness. The range hood masterfully complete the industrial charm with its brushed stainless steel material. Lastly, the black lighting fixtures come down to create a purposeful yet random scene above.
Rustic Backsplash
Rugged, worn, staggered, warm, cozy… All those words connote one word: rustic and a lived-in feeling that comes with naturally processed stones like terracotta, marble, and granite, and stones, bricks, wood, concrete, and even glass that make a fantastic rustic backsplash that visually and tactually takes you on a journey. These backsplashes make for a strong and grounded look. Especially when combined with brown, gray, black, and timber, they create visually rich and dynamic designs.
Incorporate Rustic Charm into Your Kitchen
Farmhouse, mountain-style, Mediterranean, and traditional kitchens incorporate rustic backsplashes to attach an earthy feeling that refers back to nature. But this doesn't necessarily mean that you can't incorporate them into contemporary and transitional ones. Any kitchen can adopt a rustic look with a rustic backsplash even if the rest of the materials feature sleek lines and modern finishes. This blog aims to walk you through various kitchen designs that employ a range of materials to attach a rustic feeling. Though the main focus of this blog resides on the stone, wood, metal, and brick backsplashes prevalently used in rustic kitchens, you will also encounter other materials such as granite, marble, and concrete as floor and countertop coatings.
So overall, this article will also introduce some fantastic design projects to show how all these various materials, each one of them equally strong, work harmoniously. If you are ready to delve into the world of rustic backsplashes, scroll down for a visual and tactual trip.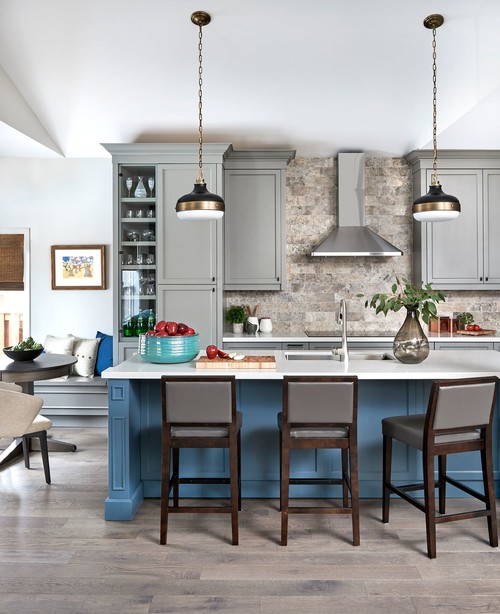 ID# 166601 | Houzz.com – Credit | © Carriage Lane Design-Build Inc.
---
Transitional Kitchen with a Stone Backsplash and Blue Island
The cool vibes of this transitional kitchen spring from the blue and gray that define its color scheme. The stone tile backsplash with gray and beige orchestrates raw sentiments, offset with modern-finish gray cabinets. The white quartzite countertops are used to lighten up the space. The blue island, a staple element in transitional kitchens, feels like it has found its true identity in this rustic kitchen context. Unapologetically confidently, it sits at the center, organizing the space in the open-plan layout and injecting a small dose of color. It also breaks up the monotonic look of gray bringing a sense of excitement.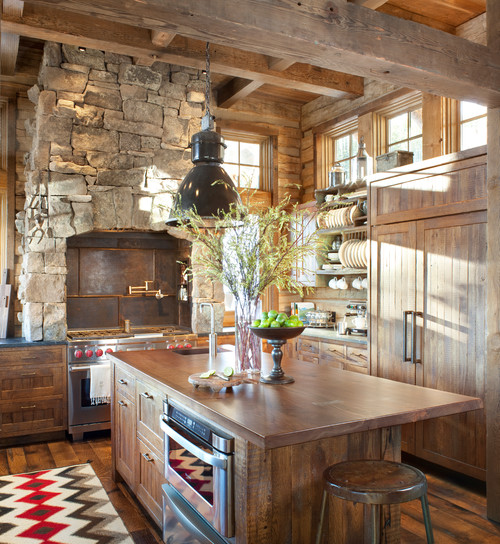 ID# 166602 | Houzz.com – Credit
---
Wood Countertops with Open Shelving and Rusted Metal Backsplash
Wood, rusted metal, and stone tie together the space to compose a rustic kitchen. The Harlowton staggered stones make a colossal body to mark the cooking zone that deliberately gives the impression of a fireplace. Old iron cookie sheets serve as a backsplash behind the stove, suggesting a lived-in look and feel. Likewise, the distressed beaded wooden cabinets give a sense of time, looking old and worn-out without compromising their robust look. The open shelving is a great way to reinforce the rustic scene while putting the kitchenware on the display. Lastly, the wood exposed beams make a busy scene on the upper level, while the rug with colorful zigzag patterns is added to evoke homey feelings and bring warmth underfoot.
How can I give my backsplash a rustic look?
When it comes to the rustic look, the first essential thing to keep in mind is to compose a design with materials that tell you the sense of time. Your design ingredients shouldn't look brand new but rather showcase a distressed look to suggest a lived-in feel and a sense of evolution. That's why natural materials and matte-finish tiles serve you better for a rustic look.
So for a rustic look, apply an oxidized or sun-exposed one if you want to go with a metal backsplash. It will showcase how the material has evolved. Incorporate reclaimed wood and recycling materials as a backsplash. Also, installing floating wood shelves on the backsplash boaccentuatesate the background and builds a layer of texture, which is a much simpler solution than playing with the backsplash. However, this wouldn't give you the full rustic look but at least, it would deliver a sense of it.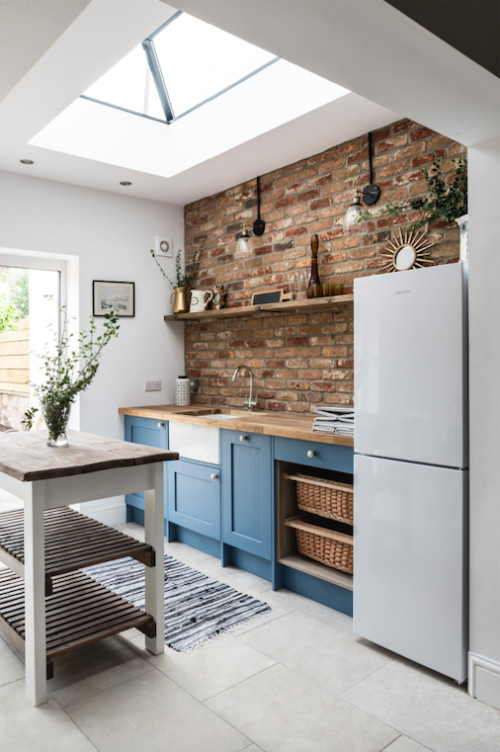 ID# 166603 | Houzz.com – Credit
---
Brick Rustic Backsplash with Blue Cabinets and Butcher Block Countertops
The brick backsplash distinguishes the cooking zone in this single-wall small kitchen, which is lit by a skylight. It draws influence from the soil and greeneries since it opens directly into the garden. To illustrate, the reddish-brown bricks produce a visually pleasing wall surface that exudes warmth. The blue base recessed-panel cabinets offer a punch of color and coolness to the area, which contrasts with the warm emotions. The butcher block counters atop the blue cabinets highlight the natural beauty and organic sensations, while the floating shelf draws attention to the backsplash.
Additionally, the kitchen islands serve more as display shelves rather than hiding the kitchenware. In this one, for instance, with white legs and wood countertop and shelves, the island organizes the space and brings integrity to the kitchen.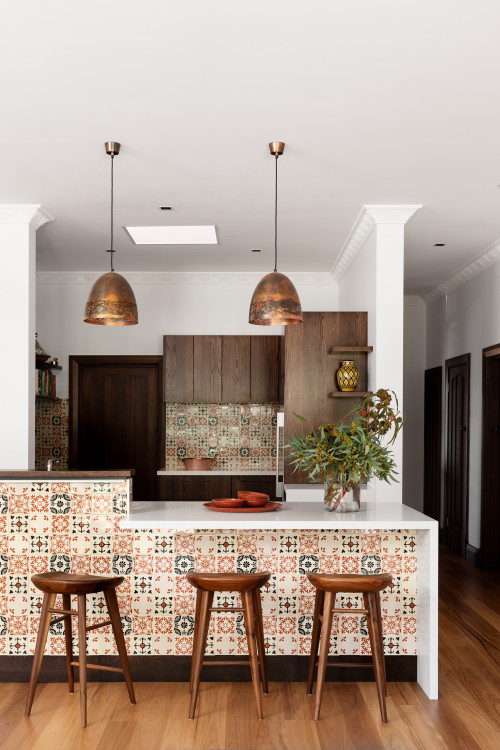 ID# 166604 | Houzz.com – Credit | © Peter Schaad Design Studio
---
Mediterranean Kitchen with Colorful Cement Tiles
In this mediterranean kitchen, even the backsplash tiles has a multicolored texture, they give a rustic flair with their color scheme. Same tiles are also used on the kitchen island front to enhance the overall aesthetic. For the rest, the dark wood kitchen cabinets beautifully create a harmonious look with the eye-catching tiles.
Material Options for Rustic Backsplash
Stone, brick, wood, vintage glass, concrete, and metal are the most popular material options for a rustic backsplash. Shiplap or beadboard board also endorse rustic vibes to the space. Just think of something that you see in nature and try to integrate some materials from it. Choose something with veins and stains that suggest a sense of time.
Rustic Stone Backsplash
Without a doubt, the beauty of natural stones results in beautiful kitchen designs. Their raw and powerful appearance elicits comfortable and pleasant sentiments, adding dimension to the area. Because no two stone pieces are same, each one is unique in its own right, exactly like hand-made tiles with their faults. The stones can alternatively be positioned equally and staggered for a more layered appearance!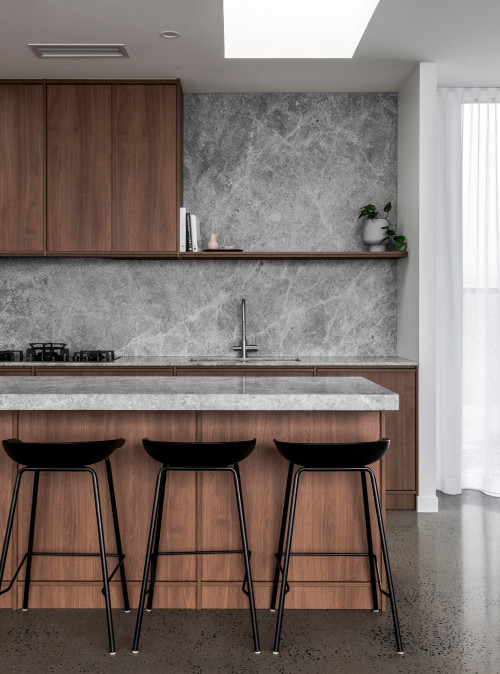 ID# 166605 | Houzz.com – Credit | © Big House Little House
---
Rustic Stone Backsplash and Countertops with Wood Cabinets
The kitchen design has clean lines and a lack of wood in favor of basic yet attractive cabinetry. It stands out with a unique countertop material and a built-in island! These designs continue to offer joy and function to kitchens, demonstrating that experience emerges from life, not simply material and form. The kitchen, which is lighted by a basic concrete floor and white ceiling, transforms into a dynamic and pleasant room with modern counters and elegant black chairs. The sitting island – a gathering place for the family – provides a splash of aesthetic appeal and energy to the overall presentation of a modern kitchen.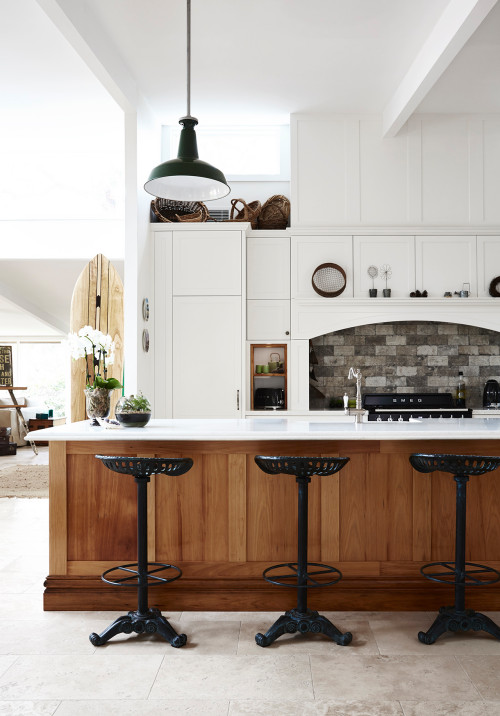 ID# 166606 | Houzz.com – Credit | © Collaroy Kitchen Centre
---
Gray Stone Backsplash with White Cabinets and Wood Island
The way the white cabinets merge with the wooden island creates a comfortable and inviting feeling in the kitchen. The natural stone subway tile backsplash was incorporated into the entire design to increase the visual appeal while maintaining utility, providing an extra sense of elegance and refinement. The iron bar seats that ring the island lend heart and soul to this space where friends and family congregate to speak, tell tales, and snack in a casual atmosphere!
What can I use instead of backsplash tiles?
If you are bored with commonly used ceramic and porcelain tiles, nature lends you a variety of materials to work with. Brick, wood, and stone of various sizes and colors can be incorporated in a staggered way and aligned on the same level instead of backsplash tiles. You can as well consider stone panel backsplashes and peel and stick rustic wallpapers that imitate the look of stones or bricks. Also, a window backsplash can give you all you want with changing natural scenes, especially if you have a garden view from your kitchen.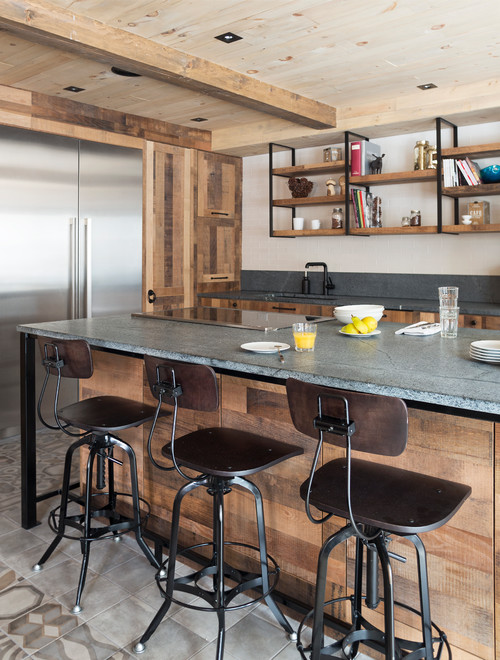 ID# 166607 | Houzz.com – Credit | © Polycor
---
Natural Wood Cabinets with Gray Granite Backsplash and Countertops
Warm and sensual, this low-height kitchen feels inviting, offering a tactual experience throughout!! The gray granite backsplash and countertops harmonize beautifully with the natural wood cabinets. The low ceilings make the kitchen feel cozy and approachable while the stainless steel appliances enhance the contemporary aesthetic.
Rustic Metal Backsplash
Metal backsplashes come in various shapes, colors and finishes, which give designers and homeowners a quite flexible material to experiment with! To create a rustic impact, for example, you can employ the naturally-processed, oxidized copper panels with a vintage look. The malleable tin also stands out as a highly customizable material and can be given any shape. Since it is an inflammable material, you can use it as a stove backsplash. The rest of the walls can be coated with stone and bricks to reinforce a rustic and diverse look.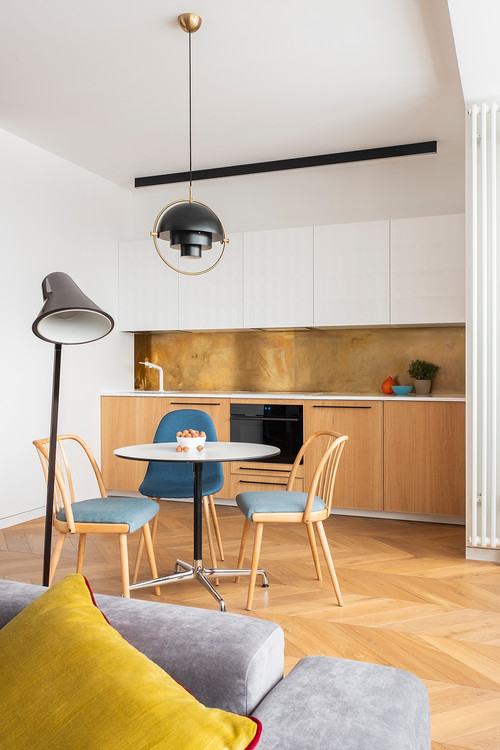 ID# 166609 | Houzz.com – Credit | © Hills Design Studio
---
White and Wood Cabinets with Rustic Brass Backsplash
The backsplash made of brass metal sheet is the perfect complement to its sparkling reflections in the kitchens of homes with vibrant and energetic designs. For open kitchens, a backsplash made of brass stands out as a trendy solution. The brass metal sheet backsplash stands out against the warm atmosphere generated by the wooden accents and the naturalness and cleanliness of the white tone. Day or night, the brass backsplash reflects light efficiently, giving the room a glittering aspect. Brass metal sheet backsplashes make it simpler to generate a sophisticated appearance in plainly planned places.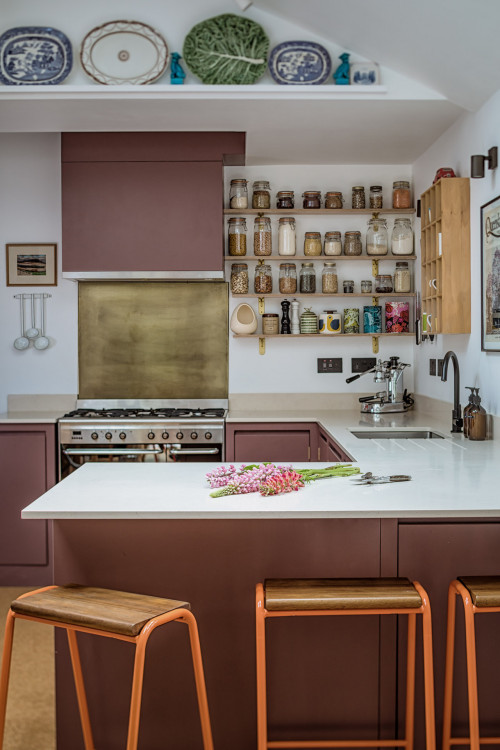 ID# 166610 | Houzz.com – Credit | © Honest Kitchens
---
Burgundy Kitchen Cabinets with White Quartz Countertops
The kitchen's color scheme provides a warm and welcoming atmosphere! A backsplash made of metal sheets is used behind the cooking area to produce better solutions that are more practical. The burgundy cabinets and the gold backsplash are harmonizing in warm tones and the visual is dazzling. The kitchen, which looks full of life with wooden simple shelves, looks more user-friendly with warm elements.
Rustic Brick Backsplash
The use of brick backsplashes is not restricted to rustic kitchens. They are welcomed in a wide range of contexts such as transitional, industrial, and contemporary kitchens. Especially after the pandemic and successive months of bans from going out, people are reminded of the importance of home designs that breathe with a sense of life. With the same logic, the natural elements gained an equal matter of importance to remind of the outdoor living and bring the outdoor life into a home. That's why brick, stone, and wood materials gain even more character in that sense.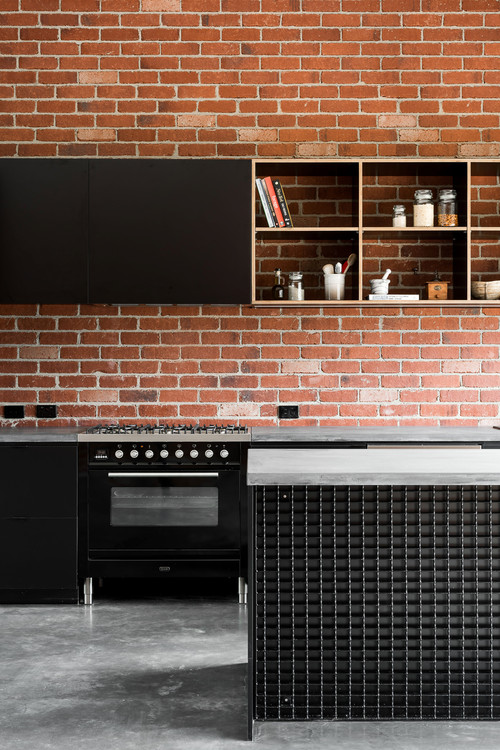 ID# 166611 | Houzz.com – Credit | © Cast Studio
---
Rustic Backsplash with Black Cabinets and Concrete Countertops
This industrial kitchen experiments with various elements and tie them together in a harmony to compose an arresting effect! On a closer look, the reddish-brown rustic backsplash peeks out between the black cabinets, while display cabinets and open shelving offer a glimpse into the cupboards. To keep alive the kitchen's relation to the past, the brick backsplash is preferred to define the background. The rest features contemporary and modern aesthetics that showcases the multi-faceted aspects of the kitchen. The gray concrete countertops complement the rustic charm of the brick backsplash.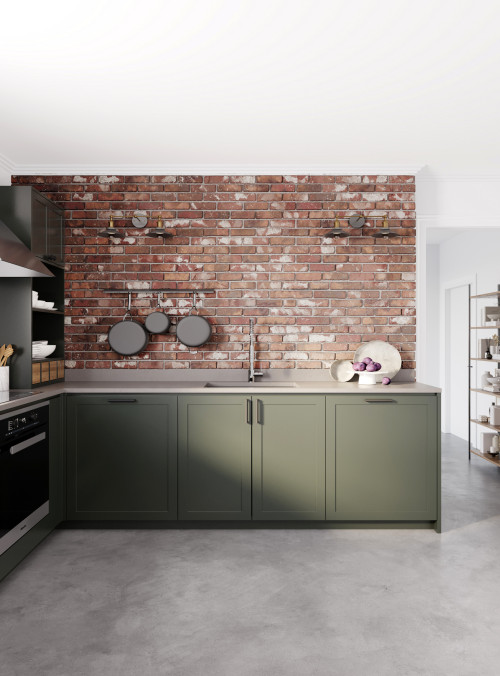 ID# 166613 | Houzz.com – Credit | © The Build by Temple & Webster
---
Red Brick Backsplash with Green Shaker Cabinets and Gray Countertops
Old meets new! The masonry wall is kept intact, and the rough brick structure retains its presence in the home context. Though partly raw and aged, at first sight, the transitional kitchen builds continuity between rustic and modern, aligning itself with a bit more modern character alongside the high-tech elements. The recessed-panel cabinets, gray quartz perimeter countertops, and the matte green hardware serve as the major furnishing, creating a well-curated modern kitchen.
Rustic Wood Backsplash
Wood is a versatile element that can be applied in many forms and places, ranging from ceilings to floors, countertops, cabinets, and even backsplashes. As long as the wood is sealed and well-maintained, it makes great backsplashes that echo back to nature. The wood's inherent veins and stains carry a rustic flavor, while its tone variations change the effect they create dramatically. For a visual drama, you can choose dark wood panels to coat the walls. But for a sense of lightness, the pale woods close to white paint make for an expressive and sensible design.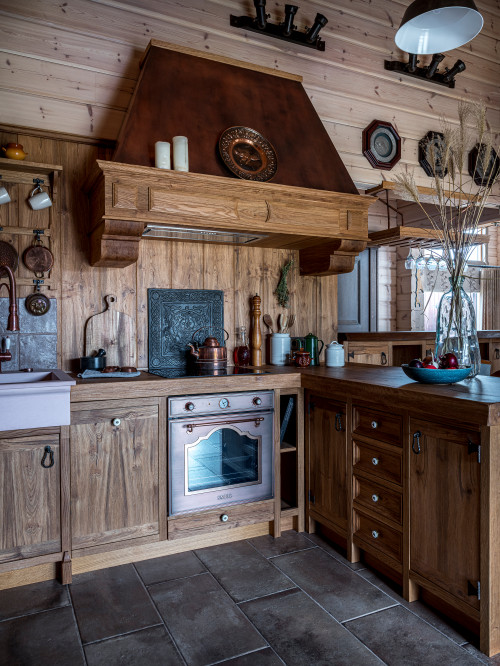 ID# 166614 | Houzz.com – Credit | © Татьяна Трофимова I Дизайн деревянных домов
---
Wood Backsplash with Wood Cabinets and Vintage Appliances
This farmhouse kitchen prides itself on the extensive use of natural materials. Top-to-toe clad in wood, the cabinets, backsplash, countertops, and range hood are well-coordinated, creating a monotonic scheme. As secondary and complementary elements, vintage appliances, wooden rails to hang kitchenware, and hood corbels add traditional beauty. In sum, this kitchen is strictly rustic and classical in every sense, exhibiting a sense of formality and regularity.
Backsplash Styles
Backsplashes can come in the form of solid stone panels, glass sheets, wallpapers, and tiles. Aside from these, materials such as wood, brick, terracotta, metals, and stones can be used to achieve different impacts. If you especially would like to create a natural scene rather than too-manufactured-looking tiles and avoid any man-made look, there are various elements you can borrow from nature. Stone, brick, and wood are the most popular ones without a doubt. There is also another material we would like to mention. Though we generally see the concrete as a floor coating, concrete backsplashes are trending options. They are very characterful in the sense that they feature a distinct look and evoke edgy feelings, widely used in boho, industrial, contemporary, and farmhouse kitchens.
Rustic Farmhouse Backsplash
Rustic farmhouse backsplashes contain a wide array of materials and colors, delivering delightful designs. Below are some favored ones:
Concrete backsplash to evoke a sense of coolness and an edgy feeling
Chevron and herringbone pattern stone backsplashes with an earthy palette
Horizontally or vertically laid multi-colored wood panels
Granite and marble backsplashes for an elegant and sophisticated look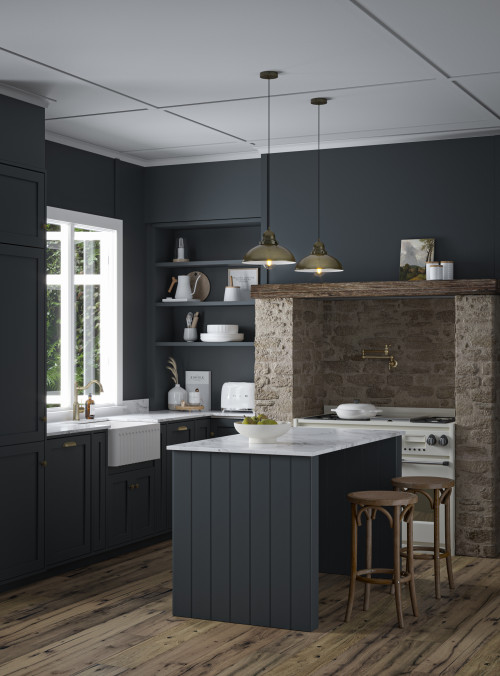 ID# 166615 | Houzz.com – Credit | © The Build by Temple & Webster
---
Rustic Backsplash with Dark Gray Cabinets and Island
Beautifully brought together, every piece interacts with each other, gaining new identities in the whole composure. The rustic backsplash, dark gray cabinets, and marble countertops harmonize beautifully, while rough textures characterize the kitchen. The distressed wood flooring with gray undertones articulates a sense of time. It is very expressive and promotes calm contemplation in the company of gray cabinets.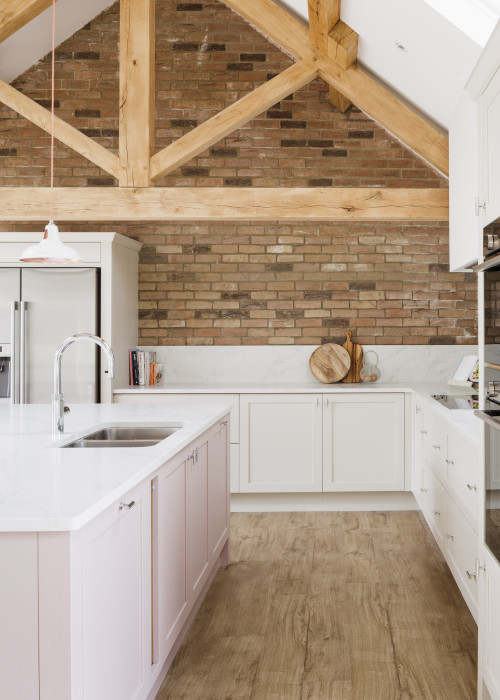 ID# 166616 | Houzz.com – Credit | © Studio Nest
---
White Farmhouse Kitchen with Exposed Brick Wall
This visually lightweight farmhouse kitchen lures you for longer stays for sure. Thanks to its fresh light palette, it gives the illusion of floating and oozing. The vaulted ceiling is defined by exposed wood beams to add more personality. Moving our eyes towards the down, the off-white shaker cabinets are configured in the L-shape, topped with white quartz countertops. . The exposed brick wall stands out between the all-white features and creates an accent wall. At the heart, the island brings integrity, while its free-standing statue adds a rustic and sculptural quality to it.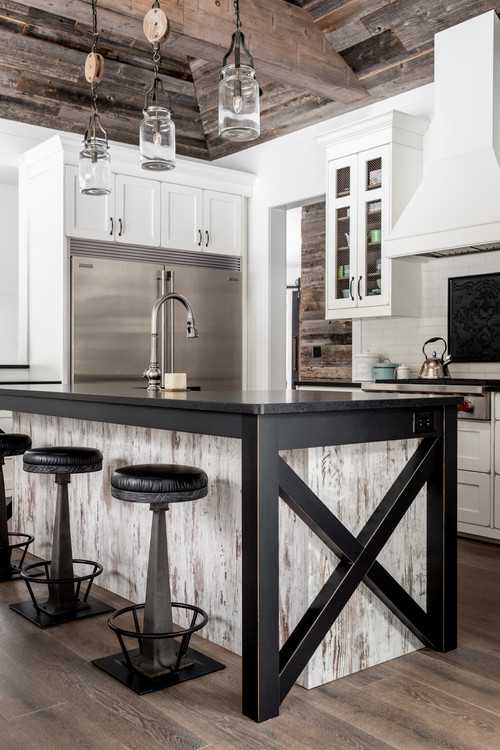 ID# 166617 | Houzz.com – Credit | © Hickory Lane Kitchens
---
White Cabinets with Wood Island and Black Accents
In this farmhouse kitchen, the wood elements and white cabinets work together to create an impactful design. The white subway tile backsplash stands out between the white cabinets and brings a nice textural look. Topped with black granite countertops, the shaker cabinets achieve seamless integrity with a sense of lightness to alleviate the woods' strong presence. Also, the wooden oversized island has a discolored torso that stresses the lived-in look, complemented by metal stools and vintage lighting fixtures.
Rustic Modern Backsplash
Though rustic and modern might sound like an oxymoronic phrase, rustic and modern features can be tailored together to keep track of the contemporary designs with a foot on earth. Stone backsplashes, including soapstone, granite and marble for their inherent veins, are favored for their unmatchable beauty.
If you want to stick with tiles, for a more natural impact, multicolored tile backsplashes can be used to avoid all the same manufactured look. Contemporary kitchens also use brick and marble together. In addition to those, terracotta tiles, available with painted versions and window backsplashes, are other alternatives. Especially, the window backsplashes bring nature closer while creating a continuous design and an interactive space between the indoors and outdoors!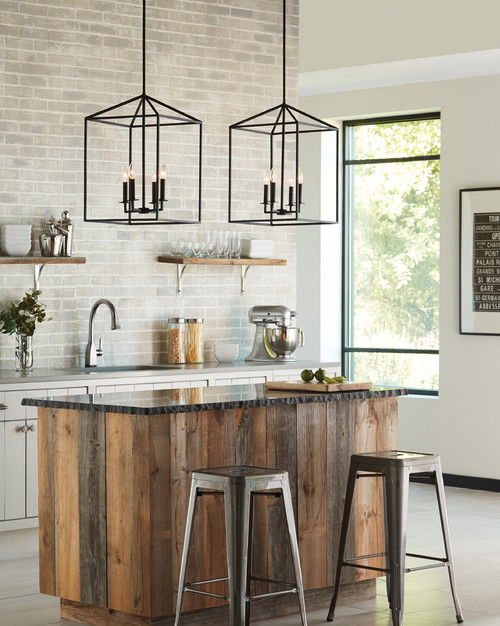 ID# 166618 | Houzz.com – Credit | © Atlantic Lighting Design
---
Rustic Backsplash with Natural Wood Kitchen Island and Gray Countertops
Natural wood islandblack pendant lights, and brick-look backsplash pull off the rustic look. All these powerful textures come together in a harmony, seamlessly integrating. The brick-look subway tile stone backsplash spices up the background, while the white cabinets give a bright and spacious feel.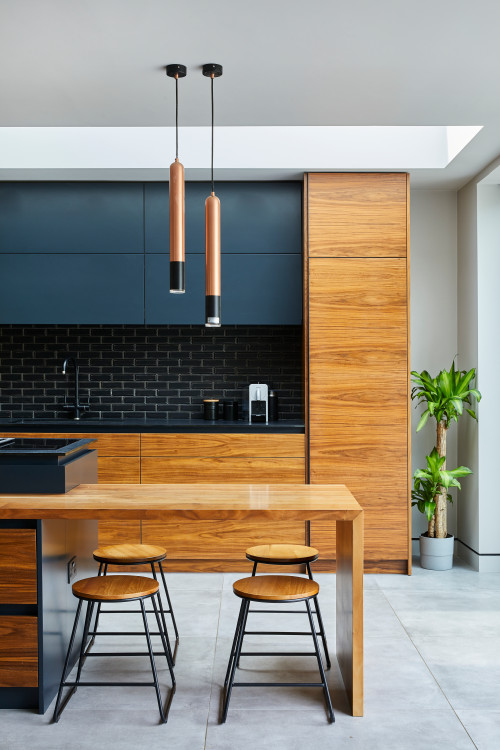 ID# 166619 | Houzz.com – Credit | © AIB Contractors Ltd
---
Black and Wood Cabinets with Black Subway Tile Backsplash
The rustic kitchen theme is reimagined thoughtfully in this contemporary context. Though clean and sleek lines are kept intact, materials and colors are chosen expertly to achieve a pared-down look. Also, the combination of black and wood cabinets and black subway tile backsplash work harmoniously to pull off the rustic flavor.
Natural Stone Mosaic Tiles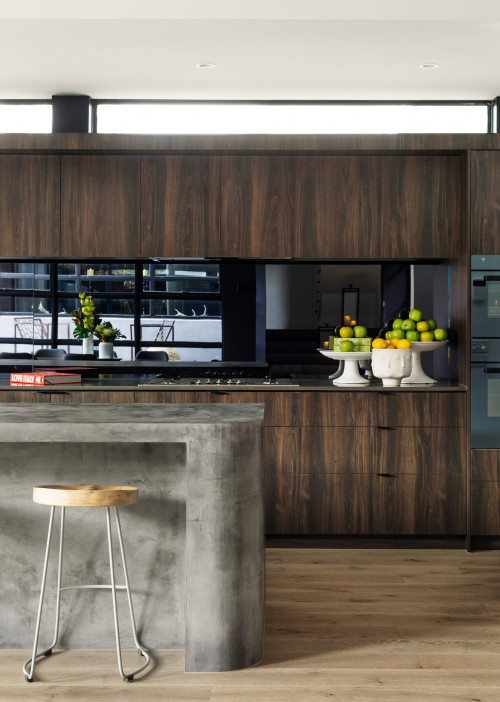 ID# 166620 | Houzz.com – Credit | © Alternative Surfaces
---
Rustic Dark Wood Kitchen Cabinets with Concrete Island
masterpiece is designed around dark wood cabinets that ooze refinement and a touch of timeless charm. The backsplash of black glass sheets adds drama and grandeur to the area. At the heart of this culinary sanctuary, a concrete kitchen island becomes the ultimate of modern style. Its industrial aesthetic and smooth surface combine to create a stunning centerpiece that is both functional and eye-catching.
What cabinet color goes with a rustic backsplash?
Distressed or discolored, light and dark wood, crispy white, beige, gray, brown, green and blue makes for an impactful design with a rustic backsplash. The trick is to use any color that you see in nature. About the white, it just goes well with anything and helps the wood to stand out in the whole design. Scandinavian kitchens, for instance, love building that impact.