39+ White Shaker Cabinets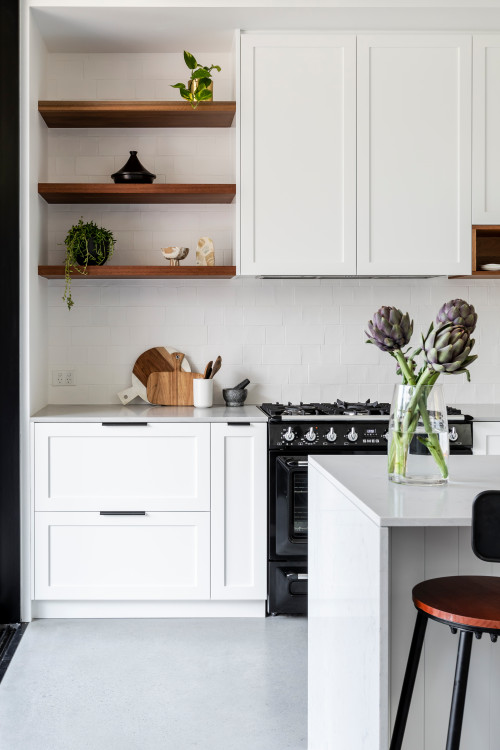 ID# 150504 | Houzz.com – Credit | © Blue Tea Kitchens and Bathrooms
---
Crisp White Kitchen Design with Handmade Backsplash Tiles and Wood Floating Shelves
This crisp white kitchen proposes a relaxed and clean cooking space with its pristine white cabinets. To keep itself in line with more modern looks, the shaker cabinets are given an update. For example, some are kept hardware-free, and some feature lip pull notches. The handmade ceramic tiles, which are uneven, add further interest to the wall while sticking to the pure white scheme. In the rest, the wood floating shelves and kitchen plants inject organic vibes to break up the monochromatic look.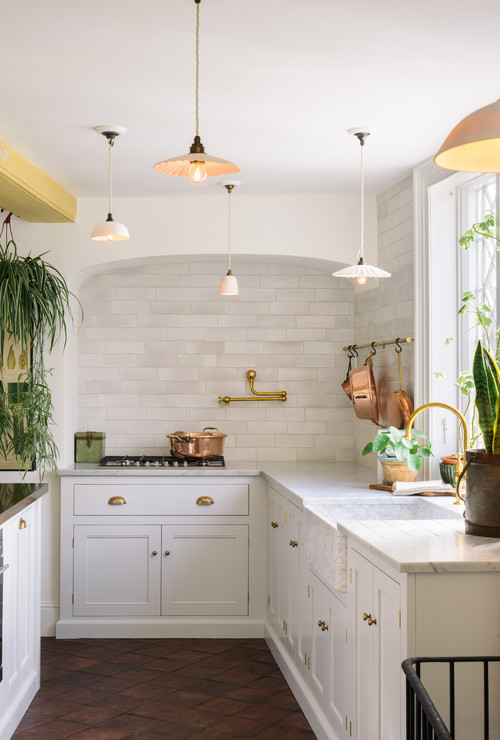 ID# 150527 | Houzz.com – Credit | © deVOL Kitchens
---
Shabby Chic Kitchen with Subway Tile Backsplash and Gold Accents
Even though this kitchen mainly makes use of white elements, with the right additions, it gives white a new outfit. First, the white shaker joinery, subway tile backsplash, and white marble countertops provide the kitchen with a seamless look. In the rest, the kitchen plants and multiple and variously sized lighting fixtures add dimension. The gold accents, pot filler, and copper kitchenware introduce heartwarming metal colors and textures. For one final touch, patina-developed terracotta floor tiles make an excellent floor finish, evoking nature.
White Shaker Cabinets
Timeless and versatile, white shaker cabinets have withstood the test of time and continue to take part in our kitchens. Available in different shades of white with a simple and clean-lined profile, shaker cabinets suit both traditional and modern kitchens. With a few updates and hardware choices, they are also used in contemporary kitchens, providing a sleeker profile.
Yet the best part of white shaker cabinets doesn't end there. The almost limitless backsplash and countertop options for them also allow designers and homeowners to achieve any look they want. From natural stones to engineered materials, colorful designs, and contrasting schemes, white shaker cabinets can be remodeled in many ways. Here we compiled a rich list of white shaker cabinetry. Read on to discover some design tricks and a wide range of applications with shaker cabinets.
Are white Shaker cabinets in style?
Cabinets are the most important main bones of the design. They are not only for storage or a benchtop home but also define the style of the room drastically. And their most popular version is without a doubt the shaker cabinets which are still in style. Having proven themselves as a timeless classic, they continue to conquer our kitchens. And in doing so, they make designing much easier for us thanks to their easygoing nature. For the same reason, they will remain to be popular and in style in the long term.
Different White Shades for Cabinets
Different white shades for cabinets range from crisp ultra-white to warm hues of creamy white shades. For example, while the white dove features a soft creamy shade, ice white is pure white. As for off-white shades, they have a wide range and can be used to introduce cool and warm undertones of white.
Ice White Shaker Cabinets
Ice-white shaker cabinets refer to cabinets that are super-white and illuminate the interiors instantly. They feel fresh and clean, thus are favored by modern kitchen designs. To complement them, you can benefit from glass pendants and polished chrome hardware. And for warmth, nothing goes better than yellow gold fixtures, including a pot filler.
Off White Shaker Cabinets
If you don't want white cabinets, give off-white shaker cabinets a try. They are commonly used in traditional and transitional kitchens. Available in greige, taupe, light cream, and warm gray, they come with a subtle hint of color. While doing so, they continue to brighten the interiors and create a sense of space. In short, if you want something white but not too-white, off-white cabinets found in cool and warm undertones give you an excellent substitute
What Backsplash Goes with White Shaker Cabinets?
Are you fond of contrasts, monochromatic looks, or pops of colors? It doesn't matter which one you favor most since white shaker cabinets welcome all design themes cordially. For example, if you want a Mediterranean kitchen, you can go with printed and colorful ceramic tiles. For an industrial kitchen, feel free to combine a black backsplash with white shakers. Depending on the mood and style you aim for, you can choose the color and material accordingly.
White Shaker Cabinets with White Backsplash
From white glass sheets to white marble, quartz, and ceramics, white backsplashes are available in limitless designs, formats, and material options. So don't think that just because it is white-on-white does create something lack of interest. On the contrary, by playing with the finishing, tile formats, and pattern options, you can create eye-catching backdrops with white too.
White Shaker Cabinets with Dark Backsplash
Black marble, soapstone, black granite, dark ceramic tile backsplashes, and many more. No matter in which shape and material they come, dark backsplashes create drama and depth. And if you want to soften their darkening impact, you can give them a polished finish to let lights bounce off around the room. Or brass or chrome hardware could also add a nuanced touch to improve the overall design aesthetic.
Can Shaker cabinets be modern?
Shaker cabinets can be modern too. They have an uncluttered, simple, and functional profile, which is favored by modern designs. So it is for a good reason that we see many examples of modern and contemporary kitchens that go with shaker counters. Sometimes these cabinets are used hardware-free to keep things sleeker. Likewise, lip pull notches are also popular if you want to give them a modern update. Contemporary benchtops, bold colors, and metal handles can also give shaker joinery a new contemporary voice.
What Countertop Goes with White Shaker Cabinets?
As white shaker cabinets go well with almost everything, you can combine them with white, dark, and colorful countertops. In terms of materials, laminate, quartz, granite, marble, and porcelain stand out to be the most popular countertop options. If you are after a rustic look, you can consider butcher block countertops as well.
White Shaker Cabinets with White Countertops
White-on-white still preserves its popularity and has proven itself as a classic. It is mainly because it is a fail-safe option. It brightens up the room, making it feel larger. Also it creates a calm and austere aesthetic. And when you need to upgrade it, you can do so easily without any need to touch the main bones of the design. For example, you can add colorful stools, accessories, wood cutting boards, and kitchen plants. Or you can change the cabinet hardware. All these small details are more than enough to give your white kitchen with white countertops and cabinets a new look.
White Shaker Cabinets with Dark Countertops
If there is something as timeless as white-on-white, it is dark-on-white. Whether it is black, dark gray, dark brown, or dark wood, dark countertops help ground the look. And they form a beautiful contrast with white shaker cabinetry. You can support this contrast by using black hardware or black grout between the backsplash tiles.
White Shaker Cabinets with Quartz Countertops
Unlike natural stones, quartz countertops are engineered, and thus feature no pores. It makes them a more practical option in kitchens that tend to get dirty at any second. Since they have no pores, they don't harbor bacteria or can't absorb stains. But of course, it doesn't mean that they don't stain at all. Regular cleaning is essential for quartz countertops as well.
In terms of aesthetics, you can find them in a wide range of colors and finishes. For example, their speckled-finish versions look like granite countertops. And the marble-effect quartz countertops also offer a great substitute for the real marble- if you don't want to deal with sealing.
Are white Shaker cabinets hard to keep clean?
White shaker cabinets are easy to clean since they have a rather simple look with no elaborate details. But when compared to flat -front cabinets, white shaker cabinets would count harder to clean. Also, the lacquer finish provides easier -to-clean cabinet surfaces.
White Shaker Cabinets with Marble Countertops
Marble countertops are as timeless and classic as white shaker cabinetry. Marble countertops are also preferable thanks to their heat -resistant and durable nature. However, they are prone to staining and etching due to their porous nature. Thus, they require regular sealing to preserve their best version. So, if you are looking for the most timeless and failsafe option for your kitchen, this combination never fails you!
White Shaker Cabinets with Granite Countertops
Highly durable and scratch-resistant, granite countertops also come with a unique aesthetic value as a natural stone. This beautiful natural stone is available in a wide range of patterns and colors and is one of the best options to create movement. For example, they can spice up the clean -lined white shaker cabinets effortlessly. Granite countertops But due to their busy patterns, they are not very preferable in modern designs.
What era is the shaker style?
The origin of the shaker style dates back to the 18th century when a religious sect was founded. This movement championed functionality and simplicity, which was eventually reflected in furniture design and architecture as well. The crafters of that era also followed the tenet that beauty comes from utility. Thus, the outcome was the shaker style lack of unnecessary embellishments yet with a lightweight and functional design.
Hardware Options for White Shaker Cabinets
When it comes to kitchen design, hardware might seem like a small detail of the overall look. However, hardware is the jewelry of the cabinets that enable homeowners and designers to achieve the best look for their cabinets. From classic chrome to modern matte black, you can find different colors and materials for cabinet hardware.
White Shaker Cabinets with Brass Hardware
To bring out the warmth of the white cabinets, brass hardware is the best way. Plus, from polished to ones with a rosy undertone, yellow brass, and antique finish, you can find multiple options to create different appeals for your white shaker cabinetry.
Is shaker style timeless?
The short answer is yes! Shaker style is timeless for various reasons. First, they suit all designs, be they modern, traditional, or transitional. Secondly, they are available in different finishes and wood options. From hardwood to MDF, plywood, and laminate, you can find them in many different materials and finishes. Thirdly, you can also color them as you wish. For example, if you want to give your kitchen an upgrade, you can just paint your shaker joinery. It is cheap, fun, and effective. In short, considering their versatility and suitability for any design, the shaker style stands the test of time.

White Shaker Cabinets with Black Hardware
If you want to create contrast without making it too obvious, black hardware can be used to punctuate white shaker joinery. Whether you go with black pulls, knobs, or cup pulls, you can create a difference in the overall look effortlessly. For a more contemporary vibe, you can also go with black lip pull-notches.
White Shaker Cabinets with Chrome or Brushed Nickel Hardware
For a modern update, polished chrome adds the perfect gesture to white shaker cabinets. However, for more industrial, farmhouse, and traditional looks, brushed nickel would give your kitchen the right feel.
Are Shaker cabinets cheap?
Shaker cabinets cost less than many other kitchen cabinet styles and designs such as raised panel cabinets. But the costs also depend on the material and size. For example, the ones carved out of solid wood have higher prices, while the laminate ones are cheaper. But when compared to other cabinet styles, except for the flat-front ones, they are cost-effective and easy to find.