31+ Backsplash for Gray Countertops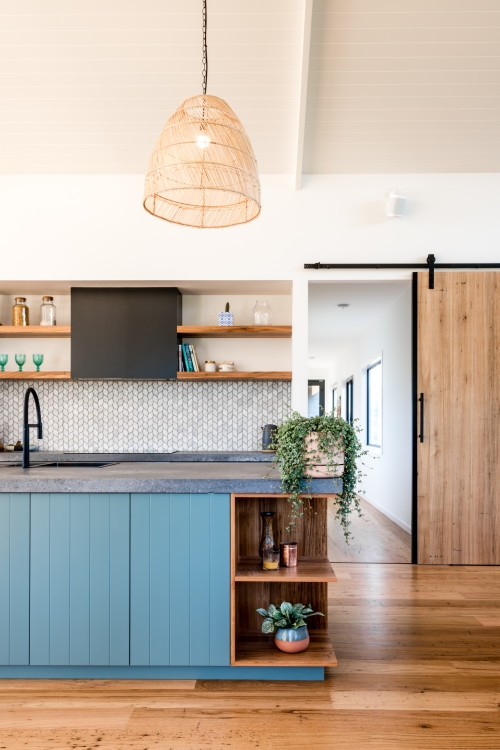 ID# 138410 | Houzz.com – Credit | © Holman Designs
---
Contemporary Kitchen Design with Blue Cabinets and Penny Rounds
The lovely white backsplash for gray countertops provides texture and pattern with movement to this contemporary kitchen design. The wood cabinetry is complemented by the gray stone countertops that enhance the stylish look of the kitchen. The aesthetic contrast between the wood texture and blue cabinetry increases the visual interest in the kitchen.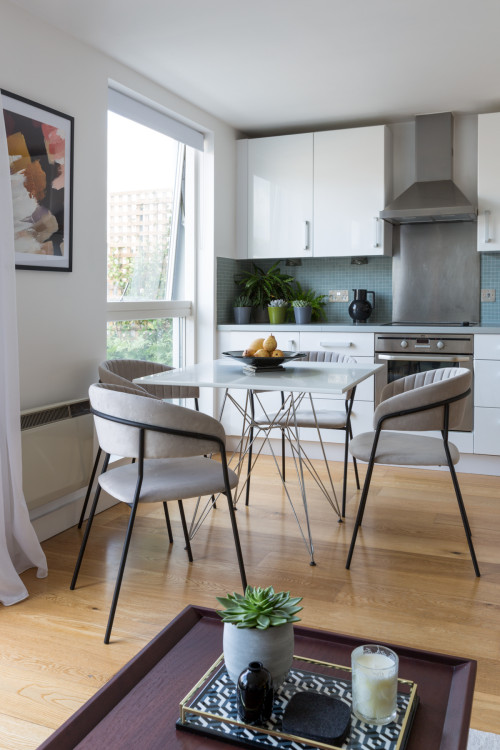 ID# 138421 | Houzz.com – Credit | © Cigal Kaplan Interiors
---
Modern Kitchen Design Style with a Blue Backsplash for Gray Countertops
The blue backsplash for gray countertops is divided into two sections thanks to the metallic backsplash of the stove. The stainless steel appliances and metallic backsplash modernize the kitchen with their sleek looks. The blue backsplash for gray countertops adds a fresh look with a balanced appeal to the white kitchen cabinets. Thanks to the light wood floors, the cabinets stand out more.
Backsplash for Gray Countertops
The color gray has emerged as one of the most popular choices for kitchens of all shapes and sizes as a contemporary alternative to traditional white. The attitude toward kitchen color may have been more all-or-nothing in the past. The color pallet of today is more limited, and gray kitchen design elements are growing in popularity. Such as a stylish backsplash for gray countertops.
When compared to blue-based tones of slate, warmer grays have a distinct vibe. The tone is important, maybe even more so within the gray family, where warmer grays provide a distinct feeling from shades of slate with a blue undertone. Consider all surfaces when coming up with gray countertop designs, including backsplashes, cabinets, and everything in between. Although picking a backsplash for gray countertops might be difficult, do not be intimidated. You may select a backsplash for gray countertops in trendy hues like white, blue, black, or even gray because the color is so adaptable!
What backsplash goes well with gray countertops?
As a timeless hue white is always on the top of the list. However, you can have a pink or yellow backsplash with gray countertops!
Should backsplash be lighter or darker than countertop?
Although there are no clear rules, a lighter kitchen may commonly have a backsplash that is lighter than the countertop since it tends to seem more airy and welcoming. Occasionally, though, a darker backsplash may look fantastic, especially when coupled with a light or neutral countertop.
Backsplash Color Options for Gray Countertops
Depending on the material, backsplash color options for gray countertops might vary, but you can think about what colors would look well. Any kitchen cabinets and countertops serve as the room's main focal pieces, and a backsplash completes the design. Like kitchen cabinets and countertops, a backsplash is an essential element with both aesthetic and practical functions. You may completely personalize your design thanks to this vast variety. When it comes to the backsplash, the color of your cabinets and countertops is an important thing to think about. In this post, we've compiled several pretty backsplash color options for gray countertops designs.
There are several color options for a backsplash if your countertops are gray. You must first decide on the style of appeal you want before selecting the right backsplash color. Add white tiles to the timeless style to finish it off while maintaining the crisp appearance of your white cabinets. A black backsplash will accentuate the dramatic ambiance created by the dark gray countertops. Contrarily, a black backsplash might make a statement with a striking pattern and serve as a focal point between the cabinets and counters. The opportunities are therefore endless. For more ideas, look at these kitchen backsplash color options for gray countertops.
White Backsplash for Gray Countertops
Kitchen countertops in varying shades of gray may be paired with a wide selection of backsplash designs. This might potentially make your situation worse. A white backsplash for gray countertops might be useful if you're having problems choosing a backsplash for your gray countertops. Gray and white may readily and attractively complement one another because they are both classic colors.
Your gray countertops may be made brighter and more contemporary with a white backsplash and white cabinets. Because of its adaptability, a white backsplash might still be the best option if you wish to employ dark gray cabinets and countertops. For gray countertops, you may create a modern contrast with a white backsplash and amplify this contrast with brass material to create an opulent appearance. Let's look at some stunning examples of a white backsplash for gray countertops!
How do you pick a backsplash color?
We advise taping color and tile samples to the walls to examine how they appear as the natural light varies throughout the day. To employ in the kitchen's backsplash as well as other areas of the room, pick one dominant color and a few accent hues.
Gray Backsplash for Gray Countertops
If you want a kitchen that is very adaptable and defies trends, gray is a fantastic choice. And making sure the design suits your needs by picking the right backsplash for gray countertops can help set the tone! How about a backsplash in the same color as the cabinets? Such as a gray backsplash for gray countertops that offers the same benefits of being a neutral color that looks polished and is totally adjustable. To balance off your darker cabinets, choose a brighter color, or use gray tiles with white tiles included to add depth and texture. You may choose a neutral color scheme and make the lovely designs come to life!
Are gray kitchen countertops popular?
Gray kitchen countertops are one of the popular countertops. With good reason, gray is one of the most popular tabletop hues. Whether you're constructing a brighter or darker environment, the many various colors of gray may finish the space and provide a really appealing texture.
Is it better to have light or dark countertops?
In general, lighter countertops actually provide a clean and crisp impression. They also appear to have more defined patterns, which creates a pleasing focus point. Deeper countertops are perceived as sleeker in comparison, and the darker tones and textures give off a cool impression.
Black Backsplash for Gray Countertops
In a kitchen, gray is everything but dull. Gray is a versatile and neutral hue that you can use to add a touch of gentle warmth to your kitchen without having it conflict with the rest of your decor. The options are endless when it comes to adding gray to your kitchen. Choose a black backsplash for gray countertops to create a sleek design or a black backsplash with gray cabinets and gray countertops for a contemporary look. A black backsplash for gray countertops encourages harmony and coherence in your space by counteracting the stainless steel or metal. You may tastefully pair this black backsplash for gray countertops with black hardware to create a classy aesthetic with a contemporary touch.
Blue Backsplash for Gray Countertops
With a modern touch, the lovely gray countertops may enhance their timelessness! The natural vibrations of the color blue mean that a blue backsplash for gray countertops may completely transform the look of the kitchen! If you choose a blue backsplash for gray countertops, you can make your kitchen stand out since both the white cabinetry and the blue backsplash are more popular. Brass hardware may be used to highlight the blue and gray kitchen decor, giving it a glitzier appearance. It is possible to combine dark gray countertops with a light blue backsplash to produce a modern design, or you can use a navy blue backsplash with light gray countertops to create a vibrant appeal with freshness. Let's deep dive into the design alternatives of a blue backsplash for gray countertops.
Gray Countertop Materials
In order to create a kitchen design with the right material, color, and pattern possibilities, many different elements must be gathered. You might be curious about the types of gray countertop materials available if you're interested in employing them. As contrast to light colors, deeper colors are more difficult to stain, hence they typically show somewhat longer wear. The tone of the color is significant, but so is the substance. Each material's distinctive textures and designs may add a new mood to your kitchens.
You will learn about the advantages and disadvantages of various gray countertop materials as you conduct your research. Of course, the budget is crucial in this situation. You may desire the opulent feel of marble, but if your budget does not permit it, you may benefit from quartz countertops. Use gray granite countertops if you'd want a simple, contemporary feel. Every gray countertop material has a unique quality, and we've compiled some of them so you may learn about them and get ideas from them!
Backsplash for Gray Marble Countertops
There are so many fantastic kitchens and bathrooms having suggestions of a backsplash for gray marble countertops online that it's simple to get drawn to the organic substance after perusing your postings. Although marble is undeniably beautiful, we'd be derelict if we didn't let you know that it requires some upkeep. In order to prevent scratches, use a cutting board rather than cutting directly on top of marble because it is softer than granite. Since the stone is permeable, spills that aren't cleaned up right away run the danger of altering color.
Accept them; installing a backsplash for them might occasionally be difficult work if you desire a gray marble countertop. Since marble naturally enhances the surrounding area, you might want to select a backsplash for gray marble countertops to harmonize the design with the counters and the surrounding area. To maintain an opulent and beautiful appearance, use marble tiles, marble slab backsplashes, or match gray counters with glossy ceramic tile backsplashes. View some gorgeous alternatives of a backsplash for gray marble countertops by scrolling down.
Backsplash for Gray Granite Countertops
Granite is an igneous rock that develops when volcanic lava rises to the earth's surface, cools, and solidifies. Granite slabs, which are typically one continuous piece of quarried stone, are the conventional material for countertops. Large pieces of the less costly modular granite can be used to build a granite countertop. You may use gray granite countertops for your kitchens to get a sophisticated and sleek appearance from the various color possibilities. You might need a chic backsplash for gray countertops to complement your kitchen to complete the design.
There are various combinations you may make with gray granite countertops, including marble, ceramic, or porcelain tiles and slab granite backsplashes. You may use a granite slab backsplash for gray granite countertops for a modern and sleek appearance, or you can certainly spruce up the kitchen with a marble tile backsplash for gray granite countertops. Granite may increase the value and rich appeal of your kitchens since it has the power to alter the ambiance. Granite is one of the most durable building materials you can choose for your house. Because it can endure heat, granite is a great material for kitchen surfaces.
Furthermore, they are stain-resistant countertops. Having a professionally sealed granite countertop may help the surface survive for many years with minimum upkeep, even though it is not stain-proof. The scratch resistance of granite makes it particularly helpful in the kitchen, while it is not advisable to cut directly on the surface. View the designs of a backsplash for gray granite countertops below to discover what may be done with them.
Backsplash for Gray Quartz Countertops
The quartz countertop material is an engineered stone that may compose up to 93 percent of the slabs and is made up of minerals and quartz particles. Resins are used to form the slabs and connect them together. These solid quartz slabs weren't created at a quarry. Quartz was developed by companies like DuPont Zodiaq, LG Viatera, Cambria, and Silestone as a more flexible and reliable replacement for granite and marble. It features a nonporous surface that resists scratches and stains and a wider spectrum of colors than granite. Some of them are exact replicas of actual marble, down to the veining. Because quartz countertops come in such a wide variety of hues, there are endless options when choosing a backsplash for gray quartz countertops.
The same as with other countertop materials, you may utilize slab or tile backsplash tiles depending on your design preferences. Gray quartz countertops with a slab backsplash are more typical in modern designs whereas a tile backsplash for gray quartz countertops is more prevalent in other types. Of course, there aren't any laws that are so rigid. You may create your own unique, fashionable combos. We delved into the internet and discovered some stunning backsplash design ideas for gray quartz surfaces.