36+ Double Sink Bathroom Vanity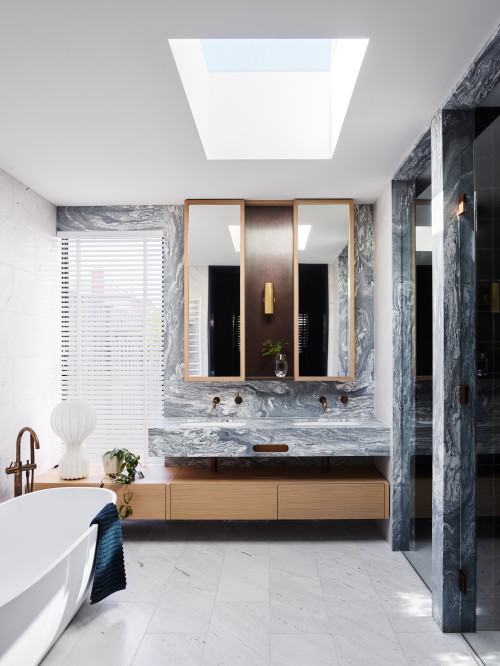 ID# 151502 | Houzz.com – Credit | © Black Door Building
---
Blue Marble Backsplash and Washbasin with Double Sinks
Lucky to have a skylight that pours natural light, this contemporary bathroom enjoys its sun-bathed interior. The blue marble backsplash and washbasin with double sinks serve as the showstopper of the design. The irregular white veining recalls the fluidity of water. The timber mirror frames and floating vanity bring a calming contrast. The freestanding tub, light and simple floor tiles, and an indoor plant keep the rest of the design laid-back.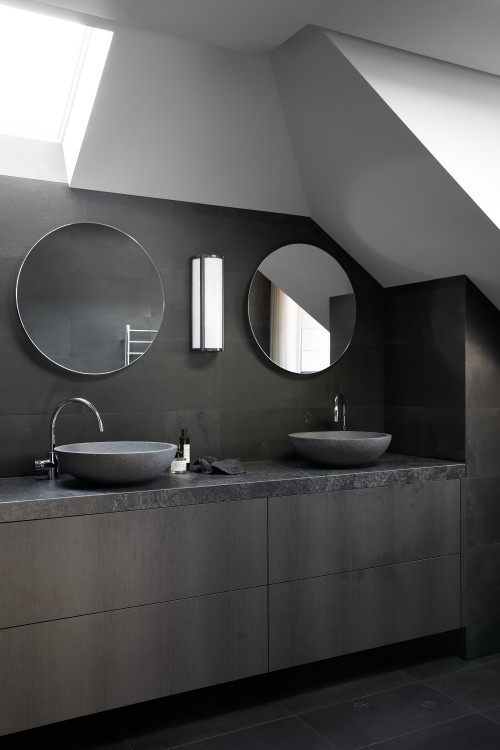 ID# 151520 | Houzz.com – Credit | © Covemade.
---
Monochromatic Design with Black Double Sink Bathroom Vanity and Tube Lighting Fixture
Visited by streaming lights penetrating through the skylight, this loft bathroom prioritizes a monochromatic color scheme that feels slightly moody. To achieve that, it mainly relies on a black vanity topped by a natural stone countertop and black vessel sinks. And above, the round mirrors paired with tube lighting fixtures give a modern update. The resonance between the round mirrors and round vessel sinks is also eye-catching. The resulting visual scheme feels more than satisfactory, especially for those looking for an edgy ambiance.
Double Sink Bathroom Vanity
Available in a wide range of sizes starting from 48 inches, a double sink bathroom vanity just makes everything easier, especially if you are part of a large family. Whether you would like to share your bathroom routines with your partner or try to get ready for school with your sibling simultaneously, a double-sink bathroom vanity can make that happen for you. Plus, it minimizes conflicts and saves plenty of time.
Coming in a plethora of design, size, and color options, double vanities with double sinks fire up designers' and homeowners' imaginations for limitless design options. Here we have gathered a collection of inspiring designs with a double sink bathroom vanity. They are presented in different bathroom designs, be they modern, transitional, beach-style, or traditional. So, take a closer look at this comprehensive study of vanities with double sinks to get inspired for your next bathroom makeover.
Color Options for Double Sink Bathroom Vanity
In today's market, bathroom vanities come in a wide range of color options from white to pink. While some are preferred to create visually lightweight designs, some are better to make for dramatic looks. And for a more naturall and organic look, wood and green vanities are available on market. If you are looking for a double bathroom vanity, check out these stunning ideas before deciding on it!!
White Double Sink Bathroom Vanity
If you have a small bathroom and want to go with a fail-safe option, that's why white double sink bathroom vanities are for. They lighten up the interior, instilling peacefulness. And you can always add color to them by changing fixtures, getting colorful towels, and pattern-rich rugs.
Is a double sink in the bathroom worth it?
Double sinks are great additions for bathrooms if you are part of a crowded family. Or you might just simply be enjoying togetherness with your partner in your bathroom routines. When that is the case, a double sink gives you all you need. Whether it is your partner or sibling you share the bathroom sink, it saves you plenty of time. For example, you won't have dense conflicts over who is going to use the bathroom first for make-up application or hair styling. This way, the family members feel freer and get to use the bathroom simultaneously with others.
Blue Double Sink Bathroom Vanity
Associated with the sky, oceans, and sea, blue shades impart a sense of calmness to any design. Especially the muted blue ones are very popular in beach-style and transitional bathroom designs. They go well with nickel and chrome hardware and polished finish backsplash tiles. But if you want to bring in warmth, brass details and warming wood touches also go well with blue vanities.
How long should the vanity be for 2 sinks?
At a minimum, a vanity should be at least 48 inches to be able to accommodate 2 sinks. It is an ideal size for a guest room and ensuite room. But 60-inch vanities are better if you also want to have a generous amount of benchtop. Additionally, vanities measuring 72, 84, and 96 inches are also available. They are suitable for generously sized bathrooms and accommodate 2 sinks.
Gray Double Sink Bathroom Vanity
If you are looking for a replacement for all-white looks, consider gray color schemes and gray vanities. They are as good as the white vanities to keep the interior light and airy. If you wish, you can punctuate them with black or chrome hardware that gives them a modern update. And as for the countertop and backsplash, gray and white marble slabs make great additions.
How to install a double sink bathroom vanity?
Start by shutting off the water valves and opening the faucet to relieve any pressure. When you open the vanity doors, you find the drain connected to a curved part- the P-trap, which needs to be disconnected. So, loosen the nut and disconnect it.
Now it is time to pull the old vanity out. To do so, first, cut the caulking between the vanity countertop and walls with a utility knife. Then loosen the screws that connect the vanity to the wall and pull it out.
Find out the studs with an electronic stud finder. Translate these measurements to the new vanity's back and use them to drill your pipe holes and pilot holes. Slide the new vanity to the wall and make sure the holes are aligned with the pipes. Attach the screws to the wall via pilot holes to stabilize the vanity.
If your vanity doesn't come with sinks and a countertop, apply a thin bead of caulk to the rim of the vanity. And then place the benchtop on the cabinet carefully. Apply caulk also between the vanity top and the wall.
Now you can install the faucets. Attach the P-trap to the drain pipe. And turn the water valves back on. Now you are ready to use your new bathroom vanity.
Black Double Sink Bathroom Vanity
For an edgy look, you almost have no better option than black. Plus, you can always soften it with gray tile backsplashes and gray countertops. Chrome, again, makes a perfect fit for black cabinets. For a luxurious and opulent vibe, you can also feel free to utilize gold accents and chandeliers.
Green Double Sink Bathroom Vanity
Emerald, mint, sage, forest, and many more. Green vanities come in a wide color spectrum that evokes different sensations. But for a more natural look, especially for farmhouse-inspired designs, they provide one of the best shades.
Wood Double Sink Bathroom Vanity
Warming wood shades are always a favorite and feel as timeless as white vanities. To give the bathroom a look of organic modernism or create a Nordic aesthetic, a wood vanity is the way to go. White backsplashes and gold tapware with indoor plants are popularly paired with them for soft aesthetics.
Do double sinks add value?
Double sinks add aesthetic and functional value to any bathroom. First of all, it saves a lot of time, allowing children and couples to use the bathroom at the same time. Secondly, by going with statement-making sinks, you can double your visual focal points easily.
Types of Double Sink Bathroom Vanity
Small, big, modern, traditional, and floating are some of the double sink vanity types. Luckily, today's market offers variously sized bathroom vanities with a wide range of styles. And homeowners have plenty of options to choose whatever suits their bathroom size and style.
Floating Double Sink Bathroom Vanity
To keep the design simple and minimalist, floating bathroom vanities are one of the best options. Even though they may not provide enough storage for some homeowners, bathroom users can compensate for it by integrating mirrored cabinets. These vanities are also great options for small bathrooms to enhance floor space.
Can you put 2 sinks in a 60-inch vanity?
If you decide to use the double sink, vanity size is one of the most important factor that you need to consider. 60-inch vanities are suitable to accommodate 2 sinks. In doing so, they provide you with enough storage and benchtops so that nothing feels squeezed.
Can 2-bathroom sinks share the same drain?
Two sinks can share the same drain. Though, to achieve that, you may need to make a few modifications. Special valves, extension pipes and hoses, and tee fittings can be used to connect two sinks to the same drain pipes. However, it is also important to keep an eye on local plumbing codes. As a rule of thumb, two sinks also need to be a maximum of 30 inches away from each other. To measure it correctly, you need to take the centers of the sinks as the basis.
Modern Double Sink Bathroom Vanity
With their ornament-free, minimalist, and flat-front designs, modern vanities are easy to recognize. But you can also come across ones with fluted, ribbed, and floating designs. As for hardware, while some features minimalist and geometric design bars or knobs, some come hardware-free to preserve their sleek look.
Can you put a double sink in a small bathroom?
As long as you have enough space measuring 60 inches, you can put a double sink vanity in a small bathroom as well. You can as well check double vanities that measure as small as 48 inches. Even though they are not very common, they are available as more compact versions. But if you want to have a more relaxed benchtop with 2 sinks, a 60-inch vanity is the route to go for. Or if you have the budget for it, you can get a custom-made one that meets your bathroom's specific measurements.
Small Double Sink Bathroom Vanity
Small double-sink bathroom vanities aren't actually that small, given that they need to accommodate two sinks. And they are generally 60 inches. But you can also come across 48-inch double vanities that can host double sinks. They suit guest bathrooms and main bathrooms, specifically.