22+ Bathroom Vanity with Marble Top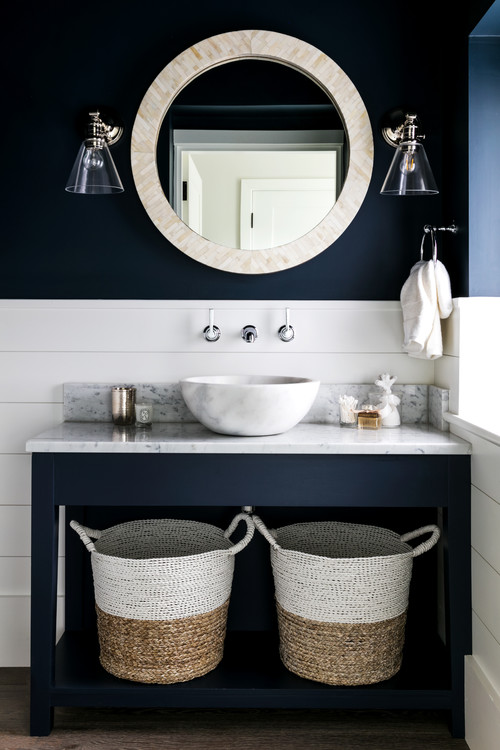 ID# 149308 | Houzz.com – Credit | © Lisette Voute Designs
---
Dark Blue Bathroom Vanity with Marble Top and Vessel Sink
The use of the harmony of gray and dark blue in bathrooms is a very correct choice in creating modern bathrooms. The dark blue walls combined with a dark blue vanity with marble countertop to create a seaside breeze. The shape of the mirror, just like a sailor's mirror, contributes to the joy of the space. The blue colors and the wicker detailed accessories remind of being on a vacation by the beach and give peace. A perfect look is achieved with the dark tones preferred on the floor. The marble vessel sink and taps with modern lines add perfect harmony to the atmosphere of the environment.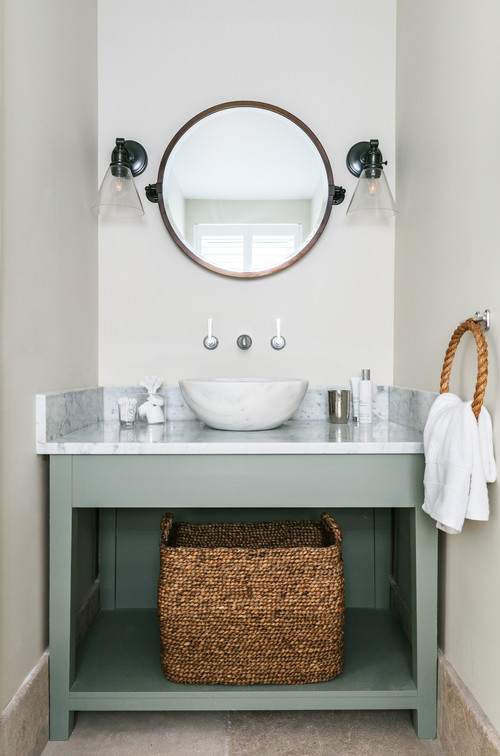 ID# 149316 | Houzz.com – Credit | © Lisette Voute Designs
---
Use of Gray Bathroom Vanity with Marble Top in Classic and Natural Bathrooms
The gray bathroom vanity with a marble countertop creates a natural and simple aesthetic that is perfect for those who appreciate a sense of serenity and understated elegance! Wicker accessories used in the bathroom further enhance the natural vibe, adding warmth and texture to the space. The use of open cabinets contributes to the organic and pure atmosphere, allowing for a more relaxed and casual feel. The modern washbasin and circular mirror chosen for the bathroom complement each other harmoniously and add a touch of modernity to the overall design.
Bathroom Vanity with Marble Top
A bathroom vanity with marble top is a luxurious and elegant choice for elevating the aesthetic of any bathroom. The natural beauty of marble, with its unique veining and color variations, adds character and depth to the vanity top, creating a sophisticated and refined atmosphere. From classic white Carrara marble to luxurious Calacatta, you can find plenty of different marble colors according to your style. So, if you want to learn how to choose a bathroom vanity with marble top, scroll down and check these stunning design ideas that will inspire you!
Incorporate the Luxurious Sense of Marble
Marble is not just another pretty face, it's a tough cookie that can withstand the tough conditions of a bathroom's moisture and humidity. But, you have to nurture it with proper sealing and maintenance to avoid the ugly staining and etching that come with time. Yes, this natural stone costs a bit more than other materials but it's an investment that will pay you back in spades! A marble-topped vanity is an all-time favorite that breathes sophistication and oozes allure, creating a bathroom space that feels luxurious and elegant.
Marble Countertop Color Options for Bathroom Vanities
Marble countertops offer a wide range of color options for bathroom vanities. From classic white and gray marbles to unique and exotic colors, there are various choices to suit different design preferences. White marble, such as Carrara or Calacatta, is a popular choice for a timeless and elegant look. Gray marbles like Statuario or Bardiglio offer a modern and sophisticated aesthetic. Other color options include black marbles like Nero Marquina, green marbles like Verde Alpi or Verde Guatemala, and even pink marbles like Rosa Aurora. Each marble color has its own distinct veining and patterns, allowing for customization and personalization in bathroom vanity design.
Bathroom Vanity with White Marble Top
There's just something about a bathroom vanity with a white marble top that exudes a sense of elegance and timelessness. This classic choice can instantly elevate the aesthetic of any bathroom, giving it an air of sophistication and refinement that's hard to match. Whether you opt for Carrara or Calacatta marble, the beautiful veining and subtle patterns of white marble add a touch of luxury to your vanity top, creating a focal point that's as beautiful as it is functional!
Bathroom Vanity With Gray Marble Top
Introducing a gray marble topped bathroom vanity to your home can bring in an air of sophistication and modernism to your bathroom decor. The sleek and neutral hue of the gray marble can harmonize with a variety of bathroom styles, ranging from classic to contemporary. Imbue your bathroom space with a sense of refined elegance and enjoy the beautiful ambiance it creates.
Bathroom Vanity with Black Marble Top
The nobility and luxury accent that the black color brings to the space is an excellent color option for modern bathrooms. The emphasis on luxury is perfectly reflected in the Bathroom Vanity with Black Marble Top. Bathroom Vanity with Black Marble Top is the right choice for contrast decoration. In addition, with the Bathroom Vanity with Black Marble Top, convenience is achieved with the cabinet and wall colors used in the bathroom. With the colors preferred on the floor, the Bathroom Vanity with Black Marble Top is the perfect choice to create perfect harmony.
Different Bathroom Vanity Colors with Marble Top
A bathroom vanity with a marble top offers a timeless and elegant look that can be paired with various colors to suit your style and decor. Popular bathroom vanity colors with marble tops include classic white, sophisticated gray, bold black, calming blue, and natural wood tones. These different color options allow you to customize your bathroom vanity to match your overall design aesthetic. The combination of marble's luxurious appeal and the versatility of different vanity colors with marble tops makes it a popular choice for bathroom renovations.
White Bathroom Vanity with Marble Top
There's something about a white bathroom vanity with marble top that just screams timeless elegance. The pure and pristine appearance of a white vanity, coupled with the opulent beauty of the marble, creates an absolutely breathtaking aesthetic. The light color of the vanity artfully complements the stunningly natural veining and patterns of the marble, making for an overall stunning visual experience. It's worth noting, too, that the light color of both the marble and the vanity can help boost the natural light in your bathroom, making this choice an inviting and spacious one. No matter your personal style preference, be it traditional, modern, or somewhere in between, a white bathroom vanity with marble top is an incredibly chic and versatile selection that will undoubtedly elevate the visual appeal of your bathroom.
Is a marble Top good for bathroom vanity?
Yes, a marble top can be an excellent choice for a bathroom vanity. Marble is a natural stone known for its luxurious appearance, with unique veining and color variations that add character and elegance to any space. Marble is also durable and can withstand the moisture and humidity commonly found in a bathroom environment. However, it is important to properly seal and maintain the marble to prevent staining and etching over time. Regular cleaning and resealing can help preserve the beauty and longevity of a marble top.
Gray Bathroom Vanity with Marble Top
A gray bathroom vanity with a marble top is a chic and sophisticated choice for any bathroom! The combination of the modern gray vanity with the timeless beauty of marble creates an elegant and luxurious look. Marble's durability and unique veining add character and visual interest to the vanity and make it a focal point in the bathroom.
What are the disadvantages of marble countertops?
Marble countertops are deemed as a luxurious addition to any home, but it's not all roses and sunshine with them. The downside of using marble countertops is that they can easily stain and etch. Since marble is a natural porous stone, it can easily absorb liquids and get stained from common household items like acidic fruit, oils and red wine. Moreover, it's relatively softer compared to other available countertop materials such as granite and quartz. In order to maintain their appearance and prevent staining, regular sealing and maintenance is necessary. Marble countertops can also burn a hole in your pocket, as they are quite expensive compared to other available options, which can make it less budget-friendly for some homeowners.
Blue Bathroom Vanity with Marble Top
It is possible to create contrast points with the Blue Bathroom Vanity with Marble Top. With the soothing tones of blue, bathrooms suitable for all tastes can be created. Perfect for bright bathrooms, the marble top creates a perfect space when combined with blue cabinets. The luminous appearance of marble and the soothing tones of the blue combine, making the time spent in the bathroom very productive. Wall colors and other accessories that can be easily matched with the blue color complete the whole perfectly.
Black Bathroom Vanity with Marble Top
The mere presence of a black bathroom vanity with a marble top is enough to evoke a sense of drama and luxury in any bathroom. Marble countertops are not only visually stunning but also incredibly durable and heat-resistant, making them a favorite among homeowners. Opt for a white marble top to create a striking contrast or go for a darker shade to intensify the sense of drama and elegance it exudes. Your bathroom will feel like a glamorous getaway.
Does water stain marble?
Yes, sometimes marble can stain. Marble is a porous natural stone, which means it can absorb liquids and become stained. Water stains on marble can appear as dark spots or rings, and they can be particularly noticeable on light-colored marble. It's important to wipe up any spills or water droplets on marble surfaces promptly to prevent staining. Using coasters, placemats, and trivets under items that may contain moisture, such as glasses or vases, can also help protect marble from water stains. Regular sealing and proper maintenance can also help minimize the risk of water staining on marble surfaces.
Wood Bathroom Vanity with Marble Top
There's something undeniably enchanting about a wooden bathroom vanity boasting a soft marble top. The mingling of the warm wooden hues and the luxurious marble sheen produces a sight to behold, one that can soothe the stresses of the day. And to boot, these materials offer sturdy and lasting construction, promising a bathroom renovation investment that will keep on giving.
How to clean a marble vanity countertop?
Taking care of your marble surfaces can be a fulfilling task! Finding the right cleaner is key to success, and luckily, soap or dishwashing liquid can do wonders. Using a soft sponge, gently wipe the surface until it sparkles like new. Marble is a fantastic material that responds well to most cleaning products, but there's something special about using soap to achieve a clean and fresh look. Be cautious of harmful and acidic cleaners, as these can damage the marble's natural beauty. Give your marble the gentle care it deserves and enjoy its stunning appearance for years to come.