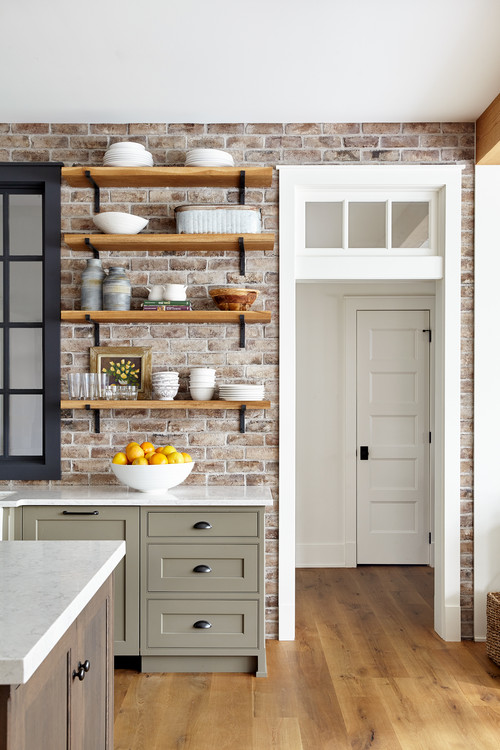 ID# 118501 | Houzz.com – Credit | © Lisa Furey Interiors
---
Gray Shaker Cabinets with Brick Backsplash and White Countertops
In this farmhouse kitchen, the characteristic look of the brick backsplash dominates the look and creates an eye-catching backdrop for gray shaker cabinets and white countertops. Wood floating shelves are in a harmony with the brick and they give an open and airy feel.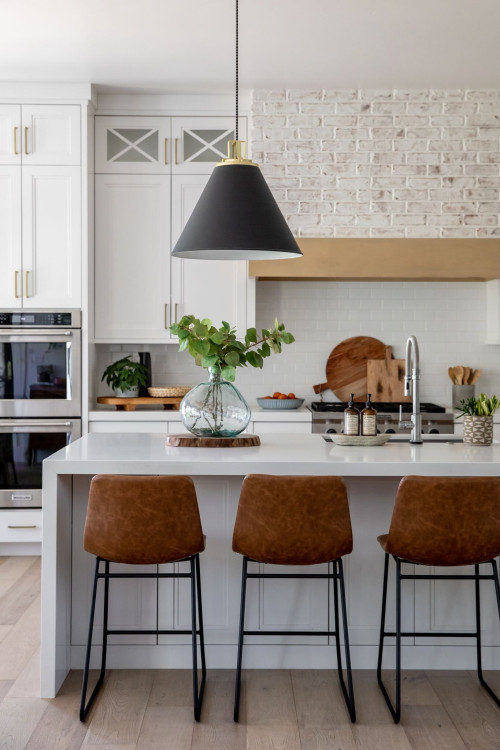 ID# 118541 | Houzz.com – Credit | © Olsen Home Design
---
White Kitchen Cabinets with Subway Tile Backsplash and Brick Range Hood
White shaker cabinets and white subway tile backsplash offer a clean and fresh backdrop for this kitchen. The rough surface of the whitewashed brick range hood contrast with the clean lines of the other features and adds a texture to the design. The white kitchen island provides plenty of space with leather counter chairs. The large black pendant light creates a focal point above the island.
Farmhouse Backsplash
With their cozy feel and warm allure, farmhouse kitchens are one of the most popular design trends. Farmhouse style is all about balance the old and new with simplicity and rustic charm. The combination of the neutral color scheme, different wood textures, apron front sinks, and of course backsplashes offers an undeniably beautiful and timeless look for kitchens.
Although it may seem like a small part of the design, the backsplash brings the kitchen's overall look together and adds visual interest. From rustic brick tiles to modern subway tiles, there is plenty of materials that you can use for your farmhouse backsplash. You can bring a clean look with a glossy white backsplash between the wooden cabinets or enhance the rustic flair with a wood backsplash. Whatever your choice is, a well-chosen farmhouse backsplash will take your kitchen to the next level. If you are ready o dive into cozy and comfortable yet stylish kitchen designs, scroll down and find some design tips, tricks, and beautiful farmhouse kitchen backsplash ideas to get inspiration.
Backsplash Style
Farmhouse style is a versatile design approach that can work well with different styles, materials, and colors. That's why you can incorporate different types of backsplashes to create your dreamy farmhouse kitchen. Brick and some other stone backsplashes are ideal to complete the homey feel of the farmhouse style. But besides natural stones, you can use wood to enhances the rustic feel or use white tiles to bring a fresh look. Here are some of the backsplash styles that can inspire you.
Farmhouse Brick Backsplash
Brick is one of the most popular materials for farmhouse kitchens. The natural rough surface of the brick backsplash completes the charm of the farmhouse style and adds a unique appearance between the cabinets. From original red bricks to painted ones, brick comes in an array of colors and finishes. Also, with its strength, and durability, brick is a perfect material for backsplash.
Modern Farmhouse Backsplash
Clean lines, neutral color schemes, and geometrical shapes are the main features of the modern style. When these features meet with the charm of the farmhouse style, the result Is undeniably perfect. Modern farmhouse style is at the top of the rising trends list. Using a modern backsplash is a great way to balance the cozy and comfortable atmosphere and natural textures by giving them a fresh look.
What's the best backsplash for a farmhouse kitchen?
Brick and shiplap are the most popular options for farmhouse kitchens. They complement the warm and homey feel of the farmhouse style and gives a characteristic appeal for kitchens. White, beige, brown, gray, and blue tiles are also the trendiest colors for homeowners. Tile backsplash allows you to create different patterns and bring a fresh look to the farmhouse style.
Rustic Farmhouse Backsplash
Farmhouse and rustic decors are quite similar design styles that have common elements. Both styles have a cozy homey feel and they can easily blend. If you want to add a rustic flair to your farmhouse-style kitchen, a backsplash might be a good starting point. Natural woods or stones are beautiful choices with their rough surfaces to use as a rustic farmhouse backsplash.
Stone Farmhouse Backsplash
Natural stones have a beautiful organic appeal that can work well with the cozy feel of the farmhouse-style kitchen. The rough textures and natural appeal of the stone farmhouse backsplashes are a great way to create a dynamic look for kitchens.
Wood Farmhouse Backsplash
Wood is a classic material for decorating kitchens. From cabinets to floors there are plenty of ways to incorporate it into kitchens. But what about the backsplash? You might think wood is not a good material for the backsplash because the water spills. But when it is properly maintained and sealed, the wood backsplash can be a perfect choice, especially for farmhouse kitchens. The natural look and beautiful grains of the wood can work well with the cozy and warm atmosphere of the county style. Depending on your taste wood farmhouse backsplash can look both modern or rustic.
Backsplash Color
When choosing a backsplash color, it needs to depend on your cabinetry, countertop, and decor. White, blue, beige, and brown are the most popular color choices for homeowners and interior designers. If you want to create a more modern and sleek look bright colors like white or off-white can be suitable. If you want to give a rustic appeal to your farmhouse kitchen, earthy colors like brown, taupe, or black might be your solution.
Brown Farmhouse Backsplash
Brown is an earthy color that can fit the coziness of the farmhouse style. Using a brown farmhouse backsplash is a feat way to warm your space up. From natural stones to glossy tiles there is a wide range of different options to use for a backsplash.
Blue Farmhouse Backsplash
Blue is a beautiful color that can work well with the natural wood textures and neutral color schemes which are the essentials of the farmhouse style. Whether you have got a rustic farmhouse kitchen with wood cabinets or modern cooking space, using a blue farmhouse backsplash is a great way to add a pop of color to your kitchen. From traditional patterned tiles to classic subway tiles, there is plenty of material, size, and pattern options to incorporate a blue backsplash.
What material backsplash is best for a farmhouse kitchen?
A backsplash needs to protect the wall against water and food spills so the material choice is important. And you need to consider the overall style of your kitchen. If you are designing a country atmosphere with a rustic flair, a brick backsplash might be your solution. The rough texture and natural look of the brick work well with the cozy feel of the farmhouse style. If you want to create a more modern look, you can check glass tiles. These tiles come in a wide range of colors, patterns, and size options that allow you to personalize your kitchen. Also, glass tiles are durable and easy to clean materials which makes them a perfect candidate for a backsplash.
Beige Farmhouse Backsplash
You might think that beige is boring but with the right material and finish, a beige backsplash can be the centerpiece of your farmhouse kitchen. Beige is an earthy color and has a soft hue that looks beautiful with wood accents and other farmhouse-style essentials.