30+ Glass Sheet Backsplash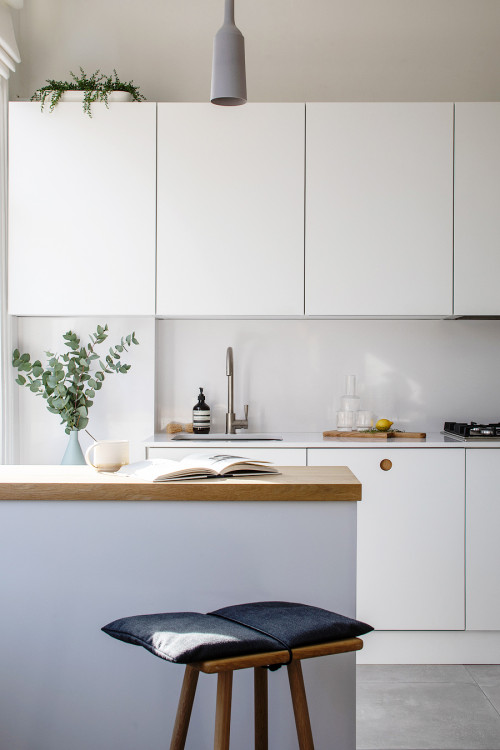 ID# 173411 | Houzz.com – Credit | © Crafted Cabinetry
---
Achromatic Kitchen with Gray Floor Tiles and Wood Countertop
It requires a lot of skills to create an all-white look that still feels like home and cozy. And here we have an excellent example of it. This modern and chic kitchen is well-appointed with white flat-front cabinets paired with a white glass sheet backsplash and countertops. Right across, a white peninsula sits in total synchrony with the rest, teaming up with a wood countertop that brings warmth to the atmosphere.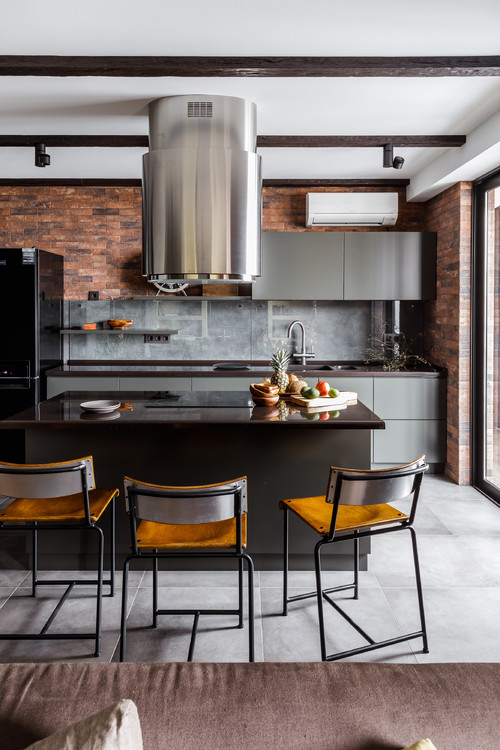 ID# 173416 | Houzz.com – Credit | © Студия дизайна Елены и Ярослава Алдошиных
---
Modern Industrial Kitchen with Black Countertops and Exposed Brick Walls
If you can't decide whether you want an industrial or modern kitchen, you can just do both. To achieve both, you can get a sleek backsplash like a gray glass panel and combine it with gray cabinets topped with black countertops. This way, you capture a cohesive look. To complement it, you can benefit from stainless steel appliances, some metallic accents, and floor tiles in light shades. Contrasting them, the exposed red brick walls provide a nice textural backdrop with a rustic flair.
Glass Sheet Backsplash
A glass sheet backsplash is another material growing in popularity thanks to its easy-to-clean nature, durability, and unmatchable chic look. Providing a hygienic and solid surface, a glass sheet backsplash also illuminates the space, letting light bounce off the backsplash and helping even light distribution throughout the kitchen. That's why small and windowless dark kitchens use it popularly to encourage the space to feel more spacious and brighter. Plus, as it is only a sheet, you won't have to worry about grout cleaning anymore, which is without a doubt one of the favored aspects of these glass sheets.
Sleek and Elegant Appeal of Glass Sheets
Apart from those, you can have a glass sheet frosted, kept crystal clear, or back-painted to enrich its aesthetic value. But in all versions, it offers a sleek and stylish look that goes well in modern and contemporary kitchens. You can combine them with high-gloss or matte finish cabinets to bring contrast or emphasize the shimmery character of the design. Plus, you don't even have to use it alone. You can combine it with already installed backsplashes to offer a new sleek dimension and protection. Assuming that you have already a wallpaper that you can't give up on, you can cover it with a matte finish glass sheet backsplash which will supply the wall with unparalleled quality of protection. This way, you will have an amazing pair of wallpaper and glass.
In this blog, we compiled a list of 30+ design projects that make the glass sheet backsplash the protagonist of the kitchen. You will see the various color and material combination options of the glass sheet with different textures and shades that will inspire you and give you some ideas about how you can create your kitchen look.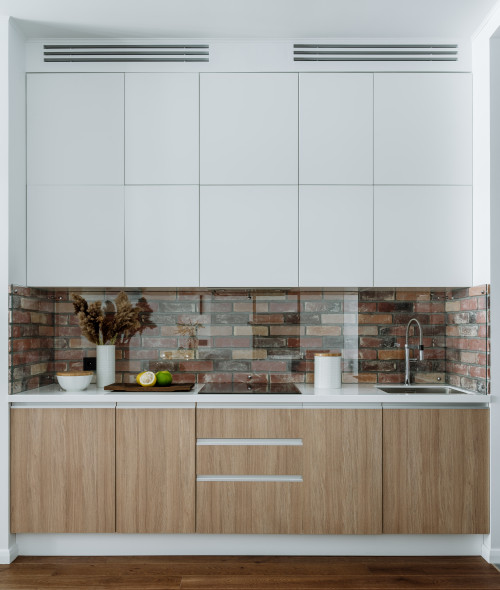 ID# 173401 | Houzz.com – Credit | © Studio DA
---
Industrial Modern Kitchen with Brick Backsplash and White Countertops
It is hard not to fall for this modern industrial kitchen filled with a variety of materials and pops of colors that present a semi-cultivated interior design with exposed raw textures. Ranging from the wood floor to the exposed brick backsplash peeking out behind the white glass sheet backsplash and the light wood base cabinets, each natural element speaks for itself. However, it gets slightly broken down with the incorporation of white upper cabinets, white countertops, and a clear glass backsplash that gives the space an ultra-modern spin.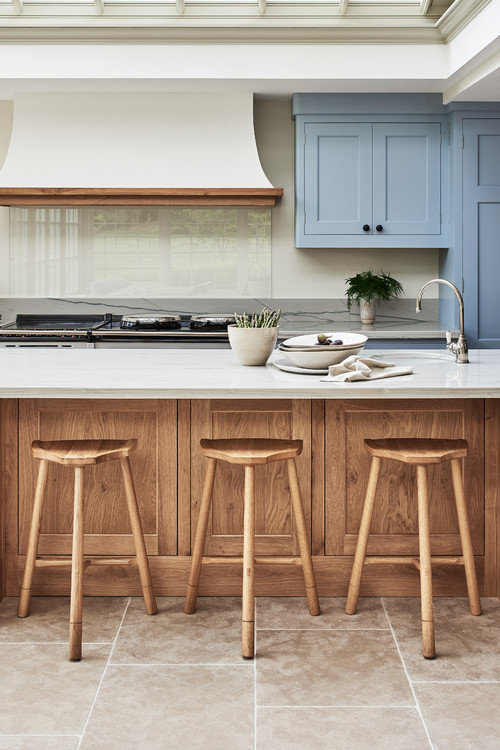 ID# 173402 | Houzz.com – Credit | © Hana Snow
---
Light Blue Shaker Cabinets with Wood Island and White Worktops
Light blue shaker cabinets grace the walls of this farmhouse kitchen to lend an air of tranquility and freshness! The gray quartz worktops add a touch of contemporary elegance. The clear glass sheet backsplash behind the stove lets in natural light. In the middle of the kitchen is a sturdy wooden island with an earthy appeal that gives the space a hint of warmth. The island is distinguished by a spotless white countertop which also serves as a focal point to promote interaction and gatherings!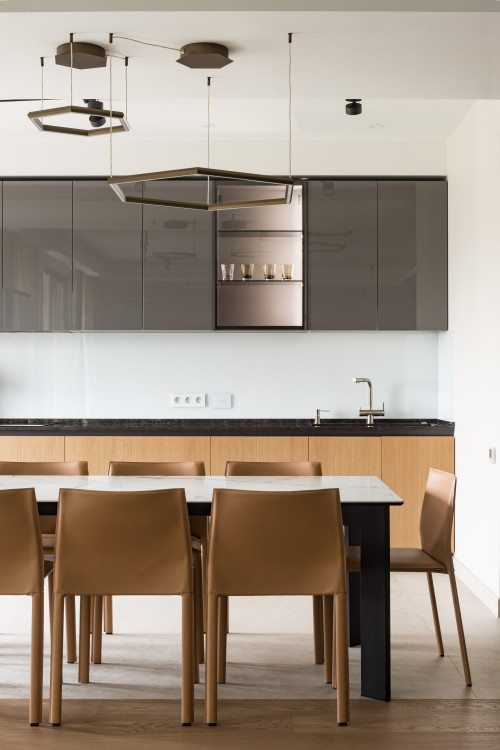 ID# 173403 | Houzz.com – Credit | © Hana Snow
---
Contemporary Kitchen with Glass Sheet Backsplash and Black Countertops
This high-end kitchen is navigated by the gray and wood cabinets and a clear glass non-tile backsplash creating a seamless look for the backdrop. These two main pieces coordinate with the black granite countertops effortlessly, providing a cohesive design that plays with the natural and artificial lights thanks to the shimmering surfaces!
How do you install a glass sheet backsplash?
Glass is an eye-appealing material that upgrades the look of your kitchen effortlessly, which you can apply as a full-height, half-height, or, six-inch-high material. Installing it could be a little bit challenging. But it is still manageable as long as you follow the guidelines carefully.
Let's start installation;
1) First, start with cleaning the backsplash zone. If needed, use sandpaper to get rid of the bumps on the wall. Don't apply a glass backsplash to the concrete, brick, or plaster walls as they can damage the glass. Ensure that the wall is painted to provide the perfect backdrop for the backsplash.
2) Then lay the glass sheet on cardboard on the floor. While doing so, wear hand gloves so as not to leave fingerprints on the glass surface.
3) To stick the glass to the wall, you can use a construction adhesive or silicone caulk. As silicone is transparent, it works better with transparent materials like glass. But if you don't prefer using an adhesive, you can also affix the backsplash with the assistance of screws, which of course, requires predrilled holes in the glass. But it is not suitable for every glass, so you may need to check it with your manufacturer.
4) Apply the caulk by leaving 3-inch gaps. At the top and bottom of the sheet, you can use double-sided tape stripes. Then you are ready to install the sheet on the wall. You may need another person to help you with that.
5) After applying the glass to the wall with adhesive, wait for it to set for at least 72 hours. Then seal the edges with silicone caulk where glass sheets and countertops meet. You can smoothen the silicone with a wet finger. Repeat the process until it is flat and feels even enough.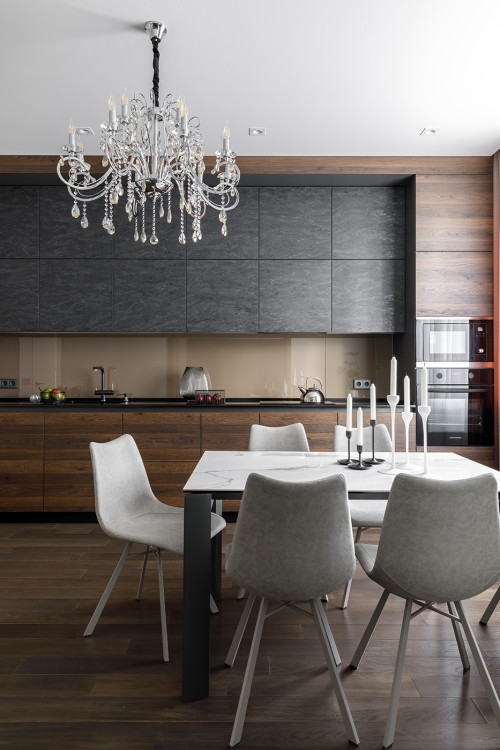 ID# 173404 | Houzz.com – Credit | © АВИЛА. Студия интерьера и архитектуры
---
Beige Glass Non-tile Backsplash with Two-tone Cabinets
Visited regularly by natural lights streaming in, this super modern kitchen is occupied by handle-free two-tone cabinets and a beige glass sheet backsplash that adds a subtle hint of color. Paired with comfortable and gray cushioned stools, the white dining table brings a bright look between the darker shades while the crystal chandelier makes an unexpected twist that adds glam!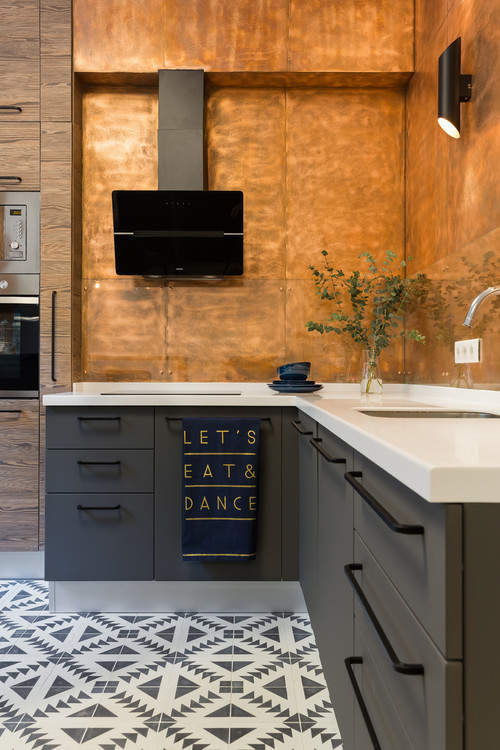 ID# 173405 | Houzz.com – Credit | © Екатерина Титенко
---
L-shaped Kitchen with Dark Gray Cabinets and Seamless Clear Glass Backsplash
Bold and sleek in style, this L-shaped kitchen captures the gist of a contemporary design spirit! It does so with the clean and decluttered lines introduced by the dark gray cabinets and white countertops that follow the rhythm of the seamless clear glass sheet backsplash. Behind the glass sheet, the full-height copper like tiles portray a striking contrast that adds a rustic flair while the black cabinet hardware and the black stainless steel appliances enhance the contemporary aesthetic. For a final touch, the gray and white patterned kitchen floor tiles add another layer of texture that elevates the overall look.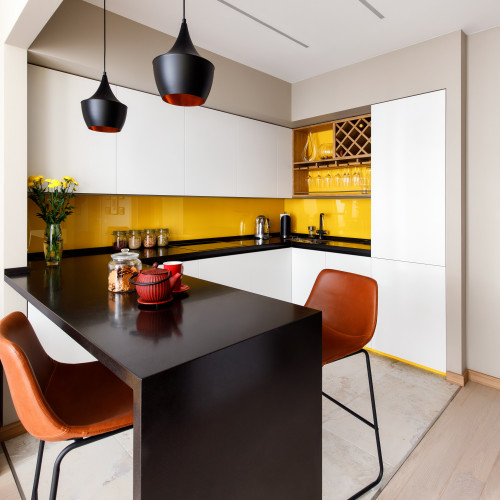 ID# 173406 | Houzz.com – Credit | © Hamiltoun
---
Yellow Glass Backsplash for Crisp White Cabinets and Black Countertops
If it weren't for the yellow glass backsplash, this contemporary kitchen could have ended up too monotonic. This healthy dose of color that comes with the backsplash becomes the wow factor of the space paired with black countertops and white slab-front cabinets. The open shelving with a built-in wine rack along with the upper cabinets defines the kitchen with uncluttered lines, composing a fresh and clean look.
How to cut a glass sheet backsplash?
To minimize any damage that could happen to the glass backsplash while cutting it, there are a couple of techniques to keep in mind. But which one works best is dependent on the size of the project and the tile itself. First, let's start with the various tools you can use to cut the glass, which are a wet saw, a bar cutter and a manual scoring wheel.
A wet saw: It is generally used for big surfaces and saves a lot of time, cutting the glass while achieving clean edges. But it may cause uneven breaks.
Bar cutters: They do two jobs, score and cut the tiles, offering practical use.
Manual glass scoring wheels: This one is an inexpensive option that also requires running or grozing pliers. They help you score and snap the tiles.
Before cutting the glass, first, clean it. Ensure that the glass tiles lie on a flat surface. Score the glass with a glass cutter, then snap the glass along the second line. Lastly, smooth out the sharp edges. Also, while cutting it, don't forget to wear heavy-duty gloves and goggles for your safety.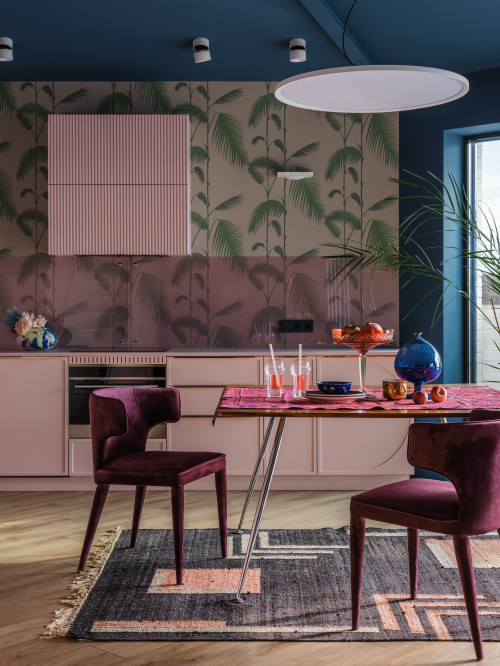 ID# 173407 | Houzz.com – Credit | © Студия дизайна Елены и Ярослава Алдошиных
---
Pink Cabinets with Leaf-patterned Wallpaper and Wood Floor
Who could have imagined pink and green work so well together? Rich in color and filled with artificial light, this eclectic kitchen is occupied by pink cabinets paired with a pink glass backsplash and a green leaf-patterned wallpaper design. The pink domination and well-chosen details feel like a real-life Barbie doll house! To bring depth to the space, the dark blue-painted walls and ceiling play a mediatory role.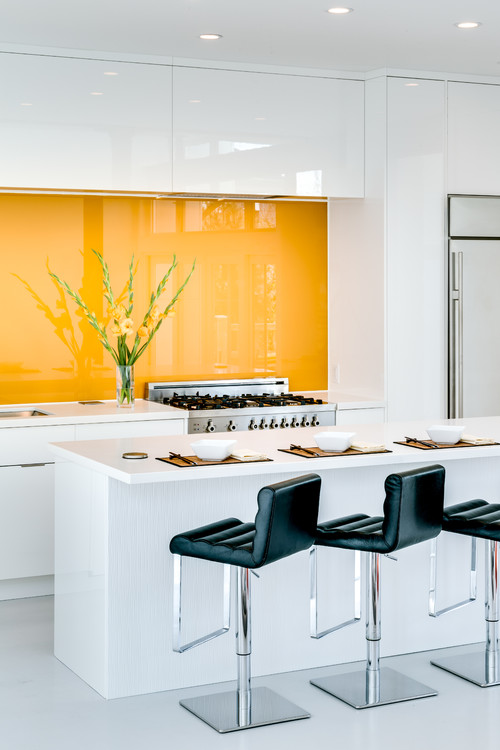 ID# 173408 | Houzz.com – Credit | © Philip Abusow
---
Modern White Kitchen with a Pop of Yellow
What is most unique in this kitchen is the employment of the yellow backsplash sheet that creates a striking focal point! This gorgeous backsplash peeks between the modern white cabinets, orchestrating the all-white color scheme. The black counter chairs are the other elements that break the white dominance, offering a clean and sleek design without overwhelming the space.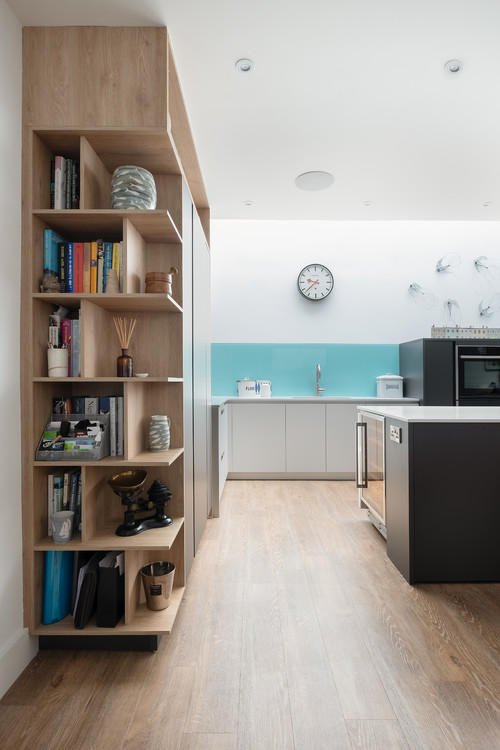 ID# 173409 | Houzz.com – Credit | © Contour
---
Lacquered Glass Backsplash and White Cabinets with Black Island
One of the best ways to introduce color without breaking the contemporary and sleek look of the space is to integrate a glass backsplash! Here for example, we have a blue glass non-tile backsplash that creates a continuous look with white matte-finish cabinets. The emphasized forms of these cupboards highlight the architectural form of the kitchen, while its white-dominant color scheme enhances the openness and spaciousness of the space. In addition to the high-end appliances, the black kitchen island and wood corner shelves offer a statement finish to jazz up the overall look.
Color Options for Glass Sheet Backsplash
Highly customizable glass sheet backsplashes come in any shade that you can think of orange, red, green, yellow, black, white and many more! In addition to these back-painted glass sheets, you can also get the frosted glass versions along with the textured and custom-printed ones. In short, glass sheets can feature any design you can imagine. Also, don't forget about the recycled glass sheet backsplashes that feature a marble look.
White Glass Sheet Backsplash
It is hard to imagine a design that excludes white as it almost always finds a way to come as countertops, cabinets, a backsplash or a complementary fixture. When it comes to the white glass backsplash, it provides a clean backdrop that brightens up the interior and creates breathing space for other materials and homeowners!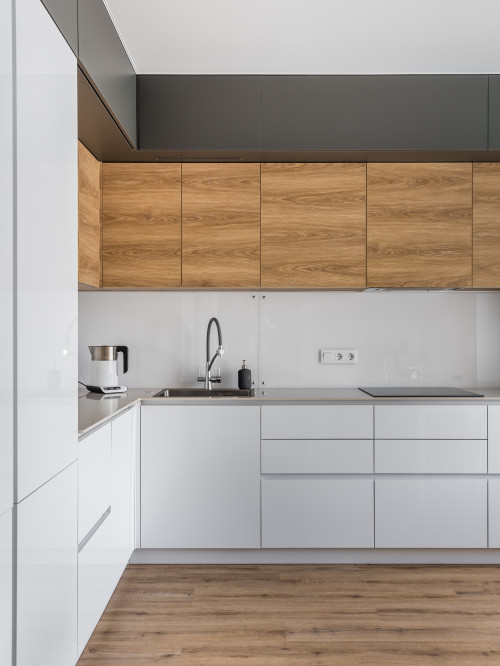 ID# 173410 | Houzz.com – Credit | © 4КОМНАТЫ
---
White Glass Sheet Backsplash with White Cabinets and Gray Countertops
This kitchen design is a visual feast for the eyes, featuring white as the main palette and wood-gray as the accent material! Starting from the flat-front cabinets, they are accentuated by gray countertops and white glass backsplash to create a clean and fresh backdrop. To divorce the homogeneous look of the white features, wood and gray upper cabinets are used while the wood floor complements the warm appeal of the wood cabinetry.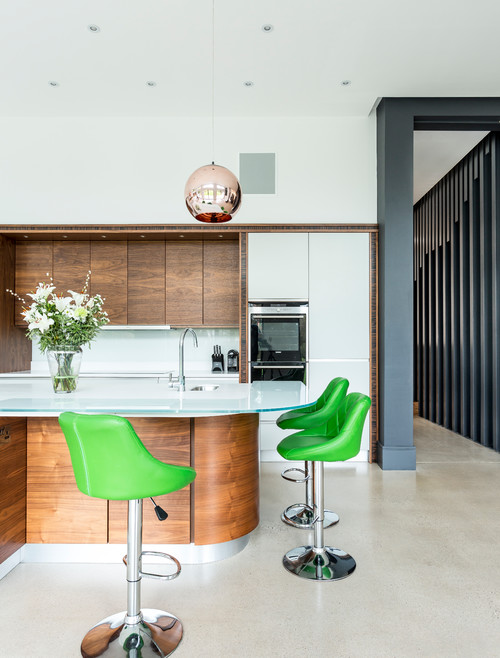 ID# 173412 | Houzz.com – Credit | © DirectStone
---
Natural Wood and White Cabinets and Quartz Countertops with White Glass Sheet Backsplash
Abounding in natural materials, this modern kitchen brings together natural wood cabinets with crisp white quartz countertops! To provide breathing space for them, the walls are kept bare and a white glass non-tile backsplash is added to ensure a sense of flow. The flat-front cabinets with no hardware support this flow without creating any visual and tactile interruptions while the glass countertop of the wood kitchen island, green chairs, and metallic pendant light build extra interest.
How to clean a glass sheet backsplash?
Glass backsplashes are one of the easiest to clean, durable, and easy-to-maintain materials. They owe these features to their non-porous nature which provides a seamless and solid surface to clean and maintain. And it even gets easier with glass sheet backsplashes as they are just one panel with no grout lines and no gaps between the tiles. Plus, as they are nonporous, dirt and grease can't penetrate beneath the surface, which also prevents bacteria growth. But surely, you will have to clean it at some point, and how should you do it?
To clean a glass sheet backsplash, all you need is some water, dish soap, a soft cloth, or a sponge. First, dampen the cloth/sponge add some dish soap or mild detergent, and move the cloth in the same direction so as not to leave watermarks. But if the stains are stubborn and can't be removed with a mild detergent, you can use vinegar. Just let a few drops of vinegar sit for a few minutes for the vinegar to do its job, then you can wipe the glass.
ID# 173413 | Houzz.com – Credit | © propertylab+art
---
Open-plan Contrasting Kitchen Design with White Glass Sheet Backsplash and Inset Appliances
This contemporary open-plan kitchen blends perfectly with the surrounding white walls while black cabinets add a striking contrast to bring depth. The inset appliances stand out as white full-height cabinets that almost remain invisible. To complement this white-black contrast, a white seamless glass backsplash is brought in, offering a smooth transition between the upper and base cabinets. And on the floor level, the light-tone wood flooring brings a subtle hint of color and warmth.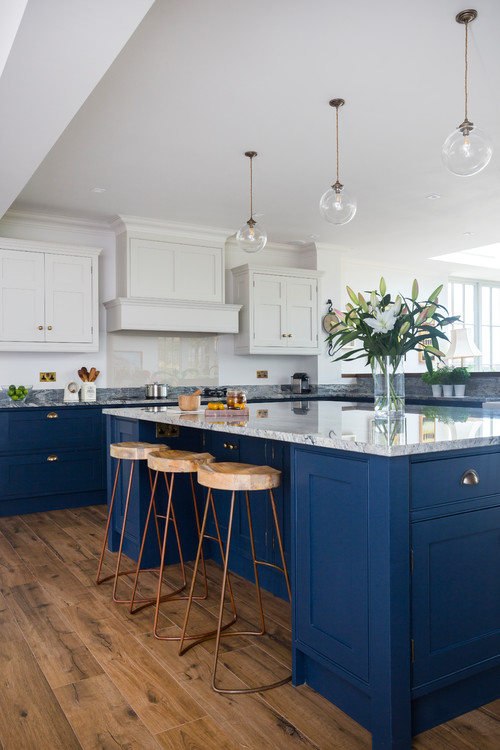 ID# 173414 | Houzz.com – Credit | © Traditional Bespoke Furniture
---
Eat-in Kitchen with White Cabinets and Gray Granite Countertops
A durable, easy-to-clean, and heat-resistant glass backsplash that is seamless and demands almost nothing. What else can we expect as homeowners? Here again, we have a glass non-tile backsplash coordinating effortlessly with white slab-front cabinets and grayish-brown countertops that develop a sense of intimacy. The round wooden table paired with wooden stools creates a Scandi feel.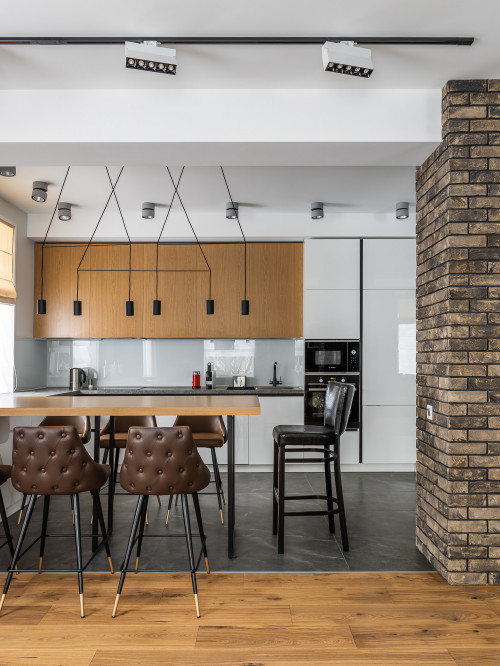 ID# 173415 | Houzz.com – Credit | © "Арт-Н"
---
Two-tone Kitchen Cabinetry with Black Countertops and Appliances
White is one of the most popular shades used in kitchens that blend into the surrounding environment easily. In this kitchen, we have it in the form of high-gloss kitchen cabinets that harmonize perfectly with the white glass backsplash. With the addition of the wood upper cabinets, the space gains diversity that makes a very comprehensive design enriched with black countertops, appliances, and a modern lighting fixture.
Gray Glass Sheet Backsplash
Gray's neutral tone and carefree attitude complement almost any design or color choice! A backsplash made of glass ensures fluidity and makes a variety of colors and materials (wood, metals, gold, etc.) blend harmoniously and offer a completely customizable look!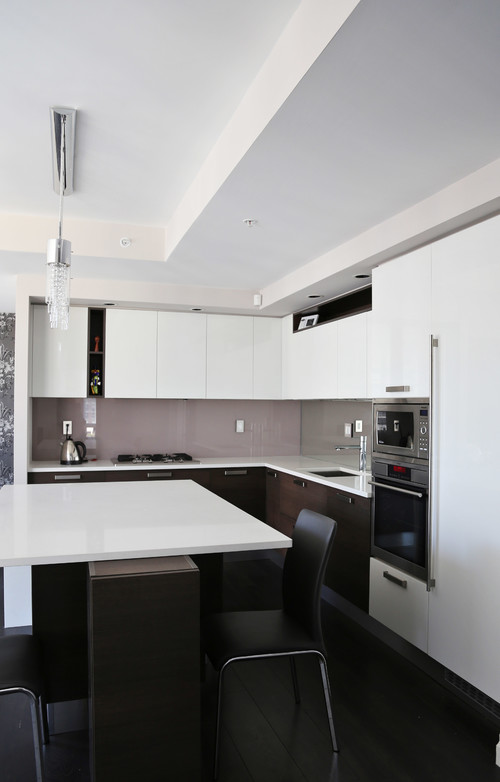 ID# 173417 | Houzz.com – Credit | © European Kitchen Art
---
High-gloss Kitchen Cabinets with Quartz Countertops
With its sleek hardwood base cabinets and high-gloss white lacquered finish, this modern kitchen radiates modern elegance! A discreet yet elegant backdrop for the kitchen area is provided by the gray glass sheet backsplash while the white Caesarstone quartz worktops lend an air of luxury and refinement. The room is grounded and given depth by the dark wood floor!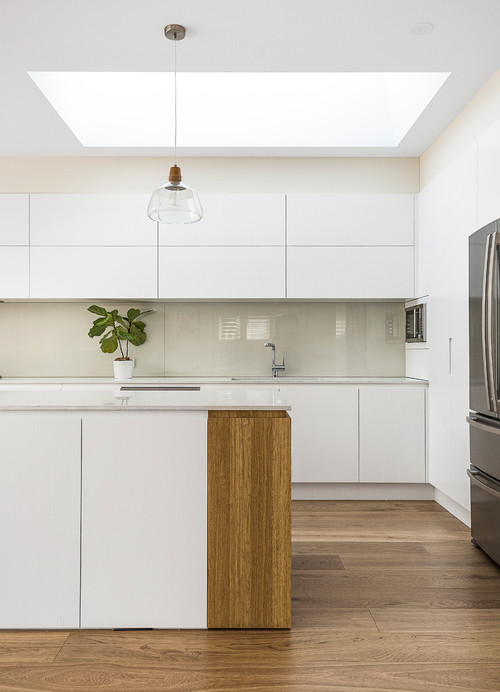 ID# 173418 | Houzz.com – Credit | © Improva
---
Scandinavian Kitchen with White Color Scheme and Wood Accents
The walls of this Scandinavian kitchen are lined with clean white cabinetry that has a classic elegance! Quartz countertops give a sense of luxury and durability. The area is adorned with a light gray glass backsplash that exudes refinement with its subdued tones, creating the ideal setting for the gastronomic explorations to come. The focal point of it all is a white island that is furnished with wooden accents that give the area coziness.
Black Glass Sheet Backsplash
Black is a versatile color! Sometimes you use it to warm up the interior, sometimes to create a distant look or sometimes to build a contrast. When it comes in the form of a glass backsplash, you can feel free to make it a prominent feature of contemporary kitchens. If you love sharp contrasts, you can combine them with white and off-white cabinets but if you want a modern rustic design, you can complement this black glass with wood cabinets. This will also give you something industrial!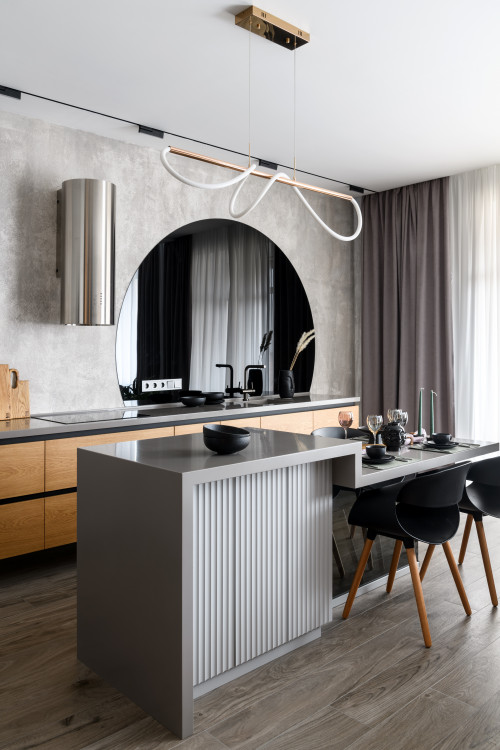 ID# 173419 | Houzz.com – Credit | © Kutenkovs project
---
Sleek Wood Cabinetry with Circular Black Glass Sheet Backsplash
Though inherently contemporary, this kitchen is full of surprises! The black glass sheet backsplash gives an unexpected look with its circular shape. The concrete-look walls provide a sleek backdrop for the glass sheet while the stainless steel range hood complements this sheet in terms of similar shape. The wood kitchen cabinets bring a warm sense between the cool shades of gray. At the center, the two-tiered kitchen island adds more visual interest to the space. Using the cues from the reflection on the black glass backsplash, we can see there is a lot more on the other side of the kitchen as well. Overall, this modern kitchen manages to be stylish with a unique personality to its own.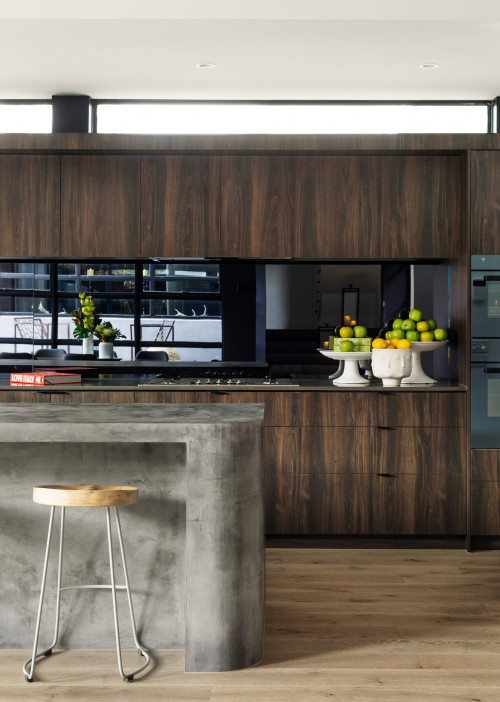 ID# 173420 | Houzz.com – Credit | © Alternative Surfaces
---
Luxurious Kitchen Design with Dark Cabinets and Stylish Concrete Island
The kitchen seems wonderfully lit because of the thoughtful positioning of window openings above the cabinets which guarantees an abundance of natural light! The shiny black glass backsplash, though, is what really steals the show. It gives a brilliant touch in spite of the black cabinets and produces an enthralling dance of light and shadow that highlights the kitchen's modern charm. A testament to modern design, the concrete kitchen island adds another level of texture and improves the entire appearance!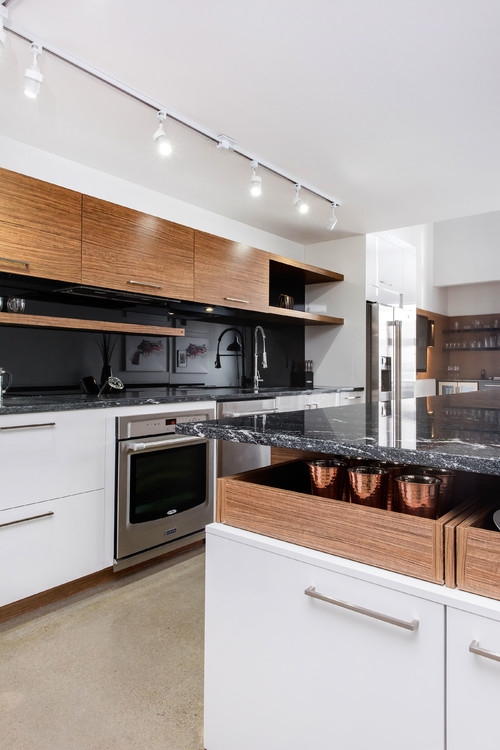 ID# 173421 | Houzz.com – Credit | © Bella Vista Developments
---
Modern Kitchen with Black Granite Countertops
Glass sheet backsplashes play with the spatial perception of the place and let the light bounce off with the assistance of the lighting fixtures. This is especially helpful in kitchens without window openings like the one we have here. The black glass sheet backsplash and black granite countertops create a striking contrast against the crisp white base cabinets and stainless steel appliances that harmonize with them. The black and white domination is broken by wood upper cabinets that bring warmth to the atmosphere.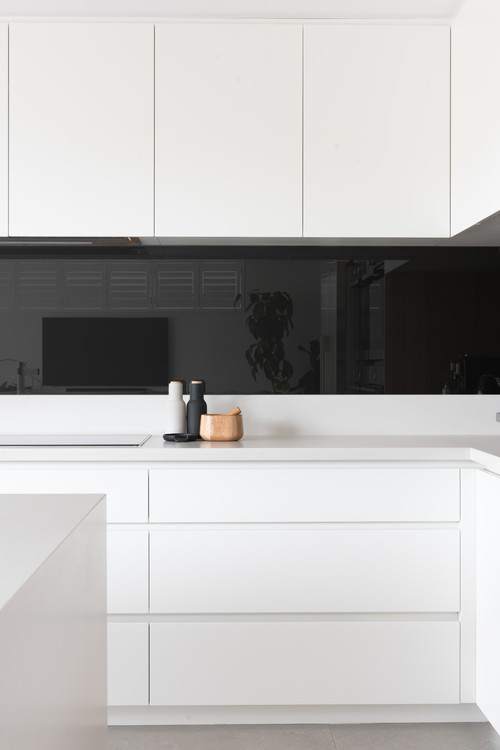 ID# 173422 | Houzz.com – Credit | © Hatch Interiors
---
Scandinavian Kitchen with Black and White Color Scheme
This Scandinavian kitchen shows off the power of a well-chosen backsplash and it's absolutely amazing! The backsplash made of black glass sheets steals the show and grabs attention right away with its alluring appearance. It creates a striking focal point that draws attention in between the immaculate white countertops and cabinets to give the area a touch of drama and refinement.
Blue Glass Sheet Backsplash
It doesn't matter whether you have cream, white, off-white or dark wood cabinets in your kitchen. You can always utilize blue glass backsplashes. This way, you can give your kitchen a pop of color and balance that will evoke serenity!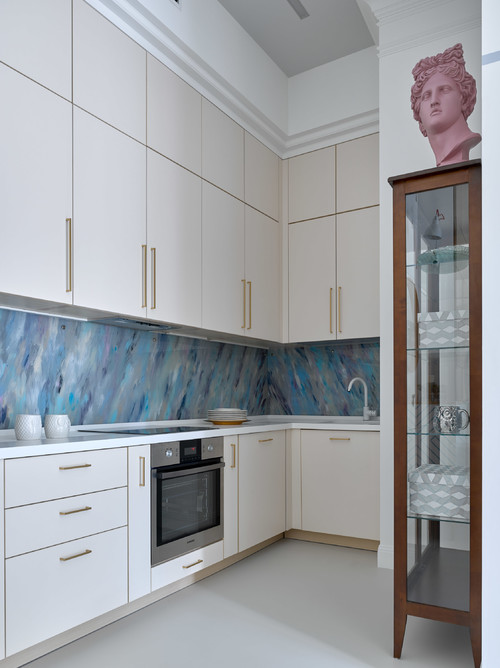 ID# 173423 | Houzz.com – Credit | © Quatrobase Studio
---
Blue Glass Sheet Backsplash for Cream Cabinets and White Countertops
The blue glass backsplash adds a splash of color to the otherwise too-monotonic kitchen that evokes a sense of serenity between the cream cabinets and white countertops. Adorned by stunning tonal variations, these custom glass backsplash panels offer a unique appeal that is simple and sensational. It is lastly treated with brass cabinet hardware that brings a breath of opulence.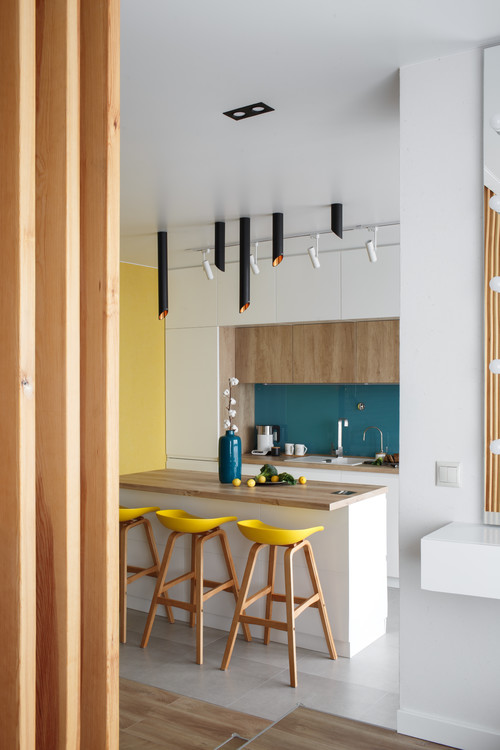 ID# 173424 | Houzz.com – Credit | © Александр Хом
---
Contemporary Kitchen with Blue and Yellow Accents
Another contemporary small kitchen colonized by white cabinets and a blue glass backsplash! If you have a small kitchen like this one and want to create an illusion of spaciousness, stick to the white shades and uncluttered lines. To prevent the space from looking jarring and sterile, you can also add some wooden cabinets and countertops and create an approachable look instantly. Also, the addition of the yellow counter stools and the black ceiling-mounted lighting fixtures perfectly complements the contemporary appeal of the solid glass backsplash sheet.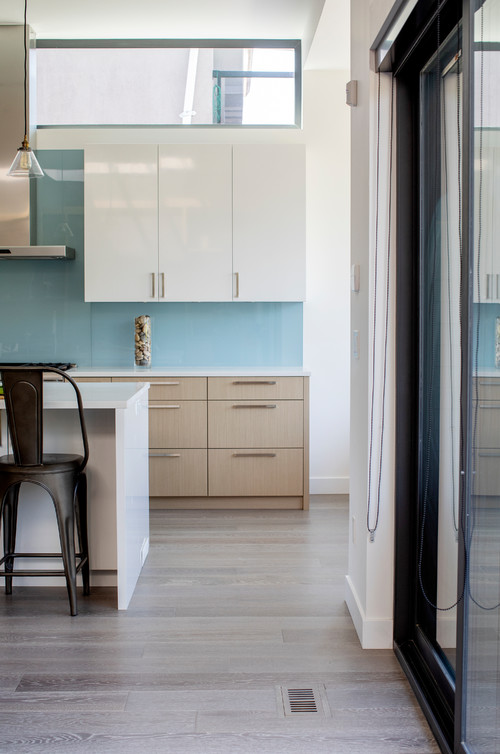 ID# 173425 | Houzz.com – Credit | © Devise Design
---
Two-tone Cabinets with Light Blue Backsplash and Chrome Hardware
One of the biggest advantages of the tempered glass sheets is their endless possibilities for solid colors and you can easily find a color that suits your kitchen style! As you can see in this contemporary kitchen, the light blue glass sheet adds a nice color between the two-tone cabinets without breaking the sleek design of them. Complementing them, the white quartz countertops, chrome cabinet hardware and stainless steel appliances perfectly complete the clean lines of the cabinetry.
Green Glass Sheet Backsplash
If you are fond of designs that simulate natural environments and take their inspiration from nature, then green glass sheet backsplashes are for you! You can complement them with wood and white flat-front cabinets and brass lighting fixtures to add a sense of glow. But if you want to be more adventurous, red, pink and yellow cabinets also work well with green backsplashes. If you have a small kitchen, you can also benefit from green to liven it up and make the space look more spacious!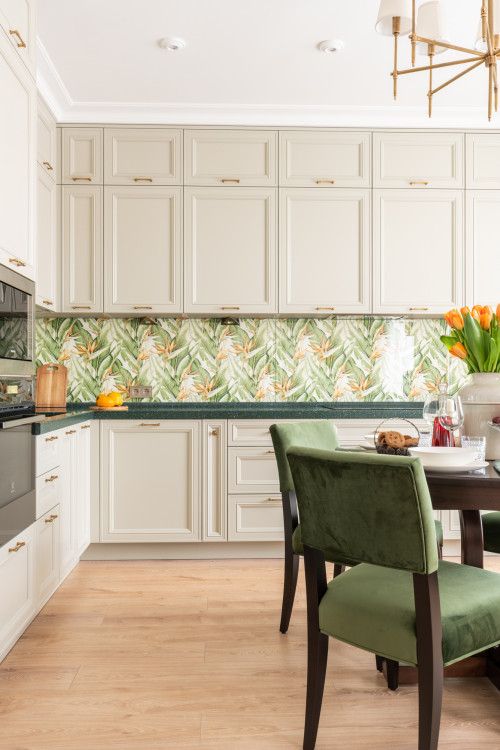 ID# 173426 | Houzz.com – Credit | © Наталья Широкорад
---
Off-white Cabinets with Green Leaf-patterned Backsplash and Gray Countertops
We have two stand-out features in this transitional kitchen that need to be celebrated for their functional and aesthetic uses. The first one is the green glass backsplash that adds an easy-to-maintain smooth and solid surface enhancing the openness of the space. Adding a ripple of color and pattern between the off-white shaker cabinets, the eye-catching backsplash design provides a smooth and colorful transition. The second bold element is the gray granite countertop that brings a strong contrast to enhance the overall look.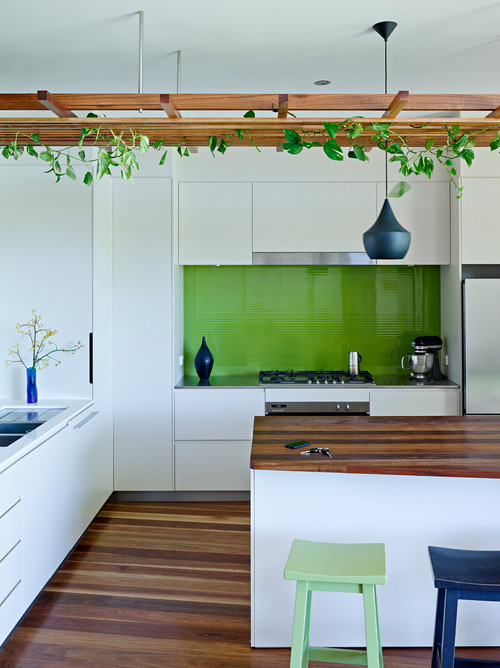 ID# 173427 | Houzz.com – Credit | © Bark Design Architects
---
White Contemporary Kitchen with Green Backsplash and Wood Accents
Back-painted glasses like the one we have here are coated with a baked-on finish that won't chip or peel, providing a high-quality backdrop rich in pigments. But of course, this green glass sheet offers much more, adding a ripple of color between the white cabinets and countertops. Simulating a natural environment abundant in organic textures, the gorgeous wood trellis ceiling and the glossy glass panel bring the outdoors in, taking the five senses of its users on a visual and tactile journey. Complementing this pair are the wood countertop of the kitchen island, colorful stools, and the black pendant that brings a punch of personality to the kitchen.
Red Glass Sheet Backsplash
Red is without a doubt one of the ambitious colors that dictate other colors and materials to comply with it. Thus, while choosing a red glass backsplash, you should think of neutral shades like off-white and white cabinets and gray countertops to complement it.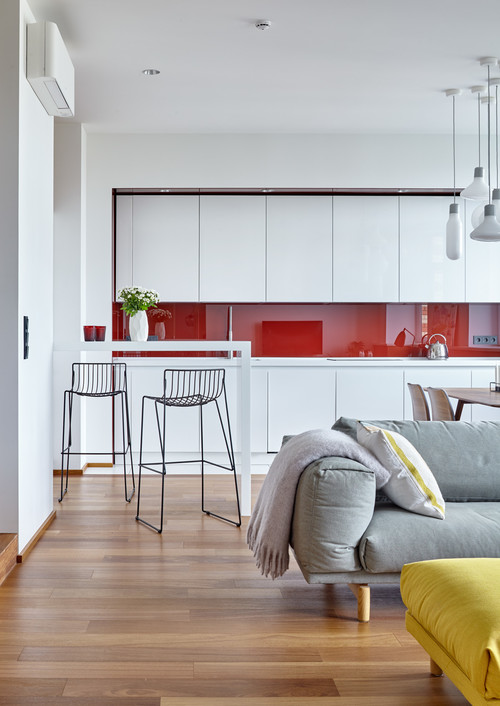 ID# 173428 | Houzz.com – Credit | © Domestic Studio
---
Red Glass Sheet Backsplash for White Cabinets and Countertops
Colors are as important as the forms of the furniture itself as they apply a specific mood to the spaces which in turn impact their users as well. In this kitchen, for example, what welcomes us is an ambitious design with a red-colored glass sheet backsplash that evokes a sense of passion. To keep this backsplash as the statement piece, the rest is kept achromatic and is occupied by the white flat-front cabinets and white countertops. Also, getting a white peninsula with black stools instead takes the intimacy of the design to the next level, emphasizing the pleasure of cooking and eating with friends or family members.
How much does it cost a glass sheet backsplash?
Glass sheet backsplashes, especially back-painted and etched glass versions, are more expensive than glass tiles, costing somewhere between 30-60 USD per square foot!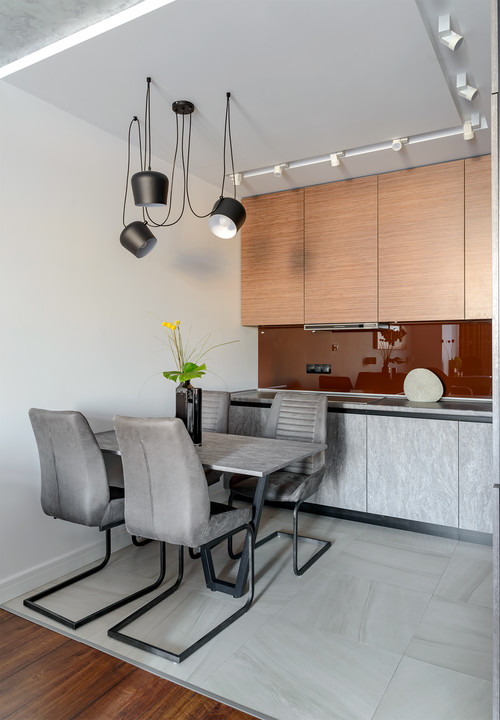 ID# 173429 | Houzz.com – Credit | © Дизайнер Айгуль Сапарова
---
Small Kitchen Design with Two-tone Cabinets
Small kitchens have a charm of their own, which is especially unveiled with the right color and material compositions! This small kitchen for instance, utilizes a light color scheme to expand the visual scheme and let the light bounce freely throughout. The gray base cabinets create a seamless look with the gray floor tiles. The red glass backsplash adds a pop of color and enriches the spaciousness while the wood upper cabinets provide a balance between the gray and red.
ID# 173430 | Houzz.com – Credit | © Davidson Walker Construction Ltd.
---
Light Wood Cabinetry with Stainless Steel Appliances
Both sleek and colorful, this contemporary kitchen presents a quirky vibe thanks to the red backsplash. Paired with sleek light wood cabinets, the backsplash reaches through the ceiling and creates a vibrant backdrop. The stainless steel sheet behind the stove and the range hood enhance the contemporary aesthetic. The wood cabinets are coupled with white countertops that bring a fresh look. Overall, all those elements facilitate a colorful transition from the cooking zone to the lounge in this open-plan kitchen.