18+ Barbiecore Interior Design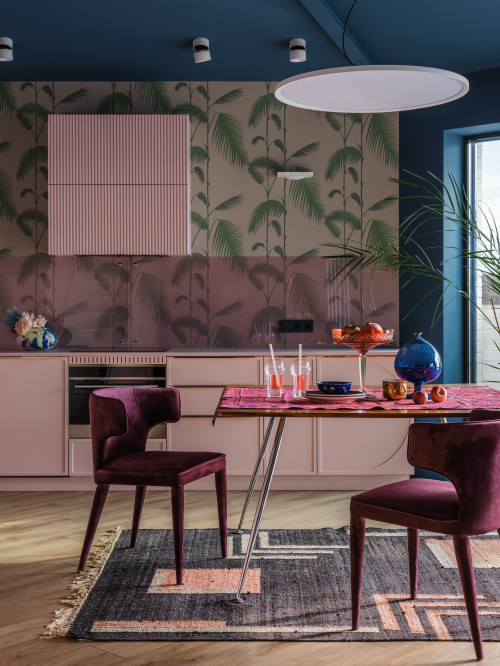 ID# 166203 | Houzz.com – Credit | © Студия дизайна Елены и Ярослава Алдошиных
---
Pink Kitchen Design with Tropical Wallpaper
You may simply create aesthetically appealing environments with well-chosen wallpaper. The tropical wallpaper captures attention and provides a cheerful backdrop in this unusual kitchen. The pink base color of the wallpaper complements the pink cabinetry and range hood. The green leaf motifs offer visual appeal against the delicate pink tone. Using complementary colors, as in this case purple, you can enhance the overall look. The purple velvet dining table chairs match the pinks while giving a regal touch.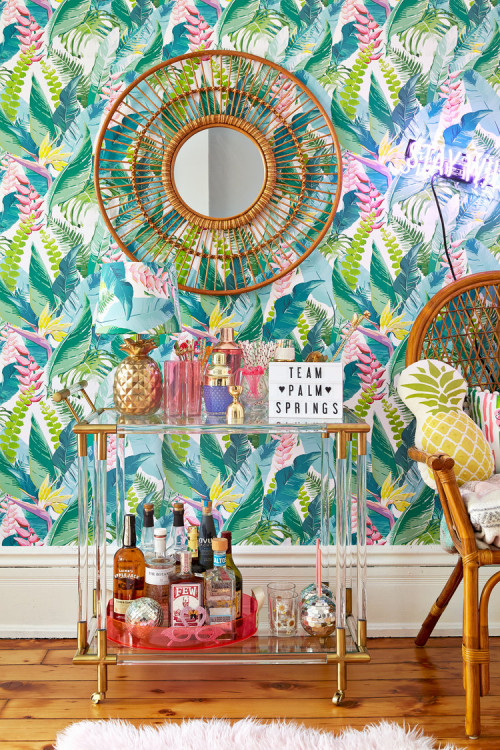 ID# 166215 | Houzz.com – Credit
---
Acrylic Bar Cart with Tropical Wallpaper Design
This living room corner is equipped with an acrylic bar cart, pink and brass accents, a circle mirror and, of course, tropical wallpaper to turn your dream Barbie house into a reality. Each element flawlessly complements the overall design, resulting in a unique appeal as a whole. As you can see, even the small details can make a huge impact that can reflect your personal style to your home decor!
Barbiecore Interior Design
With the upcoming Barbie movie, this fabulous toy world has taken over the world in recent days! From fashionable clothes to our everyday meals, the spirit of this iconic doll is started to dominate our lives with a sense of fun, femininity, and whimsy. And of course, this trend is entering the world of interiors. Whether in a bedroom, living room, or even a dedicated Barbie-themed space, the Barbiecore design trend offers enchanting spaces that radiate joy, creativity and a sense of carefree indulgence. So, are you ready to dive into the pink and plastic world of Barbie? Scroll down and find joyful and inspirational Barbiecore interior design ideas that will help you to create your real-life Barbie dream house!
Create Your Real-Life Barbie Dreamhouse
Barbie, the iconic fashion doll introduced in 1959, has achieved remarkable recognition and accolades within the toy industry. Remarkably, she has attained a prominent status in contemporary culture. Currently, Barbie is experiencing a resurgence and it wouldn't be an exaggeration to say that life in plastic is truly fantastic! Barbiecore interior design offers the opportunity to seamlessly merge elements from this plastic world with your own living space. From hot pink kitchen backsplashes to pastel pink accessories, today's market provides endless options to make your childhood dreams come true.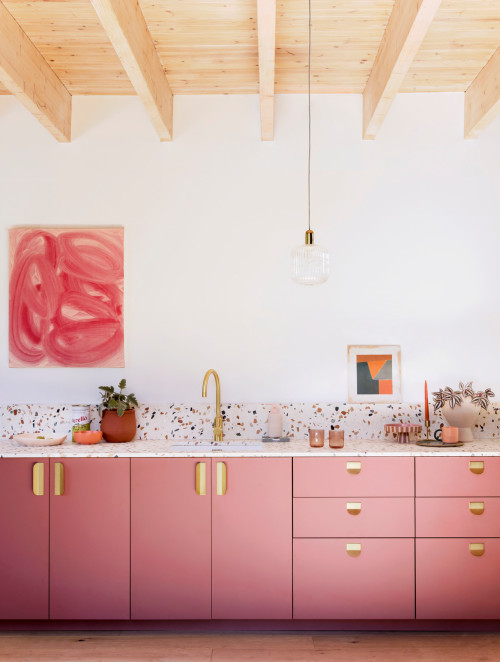 ID# 166201 | Houzz.com – Credit
---
Contemporary Kitchen with Terrazzo Backsplash and Countertop
This kitchen illustrates that there isn't much pink!! Hot pinks will be a perfect complement to your kitchen if you want to go a little bolder with the color palette. The brilliant pink cabinetry in this contemporary kitchen draws attention to itself. The terrazzo backsplash and countertops complete the cabinets' bright attitude, providing a playful but beautiful touch. The gold cabinet hardware and faucet add to the antique feel of the space. Instead of utilizing top cabinets, hang some artwork to give the area an open and breezy appearance while also balancing the use of diverse materials and colors.
Why is Barbiecore so popular?
Barbiecore is a fashion trend inspired by the iconic Barbie doll. Shades of pink, sparkles, and playful and whimsical patterns characterize it. Thanks to the upcoming Barbie movie, this trend has been popularized by celebrities like Margot Robbie.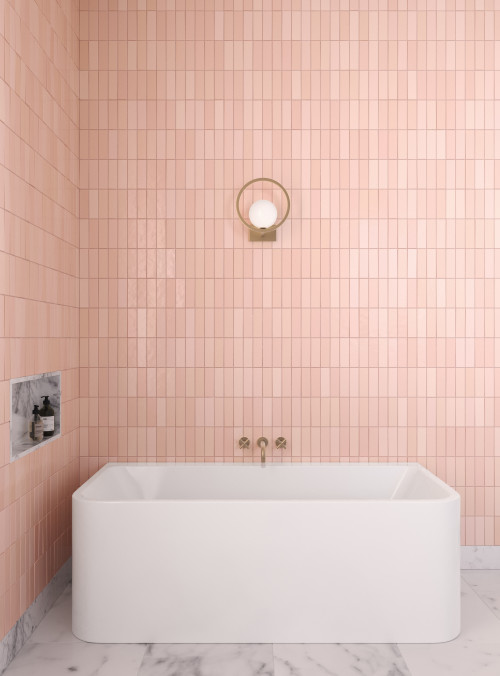 ID# 166202 | Houzz.com – Credit | © The Build by Temple & Webster
---
Pink Bathroom Wall Tiles with White Freestanding Tub
An excellent example of how properly chosen color schemes may easily enhance the overall appearance is this contemporary bathroom. Ceramic tiles in the color pink cover the walls, bringing joy to the room. The vertical placement of the tiles furthers the impression of the future. The white freestanding bathtub is the focal point in front of the pink wall tiles, while the marble floor tiles add a luxurious touch and another layer of texture. The room has a classic vibe thanks to the brass sconce and faucet. The tiny built-in shelf houses shower supplies and complements the floor tiles with its marble texture.
What is Barbiecore Trend?
The Barbiecore interior design trend celebrates the whimsical and playful essence of Barbie, converting your home into a vivid and fascinating setting, drawing influence from the legendary Barbie doll and her enthralling universe. This style is distinguished by the use of bold and dramatic colors, with various shades of pink taking center stage. Barbiecore draws inspiration from the fantasy world of Barbie to let you design your very own real-life Barbie dream house, with frilly drapes, sumptuous fake fur carpeting, and trendy pink tiles.
Barbiecore interior design promotes individualism and self-expression as well. Homeowners may customize their room by including Barbie-themed things, treasured childhood toys, and souvenirs, allowing their home to reflect their distinct personal style.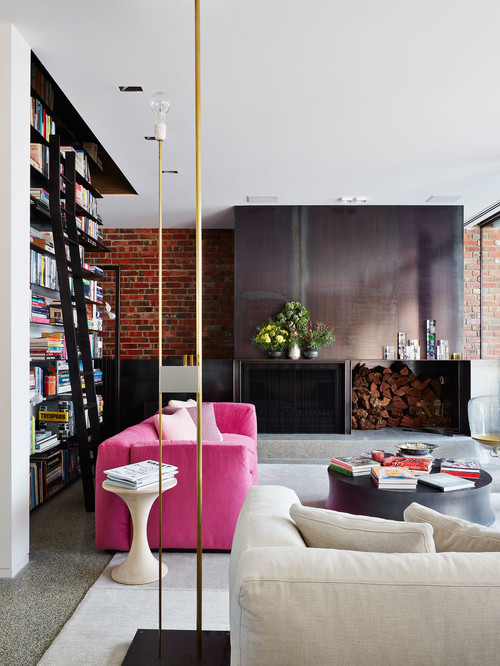 ID# 166204 | Houzz.com – Credit | © Jolson
---
Contemporary Living Room with Pink Sofa
If you don't want to use the pink color on all of the surfaces, you can still incorporate the girly spirit of the Barbie world even with one accent piece of furniture, and as in this case, it is a sofa! In this contemporary living room, the sofa directly draws attention with its hot pink color and instantly elevates the overall look. For the rest, neutral hues such as black and beige dominate the space, allowing the pink sofa to be the star of the room.
How to join Barbiecore trend?
Incorporating a substantial quantity of pink hue into your décor should be at the top of your to-do list when it comes to changing your home into a Barbie home. There are several inventive methods to attain this aim, ranging from beautiful pink patterned drapes to contemporary pink tiles. Furthermore, why not revel in the nostalgia of vintage 80s and 90s fashion by adding some metallic elements as accessories? Adopting these fashion trends will undoubtedly give a bit of glitz to your living area.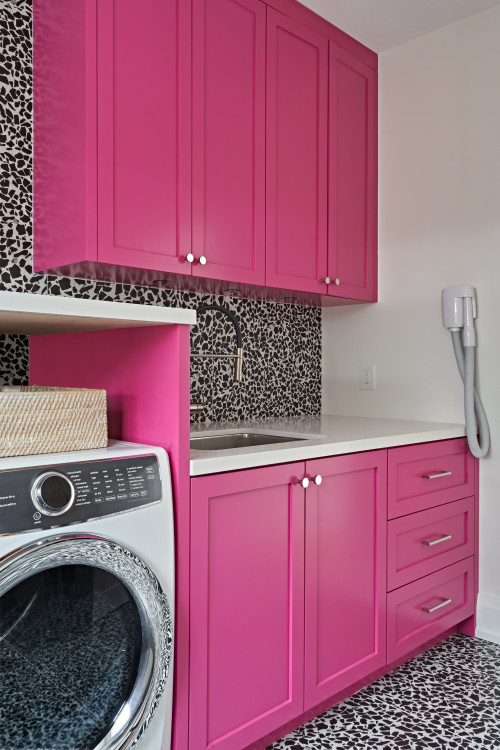 ID# 166205 | Houzz.com – Credit | © Alair Homes Forest Hill
---
Transitional Laundry Room with Barbiecore Interior Design
If you're creating your own Barbie fantasy home, why not make the laundry cabinets a beautiful pink color? The eye-catching shaker cabinets in this lovely laundry room take center stage with their brilliant pink color and provide a feminine and charming ambiance. The black and white patterned backsplash and floor tiles provide a startling touch, boosting the overall design.
Different Ways to Create Real-Life Barbie Dream House
Are you seeking ideas to build your real-life dream house? You've come to the correct place. In this post, we will look at several methods to incorporate the Barbie doll's joyful and whimsical plastic world into your home décor! Embracing Barbiecore interior design helps homeowners to enter a wonderful world where pink reigns supreme and dreams come true.
Splash Throughout the Shades of Pink
The Barbie world exudes a playful and glamorous style, with the color pink as its unmistakable signature. From decorative objects to hot pink pillows and furniture, there are numerous brilliant ways to infuse the Barbiecore design trend with stunning pink shades. And of course, we've got you covered with our stunning collection of tile designs!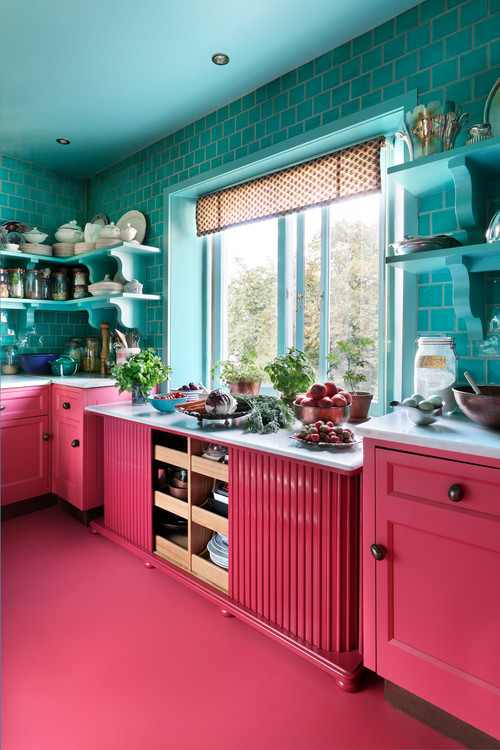 ID# 166206 | Houzz.com – Credit | © Soane Britain
---
Hot Pink Kitchen Cabinetry with Green Subway Tiles
The brilliant tones of pink and green perfectly combine in this eccentric kitchen to create a one-of-a-kind aesthetic! You may be hesitant to combine such vibrant colors, but with the appropriate technique, you may produce amazing designs!! The hot pink base cabinets and floor provide a lively and feminine touch to this space that brings the whimsical spirit of the Barbie doll. The green subway tile backsplash and open shelves, on the other hand, provide drama and depth to the space. The white quartz countertop offers a clean and fresh appearance while softening the stark contrast between these two hues.
Is Barbiecore still in?
Because of the 'Barbie' movie, the pink aesthetic has taken center stage, infecting many industries and providing lovely attractions ranging from the world of fashion to the realm of home design. This attractive style continues to grab hearts and imaginations with its fascinating charm and infuse rooms and wardrobes alike with a whimsical and elegant touch.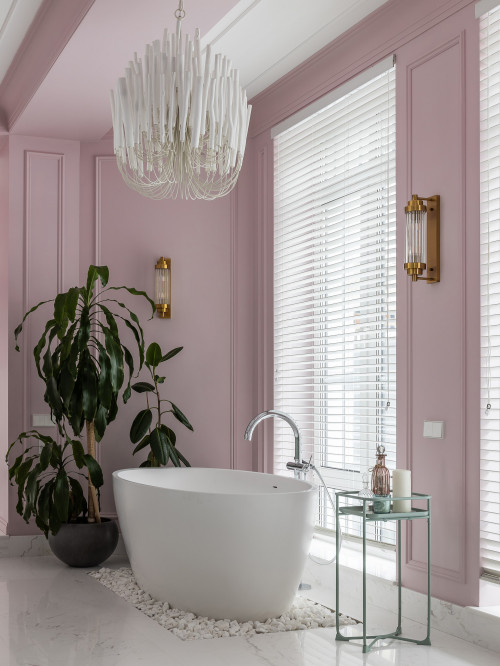 ID# 166207 | Houzz.com – Credit | © Студия дизайна PlatFORM
---
Luxurious Bathroom Design with Pastel Pink Walls
This bathroom offers a romantic and luxurious atmosphere with its colour scheme and high-end material choices! The pastel pink painted walls create a sleek and calm backdrop. The white freestanding bathtub creates a focal point while brass detailed sconces add vintage flair. The unique chandelier design above the tub adds a bunch of character to the space, completing the luxurious sense.
What color is Barbie pink?
The distinctive pink color associated with the Barbie brand is a gorgeous and brilliant magenta pink. If this color is too bright for you, you may embrace the Barbiecore trend by choosing softer and more delicate colors of pink!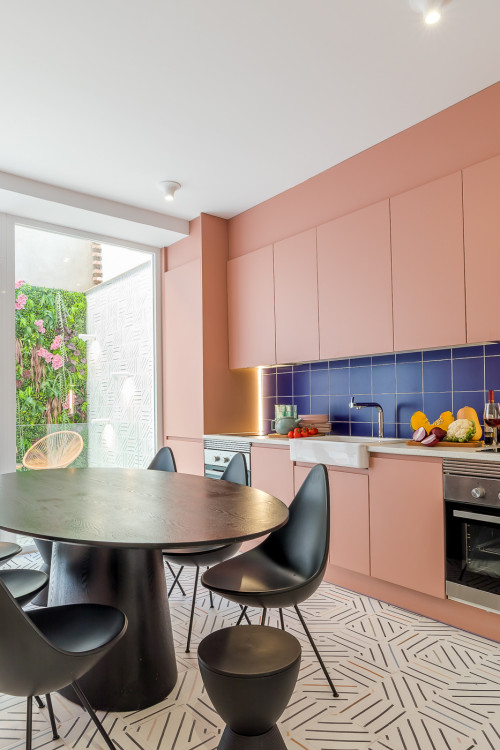 ID# 166208 | Houzz.com – Credit | © Amezkua
---
Pink Kitchen Cabinets with Blue Square Tile Backsplash
Using contrasting colors to provide a wow element to your kitchen can do the trick!! While the pink cabinets give a clean modern aesthetic in this contemporary kitchen, the blue backsplash tiles provide an unexpected twist and create a dramatic focal point. The dark and rich blue tone adds depth to the room. The black dining table and chairs add to the contrast. The patterned black and white floor tiles give another layer of texture, increasing visual appeal.
Play with Details
The Barbiecore design trend provides an excellent opportunity to personalize your living space. By using brilliant colors and fascinating elements inspired by the well-known Barbie doll, you can create a creative environment that will delight and amaze your visitors. Don't be afraid to try out unexpected flourishes and include cutting-edge ideas to make your house more interesting. Barbiecore offers many opportunities for changing your living area into a playful oasis!!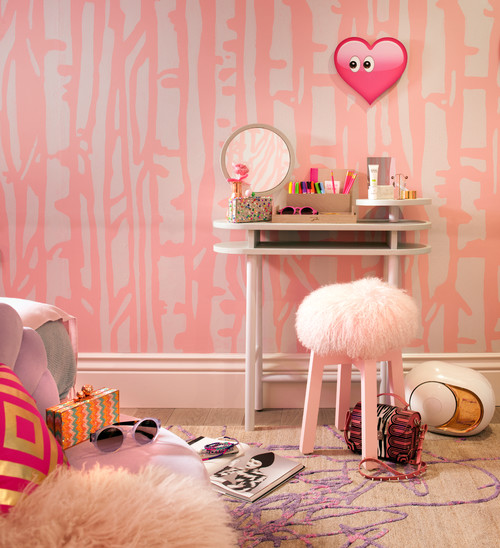 ID# 166209 | Houzz.com – Credit | © Studio Suss
---
Modern Pink Bed Room with Eye-Catching Pink Accents
Pink, of course, along with opulent metallic details, patterned walls, and faux fur accents!! Once you've incorporated all of these factors, you can be sure that you'll have the essence of the renowned Barbie doll.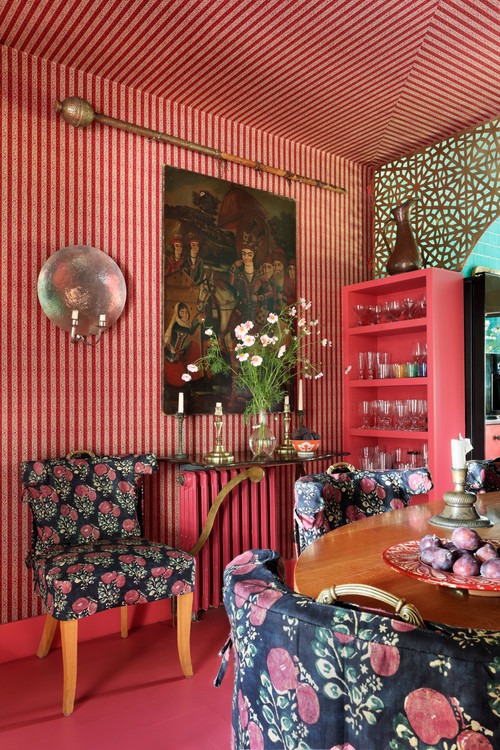 ID# 166210 | Houzz.com – Credit | © Soane Britain
---
Pink Dining Room Design with Barbiecore Interior Design
Floral patterns are one of the hallmarks of the Barbiecore design. In this dining room, the romantic feel of the flowers on the chairs creates a joyful atmosphere. On the other hand, the pink-stripped wallpaper design provides an eye-catching backdrop. The vertical strips of the wallpaper also create a visual illusion and make the space feel higher. But the real deal in this dining room is wee-chosen accessories. The metallic lighting fixture, painting, brass candlesticks, and other small details make this space livelier.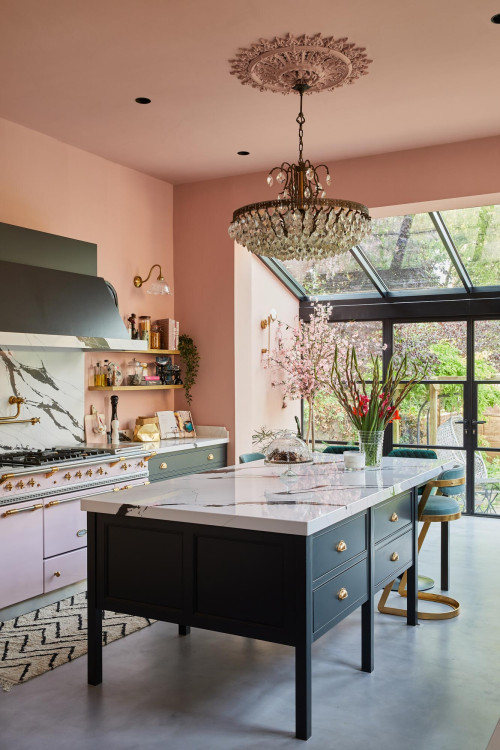 ID# 166211 | Houzz.com – Credit | © The Main Company
---
Pınk Kitchen Walls with Glamorous Crystal Chandelier
If you like maximalist designs, you may mix & match your way to culinary heaven!! This quirky kitchen is a prime example. Dark green kitchen cabinets and an island in this area create a dramatic and sophisticated mood while adding depth to the space. With their marble-like black veining, the white quartz countertops and backsplash complement the rich sense of the dark green. The pink stove adds an unexpected twist and a romantic feel to the space. The crystal chandelier over the island and the brass hardware round off the elegance and give a touch of glitz to the Barbiecore style.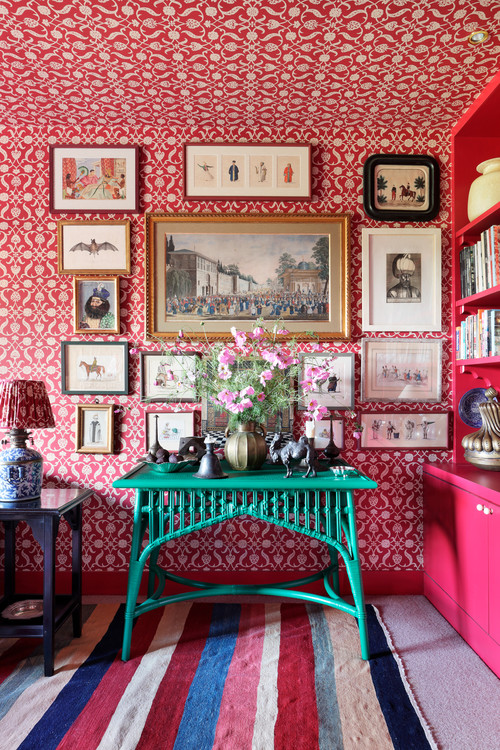 ID# 166212 | Houzz.com – Credit | © Soane Britain
---
Barbiecore Interior Design with Pink and White Patterned Wallpaper
The hot shade of pink color surrounds this living room and offers a one-of-a-kind appeal that looks like a Barbie dream house! Here, the pink and white patterned wallpaper offers a whimsical atmosphere while the stunning gallery wall design creates an accent wall. The green console directly stands out between the pink features, creating a focal point.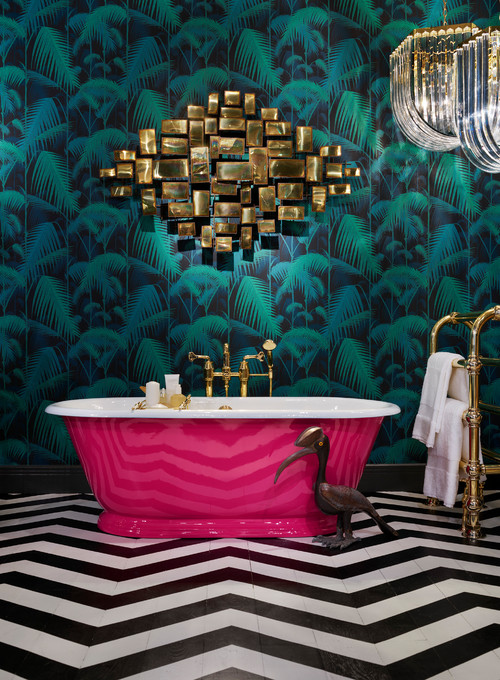 ID# 166213 | Houzz.com – Credit | © Maurizio Pellizzoni Ltd
---
Hot Pink Freestanding Bathtub with Black and White Floor Tiles
Each component of this eclectic bathroom acts as a work of art and together they produce a one-of-a-kind, luxurious design. A strong focal point is created by the pink freestanding bathtub in front of the tropical wallpaper. The floor tiles black and white chevron pattern gives the room a feeling of depth and dimension. The wall paintings and other gold touches wonderfully finish the opulent overall aesthetic.
Get Creative with Plastic
It is necessary to accept plastic décor while immersing oneself in the enchanted world of Barbie. Incorporating components such as neon lights and acrylic embellishments will easily convert your home into the ideal Barbiecore paradise.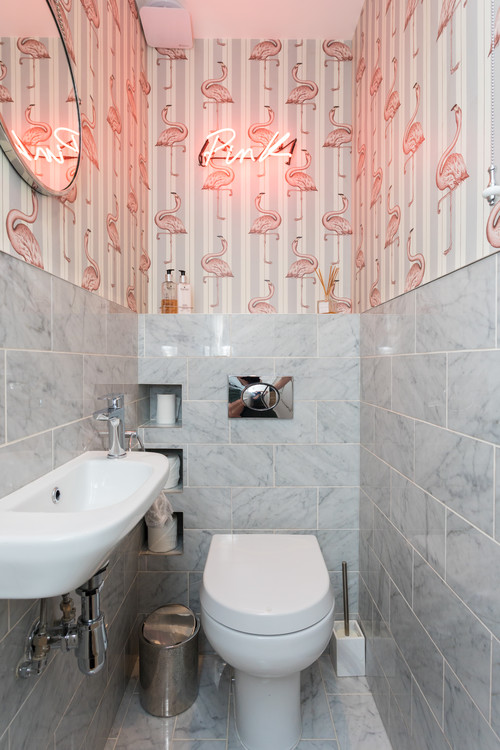 ID# 166214 | Houzz.com – Credit
---
Tiny Powder Room with 'Pink' Neon Sign
If you are looking for a detail that can reflect the essence of the iconic Barbie doll, neon signs might be your savior!! As you see in this tiny powder room, the vibrant appeal of the 'Pink' neon sign enhances the impact of the flamingo-printed wallpaper, creating a whimsical atmosphere.
Embrace the Power of Tiles
Kitchens, bathrooms, and living areas all benefit from the texture that tiles provide for interior design. The variety of tile designs is wide if you want to create a pink, Barbie-inspired, girly environment. These patterns will take you to a fun and whimsical Barbie world, whether you choose pink subway tiles for a sweet backsplash or pick pink floral tiles to surround your fireplace!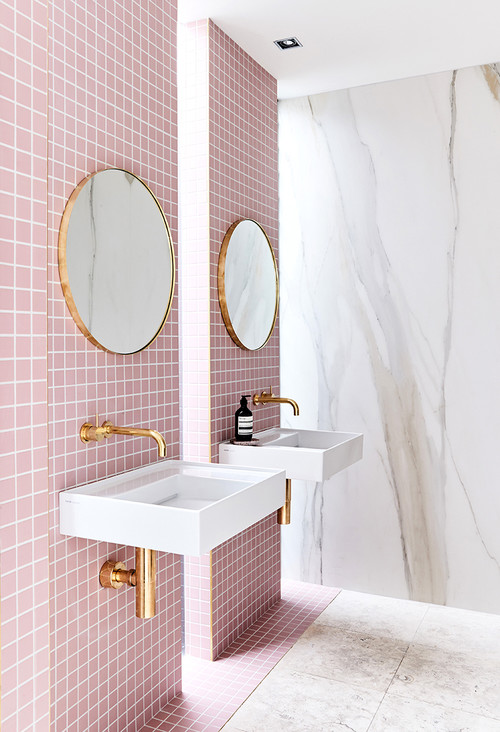 ID# 166216 | Houzz.com – Credit | © WK Quantum Quartz
---
Pink Bathroom Wall Tiles with White Grout
The square wall tiles, brass accents, and wall-mounted sinks in this bathroom with a Barbie theme give it a delightful throwback vibe with a touch of modern sophistication. The pink square wall tiles provide an eye-catching accent wall that draws the spectator in right away. The white grout between the tiles draws attention to the grid pattern, which also strengthens the impact of the tiles. Simple and minimalistic forms of the wall-mounted sinks complete the look, and the polished brass frames of the mirrors and faucets add a touch of sparkle.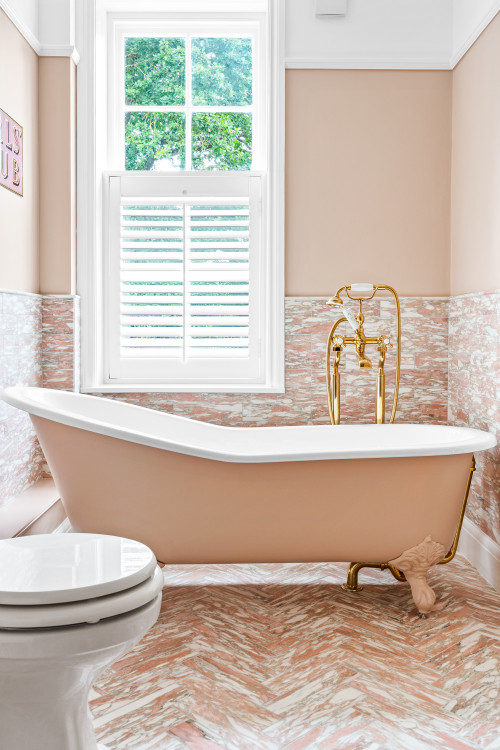 ID# 166217 | Houzz.com – Credit | © Bournes Projects LTD
---
Barbiecore Interior Design with White and Brass Accents
A stunning pink clawfoot tub that embodies elegance, evoking a bygone era is the focal point of this stunning room! The polished brass faucet on the tub wonderfully completes the overall design. Lovely patterned tiles in a pretty combination of white and pink are used to beautify the floor and walls. The delicate color scheme and detailed patterns contribute to the cheerful and whimsical atmosphere. To create a subtle contrast, increase the comfort of the space and create an appealing mood, the upper half of the walls are painted a relaxing pastel pink color!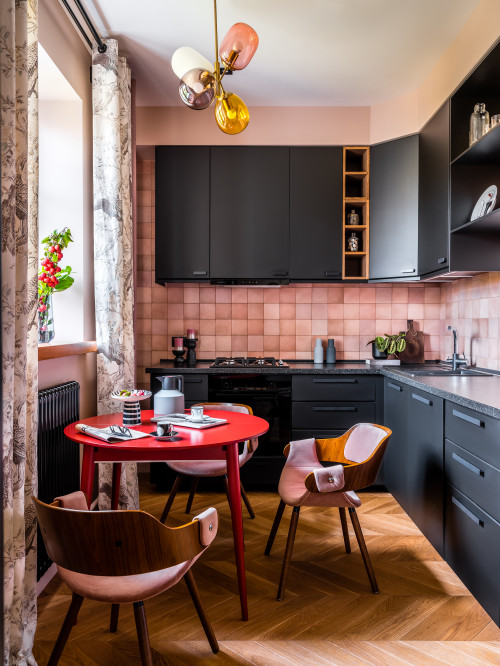 ID# 166218 | Houzz.com – Credit | © Логинова Наталья / дизайнер, декоратор.
---
Pink Square Tile Backsplash with Black Kitchen Cabinets
You will adore this modern kitchen if you want to make a stark contrast! Despite their overwhelming appearance, the colors black and pink have a classic yet contemporary appeal that can easily provide a touch of luxury to any space, even kitchens. This transitional kitchen is a perfect illustration of this harmonious combination. This room's modern black cabinets add depth and a dramatic atmosphere to the space. Between the cabinets, the pink square tile backsplash stands out, reducing the stark black impression. The cabinets is made more beautiful by the black granite countertop and hardware. The red dining table, which adds even another pop of color to this kitchen, is another eye-catching feature.