58+ Dining Room Wallpaper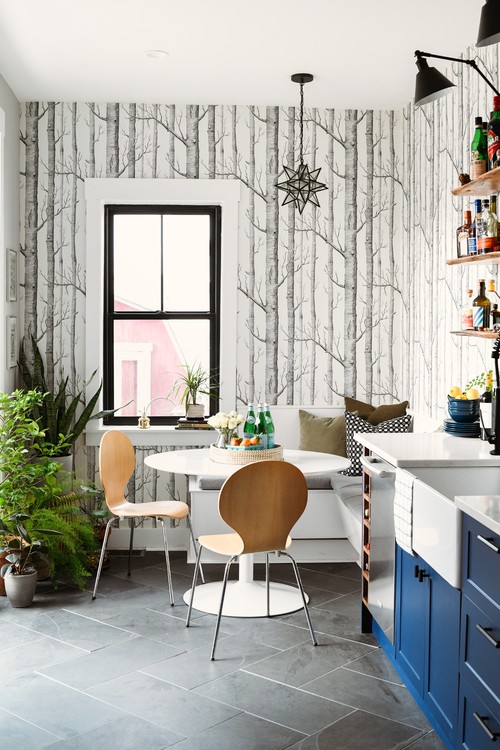 ID# 108829 | Houzz.com – Credit | © Katy Popple Design
---
Small Breakfast Nook with Birch Tree Wallpaper
Patterned wallpaper with a simple design such as this one is exactly what a contemporary dining room needs. It makes a minimalist décor look over the small breakfast nook in the kitchen. The white built-in bench perfectly fits at the corner of the room. A small circular table and wooden chairs are just enough to complete and create a dining area.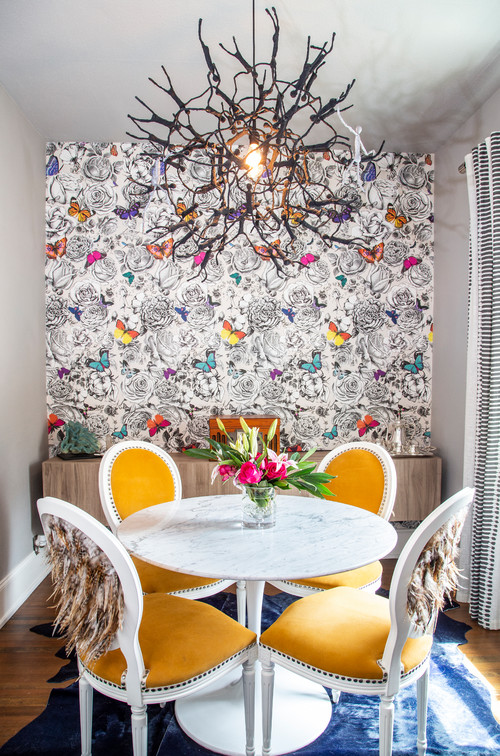 ID# 108804 | Houzz.com – Credit | © Rebal Design
---
Eclectic Dining Room Ideas with Butterfly Printed Wallpaper
Colorful butterflies popping up on the monochrome wallpaper and complement the yellow fabric of the white dining chairs. Feather behind the white chairs and thorned wood chandelier complete this eclectic look. The wooden buffet creates a modern and simple look between the beautiful chaos.
Colorful, Glamorous, and Eye-catching Dining Room Wallpaper Ideas
Dining rooms are a space where you can spend time with your family and friends. Wallpaper is a great way to make your dining room feel purposeful and intentional with different textures and colors. Here are some of our favorite dining room wallpaper ideas to get some inspiration!
Choose a glamorous design to elevate your look.
Wallpaper is a great way to add an instant lift to your dining room and the best way to personalize a room without going through a major renovation. You can create a more welcoming space with the right choice of wallpaper. Whether you are looking for a floral print, graphic pattern, or neutral colors, wallpapers can become a wow factor in your dining room. Browse the wallpaper trends and get some inspiration in our dining room wallpaper gallery!
There is no set pattern of a rule when it comes to getting your dining room designed and you can go as crazy as you want with the wallpaper!