33+ Kitchen Breakfast Nook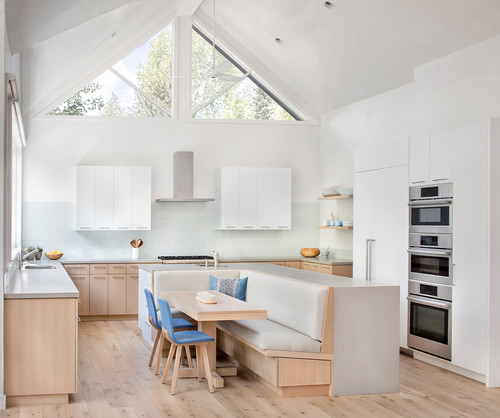 ID # 100102 |Houzz.com – Credit | © Rowland+Broughton Architecture & Urban Design | Joe McGuire & Matthew Tenzin of Joe McGuire Design
---
White Scandinavian Kitchen with Breakfast Nook
This Danish eat-in kitchen comprises of u-shaped counter area, light wood floor, flat-panel white and wood cabinets, gray countertops, white backsplash, glass backsplash tile and a compact breakfast nook next to the l-shaped island.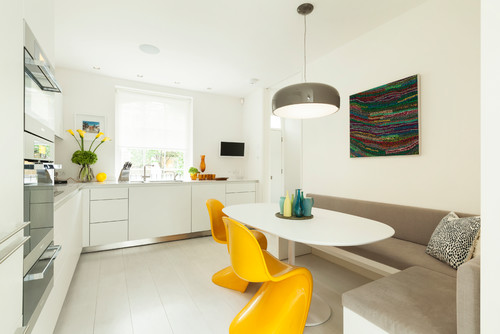 ID # 100128 |Houzz.com – Credit | © Domus Nova
---
Contemporary White Kitchen with Small Breakfast Nook
On the ground floor and with a pleasant outlook overlooking the landscaped front garden is a bespoke kitchen with white cabinets designated breakfast area. The kitchen links perfectly to a spacious and wonderfully bright dining room which in turn provides access to the rear garden.
Kitchen breakfast nook, great spaces to enrich morning hours and utilize the kitchen area.
They are gateways for creating bonding family moments as well as saving time and effort. Whether you think for a large family or a single user; a laid-back ambiance or a more practical design you can find kitchen breakfast nook inspirations here!
You are welcome to dive into a variety of modern kitchen alternatives for your ideal kitchen breakfast nook
You may have lots of space for you to fill with a generous eating area that will also work for the dining. Amongst our selection, you will find large modern kitchens in a variety of materials and colors. Or, you may be considering solving a compact breakfast nook in your smaller kitchen.
Clever layouts in sleek, fun, edgy or minimal styles will broaden your perspective before deciding your final design.
---
Contemporary Open Kitchen with Dark Wood Cabinets
This kitchen has a timeless ambiance with bold edges emerging on dark wood floor. The wood flat panel cabinets, steel furniture and marble countertop perfectly matches with the design of the chic breakfast nook.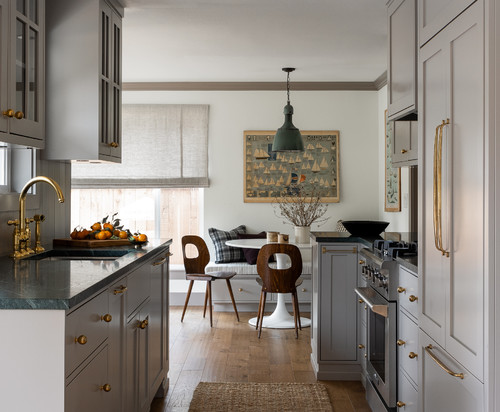 ID # 100104 | Houzz.com – Credit | Heidi Caillier Design | © Haris Kenjar
---
Traditional Gray Kitchen with Breakfast Nook
This cozy kitchen with medium tone wood floor, shaker gray kitchen cabinets , soapstone countertops and an l-shaped breakfast nook has all the potential for creating special memories.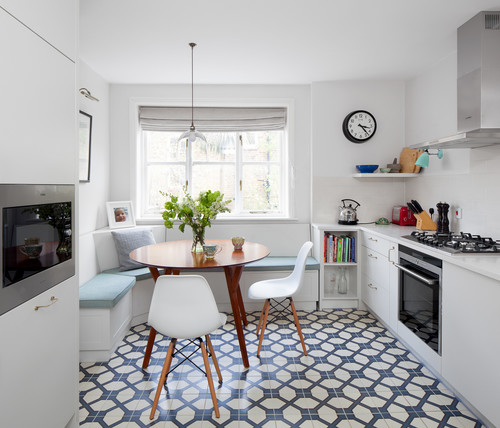 ID # 100118 |Houzz.com – Credit | LAURA LAKIN DESIGN | © Juliet Murphy
---
Contemporary White Kitchen with Colorful Ceramic Tile Floor
This small kitchen showcases trendy design elements including ceramic tile, flat-panel white cabinets and a breakfast nook perfectly sized for a small family.
---
Mid-Sized Transitional Kitchen with Breakfast Nook
A great example of the versatile transitional style in this chic kitchen with light wood floor, white and steel cabinets, and white walls.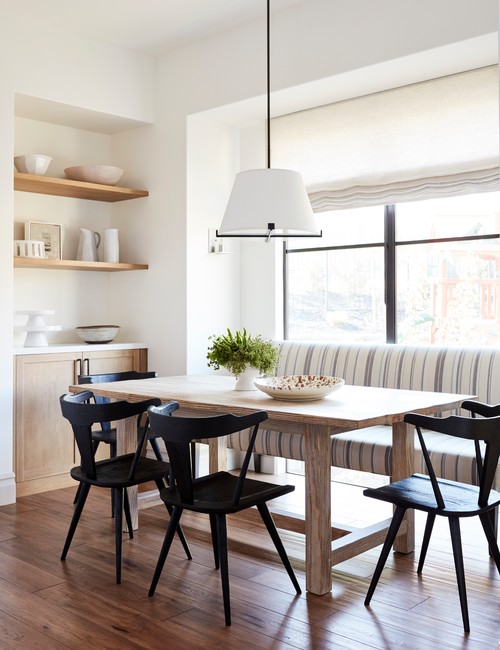 ID # 100120 |Houzz.com – Credit | Amanda Teal Design | © John Merkl
---
Neutral Farmhouse Kitchen Breakfast Nook
This sophisticated farmhouse kitchen with medium tone wood floor white walls, light wood shaker cabinets involves a comfortable eating area.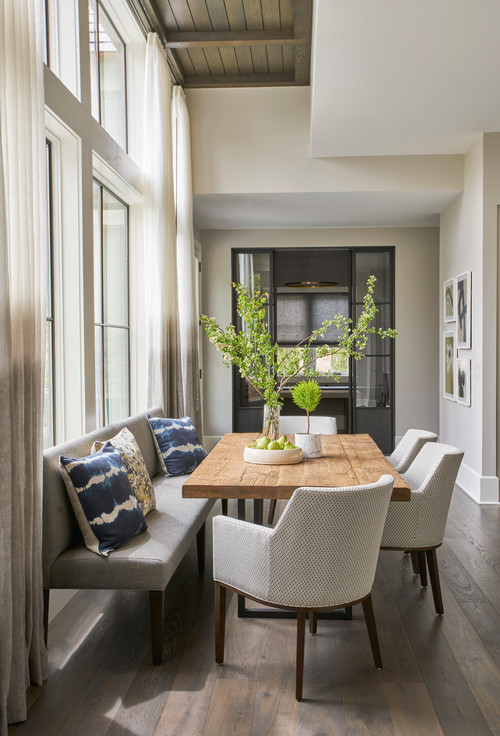 ID # 100122 |Houzz.com – Credit | Michael Abraham Architecture | Elizabeth Krueger | © Mike Schwartz
---
Transitional Eating Area with Wood Floor
This transitional dining area connects the kitchen to the living areas causally. The medium toned wood floor and the beige walls along with classic seating elements serves the chic ambiance.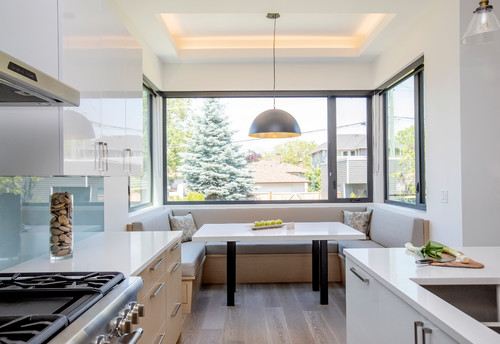 ID # 100123 |Houzz.com – Credit | © Devise Design
---
Bright Contemporary Kitchen with Breakfast Nook
This medium sized open concept kitchen comprises of light wood floor flat-panel cabinets, white quartz countertop, blue, glass sheet backsplash. The breakfast nook that surrounds the kitchen window creates a functional eating space that has strong connection to the kitchen.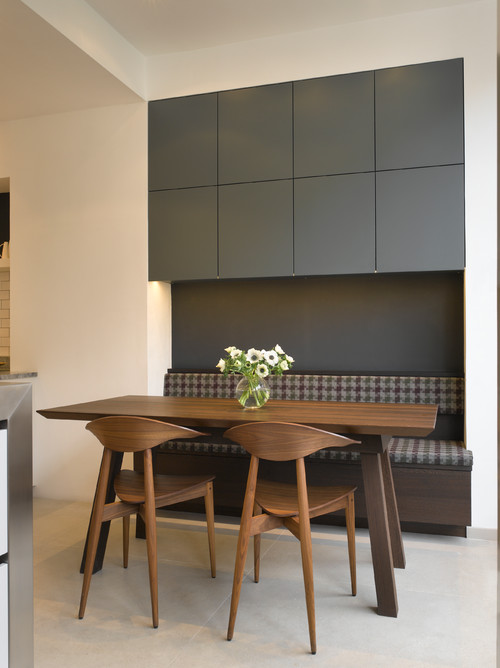 ID # 100124 |Houzz.com – Credit | © Roundhouse
---
Contemporary Breakfast Nook with Dark Grey Cabinets
This sleek and small breakfast nook has trendy design elements along with a modern touch. The flat panel dark gray cabinets and dark wood furniture's against beige ceramic tile flooring creates a strong contrast and highlights the area.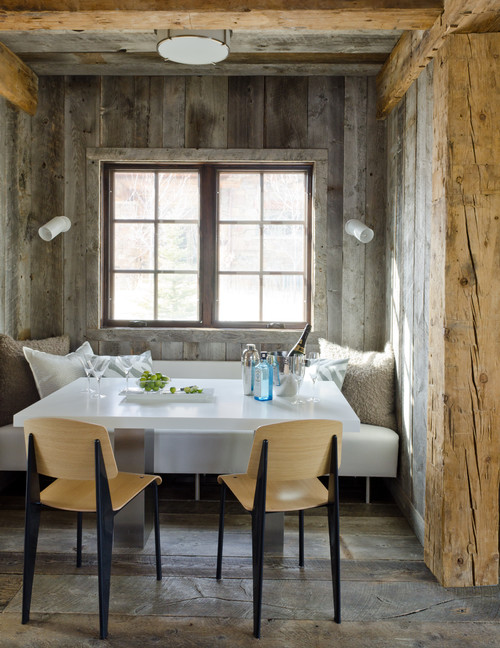 ID # 100125 |Houzz.com – Credit | JLF & Associates – On Site Management, Inc. | © Audrey Hall
---
Rustic Kitchen with Chic Breakfast Nook
This mountain style eat – in kitchen meets the rustic style of the wall and floor with chic and elegant style of seating elements and contemporary table. The outcome is a very cozy and edgy atmosphere that creates a unique eating space.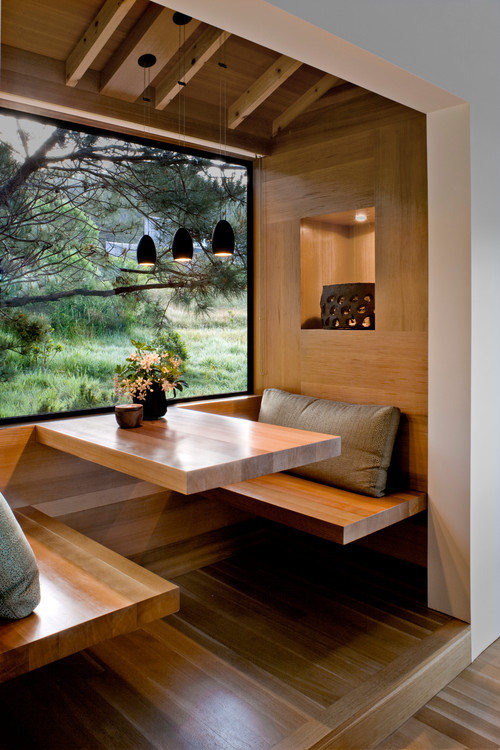 ID # 100126 |Houzz.com – Credit | Turnbull Griffin Haesloop | © David Wakely
---
Rustic Eat-In Kitchen with Wooden Breakfast Nook
This minimal yet rustic breakfast nook has a strong connection with outside nature view with its all wood floor, wall and seating elements.
---
Craftsman Kitchen with Large Breakfast Nook
This kitchen has a mix of transitional with arts and crafts style consisting design elements such as gray floor, white cabinets, marble countertops, an island and gray countertops. The blue banquette design in the breakfast nook adds a youthful detail to the otherwise neutral space.
---
Transitional Kitchen with White Cabinets and Dark Wood Floor
A perfect example for a timeless and chic transitional style kitchen with dark tone wood floor, white shaker cabinets, all-white backsplash and a bespoke cornered breakfast nook.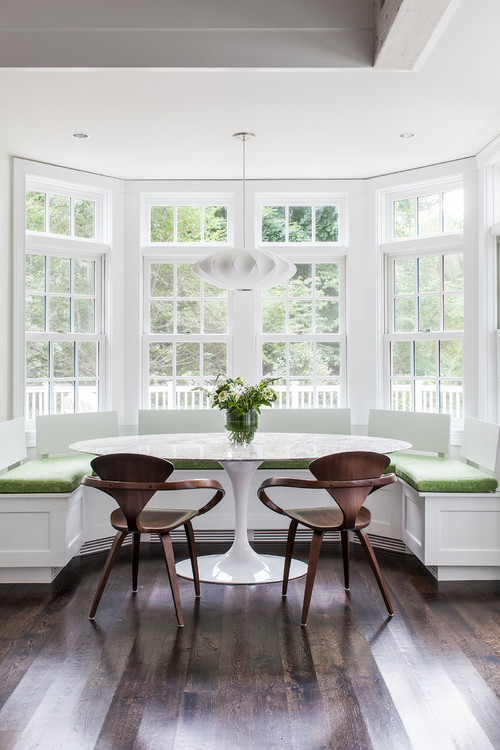 ID # 100130 |Houzz.com – Credit | © Sean Litchfield
---
Transitional Style Dining Area with White Banquette
This elegant dining area offers a great spot for eating and has a contrasting look with dark wood flooring and white banquette and walls.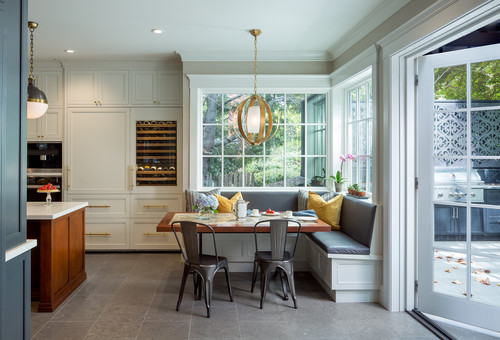 ID # 100131 |Houzz.com – Credit | © G. Watson Designs
---
Transitional Corner Kitchen Breakfast Nook with White Cabinets
This elegant transitional kitchen succeeds in being classic and laid back at the same time. The design elements including gray tile flooring, recessed-panel white cabinets, paneled appliances, an island and white countertops pairs with casual breakfast nook with white banquette and gray covering.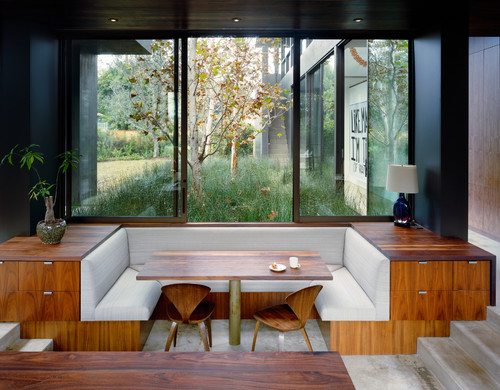 ID # 100132 |Houzz.com – Credit | © MK Properties
---
Modern Dining Area with Medium Toned Wood Cabinets
This minimalist dining area across the kitchen connects the outdoor garden with the interior beautifully. The strong mix of concrete floor and wood cabinets, furniture and countertop against black walls creates a distinctive and rich atmosphere.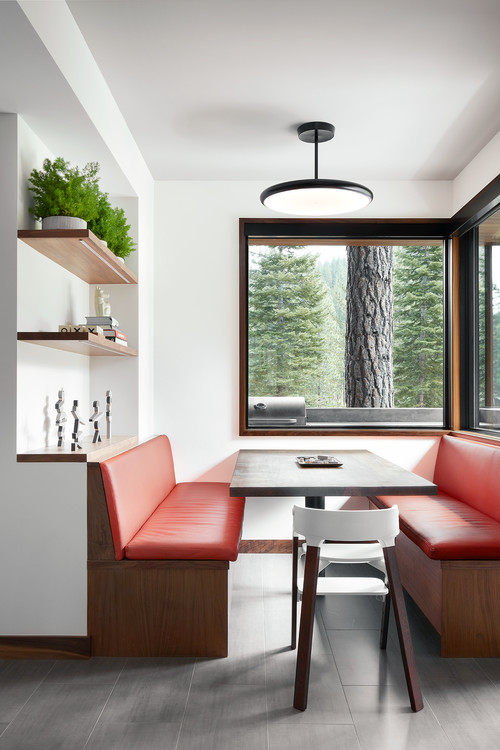 ID # 100133 |Houzz.com – Credit | Hills & Grant | © Lisa Petrole
---
Contemporary Eating Area with White Walls
This compact eating area is a beautiful example of trendy minimal design aesthetic together with elements including gray porcelain tiles, white walls and wood seating elements covered with striking red leather.