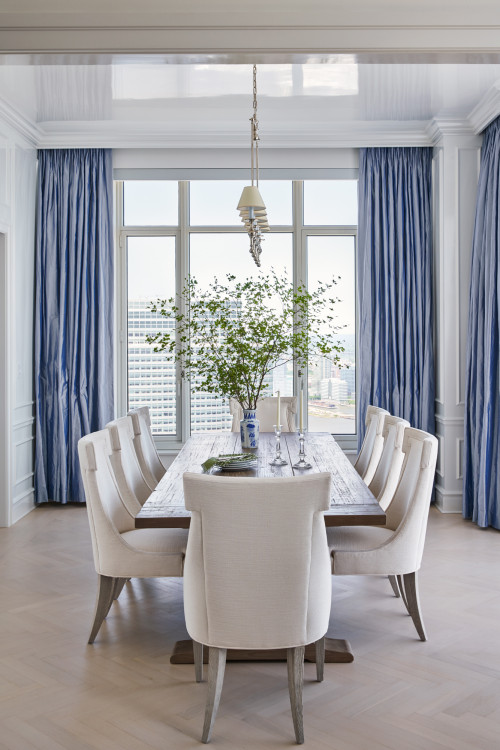 ID# 109601 | Houzz.com – Credit | © Ariel Okin Interiors
---
White Dining room with Blue Floor to Ceiling Curtain
These blue floor to ceiling curtains livens up white dining room without being too in-your-face. White dining chairs with wooden legs and wooden dining table creating soft and classy look in front of the large window opening. Green plant on the table crating a contrast with blue color.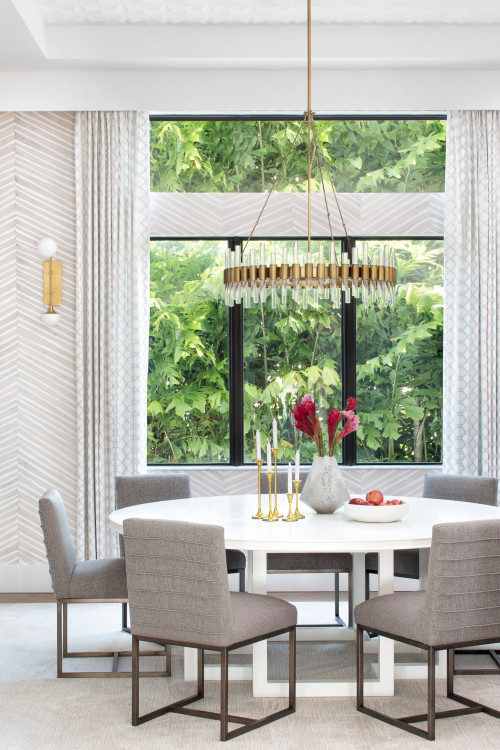 ID# 109603 | Houzz.com – Credit | © Krista + Home
---
Gray and White Dining Room with Gray Patterned Curtains
If you have frames that are already beautiful and makes attention like this design, you can choose neutral curtains that is don't steal the attention. Plain patterns on the curtains wand wallpaper matches perfectly. Gorgeous gold chandelier right above the dining nook featured with white dining table and gray side chairs.
Modern, Elegant, Casual and Colorful Dining Room Curtain
There is no doubt that curtains can be the crowning glory of a room. Curtains can be functional, decorative, or strike a balance depending on your space and the amount of natural light you receive! We gather up modern, elegant, and colorful designs in our dining room curtain gallery!
Choose a curtain that takes your dining room to next level!
When it comes to curtains for dining rooms, the options are endless. Many different styles, colors, patterns, sizes, and materials are available. You can dress up your neutral dining room with colorful curtains or create harmony with patterned curtains and make an inviting dining room. Check some of our dining room curtain ideas before starting your design!
There are patterned, colorful, pastel-toned, or solid-colored curtains which can fit all dining rooms in different styles.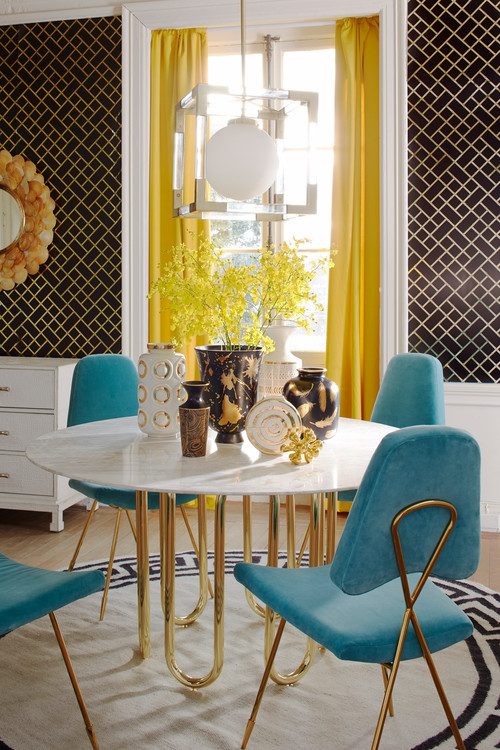 ID# 109623 | Houzz.com – Credit | © Jonathan Adler
---
Small Dining Room Design with Yellow Curtains
Blue and yellow color popping up in this contemporary dining room. yellow curtains, matching with black wallpaper with gold pattern. Custom designed blue chairs placed around the white calacatta gold marble top table with gold stand. Gorgeous decorations complete this look perfectly!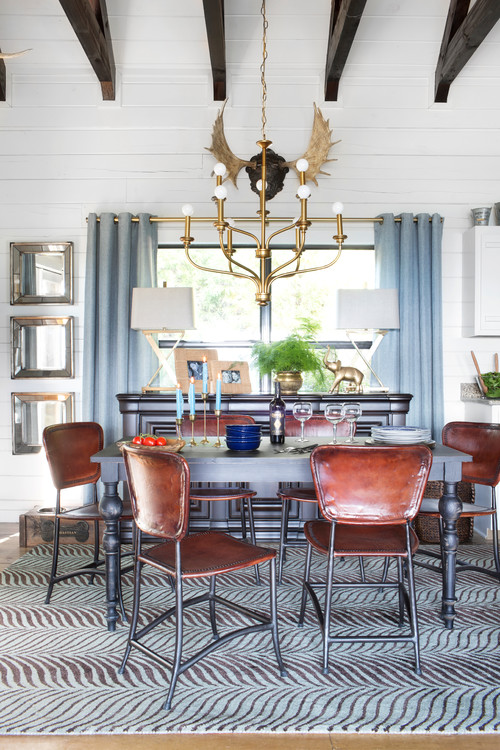 ID# 109624 | Houzz.com – Credit | © Hayneedle
---
Farmhouse Dining Room Design with Pastel Blue Curtains and Gold Chandelier
Dining nook featured with leather dining chairs and black wooden table placed on the zebra accent rug. Gold chandelier above the nook. Pastel blue curtain makes a soft touch behind the black wooden buffet.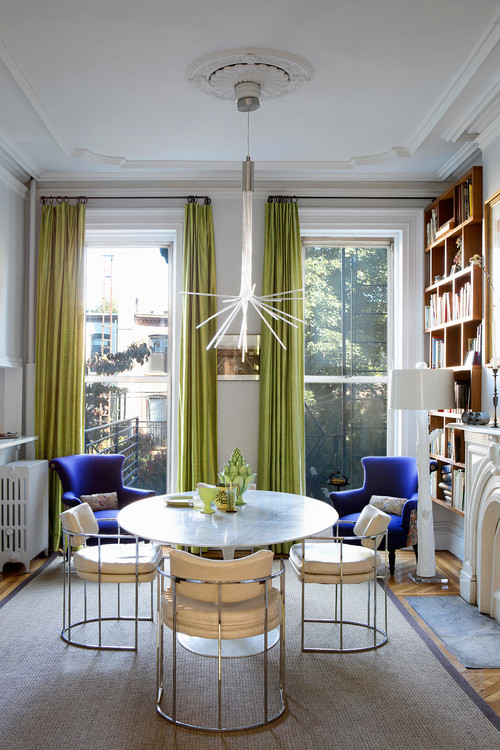 ID# 109626 | Houzz.com – Credit | © Fawn Galli Interiors
---
Eclectic Dining Room with Green Curtains and Blue Armchairs
Look at the gorgeous contrast between the green and blue! Green curtains and blue armchairs placed in front of the windows liven up this white dining room. white dining chairs and marble top table bring a modern atmosphere. Custom designed white pendant lighting create a perfect symmetry above the table.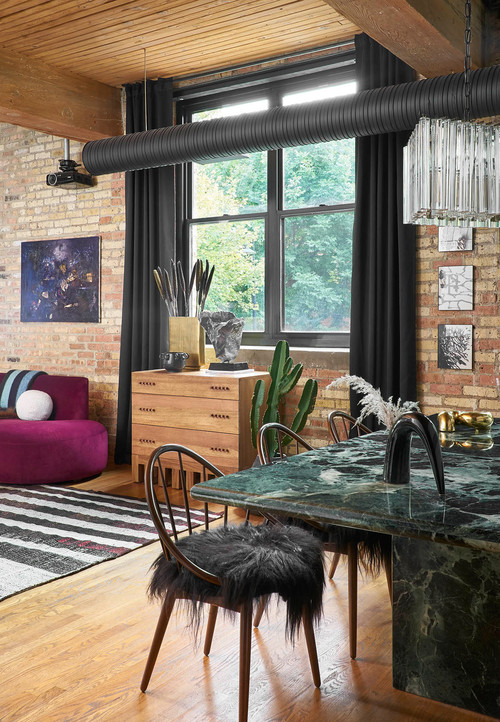 ID# 109627 | Houzz.com – Credit | © Studio Sven
---
Gorgeous Modern Dining Room Design with Black Curtains
If you don't have an extra space for dining room, you can expand the kitchen island and create a dining space in your living room. Marble kitchen island and black side chairs in a harmony with wooden flooring. Black curtains look stunning on the brick wall. wooden cabinet placed in front of the window.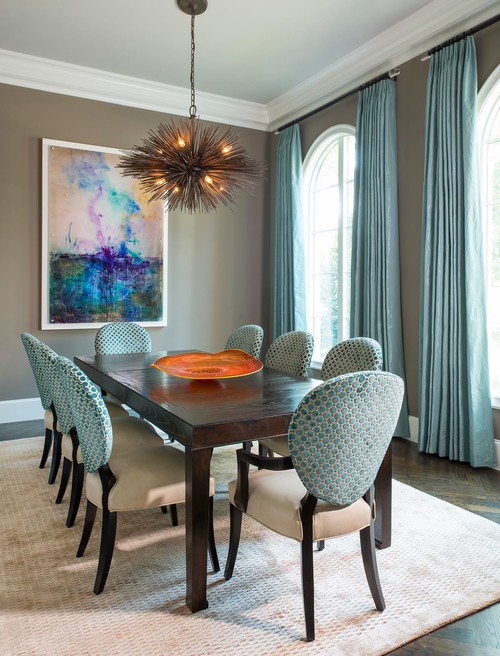 ID# 109614 | Houzz.com – Credit | Wesley-Wayne Interiors, LLC | © Dan Piassick
---
Dining Room Design with Blue Curtains and Colorful Painting
Soft colors make the room feel serene, but the pops of orange in the centerpiece and jewel colors in the artwork create some interest that tie things together. Blue floor to ceiling curtains matches with the patterned fabric on the dining chairs. Large wooden table allows a space for large family dinners! Remarkable pendant lighting hanging on the white ceiling. Natural light comes through the arched windows.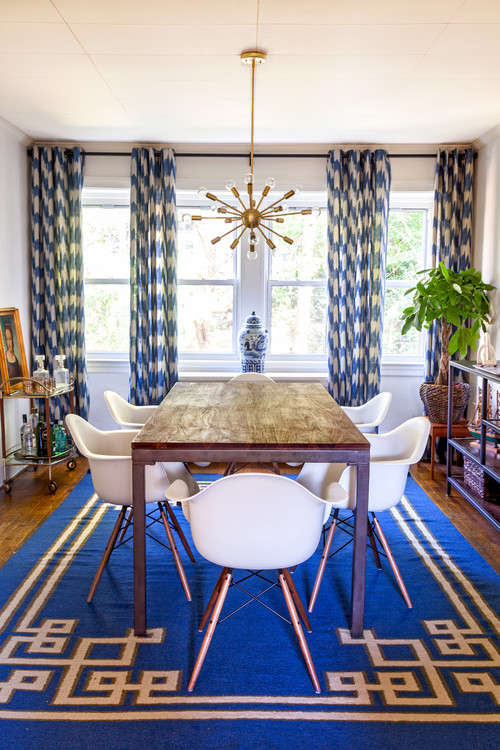 ID# 109619
---
Dining Room Design with Blue and White Curtains
Modern dining space is warmed up with bold blue textiles. Blue and white printed fabric used on the floor to ceiling curtains. Vibrant blue popping up under the plain dining set with wooden table and white chairs. Gold pendant lighting looks like a sun right above the table.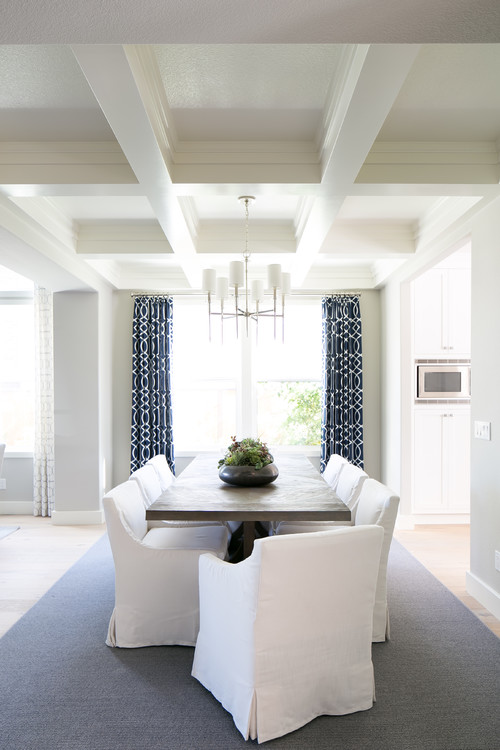 ID# 109604
---
White Dining Room with Blue Patterned Curtains
Blue and white patterned curtains liven up this white dining room and brings the beach atmosphere. White chandelier hanging on the gorgeous beams. White dining chairs and dark wooden table placed on the solid gray carpet.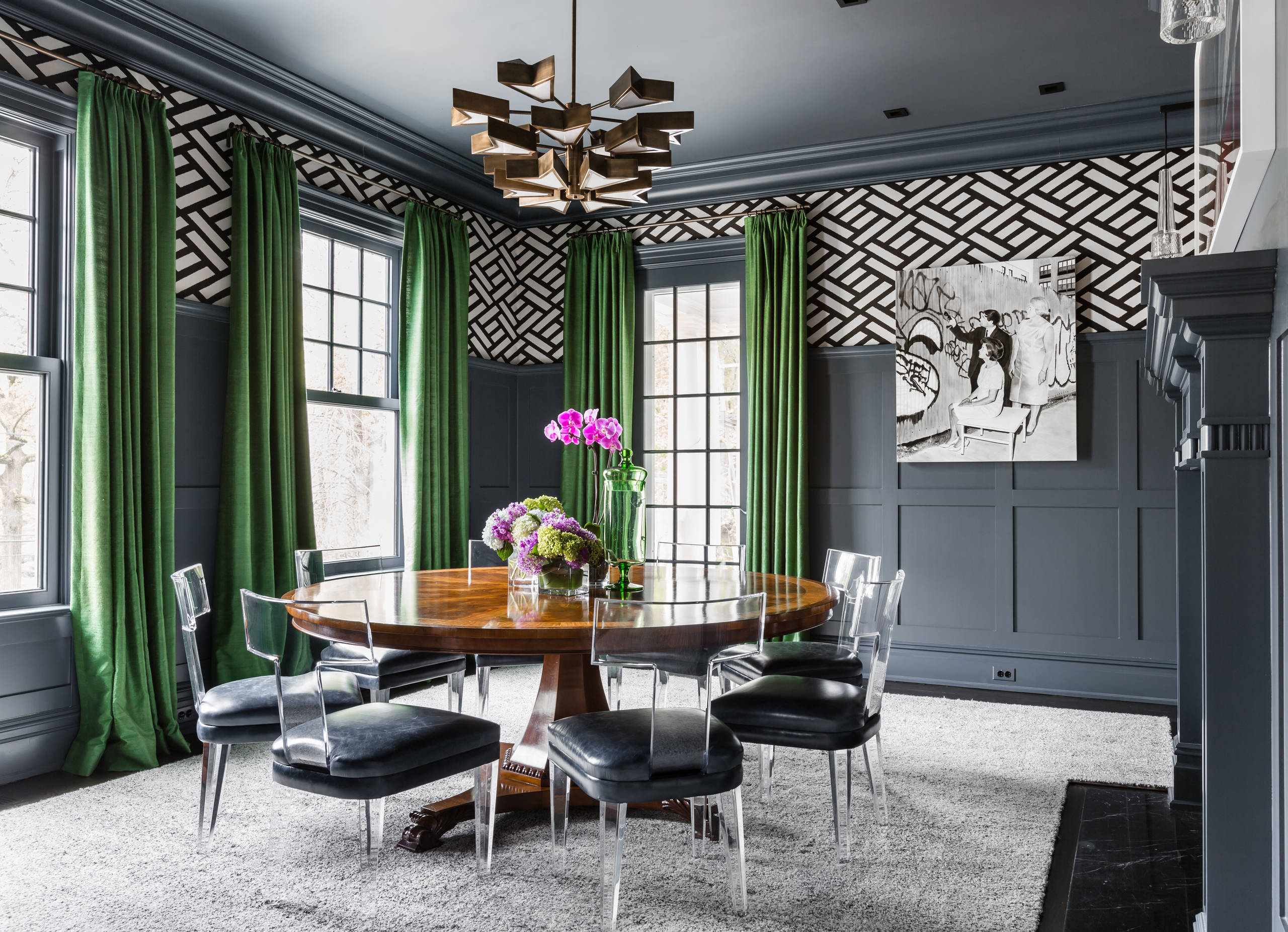 ID# 109607
---
Elegant Dining Room with Gray Curtains and Black Wall Panels
How elegant to use vibrant green and black together! Green curtains popping up between the black walls. Herringbone patterned wallpaper used upper sides of the walls. Gorgeous wooden dining table placed between the transparent chairs with black seats. Gray carpeted floor provides wider atmosphere.
---
Eclectic Dining Room with Blue Curtains
Vibrant colors and patterns popping up all around the dining room. Yellow chandelier and green plant creating perfect contrast with blue floor to ceiling curtains.Wooden dining chairs with black seats and black dining table on the blue and white patterned carpet. Two black and white patterned chairs placed both head of the table.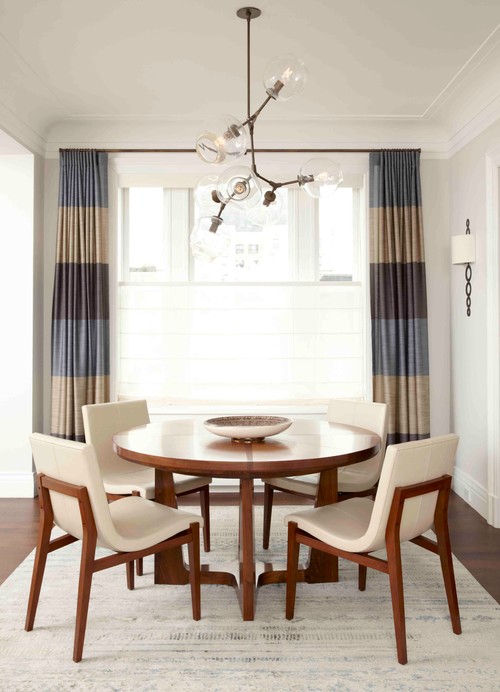 ID# 109613
---
Transitional Dining Room with Striped Curtains
Look at this gorgeous custom designed wooden dining nook with leather seats. If you have a dining set like this you don't have to fill up the space with different features. Blue, beige and dark blue striped cushions complete the look harmoniously. Black bubble chandelier makes a modern touch.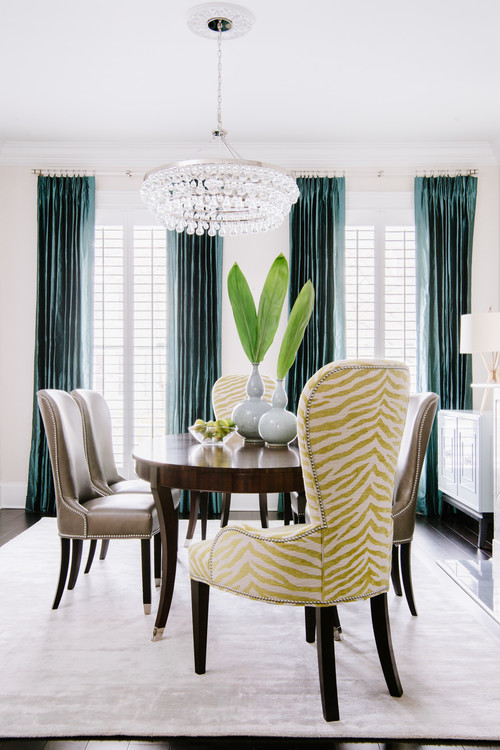 ID# 109616
---
Dining Room Design with Rich Teal Silk Curtains
This polished dining room keeps sleek lines in play, while still feeling warm and welcoming. Zebra printed host chair liven up this dining room with help of rich teal silk curtains. These colors give a tropical sense. Wooden table and chairs with leather seating come to the forefront on the white carpet. Crystal chandelier look gorgeous above the dining nook.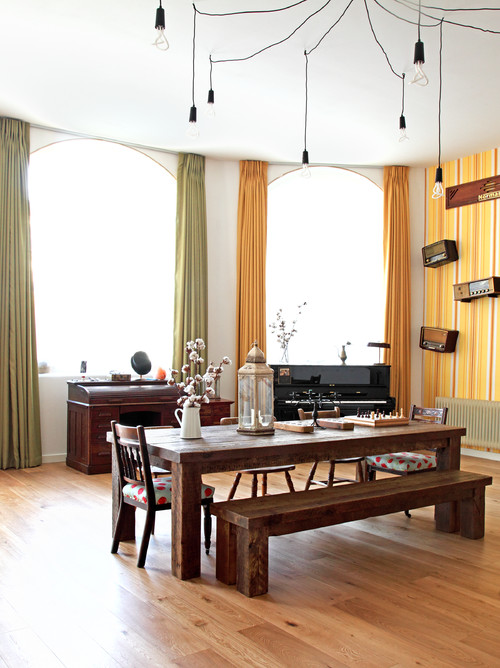 ID# 109618
---
Eclectic Dining Room with Green and Orange Curtains
Love the harmony between the different color choices for curtains. Green and yellow curtains look gorgeous around the arched windows. Dark wooden working desk and black piano placed in front of this windows. Large wooden table placed between the wooden bench and wooden dining chairs with dotted patterned seating. Spider chandelier complete this eclectic look.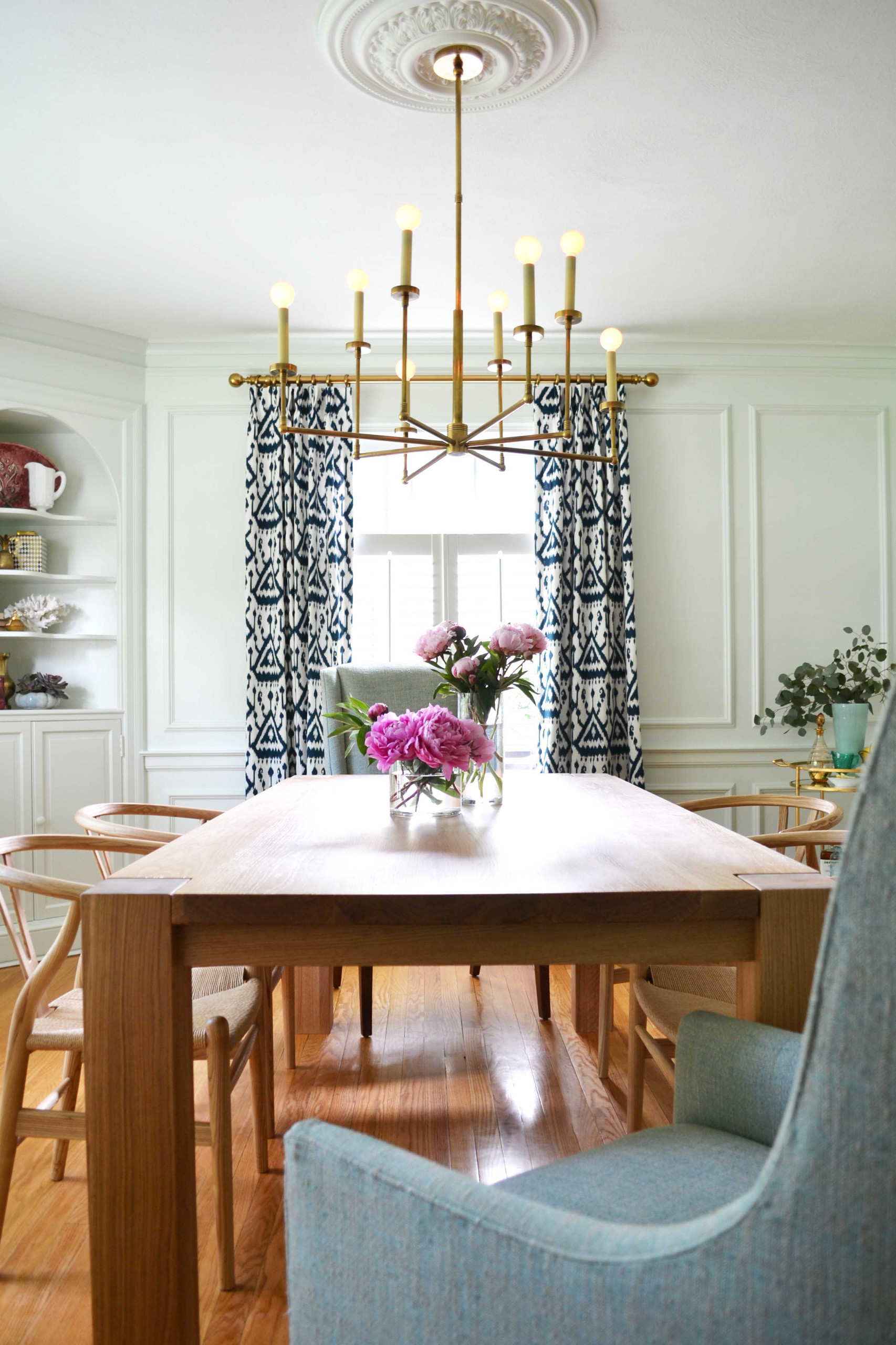 ID# 109625
---
Eclectic Dining Room with Damask printed Curtain
A damask print makes a lovely curtain pattern, although it can be a little too busy when the print takes over the entire piece of fabric. Wooden dining nook make a plain and clean look under the gold chandelier.