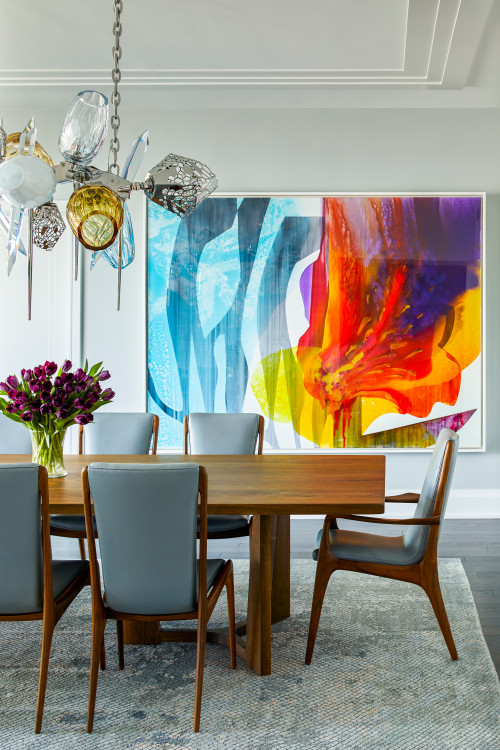 ID# 117623 | Houzz.com – Credit | © Michele Bitter Designs
---
Stunning Dining Room Design with Colorful Painting
You can color up your dining spaces with gorgeous paintings like this design. This massive painting brings joy to the room. The dramatic chandelier hanging on the wooden table and gray chairs with wooden details. Gray carpet placed under the dining table.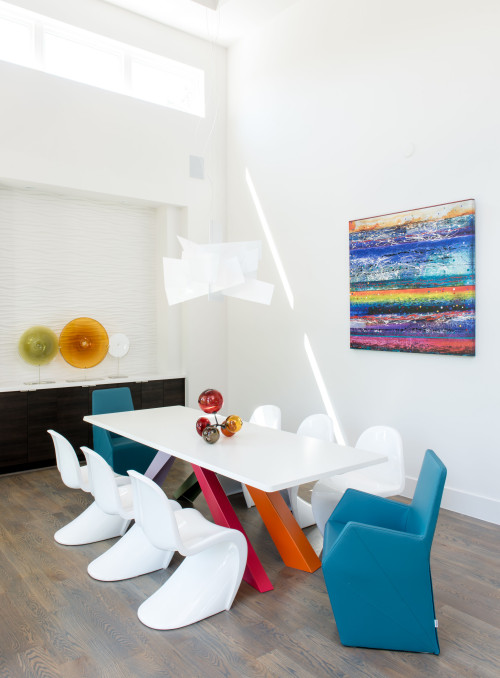 ID# 117658 | Houzz.com – Credit | © Gena Sylvester Design
---
Contemporary Dining Room with Colorful Details
Look at the harmony between the vibrant colors and white! Two custom-designed blue chairs were placed on both heads of the white top dining table. The white color is used on the rest of the chairs. Table leg painted with four different colors. Medium tone wooden is used as a floor covering. Colorful painting creates a focal point on the white wall.
Colorful Elegant and Plain Dining Room Ideas
There are few places in the home where you can feel free to work a show-stopping color scheme. The dining room is one of those few places. Create your dream dining space with the right paint colors. Get inspired by our gallery of colorful dining room design ideas.
Don't afraid to play with colors.
There is something magical about the dining rooms. It's provided a space to gather face-to-face with friends or family. So why you don't revive your dining rooms with bold color schemes. You can use colors on each part of the room like on wallpapers, cabinets, or even on the ceiling. The contrast created by transverse colors brings the room of your dreams one step closer.
Add some colorful decorations to complete the final look!