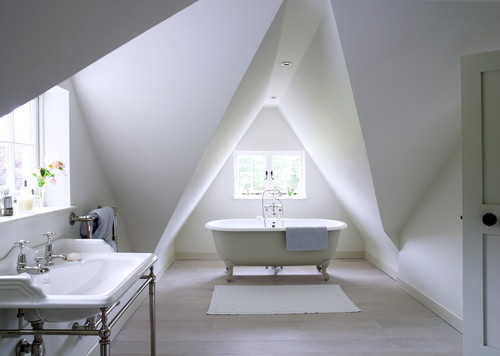 ID# 117907 | Houzz.com – Credit | © Thorp Design
---
Attic Bathroom with Gray Clawfoot Freestanding Bathtub
An attic bathroom perfectly provides the calm and relaxing feel that we want in bathrooms. In this attic, the quirky array of slopes and angles adds a character to the finished space. Also, you might think that placing just a bathtub is not enough for the bathroom. But in this way, you can emphasize the bath area. This gray clawfoot freestanding bathtub makes a statement under the sloped ceiling and creates a focal point.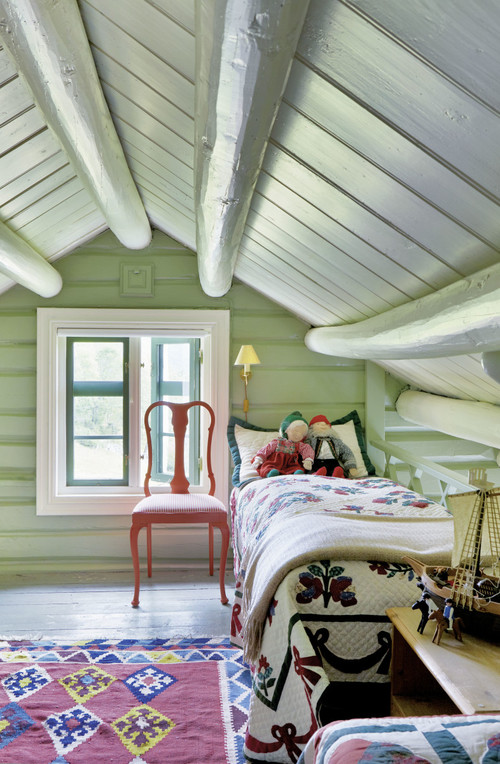 ID# 117930 | Houzz.com – Credit | Callwey | © Jan Baldwin
---
Farmhouse Kids Room with Pastel Green Walls and Ceiling
The mix of contrasting textiles in different patterns and colors offers a cozy folk look. This lush mix of textiles stands against the soft green paint of the walls and ceiling. The heavy beams and wooden walls of this attic room become a soft and intimate cabin-like atmosphere. The natural light that comes through the window emphasizes the beautiful shade of green.
Well-designed Dreamy Attic Room Ideas
Designing an attic space might be tricky because of the sloped ceilings, angular dormers, or awkward shapes. However, evaluating your attic with extra living space is a great way to make the most of your home's square footage. Here are some of the best attic room ideas that will inspire you.
Evaluate the unused areas with clever organization
Attic rooms are more than dust or cluttered storage spaces. With a clever organization and the right layout, an attic can be transformed into anything based on your needs. From a bedroom to a home office, bathroom to game room, attics provide a space for intimate, private escapes. However, designing such a space comes with many challenges. That is why you need to be careful with your furniture. Otherwise, the space under a sloped ceiling might feel catastrophic. For a tip, placing custom built-in cabinets according to dimensions is a great way to evaluate unused corners and low outer edge, and maximize functionality. Also, bright color schemes will help you to enhance the spaciousness of the atmosphere.
If you want to learn about how to decorate your attic, scroll down and find 43 beautiful attic room design ideas that will help you.