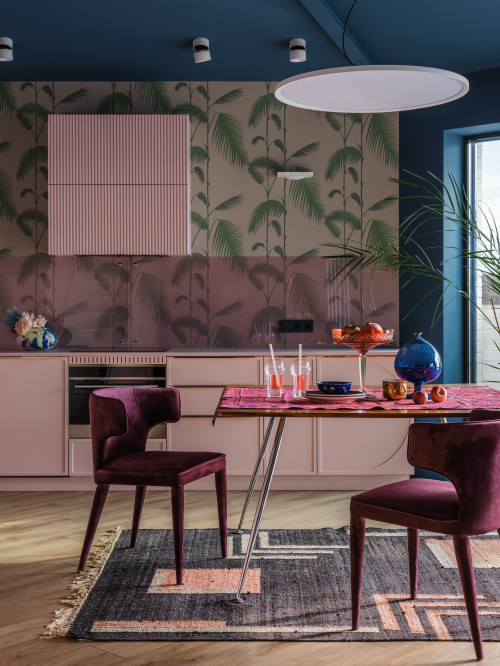 ID# 163904 | Houzz.com – Credit | © Студия дизайна Елены и Ярослава Алдошиных
---
Eat-in Kitchen with Tropical Wallpaper
With a well-chosen wallpaper, you can easily create visually appealing spaces. In this eclectic kitchen, the tropical wallpaper directly draws attention and offers a joyful backdrop. The pink base color of the wallpaper creates a harmonious look with the pink cabinets and range hood. The green leaf patterns contrast against the soft pink hue, adding visual interest. The purple velvet chairs of the dining table complement the pinks while adding a royal sense.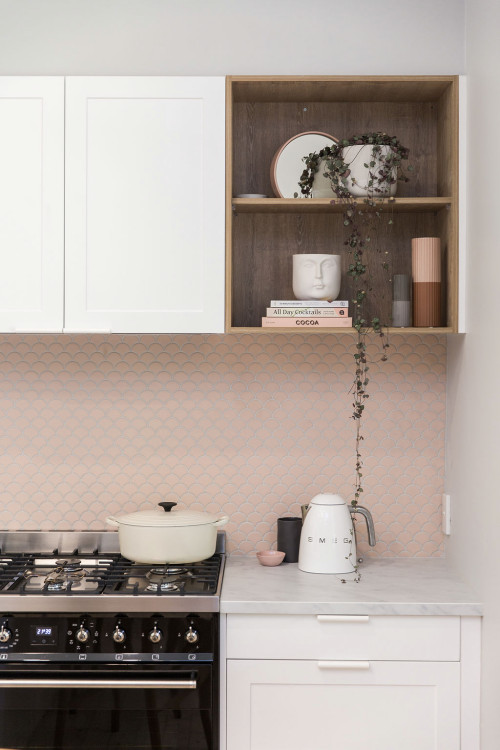 ID# 163917 | Houzz.com – Credit | © Zesta Kitchens
---
White Shaker Cabinets with Marble Countertop
If you are designing an all-white kitchen, a backsplash might be the place that can add color and visual interest. In this Scandinavian kitchen, the blush pink fish scale tile backsplash adds a nice textural look between the plain white shaker cabinets. The soft pink shade completes the timeless elegance of white while the marble countertop makes a perfect final touch to add a dose of luxury.
Pink Kitchen Ideas
If you are designing a kitchen and looking for a different color then think pink! In recent days, pink kitchen ideas are boosting their popularity. At some point, pink becomes neutral when it's in a blush tone, and it can be a game-changer with a variety of hues. From very light pastel pink to hot magenta, pink can add a boost of personality and energy to your kitchen and provide a cute yet stylish and elegant look!
Create Fun yet Elegant Kitchen Designs with Shades of Pink
Since the kitchen is the heart of the home, it deserves much more attention! And the color palette will play a huge role in defining the overall look. Using pink in your kitchen may seem like a bold move but this versatile color can work with plenty of different colors, and thanks to its large array of hues, you can find a pink color that suits your taste. Yes, floor-to-ceiling pink kitchens may look like a Barbie doll house, but there are plenty of different ways to incorporate this color into your adult kitchen. So, whether it is a soft pastel pink accent wall or bold pink cabinets, there are endless options to achieve your pink dream. You can even find some pink appliances! Here, we gather some beautiful pink kitchen ideas that can help you to find inspiration!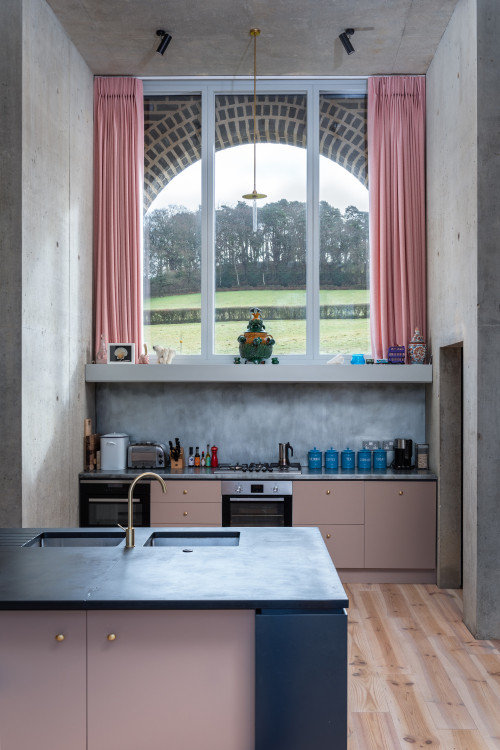 ID# 163901 | Houzz.com – Credit | © Unique Homestays
---
Pink Kitchen Ideas with Gray Backsplash

The pink color is often associated with love and romance, however, you can create cool and elegant appeal by combining the pink color with sleek gray shades! Boosted by wood flooring, this contemporary kitchen serves this harmonious combination and offers a stylish look. Here, the kitchen cabinets and island dominate the space with their lovely pastel pink color to create a warm and welcoming atmosphere. The gray concrete backsplash and countertops make a sharp twist and bring a characteristic stance. The brass hardware adds a dose of glam while the pink kitchen curtains complement the cabinets. Thanks to the large window above the cabinets, the calming sense of nature become part of the space.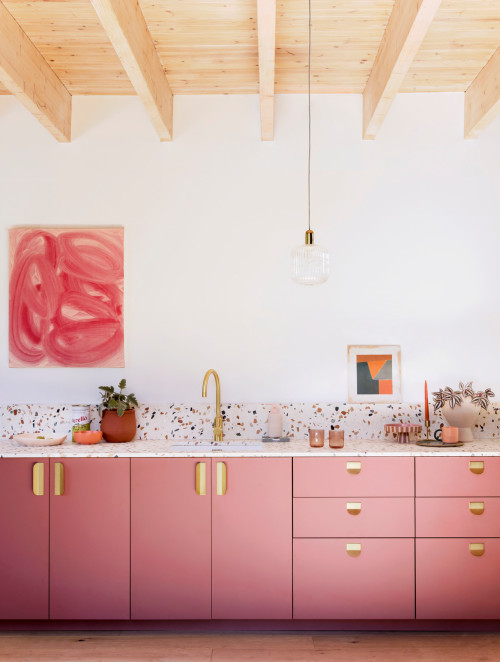 ID# 163902 | Houzz.com – Credit
---
Hot Pink Kitchen Cabinets with Gold Hardware and Terrazzo countertop
If you want to go a little bit bolder with the color scheme, hot pinks will be a great match for your kitchen. In this modern kitchen, for example, the vibrant pink shade of the cabinets creates an eye-catching effect. The terrazzo backsplash and countertops complete the colorful stance of the cabinets and add a fun yet elegant touch. The gold cabinet hardware and faucet enhance the vintage flair of the atmosphere. Instead of using upper cabinets, hanging some artwork brings an open and airy feel to the room and balances the usage of different materials and colors.
Is pink a good color for the kitchen?
Pink is a warm, playful and versatile color. So, yes it is a good color choice for kitchens! Whether you are going to use pink cabinets or just use small pink appliances there are plenty of different ways to incorporate pink into your kitchens.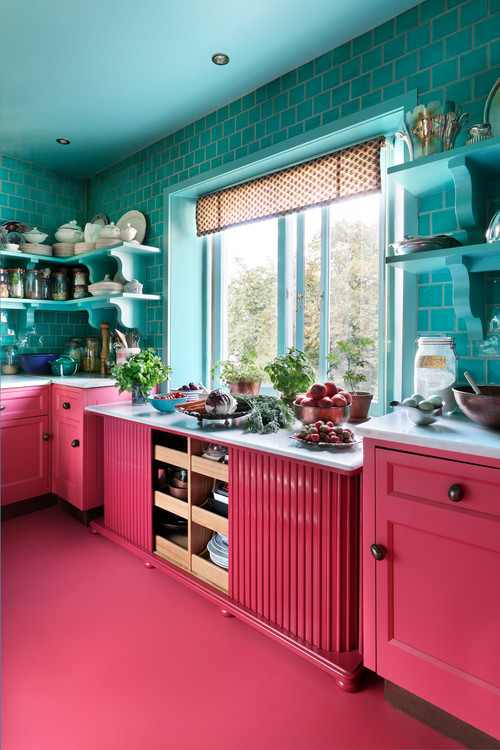 ID# 163903 | Houzz.com – Credit | © Soane Britain
---
Pink and Green Eclectic Kitchen with White Countertop

If you are in love with the maximalist style, using two main contrasting colors will make a statement for your kitchen design!! In this eclectic kitchen, the vibrant shades of pink and green harmoniously come together and create a one-of-a-kind look! You may hesitate to use such strong colors together but with the right approach, you can create successful designs. Here, the hot pink base cabinets and floor offer a fun and feminine appeal. On the other hand, the green subway tile backsplash and open shelving serve a dramatic feel, bringing depth to the atmosphere. The white quartz countertop adds a clean and fresh look and softens the sharp contrast between these two colors.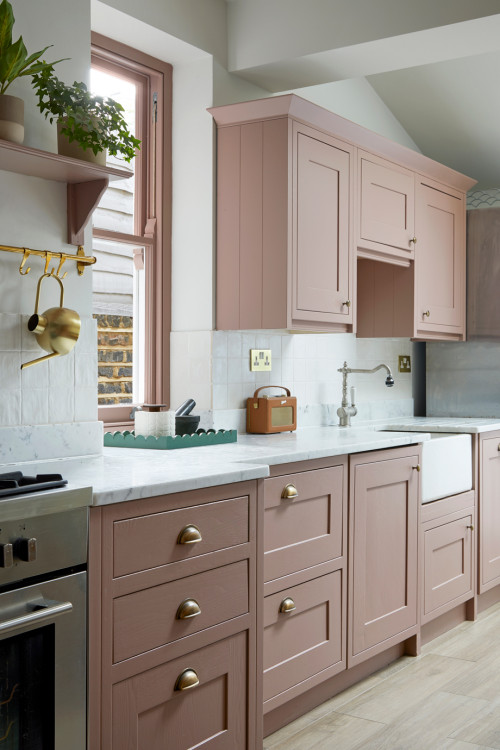 ID# 163905 | Houzz.com – Credit | © Born & Bred Studio
---
Pink Kitchen Ideas with White Square Backsplash Tiles
Using the pink color in your kitchen doesn't mean that your space will look too colorful. Softer and lighter shades of pink are perfect to create a sleek and elegant appeal with a romantic vibe. In this transitional kitchen, the pastel pink cabinets dominate the space, offering a timeless aesthetic. The white marble countertop and square tile backsplash perfectly complement this classic look. On the other hand, the aged brass hardware and white farmhouse sink enhance the vintage sense of the color scheme.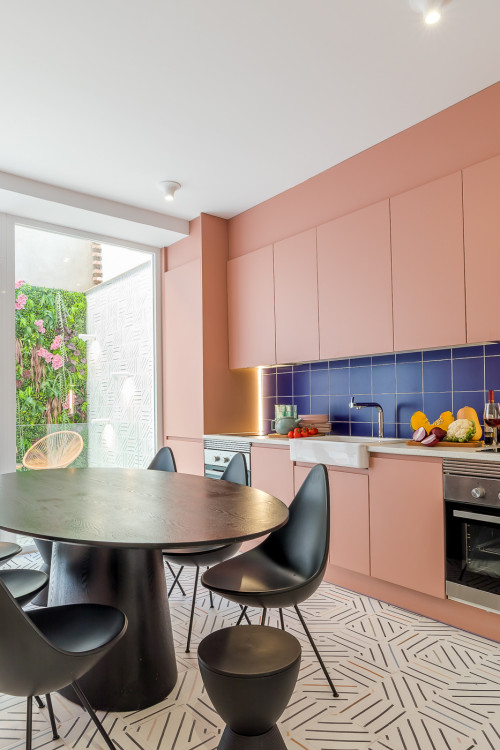 ID# 163906 | Houzz.com – Credit | © Amezkua
---
Contemporary Kitchen with Black and White Patterned Floor Tiles
Incorporating pink cabinets adds a touch of modern sleekness that infuse the space with contemporary vibes. The real magic happens with the unexpected twist brought by the blue backsplash tiles! These tiles seize the spotlight as a striking focal point and also infuse the room with a sense of depth and intrigue. To complement this striking contrast, the presence of a black dining table and chairs adds a sophisticated touch while the black and white patterned floor tiles further heighten the visual intrigue of the space!
Pink Kitchen Cabinets
If you want to create a pink kitchen, pink cabinets might be your starting point and from pastel pink to sophisticated burgundy, there are plenty of different shades of pink that you can use on your kitchen cabinets. Designing a kitchen with pink cabinets might be intimidating but with the right shade according to your style and taste, these cabinets can add a wow factor! So, whether it is a very light pink or hot magenta, pink cabinets can instantly change the mood and create a one-of-a-kind appeal for your kitchen!
Some shades of pink such as soft and pastel ones can act as a neutral, so you can combine them with plenty of different colors! On the other hand, bolder shades like magenta or deep pink are harder colors. That's why if you are going to use these shades, balancing them with neutral colors like white will be a better option to create a stylish look.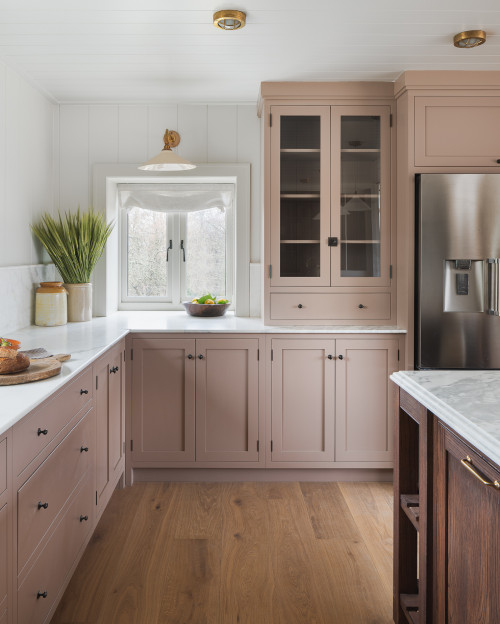 ID# 163907 | Houzz.com – Credit | © Chaunceys Timber Flooring
---
Pastel Pink Shaker Cabinetry with Marble Backsplash and Countertops
What a romantic kitchen design… Enriched with soft pink kitchen cabinets, this space offers la warm and inviting atmosphere. The white marble countertops and 4-inch backsplash complete the classic yet timeless appeal of the shaker-style cabinetry. The oil-rubbed bronze hardware makes a beautiful final touch.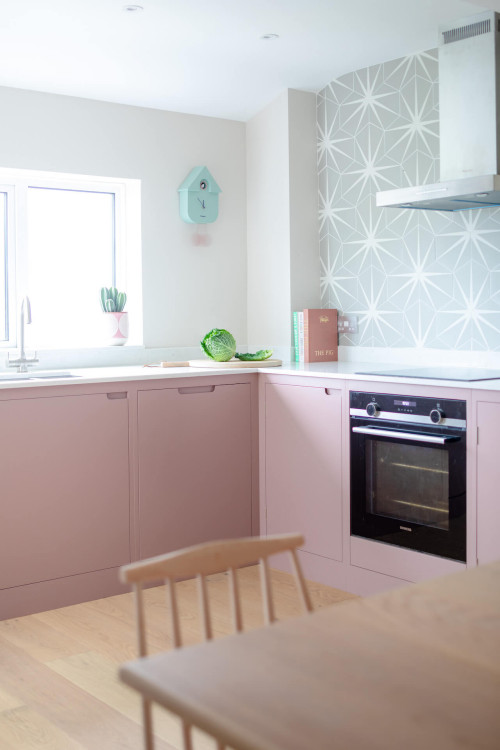 ID# 163908 | Houzz.com – Credit | © Sustainable Kitchens
---
Scandinavian Kitchen with Gray Hexagon Tiles Behind the Stove
Enriched with gray hexagon tiles, this Scandinavian design offers a sleek and modern allure with a warm and welcoming atmosphere! The pastel pink cabinets and luminous white countertops effortlessly infuse the room with an open and airy feel while the hexagon backsplash behind the stove, adorned with starburst patterns, creates an accent wall to enhance the overall design.
Are pink kitchens fashionable?
You might think that kitchens with pink cabinets look like a 'Barbie Doll House'. Yes, some of them may look like this. However, if you will use the right shade of pink and figure out how to balance this color with other features, pink cabinets can be fashionable!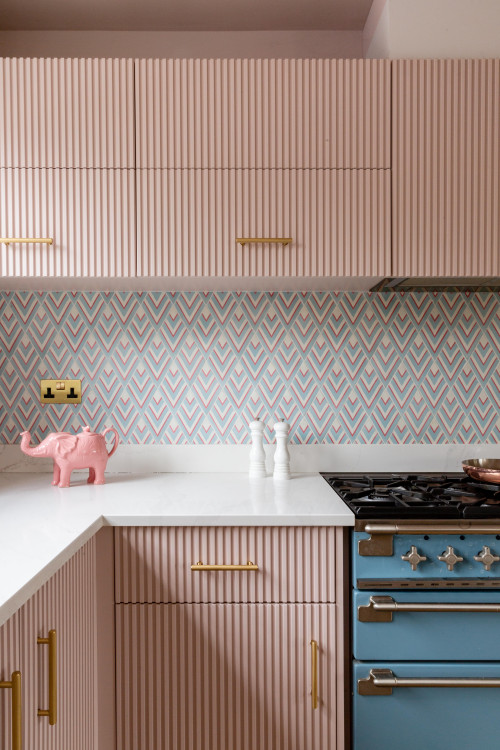 ID# 163909 | Houzz.com – Credit | © Randell Design Group
---
Pink Kitchen Ideas with Multicolored Backsplash Tiles
The paneling of these cabinets creates a visually pleasing effect while the vertical placement of these paneled doors creates a visual illusion and makes the space feel higher. The multicolored backsplash tiles complete the unique design of the cabinets to add another layer of texture. While the blue stove creates a cohesive look with the pink shades, the crisp white quartz countertop balances the complex patterns and textures.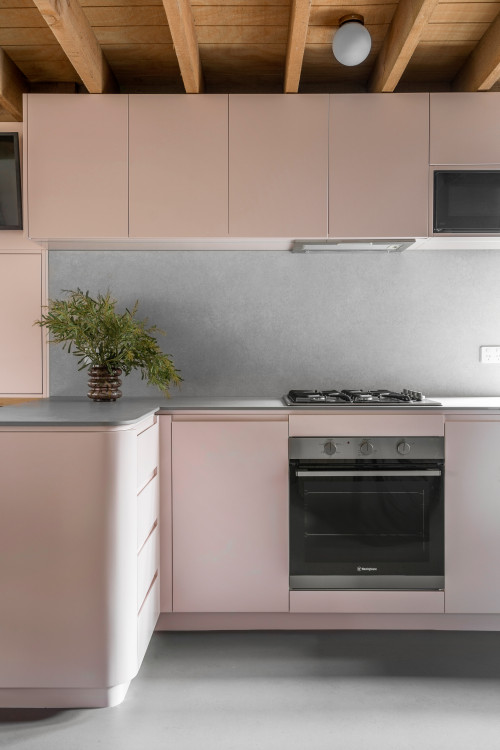 ID# 163910 | Houzz.com – Credit | © Britt White Studio
---
Rustic Modern Kitchen with Concrete Look Backsplash
Even the pink color represents a more romantic feel, you can create a rustic atmosphere with the help of the gray combination! In this L-shaped kitchen, the light pink cabinets offer an intimate atmosphere while the gray concrete look like a backsplash, and the countertop makes a cool twist, balancing the femininity of the pink. The black stainless steel appliances complete the modern look of the cabinetry.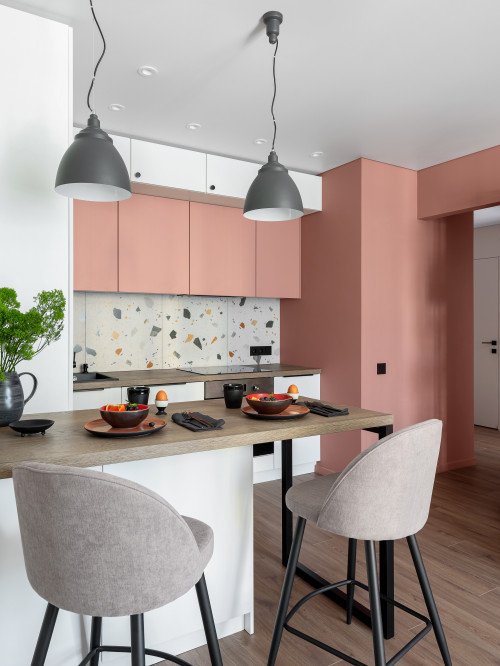 ID# 163911 | Houzz.com – Credit | © Maxim Maximov
---
Pink and White Cabinets with Wood Countertops
If you decided to use pink cabinets and still looking for the right backsplash, terrazzo material might be helpful for your design. The soft pastel pink color of the upper cabinets and terrazzo backsplash tiles create a harmonious look. The white base cabinets and peninsula enhance the spaciousness of the room while the wood countertops make a rustic twist and bring warmth to the atmosphere.
Pink Kitchen Appliances
If you want to add a splash of pink to your kitchen but think that using pink cabinets is too much., then you can incorporate this lovely color into your kitchen with appliances! Yes, in today's market, you can find even pink kitchen appliances! From a refrigerator to a kettle, there are plenty of pink appliances that you can incorporate into your kitchen.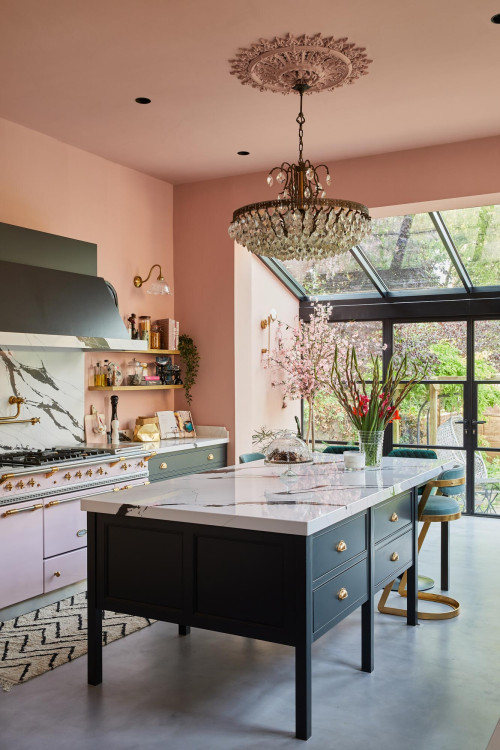 ID# 163912 | Houzz.com – Credit | © The Main Company
---
Eclectic Kitchen Design with Pink Walls
This eclectic kitchen exemplifies how a mix-and-match approach can help you to create your dream clunary heaven!! The dark green kitchen cabinets and island in this area create a dramatic and sophisticated mood. The white quartz countertops and backsplash complete the luxurious feel of the dark green with their marble look black veining. The pink stove makes an unexpected twist and brings a romantic vibe to the room while thecrystal chandelier above the island and brass hardware complete the elegance.
Pink Kitchen Backsplash
Unlimited color choices are available for kitchen backsplashes in today's market, among which pink is an option. If a pink kitchen design is what you're after, a pink backsplash will allow you to achieve your dream look. Regardless of whether you prefer a classic subway or a contemporary hexagon tile, pink will complement your tiles nicely and give your kitchen a distinctive charm.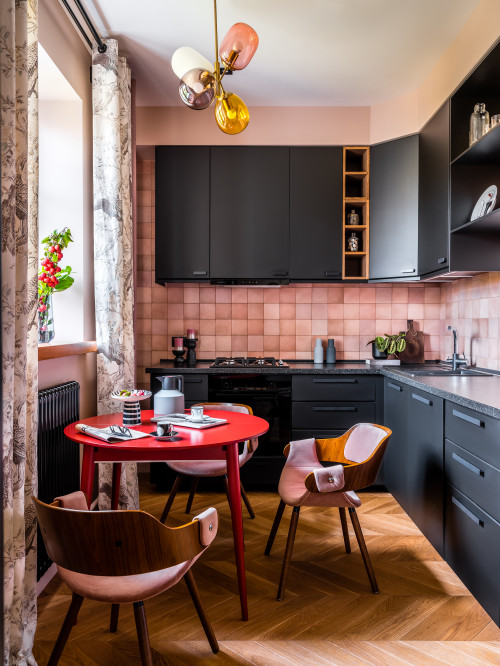 ID# 163913 | Houzz.com – Credit | © Логинова Наталья / дизайнер, декоратор
---
Black and Pink Kitchen Ideas with Red Dining Table
Even if it sounds overwhelming, the combination of black and pink is a classic yet modern appeal that can easily add a touch of sophistication to any space, including kitchens. This transitional kitchen is showcasing this harmonious combination perfectly. Here, the modern black cabinets create a dramatic atmosphere and add depth to the space. The pink square tile backsplash stands out between the cabinets to softens the sharp look of the black. The black granite countertop and hardware complete the elegance of the cabinetry while the red dining table is another statement piece in this kitchen that adds another pop of color. The colorful glass lighting fixture above the dining area completes the joyful atmosphere.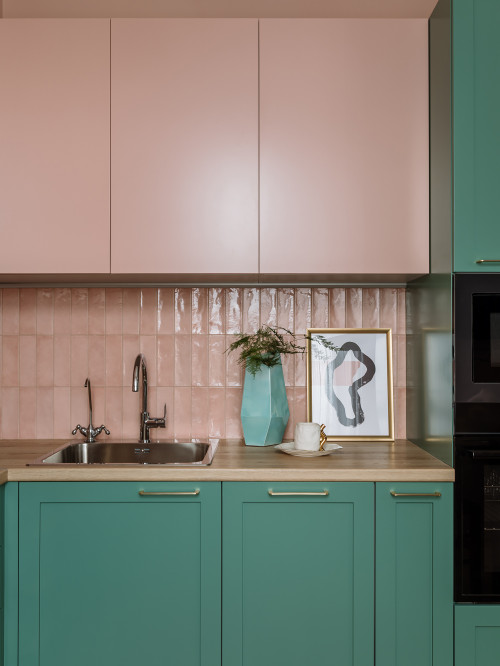 ID# 163914 | Houzz.com – Credit | © bellager design
---
Pink and Green Cabinetry with Wood Countertop
If you are looking for colors that can match pink, green is one of them. As you can see in this Midcentury kitchen, the green and pink cabinetry harmoniously create a stylish look. The pink handmade backsplash tiles complement the upper cabinets while the glazed finish of the tiles adds a fresh look by reflecting light. The wood countertop completes the natural sense of the green while the brass hardware adds a dose of glamour.
What backsplash goes with pink cabinets?
Pink is a highly adaptable color that can complement a range of other hues however, for those seeking a more secure choice, white is a trusty color that complements the kitchen ambiance!! By choosing a white backsplash, you can effortlessly balance the color scheme while creating a more spacious atmosphere. Pairing dark pink cabinets with a light gray backsplash adds a fresh look to your cabinetry while incorporating a darker shade with light pink cabinets results in a contrasting look. For a bold and sophisticated accent that balances out the cute vibe of pink, consider choosing a black or dark gray backsplash.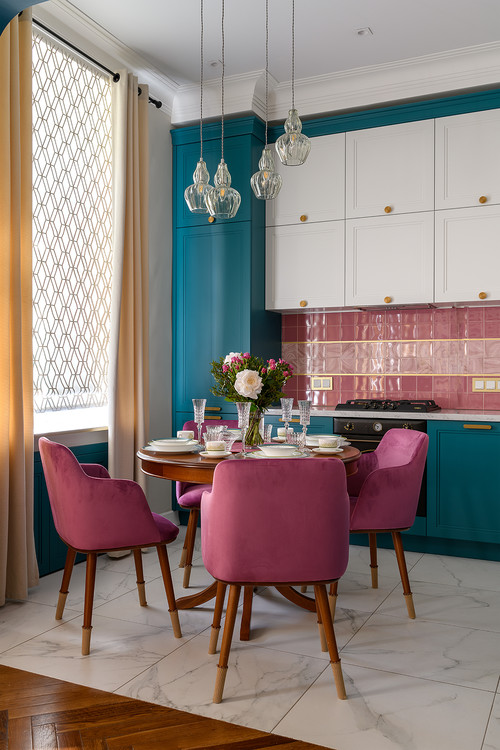 ID# 163915 | Houzz.com – Credit | © Салон ЛюксШтора
---
Eat-in Kitchen Design with Glossy Backsplash Tiles
When it comes to kitchen design, there are no certain rules for color schemes and you can go as bold as you want and create a stylish overall look! The combination of blue and pink shades showcasing a one of a kind look that makes a statement. The navy blue base cabinets bring depth to the space while the white upper ones provide a bright and fresh look. The glossy pink tile backsplash creates contrast with the blue to adds an accent point. The pink velvet chairs of the dining table complement the feminine appeal of the backsplash tiles.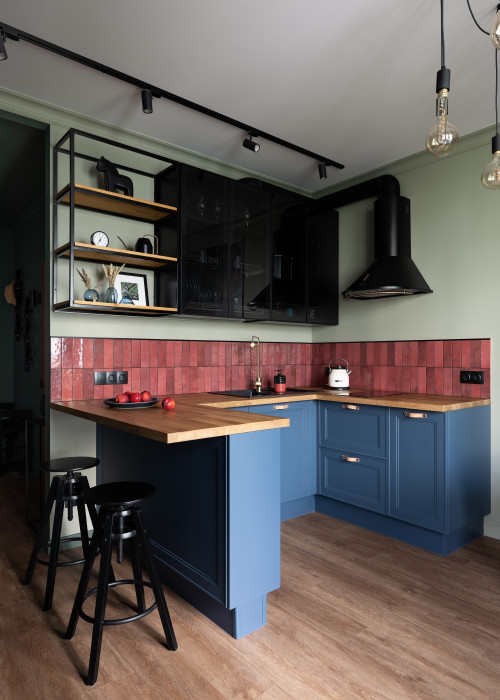 ID# 163916 | Houzz.com – Credit | © Maxim Maximov
---
Blue and Black Cabinets with Pastel Green Walls
Pink, green, and blue… What an interesting combination! The glossy hot pink backsplash tiles are the first things that draw attention whle these tiles create a focal point between the dark blue base cabinets and light green wall paint. The soft pastel green shade of the walls also provides a simple base and balances the combination of vibrant shades. The black upper cabinets and range hood enhance the modernity of the overall look. For a final touch, the butcher block countertop completes the stylish design!
How to decorate a pink kitchen?
Decorating a pink kitchen may be more difficult than decorating a basic white kitchen. But don't worry, with the correct decor, your pink kitchen will resemble a 'Pinterest Kitchen'. First and foremost, you must select the appropriate pink color for your taste and the design of your kitchen, since the shade you select will set the tone for the entire space!!! Incorporating neutral colors like gray or white is also a great way to create a feeling of harmony and refinement in your pink kitchen. Consider metallic embellishments such as gold, brass or copper if you want to liven things up a little.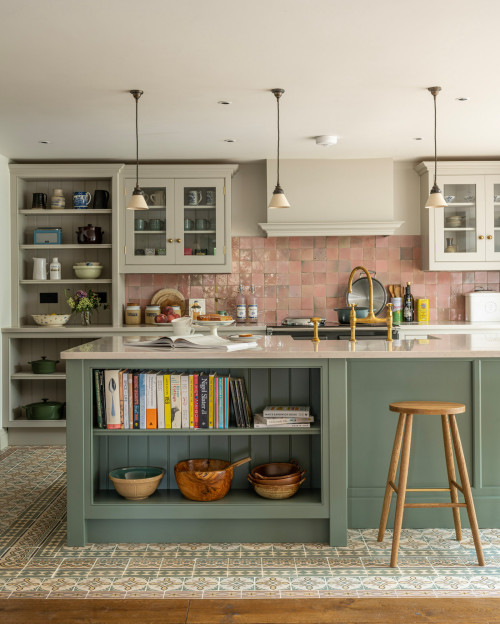 ID# 163918 | Houzz.com – Credit | © Gemma Dudgeon Interiors
---
Two-Tone Kitchen Cabinetry with Patterned Floor Tiles
In this traditional kitchen design, the two-tone kitchen cabinets in soft green and off-white provide a warm and intimate atmosphere. The pale pink Zellige tile backlash stands out between the soft shades and adds visual interest while the square shape of the tiles also adds a retro vibe. The flooring is antique tiles painstakingly redesigned to fit around the island. These tiles act as a rug and elevate the overall look.
Pink Kitchen Walls
Painting the walls is the easiest way to give a whole fresh look to interiors. Painting the walls is a great way to add color to your space without the long-term commitment. That's why, whether you are designing or renovating your kitchen, don't underestimate the power of the wall paint! Even if you have plain white cabinets, you can instantly change the atmosphere with pink wall paint and elevate your design! As we said, you can enliven your white cabinets with walls or be brave and paint also your cabinets pink!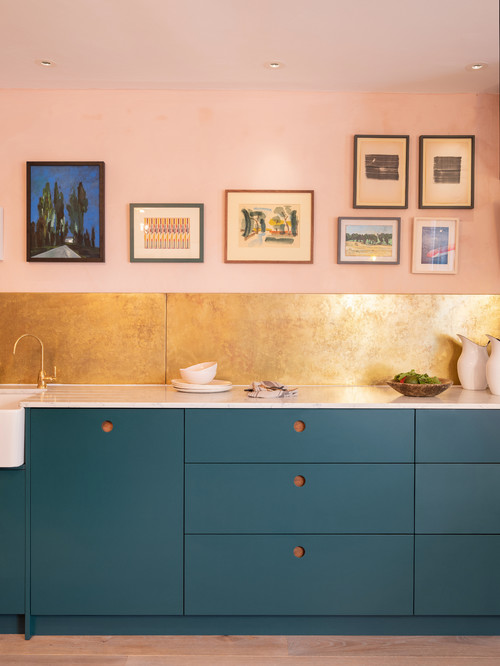 ID# 163919 | Houzz.com – Credit | © Naked Kitchens
---
Dark Green Cabinets with Gold Backsplash and Pink Walls
Painting the walls is the easiest and most affordable way to incorporate the pink color into your kitchen. In this contemporary kitchen, the pink-paint of the walls provides a soft and sleep backdrop. The dark green kitchen cabinets cone front by contrasting the soft pink shade. The gold backsplash is definitely the centerpiece of this design that adds a wow factor.