31+ Eclectic Kitchen Ideas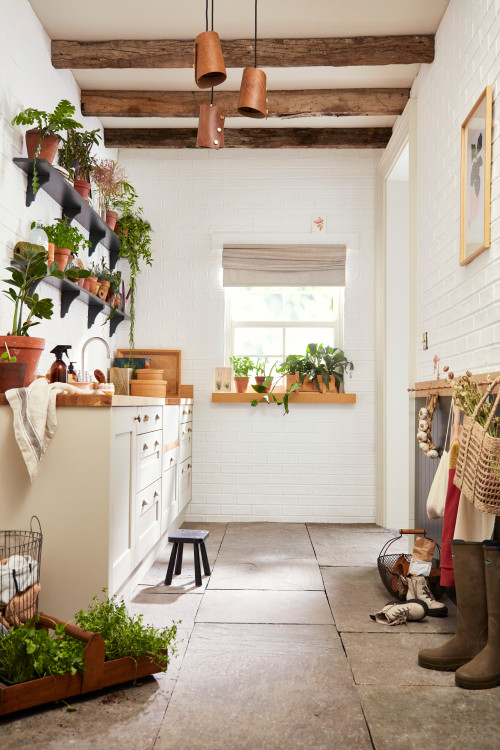 ID# 151004 | Houzz.com – Credit | © Dowsing & Reynolds
---
Warm and Inviting Eclectic Kitchen Ideas
Creating an inviting atmosphere with its natural look and warm visuals, this kitchen design brings an intriguing ambiance. Its white cabinets and wooden countertops provide a unique look, calling out for an exciting setting. The farmhouse style, with its wooden elements as structural factors, gives a comforting, small-yet-cozy feel to the room. On the other hand, an Eclectic kitchen offers a vibrant yet harmonious look by combining various elements from multiple styles. This kitchen brings out fond memories and warm emotions of its users, creating a stimulating and inviting atmosphere.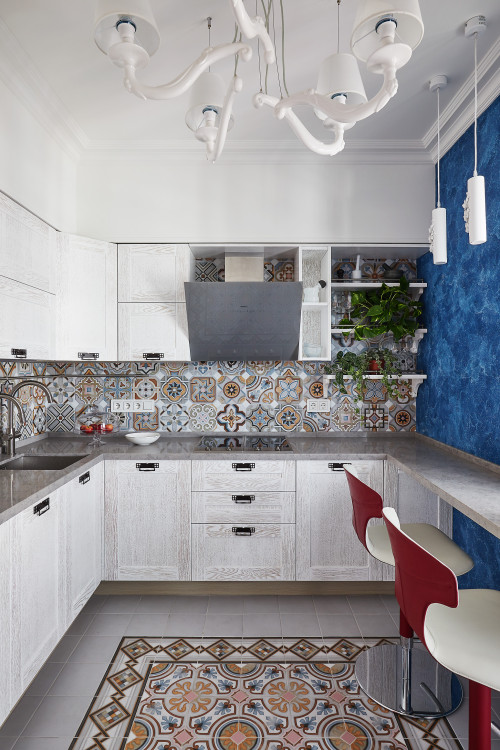 ID# 151029 | Houzz.com – Credit | © Бюро IVA
---
Eclectic Illuminated Kitchen Design that Softens the Textures with White Lighting
Eclectic lighting, which is preferred with a simple color in the kitchen that develops with textures, brings this kitchen, which is unique in every area, to a middle point. While general lighting is provided with a white chandelier, pendant lights are responsible for illuminating the breakfast corner. While the kitchen formed in this way is lost among the textures, it offers more elegant and harmonious results to the users with a lighting preference with a simple touch.
Eclectic Kitchen Ideas
Combining different styles, eclectic designs offer warm cozy and inviting atmospheres. Allowing experiences to guide them instead of creating all at once, can give a sense of character to a kitchen. In this article, we have gathered eclectic kitchen ideas to inspire a life-filled kitchen, putting together emotions and aesthetics. Let's journey through these inspiring and stylish design ideas and feel the vibrancy they bring!
Eclectic kitchens, which are complex, created by moving and colorful areas away from uniformity but catching a harmony from that complexity, reflect more lively feelings and happy spaces. In this way, eclectic-style kitchens stand out with their unique differences, resulting in clearer visuals. So scroll down and find stylish eclectic kitchen ideas to get inspired!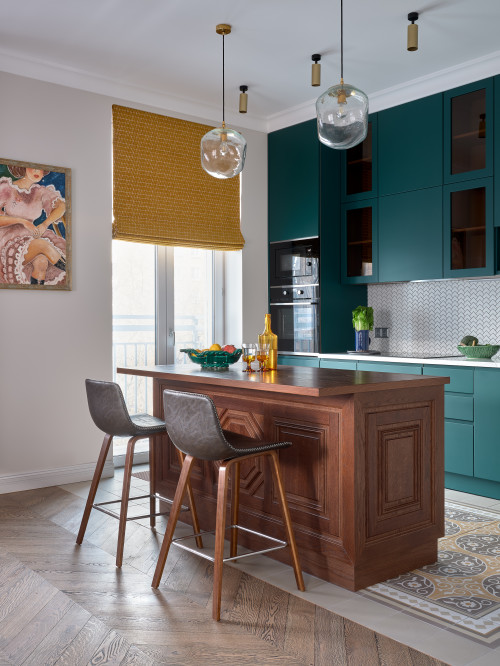 ID# 151001 | Houzz.com – Credit | © Natalie Vershinina
---
Green Cabinets with Wood Island and White Backsplash
The kitchen evokes a feeling of balance and harmony through its combination of different textures and materials. The vibrant green cabinets, paired with the white backsplash and countertops, create a crisp definition. Meanwhile, the wooden furniture used as the island provides the perfect contrast. As the patterned floor tiles move into the wooden floor, emotions of warmth and comfort arise. Virtual borders provide division and a clearer divide between the kitchen and other living areas.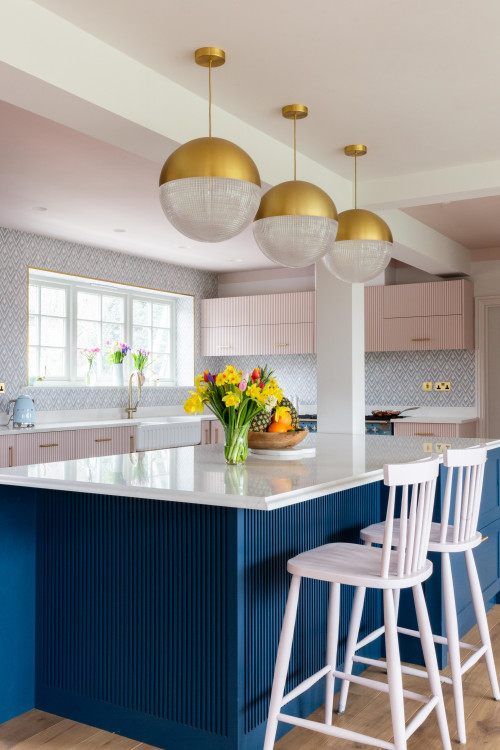 ID# 151002 | Houzz.com – Credit | © Randell Design Group
---
Blue and Pink Cabinets with a Riot of Patterns and Colors
This kitchen design is definitely not your run-of-the-mill space. Its blue and pink patterned cupboards are the perfect statement to create a feeling of vibrancy and energy, but the warm harmony that they bring to the room creates a cozy atmosphere. The white countertop, combining textures of various elements, brings a sense of calm to the room. The wood texture on the floor grounds the design, while the patterned wallpaper on the walls glides around the room, spreading daring and eclectic textures to every corner. Finally, the vintage lighting hanging from the ceiling transports you to a whole new realm, with a mix of different periods and styles for added depth. In sum, this kitchen design is a unique blend of vibrancy, harmony, and warmth that evokes a whole spectrum of human emotions.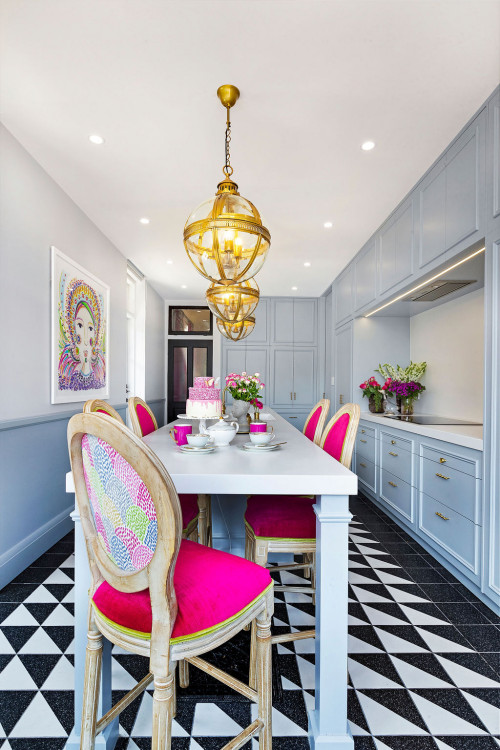 ID# 151003 | Houzz.com – Credit | © Sartorial Interiors
---
Eclectic Kitchen Ideas with Gray Cabinets and Pink Chairs
This kitchen design radiates elegance and elicits an eclectic charm with its juxtaposition of pink chairs and grey cabinets. Its elongated kitchen island adds dimension, while the checkered tiling on the floor provides a unique allure. The wall coverings are thoughtfully coordinated with the grey cabinets, rendering continuity. An air of sophistication is augmented with the flashy lighting, crafting an entrancing space by weaving together disparate styles and textures. This kitchen creates a stylish ambiance and stirs emotion.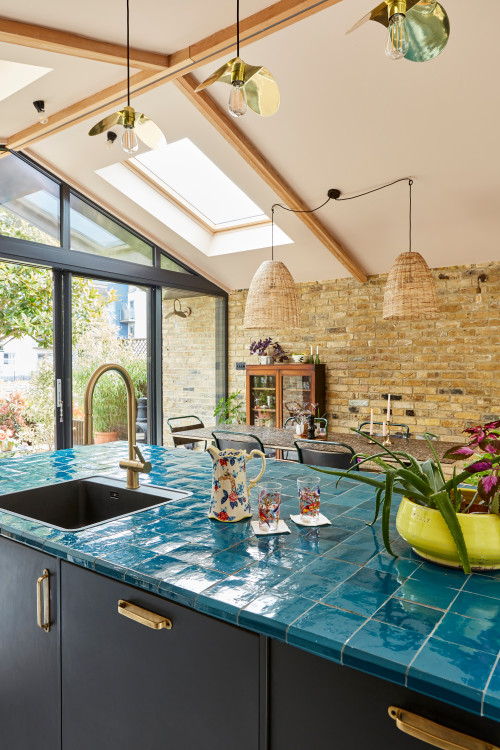 ID# 151005 | Houzz.com – Credit | © K Space Interiors Limited
---
Wonderful Eclectic Kitchen Design with Botanical Garden Inspirations and Views
The kitchen radiates a warm and inviting atmosphere through the combination of different textures that offer unique and bold visuals! Soft, natural light illuminates the space where black cabinets are set against a glazed tiled countertop, each detail having its own charm and displaying a range of interesting elements. To complete the eclectically designed kitchen, a plentitude of greens perfectly provide an atmosphere of comfort and relaxation.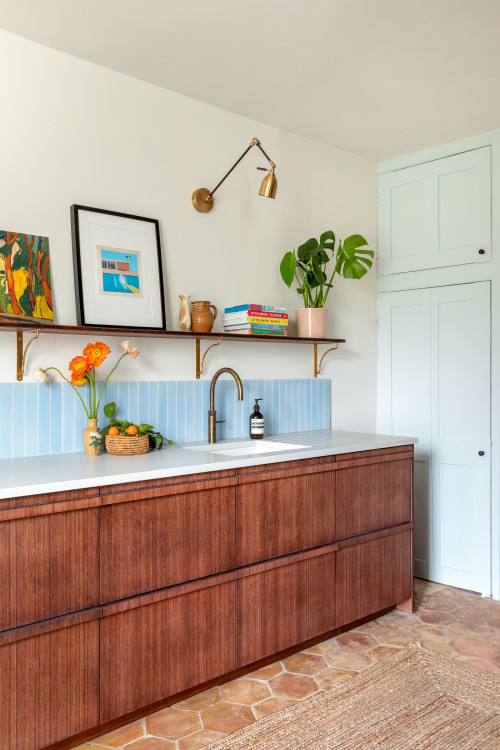 ID# 151006 | Houzz.com – Credit | © Ben Sage Photography
---
Eclectic Kitchen Ideas with The Wonderful Harmony of Different Colors and Textures
The kitchen design brings a sense of warmth and liveliness to the space, by combining different and vibrant textures that span different designs and eras. Blues, greens and wood textures contrast with cooler and more natural elements, creating an inviting atmosphere. The hexagonal ceramic tiles on the floor add a timeless, tasteful touch, elevating the overall look. The details incorporated in the design imbue the kitchen with a cozy, comfortable and charismatic charm, demonstrating how thoughtful design can evoke stylish appearance.
Colorful Eclectic Kitchen
When colors and tastes come together, eclectic designs evoke a sense of harmony and comfort. Combining different parts from different eras, the eclectic design language does not have a defined structure – yet it still evokes feelings of excitement, belonging and joy all at once. By embodying all these human emotions, eclectic designs create spaces that foster a unique atmosphere, one that is both modern and timeless!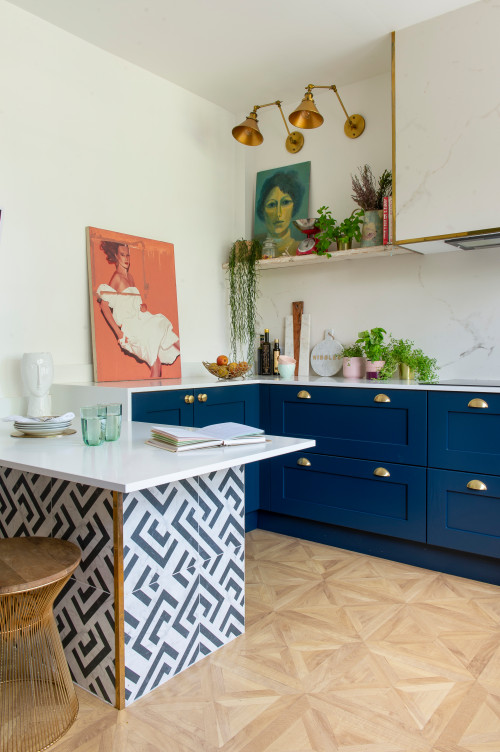 ID# 151007 | Houzz.com – Credit | © Nova Nilla Design
---
Blue Kitchen Cabinets with Brass Hardware and Tiled Island
The eclectic kitchen design, weaving blue cabinets, gold handles, and a white backsplash into its tapestry, adds to vibrant and lively spaces with its various patterns. Its juxtaposition of old and new, wooden texture and golden details on the floor — these all invoke special emotions in those that use this kitchen; a kitchen full of life. The tiled kitchen island achieves a perfect balance with the kitchen's eclectic style and further adds to the feeling with its green plants and artwork. This kitchen not only meets needs but also offers a visually gratifying experience.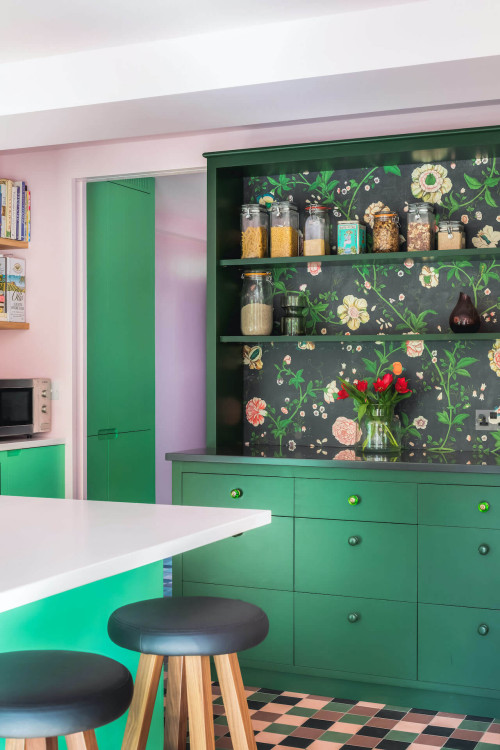 ID# 151008 | Houzz.com – Credit | © Sustainable Kitchens
---
Green Cabinets with Floral Wallpaper Backsplash
This sweet kitchen, where green cabinets are combined with sugar pink walls, manages to pass eclectic effects to the user. The colorful kitchen, used together with the colorful tiles on the floor, has an energetic and intriguing visual. The kitchen, where white and black countertops are used differently, radiates lively energy. The kitchen, which receives a lot of light, offers a bright environment despite its strong colors. In this way, the kitchen creates an atmosphere that is both inviting and intriguing. The kitchen also has plenty of usage and storage space that meets all the needs of the users and completes the requirements.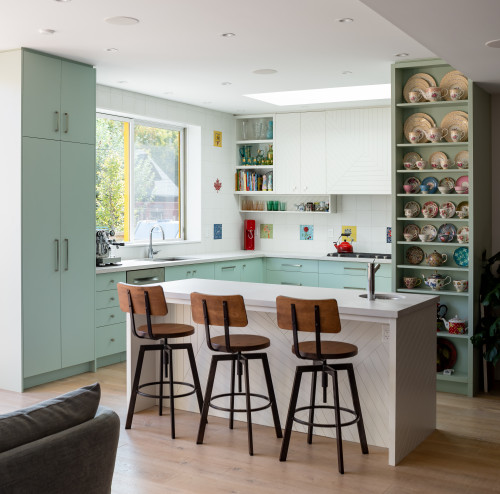 ID# 151009 | Houzz.com – Credit | © Olympic Kitchens
---
Woss Green Cabinets with Cozy Atmosphere
The kitchen radiates a feeling of warmth and liveliness with the moss green and white cabinets, creating a stylish and cozy atmosphere. Its simplistic style and eclectic influence make it an uncomplicated yet versatile space – perfect for all tastes! The wood texture of the floor and wooden chairs in the breakfast corner only add to the inviting atmosphere. The backsplash in white brings a bright, eye-catching touch and the large windows that let in natural light make it an even more intriguing and cheerful space.
What is an eclectic kitchen?
An eclectic kitchen is an inspired design of unique style beautifully brought together by combining pieces from various times and styles in an organic way – one created through the lived experiences of its inhabitants rather than by deliberate design!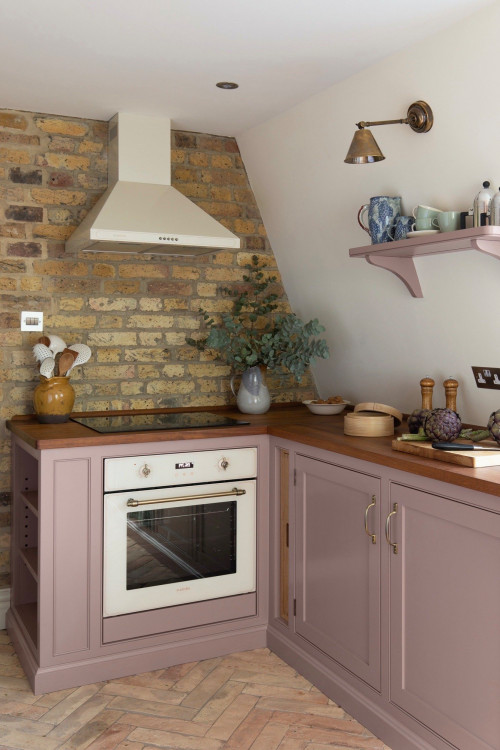 ID# 151010 | Houzz.com – Credit | © Brooke Copp-Barton Interiors
---
Timeless Eclectic Kitchen Ideas with Pink Cabinets and Natural Stone Backsplash
The harmonious yet contrasting elements of the eclectic kitchen with pink-toned cabinets, wooden countertops and a natural stone backsplash come together to create an inviting atmosphere! The herringbone stone flooring adds a touch of warmth to the space, and its vibrant details and textures elevate the entire design to a new level. It evokes a wonderful emotion in its viewers, an intriguing and mesmerizing feeling that is hard to ignore. Such an atmosphere captures the living feeling of the place and draws you into the beauty of it all.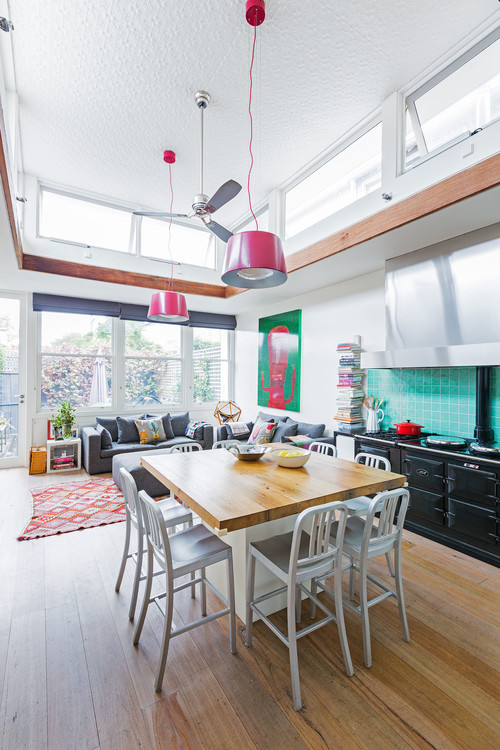 ID# 151011 | Houzz.com – Credit | © Studio Stamp
---
The Harmony of Eclectic Effects and Different Textures in The Kitchen with Great Light
The eclectic kitchen design brings an intense burst of life to the space, powered by its unique combination of pieces from different time frames and differing materials. With the aluminum stove paired with verdant tiles as a backsplash and a large metallic ventilator, the kitchen is anything but dull. The charming wooden texture, along with the complementary white chairs and table in the dining area, further amplifies the vibrancy of the kitchen. The generous amount of free space gives room for creative expression, creating an inviting and stylish atmosphere. The kitchen is sure to bring out warm, cozy feelings to its user with its inviting layout.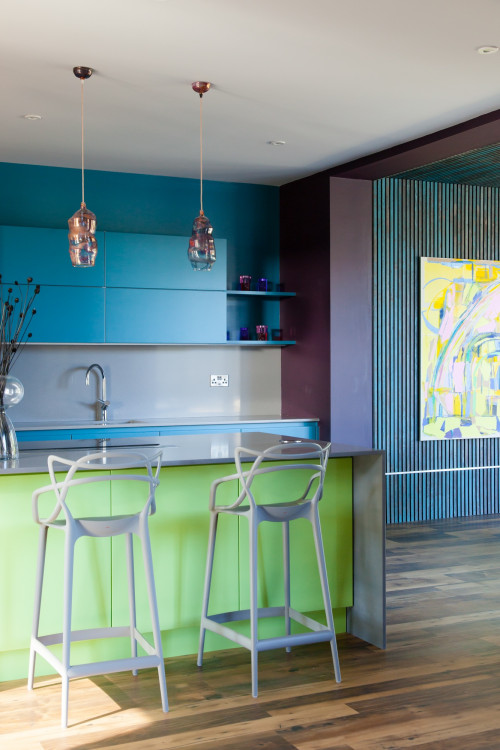 ID# 151012 | Houzz.com – Credit | © Charlotte Beevor Studio
---
Eclectic Kitchen Ideas with Colorful textures and Modern Lines
This eclectic kitchen radiates a colorful and warm atmosphere, blending modern lines with striking hues. The expansive and airy design imbues its users with an energetic and vibrant feel. The gray countertop balances the striking colors, adding a touch of modernity without overshadowing the kitchen's bright palette. The simple ceiling structure, combined with spot and pendant lighting, creates a sleek and lucid atmosphere. With its textured wood flooring providing a sense of warmth and comfort, this kitchen promises an enjoyable and delightful experience, full of life.
Modern Eclectic Kitchen
Combining eclectic influences with modern lines, these kitchens both include elements of different times and offer a simple design with modern lines. By squeezing old or rustic elements between modern cabinets and materials, or by squeezing a new material between the old ones, the most distinctive features of this style are obtained, and kitchens create stylish spaces with a spirit of living.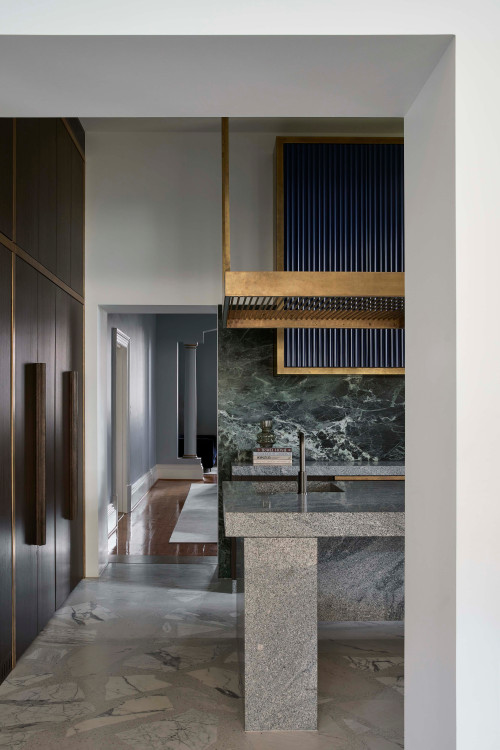 ID# 151013 | Houzz.com – Credit | © Atelier Bond
---
Stylish Eclectic Kitchen Design that Combines Wonderful Stone Textures
Reflecting the feeling of an extremely luxurious restaurant, the kitchen combines different stone textures to present a wonderful visual. The mosaic on the floor, the wonderful granite on the island, and the porcelain texture on the backsplash present a stylish appearance despite their incongruity. The cooking part with the blue cabinets with gold rims offers a great visuality with well thought and stylish solutions. With the wooden cabinets on the side, it has large volumes to meet the requirements of the space and makes the space more functional with plenty of storage space. The kitchen, located in the form of an open plan, offers also a spacious and comfortable usage area while presenting form and function to the users at the same time.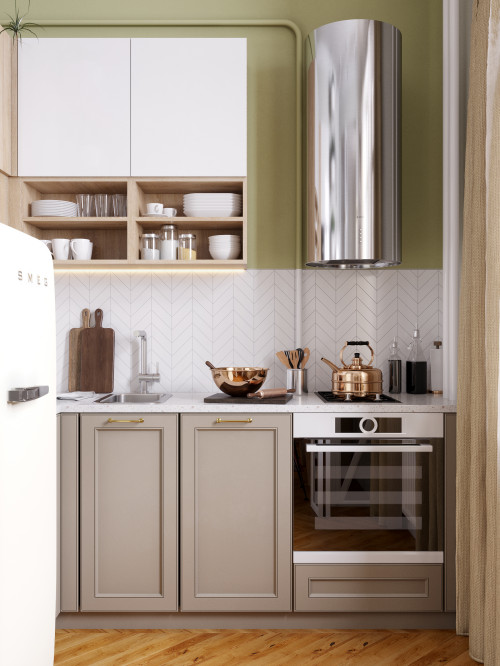 ID# 151014 | Houzz.com – Credit | © O.Barnash
---
Beige and White Cabinets with Chevron Backsplash
This eclectic design offers a unique blend of classic and modern elements to create a beautiful atmosphere. The rich gray cabinets at the base bring a timeless feel while the white cabinets and wooden shelves up top create an elegant harmony. The green walls with white herringbone backsplash captivate the eye and present an array of functional solutions. An industrial-style hood stands out in contrast but merges seamlessly with the rest of the design to create a truly wonderful visual feast that's filled with pieces from diverse points in time.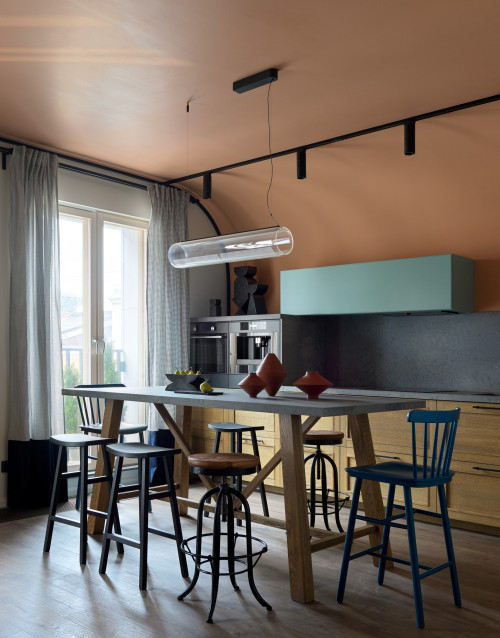 ID# 151015 | Houzz.com – Credit | © Totaste.studio | Виктор Штефан
---
Eclectic Kitchen Ideas with Modern Inspirations with Wooden Cabinets and Colorful Ceiling
The modern eclectic kitchen, which is formed with its unusual appearance, is powered by differences like a work of art by using natural materials and artificial appearance together. The kitchen design, which uses wooden cabinets but changes when it moves to the upper part, includes a solid stone texture as the countertop and backsplash. In this way, the kitchen, which offers a calm appearance, provides different emotions with the different colored ceiling and extractor elements. The kitchen, which stands out with its wooden texture on the floor, offers a rough selection of pieces with its dining table and different chairs. It also uses products from different times together with mid-century style lighting hanging from the ceiling and a modern dining table.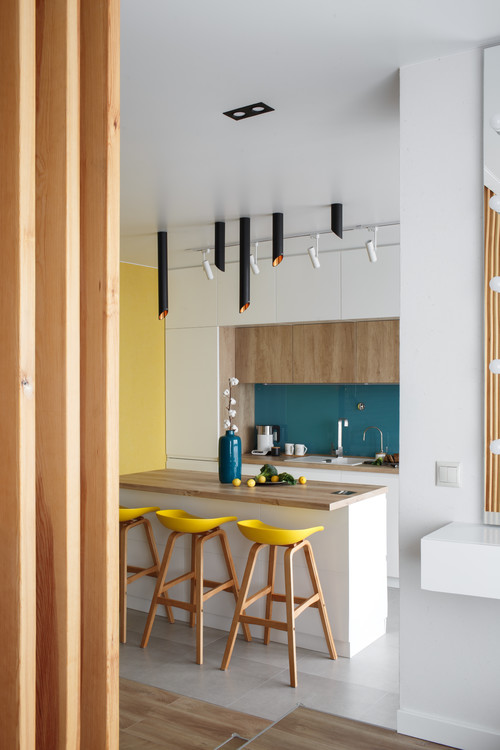 ID# 151016 | Houzz.com – Credit | © Александр Хом
---
A Modern Eclectic Kitchen Ideas with Plenty of Colors Use Among Modern Cabinets
The kitchen design, which stands out with its blue backsplash among modern white and wooden flat cabinets, combines colors with simplicity and has eclectic lively breezes. The kitchen, which provides a warmer environment with wooden countertops, takes care to use different colors in every area. Colors that highlight modern lines more vividly ensured that the kitchen is far from boring. The kitchen, which has a more pleasant and simple appearance with the gray ceramics on the floor, changes the floor differences according to the functions of the space. The kitchen, which offers a wonderfully warm and intriguing experience to the users, also achieves great results with the eclectic elements it adds between modern lines.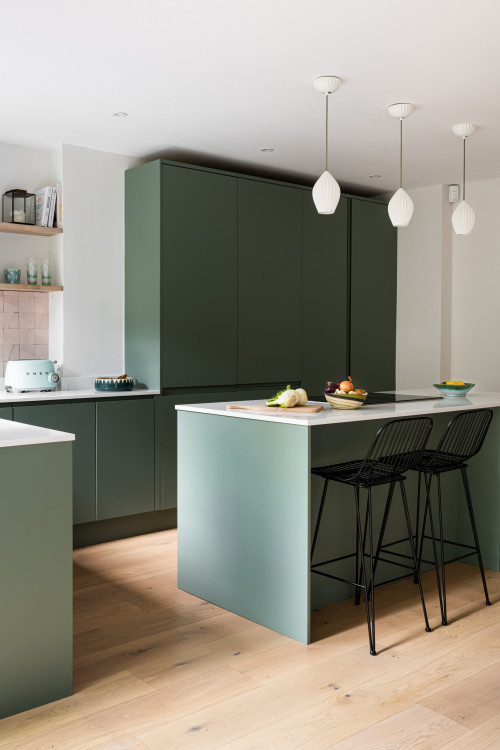 ID# 151017 | Houzz.com – Credit | © Into interior design
---
Eclectic Modern Kitchen Ideas with a Story with Green Modern Cabinets and a Retro Backsplash
This green kitchen brings out strong colors and modern cabinets that create great visuals – in addition to eclectic inspirations from its bright retro backsplash and wooden shelves! The unique blend of warm and cold colors creates a balanced and bright atmosphere. The white countertops contrast nicely with the various textures, and the natural wood floors give the space warmth and simply highlight it. Pendant lights and a white ceiling draw the focus to the cabinets and countertops.
Eclectic Industrial Kitchen
Balancing industrial kitchens with vivid and colorful touches can be seen as an eclectic expression of one's personality. These designs, which defy definition, often reflect the life that's held within the space, transforming into a warmer and more inviting atmosphere whilst keeping the same industrial flare. So, as these kitchens gain more life, they also provide us with a sense of coziness and become more relatable, allowing us to feel a connection.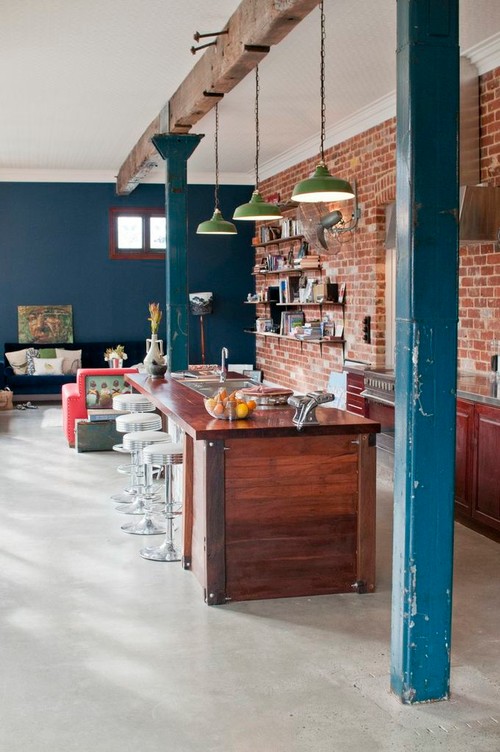 ID# 151018 | Houzz.com – Credit | © Etica Studio
---
Industrial Eclectic Kitchen Ideas with Brick Walls and Lively Visual
The industrial eclectic kitchen design, nestled in a wonderful brick structure, radiates a more lively and inviting atmosphere as its elements come to life over time. This kitchen, crafted to each individual's personal preference, has an experience focused composition rather than one based on design. The parts that accumulate and appear as the users wish, display a more genuine sense of emotion. In this way, the kitchen evolves into a more personal and cozy space.
Eclectic Kitchen Cabinets
Eclectic style is often defined by kitchens full of color and rich touches – creating a vibrant, festive atmosphere that evokes an emotional response in anyone who enters the space. By combining a mix of both old textures and new materials, this design works together to bring life and culture to the room, creating a visual feast from every angle. Away from the ordinary and mundane, these designs come together to form something greater – spaces that transition across time and trends, never feeling outdated – bringing a sense of life and joy to any kitchen.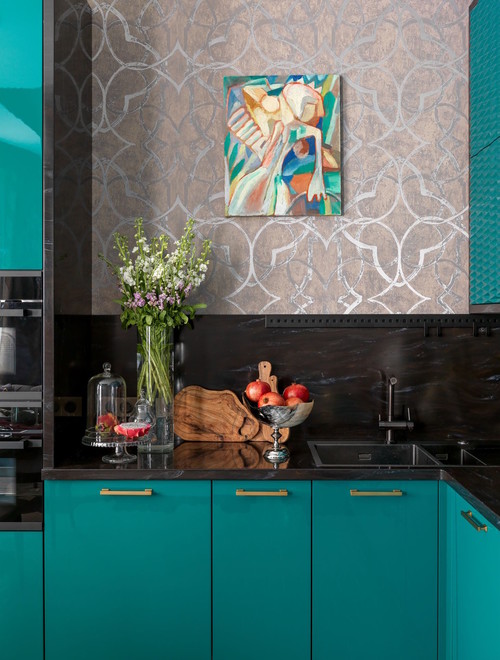 ID# 151019 | Houzz.com – Credit |© Галерея Дизайна Юлии Казаковской
---
Teal Cabinets with Black Countertop and Backsplash
This kitchen, where green cabinets are used together with a modern backsplash, creates eclectic inspirations with elements from different times. In this kitchen, green classic cabinets perfectly match with black one-piece stone to create a more vibrant and colorful kitchen with its golden handles and matte paint. This kitchen, where users feel different feelings together, has both modern inspirations and eclectic effects in the same space. Although the kitchen has visually intense patterns, the material preferences that work in harmony can present this calmly. In this way, the kitchen offers both modern and eclectic inspirations in the same space, promising a different experience to the user.
ID# 151020 | Houzz.com – Credit | © Nataly Komova
---
Eclectic Kitchen Ideas with Purple Cabinets and Tumbled Mirror Backsplash
This kitchen design, which is bestowed with the color purple, serves the eyes as if it came out of a fairy tale with its unique cabinets and aged mirror backsplash! While the purple kitchen cabinets add a more lived and lively atmosphere to the space, they bring the kitchen closer to the eclectic style. In this way, the space embraces a more lively and warm atmosphere by leaving its modern points such as the backsplash and the island in the shadow of the cabinets. It captures simplicity with gray ceramic tiles on the floor. However, the kitchen already stands out with its purple cabinets. Also, the space looks wider and deeper thanks to the usage of the aged mirror backsplash.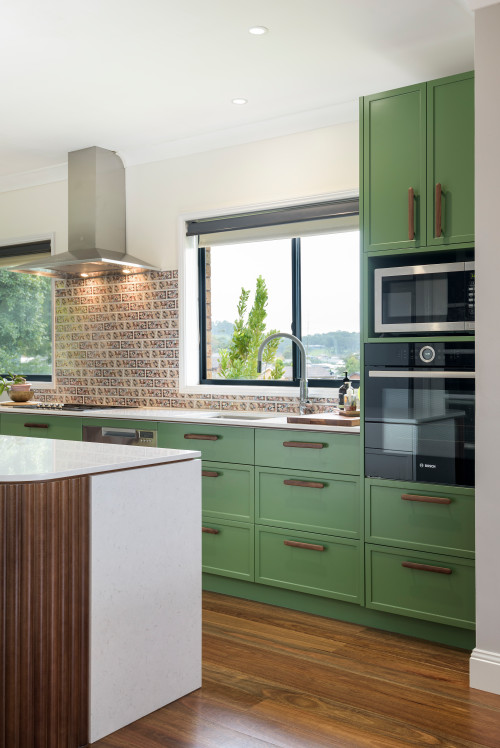 ID# 151021 | Houzz.com – Credit | © Vista Kitchens Newcastle
---
Stylish and Inviting Kitchen Design with Eclectic Inspirations with Green Cabinets
The wonderful shades of green on the kitchen cabinets stand out delicately and create an inviting, warm atmosphere with its wooden details. The seamlessly flowing wood texture on the floor and patterned backsplash add graceful movement and depth to the space. Large-sized windows infuse the space with natural light, which enhances both the color and texture. The design complements the green cabinets with a white countertop and island in a subtle yet sophisticated manner, resulting in a highly functional and aesthetically pleasing kitchen. The addition of an assortment of colors brings a mild dynamism to the overall calming ambiance, creating a tranquil yet inviting space for the users.
Eclectic Kitchen Backsplash
The eclectic kitchen backsplash models are appreciated for their ability to fit the general space with ease. Adding a more eclectic vibe to the kitchen is just a few steps away with the incorporation of a textured, retro-graced backsplash. The contrast created between these classic cabinets and modern backing applications is nothing short of awe-inspiring – a compassionate testament to the beauty of this design language! Scroll down and find inspirational backsplash designs. You can also check our online shop to find the right tile for your kitchen.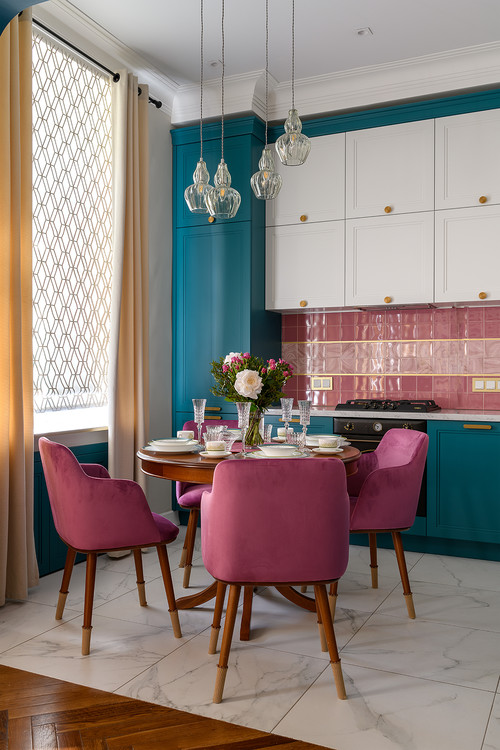 ID# 151022 | Houzz.com – Credit | © Салон ЛюксШтора
---
Pink Eclectic Kitchen Ideas with Blooming Between Green Cabinets
The kitchen design, with its flashy and vibrant colors, brings vibrancy to the space, with the eclectic pink backsplash providing an air of warmth and liveliness between the classic cabinets! Its strong green and white tones possess a coolness, yet the pink backsplash texture emits a cheerful radiance as if filling the kitchen with blooming flowers. With this lively and vivid energy spilling throughout, the kitchen subsequently shows a clearer, yet warmer appeal, while simultaneously conveying both simplicity and style, through an abundance of bursting colors.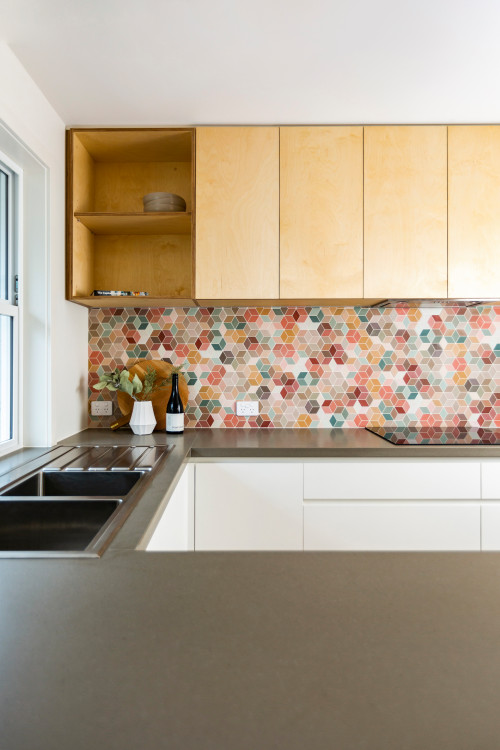 ID# 151023 | Houzz.com – Credit | © BGT Building Pty Ltd
---
Wood and White Cabinets with Colorful Hexagon Backsplash
The eclectic-inspired backsplash, which offers a more lively and vibrant texture between the modern cabinets, changes the plain modern atmosphere in the kitchen and creates a different design language. In this way, the space becomes more lively and energetic. While the patterned backsplash, where vibrant colors come together, presents itself like a painting in the presence of modern lines, it creates a practical and stylish solution with its ceramic structure and one-piece gray countertop. This kitchen softly demonstrates the harmony it has achieved by using different textures together and achieves satisfactory results both visually and functionally.
How to make an eclectic kitchen?
An eclectic kitchen requires one to bring life and emotion into the space. Using a variety of hues and textures, it is possible to create a harmonious multifaceted atmosphere that is unique and inviting. The colors and textures should evoke peaceful yet exciting feelings, allowing you to truly find solace and joy in preparing meals!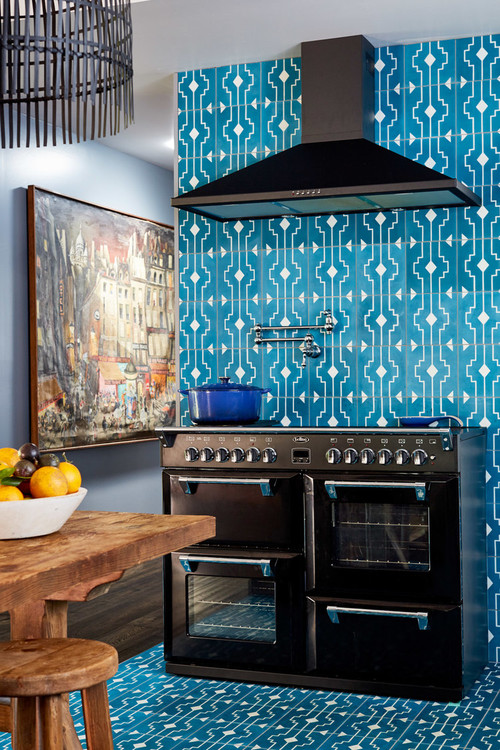 ID# 151024 | Houzz.com – Credit | © Alida And Miller
---
Kitchen Design with a Great Visual with a Blue Patterned Ceramic Backsplash
The kitchen oozes a rich feeling and beautiful visuals thanks to a single material that brings eclectic inspirations to life! The half timbered floor adds a sense of direction, while the deep blue hue gives it a distinct and eye catching look. Wrapping it all up, the kitchen displays a unique style, leaving a lovely sensorial impression that gives a sense of comfort and belonging.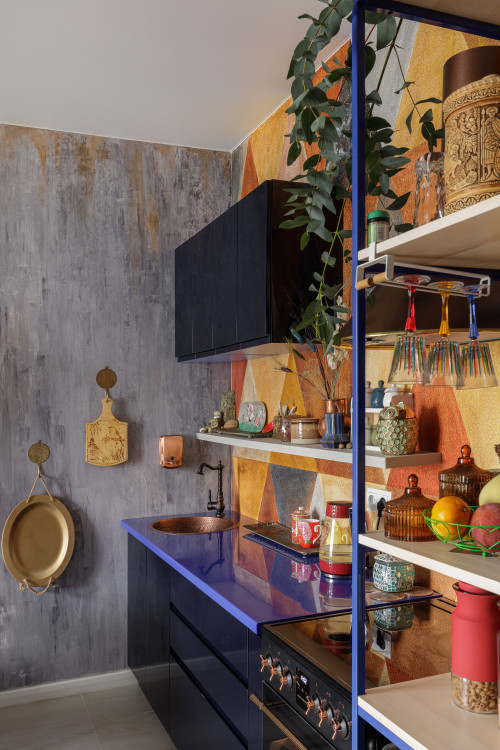 ID# 151025 | Houzz.com – Credit | © ЛЮСЯ ВОСЕМЬСОВ
---
Black Cabinets with Blue Countertop and Copper Sink
Showing the kitchen like a cultural icon, the graphic patterned backsplash somehow shows itself behind the black cabinets, providing a more pleasant and warm wall. This backlash, which surrounds the space with its appearance even if it is a wall, manages to be the focal point with its impressive visual and in harmony with the other textures in the space as if it were telling a story. Even though the black cabinet and purple countertop duo are an ambitious choice on their own the backsplash is so original and impressive that different textures remain simple and unpretentious next to it. In this way, the kitchen promises to experience different feelings every time with its appearance like a work of art rather than a place.
What colors are good for eclectic style?
The Eclectic style is truly vibrant, as its design and spaces embrace a wide array of colors. Yet, certain shades of yellow, orange, and green perhaps evoke warmth, cheerfulness and vibrancy.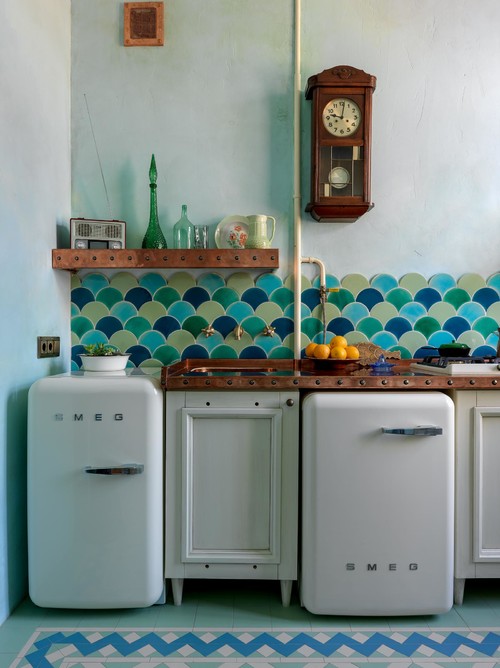 ID# 151026 | Houzz.com – Credit | © Алена Сковородникова
---
Gray Cabinets with Copper Countertop and Floating Shelf
This vibrant backsplash model, evoking a mermaid's tail, infuses the same tones with diverse textures to form a cozy and inviting kitchen design. The pristine countertop generates a remarkable look, especially when contrasted with the white cabinets that are paired with both vintage and modern products. The copper countertops and details for instance the floating shelf, admirably break up the deep blue-green color scheme, providing a pleasant warmth. Thus, this kitchen radiates with a sensational atmosphere and makes you feel at home!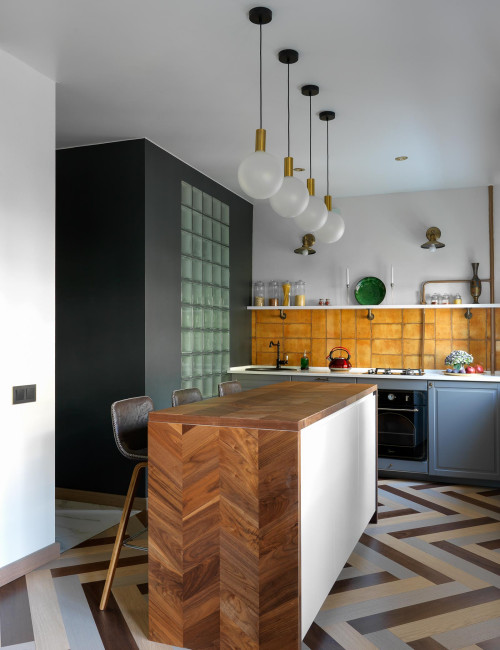 ID# 151027 | Houzz.com – Credit | © Daria Nazarenko
---
Gray Cabinets with Yellow Backsplash and Colorful Floor Tiles
The kitchen radiates with vibrant energy, captivating with its rich look and diverse textures. The contrast between the natural stone backsplash and the different textures in the room brings harmonious balance. The gray cabinets and wooden-topped island offset one another, and the herringbone ceramics on the floor blends the hues together. As the eclectic styling unfolds and evolves, it designs a space full of personality and life. You can't help but feel the energy that flows, giving this kitchen an inviting and beautiful atmosphere.
Eclectic Kitchen Lighting Fixtures
For eclectic kitchens, flashy lighting is a must – shining lights that uniquely represent different styles and pieces come together to give the room a distinctly creative and individual look. By using more portable lighting fixtures in busy areas and simpler, fixed lighting in quieter places the atmosphere and style of the space become even more unified and satisfying!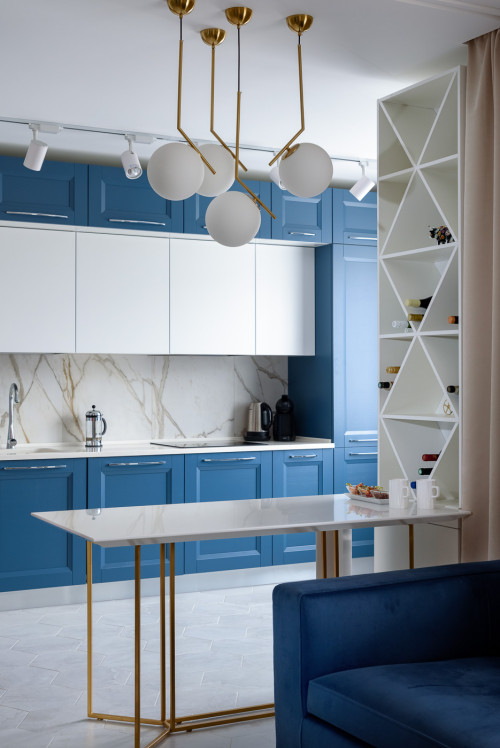 ID# 151028 | Houzz.com – Credit | © Александра Ткачева
---
Blue and White Kitchen with Marble Backsplash
The kitchen, with its blue and white cabinets and golden details, brings a luxurious atmosphere! The globe lighting fixtures, with their dazzling golden glow, infuse the room with warm, inviting light and provide a touch of elegance. Behind the classical and modern cabinet lines shines an eclectic assortment of lighting that completes the kitchen's look. All these elements blend together, creating an inviting and harmonious space that's full of life, character and charm.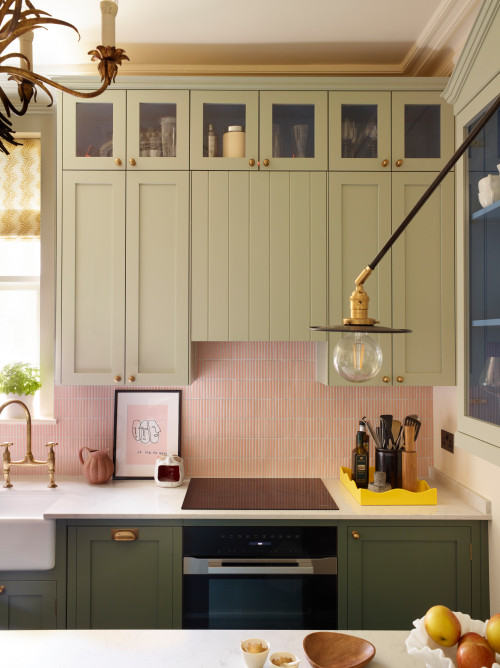 ID# 151030 | Houzz.com – Credit | © Cat Dal Interiors
---
The Effect of Lighting Group on The Kitchen in Green Tones
This kitchen design with its diverse shades of green and the careful combination of warm and cold materials creates a space that feels inviting and cozy! The light from the chandelier and wall sconces with eclectic details gives the kitchen a warm feeling, creating a space that leaves you feeling welcomed and relaxed. The pastel pink backsplash adds another layer of color to the design and enhance the visual interest.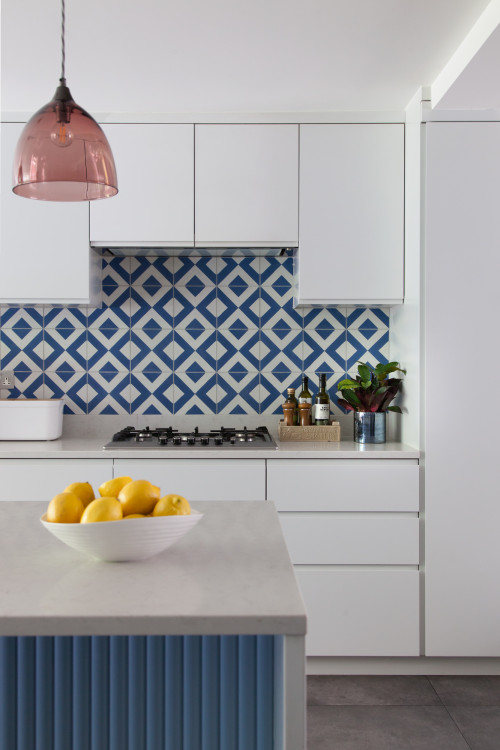 ID# 151031 | Houzz.com – Credit | © Brooke Copp-Barton Interiors
---
Eclectic Lighting Preference in Wine Tones for The White and Blue Kitchen
Despite its fixed color palette from floor to ceiling, the eclectic design of the kitchen is given a gentle wink by the lighting group's vibrant colors and textures. Even though contrasting to the harmony of the white cabinets and blue backsplash, the addition of warm-toned lighting brings a more harmonious, human feel to the overall space. The retro-type lightings add character and emotion to the atmosphere, bringing it alive with a unique emotive ambiance!