41+ Kitchen Island Lighting Ideas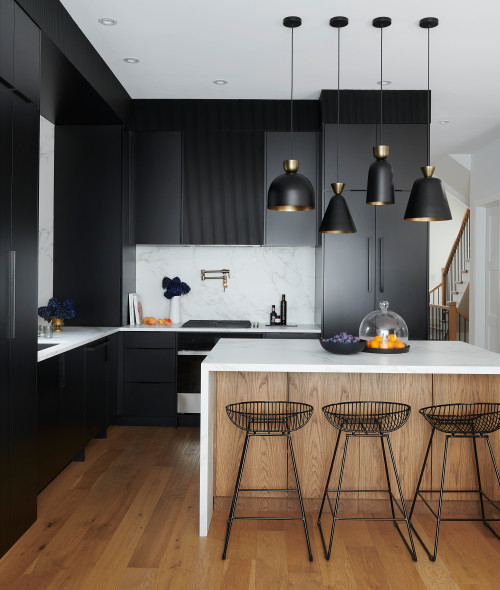 ID# 157712 | Houzz.com – Credit | © avenue design inc
---
Modern Kitchen Island Lighting Ideas for Waterfall Island
Kitchen island lighting fixtures can be multiple and also don't need to match each other. Especially, in modern kitchens, they come in various shapes for the sake of visual diversity. Similarly, in this modern kitchen, hung at different heights with a staggered lighting arrangement, they create a visual statement. Also, by accompanying the waterfall island, they draw more attention to it.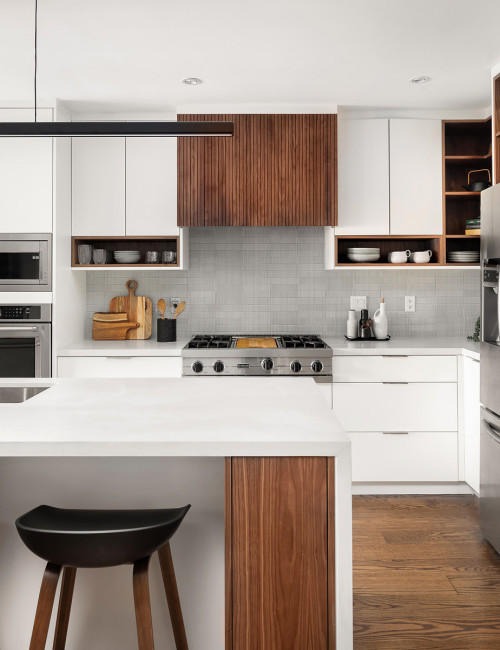 ID# 157725 | Houzz.com – Credit | © Devix Kitchens
---
Kitchen Island Lighting Ideas for Contemporary Kitchen with Wood Accents
This otherwise all-white kitchen is accentuated with wood open cabinets, timber accents, and a fluted-design range hood fixture. Adding to them is also a black lighting fixture that coordinates with the black seats of the stools. The final product feels well-curated with a high level of intentionality, thus resulting in a designer look.
Kitchen Island Lighting Ideas
A well-illuminated kitchen is a must to secure an efficient and safe working space for chopping, food preparation, and cooking. The same goes for kitchen islands used for similar purposes. Since ambient and perimeter lighting is not always enough, kitchen island lighting ideas contribute to the overall lighting system helping set the tone of the design.
Kitchen island lighting ideas range from pendants to ceiling-mounted flush mounts, chandeliers, downlighting, and tracking spotlights. Appearing in a wide range of sizes, styles, and materials, kitchen island light fixtures can put the island in the spotlight. Also, these lights for the kitchen island provide task and accent lighting, depending on the needs of homeowners. Since kitchen islands also serve as breakfast bars and bar counters, one needs a cozy ambiance to get oneself in the right mood. That's when the kitchen lights over the island come in.
In this round-up, we gathered kitchen island lighting ideas to introduce you to lighting over kitchen island and kitchen island lighting ideas 2023. What kinds of lights over the kitchen island make the design more viable? What is a kitchen island light fixture and What kitchen lights over the island serve best the kitchen? You will find answers to all these questions in this blog. So, scroll down to explore kitchen lighting ideas and see what suits your interests the most.
How do you pick a light for a kitchen island?
The kitchen lighting system is so much more than recessed lighting or flush mounts. From wall sconces, LED downlighting, pendants, island lighting fixtures, and interior-cabinet lighting, the kitchen lighting system has many components. And one of its most important dimensions is lighting over a kitchen island.
Islands are where you do your dishes, host guests, have your dinner, and chop your onions. That's why it needs great lighting. And when picking a light for a kitchen island, there are multiple issues to consider. The first is the design of the theme. Going with a fixture that reflects your kitchen's style ensures coherence.
Secondly, the size of your island is a determining factor. The larger it is, the more lights you will need to illuminate it. For the large ones, a rule of thumb is generally 3 pendants.
Thirdly, the style and design of your lighting fixture also play a key role. Consider your priorities. For example, multi-directional hanging lamps let you navigate light in the direction you want, which makes it extra practical. You can also get dimmers to change the light levels. If you love romantic dinners, it could be a great reward for you.
How many lights should be on a kitchen island?
The number of lighting fixtures on a kitchen island depends on the size of the island and the type of lighting fixture. For example, a linear lighting fixture would be enough for a large island by itself. But if you prefer pendants, then depending on the size, two or three pendants may need to be installed to provide enough lighting for the entire countertop.
What Is the Best Lighting for A Kitchen Island?
From chandeliers to pendants, rattan baskets, tracking spotlights, kitchen island lighting ideas are just countless. It is hard to tell what is best since each one contributes something unique in its right. Below, we will be looking into the most popular kitchen lighting styles. See the designs and decide for yourself what would suit your interests the most.
Pendant Lighting for Kitchen Island
Pendants are dropped-down lighting fixtures that provide ample light which is enough for the entire room. You can find pendants in many different styles, sizes, and materials. And each material fits a specific kitchen style. For example, rattan light fixtures suit Scandinavian, Bohemian, and coastal designs, and heavy metal fixtures go well in industrial designs. Also, when shopping, you can consider their ease of maintenance. Fabric-made ones, for instance, are harder to clean, whereas the metal or glass versions provide more of ease of maintenance.
What is trending in kitchen island lighting?
Kitchen lighting trends in 2023 treat lighting fixtures as statement-makers that add a luxury feel, a vintage touch, and a rustic vibe. As this is the case, an extra curiosity for textured and natural materials has been evoked. Especially, this year, homeowners opt for natural materials, which influences their shopping for lighting fixtures as well. And rattan, wicker, and bamboo-carved lighting fixtures give the kitchens that sought-after homey look. Plus, they bring the design to life in kitchens filled with upscale yet cold appliances.
This year we also see that kitchen lighting trends love taking risks and creating contrasts and antitheses. Such preferences come back as authentic designs rather than curating something too-matchy-matchy. For the same reason, mixing and matching materials is highly encouraged, which is accompanied by a resurgence of old-world charm. From encased lanterns to vintage fixtures and softened metal fixtures, different lights find their way back to our kitchens. Most of the time, they are tinged with a farmhouse, retro, or industrial feel.
Besides those, it is also recommended to keep an eye on the curvaceous and organic forms. These features are also followed by angular and geometric designs. In other words, kitchen lighting ideas in 2023 are not very subtle and understated. Rather, they come with their provocative presence.
Modern Kitchen Island Lighting
Linear lighting fixtures, bold pendants, tracking spotlights, and LED ceiling lights are some of the most prominent modern lighting fixtures. Of course, futuristic and sculptural forms, artful tube lighting, and playful designs also fall into this category. The best asset of modern lights is that they merge functionality, versatility, and beauty, which makes them extra popular.
Rattan Basket Lights
Richly-textured and casual-looking rattan basket lights are a perfect fit for Scandinavian, farmhouse, and Bohemian kitchens. To create a well-curated look, they can be complemented with wood islands, butcher block countertops, and Zellige tile backsplashes. Or shortly, anything that can be linked to craftmanship and artistry looks great with rattan basket lights.
Chandeliers
Elegant and opulent, chandeliers are the route to go if you want to incorporate luxury into your kitchen. Featuring crystals or intriguing glass shapes, they are easy to notice. Eclectic kitchens as well as luxurious designs love crystal chandeliers that make instant statements. You can consider their oversized versions in high-ceiling rooms to highlight the grandness of an already vast space. Plus, their modern versions are as impressive as the traditional ones.
Linear Lighting Fixtures
Looking for something sleek and contemporary? Linear lighting fixtures are quite discreet and basic. Especially if you have a large island, you can utilize a linear lighting fixture instead of two or three pendants! It just makes things easier, if you are into minimalist designs. Plus, linear lighting fixtures may feature rotating reflector bars and have LED-integrated versions. So, you can adjust them according to your needs and the look that you want for your kitchen.
Should lights be centered over the kitchen island?
Centering lights over the kitchen island has two main benefits. First, it looks more symmetrical, offering a more visually appealing design. Secondly, it allows for light to spread evenly across the entire countertop. So, if you want to give a stylish and completed look to your island, center your lighting fixture!
Lantern Lighting Fixtures
Available in various finishes and sizes, lantern lighting fixtures are best to bring an old-world charm to your kitchen. Their different versions can be used to introduce luxury or casualness and in some contexts both. Popular in the farmhouse and transitional kitchens, they elevate the overall aesthetic and make the island a focal point.
How big should a pendant light be over an island?
To keep everything symmetrical, we recommend getting a pendant, half the width of the island. It should also be 30 or 32 inches above the island countertop. This way your island will look proportioned and aesthetic.
Oversized Pendant Lights
Just a little more dramatic than standard pendant lights, oversized pendants make themselves noticed right away. The key issue is to arrange the height of these pendants meticulously not to end up with a blocked view. To avoid that, all you need to do is to leave 75-90 cm between the countertop and the lighting fixtures.
What color light is best for the kitchen island?
Kitchen work demands cutting and a lot of chopping. That's why it is important to have a good lighting system. The ideal light bulbs for kitchens are in the 3000k and 4000k range. They are also known as bright and cool white, which is ideal for task lighting. On the other hand, using different kinds of lightings for particular areas also an important factor to maximize efficiency.
Industrial-Style Light Fixtures
Known for its unfinished look and functionality, industrial kitchen island lighting helps kitchens emulate factory-like environments and industrial spaces. Though looking unfinished, they ensure durability since they are made of strong materials, which are mostly metal. Among the most popular ones, we can include exposed Edison bulbs, wire cages, matte black and heavy metal lighting fixtures, and spider pendants.
Bold Kitchen Island Light Fixtures
Bold kitchen lighting fixtures could be considered anti-hero elements that dare to draw all attention. Whether you prefer an oversized pendant, an intriguing geometric shape, or clustered lighting fixture, each version brings a unique decorative touch. Even if the main kitchen setup is simple, you can make the entire room glow with bold kitchen lighting fixtures and transform the overall look.
Do pendant lights give enough light in the kitchen?
Mostly hung over a kitchen island, pendant lights can provide enough light for an entire kitchen. It also explains their popularity.