33+ Farmhouse Kitchen Island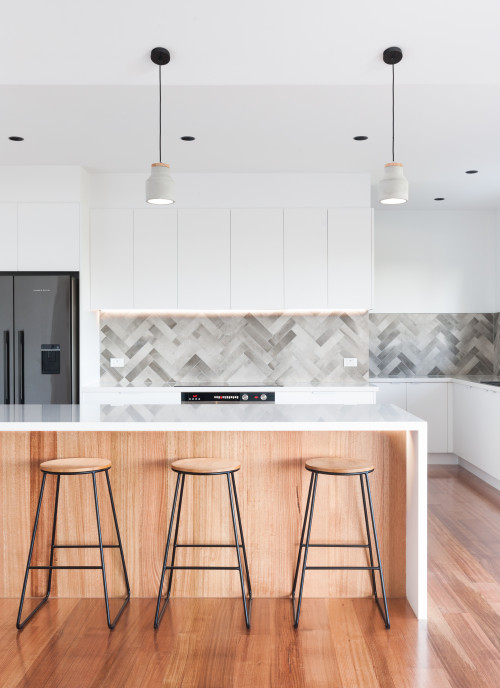 ID# 157508 | Houzz.com – Credit | © HL Building Solutions Pty Ltd
---
Herringbone Tile Backsplash with Waterfall Island and White Quartz Countertop
This ultra sleek farmhouse kitchen grows akin to contemporary designs with its polished countertops, geometric tile backsplash, and gloss-finish wood flooring. Similarly, the modern waterfall island adds a sense of flow, paired with modern wood stools. The sleek appliances also contribute to the contemporary design of the kitchen.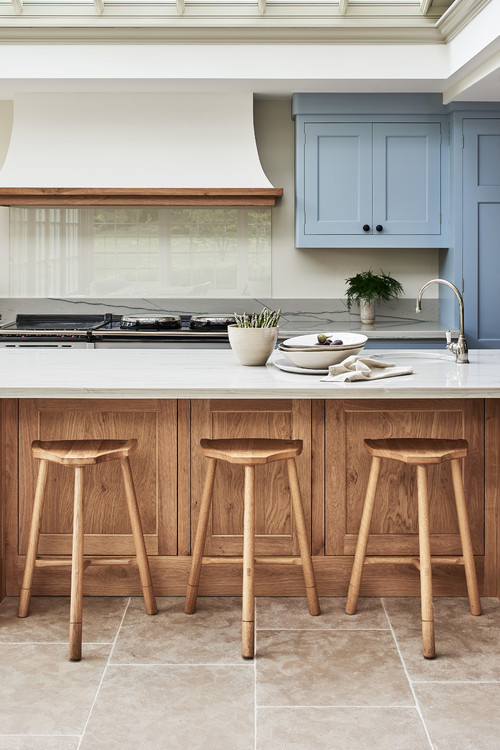 ID# 157518 | Houzz.com – Credit | © Adam Carter Photo
---
Oak Farmhouse Kitchen Island with White Countertop and Wood Stools
This large farmhouse island with seating is the showstopper of this design with its warm bulky body. It is paired with wood stools and a white quartz countertop which blends with it and gives it a fresh vibe, respectively. On the other side, the blue shaker cabinets add a jolt of color, while a glass sheet backsplash mounted behind the stove interacts playfully with sunlight. The final product is a modern farmhouse look that features clean finishes, rustic vibes, color, and warmth.
Farmhouse Kitchen Island
Mostly oversized and generally made of wood, a farmhouse kitchen island is a staple element in farmhouse kitchens representing a country lifestyle. Even if you live in an urban city yet want a bit of a bucolic feeling, farmhouse-style islands could create it for you. From rustic to modern and industrial versions, farmhouse islands also vary in style drastically. All that you need to know is the look you want.
For example, you can consider a farmhouse kitchen island as a way to introduce warmth and make a statement. By adding open shelving and an extra layer of a countertop, you can turn it into a breakfast bar and aesthetic storage space. Farmhouse islands generally do more than one thing. They provide storage, a worktop, and accommodate butler sinks and seats. All kitchen islands surely can serve all these needs, but farmhouse island designs communicate more intimacy and warmth in their own way. So, in this round-up, we will be taking a closer look at various farmhouse kitchen island ideas. They are gathered from different kitchen designs from contemporary to industrial, traditional, and modern.
Also, if you want to find out more about farmhouse kitchens, here you have it all. Just scroll down to embark on this odyssey to find your own dream farmhouse island.
What defines a farmhouse kitchen?
Warm and welcoming farmhouse kitchens are inspired by country living, abounding in warming wood shades and natural materials. They typically incorporate a wide array of materials, from glass to distressed wood, metal, and wrought iron. In that sense, they don't only want to look rustic but also speak to the tactile senses of kitchen users.
Another key element to easily define a kitchen as a farmhouse style is butler sinks. Made of copper, hammered brass, marble, and fireclay, they contribute to the country style of farmhouse kitchens significantly. Likewise, open shelving, racks, and exposed kitchenware are very common scenes that give a kitchen a country vibe. It is all about practicality and easy access to the most used items rather than keeping the room sleek and clutter-free. That's why X-details on the cabinets along with shiplap details and exposed wood beams are also welcomed as accents in farmhouse kitchens.
Though, today, you can find farmhouse kitchens leaning toward different styles. For example, industrial-farmhouse kitchens as well as contemporary farmhouse kitchens are very popular. In these kitchens, generally, it is the kitchen islands that make the design look more farmhouse. For instance, industrial kitchens generally boast islands made of reclaimed wood and topped by solid stone or butcher block countertops. By contrast, modern farmhouse kitchens feature waterfall islands topped by polished quartz and marble countertops.
Since merging different styles is part of design trends, sometimes it is tricky to make sharp distinctions between a farmhouse and other designs. But originally, a farmhouse kitchen is recognized by its butler sink, love for wood and texture, and open shelving.
Types of Farmhouse Kitchen Island
Farmhouse islands vary in design and style. For example, modern kitchens prefer waterfall islands as they offer a clean lined profile. Even though they are made of wood and marble, they are generally polished, thus looking quite sleek. By contrast, rustic designs feature reclaimed wood, featuring different undertones and looking weathered. In addition to these two different styles, you also see farmhouse island designs with open shelving, butler sinks, beverage coolers, or seating. Designed according to homeowners' needs, farmhouse kitchens can cater to family living easily.
Modern Farmhouse Kitchen Island
Modern farmhouse kitchens offer very refined and stylish appeals featuring polished marble and quartz benchtops with a clean wood base. You can see them as waterfall islands, two-tiered or split level islands, and ones with fluted front screening. Black and blue are also popular color choices for the farmhouse aesthetic.
Rustic Farmhouse Kitchen Island
Made of salvaged wood or adding some rusted metal touches, rustic farmhouse kitchens give that lived-in look perfectly. You can extend them by adding another layer of bulky butcher block countertop so that it can serve as a breakfast bar.
Farmhouse Kitchen Island with Seating
Farmhouse kitchens are sociable spaces. Thus, they love islands with seating to offer a social hub for familial unions or congregations. And since they are generally oversized, it makes them very suitable for seating. As they do already so much for you as workhorses of your kitchen, ensure to do justice to them, and pair them with a statement lighting fixture, such as a wrought-iron chandelier.
Farmhouse Shiplap Kitchen Island
Shiplap accent walls, ceilings, and backsplashes add a high aesthetic value to designs. The same goes for shiplap islands too which can be vertically or horizontally slim-lined. It depends on your preference completely. But it is one of the best ways to give the design a touch of versatility.
White Farmhouse Kitchen Island
If your priority is white and bright kitchens that instill calmness, a white farmhouse kitchen island is a great way to complement your design. If you wish, you can add shiplap accents, corbels, or legs to add more interest. Or for further dimension, you can benefit from black, gold, or wood hardware.
Is it cheaper to build a kitchen island?
Building a kitchen island is cheaper than buying a new one. Plus, it all gives you the freedom to design it as you wish. Especially if it is for a farmhouse kitchen it would just be the best way to capture a farmhouse kitchen spirit!
Wood Farmhouse Kitchen Island
Since farmhouse kitchens tend to feel rustic, a wood island is a big help to achieve that. And to create a fully-fledged farmhouse feel, you can top it with a solid stone or butcher block countertop. With lantern and wrought-iron lighting fixtures, you can also round up the look. Yet if you seek a more modern farmhouse look, flat-front islands with clean lines and topped polished countertops could give you that modern, chic look.
What are the best colors for a farmhouse kitchen?
High-contrast themes, earthy color palettes, and warm soft schemes are very popular in farmhouse kitchens. Wood is generally a staple element, whether it comes in the form of an exposed beam, floating shelf, flooring, or range hood trim.
Farmhouse Kitchen Island Lighting
Lanterns, reclaimed old bottles, wrought-iron lighting fixtures, and mini glass pendants are popular farmhouse lighting options. Wood pendant lights and chandeliers also add to this list.
How to make a farmhouse kitchen island?
First, decide on the design of your kitchen island and how big it should be. According to the measurements, get wood studs or base cabinets. If you want something small, 2 cabinets would be enough. But for a larger size and plenty of storage, 3 base counters are more beneficial.
The next step is to attach the wood pieces or cabinets by drilling cabinet screws. After creating a well-secured solid base, apply cabinet panels to the edges, back, and front with wood glue. To support it and secure the panel even more, you can use nails on the edges. If you need to cut the panels, you can use a jigsaw or circular saw. And to top the cabinets, choose your material wisely. Since farmhouse islands love natural textures, consider wood or a natural stone countertop. Yet if you seek a modern alternative, quartz countertops can be a great substitute.
And if you want to make some changes to the already existing island to make it more farmhouse-like, you can install baseboards or X features on the island edges. Or vertical or horizontal shiplap boards can be installed on the front to create an eye-catching look. Or even better, if you love true rustic and aged-looking furnishings, you can give a distressed finish to your island. You can apply a coat of chalk painting and sandpaper on the island to achieve this effect.
How do I get a farmhouse-looking kitchen?
Farmhouse kitchens come with lots of storage, islands with open shelving, and a lot of natural materials. So, feel free to sprinkle wood accents and decors, such as cutting boards, here and there. For example, a cluster of shovels or cutting boards exhibited on walls could make another eye-catching addition. Or instead, an iron-storage rack or casual open racks, floating shelves could be used. The shiplap details, V-groove cabinets, and X-features on cabinet or island ends ensure the design looks textured and more dimensional.
As for lighting fixtures, go with a wrought-iron lantern or rustic design. Additionally, metal-finish dome-shaped and glass pendants are also commonly used.
To achieve a successful farmhouse look, try to attain a level of authenticity with rustic finishes, reclaimed wood accents, and natural and patinated finishes. Islands can be used to bring subtle contrasts or can be painted or given a distressed finish.