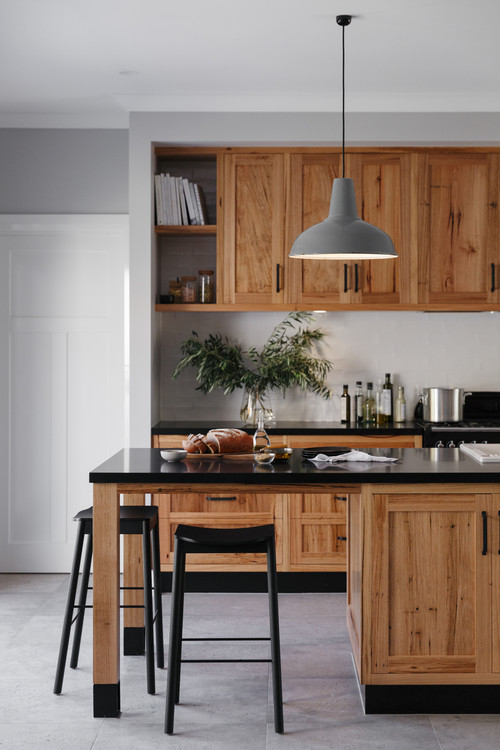 ID# 157611 | Houzz.com – Credit | © Space Craft Joinery
---
Rustic Modern Kitchen with Black Countertops and Wood Cabinets
Here, this rustic kitchen has a sleeker profile defined by clean lines, which gives it a more civilized look. The clean-line timber shaker cabinet topped by polished black countertops characterizes the kitchen. The kitchen island mirrors the perimeter counters for visual consistency. Off-white backsplash, gray lighting fixtures, and gray floor tiles balance out the black and wood design elements. The final product feels warm, modern, and industrial all at once.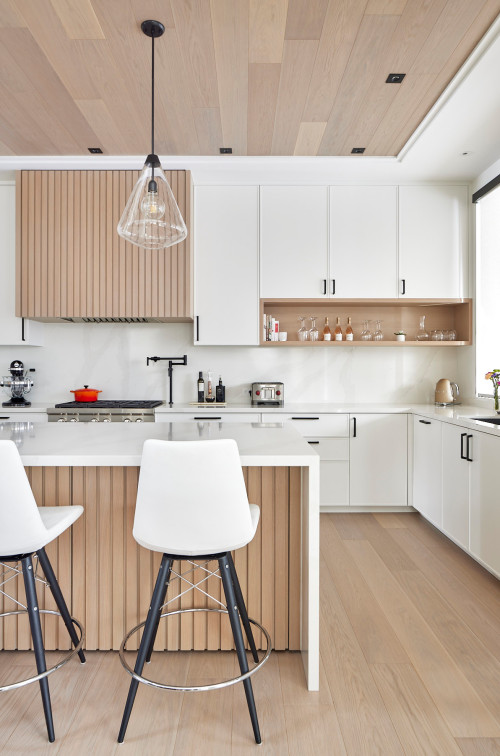 ID# 157638 | Houzz.com – Credit | © New Age Design
---
Fluted Design Wood Island and Range Hood with Open Cabinets
There is a wide range of ways to spice up a wood island- as showcased by this kitchen. Here, for example, the wood island features a fluted design, synchronizing perfectly with a fluted range hood fixture. It, in return, creates a continuous look along with the wood-clad ceiling and open cabinets.
Kitchen Island Ideas
Kitchen islands add functional and aesthetic values to kitchens. Especially in vast and open floor plans, they serve as space-organizing design elements and are mostly a visual focal point. Still today, kitchen island ideas garner a lot of attention, gaining futuristic assets and coming back as upscale designs. That's why we always need a further look into this ever-changing and coveted utility object. From marble islands to l-shaped kitchen island, there are plenty of different island designs that can choose from them for your design.
For years, kitchen islands have served multiple needs, from providing an extra worktop to offering storage space and seating. And they still do. And if you wish, you can even use them to house a dishwasher, sink, or beverage cooler. Thus, when getting a kitchen island, it is a must to first prioritize your needs. Then, focus on the overall theme of your design. Is it farmhouse, contemporary, or traditional? Based on the theme, the island should be given a matching character not to look out of place. And if you are not sure what is best for you, here you find several inspiring kitchen island ideas. They introduce you to various island styles and colors in a wide array of kitchen designs from modern to country.
Different Styles for Kitchen Islands
Multi-functional kitchen islands come in a wide range of styles and shapes, ranging from L-shaped to curved, linear, U-shaped, waterfall, and more. And each design is unique in itself, coming with specific aesthetic and functional benefits. To name a few, while curved designs introduce soft aesthetic features and minimize sharp edges, waterfall islands add a sense of flow. Modern designs, for instance, feature cantilevered extensions, some giving the illusion of being suspended.
In addition to their styles, we can also discuss them based on their sizes. Overall, all these different styles and sizes for kitchen islands ensure that there is a perfect island size and shape that can be adjusted to any kitchen space, whether the kitchen is large or small, open or enclosed.
Modern Kitchen Island Ideas
With the advent of technology, modern kitchen islands have grown into more futuristic and upscale designs. From two-tiered units to ones with cantilevered dining counter extensions, sloping extensions, and more, modern kitchen islands are available in various styles.
How should I design my kitchen island?
One of the first things to decide when designing a kitchen island is its size to maintain the workflow. So, keep in mind that it is essential to leave enough space between the counters and the island for easy mobility. Secondly, why do you need an island? For a breakfast nook, storage, an extra worktop, or a functional object to be integrated with a sink, dishwasher, beverage cooler, or wine rack? Deciding what you expect from your island will guide you on how you should design it.
Farmhouse Kitchen Island Ideas
It would be impossible to judge a farmhouse kitchen island if it looked out of place. Whether reclaimed or salvaged or accentuated with X-details, a farmhouse kitchen island is all about introducing texture and natural materials. It is also generally topped by natural stone benchtops or butcher block countertops. Gold cup pulls and antique finish metal hardware also punctures these texture-rich farmhouse islands. Some also feature open shelving to accommodate wicker baskets and large bowls that won't fit inside a cabinet.
Are kitchen islands out of style?
As the workhorses of kitchens, islands will never go out of style, thanks to their countless functional benefits. It is not only that they bring extra storage but also worktops and a seating option. Plus, they can even accommodate dishwashers sinks, and wine racks, creating focal points. And in open-plan kitchens, they serve as space-dividing utility objects, developing a sense of space.
Rustic Kitchen Island Ideas
Rustic kitchen islands are mostly made of stone, brick, and wood. Sometimes they can even infuse two or more of these natural materials for extra raw texture. From reclaimed wood islands to a piece of antique furniture, and distressed cabinets, anything that looks woody, stony, and antique could be a rustic kitchen island. So, they have a way of putting kitchens into dialogue with outdoor life. If you like texture-rich and raw designs, rustic kitchen islands are ideal for you.
Small Kitchen Island Ideas
Just because you don't have a vast kitchen doesn't mean that you have to give up on islands. Small kitchen islands measuring less than 2-3 feet suit compact spaces quite well. And despite their small size, they can still provide you with storage and a benchtop for food preparation. Plus, they can even host two people for a laid-back meal.
What can I use instead of a kitchen island?
In case you don't have enough space for an island or simply you don't want it, here are some of the alternatives. A kitchen table, peninsula, bar carts, and a breakfast bar could serve as great substitutes for islands. Additionally, consider an antique storage table, a wood console, and rolling islands.
Large Kitchen Island Ideas
If you have a large kitchen, surely, your island will get larger to echo the proportions of the room. Otherwise, it might end up looking awkward. And when it comes to design, one of the most common large island styles is the galley style. Galley-style islands are basic and functional. Adding to them are also two-tiered islands with separate dining and food prep zones, curved-edge islands, and half-waterfall islands ranking among popular large kitchen island ideas.
What is the best size for a kitchen island?
The ideal size for a kitchen island changes according to the kitchen size. If your kitchen is small, you can opt for a 2-3 feet wide and 4 feet long island. In bigger kitchens, a kitchen island should be at least 3-4 feet wide and 13 feet long.
Waterfall Kitchen Island Ideas
Waterfall kitchen islands are one of the most popular island styles widely adjusted to any context. Unlike many other island designs, they have a countertop falling over the edges. And that's where the name comes from. You can encounter them in designs ranging from contemporary to transitional, modern, beach-style, and farmhouse. They serve as transitional pieces that suggest the turn from traditional designs to more modern ones.
Kitchen Island Ideas with Seating
Kitchen islands are the perfect spots to socialize with your guests and family members. They can serve as the social hubs of your kitchen, which especially benefit homeowners in open-plan layouts. And what is even better is that you can also add a footrest to place your feet instead of having them dangling. So, instead of having a separate dining table, a custom kitchen island can provide you with a dining space.
Kitchen Island Ideas with Storage
If you are one of those people fond of all sorts of kitchenware and dishes, it means that you will need more storage space. In such cases, kitchen islands are very helpful, offering plenty of storage space. You can also get them custom-designed according to your needs with smart storage solutions.
How far should an island be from the cabinets?
Leaving 42 inches of space between the island and cabinets is recommended. But it also depends on how many cooks the kitchen has. If two or more people are cooking at the same time, then 48 inches feel much better for smooth human traffic flow. Also, if your island has seatings, you should consider leaving 44 inches by their side.
Color and Material Options for Kitchen Islands
Kitchen island designs are just so varied that they can give you any look you aim for. From solid wood to marble, walnut, MDF, laminate, and plywood, kitchen island materials are multiple. The same goes for color options too. Though, among the most popular ones we can count white, black, gray, and blue islands. And when it comes to integrating them into a kitchen, islands are either used to mirror the perimeter cabinets or make a statement by introducing a different color and texture. If you feel indecisive, take note of the design projects shared below and choose your style.
White Kitchen Island Ideas
White islands evoke refreshing sentiments, imbuing the kitchen with a sense of lightness. If you like white and monochromatic kitchens, then go with a white kitchen island. The best part is that you can always color it up. Be it brass fixtures, wood accents, stylish pendants, or colorful stools, any addition can liven up an all-white kitchen without troubling you financially.
Black Kitchen Island Ideas
If you want your kitchen island to draw all the attention, deliver a sleek look, and build contrast. Black kitchen islands are one of the best options to achieve all. They add depth and character while making a bold statement.
Do you need a kitchen table if you have an island?
If you have enough space, why not have both? You can create various cozy socialization areas, which are especially beneficial if you are a large family or just love hosting crowded groups of people. However, if the island has a seating area and you think that it is enough for you, then you don't need to get a kitchen table.
Blue Kitchen Island Ideas
What follows white, gray, and black islands in popularity is probably blue islands. Generally paired with white, gray, and butcher block countertops, they introduce a splash of color and elevate the overall impact of the design. Their base could be clad in shiplap or V-groove boards for a more casual feel. If you want to draw further attention to it, you can team it up with statement lighting fixtures.
Marble Kitchen Island Ideas
If you love luxurious designs, marble kitchen islands are the way to go. Some kitchen islands also infuse wood with marble to create a more authentic design full of life. In short, when it comes to the kitchen islands, it mostly feels that there is no limit.
Can the kitchen island be taller than the counters?
Yes, it is very common for counters to be taller than the kitchen island. Particularly two-tiered islands reaching up to 46 inches in height shows a remarkable level difference.
Wood Kitchen Island Ideas
For nature and texture lovers, a wood kitchen island is more than satisfying. It comes with warm shades, creating an intimate atmosphere. By switching the wood type and color, you can also achieve different impacts. For example, if you love drama, get a dark wood island. Or with a white oak island, inject calmness and restfulness into the design.
Tiled Kitchen Island Ideas
An easy way to make a statement with islands is to tile them. Whether you go with monochromatic or colorful tiles, you can effortlessly elevate a kitchen's overall design scheme. From stacked subway tiles to kit kat mosaic tiles and geometrically-patterned tiles, there is a wide range of tile options to spice up any design.
Is it better to have a kitchen table or an island?
If you can't decide on whether to get an island or a kitchen table, consider your eating habits and lifestyle. For example, for those who love a laid-back dinner, an island with seating is a more practical option. However, if dinners and breakfasts are more like a family ritual, a time when everybody gets together, then a kitchen table is what is needed.