33+ Large Kitchen Island Ideas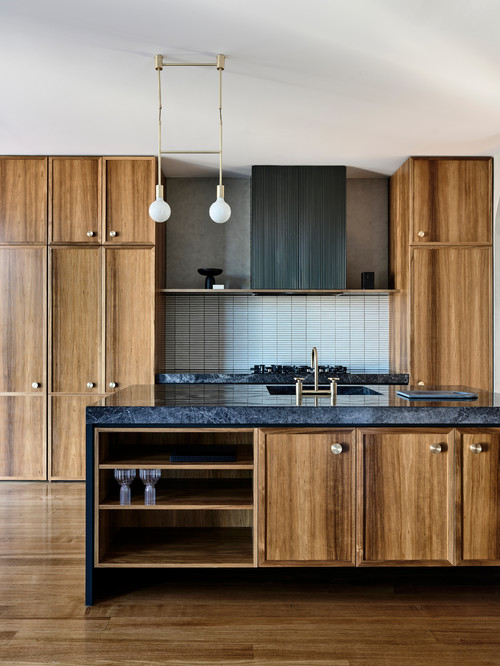 ID# 157914 | Houzz.com – Credit | © Luke Fry Architecture & Interior Design
---
Wood Cabinets with Black Marble Countertops and Kit Kat Tile Backsplash
The interior design of this contemporary kitchen is cloaked in warm and rich colors borrowed from wood cabinets dotting the room and warping it in warmth. This sort of natural connection to the outdoor life just adds depth to the room, which is supported by the black marble countertops. These dramatic additions solidify the integrity of the design, both topping the island and perimeter counters. Additionally, the large island features open storage, adding further character to its design. The rosy gold knobs, faucet, and island lighting fixture add to the luxury feel of the design alongside the wood cabinets. The white horizontally stacked kit kat tile backsplash lends bonus sophistication, introducing order and clarity to this already very coherent design.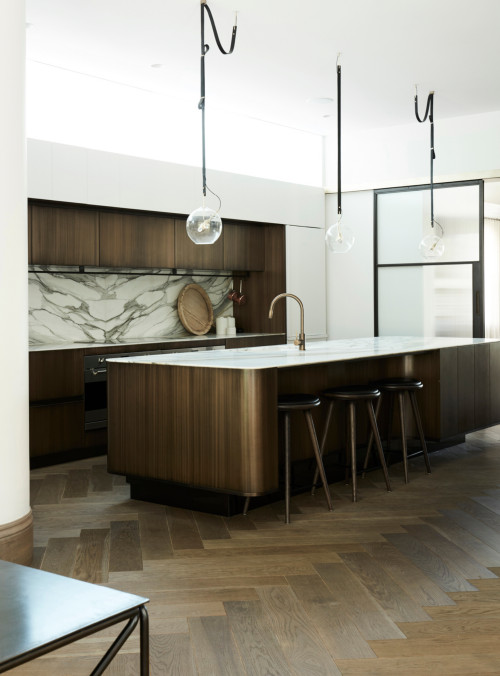 ID# 157924 | Houzz.com – Credit | © Brodware
---
Large Kitchen Island Ideas with Wood and Marble Backsplash
This impeccable kitchen design oozes drama with its dark wood cabinets and marble slab backsplash, again, with dramatic veining. As such, it comes as an ultimate example of a look that the year 2023 kitchen trend ideas would champion. And what defines the kitchen best is probably the colossal size of the wood island that owns this kitchen. It accommodates 3 stools that blend in with it seamlessly. Also, a weathered brass faucet hosted by the same island matches this kitchen color scheme best. Additionally, the white quartz countertops, to offset the darkening effect, bring a calming contrast and lightening effect. To complement the look, the hardwood chevron flooring adds further warmth, while glass globe-shaped pendants add a clean look.
Large Kitchen Island Ideas
Kitchen islands have never been a regretting decision; why should large kitchen island ideas be when you have the room for them? Large kitchen island ideas mean more storage, more seating, a longer/wider countertop, and more of everything for sure. The only thing is that its size shouldn't be overwhelming or interrupt human traffic.
From wood to white, concrete, and marble, large kitchen islands come in various materials. And this variety, in turn, allows you to pick the right and more convenient option for your budget. Here we introduce you to several large kitchen island ideas, including a wide range of designs with seating and storage.
What is a good size for a large kitchen island?
The size of a kitchen island is drastically important and needs to be proportioned to the overall scale of the room. Why it is essential mainly because it might overwhelm the space and may not leave enough space for human traffic when it is oversized. Therefore, it is important to keep at least four feet of space on each side. Though the popular size for a large kitchen island is generally 80*40 inches, the good size for a large kitchen island is also dependent on the kitchen's total area.
How much does an oversized kitchen island cost?
An oversized kitchen island, if it's made of upscale material, such as marble, and has a meticulously-designed form, can go up to 10.000 USD. But typically, expect to dedicate a budget between 3000 USD and 5000 USD.
Types of Large Kitchen Island Ideas
Islands perform multiple functions. And they can also be designed according to specific purposes, too. For example, while some are for seating, some are more for storage with open shelving and food preparation. Now let's explore them individually.
Large Kitchen Island with Seating
Large islands can accommodate up to 6 people, which is great for socialization. If you have a larger space, feel free to adjoin them to a formal dining space. This way, you can create multiple socialization areas that lure your guests for longer stays. Also, don't skip on statement pendants or chandeliers. Since you are going to be spending quite some time on a large island with seating, you need accent lighting. If you get it with dimmer options, you can alter the light level, thus the mood of the space.
What is the largest size an island can be?
The largest size for an island could be 14 feet in length and 42 inches in width. This gives homeowners seating for 6, plenty of countertops, and storage space.
Are kitchen islands outdated?
Kitchen islands are here to stay as part of our kitchen lives due to their functional and aesthetic benefits. And one of the main reasons for that is how they add flexibility to the design while organizing the space. In addition to their provision of storage, benchtop, and seating, they can also be a home for appliances and sink.
In terms of aesthetics, if you want to contribute to the overall design aesthetic, an island is again a great addition. Some designers, for example, use it to introduce contrast, warmth, or new material to kitchens. Though, some prefer islands to hold a mirror to the perimeter counters. In both ways, they add to the functional and aesthetic value of the design.
Large Kitchen Island with Storage
A larger island means larger storage space. As far as we know, no one would like to say no to more storage. In this extra space, you can keep your unsightly gadgets and unused kitchenware. Or you can utilize it as a pantry to stow your herbs, spices, and dried, and junk food. So, installing an island with storage is the greatest way to maximize the functionality of your kitchen design. Before deciding on it, check these inspirational ideas.
Extra Large Kitchen Island
Depending on the available space, kitchen islands can be extended in width and length. Do you, for example, want to add more storage or have a longer benchtop? Or better, do you want to add an extension for seating? An extra-large kitchen island could perform any function you want it to. Scroll down and see these stunning island designs with extra space.
Large White Kitchen Island
For those seeking an achromatic kitchen or aiming to bring contrast to dark cabinets, a white kitchen island is a way to go. It can brighten up the kitchen, creating the illusion of a larger space. For extra interest, its edges can be rounded or a more dimensional front panel could be installed. For farmhouse looks, X features can be added to the edges.
How big should an island be to seat 6?
A kitchen island should be at least 42 inches wide to seat 6 people. As for the length, according to experts, 28-30 inches should be enough for each seating space.
Large Wood Kitchen Island
Do you need warmth and texture in your kitchen? Get your large kitchen island in wood. From curved-edge ones to units with fluted fronts, and dark and light-colored ones, wood kitchen islands are various. If you don't want it to be all-wood, you can add extensions with quartz or marble countertops. Also, if you seek a rustic look, reclaimed wood islands and old wood consoles could make for immersive looks.
Modern Large Kitchen Island
Modern large kitchen islands generally have multi-layers to distinguish the dining area from the food preparation zone. But surely, such multi-levels have high aesthetic value too. For example, cantilevered extensions and overhang countertops add a contemporary edge to standard bases. All-concrete and all-marble designs are also very much championed as modern islands. Fluted and ribbed design islands are also great options for wood and texture lovers.