29+ Ivory Travertine Backsplash
ID# 123904 | Houzz.com – Credit | © Leah Atkins Design
---
Traditional Kitchen Beige Cabinets New Venation Gold Countertop
Elegant traditional kitchen design with rustic cream color kitchen cabinets, new venation gold granite countertop, dark brown hardwood flooring and 2×4 antiqued finish travertine backsplash tile.
ID# 123910 | Houzz.com – Credit | © Croma Design Inc.
---
Modern Kitchen Brown Beige Travertine Tile
Brown modern kitchen cabinets, 12×24 vein cut travertine modern backsplash tile idea and beige quartz kitchen countertop.
Travertine Backsplash for Quality Kitchen Designs
For anyone entering the kitchen, the place that first captures your attention is the kitchen backsplash. It is for this reason that the choice of the backsplash material and designs should be thoroughly selected in order to come up with the best results possible. Travertine backsplash is one of the most ideal options when it comes to the material choice and this is due to a number of reasons. It is also important to point out that travertine backsplash tile ideas are also used in a number of places and projects such as flooring and kitchen countertops installation. These tiles are generally known for their gorgeous look and are capable of giving your kitchen an attractive appearance.
ID# 123901 | Houzz.com – Credit | © Brad Moore Builders, LLC
---
Baltic Brown Granite Countertop Travertine Backsplash Tile
Brown kitchen cabinets, granite baltic brown countertop with antiqued ivory 4×4 travertine backsplash tile.
ID# 123902 | Houzz.com – Credit | © Daria Lukovnikova Interiors
---
Beige Kitchen Cabinets Rustic looking Kitchen Design
Brown – beige travertine kitchen countertop, rustic beige kitchen cabinets with travertine backsplash & floor
ID# 123903 | Houzz.com – Credit | © Case Charlotte
---
Traditional Kitchen Oak Kitchen Cabinets and  Brown Countertop
Ekos brown granite countertop looks like tropic brown, oak kitchen cabinets and kitchen hardwood floor. 4×4 ivory and medium mixed color travertine backsplash.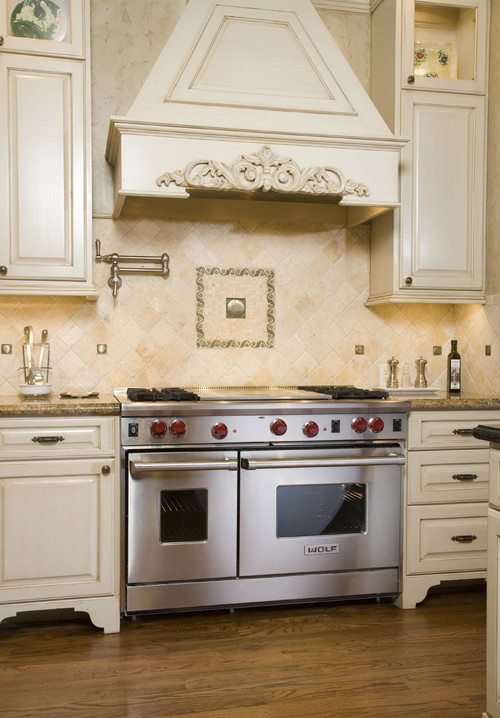 ID# 123905 | Houzz.com – Credit | © Hann Builders
---
Rustic Kitchen Beige Kitchen Cabinets 4X4 Travertine Backsplash Tile
Rustic design kitchen with cream beige color kitchen cabinets, brown granite countertop and 4×4 antiqued ivory backsplash tile.
ID# 123906 | Houzz.com – Credit | © Rockridge Fine Homes
---
Traditional Kitchen Subway Beige Travertine Backsplash Tile
3×6 ivory color travertine backsplash tile with antiqued white custom painted kitchen cabinets, Giallo Ornamental granite countertop, walnut tones brown wood flooring.
PRODUCT #: BA1092|Click Here for more information
---
Ivory Subway Backsplash Tile
Travertine subway backsplash tile. Light ivory travertine beige color in a mosaic tile, ideal option for a kitchen backsplash.
PRODUCT #: BA1029|Click Here for more information
---
Brown Beige Glass Mix Backsplash Tile
Give your kitchen a focal point with a beautiful backsplash. Limestone stone mix with brown travertine also brown iridescent glass tiles added.
ID# 123908 | Houzz.com – Credit | © The Furniture Guild
---
Rustic Kitchen Beige Travertine Tile Brown Cabinets
Black glaze over brown stain kitchen cabinets, ubatuba granite countertops, 2×4 ivory antiqued travertine backslash tile and brown travertine kitchen floor tiles.
ID# 123909 | Houzz.com – Credit | © McBurney Junction
---
Transitional Kitchen Travertine Backsplash And Floor
Versatile pattern travertine kitchen floor, tumbled travertine subway backsplash tile, shaker kitchen cabinets, beige granite countertop.
ID# 123911 | Houzz.com – Credit | © Turan Designs
---
Contemporary Kitchen Beige Cabinets Granite Countertop Travertine Tile
Ivory subway interlocking travertine backsplash tile, beige Persia Pearl granite countertop, light color kitchen design.
ID# 123913 | Houzz.com – Credit | © Case Charlotte
---
Traditional Kitchen Brown Beige Travertine Tile
4×4 ivory and medium color travertine mixed kitchen backsplash with granite countertop and oak color kitchen cabinets.
ID# 123916 | Houzz.com – Credit | © Inde Kitchen Remodelers
---
Gold Granite Countertop Beige Brown Gold Travertine Backsplash Tile
Glacier Java, gold, brown, beige brown backsplash tile ideas, 2×4 pattern with gold color granite countertop.
Natural Stone Mosaic Tiles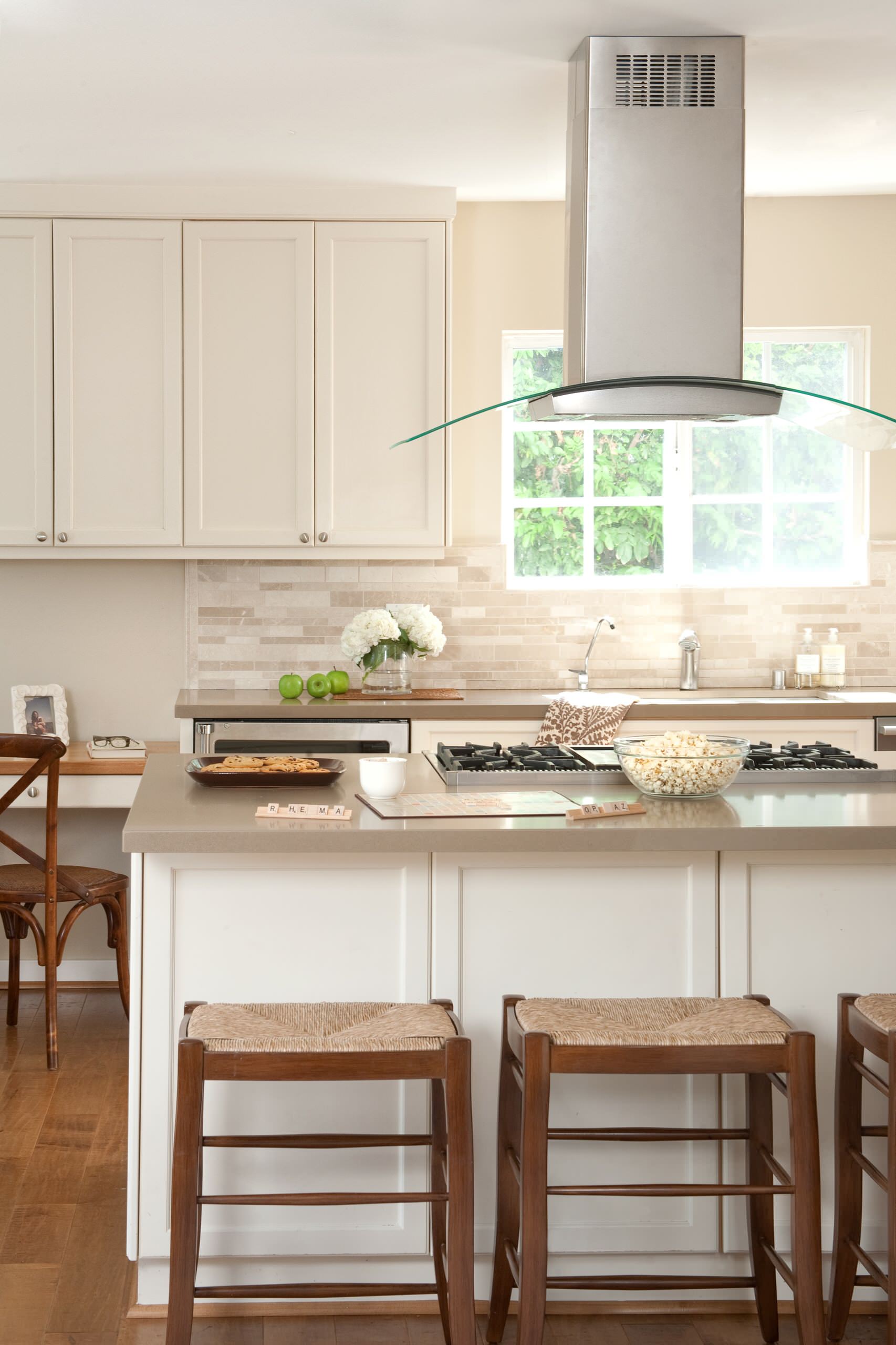 ID# 123907
---
Beige Kitchen Brown and Quartz Countertop 
Brown color Ceaserstone countertop Mocha quartz, Benjamin Moore Atrium White kitchen cabinet.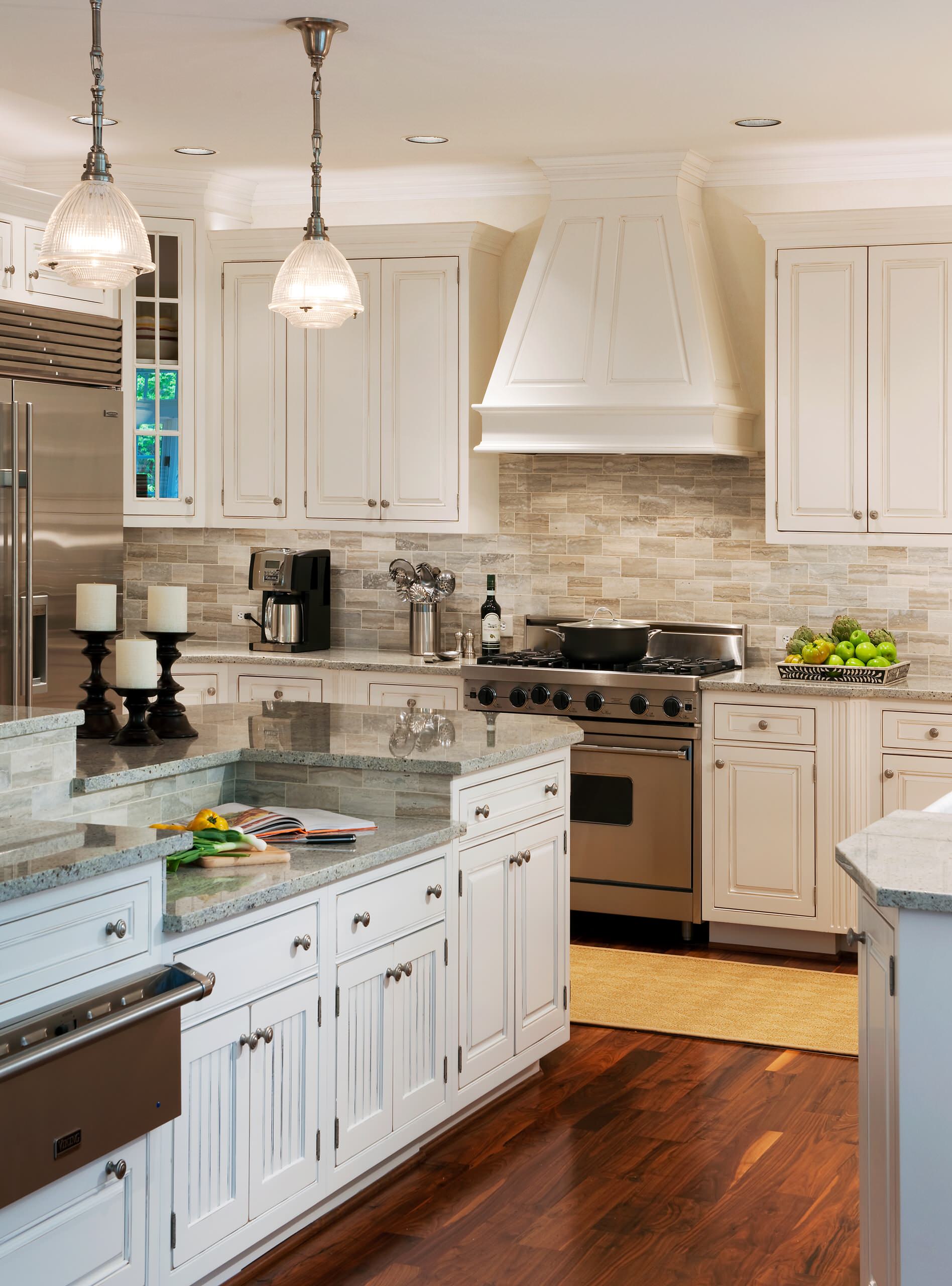 ID# 123912
---
Transitional Kitchen Beige Kitchen Cabinets Travertine Backsplash
3×6 vein cut travertine backsplash tile, white kitchen cabinets, kashmire white granite countertop and island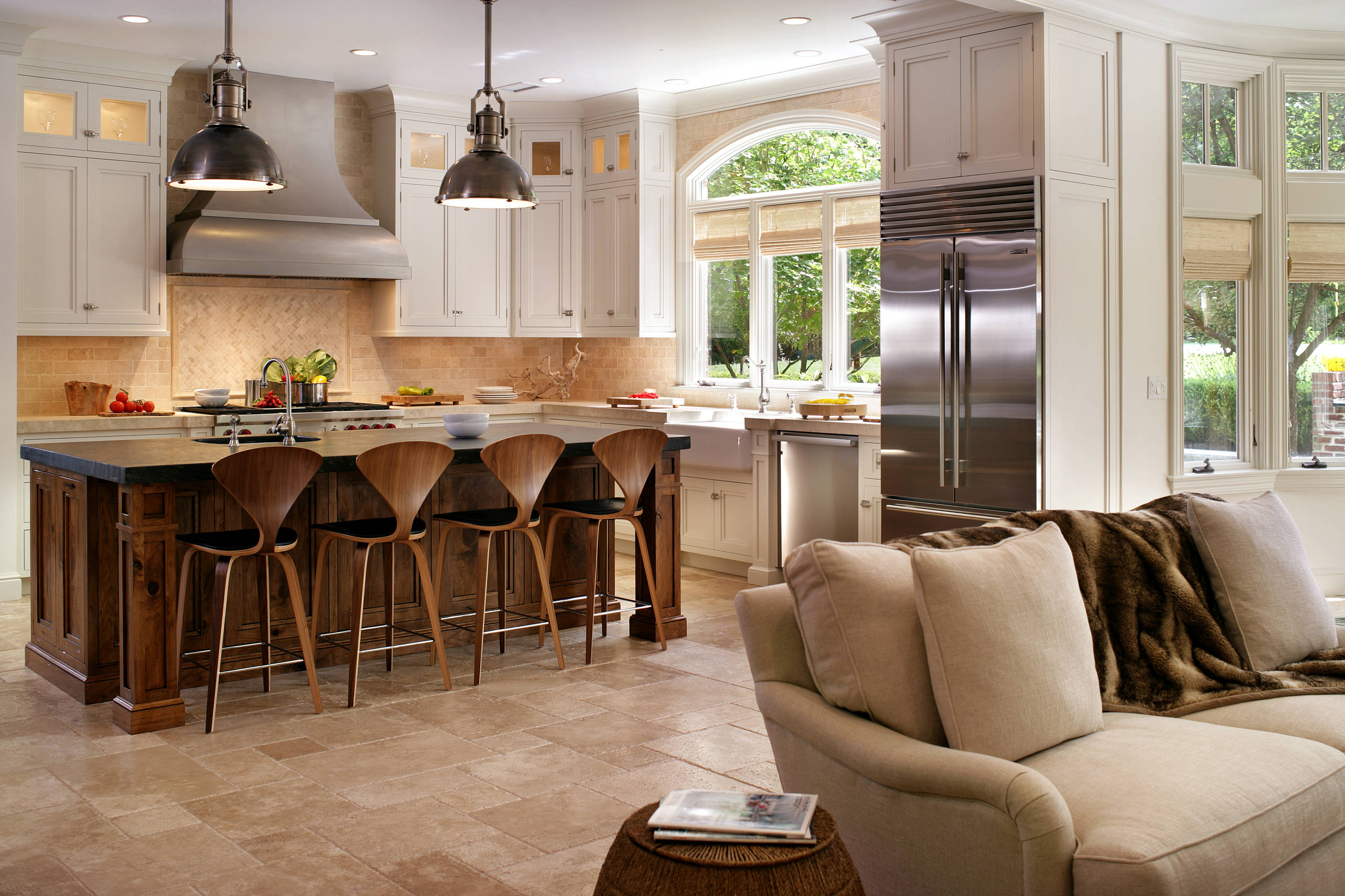 ID# 123914
---
Transitional Kitchen Beige Travertine Subway Backsplash Tile
Versalite pattern travertine kitchen floor, countertops are all 2 1/2″ thick Jerusalem Grey-Gold Limestone and the island top is 2 1/2″ thick Pietra Cardosa Sandstone. The perimeter is a custom painted White and the island is a natural Knotty Butternut wood. 2×4 antiqued travertine backsplash tile.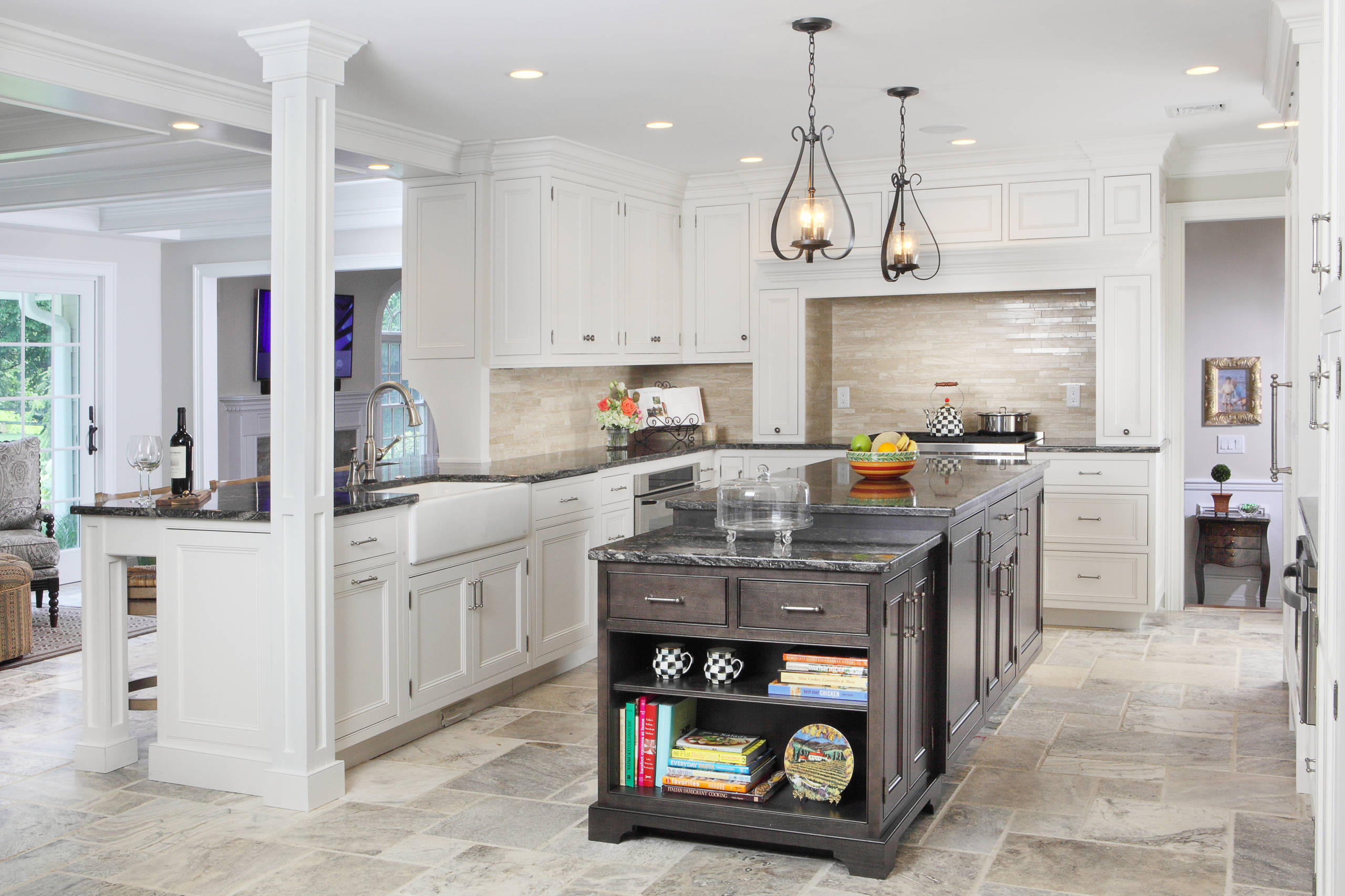 ID# 123915
---
Transitional Kitchen Black Granite Countertop Travertine Floor
Versatile pattern Pewter beige brown, gray kitchen travertine floor, black granite countertop, polished travertine kitchen backsplash.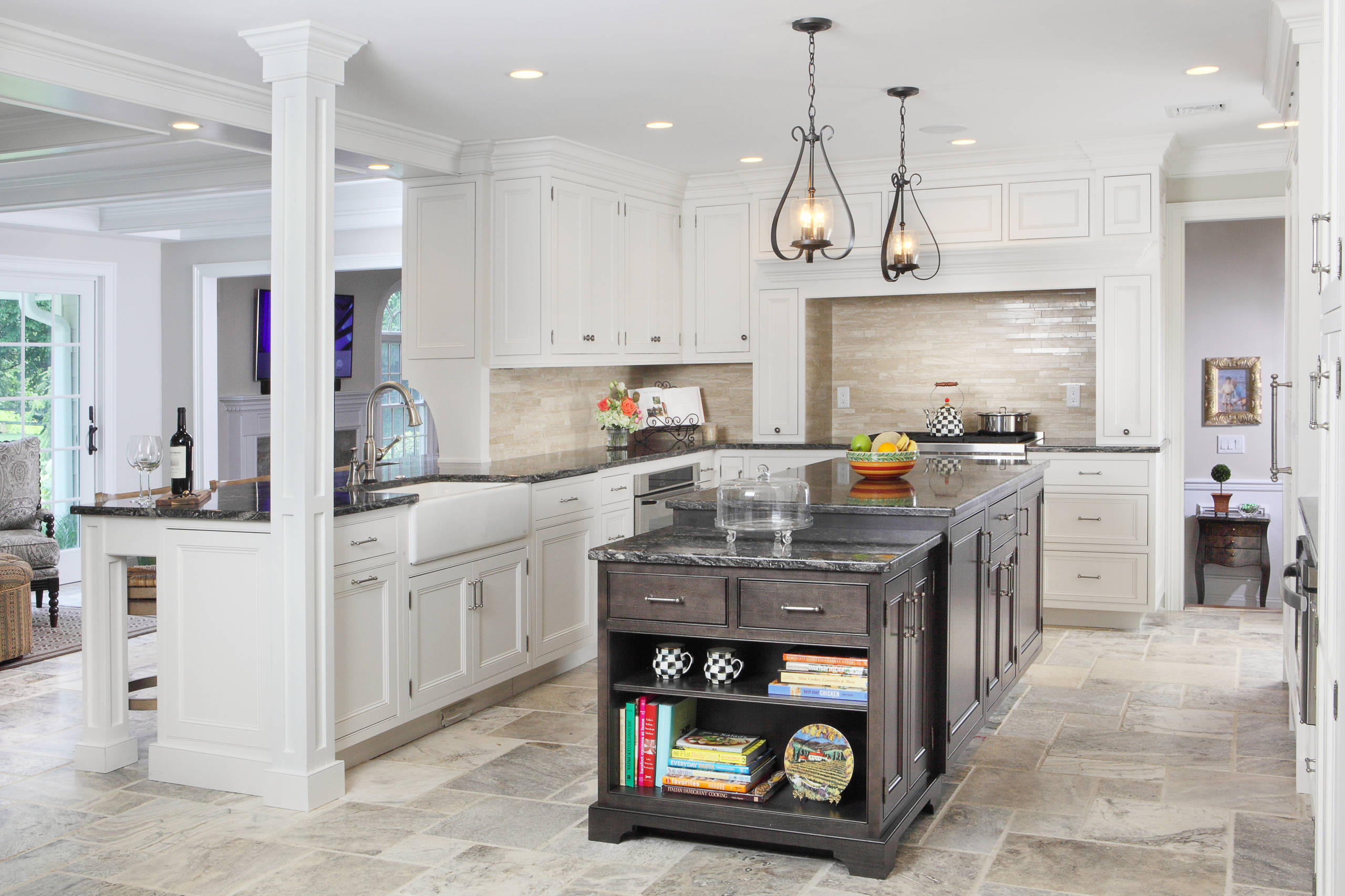 ID# 123917 | Houzz.com – Credit | Signature Kitchens, Inc | © Peter Chollick
---
Beige Kitchen Black Granite Countertop
Modern look brown and white kitchen cabinets, travertine kitchen floor and polished travertine kitchen backslash tile with black kitchen countertop design idea.
Travertine design style
When it comes to the installation of travertine backsplash, the involvement of an expert is of great importance. Although the tiles are generally unique and attractive, it will be prudent to point out that they are a bit porous and therefore they should be handled with a lot of care. The travertine stone is mined in countries such as Mexico, turkey, Peru and Italy and after this they are manufactured to produce the tiles.
Being a natural stone gives the tiles some advantages that are normally not present with the man-made products.
When using the travertine tiles for the backsplash installation, there are various advantages that are worth noting. These include:
First, travertine tiles are very hard and durable. This is one of the characteristic that one will definitely appreciate for a kitchen backsplash.
Travertine backsplash also comes in a number of dazzling colors and this can be attributed to the fact that it is a natural stone. This enables the home owner to pick from a number of easy to match colors such as deep walnut colors, cream, ivory, grey, beige, gold and red.
Travertine tiles also come in different themes which make it easy to design your kitchen well depending with your needs. If you have a small kitchen, choosing the smaller tiles will help you achieve the best results and especially when they are perfectly sealed.
The tiles also come in different prices which means they are easily affordable by different classes of home owners.
Travertine backsplash does not easily fade or discolor and instead takes a very long time no matter the conditions in the kitchen. With the ease with which it is cleaned, the backsplash can be maintained in a good condition for long.
The travertine tiles are a real deal and especially when you are looking for something aesthetic in your kitchen. With a number of pictures online, it will be easy to come up with a perfect template for use in your kitchen and therefore this should not be a difficult thing. In fact many travertine dealers normally will help their clients in designing their kitchens using some of the best high definition design tools.
Travertine backsplash ideas is available in various kinds of finishes and making a choice is therefore easy. You could opt for honed finish giving your kitchen tile a smooth and shiny appearance. The travertine themes also come in polished finish which looks like a mirror in glossiness. If you are looking for a natural look, you could also opt for a brushed finish or a tumbled finish which has deep texture.
The designing process and the installation should be done properly if the best results are to be obtained.