54+ Backsplash for Brown Kitchen Cabinets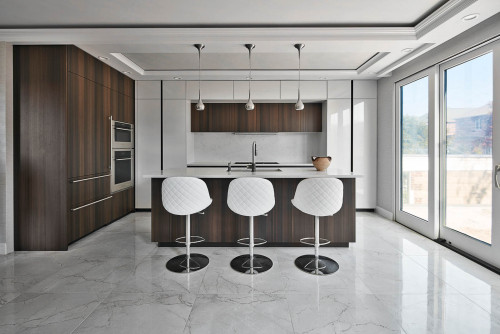 ID# 129601 | Houzz.com – Credit | © European Kitchen Center
---
Contemporary Kitchen with Two Tone Cabinetry
Natural textures with plain surfaces create both stylish and contemporary designs. The combination of white and brown color used for the cabinets add a beautiful harmony and they match with the white countertops and white backsplash. To carry the natural look further and keep the stylish look you can use a stone slab backsplash.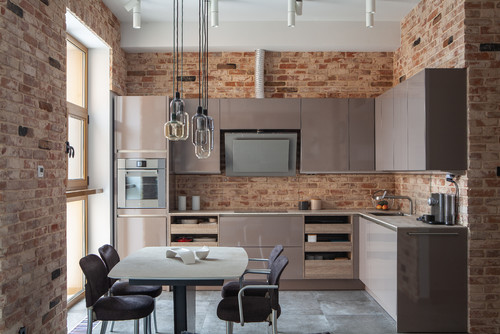 ID# 129630 | Houzz.com – Credit | © Studio Style Home
---
An Eat-in Kitchen with Brick Backsplash and Flat-Panel Cabinets
The industrial design and brick walls create a duo that has a stylish look, always. Brown flat-panel cabinets and the open design of the pull-outs with wooden textures add a pleasant harmony with the brick backsplash. Normally it is expected that bricks are used in reddish or white colors but here they are in a lovely beige color that matches well with the brown cabinets.
Backsplash for Brown Kitchen Cabinets
Although most people are interested in colors other than brown kitchen cabinets, it is an indisputable fact that kitchens in this color will reveal classic and beautiful designs. Of course, this choice of color varies from person to person. Since your design will reflect your character, the incredible designs that the brown color can reveal will also carry a piece of your soul. So, you can create stylish kitchen designs with brown cabinets. But what about the backsplash? Between all the possibilities, choosing the right backsplash might be tricky, but do not worry! In this backsplash for brown cabinets gallery, you will find different inspirational kitchen backsplash ideas for your design project!
Of course, cabinets are the backbones of the kitchens. However, the backsplash will also play an impressive role in your design. Let's start with the color of the backsplash for brown cabinets. The most preferred colors in a brown kitchen are white, blue, and gray tones. Because these colors create harmony and contrast with brown very well. We can often see gray tones in brown kitchens in contemporary design style. After you have decided on these colors, the tiles come one step forward. Ceramics, marbles, granites, or different shapes of tiles can create attractive and stylish designs with your brown cabinets. Let's take a close look at them!
Backsplash Colors
There is a wide variety of styles and colors that you can team with brown cabinets. Since your design in your interiors will reflect your character, it is obvious that you will be happy in the atmosphere you create with the colors you choose. Another factor that helps your dark brown cabinets to show off is, of course, the backsplash. We can use the backsplash, which comes in different color options, with white, black, blue, and beige tones. These colors, which can create a very good harmony with dark brown kitchen cabinets that add a stylish look with contrast, will help you in choosing a backsplash color.
White Backsplash For Brown Kitchen Cabinets
The color you can always use in dark brown kitchen cabinets is of course white. Whether modern, traditional or industrial, the white backsplash will always be in harmony with your brown cabinets. The contrast it will create will increase the movement in the interior and your design will stand out with its stylish appearance. You can change or harmonize your white backsplash according to the design style of the brown cabinets. The white backsplash, which already has a striking effect with the dark brown color, will gain a completely different dimension with the choice of texture such as marble, granite, mosaic, etc. So let's see the white backsplash effect!
Black Backsplash For Brown Kitchen Cabinets
Of course, we can achieve a breathtaking and stylish look with the black color. Matching dark color with each other creates a mysterious and noble appearance in interior designs. The black backsplash used with brown kitchen cabinets creates an attractive beauty and a noble look. You can go with dark brown cabinetry to create a dramatic atmosphere with a black backsplash. You may hesitate to use dark colors with each other, but with good lighting and good material selection, it is possible to make your interior design incredibly beautiful. Black backsplash may be used mostly in modern and contemporary designs, but black is a beautiful color that can be used in traditional or farmhouse kitchens as well.
Gray Backsplash For Brown Kitchen Cabinets
Gray is one of the most beautiful colors that can suit espresso kitchen cabinets. The harmony of gray color backsplash and wooden cabinets creates a wonderful look in the environment. This color is not as striking as white and not as deep as black, for this reason, you can achieve both contrast and harmony very easily. The product range is quite wide with gray color from metal materials to marble. Stone textures that you can use with wooden textures help a warm and natural look in the interior. You can use the gray color as a backsplash, which will help in all kinds of design styles, in harmony with your brown cabinets.
Blue Backsplash For Brown Kitchen Cabinets
Blue and brown colors have been included in our lives from ancient times to the present day with their incredible harmony. The blue backsplash, which you can use with brown kitchen cabinets, helps you create a soft and stylish design image in the interior. Of course, you can use blue tones with different materials, from dark blue to turquoise. Stone backsplash or granite, mosaic or ceramic tiles will add an incredible look to brown with blue color. Then let's look at this magnificent harmony that the blue will create in terms of color and mobility!
Beige Backsplash For Brown Kitchen Cabinets
The most beautiful feature of the beige color is that it takes simplicity from white and a soft touch from brown. Thanks to this, you can use a beige backsplash with your brown kitchen cabinets with peace in mind because it will never mislead you. The beige color contains the striking effect of white with the tones of brown, it will create both contrast and harmony. It also helps you create integrity in the design. If you add a white countertop to the design, you will complete the design by catching a transition from brown to white and then to beige.
Tile Patterns
Since the tile patterns are in different colors and sizes, it will offer you the opportunity to reflect your personality in design with the wide range of alternatives it offers. Some of the patterns you can use in this sea of great options can be subway tiles, arabesque tiles, mosaics, herringbone tiles, arabesque, or hexagon tiles. You can enrich these patterns, which you can adapt according to the design style, with your color choices and give your kitchen cabinets a wonderful look.
You may have concerns about which pattern will suit dark brown kitchen cabinets better. This design progresses depending on the style. If you are going to make a traditional design, rectangular shapes will suit the cabinets better, such as subway tile backsplash. Or if you have a contemporary approach, a minimalistic design herringbone backsplash might work well.
Subway Tile Backsplash For Brown Kitchen Cabinets
The subway tile backsplash is one of the most used patterns in traditional and farmhouse kitchen styles. As you know, traditional and farmhouse kitchen designs have more ancient uses. For example, brick walls are one of them. Of course, kitchen cabinets that were built in front of brick walls in the past are getting more modern today. Subway tile backsplash, which can be made with today's technology instead of using bricks, looks more pleasing to the eye.
What backsplash goes well with brown cabinets?
Let's separate the answer into 2 parts, the first one is what color is the backsplash should be with the brown cabinets, and the second one is the what kind of patterns goes good with them? If the style is useful to your design so any color can be good for the brown kitchen cabinets, even pink color! But for the advice, if you want a contrast look you may choose a white-colored backsplash with dark wood cabinets, or if you want a soft harmony you may try blue or green shaded tiles. Beige tiles like travertine tile also work well with brown shades. the To create a wholeness it is a good idea to have similar color shades with the brown. For the strong impact, the black color is useful.
Let's decide the tiles, the brown color has a soft but strong look with its color shades and if you want to use plain surfaces you may like to use subway tile backsplash to add movement or arabesque tiles, hexagon tiles, shortly, patterned tiles are useful for this. If you want to continue the plain appeal it is a good idea to have plain surfaces for the backsplash like stone slab materials, marble tiles, or granite and ceramics.
Herringbone Tile Backsplash For Brown Kitchen Cabinets
I think one of the things that can add dynamism to a kitchen design is herringbone tiles. This herringbone tile backsplash, which you can use with brown kitchen cabinets, will give your interior design both an elegant and dynamic look. You can use these tiles, created with 45-degree angles, with multi-colored, plain, or minimalistic lines. The white herringbone tile backsplash and black grouting used in the contemporary design style create an incredible image. This pattern has the capacity to create different elegance in traditional style and contemporary styles.
Hexagon Tile Backsplash For Brown Kitchen Cabinets
The hexagon tile backsplash is one of the products that can add movement and elegance to kitchen cabinets, just like herringbone tiles. With brown kitchen cabinets, these hexagonal tiles can create incredible designs. Contemporary and modern approaches love this product, which you can use in any style from traditional to contemporary design. Another good thing about hexagon tiles is that you can create different patterns with them and use them piece by piece. This gives you more freedom in design.
Are brown cabinets outdated?
Of course not! The traditional look is still a trend with the contemporary design elements! You may like to use a metallic backsplash for your brown cabinets, or it can be a subway tile in a pink color! They can be both traditional and contemporary, even in industrial design style! So, do not think that they are outdated, think that with the brown color you will have a stylish and gorgeous kitchen design!
Mosaic Tile Backsplash For Brown Kitchen Cabinets
The mosaic tile backsplash has endless combinations of colors, shapes, sizes, and materials options that you can create stylish designs. So, what are these mosaic tiles? They are small pieces that are gathered together on a sheet. With the brown kitchen cabinets, you may want to choose big patterns of smaller ones to add movement to your design. They allow you to have multi-colored usage with their pieces. So let's see the designs!
Arabesque Tile Backsplash For Brown Kitchen Cabinets
Yes, we can create noble looks and ornate surfaces with these arabesque tiles! If you want to achieve a design that can contrast with the flat surfaces of contemporary design, the arabesque tile backsplash is for you! Or maybe you want to give your traditional kitchen a noble and stylish air, then these tiles that you can use with brown kitchen cabinets are just for you! The best thing about these tiles is that they can create soft lines with various colors and patterns for brown cabinets. They can create an attractive elegance with their stylish appearance.