39+ Backsplash Tile Shapes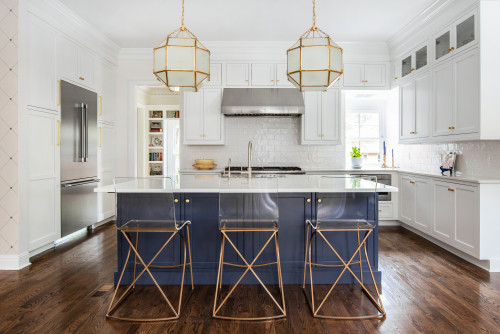 ID# 134703 | Houzz.com – Credit | © Terri Sears, Kitchen, and Bath Designer
---
White Cabinets with Glossy White Tiles and Blue Island
If you want to add a splash of color to your kitchen design, the island is a perfect place! In this transitional kitchen, the navy-blue kitchen island makes a statement with its bold paint color and elevates the design. Using white cabinets and a simple white backsplash is a great way to make the island is the star of the design. Also, these subway tiles make the space feel larger by reflecting light with their glossy finish. The brass hardware and the brass details of the pendant lights and counter chairs add a dose of sparkle and complement the warm feel of the dark wood floor.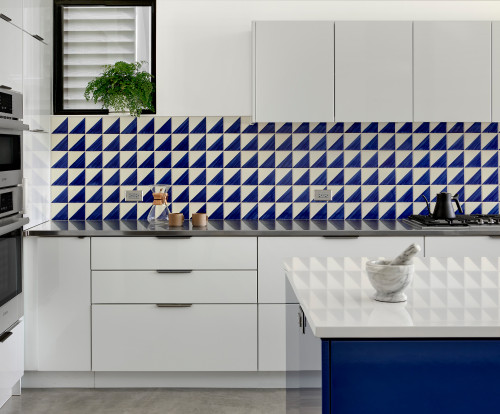 ID# 134721 | Houzz.com – Credit | © moss
---
Modern White Cabinetry with Blue and White Square Tile
The unique blue and white backsplash tile design transform this otherwise ordinary kitchen into an eye-catching design. The geometrical pattern of the tiles adds a modern vibe to the atmosphere while creating a visual illusion. The reflection on the gray countertop emphasizes the impact of the backsplash. The modern white kitchen cabinets give a clean look and allow the stunning backsplash tiles to stand out.
Backsplash Tile Shapes
When it comes to kitchen design, a backsplash is one of the most important elements that affect the overall look. Kitchen backsplashes can bring all the other elements together, and provide visually pleasing appeals while creating a protective layer for kitchen walls. That's why choosing the right backsplash is important to finalize your design and among all the different alternatives, finding the right one might be overwhelming. But do not worry! In this article, we rounded up different backsplash tiles shapes. So, you can see the different applications and their impact to learn how to incorporate your design project!
In today's market, there are different products that you can use for kitchen backsplashes and among all these different alternatives, tiles are the most common and popular material. With their almost infinite range of color, material, pattern, and shape options, backsplash tiles both provide visual interest and durable surfaces. But what kind of backsplash tile is right for your kitchen? From classic geometrical shapes to unique shapes, there are a bunch of alternatives and before deciding, check these stunning backsplash tile shapes!
Rectangular Tile Backsplash
A classic for a good reason, rectangular backsplash tile shapes are the most popular and timeless option for all kitchen types. They come in a wide range of color, material, pattern, and textures options and this variety provides versatility for these tiles! Rectangular-shaped tiles also come in a range of different sizes from 1 x 2 inches to 12 x 16 inches. Smaller ones are perfect to create a nice textural look without overwhelming. On the other hand, larger ones offer a clean and sleek backdrop for the kitchens.
When it comes to rectangular tiles, subway, brick, or offset pattern is the most popular option and the traditional subway tile backsplash will never fail you down! On the other hand, you can try different patterns with these tiles such as herringbone, chevron, basketweave, or stacked. Each of them has different visual impacts. To create a classic subway tile look, 3 x 6 inched tiles will be perfect but longer tiles like 3×12, 2×20 inches work well with other patterns. So, if you want to go with classics, rectangular tiles never fail you down and classic doesn't have to mean boring!
What are the most popular tile shapes?
Among all different tile shapes, rectangular tiles are the most popular option for all kitchen types. With their effortless beauty and versatility, a subway tile backsplash is a classic for kitchens. From modern to traditional, these tiles can work with different styles. Besides the subway pattern, you can also lay the tiles in different patterns such as basketweave, herringbone, or chevron. So, you can give different visual impacts with these tiles and this opportunity makes them the most popular backsplash tile shapes.
Which shape can be used to tile?
In today's market, you can find a tile in all geometrical shapes from rectangles to hexagons. Rectangular tiles are the most popular option but you can try different alternatives like hexagon, arabesque, fish scale, square, or diamond.
Square Tile Backsplash
Just like the rectangular tiles, a square is one of the most simple shapes that you can use for a backsplash. But it doesn't mean that it has to be boring! Square tiles offer a wide range of material, color, size, pattern, and texture options so that you can get the precise look you want! Whether you are working with a classic 4" x 4" white ceramic square tile, or use a patterned square for an authentic look, a square tile backsplash is a perfect material to create a timeless appeal for kitchens!
Diamond Tile Backsplash
If you opt for a unique look in the kitchen, a diamond tile backsplash might be what you are looking for. This timeless pattern allows, in return, very eccentric shapes to dress your kitchen in spectacular backsplashes. Also, the unique geometry of diamond tiles offers endless visual impacts. You can go with a classic diamond pattern or lay these tiles in different ways to create hexagon or cube shapes!
Hexagon Tile Backsplash
In today's market, hexagon tiles are one of the most popular options for homeowners and interior designers. With their sleek geometrical shape, these tiles can be a stunning addition to any kitchen design. The geometrical shape of the hexagon or honeycomb tile backsplash offers timeless and chic appeals to kitchens. From copper to marble, black to white, the endless array of material, color, and style options allow you to incorporate this material into your design project!
Round Tile Backsplash
If you are looking for something catchy but unobtrusive, penny or round tile backsplash might be your solution. From the bathroom backsplash to the kitchen backsplash, these tiny tiles can be a perfect addition to your design project. With its slightly beautiful texture, a round tile backsplash will help you to create a timeless appeal. You can create a retro look with white penny tiles with black grout or add a luxurious feel with marble penny tiles.
Fish Scale Tile Backsplash
Are you bored of classic backsplash tiles and searching for something different as backsplash tile shapes? Fish scale tiles are one of the hottest trends! With their uniquely whimsical shape, fish scale or scallop tiles allow you to create one-of-a-kind appeals for your kitchen walls. Whether you want to bring the calm and relaxing feel of the ocean with blue color or add a luxurious feel with marble, a fish scale tile backsplash comes in a wide range of material and color options.
Arabesque Tile Backsplash
If you want to reflect the classic beauty of the traditional style, arabesque tiles are the perfect choice for you! The unique and beautiful shape of these tiles is perfect to make a statement and it can easily characterize your kitchen with beautiful pattern and texture! Because of their curved shapes, these tiles are more suitable for traditionally styled kitchens but you can modernize them with different material options.